Christmas Gift Guide: White Elephant Gift Ideas
It's time for the 2020 gift guide! I always love scouring the web for the best gifts to give to my family and friends, and I like to put all that research to good use and share what I find with you. Today, I'm sharing a whopping 100 White Elephant gift exchange ideas!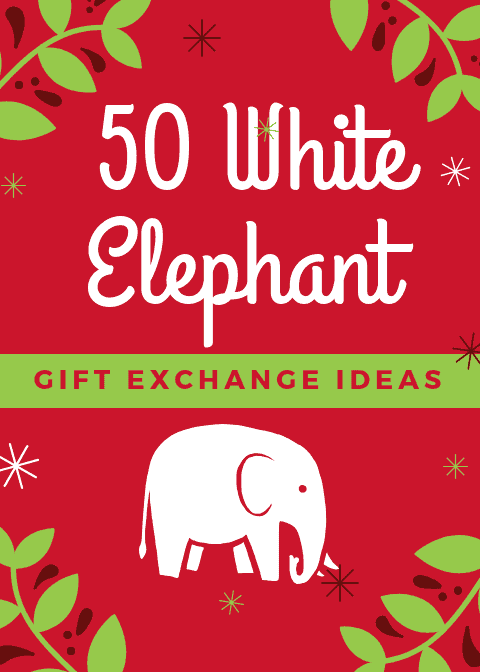 This post contains affiliate links. Click here to read my full disclosure policy.
Do you ever play White Elephant?
I've also heard it referred to as Dirty Santa or Yankee Swap (although, I like White Elephant a lot better!), but whatever you call it, it's a hilarious and never full game to play at Christmas parties, and we usually find ourselves attending at least one or two events where it's played!
This year things are, ahem, a little different, and there's no telling what kind of gatherings you might have happening – if any!
But, whether you'll be playing White Elephant this year or not, I think we could always all use a good, solid list of little (sometimes silly) gift ideas, right?
Honestly, I think the most fun part of playing White Elephant is coming up with a witty and unique gift to bring. There's nothing more satisfying than bringing the gift that makes the whole room explode with laughter and gets traded around all night long. But, it can be tough to find good gifts within the price limit (ours is usually $20-$25), so I wanted to share a monster list of ideas to ensure you can find something that's perfect for your White Elephant party, your small family gathering, or just a silly gift to ship to a friend!
But first, just in case you do have an opportunity for this fun little Christmas tradition and don't know how to play White Elephant, here's a quick rundown of the rules:
White Elephant Gift Exchange Rules
Note: There's no one way to play White Elephant – most people play with house rules. But, I've played with tons of different groups over the years and these rules seem to be the most common.
Place all of the gifts in the center of the room and make small, numbered slips of paper – you'll need enough for each person playing to have a number.
Put them all in a bowl, and have everyone participating draw a number.
#1 will go first – they go to the center of the room then choose and open any gift they like.
Now it's #2's turn. They have a choice – they can either choose a new gift from the pile or steal the gift that #1 opened.
If they open a new gift, it moves on to #3 (who then has the same options); if they steal a gift, then the person they stole from now has the opportunity to choose a new gift.
If your gift is stolen from you, you can either open a new gift from the pile or steal a gift from someone else (you may not steal back what was just stolen!).
Continue until everyone has had a chance to open or steal a gift. Each time someone takes a turn, they can steal any opened gift or open a new gift.
Once a gift has been stolen three times (meaning, once it lands in the hands of the fourth person to have it), it cannot be stolen anymore.
When everyone has had a turn, #1 gets to go again – they have the opportunity to choose any opened gift (unless it's been "locked" by being stolen 3 times). If #1 decides to keep their gift, the game is over – but if they'd like, they can trade gifts with anyone in the room who has a gift available for stealing.
It's a really simple game, but it's pretty much guaranteed to bring lots of laughter. We've had gifts that show up year after year at certain parties, we've had rivalries that continue throughout the years, and we've had some years where we actually get some pretty good gifts!
Are you ready for the ideas? Before we dive in, let me give some context for the uninitiated – generally speaking, White Elephant gifts are gag gifts. Typically at every party you'll have a handful of actual good gifts (lottery tickets, alcohol, and hot chocolate sets are popular in our groups!), but the majority of the gifts should be funny, silly, or downright weird.
White Elephant Gift Exchange Ideas
Here are more than 50 (UPDATED: There are now 100 gifts ideas!) of our best gift ideas for playing White Elephant. Since most White Elephant gift exchanges have a price limit, everything linked below is $25 or less! I've broken the gifts into five categories (books, games, gadgets, random, and Christmas-themed), so just scroll to the category you're interested in and check the gifts out!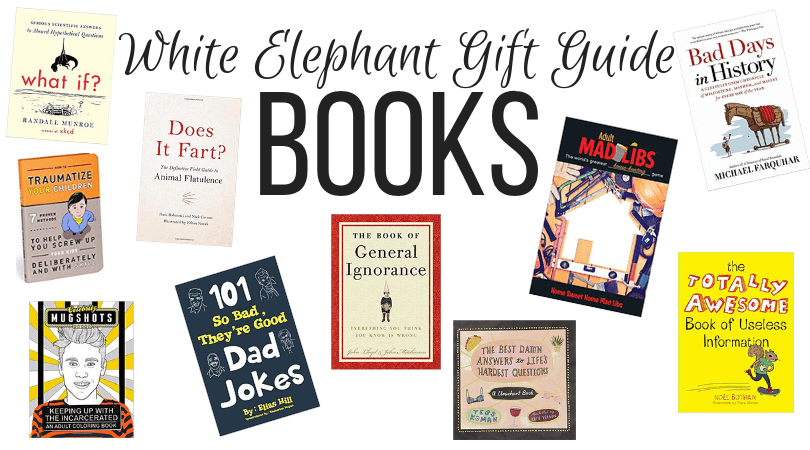 BOOKS: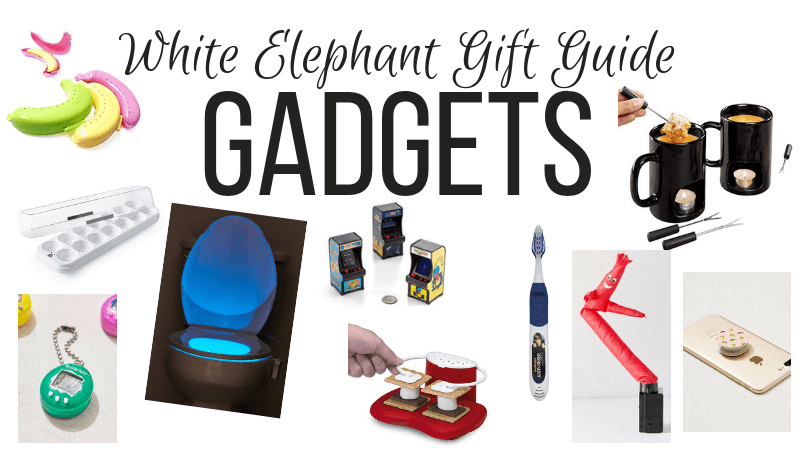 GADGETS: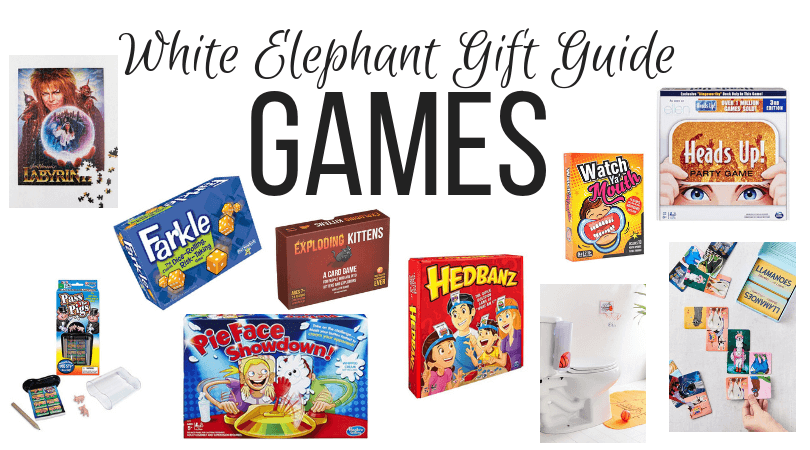 GAMES: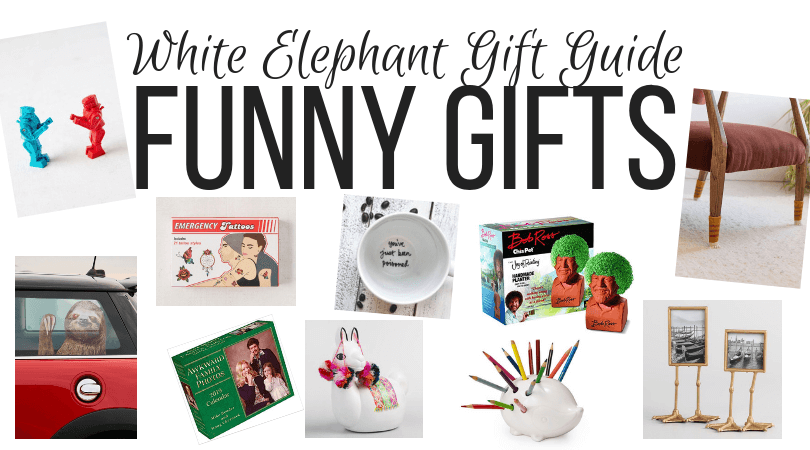 RANDOM: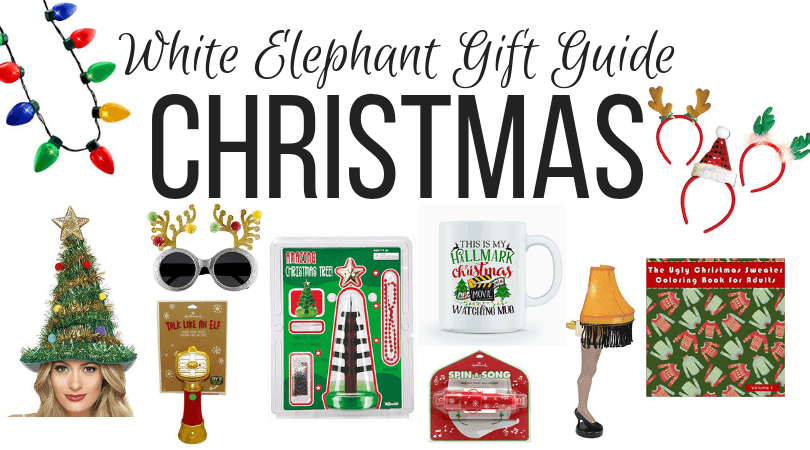 CHRISTMAS-THEMED:
BONUS IDEA: Get one of these prank gift boxes and wrap an actual good gift inside!
I'd love to hear what your favorite White Elephant gifts are! One year, Corey had the idea to save all of our used gift cards for the whole year and buy one new one – then, we'd package up a bunch of empty gift cards and hide one real one in there. We both thought it was hilarious but haven't had the stamina to remember to save the gift cards! Maybe next year…
RELATED POSTS