I made a DIY grid accent wall in my best friend's house, and I'm showing you how! This DIY square paneling was so easy, and the final result is stunning.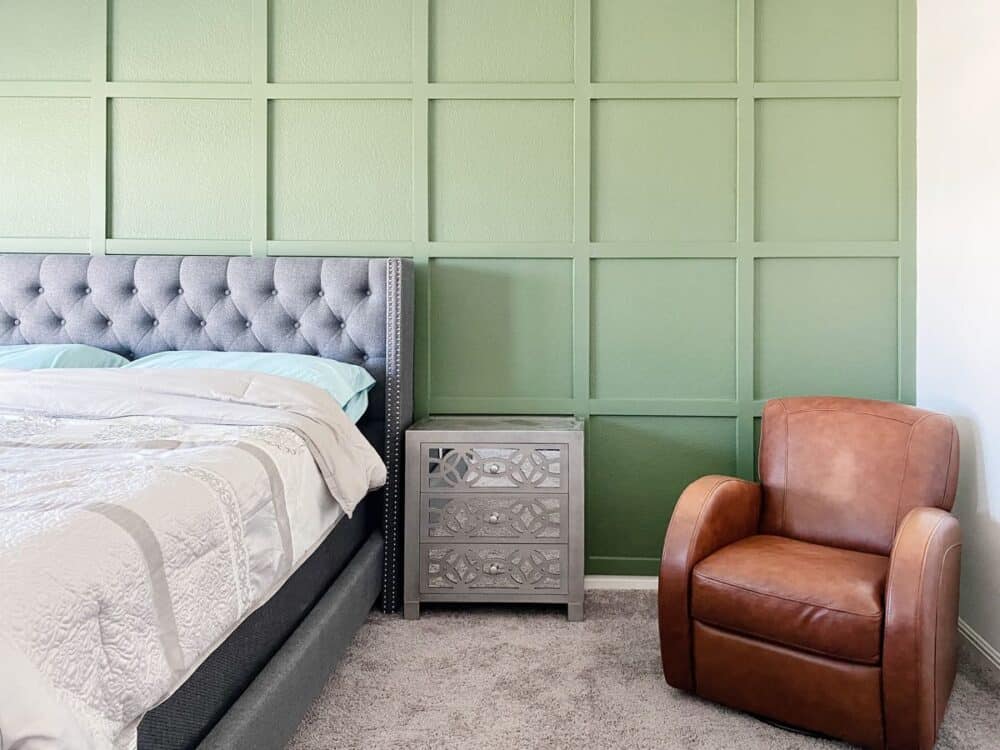 This post is sponsored by Wagner.
Ohhhhhh man, friends. Today is a fun day.
We're officially revealing the first step in my BFF, Parisa's, bedroom makeover and it's a doozy. I shared with you a couple of weeks back that I have been working over at my sweet friend and neighbor's house to give her master bedroom a whole new life, and today I'm sharing the process of installing this gorgeous DIY grid accent wall.
This project was so fun and shockingly EASY – we knocked it out in two days with all of our kids running around underfoot!
Parisa's bedroom is long and a little narrow – this extra long (17′!) wall is really the only logical place to put the bed, but having it there definitely can make things feel on the small side. She had a pretty purple accent wall that was painted right after they moved in, but she said the color was never exactly what she wanted and she's more or less hated it from the moment they finished painting.
Don't you hate it when that happens?
They've lived with the accent wall they don't love for almost two years now – it was time for a change! I really wanted to keep some sort of accent wall happening here – it's a good way to make the bed placement feel a little more intentional! In most bedrooms, it's typical to put the bed across from the door, but if you did that here it would block all of the natural light from the windows, and wouldn't leave much space for nightstands. It has to go here, and an accent wall really helps define the space and make the not-so-typical layout make a little more sense.
I sent over a few different ideas for different types of trim we could do, and secretly crossed my fingers that she'd want to do a grid accent wall. I've never tried this kind of wall treatment but I've always wanted to! Thankfully, we're completely in sync and she loved the idea just as much as I did.
We worked over two days to get this done – we installed the wall and caulk/patched it all in one long day, then the next day I came back and we sanded the seams and painted the whole shebang.
I would absolutely call this a really straightforward, beginner-friendly project! Ready to learn how to do it?
How to install a diy grid accent wall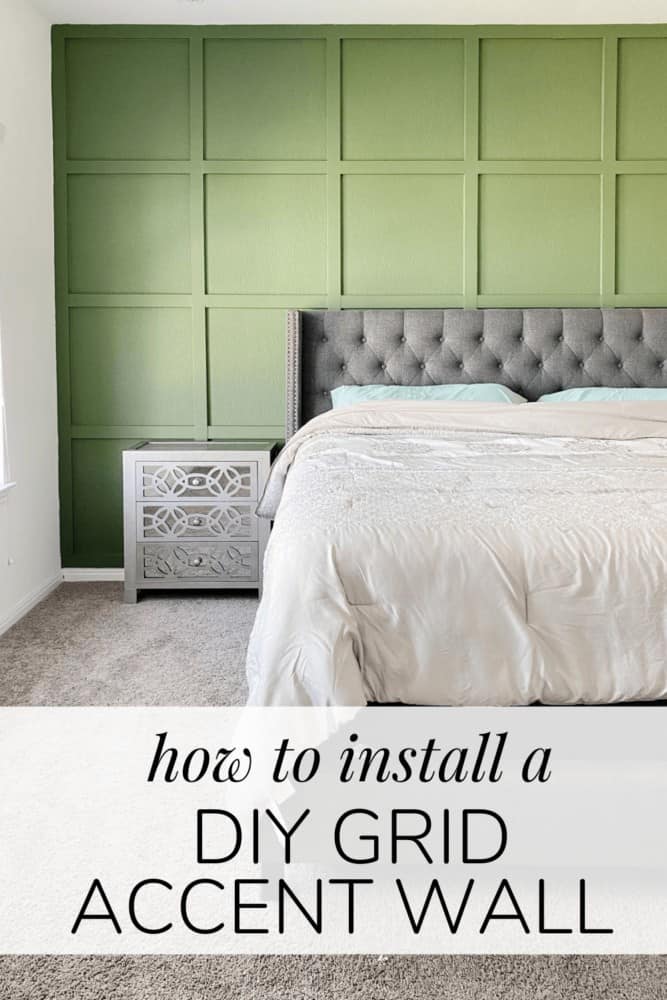 materials needed
1×3 MDF boards (I used 22 for a 17'x9′ wall)
Paint (we used Laurel Garland by Behr)
step one: Do all the math
Before you can get started, you need to get the brain-bending part out of the way and do some math. The very first step of this project is figuring out how many boxes you want to do and what size you want them to be.
This feels complicated at first, but I promise it's pretty simple. Generally, you want your squares to be somewhere in the range of 18″-24″, and you want them to be as close to square as possible. You also want to consider how busy the wall will feel if you have a ton of boxes. For example, if I had gone with 18″ boxes, I would have had another row of boxes both vertically and horizontally, and I knew that would be too much for the space.
I made a little spreadsheet that helped me figure out what to do.


Here's what's happening in that spreadsheet:
Boxes: this column lists various numbers of boxes I could do. As you can see, I went with 8 horizontally and 4 vertically
Spacer ": This represents how much of the wall the trim itself will take up. The formula here is: (number of boxes + 1) x (2.5, which is the width of a 1×3 board).
Remaining: Next, I listed how much space I'll have remaining on the wall once I subtract what the trim will cover. This formula is: (width or height of wall, in inches) – (the number in the spacer column).
Size of boxes: Now, you're ready for the calculation that actually matters. This is where you find out what size your boxes would be for each number. The formula in the column is: (number from "remaining" column) / (number from "boxes" column).
Once you get a little spreadsheet going with all of the options, you can see at a glance how big each box would be and make an informed decision. I could quickly see that an 8×4 grid would give me boxes that were as close as possible to square, and both of the numbers were ones that are easily found on a tape measure (which, let's be honest, is important!).
Now, you can calculate how much wood you'll need based on how many boxes you're making. For example, I knew that for my horizontal boards I'd need 9 strips of boards (remember, number of boxes + 1) at the full height of my wall. If your ceilings are taller than 8′ (like these were), you'll have a vertical seam. But, that's easy to cover up later so don't stress!
step two: install end pieces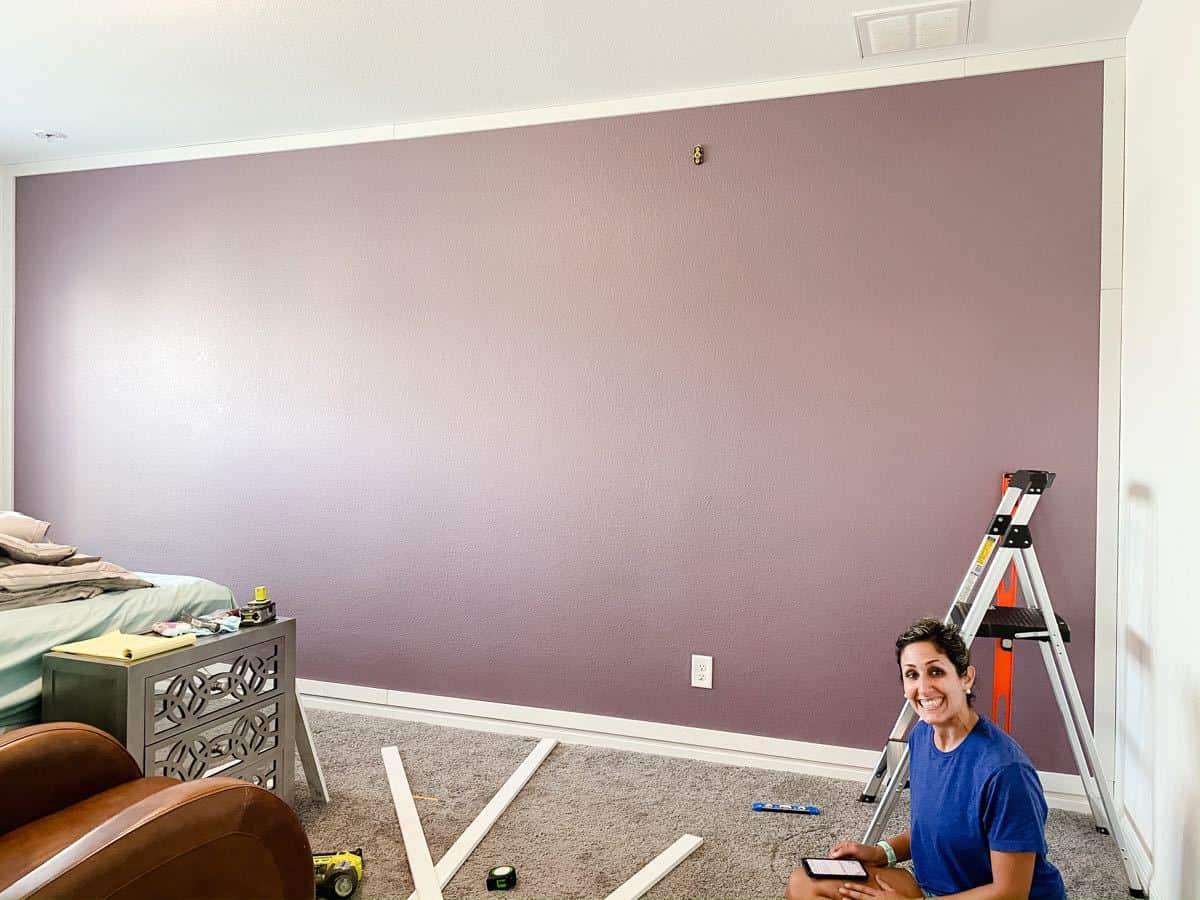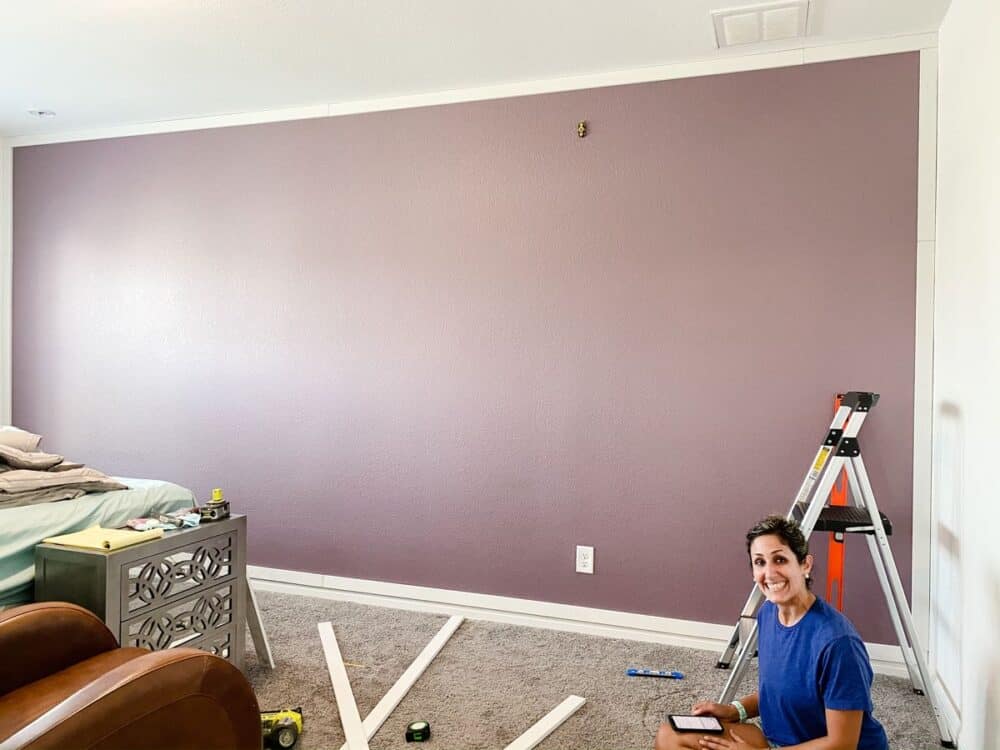 Once you've gathered your materials and you're ready to work, you'll want to install the boards along the corners of the wall first. Use a level to make sure that you're installing all of the boards straight!
I didn't use wood glue with this – MDF is very lightweight, and once you combine some nails with the caulk on all of the seams, the boards aren't going anywhere! I did have a stud finder on hand and used it to help me hit studs wherever possible, but it wasn't always possible and that's fine.
One trick I've learned to help when you're nailing and can't hit studs is to place to nails close to each other and angle them in two different directions, toward each other. This way, the ends of the nails cross behind the drywall and make it much less likely to pull away from the wall.
Step Three: Install vertical boards
Once the border pieces have been installed, it's time to move on to the vertical pieces (you could also install the horizontal ones first, too, if you prefer!).
Start by cutting a piece of wood that's exactly the width you want the interior of your boxes to be. Use a pencil to write "SPACER" on it so you don't accidentally cut it down later (ask me how I know this could be a problem…).
You'll use this to help you perfectly place each board. Just butt it up against the border piece on one end of the wall, and place a vertical piece up against the other end. Nail the bottom of the board into place, then move the spacer up the board about halfway and repeat. This helps make sure the board is evenly spaced all the way and, as long as your first board is level, it'll be perfectly level too!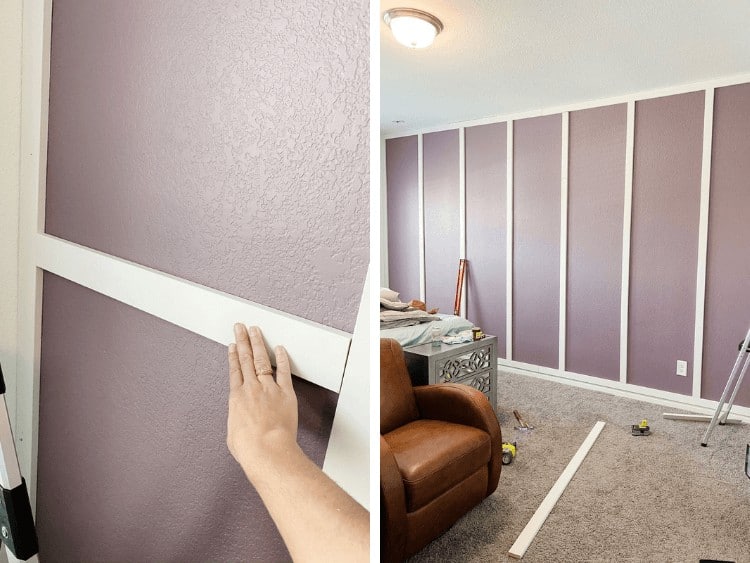 Continue the process of installing vertical pieces all the way across using your spacer until you reach the other side. If you're anything like me, you'll reach the other wall and realize something went ever-so-slightly wrong and the final box is about 1/4″ smaller than the rest.
If you're anything like me, you'll get annoyed with yourself at this but eventually shrug your shoulders and say "oh well" because ain't nobody got time to re-do a whole wall of trim because of a 1/4″ mistake that no one but you will notice.
Step Four: Install horizontal spacers
Now, you're ready for the horizontal pieces! Cut a whole bunch of pieces the same length as your spacer and install them using the exact same process as before. Cut a new spacer piece that's the exact height of your boxes, and use that to help you place the spacers.
I'd also recommend working from top to bottom here – if anything gets off and your last row is slightly smaller (mine wasn't, thank goodness), it'll be much less noticeable if it's on the bottom of the wall and not the top.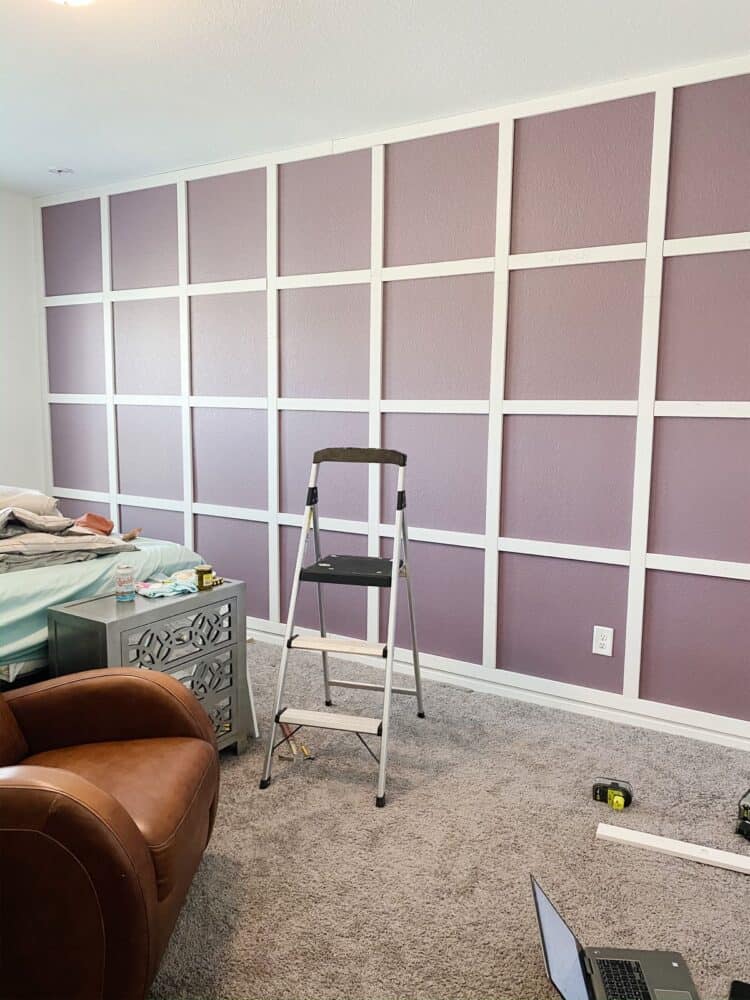 Repeat, repeat, repeat until the wall is finished!
step five: add caulk and wood filler, then sand
Now comes the part where it all starts to really come together!
You'll want to caulk all of the seams where the boards meet the wall (so, inside all of the squares and along all of the edges). If you haven't caulked much before, this post will give you a really detailed look at how to do it! I used this caulk for the project, and the wall took about 2.5 tubes of caulk.
Then, use wood filler to fill in all of the nail holes and the seams where the boards meet. You'll want to overfill it slightly, so that when you sand it ends up totally flush.
Once everything has dried (we waited overnight because it was time to call it a day, but a few hours is sufficient!), grab your sander and go to down. Sand down all of the wood filler so that it's flush and smooth. When you run your hand over the seam, you shouldn't feel a difference between the wood and the filler!
step six: paint!
Time for the fun part!
For the painting process in any room, I always recommend using a Wagner SMART Sidekick Power Roller. You've seen me use it over and over and over throughout the years, and there's a reason – it quite literally cuts your work time in half, and it's so dang easy to use!
You can see a full tutorial on how to use it right here, including how to clean it. That's always the big hang-up people have about trying it, but I promise it's so much easier than you'd expect.
My friends on Instagram know I love this so much that every time I paint a space where I'm not using it (which is generally just really small spaces like closets), I get messages asking why not!
I worked with Parisa to paint the wall, and it honestly went way faster than I expected it to. I painted inside the squares and on top of the trim with the SMART Sidekick, and she came behind me with a brush and did all of the seams and corners.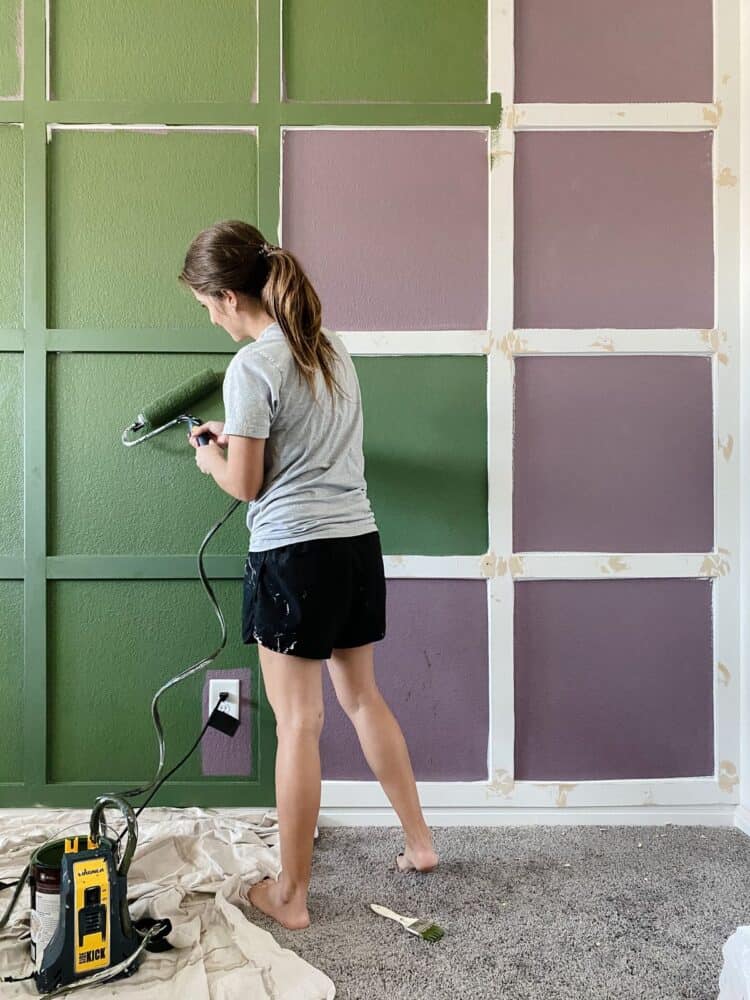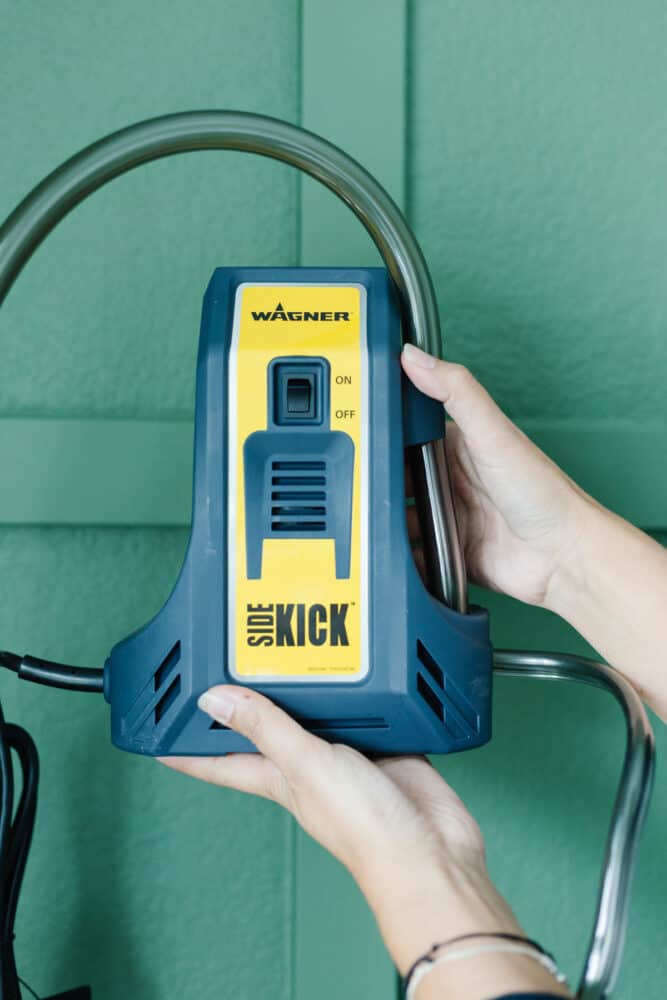 You've heard me wax poetic about this little tool a million times before, but I'll say it again: if you paint rooms in your house, you want a Wagner SMART Sidekick. It's easy and intuitive to use, it doesn't make a big mess, and it makes painting go so much faster. SO MUCH FASTER!
As far as the color, Parisa specifically requested an "army green" and said she wanted the room to feel "spa-like" and "serene". After pouring over paint swatches and testing a few colors, we landed on Laurel Garland by Behr, and it's such a gorgeous color. Once we get all of the new furniture and decor in here, I promise it's going to look even more incredible!
Cost breakdown
Alright, I'm sure you're wondering: how much did it all cost?!
I'm not factoring tools like the nail gun or the SMART Sidekick into the breakdown because those are general tools to have at your disposal for all sorts of projects and not just this one.
Wood: $45.54
Caulk: $12.84
Wood filler: $8.88
Paint: $43.98
TOTAL: $111.24
Not bad for basically a WHOLE NEW ROOM, right?!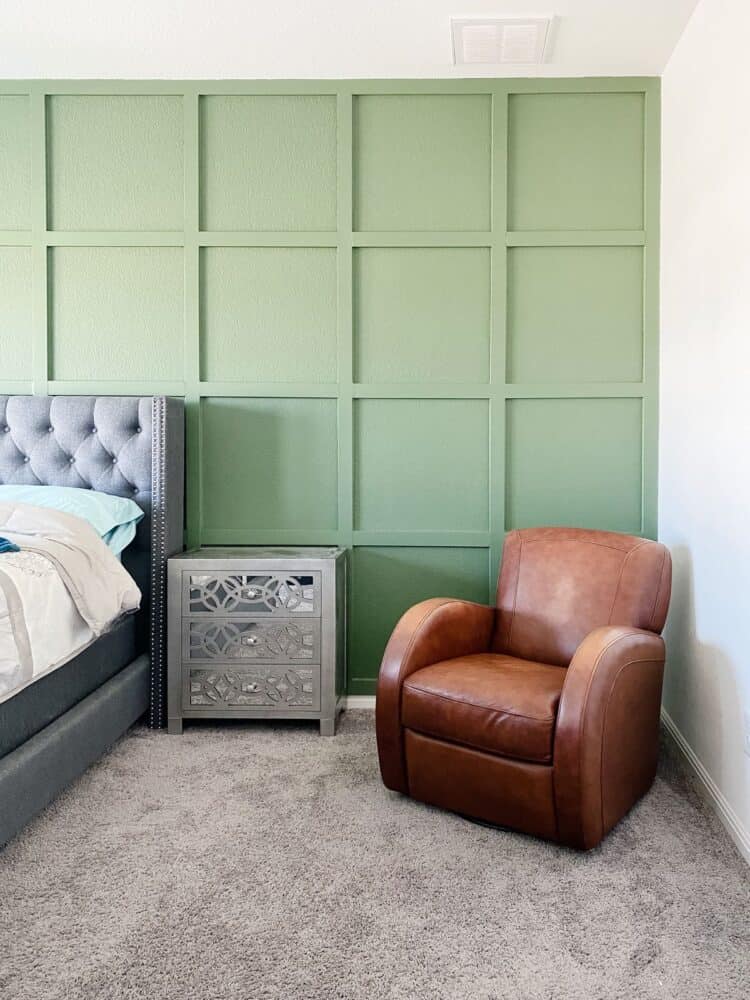 Stay tuned for the second half of this room makeover (it's gonna blow your mind!) in a couple of weeks. And, in the meantime, I highly encourage you to look into getting yourself a Wagner SMART Sidekick! It just might change your life!