Our (First Ever!) Disney World Vacation Recap
We just recently got back from our first EVER family trip to Disney World, and I'm here to give you all of the details of that incredible trip.
I've been dreaming of going to Disney World for as long as I can remember. It's been my number one vacation destination since I was a kid, and Corey and I have been talking for years about making it happen. We finally decided to go for it this year, and we had the most incredible time!
I've got a few posts lined up recapping things for you – today I'm sharing what we did, what we loved, and just a general overview of our trip. On Wednesday, I'll have some of our tips, tricks, and lessons learned, and then on Friday you can find all of our must-have travel products and all the cute outfits we wore!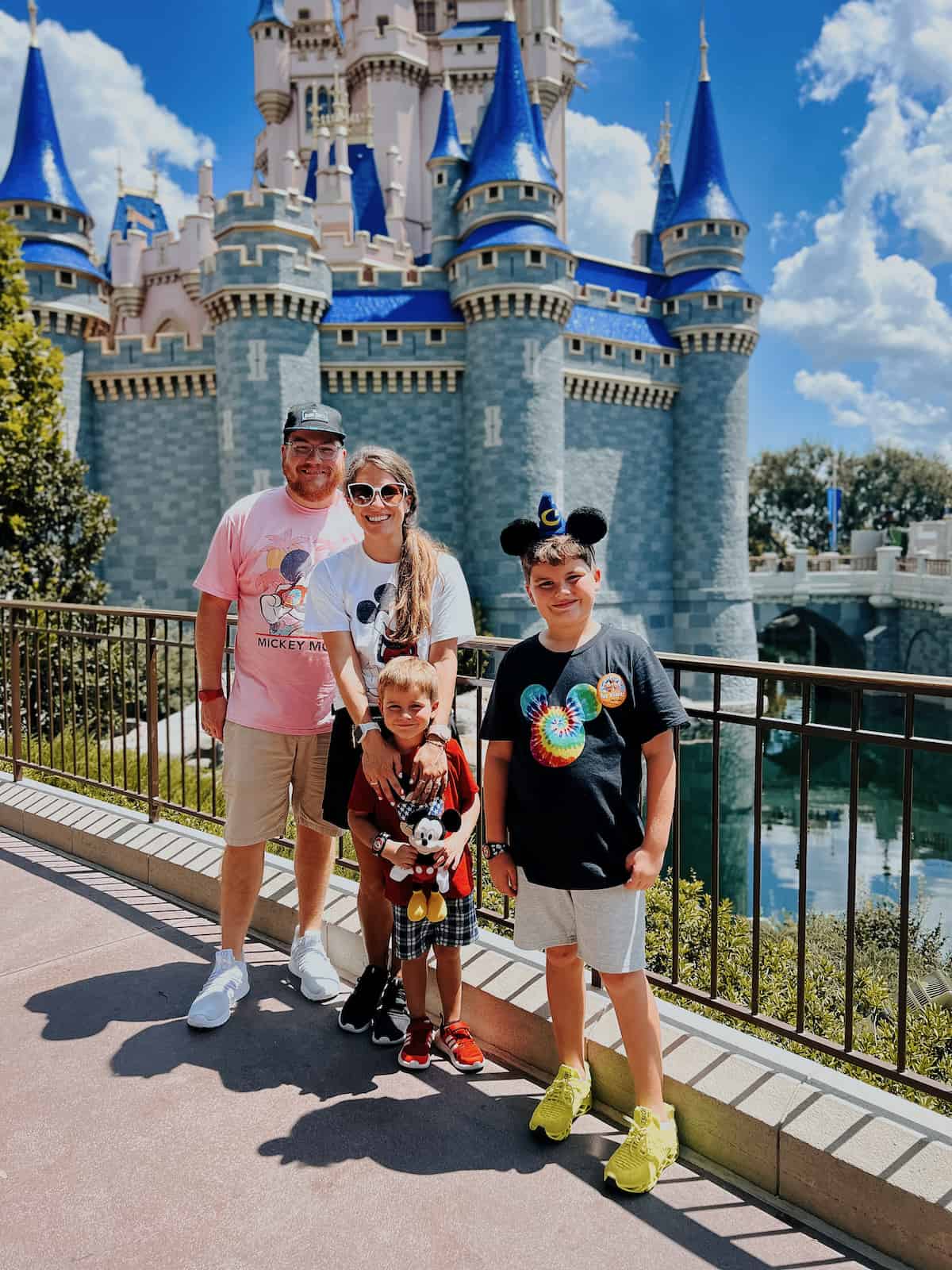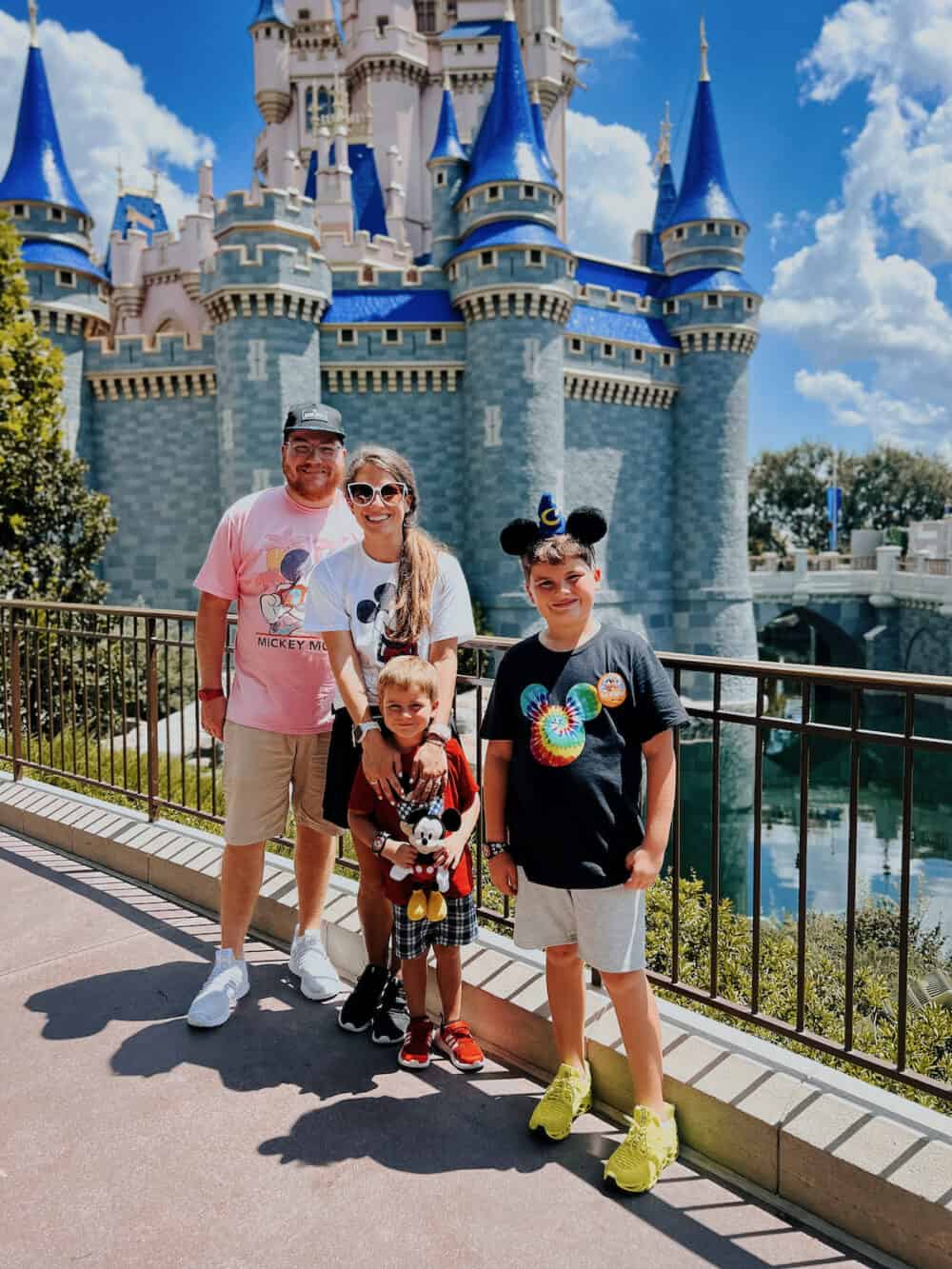 Before I dive in, I'll answer the number one question I got from my Instagram audience: what about school?!
The simple answer? They kids missed school for 6 days.
I'm a huge believer in the power of travel and how good a family vacation is for everyone (kids and parents included). I have absolutely no issue with my kids missing some school to make a family trip happen. It's so much more affordable (and pleasant) to travel during the school year, and my kids will probably always miss a week or so of school for family vacations, as long as we can afford to keep doing it.
Thankfully, both kids' teachers also agree that travel is important and valuable, and were totally supportive of the trip. Not that their opinion would have changed our plans, but it was nice to have them on board! I just touched base with each teacher before we left and asked what we could do to make sure the kids didn't fall too far behind. Jackson did some homework on the airplane, and we did some extra reading with Grant. Other than that, we enjoyed ourselves and ignored all responsibility for 8 full days.
And it was totally worth it.
Now that that's out of the way, let's get into the recap!
Day One: Travel Day + Arrival
We woke up extra early to head to Orlando on Wednesday, September 6th. It was 100% worth it to have an early flight (8:30 AM), because we were at our hotel in time for lunch and got to enjoy the day there.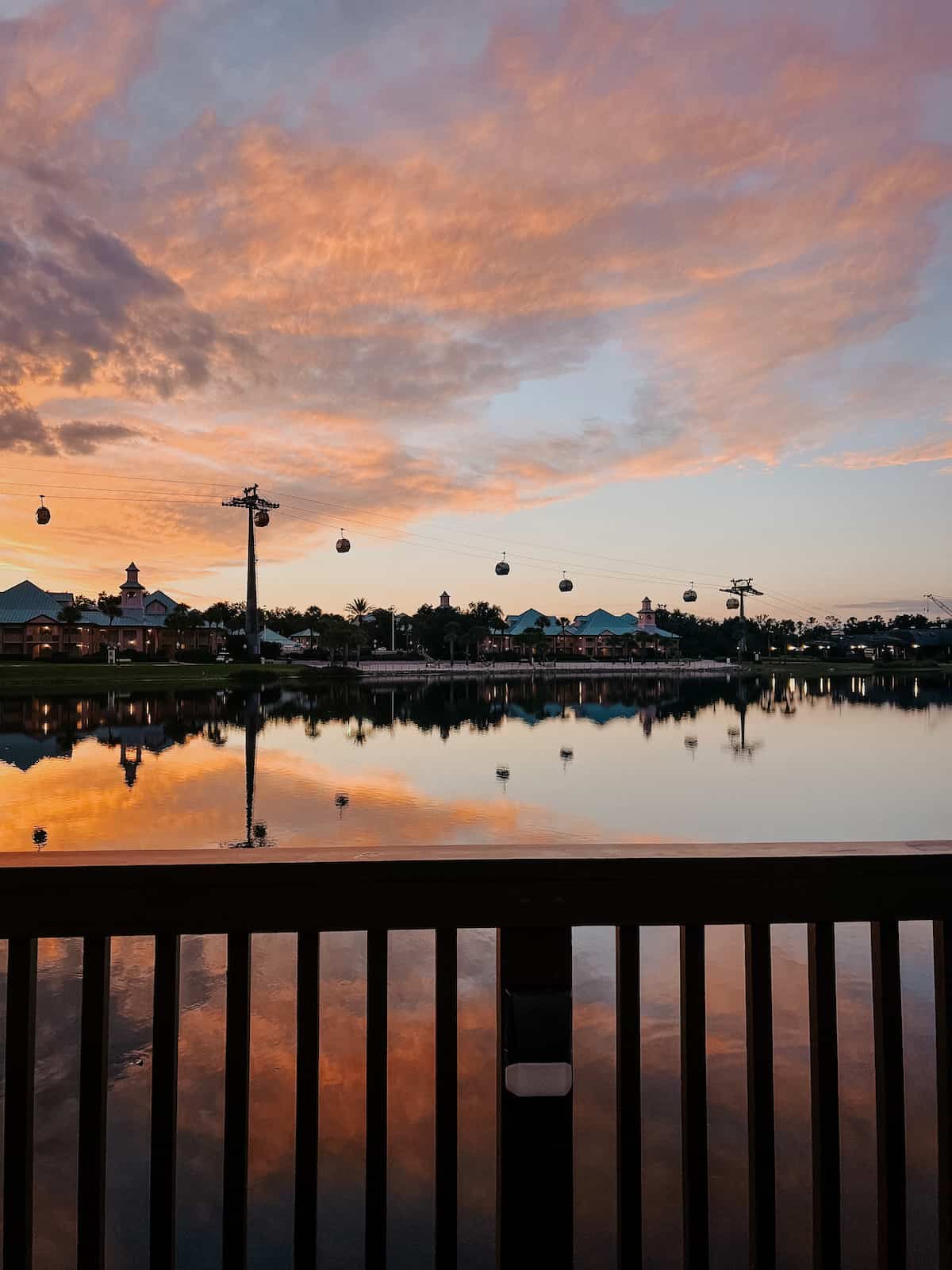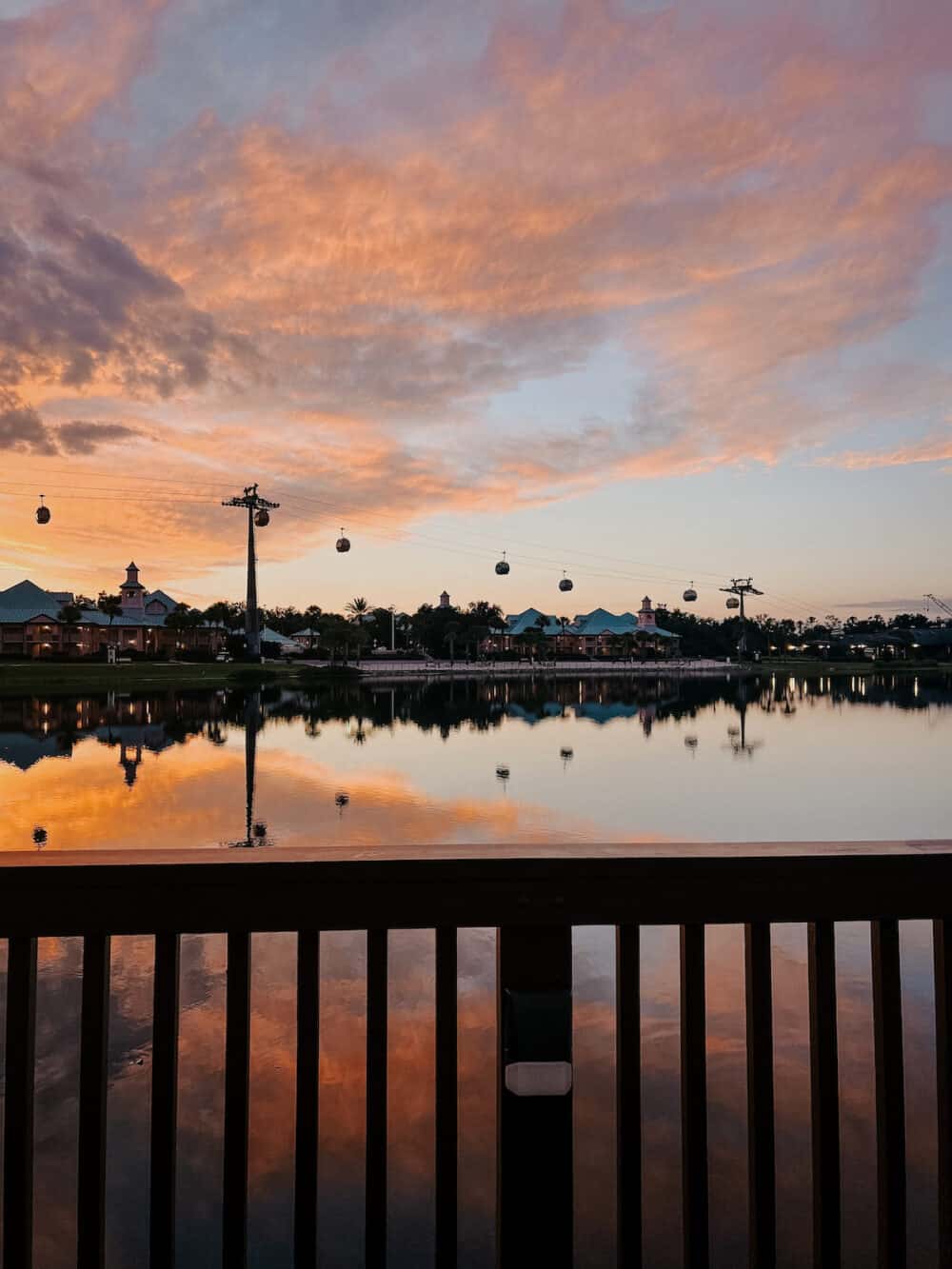 We stayed at Caribbean Beach Resort (more on that later this week), and found it was the perfect place for us. We loved the vibe, the food was incredible, and the pool was great. The skyliner was the absolute most convenient way to get around, and we are planning to stay here again next year (yes, next September's trip is already booked!).
We got settled in our room and then popped over to Disney Springs to explore a bit. It was fun but definitely not a must-do for us. It's basically just a giant outdoor shopping mall, and we did plenty of shopping at Disney World itself. Although, the LEGO store was really great!
Once we got back to the resort we hit up the pool for a really quick swim, then had dinner at Sebastian's Bistro. It was one of our favorite meals of the entire trip, and we officially declared it a first-night-of-vacation tradition.
After dinner, we got everyone settled in bed nice and early because we had a biiiiig day ahead of us.
Day Two: Magic Kingdom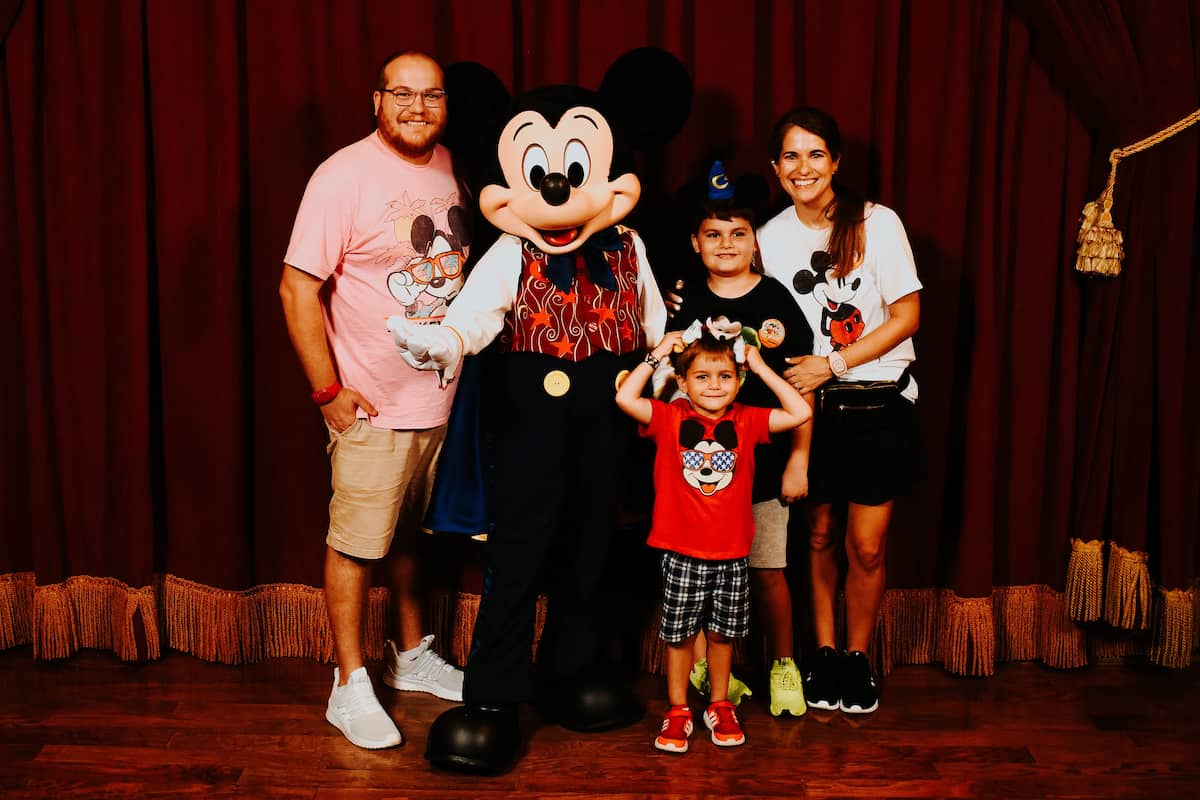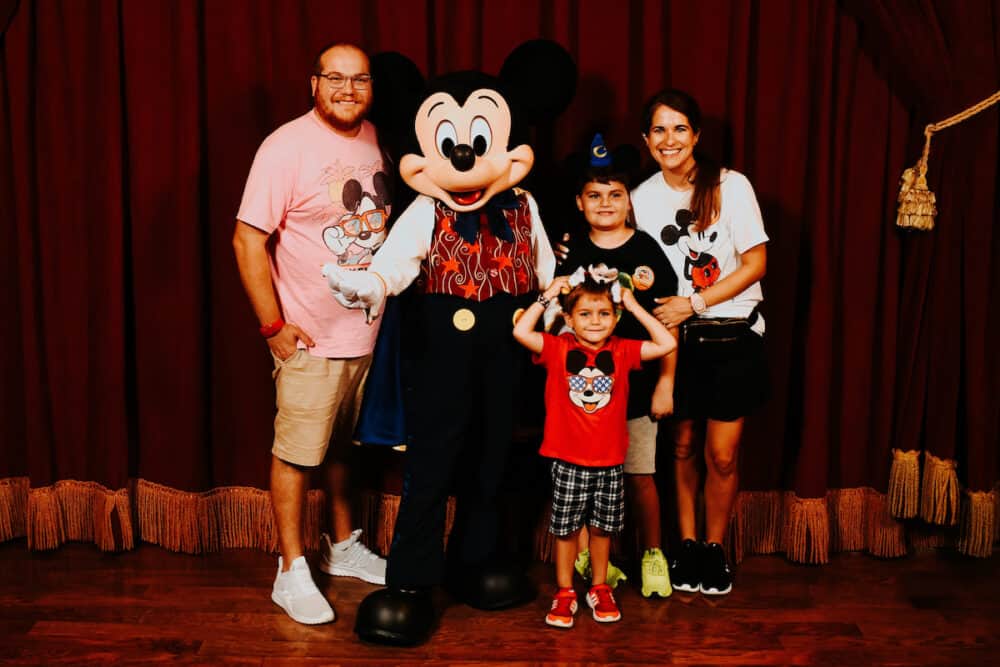 I can't even describe the intense emotions and excitement I had as we made our way towards Magic Kingdom. The first time I saw the castle, I cried (and it wasn't nearly the first or last time I cried on this trip!).
We had booked Jungle Cruise for our first Lightning Lane of the day, but it wasn't until 9:00 and we were eligible for Early Entry since we were staying on property. So, we headed over to Tomorrowland to ride Space Mountain…only, it was down. We didn't have a backup plan (lesson number one: always have a backup plan!), so we ended up just riding a couple of other other rides in that area before heading over for our first Lightning Lane when the park officially opened.
We did a really great job this day of getting everything in that we wanted to. We rode all of the rides but one (Seven Dwarves Mine Train, which we'll get to in a second), and watched most of the shows too. We also didn't do a ton of bouncing from one end of the park to another – I booked Lightning Lanes based on where we were in the park, and it was way easier than I expected to make it all line up nicely!
We paused midway through the day for lunch with Winnie the Pooh and friends at Crystal Palace – it was a ton of fun, but we agreed that we might do breakfast if we did it again. The food wasn't really anything special, and breakfast is a bit cheaper. The kids loved every second of hanging out with the Hundred Acre Woods gang, though, so it was worth it!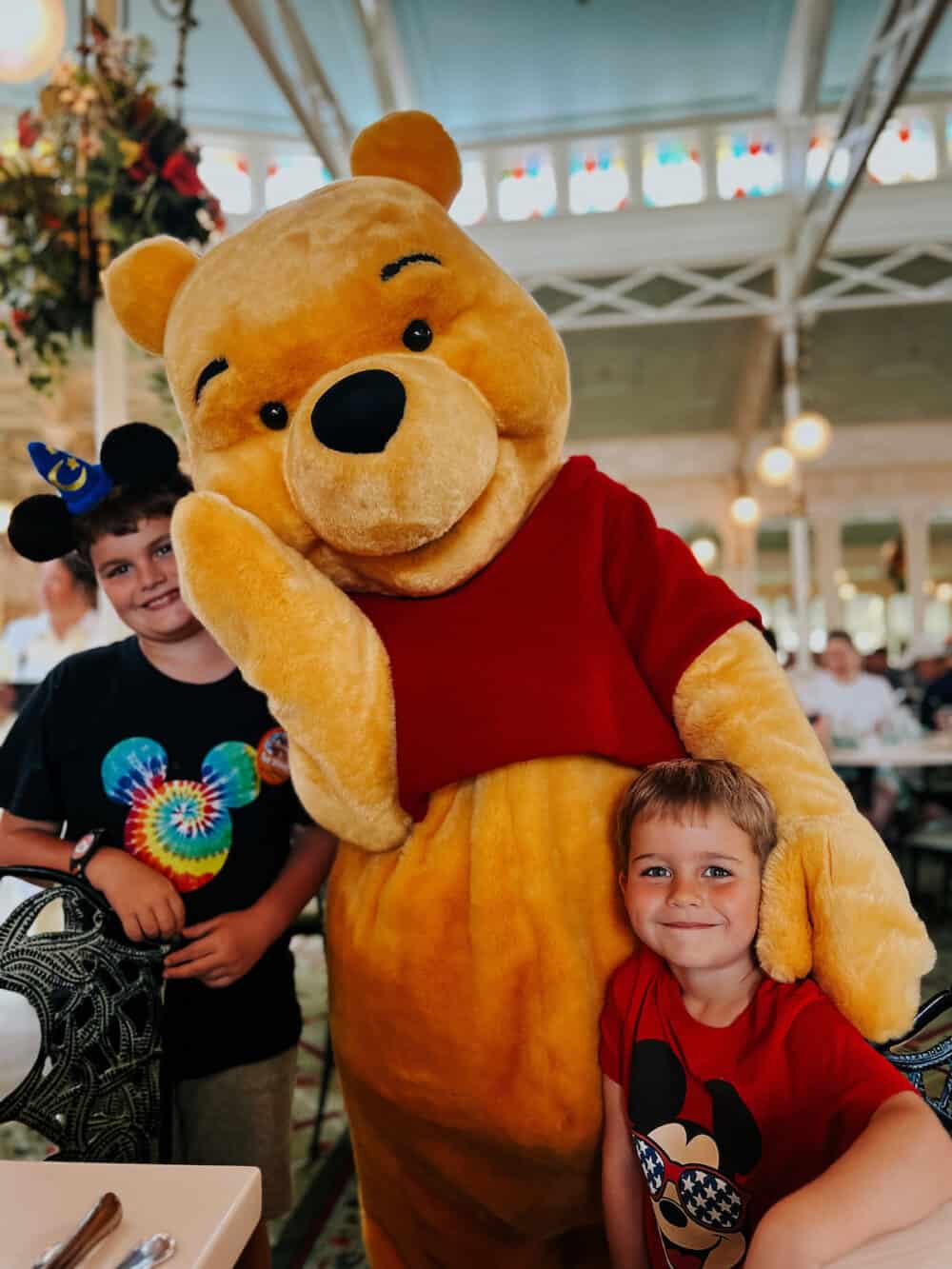 We met a few characters, saw a ton from afar (including watching Aladdin and Jasmine hop on Flying Carpets first thing in the morning!), and generally had a wonderful day.
We stayed through the fireworks show and watched it from the hub in front of the castle. It was great to have such a good view for our first fireworks experience, but we all agreed that in the future we'll sacrifice the view for a less crowded viewing spot.
After fireworks, our original plan had been to hop over to Seven Dwarves Mine Train (since it posts crazy lines all day and isn't available for a Lightning Lane unless you buy it separately), but we hadn't been able to ride Space Mountain yet, which was Jackson's #1 ride to try. So, we headed over to Tomorrowland instead and that ended up being all we had time for before park closing.
We didn't leave the park until a bit after it closed, and the bus situation was overwhelming, to say the least. There were a ton of people waiting and it didn't feel like there were quite enough buses. When we finally got on one, we had three (count them, three!) screaming babies with us. It wasn't anyone's fault but it certainly wasn't the ideal way to end the night. We agreed that next time we were in Magic Kingdom, we'd just spring for a Minnie Van to get back to the room, because we didn't want to do that again.
Favorite rides and attractions:
Haunted Mansion and Pirates of the Caribbean (Amanda)
Pirates of the Caribbean and Jungle Cruise (Corey)
Space Mountain and Mickey's Philharmagic (Jackson)
Under the Sea and Big Thunder Mountain (Grant)
Day Three: Hollywood Studios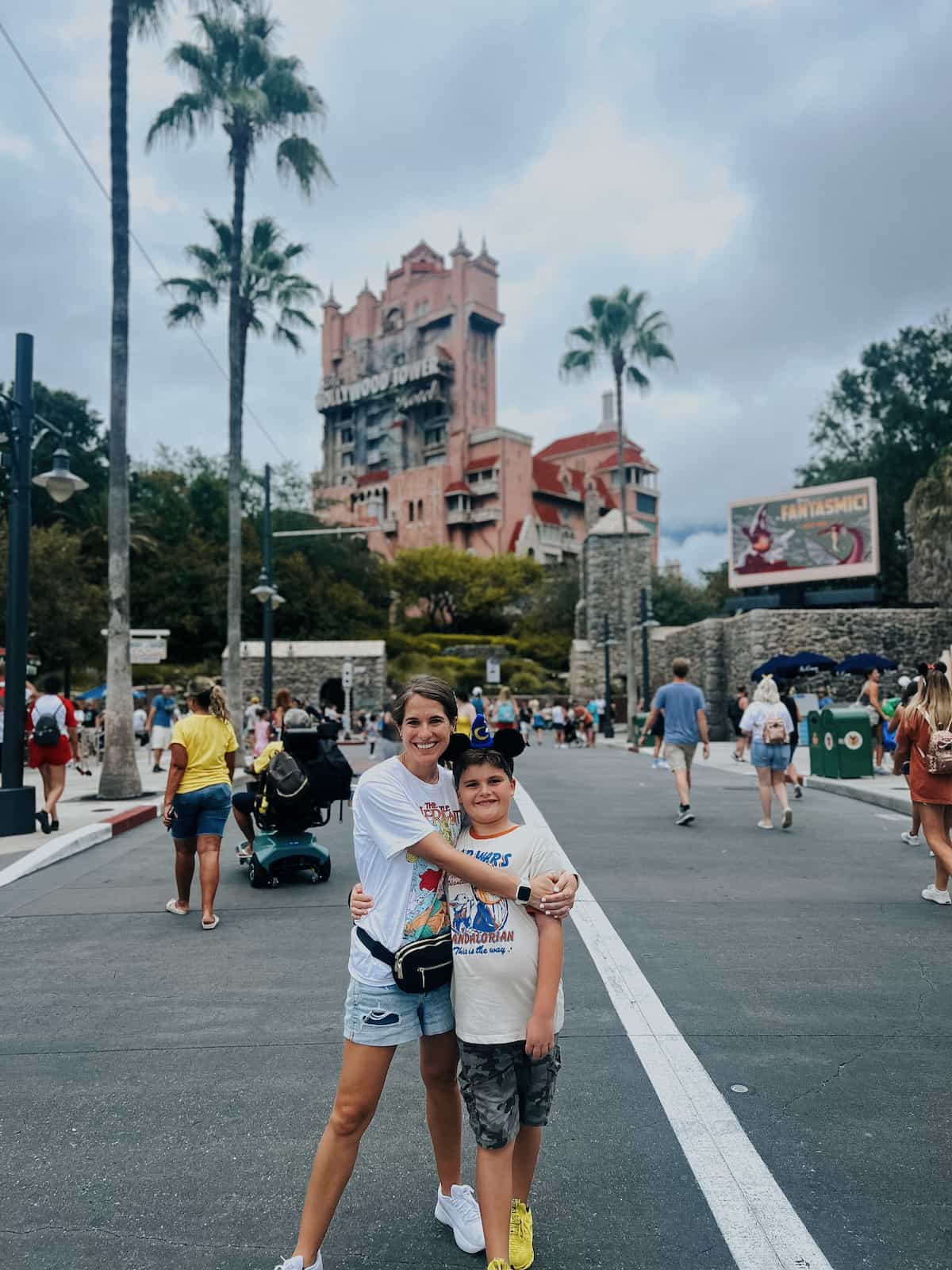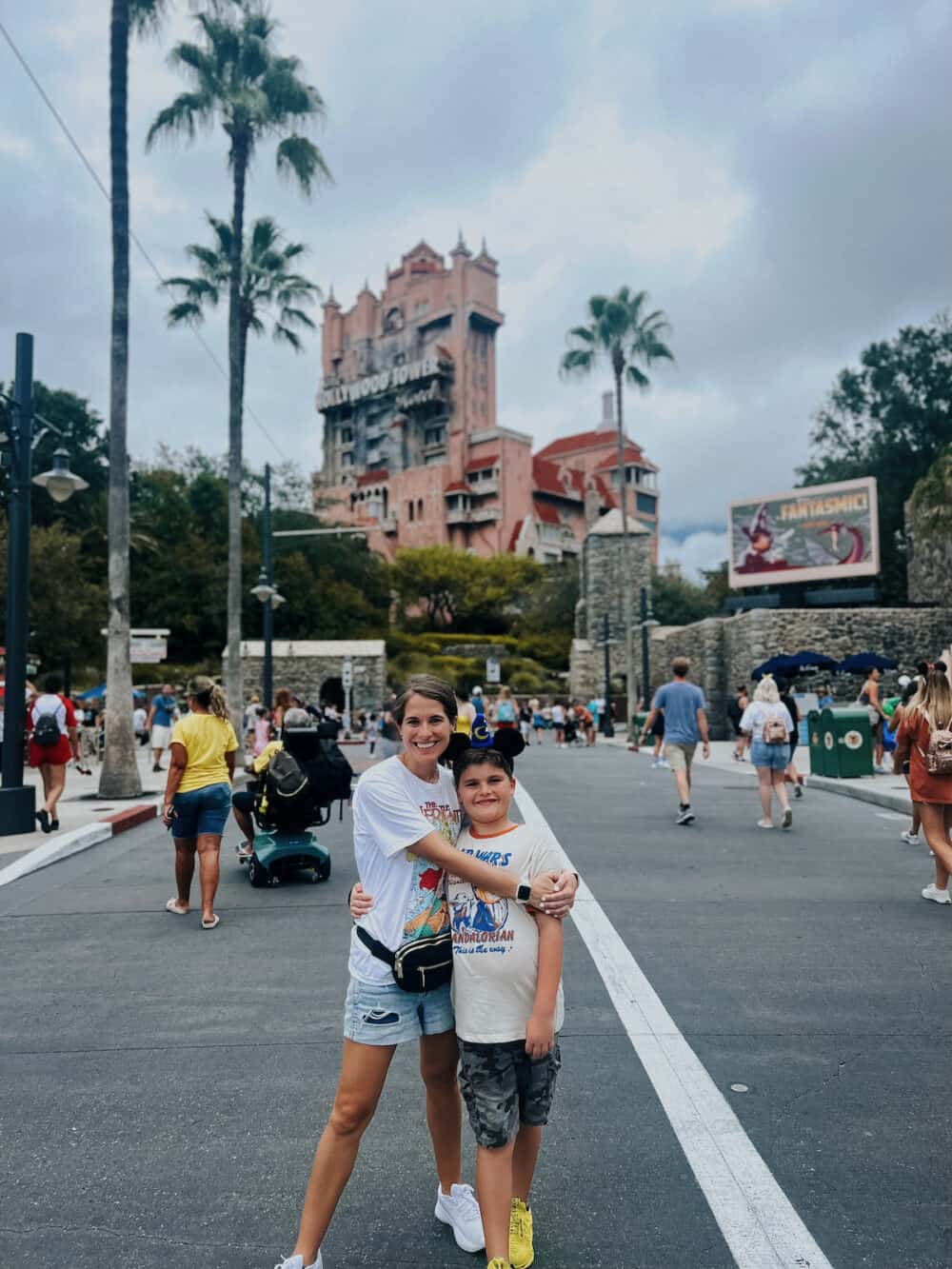 Other than Magic Kingdom, this was the day I was looking forward to the most. Tower of Terror has been the ride that defined Disney for me since I was a child, thanks to a trip my cousin took when I was about 7 and how she raved about it. So, needless to say, I had big feelings heading here!
We started the day off in the Star Wars area and rode Rise of the Resistance for our first ride. I didn't expect to be half as blown away by it as I was. Corey and the kids love Star Wars but I don't have any particular attachment to it. But, this ride was INCREDIBLE. It was one of the top rides of the entire trip for all of us!
After we got off of Rise, we were able to also fit in the other ride in that area (Smuggler's Run) and explore the rest of Galaxy's Edge before the park even opened.
We had lunch that day at Sci-Fi Drive In. I wasn't sure what to expect because I've heard wildly mixed reviews, but we loved it. The food was delicious, the atmosphere was so fun, and it was one of the cheapest meals we had during our entire stay. Plus, it was so nice to spend an hour or so in a so-air-conditioned-it's-actually-cold restaurant when it was so hot outside. We'll 100% be back.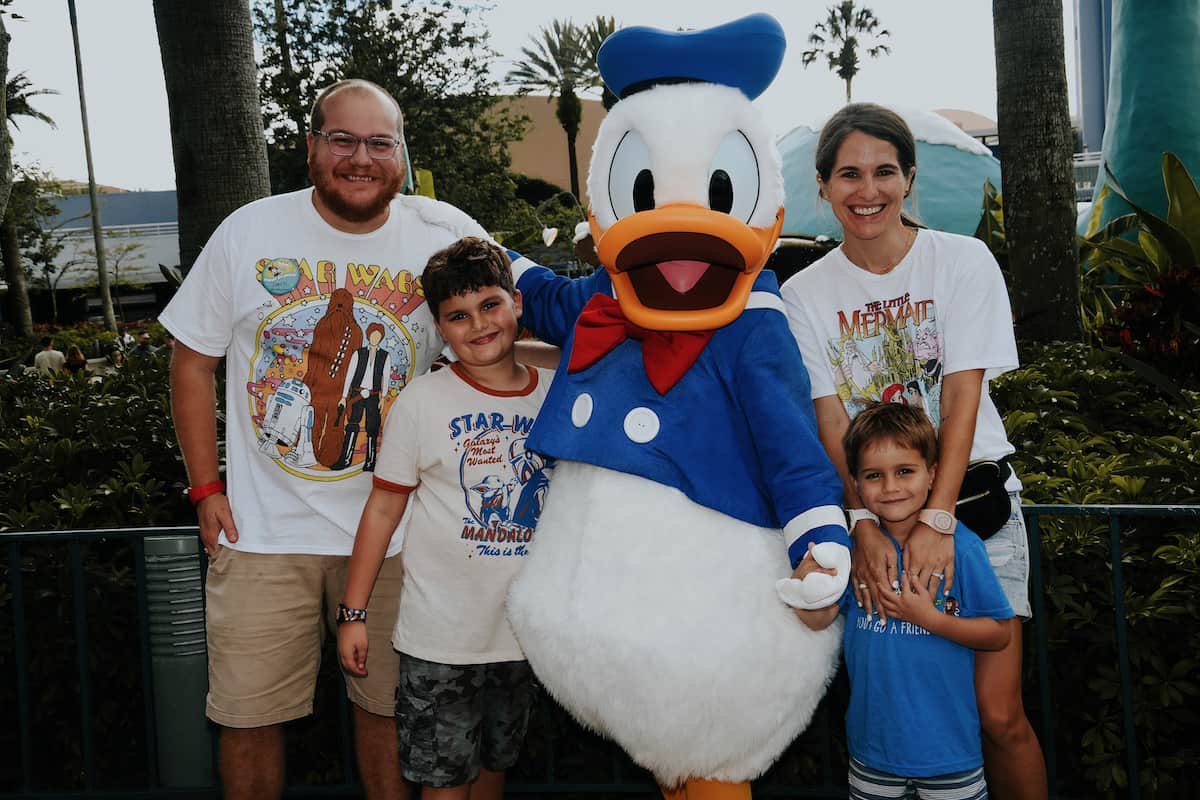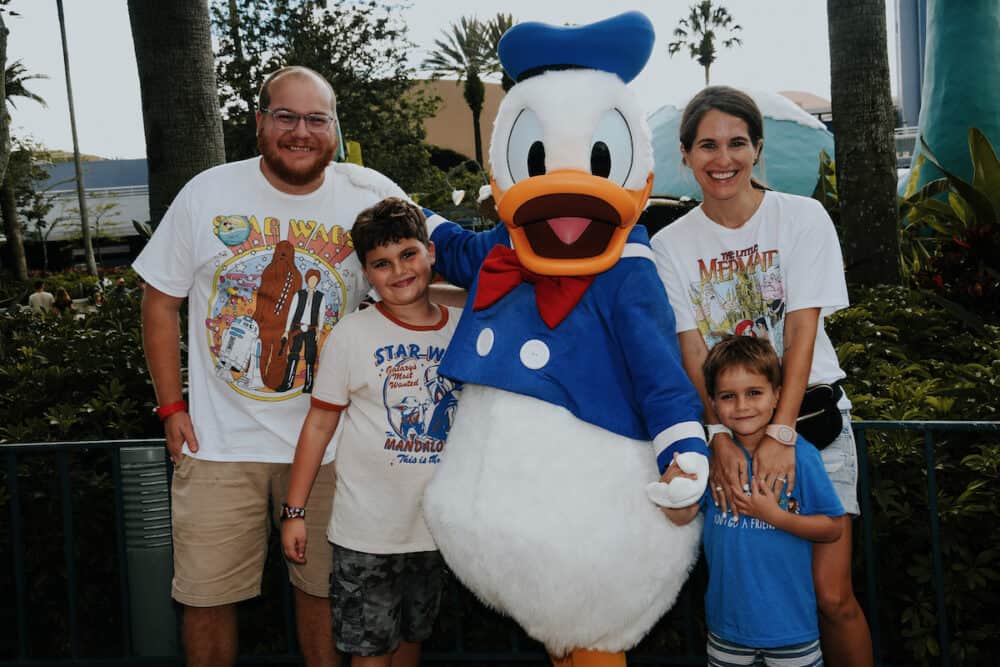 We rode every ride here except Rockin' Roller Coaster (which was intentional, we knew I was the only one who would like it), watched several shows, met some characters, and stayed for Fantasmic! The show was incredible and so much less stressful than the night before. We arrived about 15 minutes before the show started and managed to get a great seat in an area that's blocked off until right before the show starts.
Leaving the park was also much (MUCH!) less crowded and intense, and thankfully we got to ride the skyliner back to our resort. We went from the stadium in Hollywood Studios to our hotel room in about 20 minutes with zero stress.
Favorite rides and attractions:
Tower of Terror and Rise of the Resistance (Amanda)
Rise of the Resistance and Slinky Dog Dash (Corey)
Mickey & Minnie's Runaway Railway (Jackson)
Tower of Terror (Grant)
Day Four: Rest!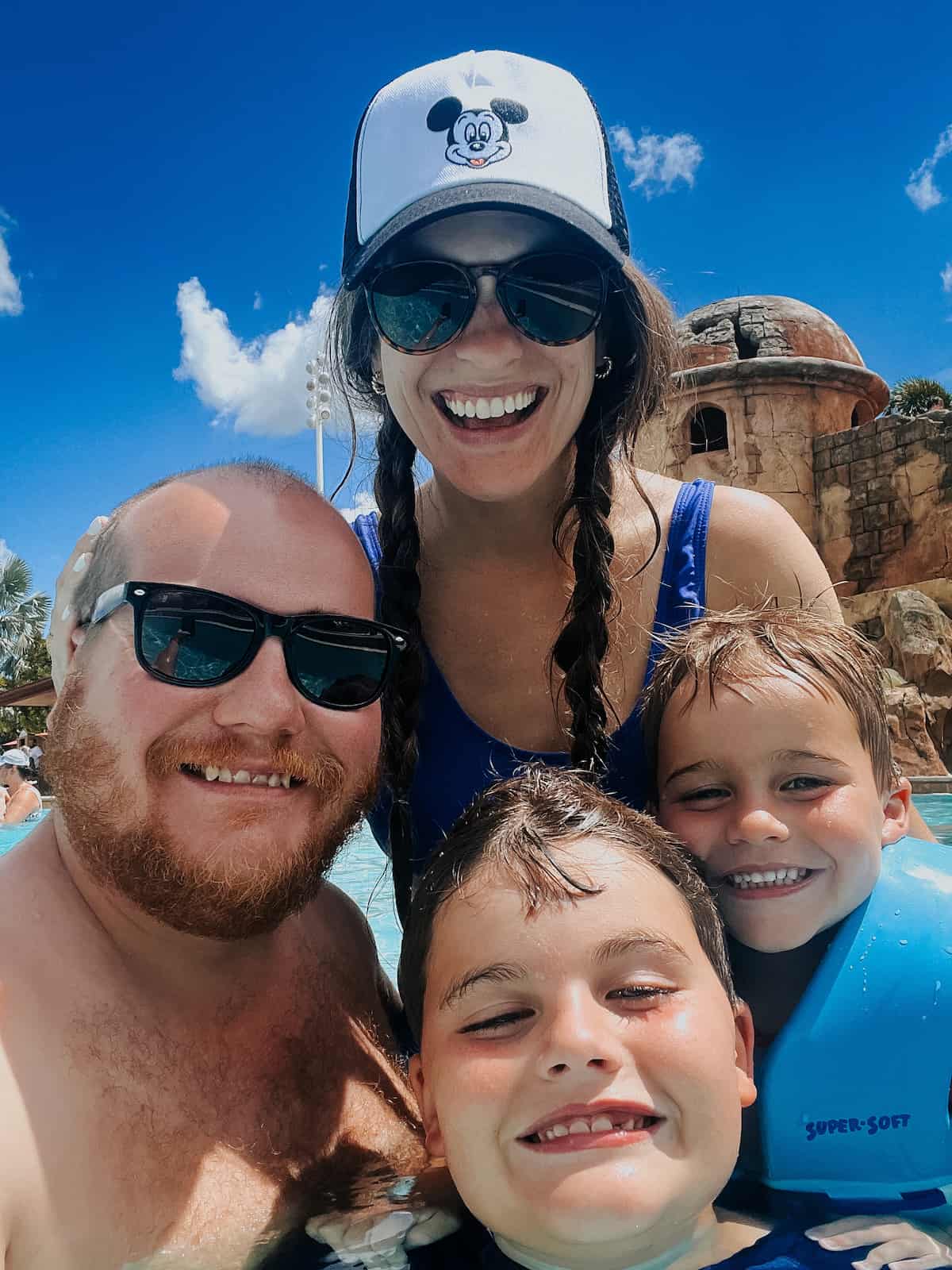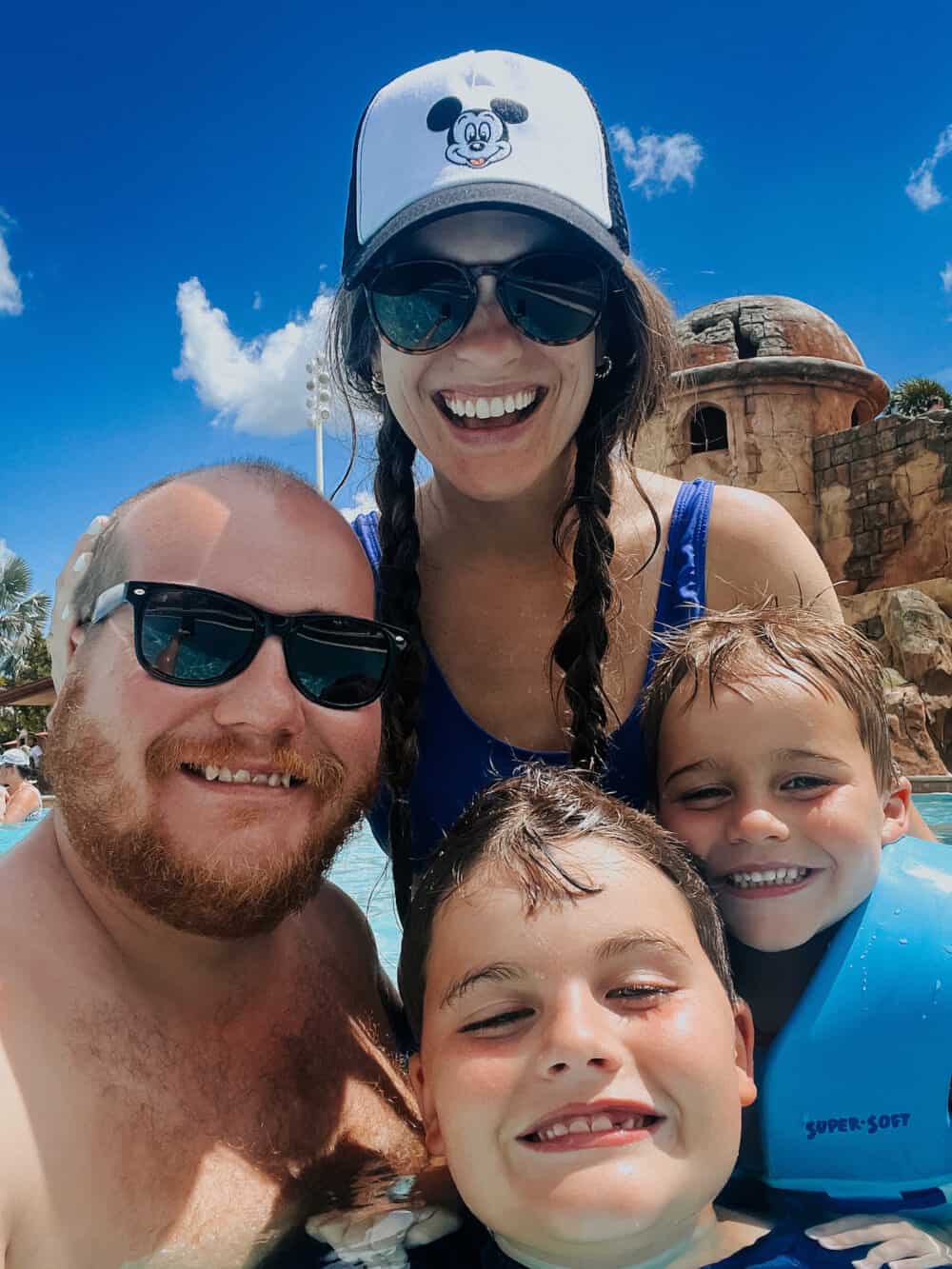 We intentionally made absolutely zero plans on our resort day, because we wanted to be able to be as flexible as possible depending on what the kids needed. Our kids usually go to bed early, so we were asking a lot of them this week! Thankfully, everyone was doing great – I think there's something in the air at Disney that just puts an extra pep in your step no matter how little sleep you've gotten.
We stayed in the room and watched TV and rested for most of the morning, and then ventured out to explore a little. We wanted to check out some of the nearby resorts to make sure that there wasn't something we really wanted to try on our next trip. We started at Riviera (which is right next to Caribbean Beach), and we walked around outside for a bit and let the kids play some of the lawn games. Afterwards, we had lunch at the Banana Cabana on property at our resort. It was incredibly tasty (as was everything we ate at Caribbean Beach!).
After we finished, we hit up the pool for a while and then went to explore some other resorts. We took the skyliner over to the Boardwalk area and walked through what we could of all the resorts in that area. We grabbed ice cream at Beaches & Cream, poked our head into some of the Boardwalk shops, and then ended up back at Disney Springs because we wanted to let the kids pick out a shirt and a hat to commemorate the trip.
We grabbed dinner at the quick service restaurant at our resort (pizza for the kids, a chicken bowl for me (SO GOOD) and the mixed grill platter for Corey), and then went to the pool one more time before calling it a night.
Day Five: Epcot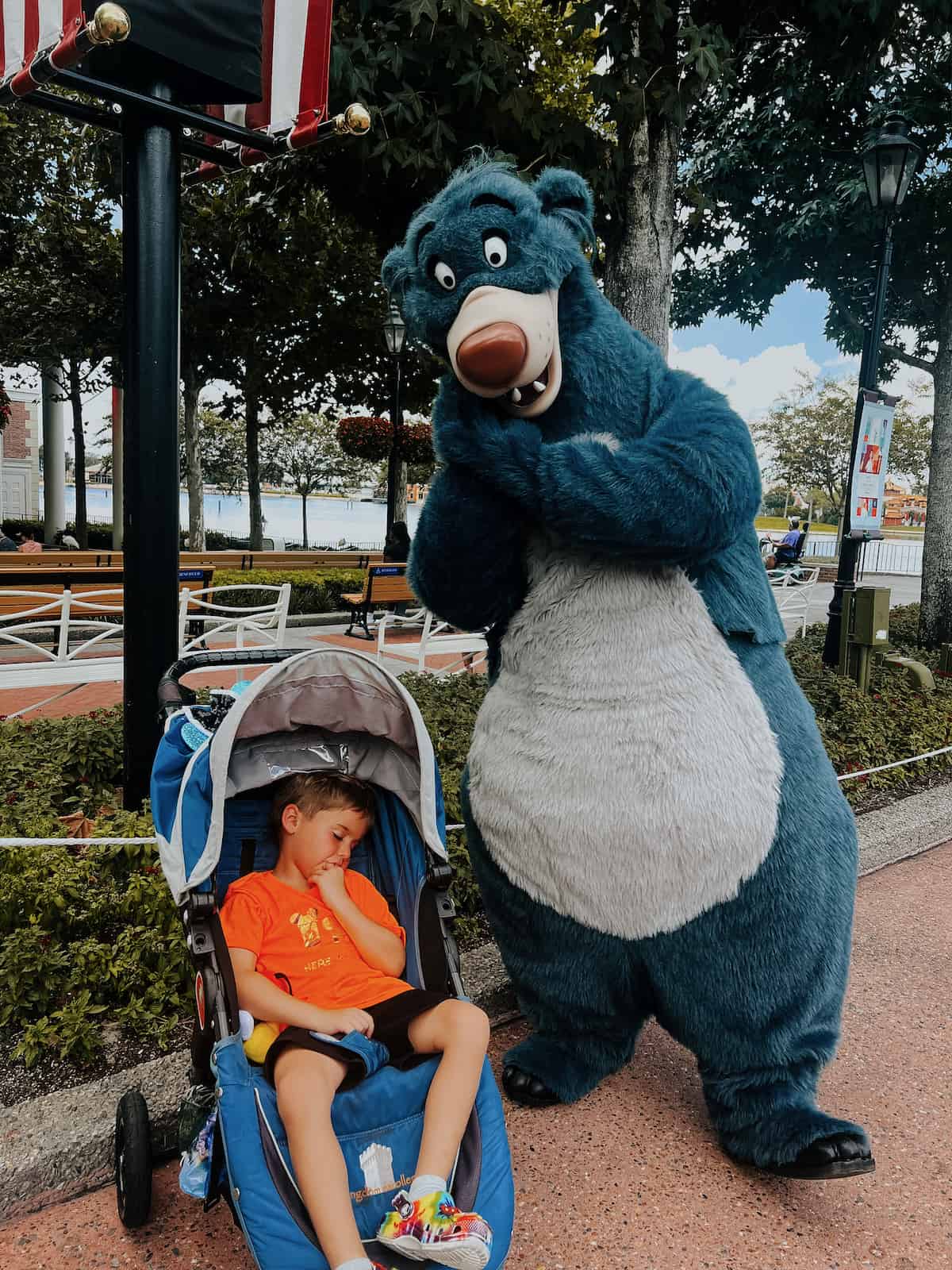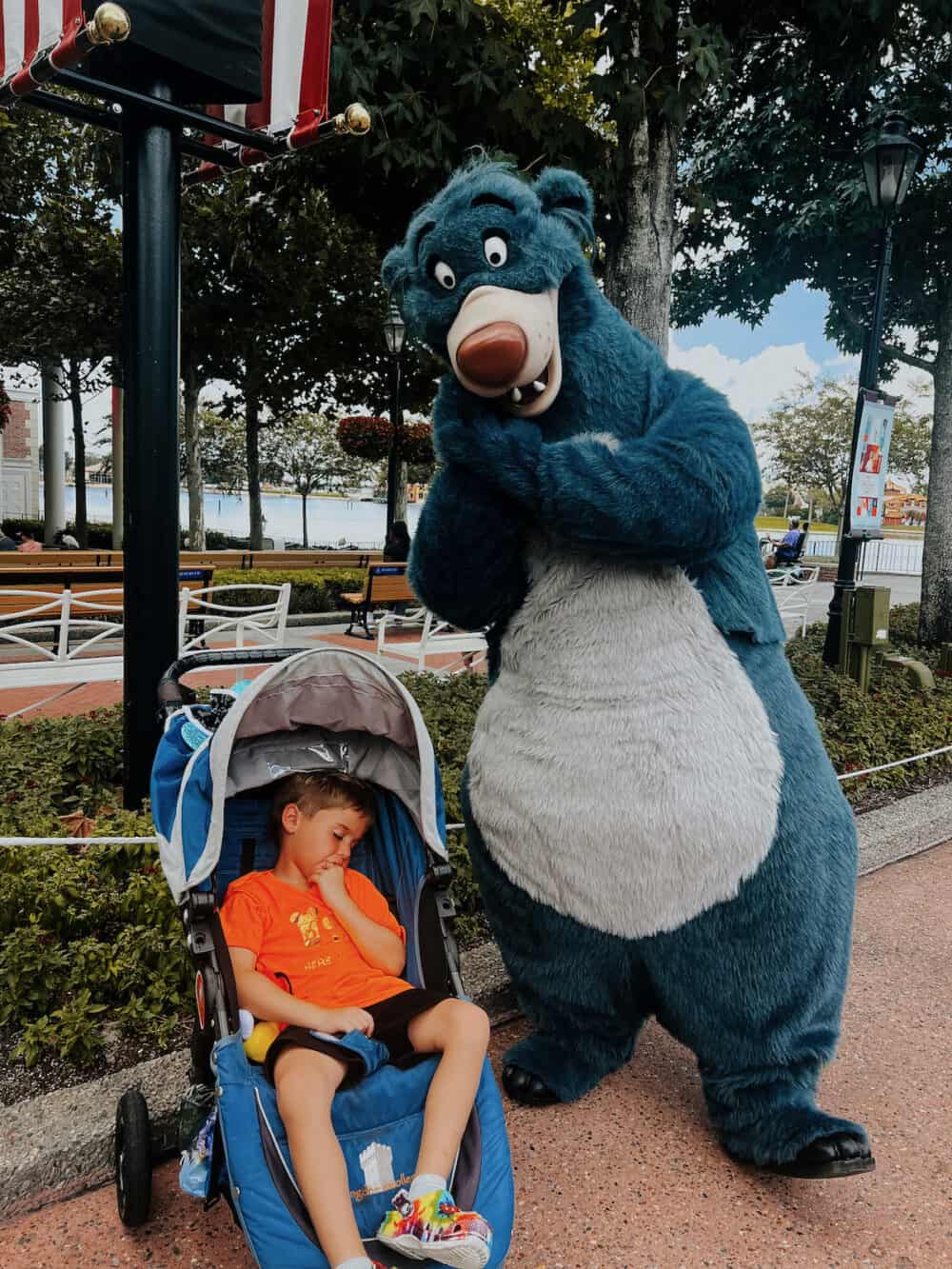 I was really excited for Epcot as a few of my favorite characters would be there, and I was really pumped to try some Food & Wine Festival snacks!
We started off during Early Entry with Remy's Ratatouille Adventure and it was one of the top rides of our entire trip. It was SO FUN and we couldn't believe how immersive it was. Afterwards, we planned to dash over to Frozen to squeeze it in before the park officially opened, but it was down.
We pivoted and went over to Test Track – it was our first Lightning Lane of the day, but we knew the kids would love it, so we rope dropped it and then rode it again immediately with our Lightning Lane.
We spent a lot of this day just wandering, snacking, and taking in the sights. After we rode Test Track and Spaceship Earth, we had a paid Lightning Lane for Guardians (Grant was JUST tall enough), and so we rode that – it was a great ride! Afterwards, we dove into the World Showcase and did the loop, just poking our heads into shops and grabbing snacks as we saw ones we liked.
By the time we made it over to Norway, Frozen was back up so we used the Lightning Lane we had booked earlier in the day to skip the (overwhelmingly long) line. When we got out, the line to meet Anna and Elsa had dropped to just 20 minutes, so we did that before moving on.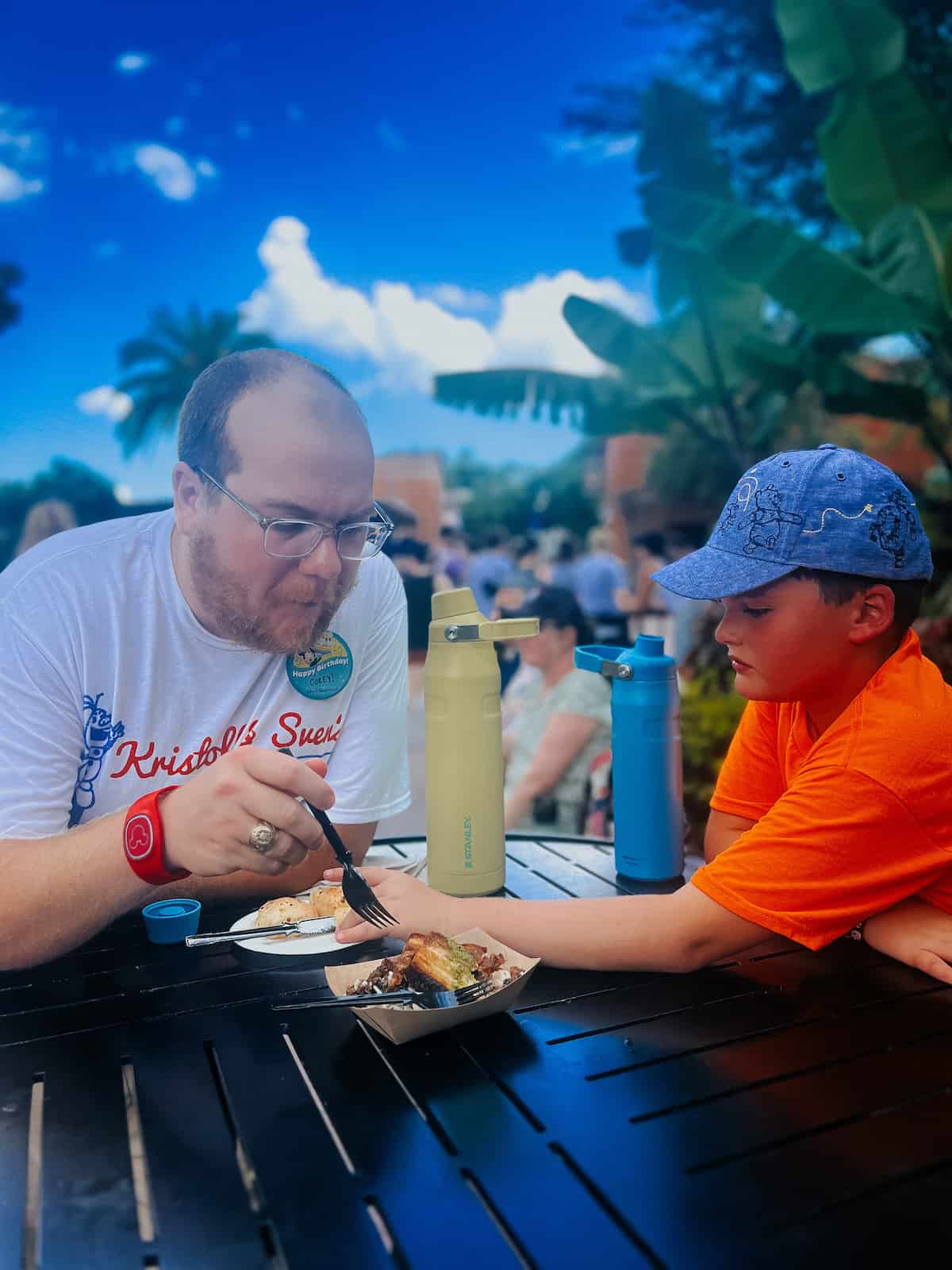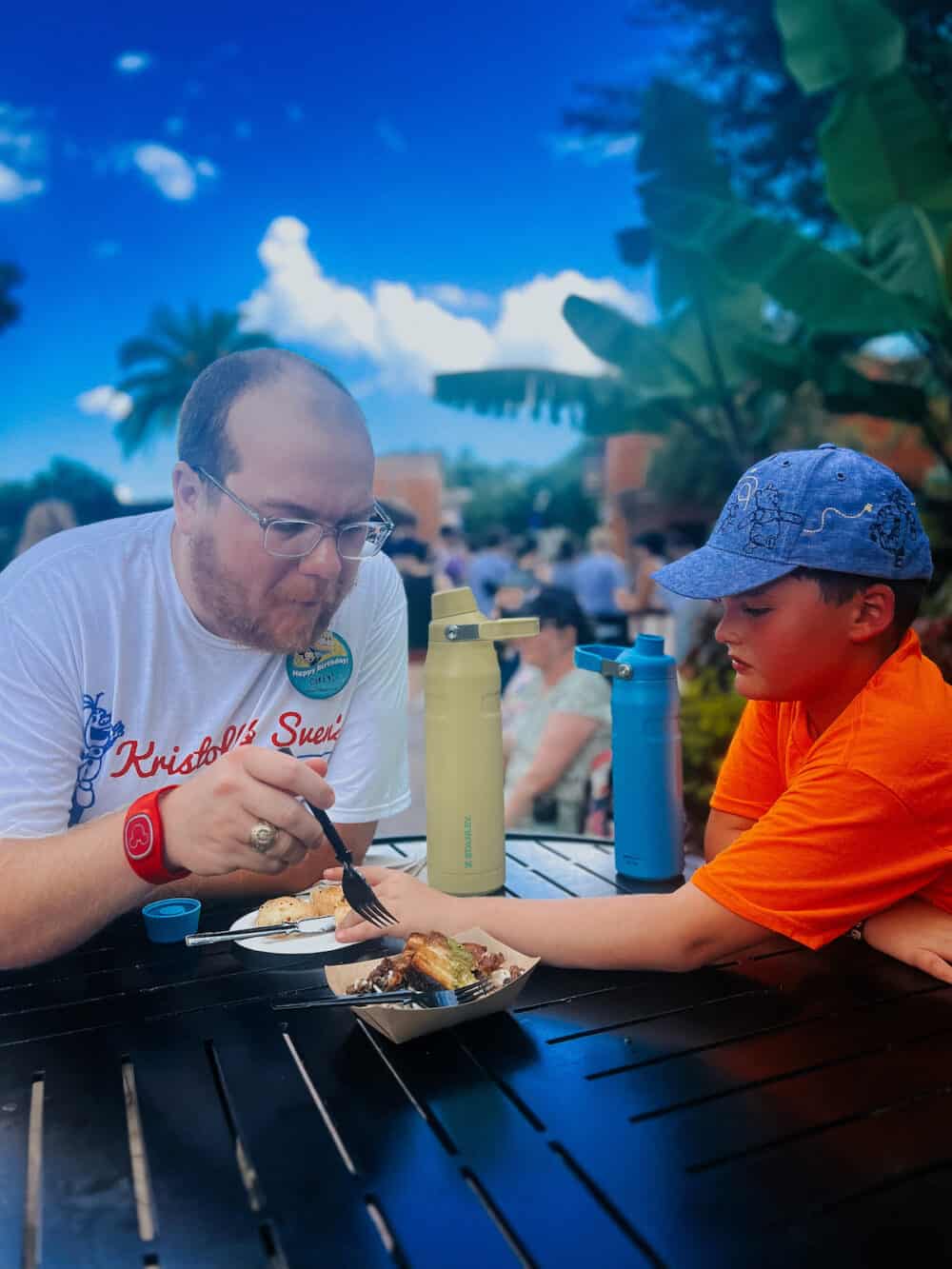 After we finished exploring the World Showcase area, we went back up to the front of the park to finish out the other rides. We all agreed that Epcot was great, but maybe doesn't have to be a full-day park for us at this particular stage. The kids didn't have a ton of interest in exploring the countries outside of peeking in the shops, and there were only a handful of rides here that we'd have to do every time we come.
I will say, though, Epcot really surprised us with the character interactions. There were characters everywhere we looked, and even some great surprise ones over in the American pavilion. We saw Geppetto dancing with a little boy dressed like Pinnochio, Baloo from Jungle Book took a quick nap with Grant when he saw me hanging out with him sleeping in the stroller, and we waited less than 10 minutes each to meet Minnie and Daisy.
We wrapped up around 8:00 that evening and decided to head back to the hotel to get a good night's rest. The park was really crowded (it was a Sunday), so we didn't want to fight the crowds for fireworks – especially since we could see them from our hotel if we wanted to!
Favorite Rides and Attractions:
Remy's and Guardians (all of us!)
Day Six: Magic Kingdom Part Two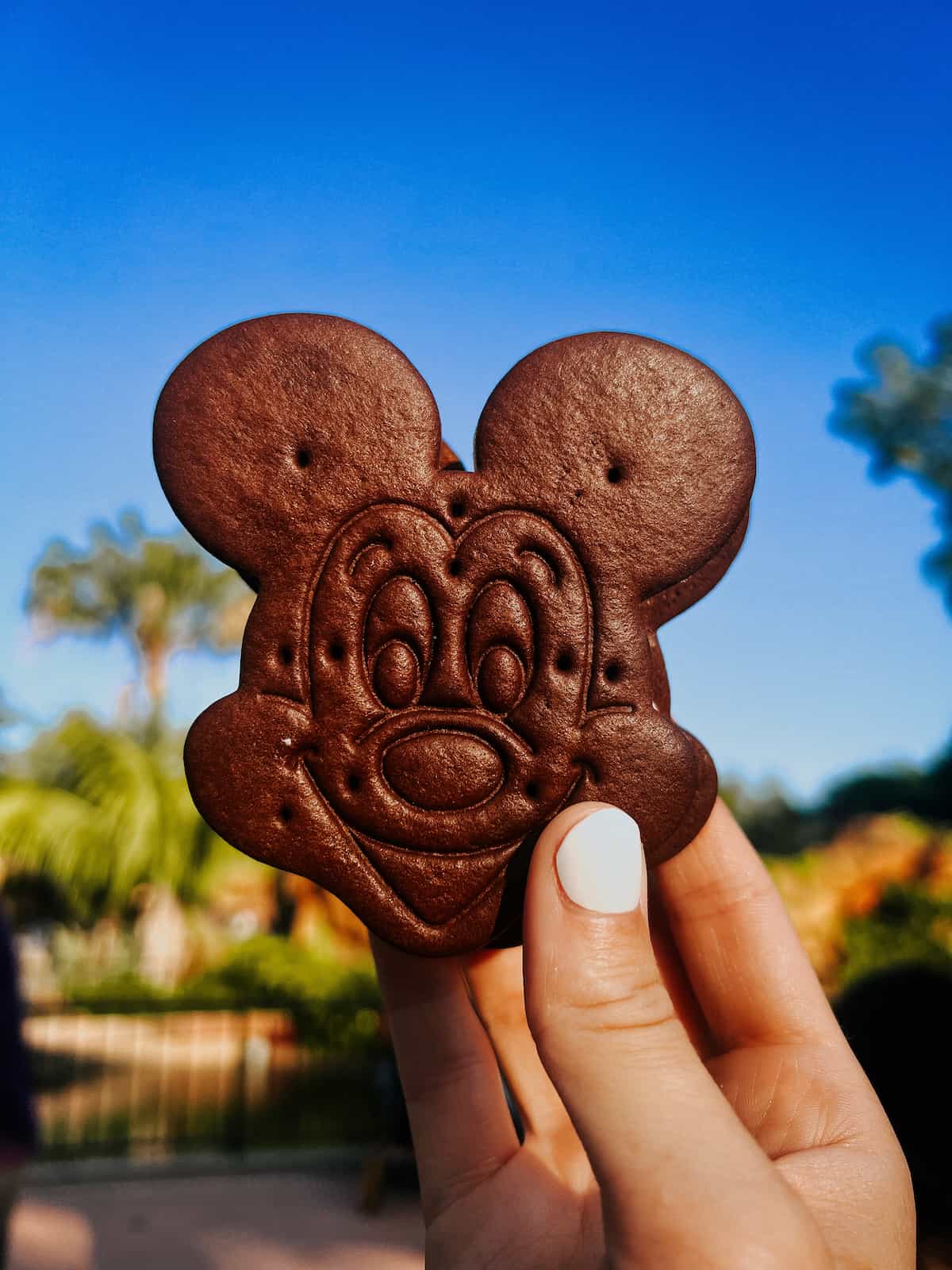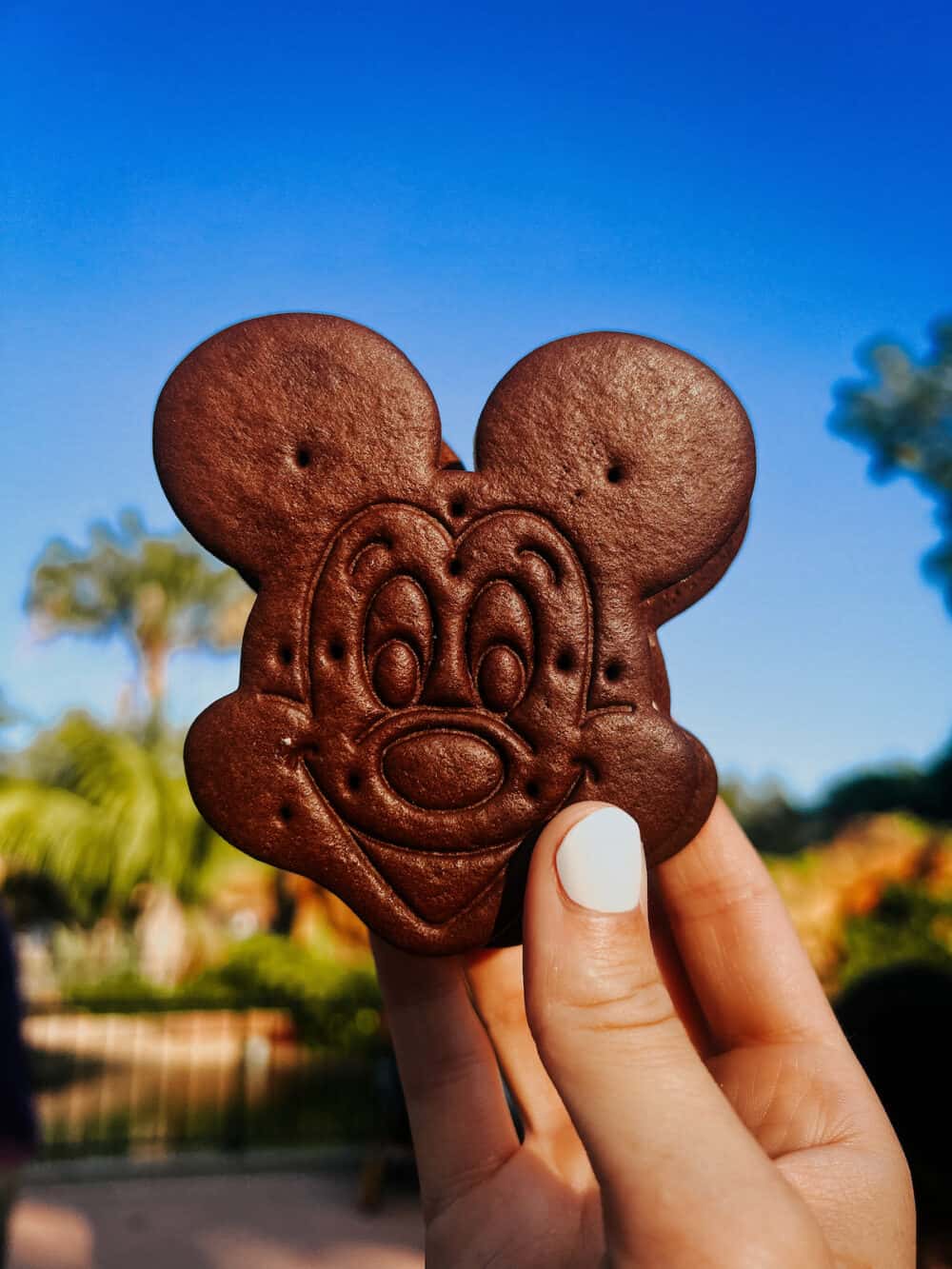 I was so happy we planned two days at Magic Kingdom, because I couldn't want to go back. We made a plan to get there for Early Entry and ride Seven Dwarves Mine Train, since it was the only ride we hadn't been on yet.
But, guess what? It was down!
We made a really quick decision to pivot over to Peter Pan, and we were so grateful we were fast about it because we pretty much walked right on. By the time we got off the ride, it was up to a 70 minute wait, and Space Mountain was now also down, so the line only grew longer.
We weren't quite as efficient with our Lightning Lanes this day and did a little more bouncing around. We had a list of things everyone wanted to be sure to experience again, so we just focused on getting it all done.
We had lunch at Skipper's Canteen – it was so, so delicious! The environment was so fun, too, and I think we'll definitely be back to that one.
We rode a bunch of our favorite rides (many of them twice) throughout the day, had a ton of snacks, and caught the second parade right in front of the castle just minutes before it started.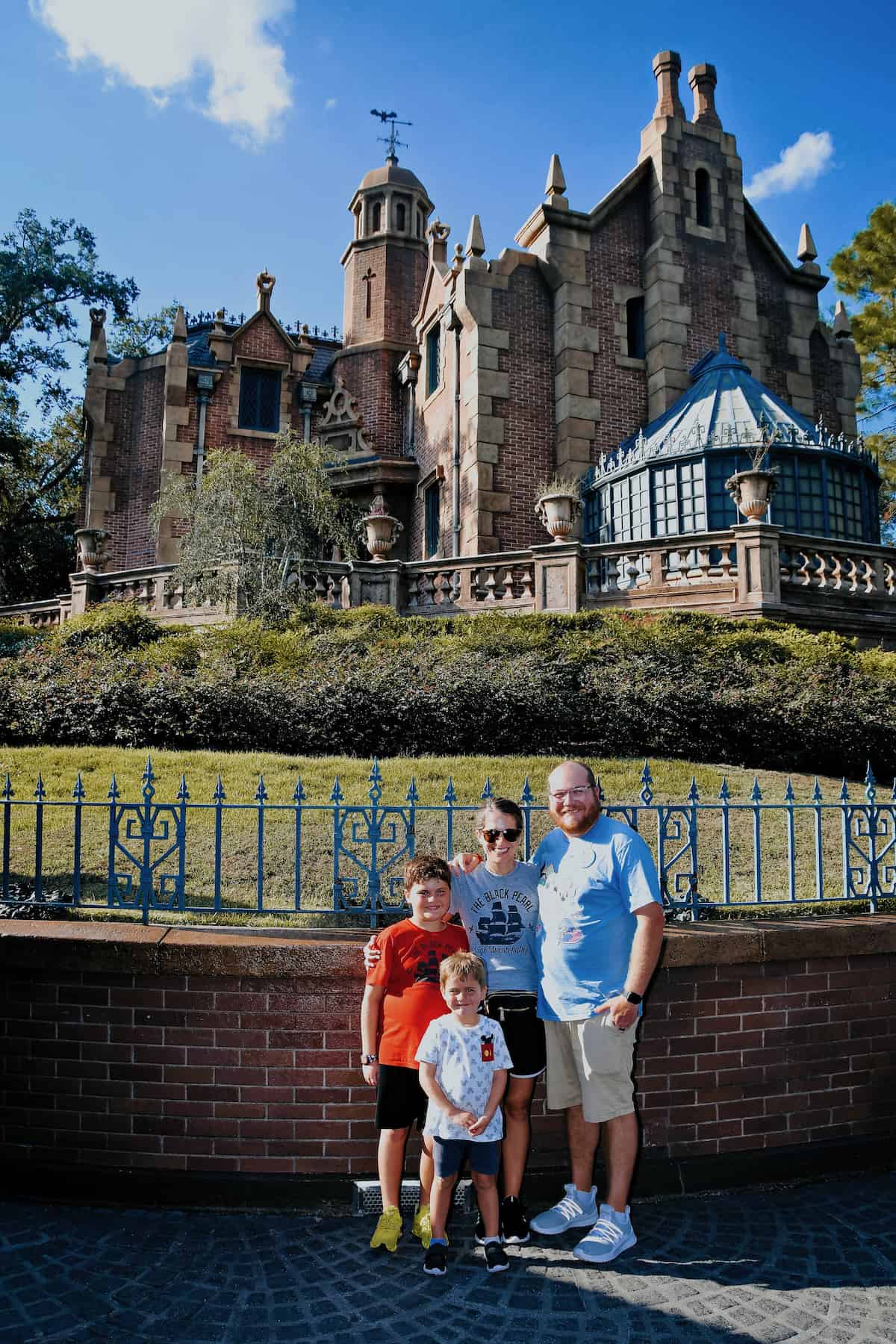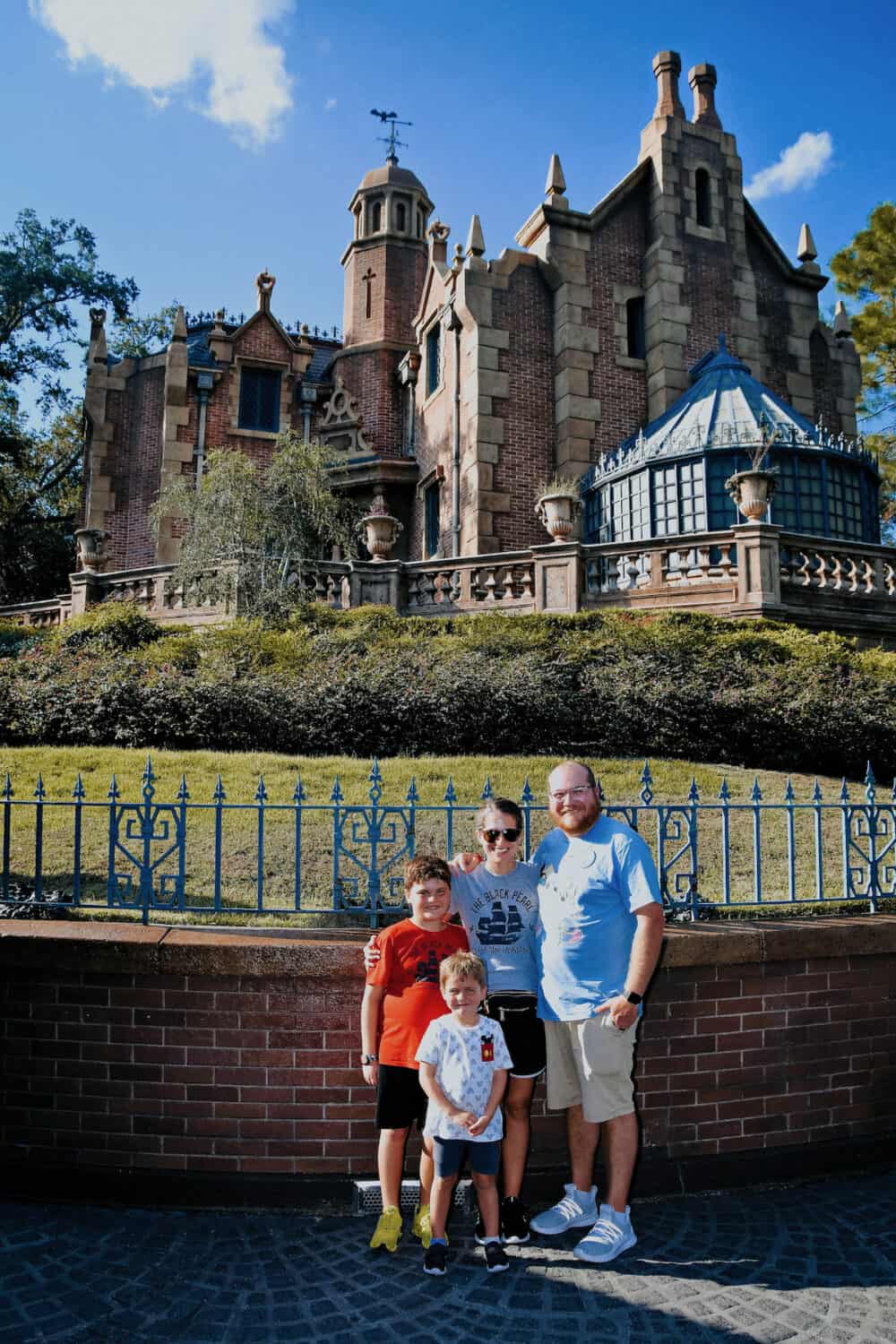 The one big show we had missed the first time around was Enchanted Tales with Belle, and I dragged my family over there and made them wait in probably the longest line of the day to do it (because I waited too long and the Lightning Lanes sold out). They were all annoyed with me until we got in there and experienced it. Both boys got to be a part of the story and it was one of the sweetest things I've ever seen. Corey and I were both so glad we did it!
As we were prepping to go find a good spot for fireworks, it started to lightning and thunder quite a bit. They announced that they'd be delaying the show, and then the skies opened up. There hadn't been rain the forecast all week and it had been totally dry, so this was the ONE DAY I didn't pack our ponchos. Of course.
It was so close to park close and the rain was so intense that we decided to go ahead and leave. We were going to book a Minnie Van (remember, no more buses after MK!), but I misread the app and thought it would take 45 minutes for them to get there. So we decided to brave the bus again.
Big mistake. Huge!
We waited about an hour to finally get on a bus, and we were all soaked to the bone from the walk over there. Poor Jackson was scared (the thunder was so loud!) and tired and miserable. And we looked at each other and made each other swear that we really truly would never again take the bus home from Magic Kingdom. For real for real. Minnie Vans are now an official line item in our Disney budget.
But, in the end, we made it home safely and got all warm and settled in bed, and that's all that matters!
Day Seven: Animal Kingdom + Mickey's Not-So-Scary Halloween Party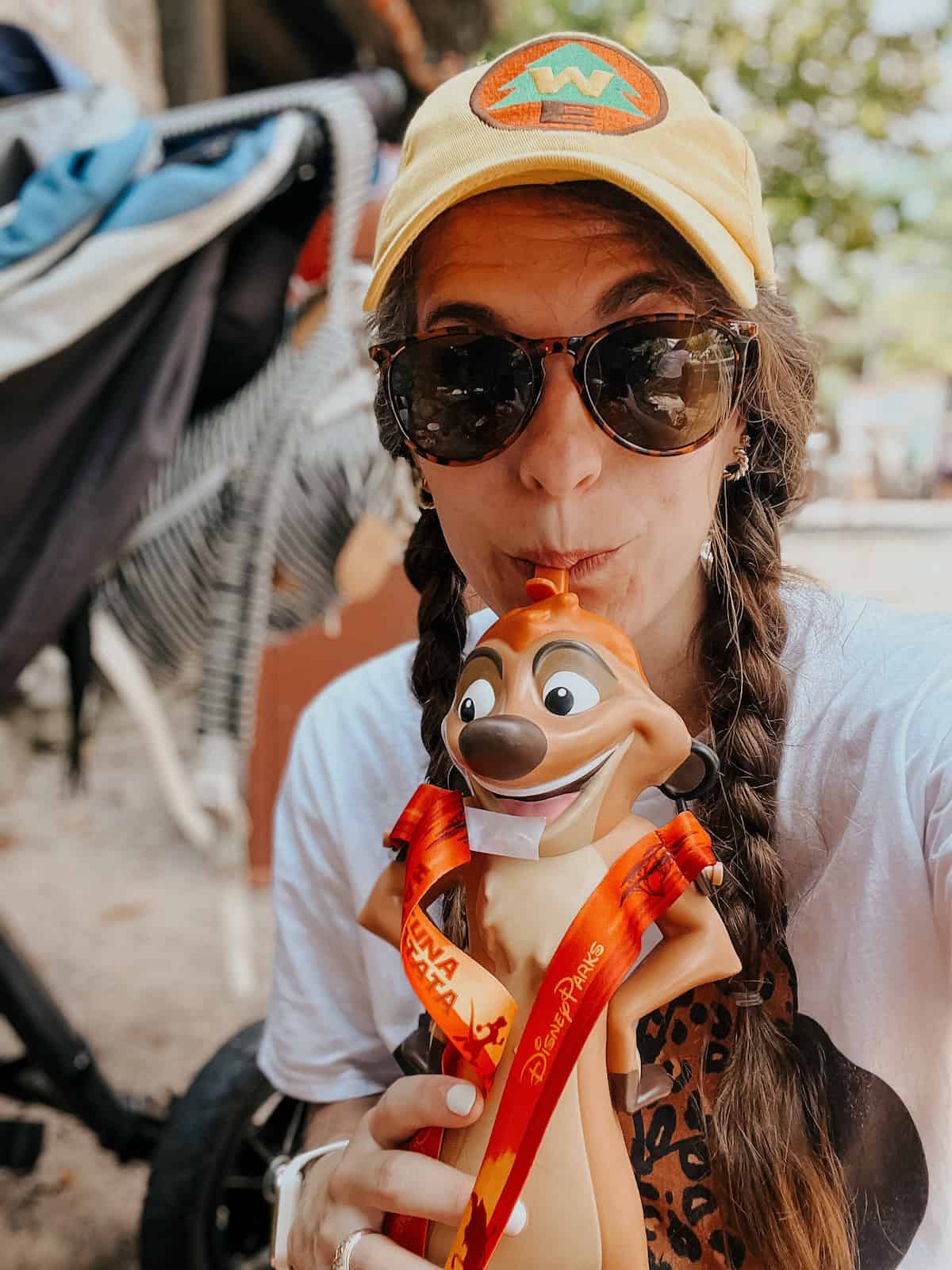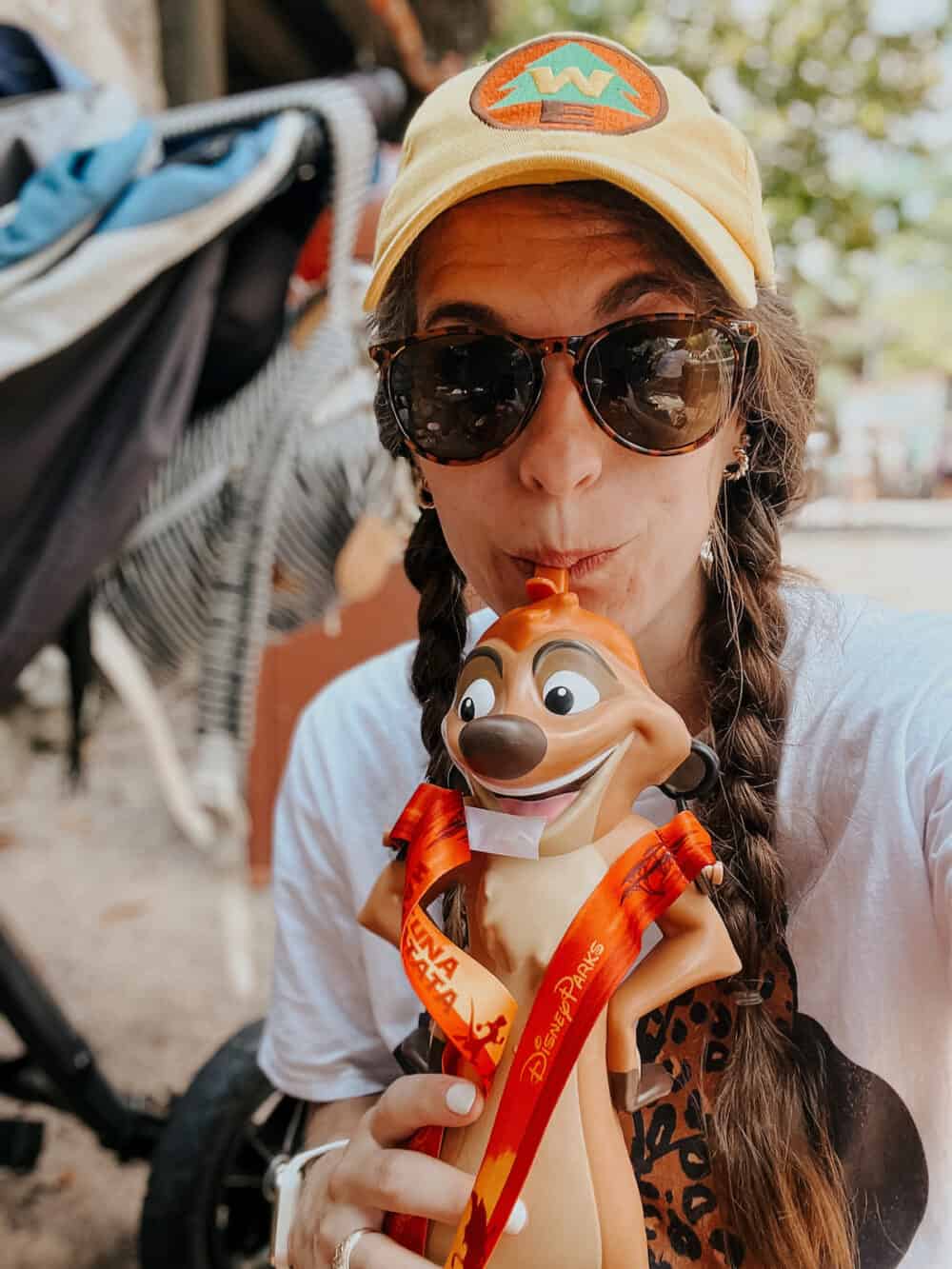 Our last day was a big one – we planned to hit up Animal Kingdom until mid-afternoon, and then bounce over to Magic Kingdom for the Halloween Party!
We started off in Pandora to ride Flight of Passage. We got there for early entry about 15 minutes later than we had hoped (but still within minutes of it actually starting), and Jackson and I ended up waiting about an hour (!!!) to ride it while Corey and Grant waited for us (since Grant isn't tall enough, we were using Rider Swap). All told, we weren't done with the ride until a few minutes before 10:00.
It was a cool ride, but absolutely not worth that kind of a wait. We learned the hard lesson that since that's pretty much the only big, super popular ride at Animal Kingdom, it can be really competitive to get into without just paying for an individual Lightning Lane. Next time, we'll either get there even earlier or just skip it and rope drop something else.
We had breakfast with Mickey & friends at Tusker House. The food was so so great and the character interactions were top notch. We loved it and I think we would go back for sure!
We managed to ride every ride in Animal Kingdom by about 3:00 – we would have been done a lot earlier if we hadn't spent sooo much time dealing with Flight of Passage. We didn't get to watch any shows here, which was a bummer, but we love that we have something to look forward to next time!
We headed back to our room for a few minutes to cool off and change before heading to the Halloween Party!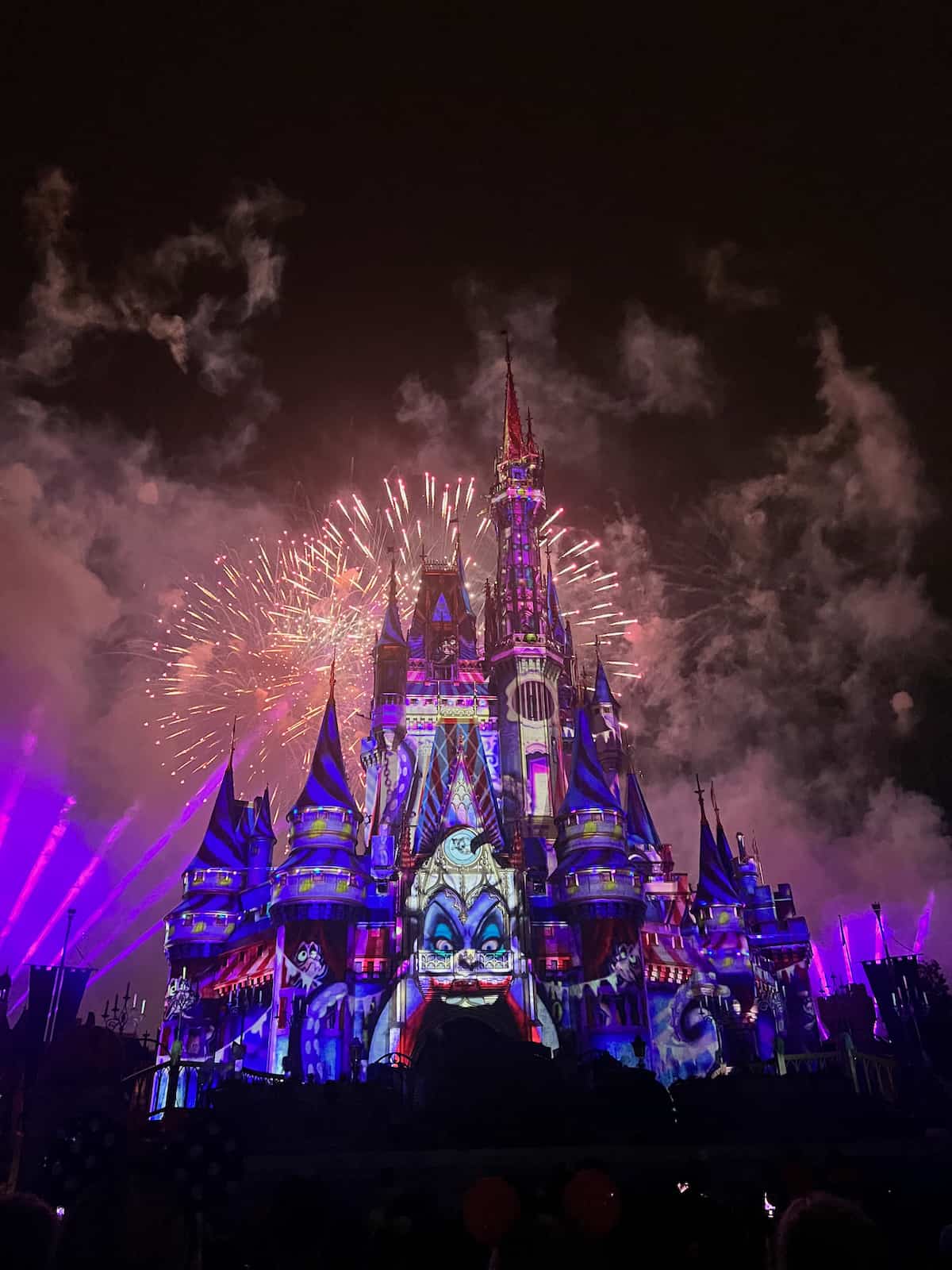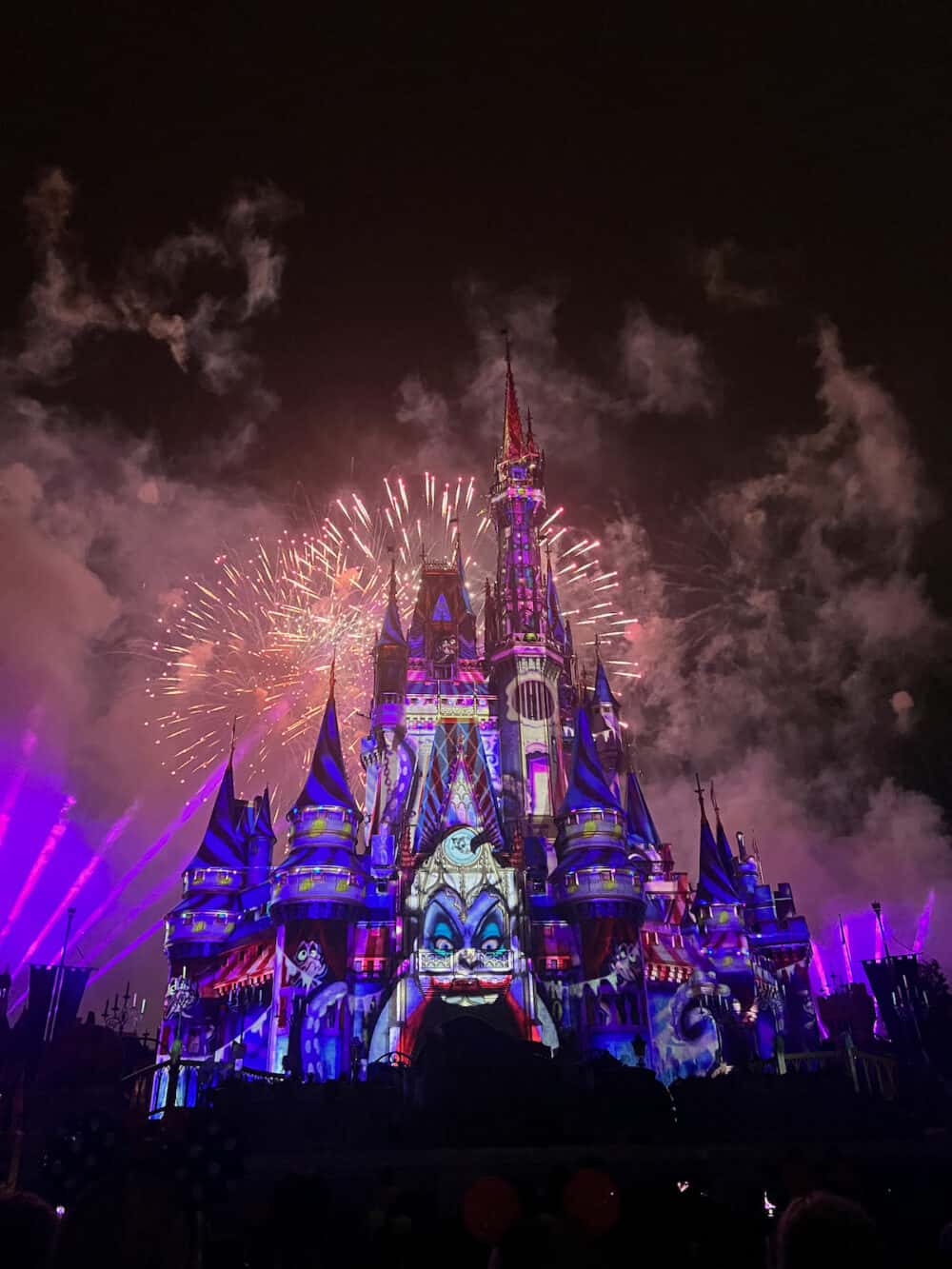 The party was a total blast, and we'll definitely be doing it again next year. We rode a bunch of rides with minimal wait times, saw the (incredible, epic, so, so good) parade, and got an unbelievably good fireworks spot. We watched the 9:15 parade over in Frontierland and then just followed the parade over to the castle. It dropped us right in front of the castle with a perfect view and not too many people around us.
The fireworks show was so great, I don't really even have the words. Grant had poured every last ounce of his energy into cheering for the parade, so he was asleep before we even made it over to the castle. I tried to wake him up to see the fireworks and the giant Jack Skellington puppet, but he was out like a light, so the rest of us enjoyed it without him.
There was a ton of lightning happening all throughout the show, and they had moved the fireworks up by about 20 minutes to avoid having to cancel them, so we sadly decided to leave after fireworks. We knew poor Jackson couldn't handle another downpour, and Grant wasn't gonna wake up to enjoy anything else anyways. It ended up not raining and I was really sad to have missed the Hocus Pocus show, but there's always next year!
Favorite Animal Kingdom Rides & Attractions:
Expedition Everest (Amanda, Corey, & Jackson)
Dinosaur (Grant – but only because he wasn't tall enough for Everest!)
Day Eight: Travel Day + (Surprise) Hollywood Studios Part Two!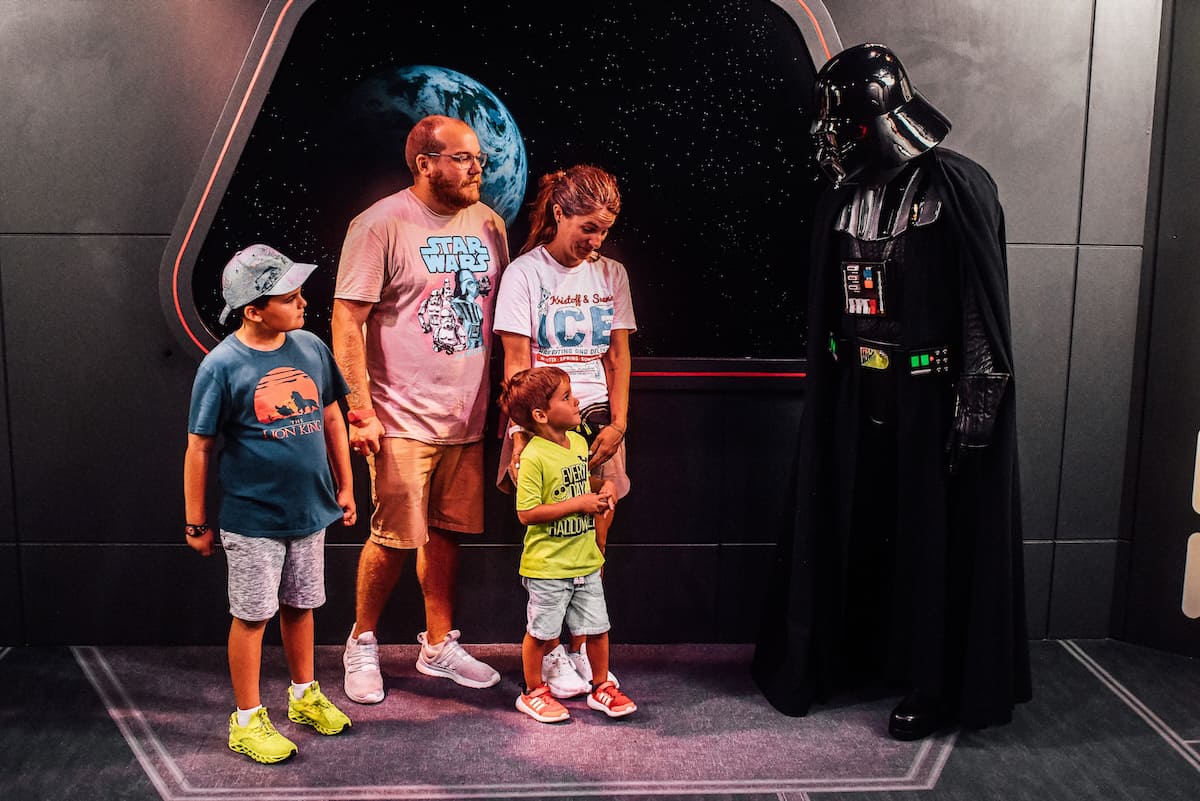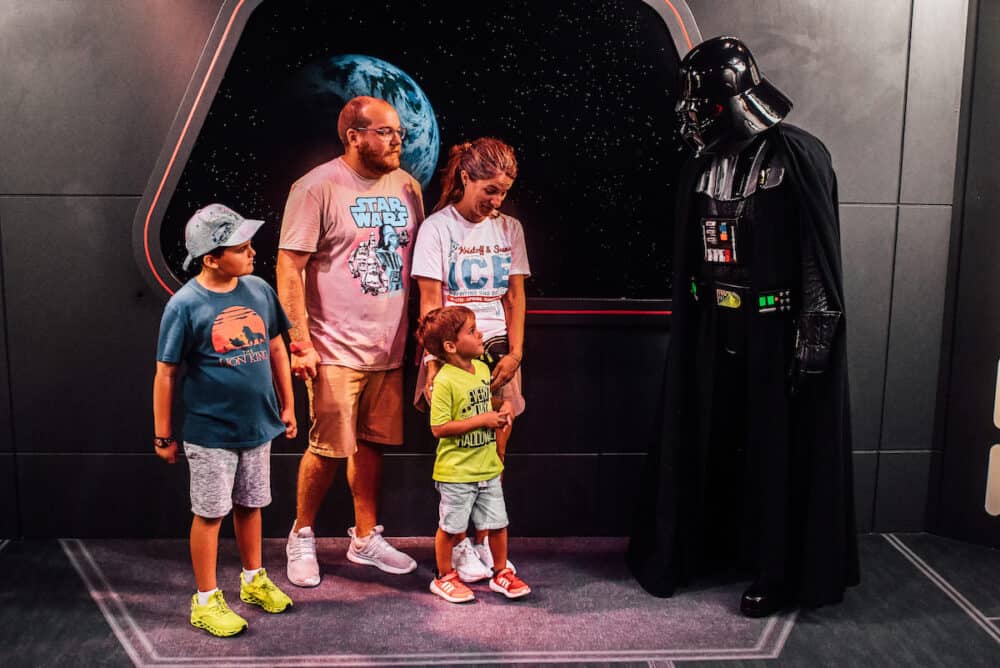 And that brings us to the last day of our trip!
Corey surprised us midway through the week by adding on one more day of tickets. Grant had spent all week crying every time we saw Tower of Terror in the distance because he loved it so much and wanted to ride it again, and Jackson couldn't stop talking about Mickey and Minnie's Runaway Railway.
We packed up all of our stuff and dropped it off with bell services, then headed back to Hollywood Studios on the skyliner – we made it for early entry with a plan to knock out a bunch of stuff and then head back to the hotel. But, Hollywood Studios had other plans for us. Both Rise of the Resistance and Mickey & Minnie's were down for several hours in the morning. We managed to quickly pivot and ride Tower of Terror for early entry, then right at 9 we headed over to meet Darth Vader, because Grant had been so bummed that the wait was too long to meet him last time we were there.
We didn't get Genie+ this day since we'd only be here for a short time, and we feeeeelt the difference! We had to wait for about 45 minutes to ride Mickey & Minnie's when it finally opened, and the boys waited about 25 minutes to ride Smuggler's Run again. I hopped on Rockin' Roller coaster at the beginning of the day by myself (it was a walk-on!), and we all watched the Frozen sing-a-long since we missed it our first day.
It was overall a really great experience, but we all agreed that going to a park the day we head home is maaaaybe a bit too much! We made it back to our hotel a couple of hours before we were being picked up to go home, and we hung out in the lobby, got a surprise visit from Chip, Dale, and Daisy, and grabbed one last lunch at the resort before we headed home!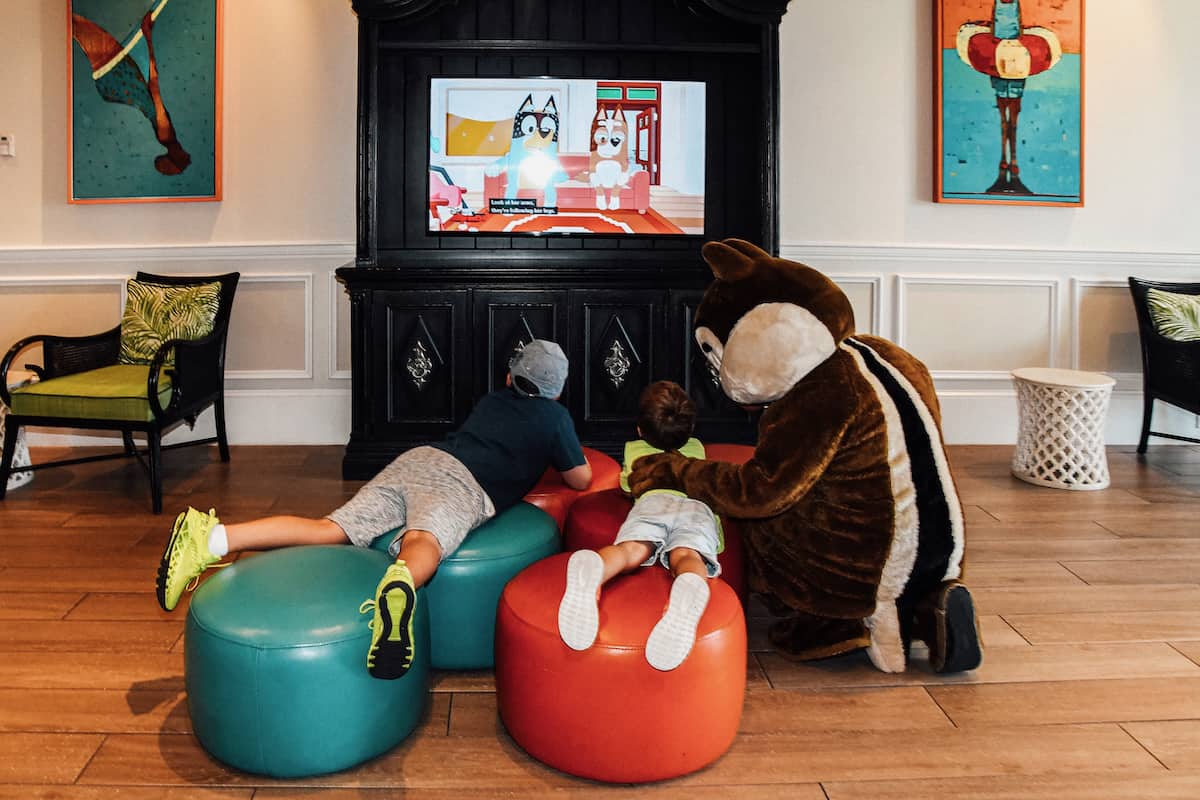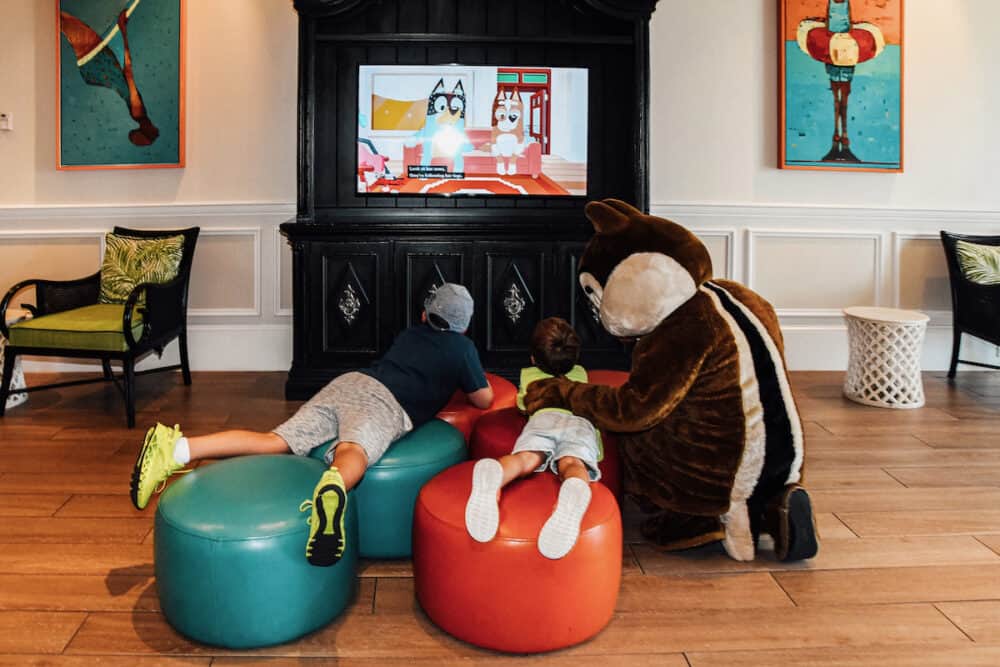 I can't find the words to fully emphasize how wonderful this trip was. We had the best time, and it truly felt like a dream come true. We booked our next trip (for September 2024) within 24 hours of getting home, and we can't wait to go back!
If you want some of our tips, tricks, and lessons learned, be sure to check back later this week because I have a big ol' post planned with a TON of what we learned along the way!