Our Gaylord Texan Christmas Experience
One of my absolute favorite traditions our family has started in the last couple of years is the post-Christmas vacation. For as long as I can remember, I've dreamed of whisking my family off to some fun destination after the Christmas excitement is over. Last year, we took our first post-Christmas vacation to Branson, Missouri. This year, we decided to keep it close to home and check out the Gaylord Texan Christmas festivities. And, ohhhhh man – it was a blast!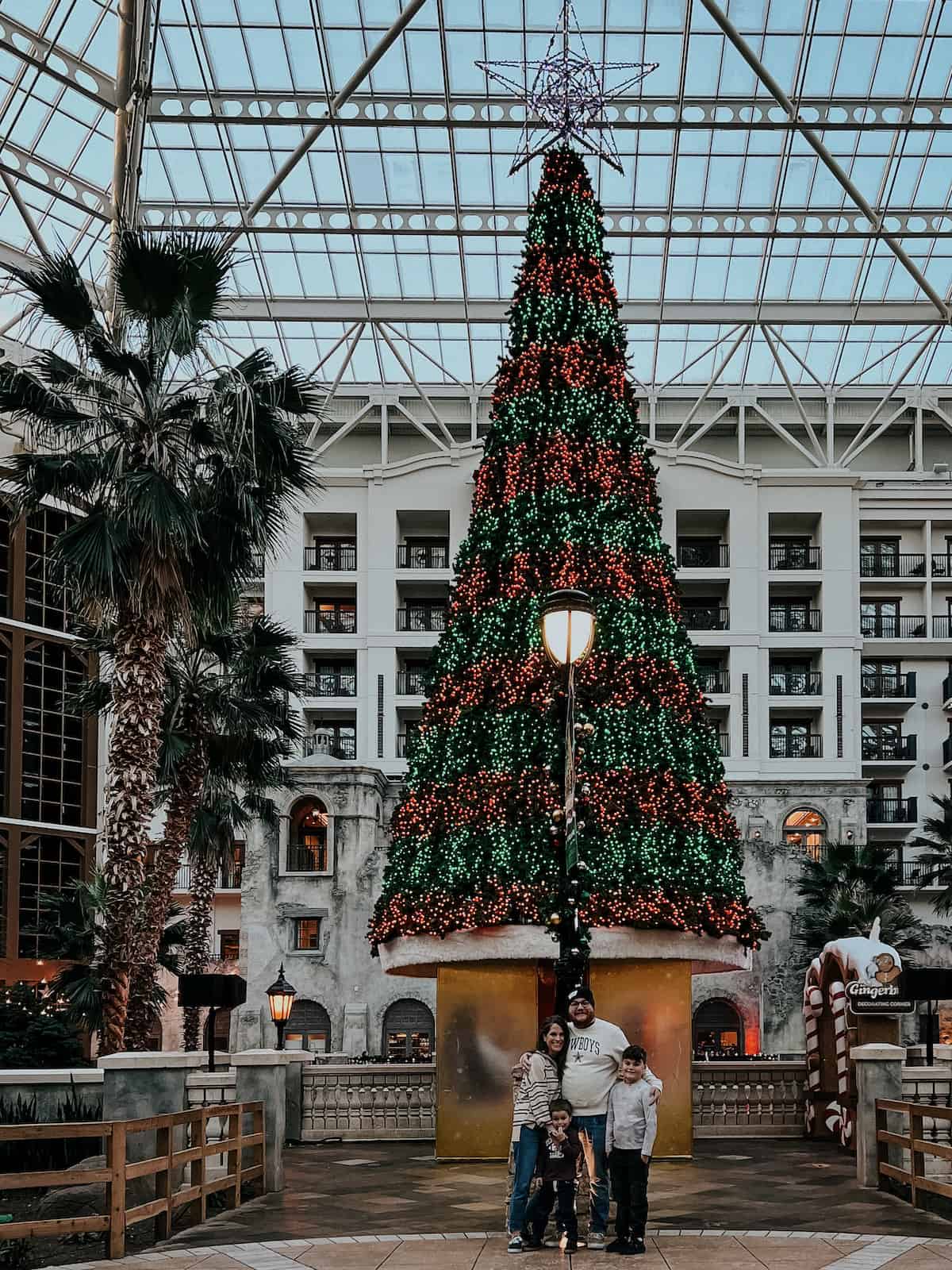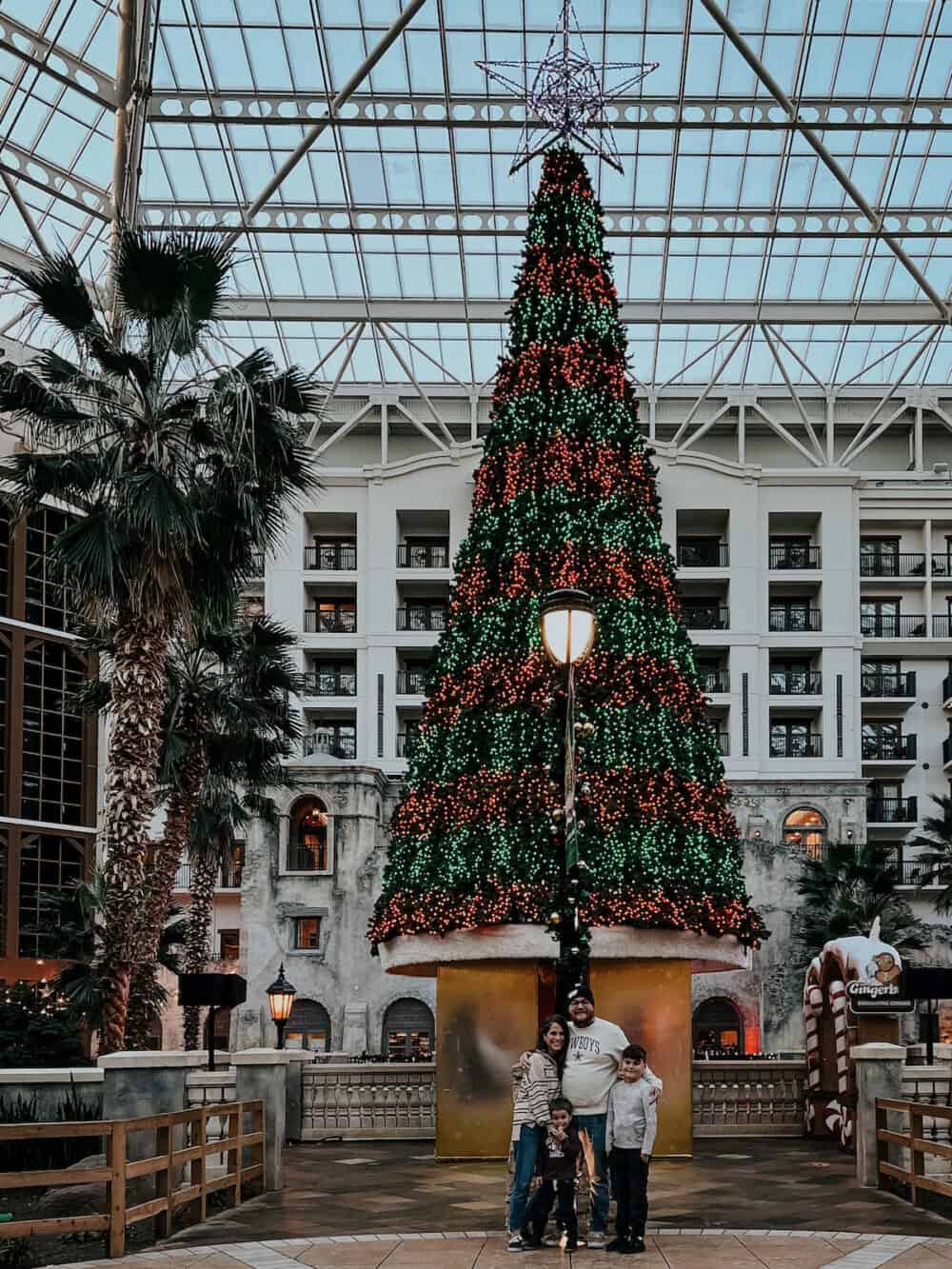 The Gaylord Texan Christmas Experience
We've heard about the Gaylord for years, and have always wanted to visit their signature Lone Star Christmas event and ICE! exhibit. We have lots of friends from the Dallas/Grapevine area, and all of them have always raved about how special the experience is. So, when we decided that our Christmas trip would be in Texas this year, it was a no-brainer to start there.
We spent one night at the Gaylord and one night in downtown Dallas. I'll get into the details of that at the end of this post, but for now let's chat about the Gaylord Texan's Christmas offerings!
The Gaylord Texan Resort & Convention center is located in Grapevine, TX. It's about a three hour drive from our house. They're notorious for doing it up big for the holiday season and we were so excited to check it all out.
The atrium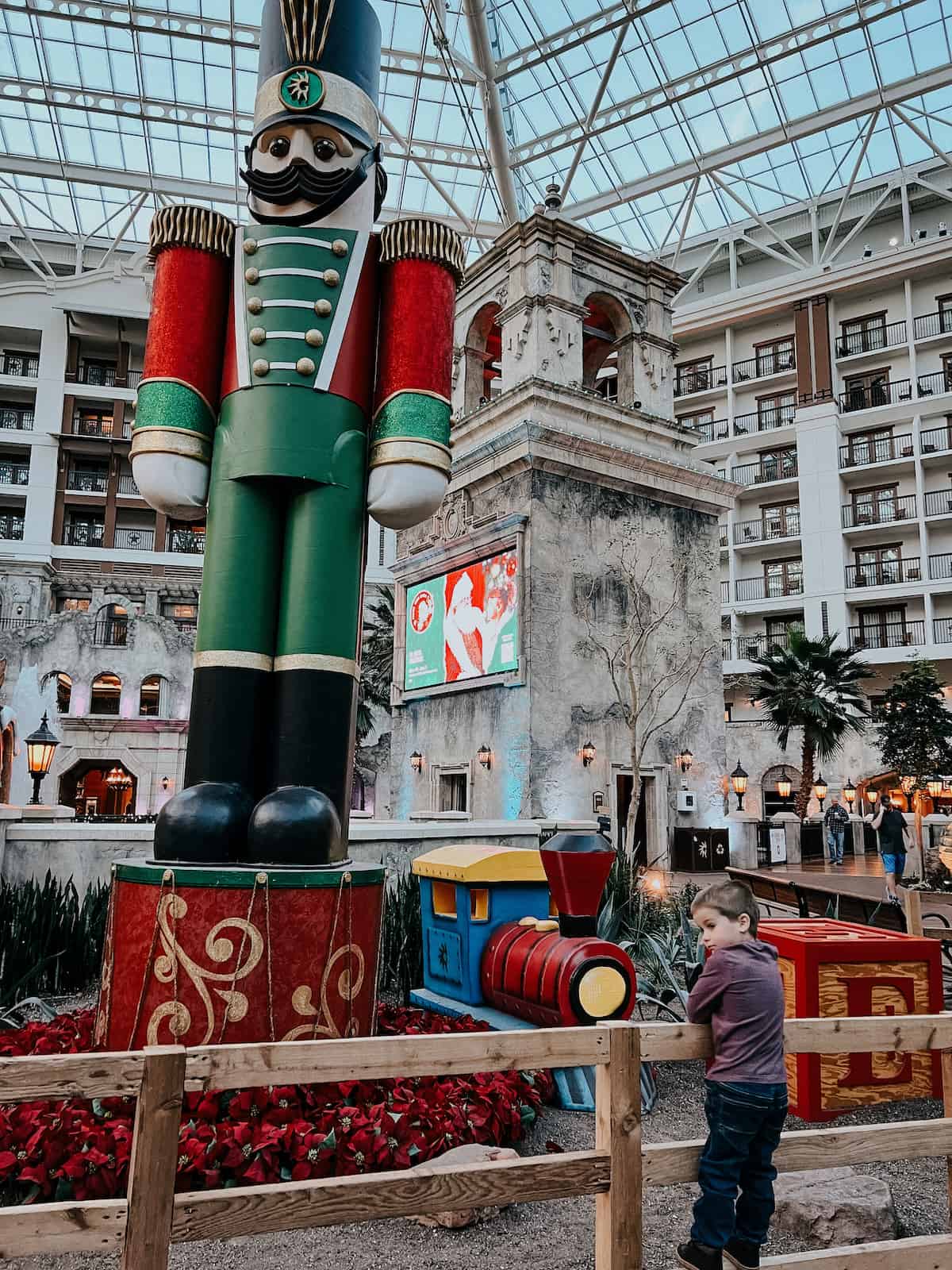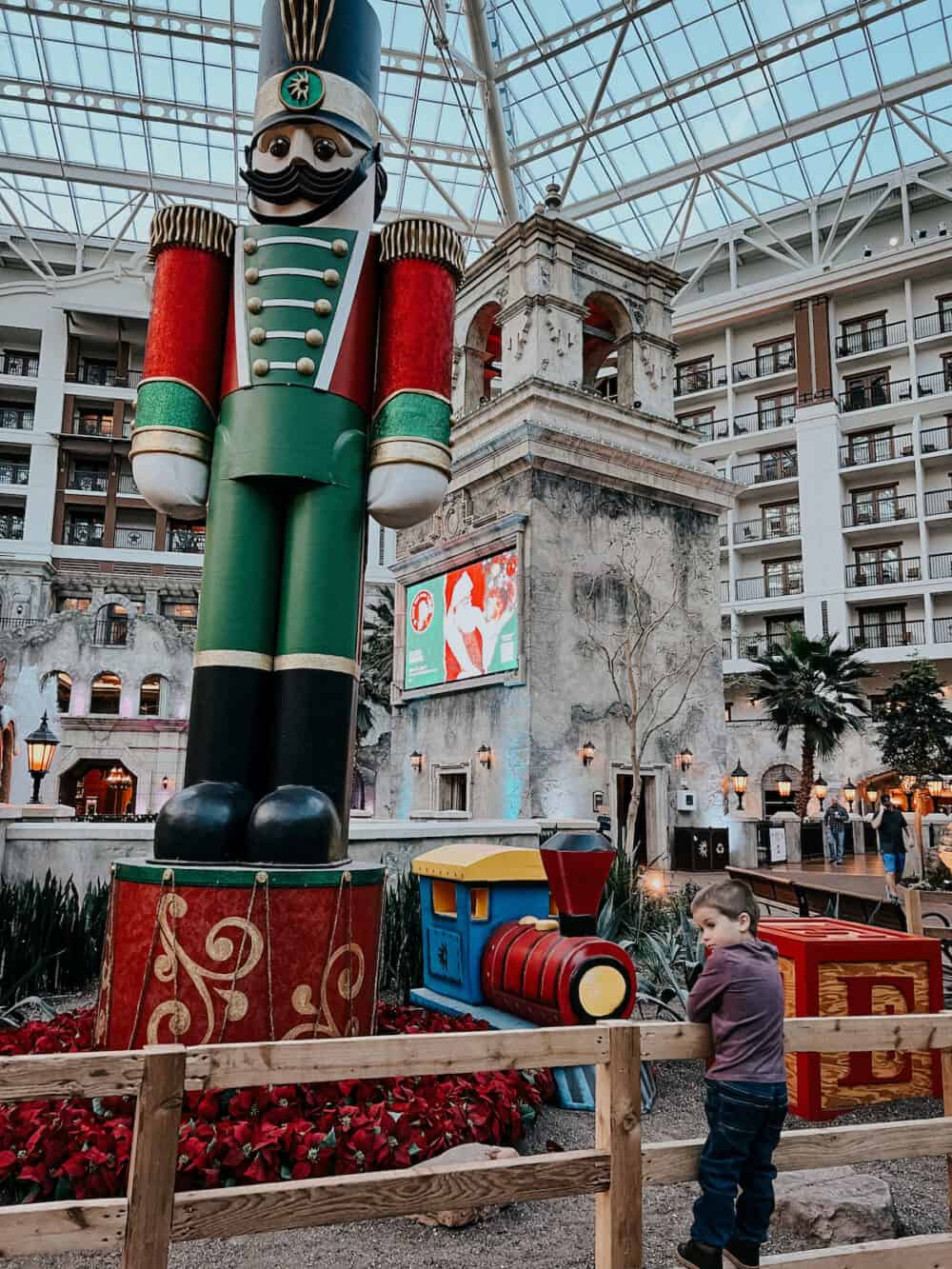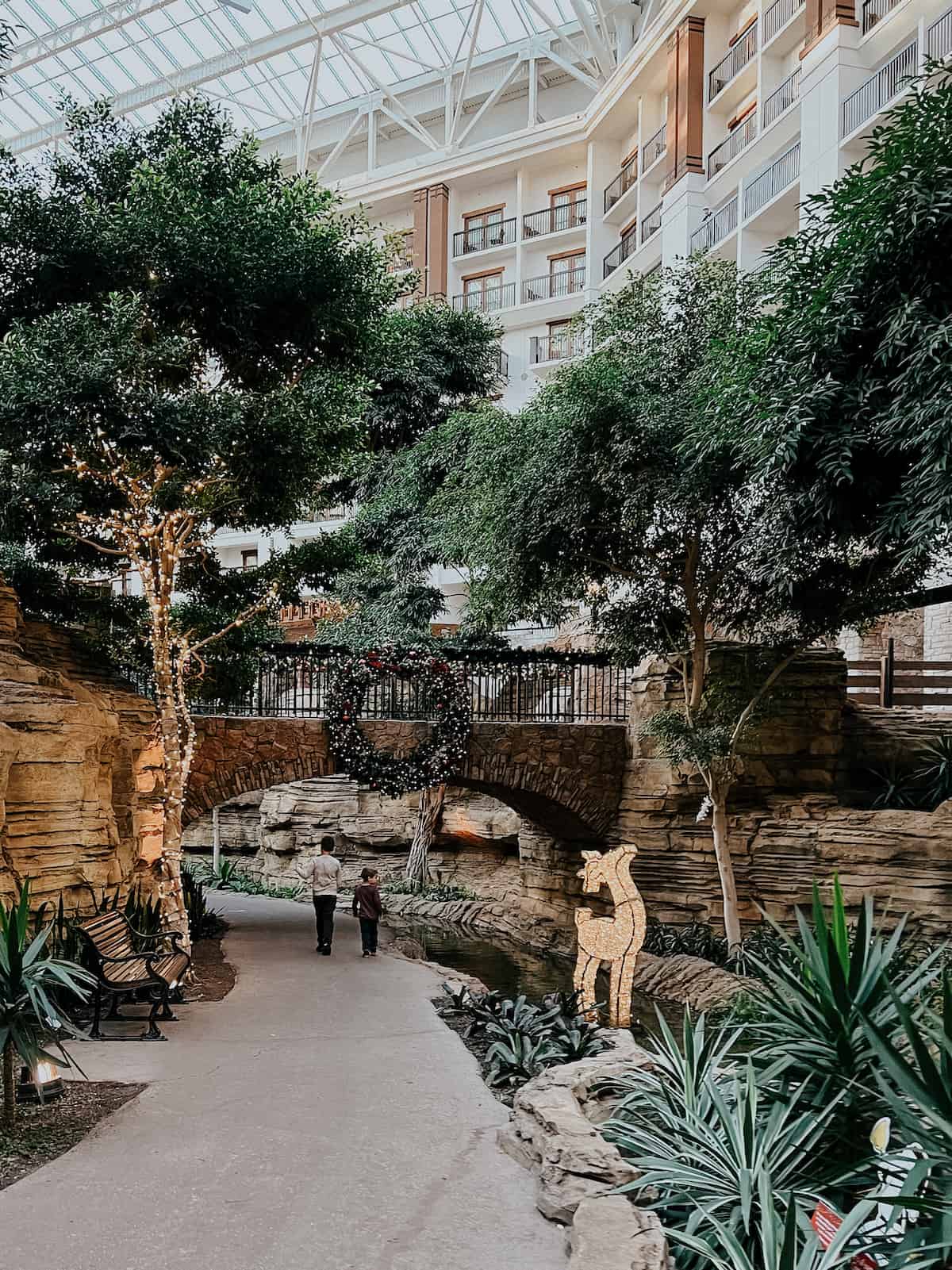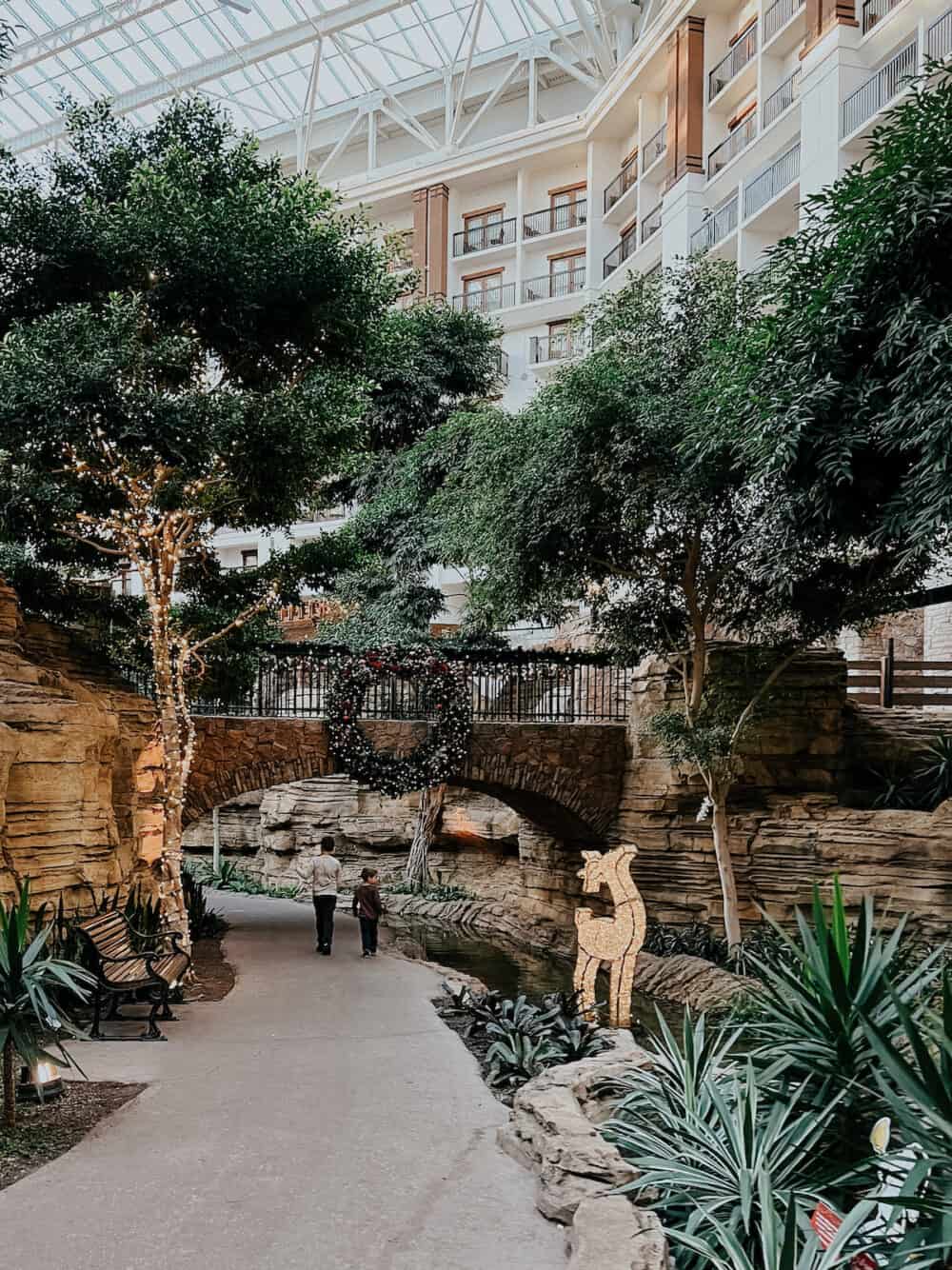 Can we start with the décor? Because oh my goodness, it was breathtaking. And I'm not even talking about the Christmas stuff. I've seen photos of the atrium in the Gaylord dozens of times but had a hard time really processing what it would feel like in real life.
When you walk past the lobby you walk into a massive space with soaring ceilings, plants everywhere, and a replica of the San Antonio Riverwalk. It goes on forever, and we were finding new sights in just the atrium all the way up until we left the hotel. There are multiple restaurants, endless things to look at, and (during the Christmas season) a giant tree that does light shows all throughout the evening.
I could have spent hours just sitting in this space. I kept telling Corey I felt so peaceful and relaxed surrounded by all the plants. My favorite time of day to be there was first thing in the morning, before it filled up with people. It was so quiet and beautiful and I really just wanted to sit on a bench and pull out a book.
But alas, we were there for the kids which meant go go go. There was very little time for silly things like sitting amongst the plants. Onto the Christmas Village!
Christmas village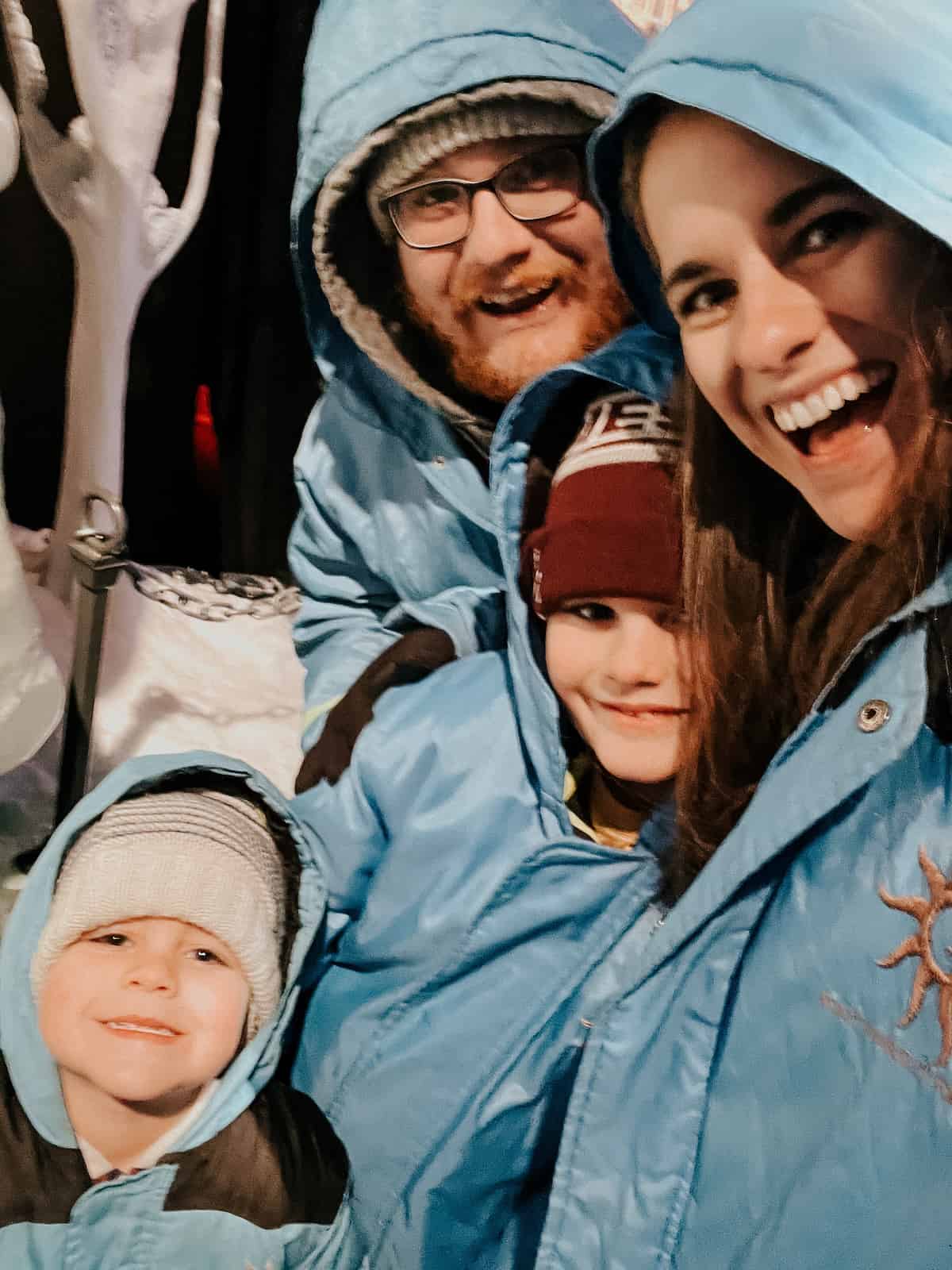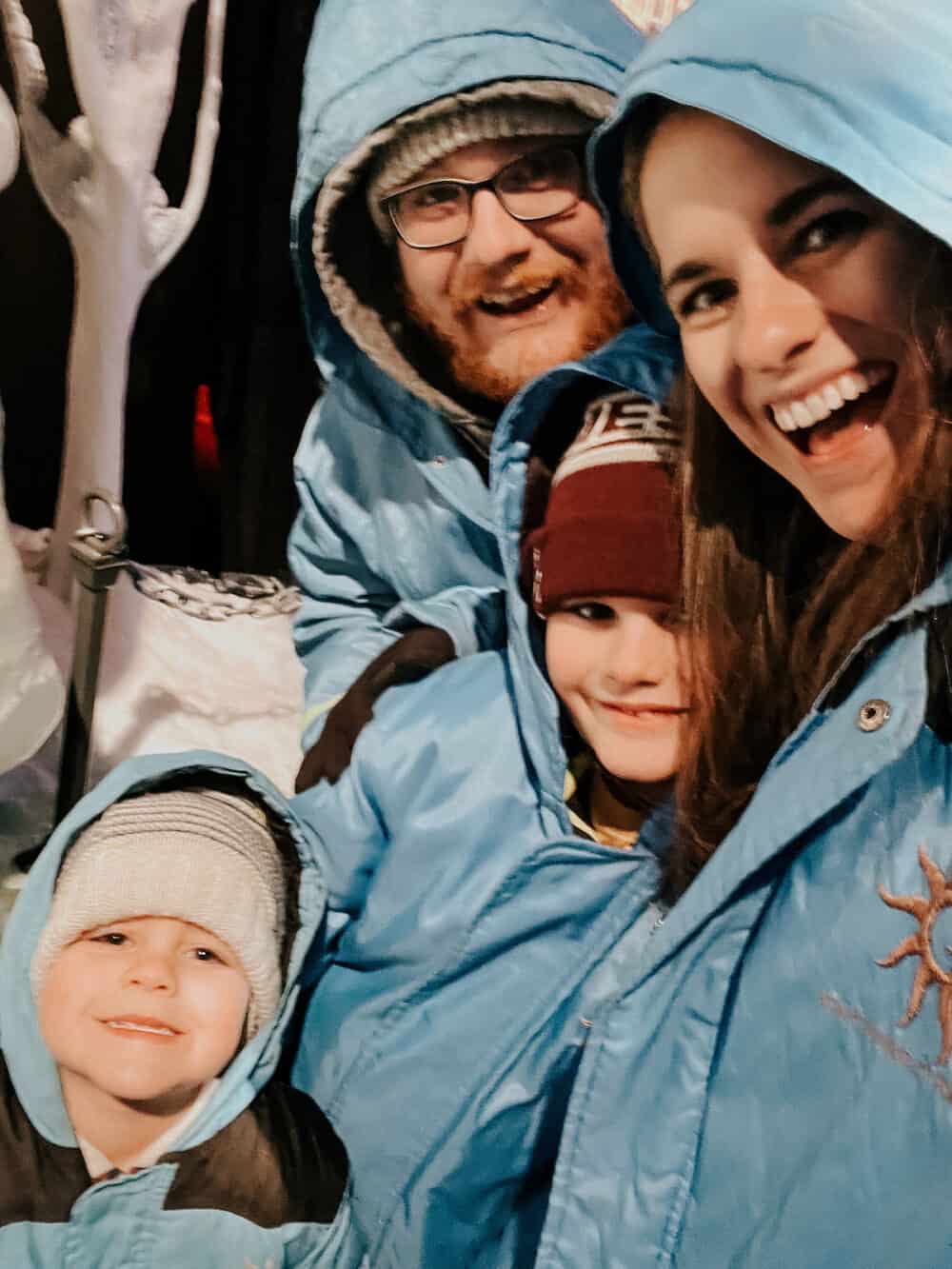 The bulk of the Christmas activities are all located in the Christmas Village, and you need separate tickets to do most of the things. This is where the ICE display is located and it's the biggest must-do activity while you're there.
What is ICE? Well…let me tell you. It's a ginormous display of carved ice sculptures. They do a different theme each year, and this year it was Polar Express. I heard a rumor that 2023's display will be The Grinch theme, so you know we're going back.
ICE features over two million pounds of ice and life-size sculptures (and even ice tunnels!). This year, they take you through the story of the Polar Express. You see everything from getting on the train all the way to the big Christmas tree at the North Pole. It's seriously mind-boggling and we kept shouting, "this is ALL REAL ICE?" while we were in there.
While you're in the ICE display, you can also wait in line to slide down a two-story-tall ice slide. We didn't wait because the line was long and we were freezing. And Grant had to use the bathroom. Four year olds ruin a lot of fun, you know?
My only warning about ICE? It's kept at a cozy 9-degrees Fahrenheit, so you're going to want to bundle up. They provide some cozy blue parkas that help a lot, but I wouldn't recommend even attempting to go in without some gloves and a hat!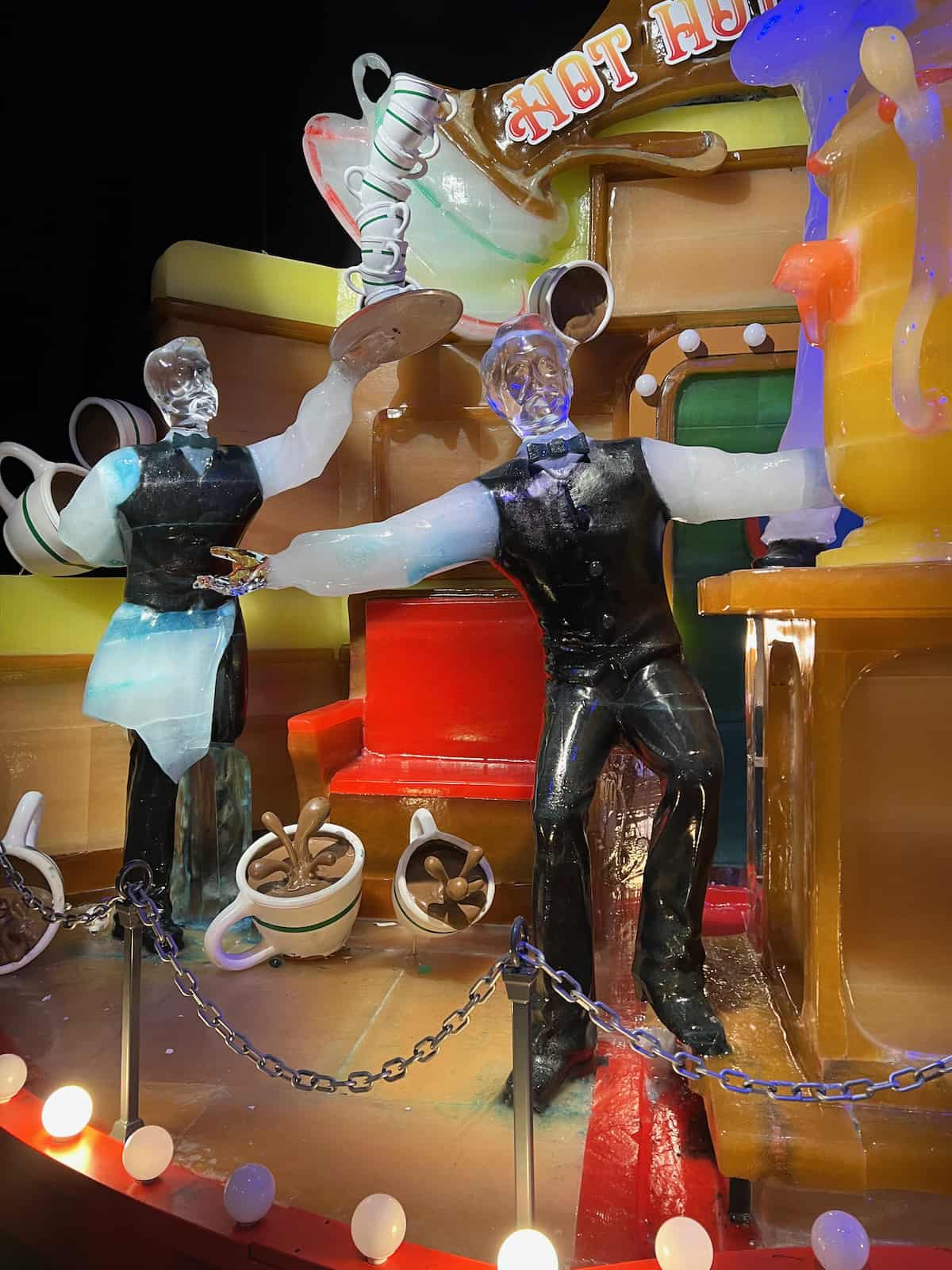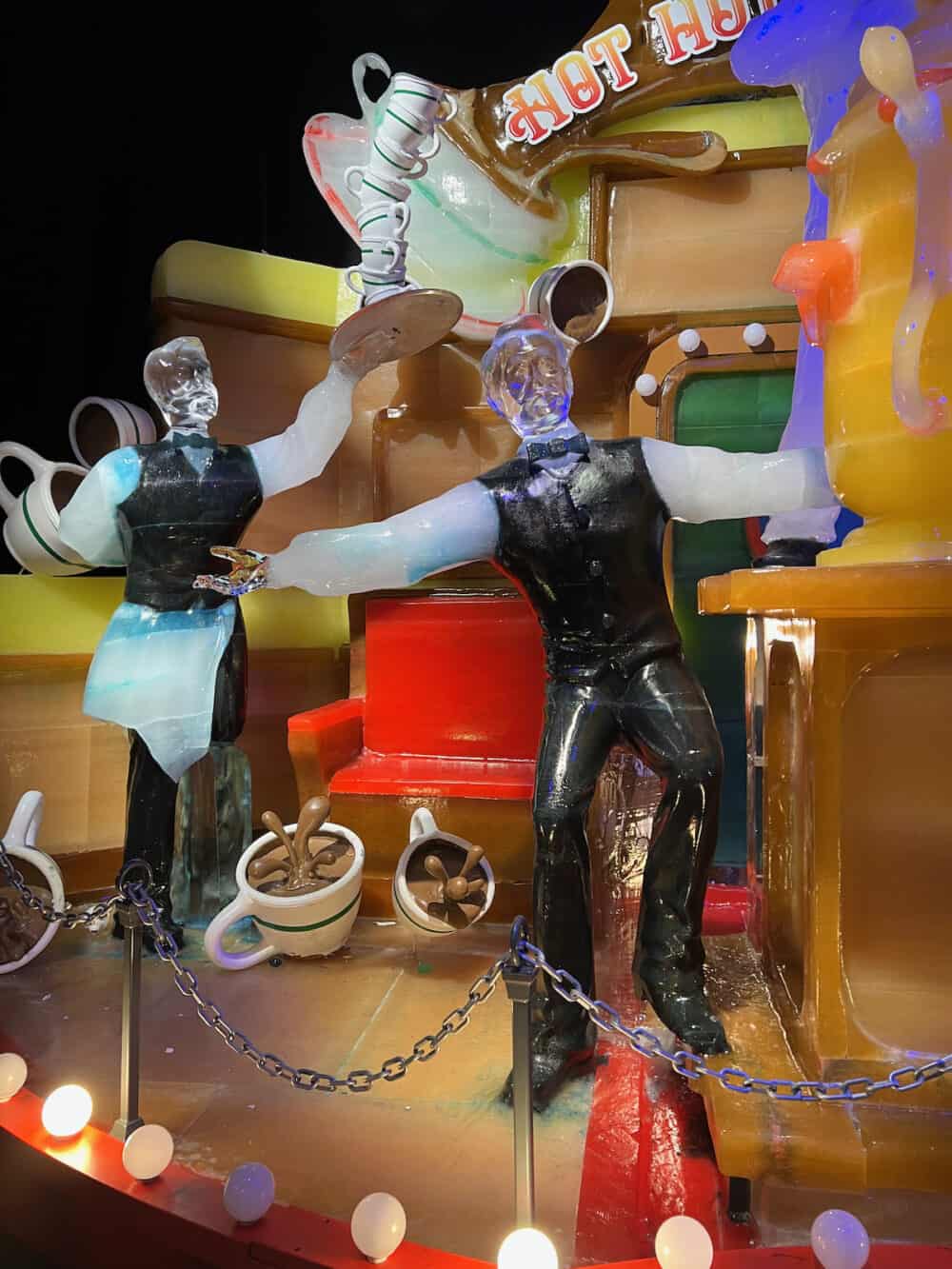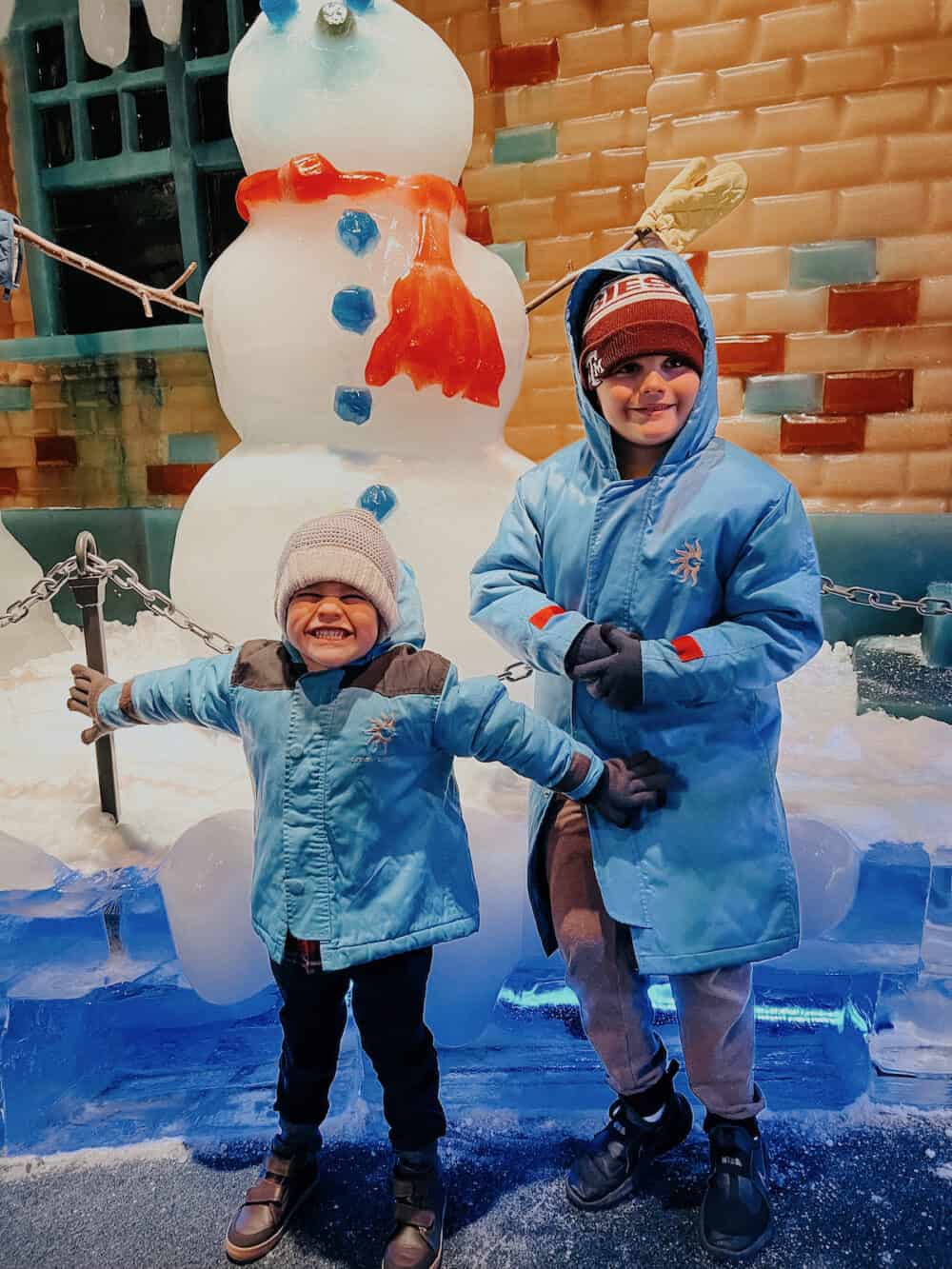 Other than ICE, there are a ton of things to do in the Christmas Village. We only paid the extra fee to do a few things, because it adds up fast.
What we did…
In addition to tickets to ICE, we bought tickets for snow tubing and the little trail of lights. We felt like both were totally worth it, and the whole family loved the experience. Snow tubing is one that we were a little nervous about – the line was SO LONG and it was really expensive. We wondered if it would be worth it. But, once we got our wristbands for it, we realized that guests of the hotel get to go to a separate "fast pass" lane, and the line wasn't bad all all. Also, after you wait in the line you get to go down two separate snow slides, so the wait feels a little less painful!
The kids loved the snow tubing and we went through that silly line half a dozen times or so. That evening, we walked outside to the trail of lights and it was small but impactful! We got so many adorable pictures and it wasn't very crowded at all, which was a nice escape from the rest of the hotel.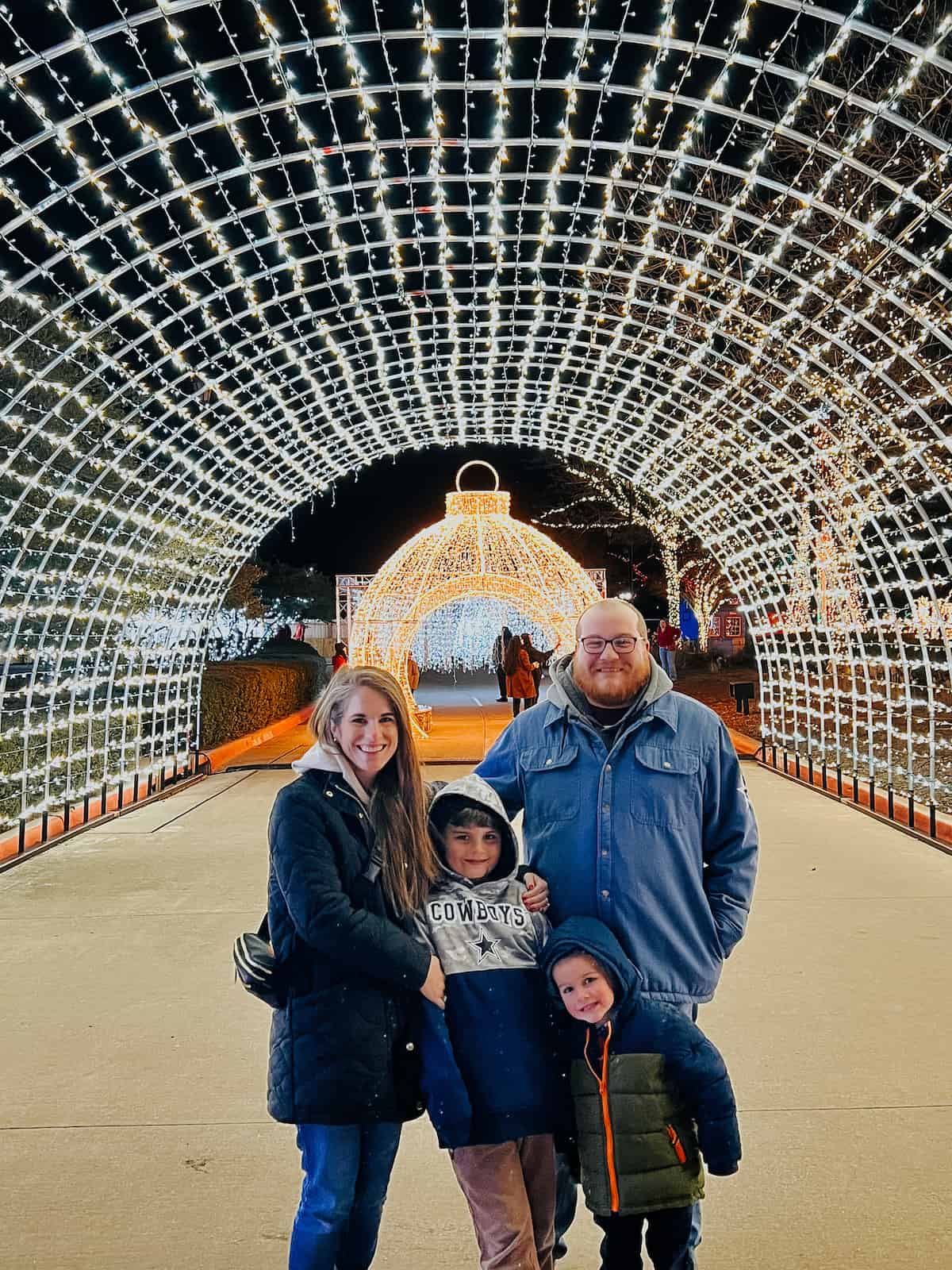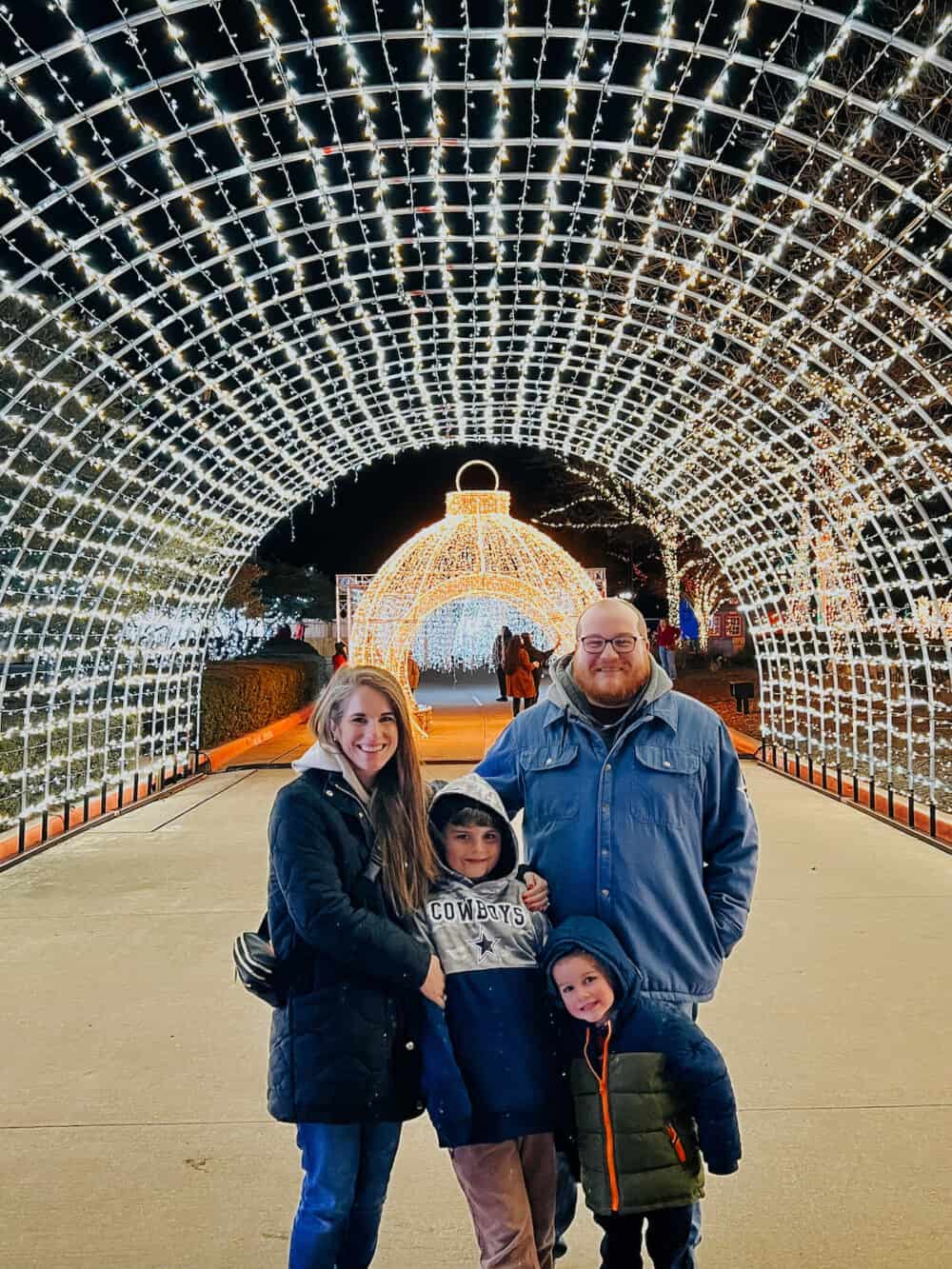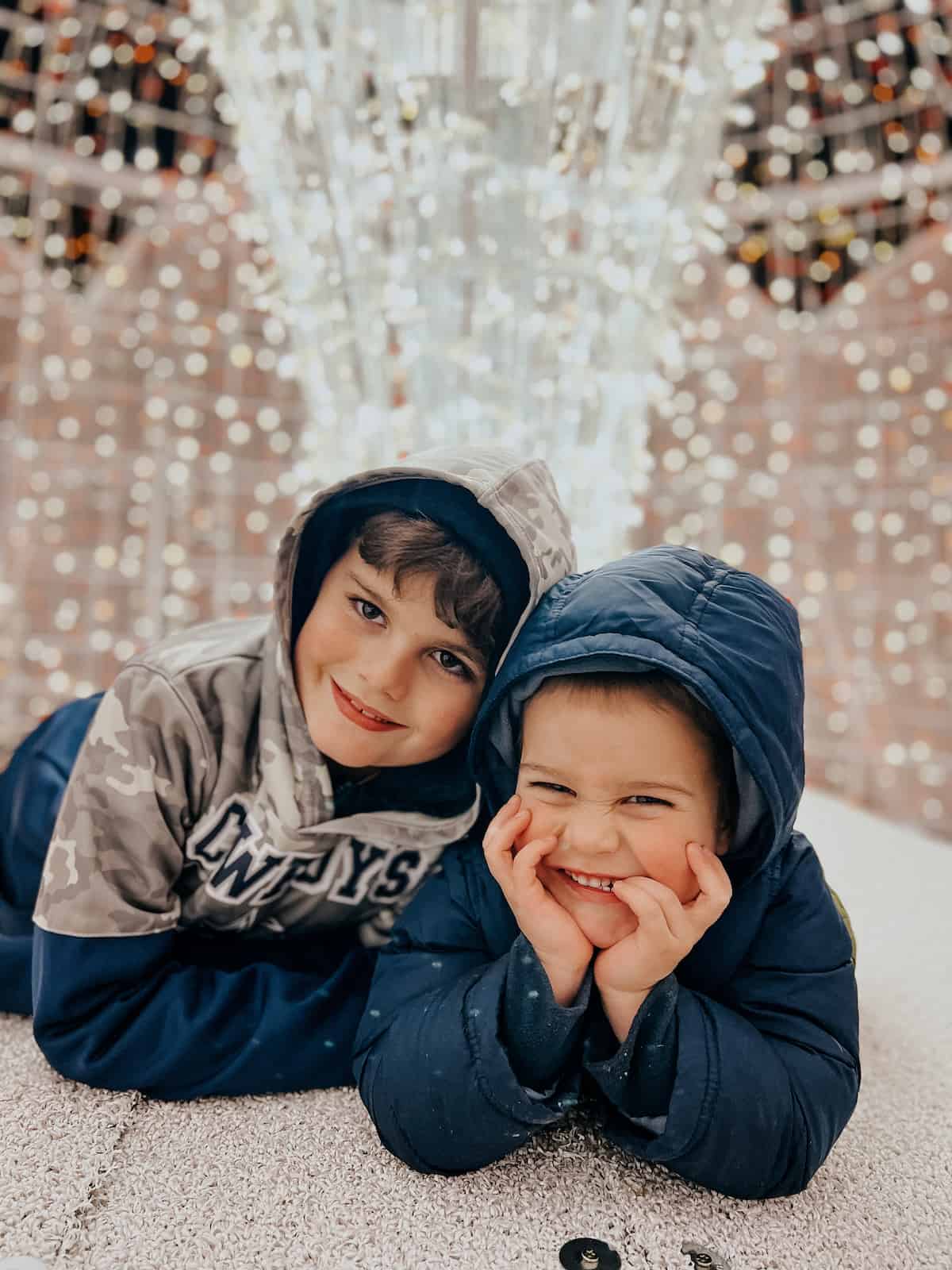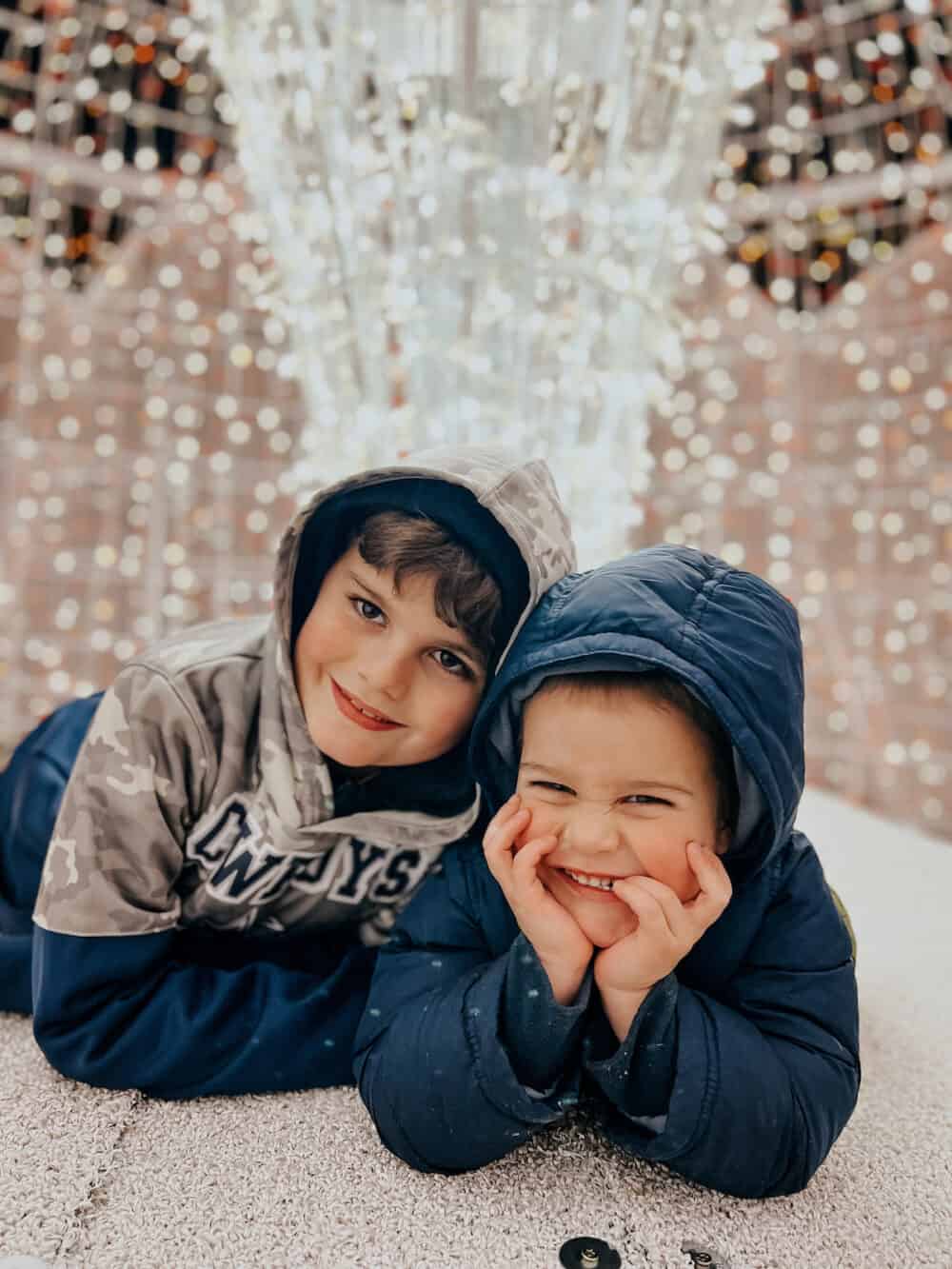 Here are a few of the other attractions:
Escape rooms. They have multiple themed escape rooms in the hotel and we really wanted to try one, but the recommended age was 10+. So, we figured it was maybe a bit old for Jackson, and obviously way too much for Grant.
Ice Skating rink
Gingerbread decorating corner, where you can decorate your own gingerbread house
Elf Workshop, where you can complete art projects and crafts
A Christmas carousel
Visits with Santa (before Christmas, obviously)
Santa's Snow Throw, where you can throw real snowballs at interactive targets
Breakfast with Charlie Brown and the Peanuts gang
Merry Snoopy Scavenger Hunt, where you find things throughout the hotel and get a prize at the end
A Cirque Christmas show, which we really wanted to see, but was sold out by the time we booked our trip
There's also a small Build-a-Bear workshop in the Christmas Village, which we did visit because my older son still loves stuffed animals with his whole heart and I'll buy him every ridiculously overpriced stuffed animal he wants as long as he stays little and adorable.
Basically, there's never-ending fun and the Gaylord is a winter wonderland! The options were honestly a little overwhelming. It felt like there were literal acres of Christmas decorations, festive activities, and things to see. It was the perfect place to extend the Christmas spirit just a little bit longer, and I think we'd love to make it a tradition to go every year! Next year, I think we'd like to go before school's out, and just have the boys miss a day or two. I think the crowds would probably feel a lot more manageable that way!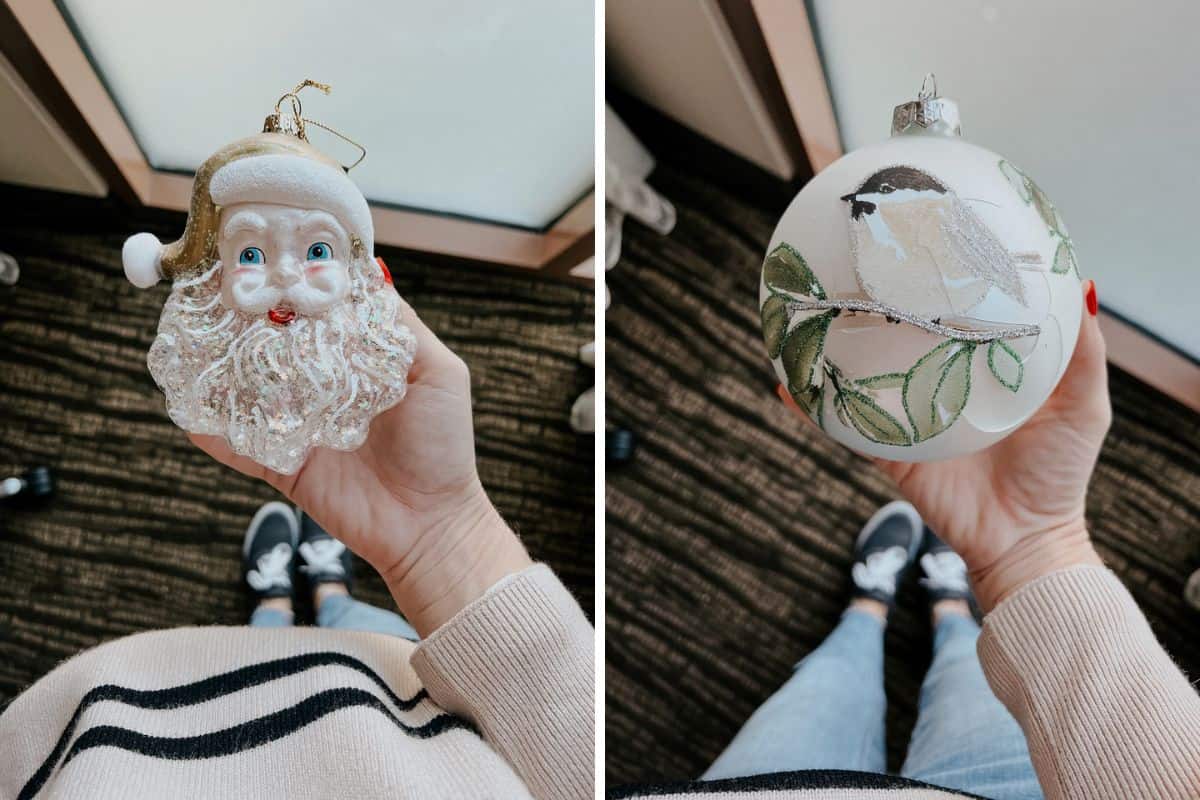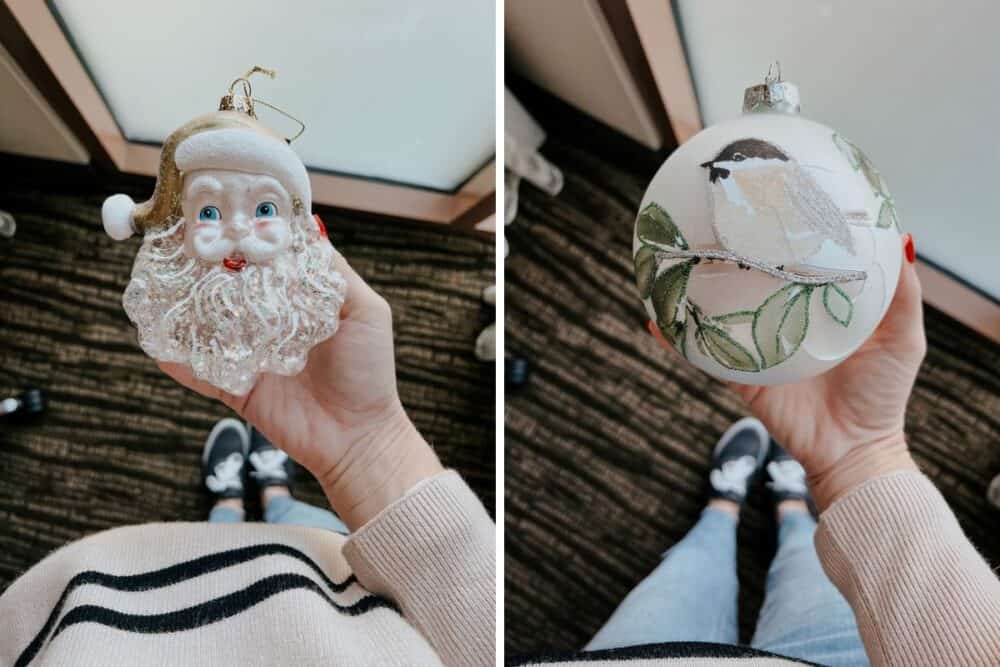 Oh, and I can't forget to mention our souvenirs – last year we decided to try to find a Christmas ornament from each of our post-Christmas vacations, and we found these two ornaments at the Christmas village. I can't wait to hang them on the tree next year!
the rest of our trip
While the Gaylord was great, it wasn't all we did. It's very expensive, so one night was all we could muster.
Here's a quick rundown of the other things we did in the Dallas-area, along with our impressions of each. Hopefully it'll be helpful if you're planning a Christmas-time trip to the Dallas area too!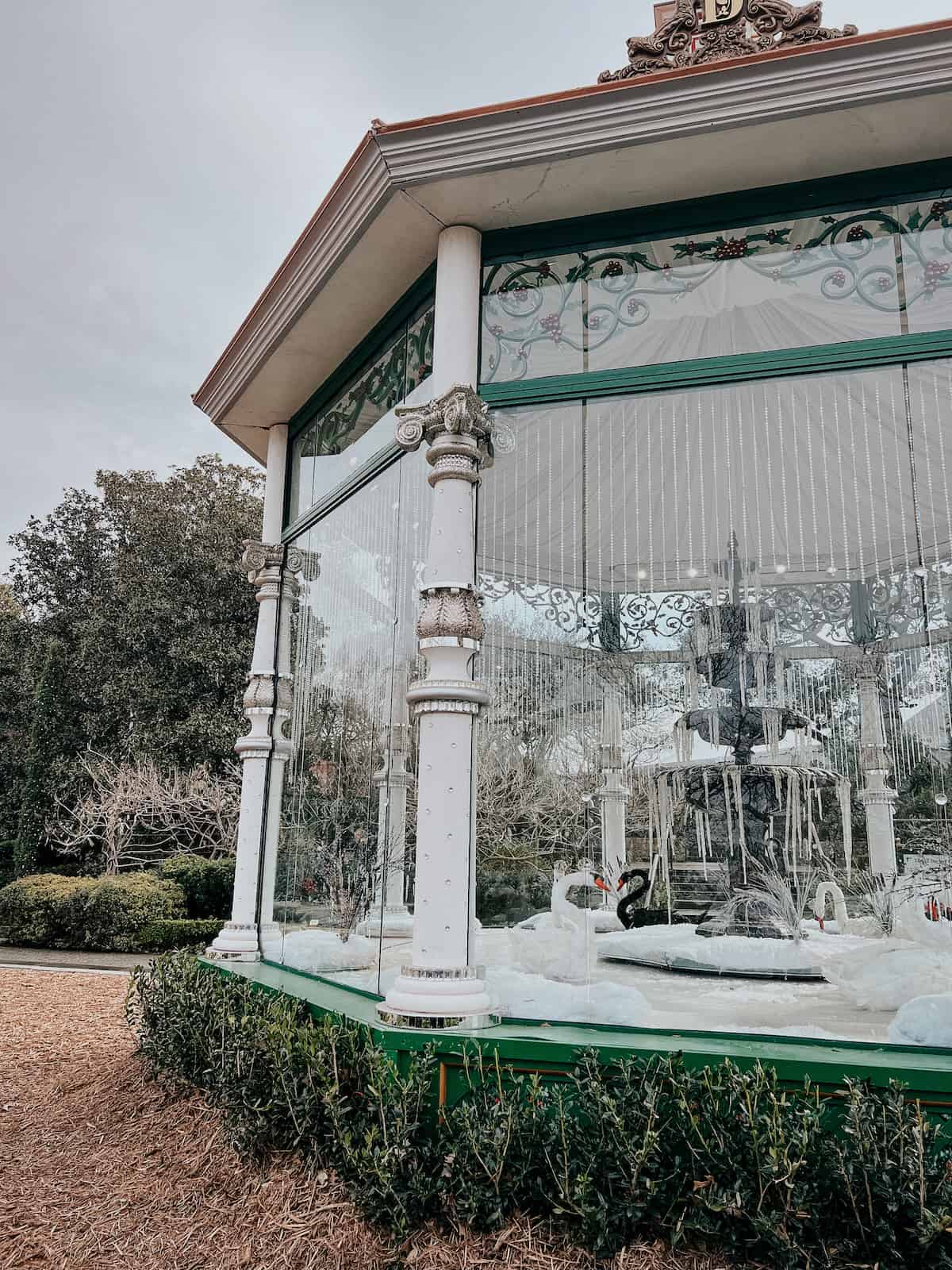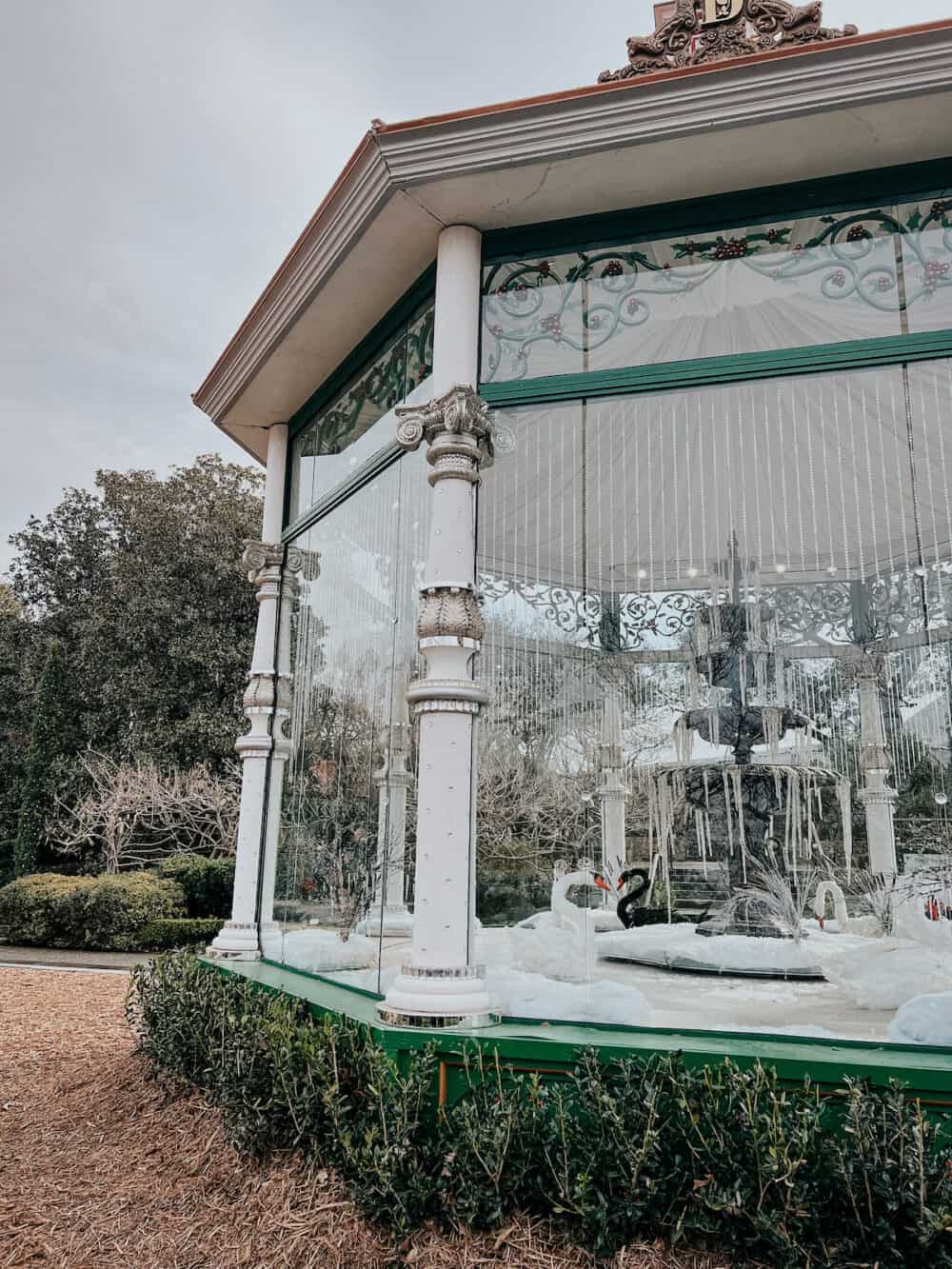 what we did in dallas…
Grapevine Main Street. While we were at the Gaylord we decided to have dinner at Harvest Hall in Grapevine. We mostly wanted to save money (those hotel restaurants are pricey), but we were so glad we did! Main street goes all out for Christmas! There were lights everywhere. It was so magical to just walk around and take it all in. We all agreed we'd love to come back and spend more time in Grapevine one year.
Dallas World Aquarium. We hadn't ever heard of this, but my best friend told me we had to go. And I'm so (so) glad we did. It's absolutely breathtaking to walk through all of the displays, and we all had a blast. It doesn't just focus on ocean animals – there's an entire rainforest exhibit that's mind-blowing! We all walked around with our jaws on the floor the whole time we were here.
Enchant Light Display. This was one of the things we heard the most about before our trip! It's a giant maze where you find Christmas light displays, and it's absolutely beautiful. It was, however, very crowded! We're also spoiled here in Austin with the Trail of Lights, and I'm not sure this really lived up to the hype. We were all glad we went, but I don't know that we'd do it again.
Holidays at the Arboretum. Our final Dallas adventure was at the Arboretum for their holiday display. We tucked it into our last day before we headed home, but we all agreed we would have liked to stay longer. We could have been here all day! They have some incredible Christmas displays that are really fun to see during the day, but I'm sure they're absolutely magical at night. We'd come here again and again and again.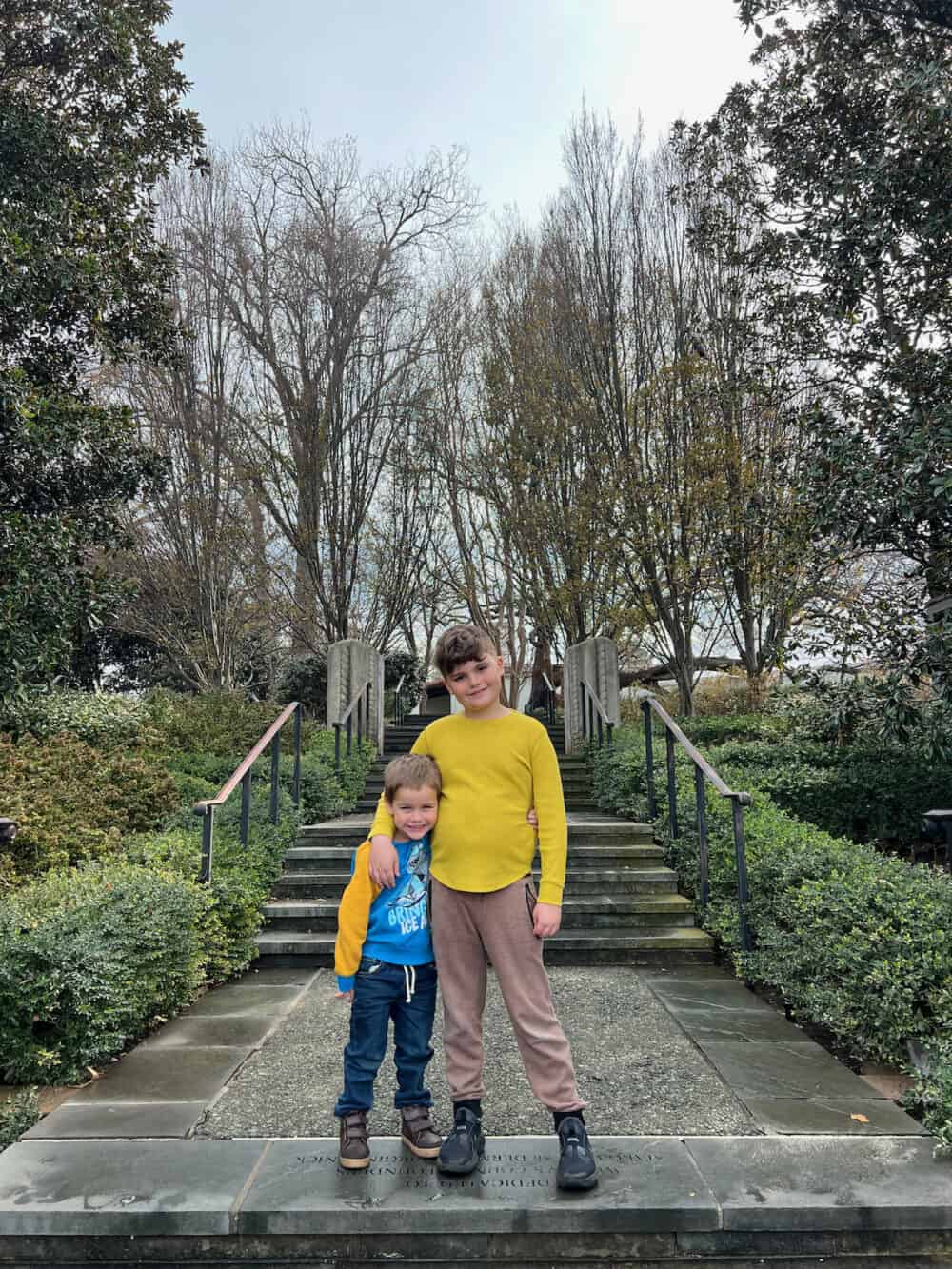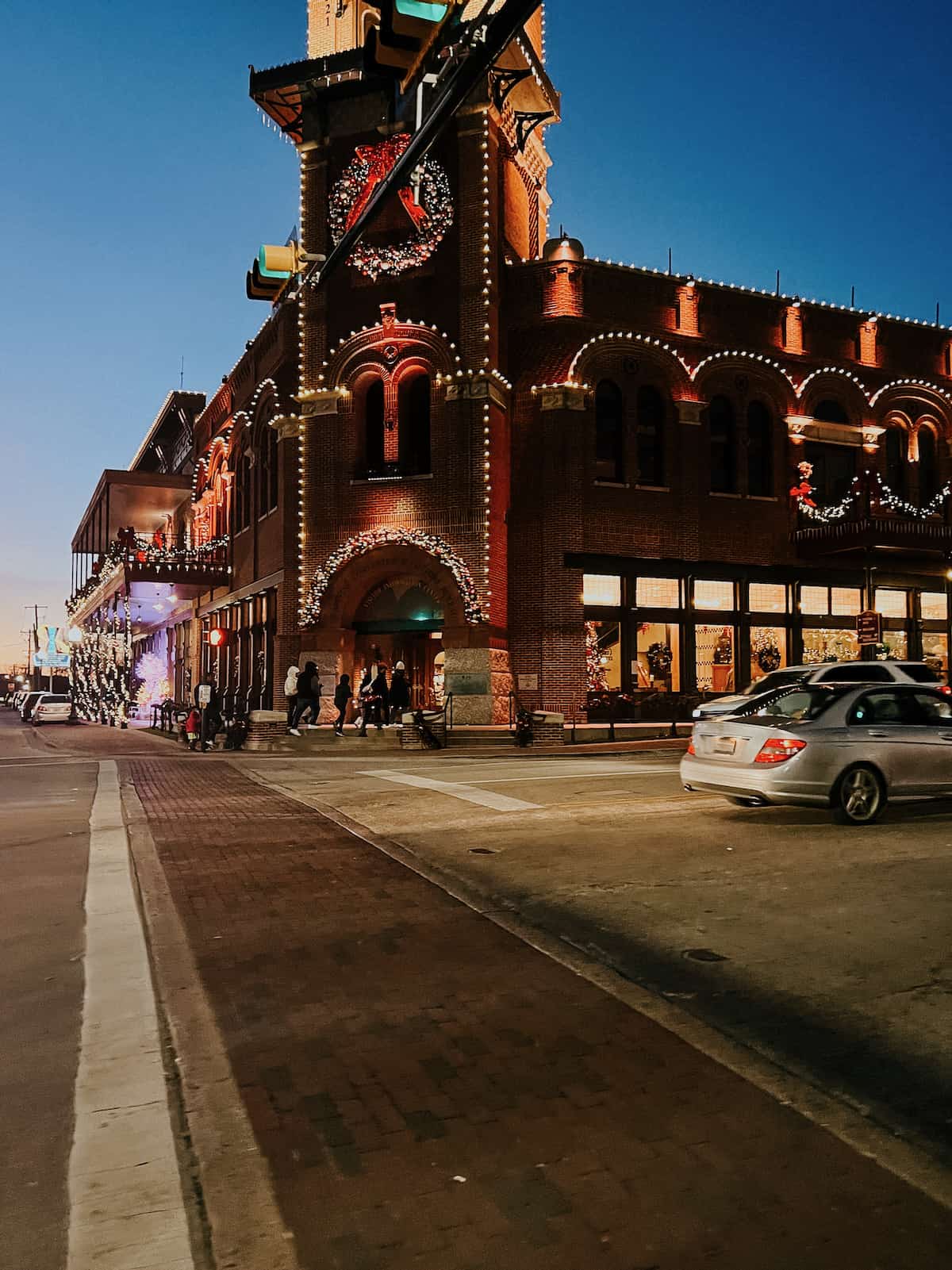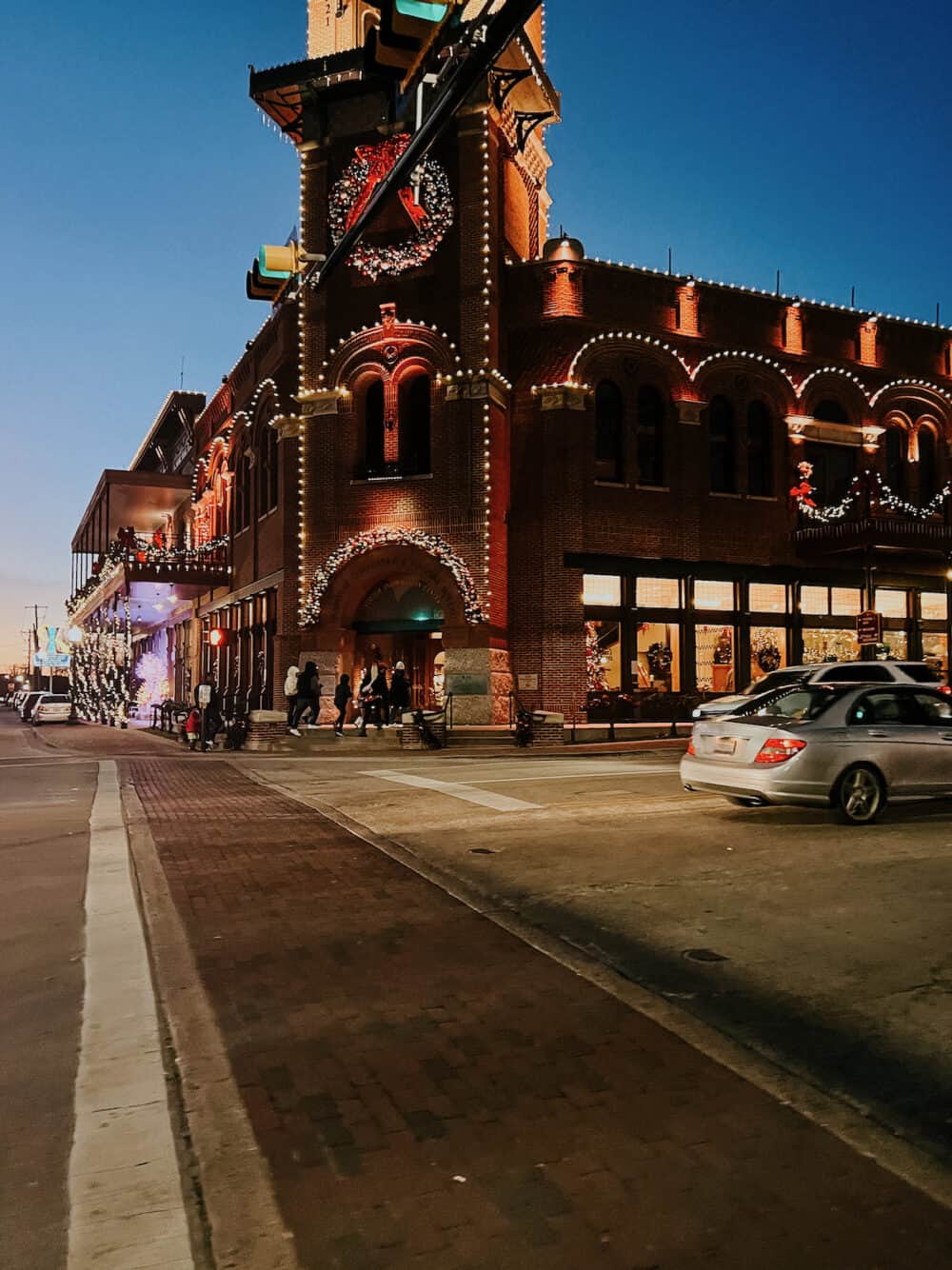 And that was our second annual post-Christmas vacation! We had a ton of fun seeing some things close to home that we've never visited. And, we packed a TON of fun into three days! I think we learned that a slightly longer trip will be more relaxing (we came home exhausted), but we were glad to squeeze in the trip at all in this super busy season!
And now, it's time to start mentally planning for 2023's trip…because I'm already counting down the days!
other traveling posts you may love