My Girls' Trip to Lakeway Resort & Spa
A couple of years ago, my two best friends and I decided to go on our first ever trip together. I had talked about doing it for years with my best friend from college, but life and budget and kids just got in the way and it never happened. We decided it was time to make it happen, so in 2021 we headed off to Tennessee to hike and shop and relax and visit the Titanic museum. It was so cup-filling and relaxing, and we knew it would need to become a regular thing.
We didn't manage to make anything happen last year, so it felt even more important to do something for ourselves this year. We wanted something close by and relatively affordable, where we could relax by the pool, spend hours reading books, and basically just exist for a few days. We landed on the Lakeway Resort & Spa in Austin, and last weekend we headed out for our trip.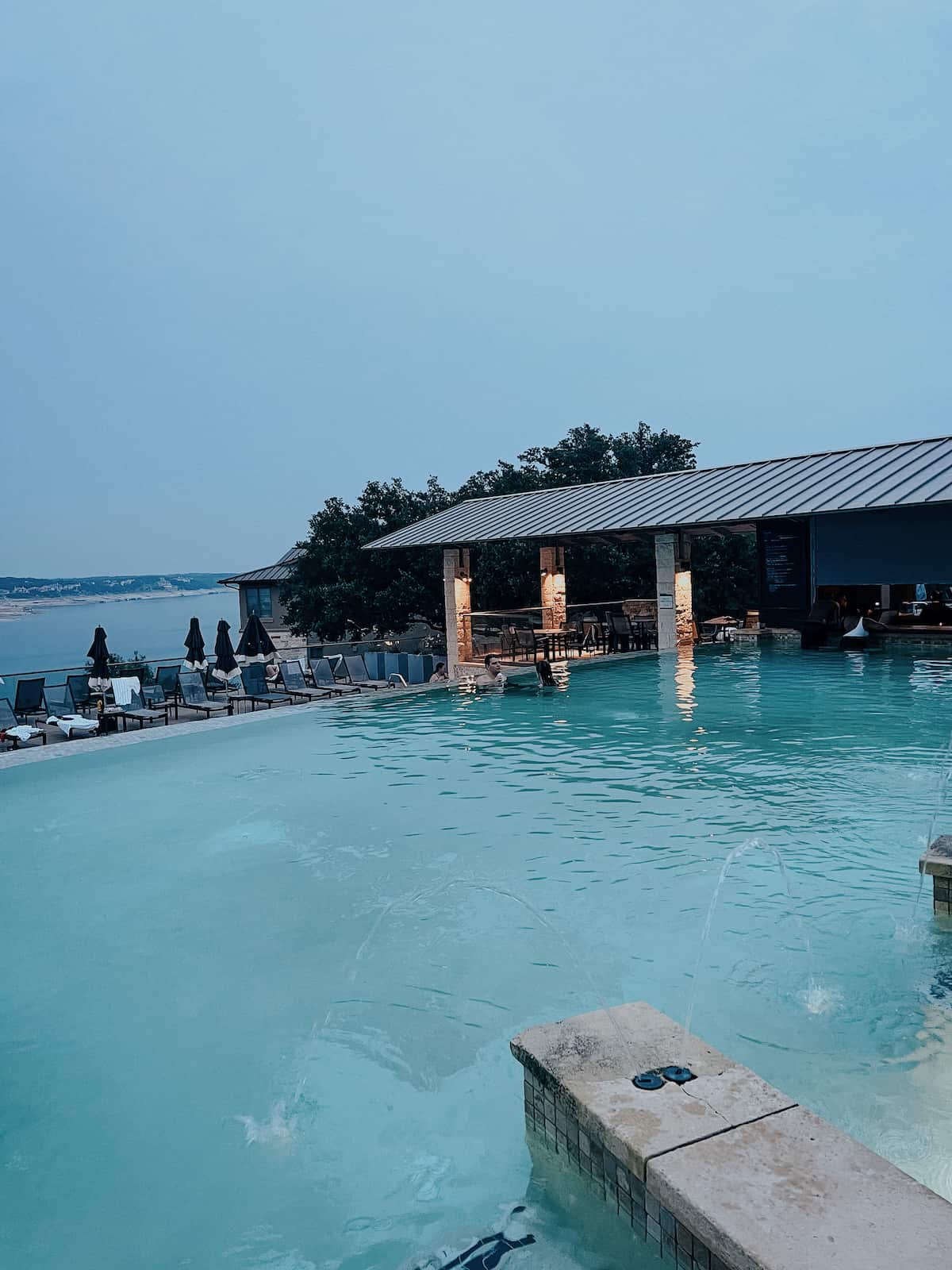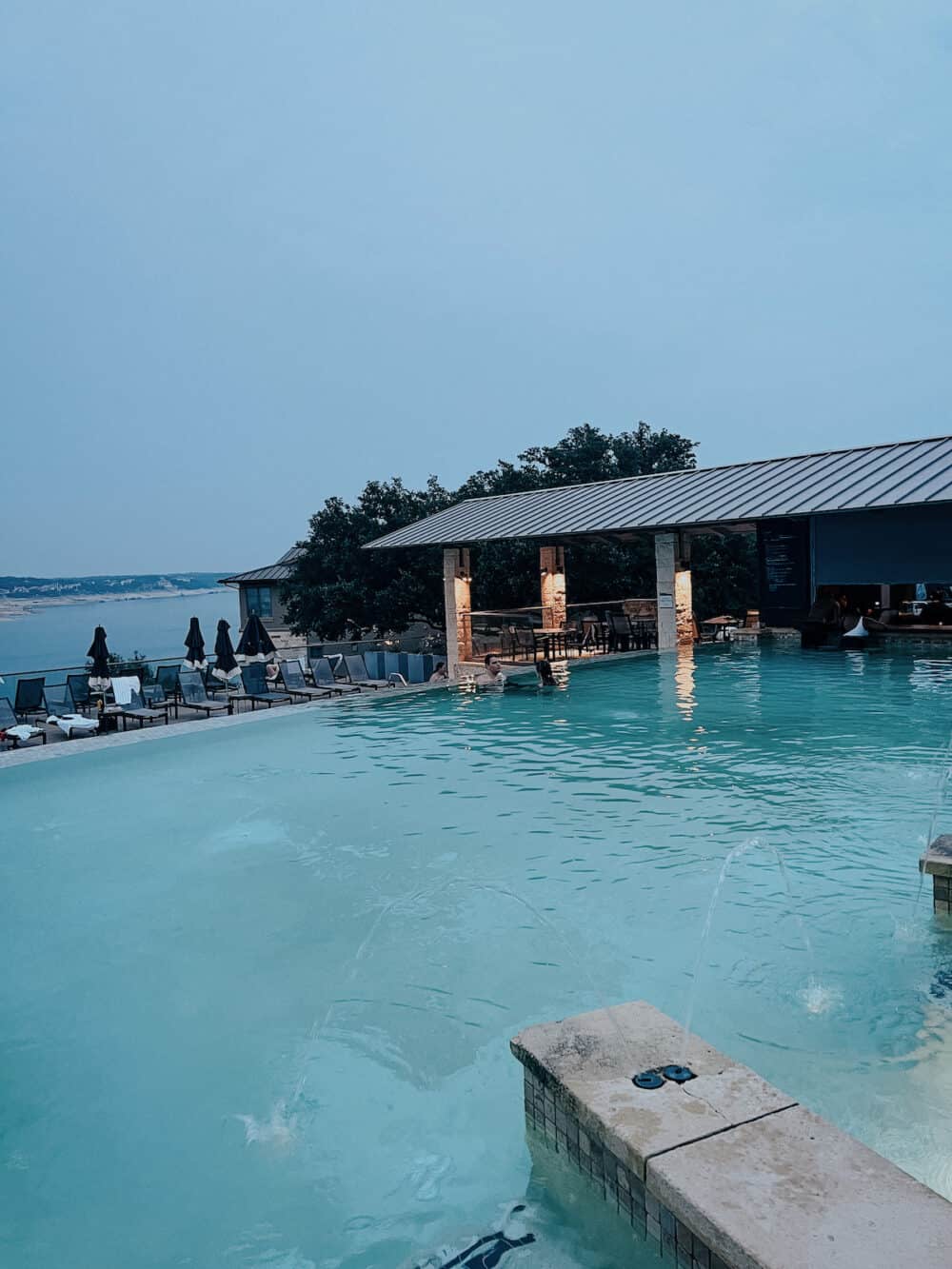 I always love to come back and recap travel adventures here on the blog, partially just so I can have a record of it for my own memories, but also because I love reading about other peoples' trips! I had many of you ask for more details on what we did, where we ate, and what we thought about the resort, so today's trip report is a deep dive on my 2023 girls' trip!
The Resort
None of us had ever been to the Lakeway resort, but we had heard great things. It was a little smaller than I expected, but it was a great setting for what we were looking for. We spent the vast majority of our time by the adults-only pool. We spent hours upon hours reading books, having cocktails, and pausing our books to chat a while before picking them back up and reading some more.
It was exactly my kind of vacation.
The adults-only pool is a really unique setup, with three separate pools that are all connected by cascading waterfall edges. The largest pool is at the top, and it has several nooks along one side with benches so you can sit in the water and be with your friends but still feel tucked away from the rest of the pool.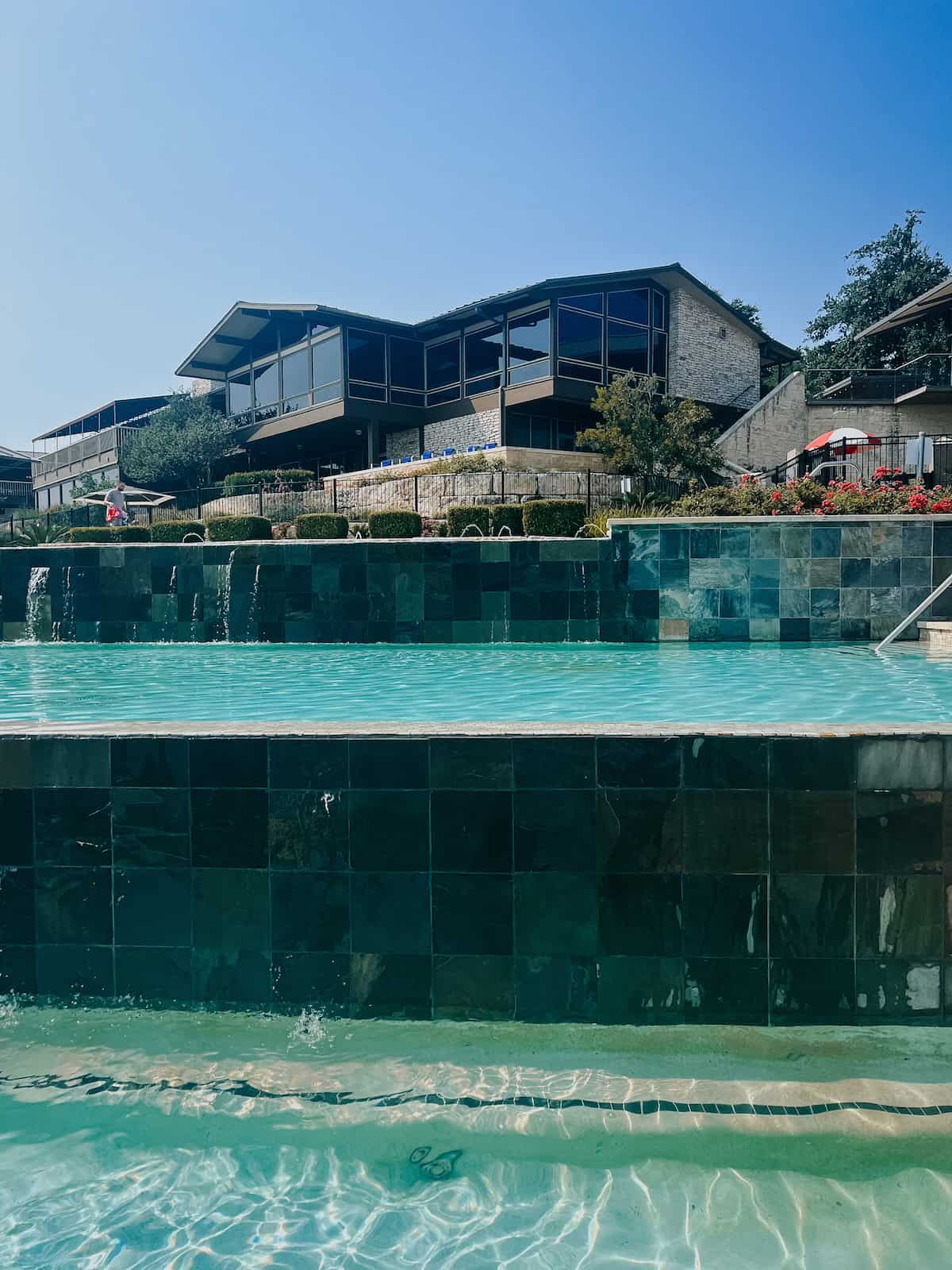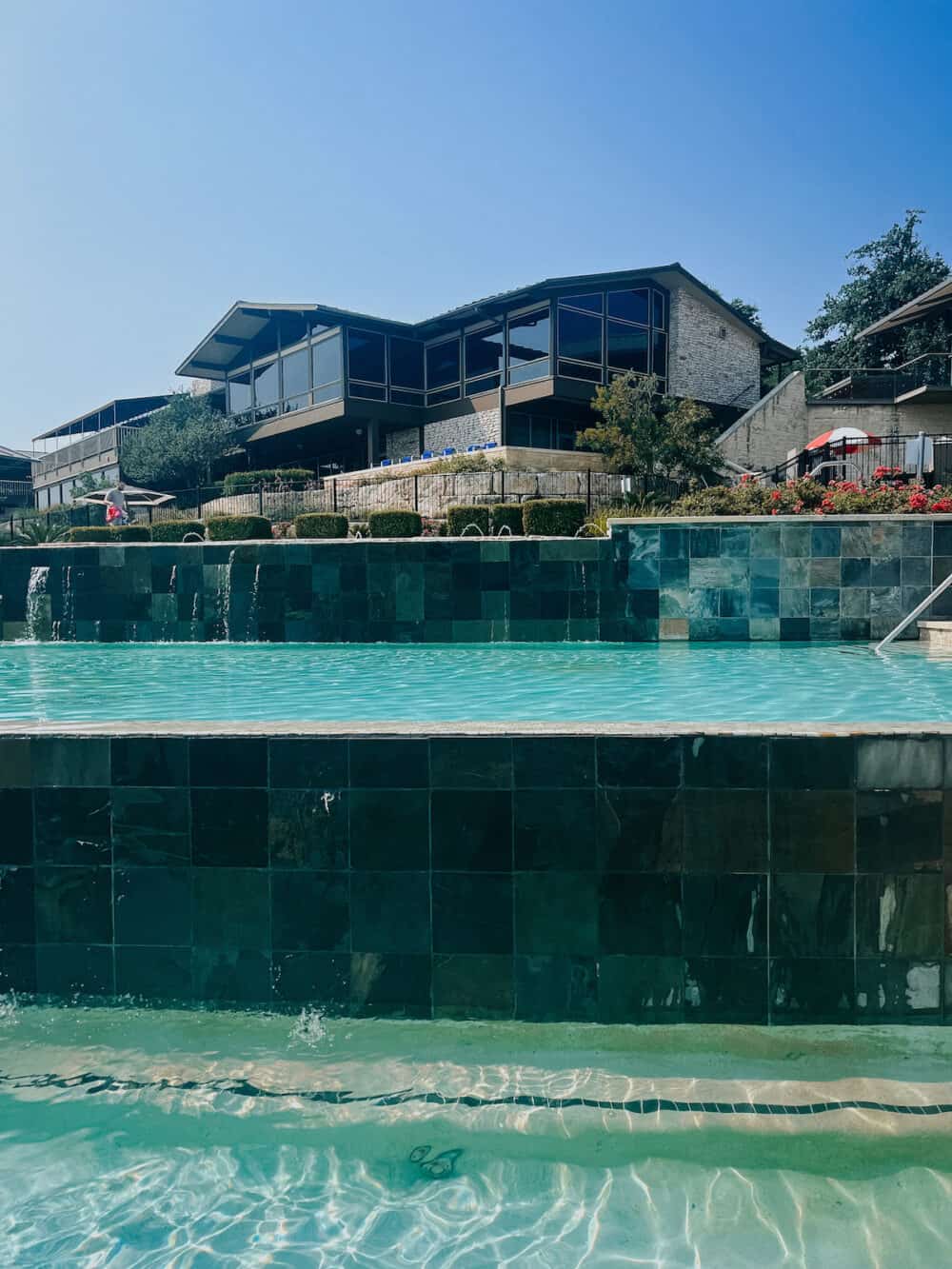 It has a waterfall edge that looks out onto the next pool, which is the same length, but narrower. There's a bench all along the back side where you can sit and let the water flow over you, and then it also has a waterfall edge that spills into the third, smallest pool.
The last pool is only about 2.5′ deep and only a few feet wide. It has a bench along the side (with the cascading water from the second pool). We spent all of our time in the biggest pool because the nook areas were absolutely perfect for lounging and reading. It's also the one that's connected to the swim-up pool, so it made refilling our drinks easier!
There's also a family-friendly pool nearby with a waterslide (yes we tried it, and yes it's fun!), and then a third deeper pool with a volleyball setup and a section up to 9′ deep.
You can get cocktails at the pool and there's also a little kiosk near the family pool where you can grab some food. We tried the turkey wrap and the chicken tacos and while nothing was particularly special, it was a good way to refuel when you're hanging by the pool all day!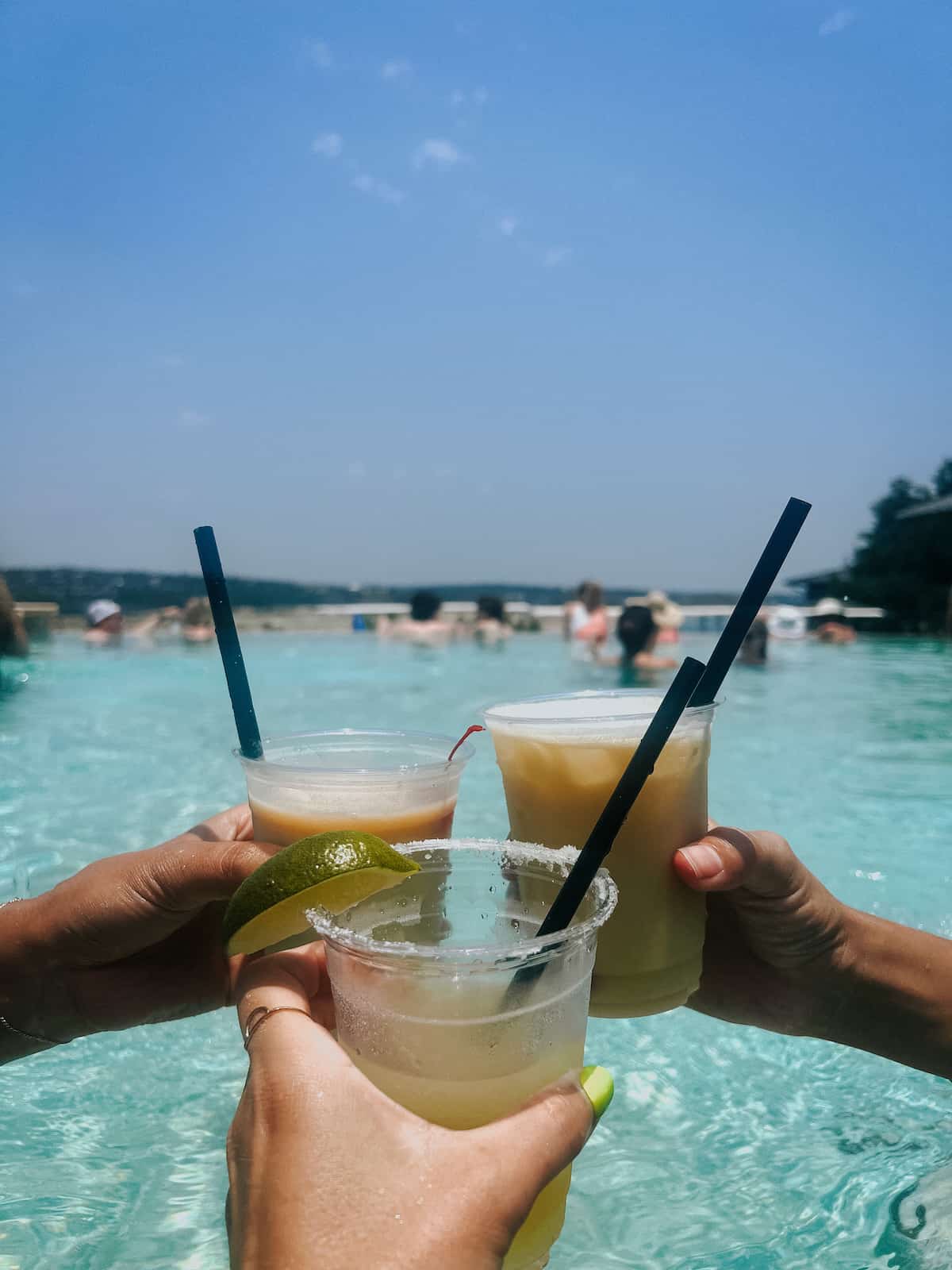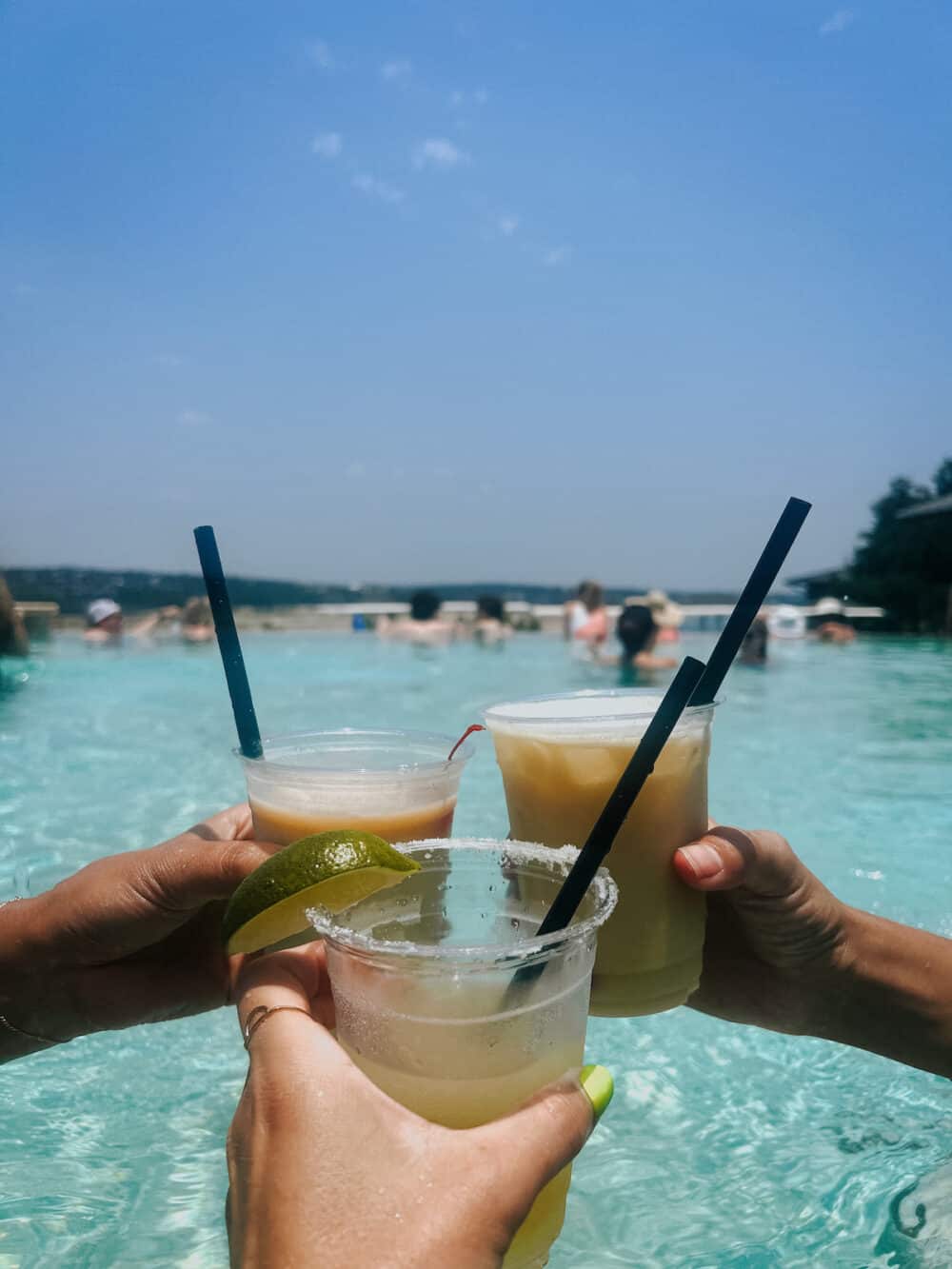 There's a nice fitness center that we swore we were going to use (we did not), and yoga on the terrace every morning that we definitely planned on attending (we skipped it). Our room had a balcony that overlooked the lake, and we had fun in the mornings and evenings sitting outside and watching the boats and skiers come by.
Overall, the resort itself was exactly what we were looking for. It wasn't terribly fancy or overloaded with amenities, but we really just wanted to hang by the pool anyways! It's a family-friendly resort, but I don't know that it would be my first choice with my kids. Other than the pool, there isn't much for kids to do. There's a ping pong table and they had a couple of areas set up for things like cornhole and other lawn games, but if I was looking to get away with the kids I think I'd personally choose something with more options. Of course, that might change if you were planning on renting a boat or kayaking from the nearby marina during your stay!
It's also worth noting that the resort is near several golf courses and is a popular destination for golfers. So if golfing is your thing, this is definitely a great option!
The Spa
Of course, a huge perk of staying at a resort like this is the spa services! My two friends both got massages and I got a body wrap while we were there, and we were all really happy with our experiences. The spa was smaller than we expected, and didn't have a ton of dedicated amenities like a larger resort & spa might. But, we had a good time anyways. There's a small sauna in the locker room that we enjoyed before heading to our services, along with a nice lounge and balcony where you can sit and sip some champagne or water (infused with crystals, of course).
There isn't a dedicated pool for the spa, but if you book services here you can get access to the resort pool (which is right next to the spa) even if you aren't staying.
The Food
Listen, I don't know about you but for me, one of the most important parts of any vacation is what I'm eating. I like food, and I want it to be good! We didn't do a ton of planning when we were thinking about food for our trip – we figured we'd wing it, and that worked out great for us. Lakeway isn't exactly known as having the most amazing restaurants around – it's on the lake, so a lot of restaurants really just rely on their views. But, that doesn't mean there aren't some great options!
Here's everything we ate while we were on our trip:
Day One:
Lou's Eastside: We grabbed lunch at this downtown spot before heading out to Lakeway, and it might have been my favorite meal of the trip! We all had the Rotisserie Cobb salad and it was delicious. This will for sure be a new go-to for me on the (rare) occasion I head downtown!
TR Restaurant & Bar: This is the restaurant at the resort – we headed there for dinner on Saturday night and were pleasantly surprised to find there was absolutely zero wait at dinnertime. I won't go into a ton of detail, but our experience here wasn't really our favorite. The food was mostly fine, but felt very overpriced for what it was. The drinks were good, but we had to send our appetizer back twice for being uncooked before we gave up and ordered something else. If I was heading back to the resort, I would stick to off-property restaurants for our main meals.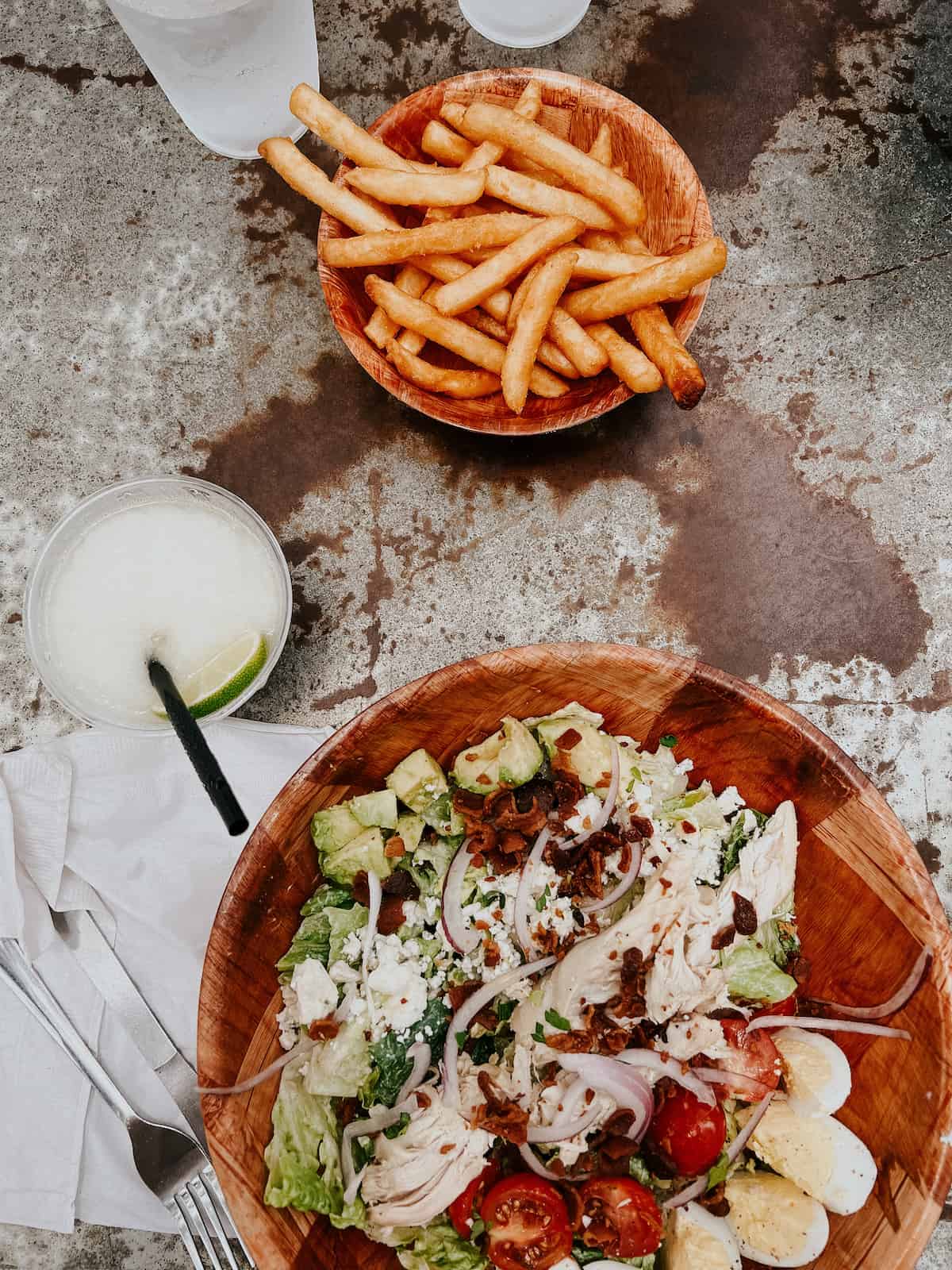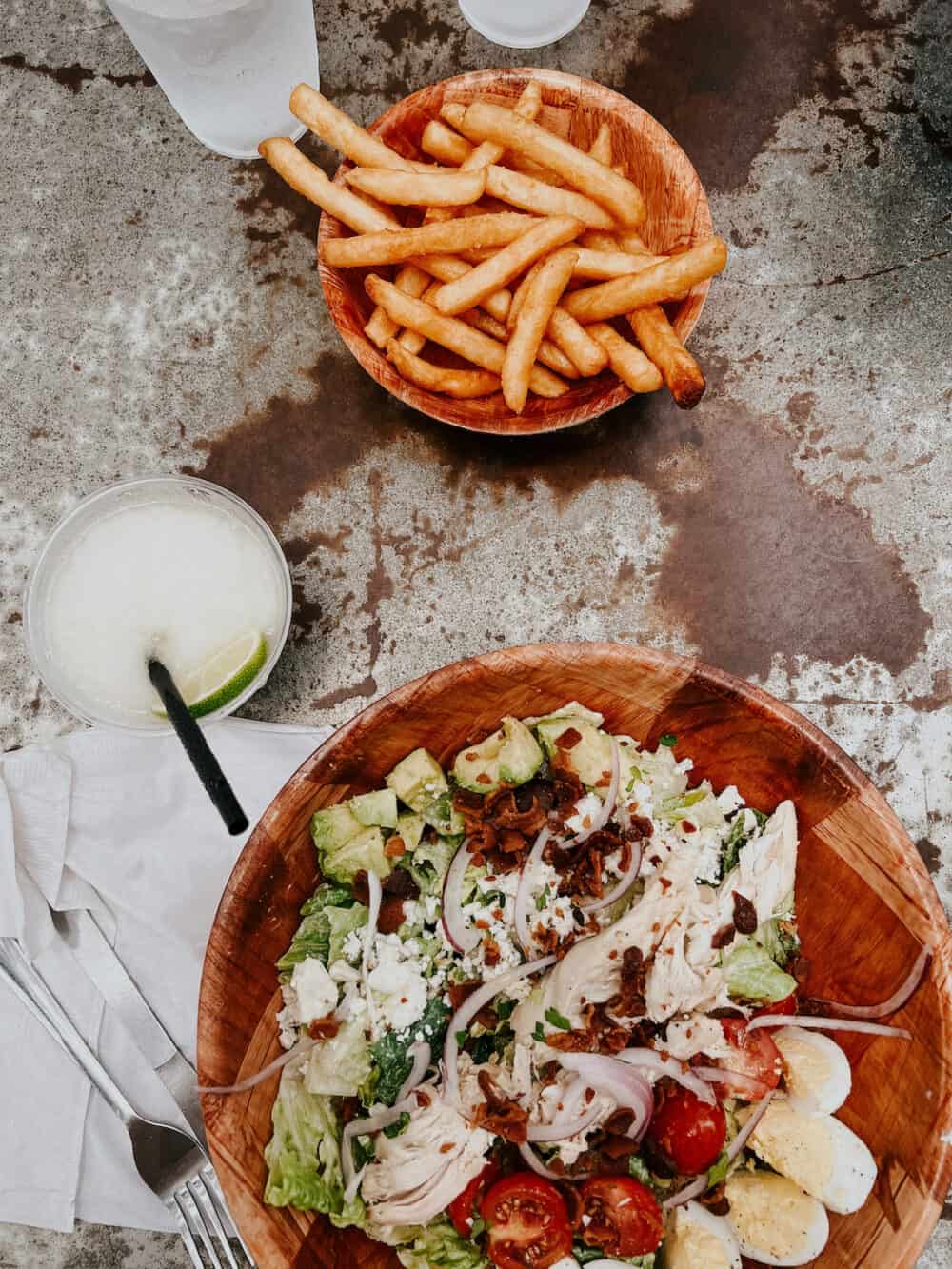 Day Two:
Pool Grill & Bar: On our first full day at the resort, we grabbed lunch here as I mentioned earlier. The food wasn't anything special but it was good and filled us up until dinner! It was pretty reasonably priced, as well, which isn't always the case for poolside food.
Santa Catarina: On day two we drove about 10 minutes to grab some Tex-Mex nearby! We were worried when we walked into this restaurant because the waiting area was tiny, crowded, and about a zillion degrees (thanks, Texas!). But, once we were seated and got some waters we cooled off and were able to enjoy our meal. We all really enjoyed what we ordered, and I'd be happy to come back here.
Day Three:
Whataburger: We were all craving something simple and easy, and we didn't feel like heading back to the pool for lunch so we drove a few minutes to grab some Whataburger on our last full day there. It was a 10/10, as it always is.
Hops & Thyme: And finally, for our last dinner we went to Hops & Thyme (again, about 10 minutes from the resort). We had planned on eating at The Gramercy, but realized too late that it was closed on Mondays. This was our backup and it delivered. It was a little bit of a hole-in-the-wall and we weren't sure what to expect, but the food was delicious! I'd head back here in a heartbeat and kinda wish it was a little closer to home!
The Books
Because I know you're curious, I feel like I have to touch on what we all read while we were here! We spent a lot of time reading, and we'd pause throughout and discuss our books and what was happening in them. Here's a list of everything that was read on our trip: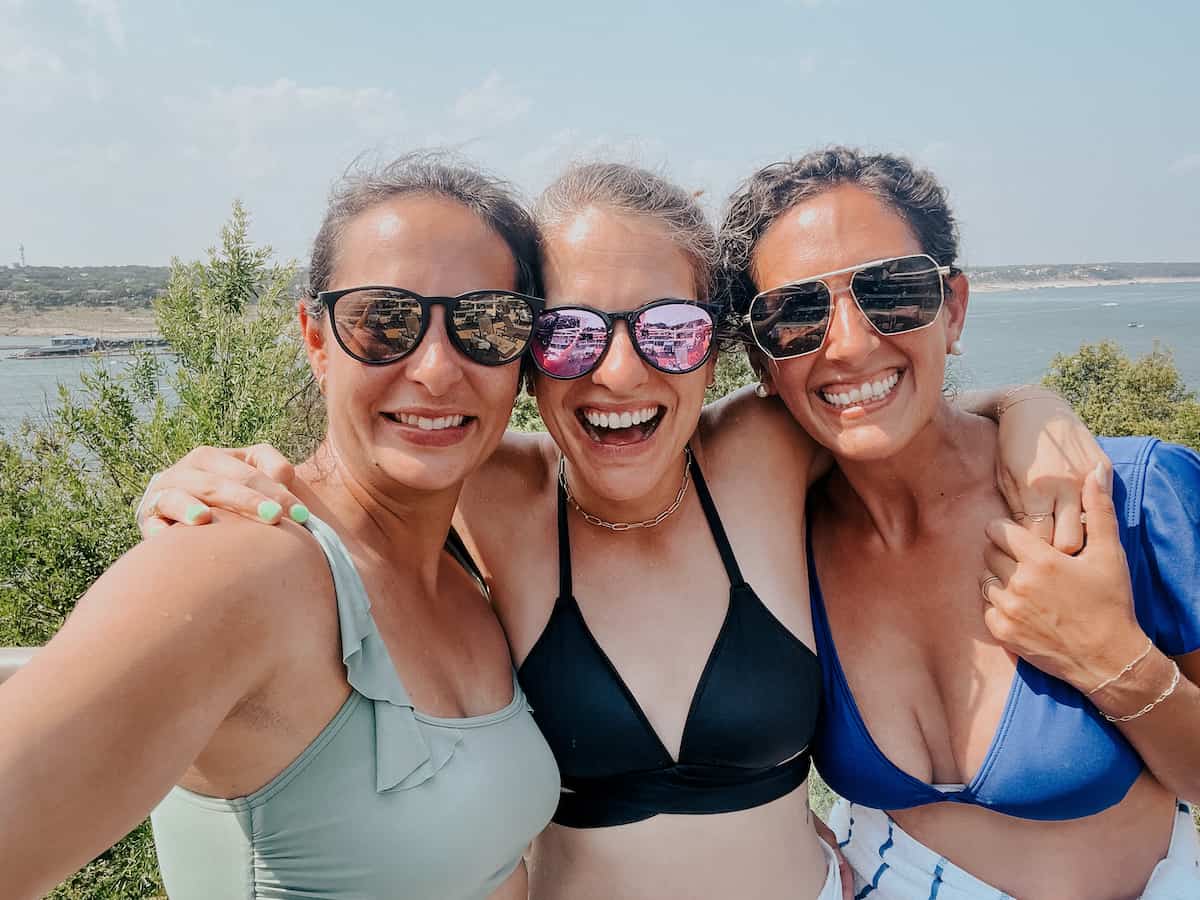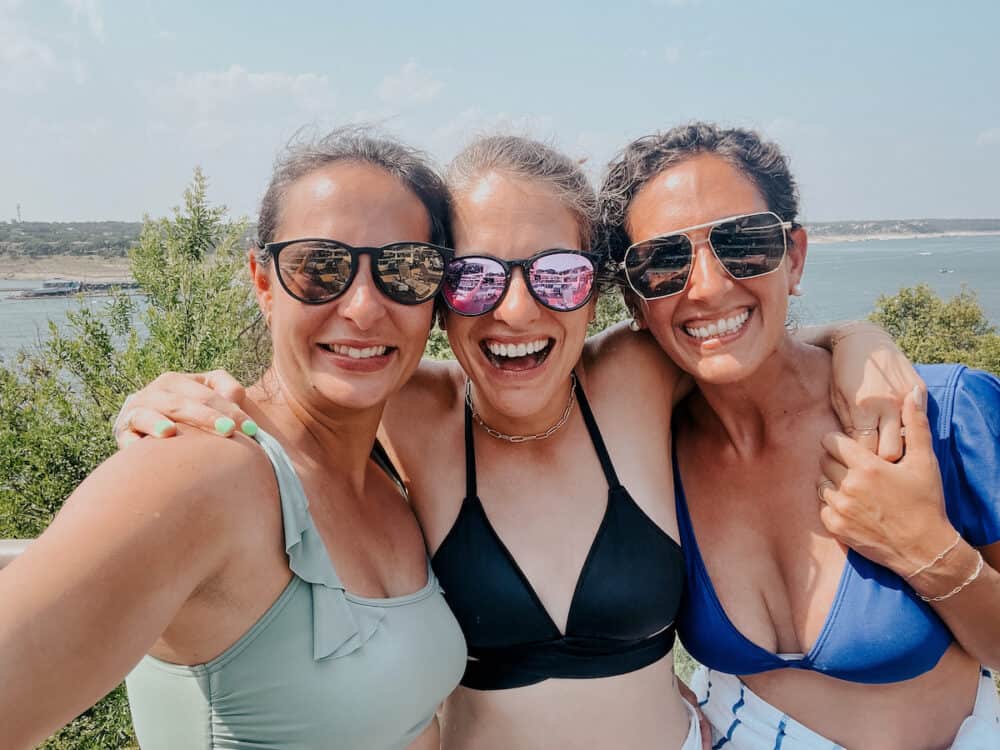 I think it's safe to say that girls' trip 2023 was a major success. We all needed a really quiet and relaxing weekend, and we came back feeling so refreshed and fulfilled after all that great time together! I'm already starting to think about next year's trip…just gotta decide where we should head next!
related posts
Other Trip Reports