We've had so many questions about what we think about our new IKEA KIVIK sofa, and I wanted to do a thorough review here for you today!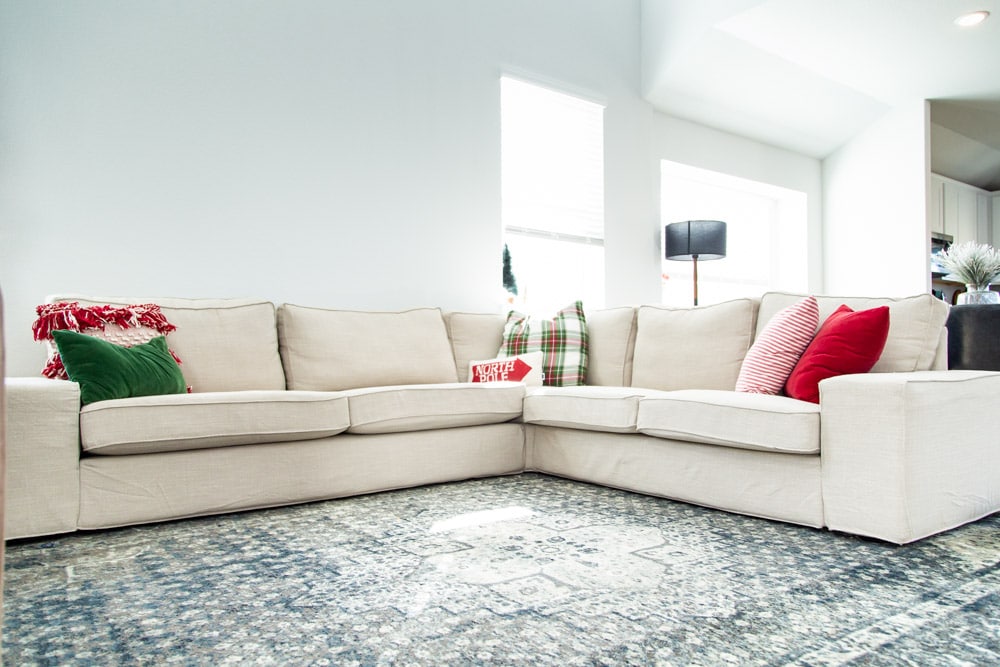 If you've been around for a while, you might remember that Corey and I are big fans of IKEA couches. We had a KARLSTAD sectional in our living room for 6 years in our first house (and only sold it because we couldn't fit it in our second house), and after having a Crate & Barrel sofa in our second home, we've gone back to our trusty old IKEA for our main sofa this time around (although, the Crate & Barrel sofa still lives on in our game room!).
We debated for a long time about which IKEA sectional would be right for us, and we narrowed it down to the VIMLE or the KIVIK. In the end, we couldn't get over how much we love the modern lines and chunky arms on the KIVIK, and that's what we went with (and we're so glad we did!). We actually had a KIVIK sofa in our first home for a few years when we used our garage as a media room, so I feel like I have a bit more experience with these sofas than just the time we've been in this house.
So, let's dive right in to the details on our IKEA KIVIK sofa, why we love it, and how it's working for us in this house.
IKEA Kivik sofa revew
First up, let's chat about a few of the obvious, over-arching reason we love IKEA sofas. We found from our last time owning one that they hold up great to kids, dogs, messes, and just life in general. The sofa in our first home looked pretty fantastic after 6 years of chaos (including two large dogs who slept on it all the time), and it only got more and more comfortable over time. So, it just felt right to go with an IKEA sofa again – we knew we could trust it to last!
Another huge selling point (hah!) for us was the price. IKEA sofas are incredibly affordable, especially when you get into the world of sectionals, and the quality for the price you're paying is absolutely unmatched anywhere else.
And finally, my last big reason to get an IKEA sofa is that the covers are washable. In your washing machine! At home! And I'm not just talking about the cushion covers – you can remove the whole shebang if you need to and toss it in the washer. That's a huge plus for us, and it really makes me worry a lot less about the general messes that come with life. I wasn't even nervous buying a light-colored sofa because we had a similar color of the KIVIK in our garage at our first home, and it held up great. It does tend to show dirt a little faster than other colors would, but it cleans up really well in the wash and the covers stay looking great, even after multiple washings.
So, as a rule, I would say that Corey and I wholeheartedly recommend IKEA sofas for a whole bunch of reasons.
Now, let's dive into the specifics of the KIVIK and how we're feeling about it so far.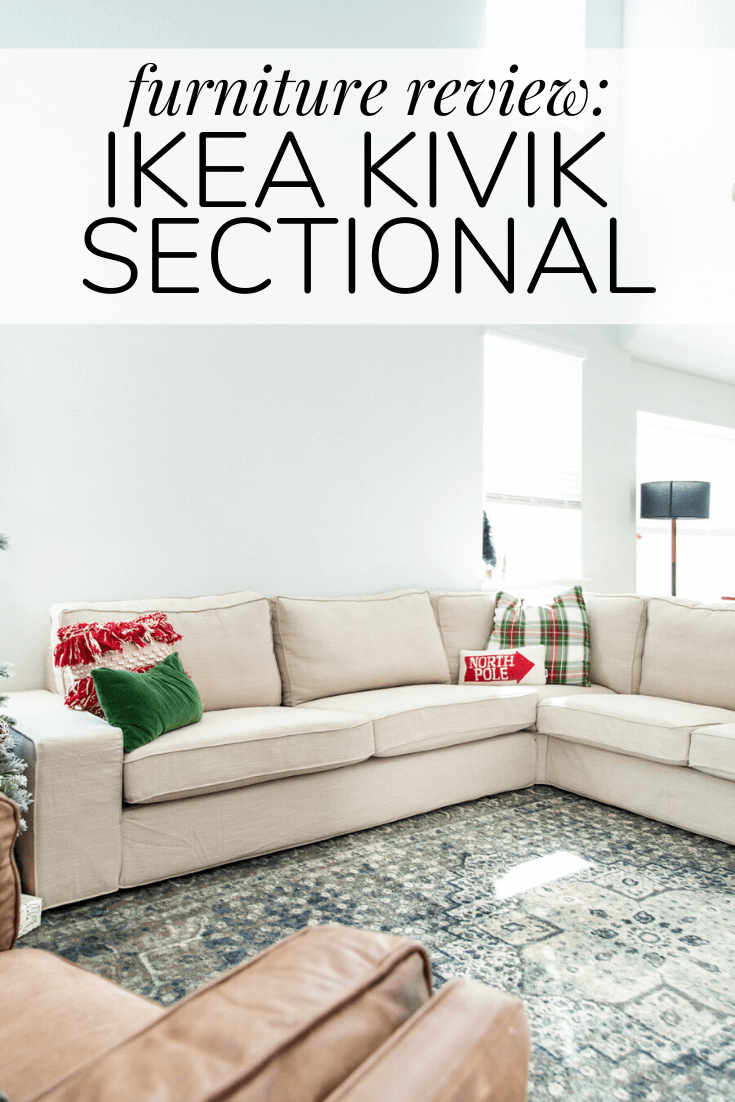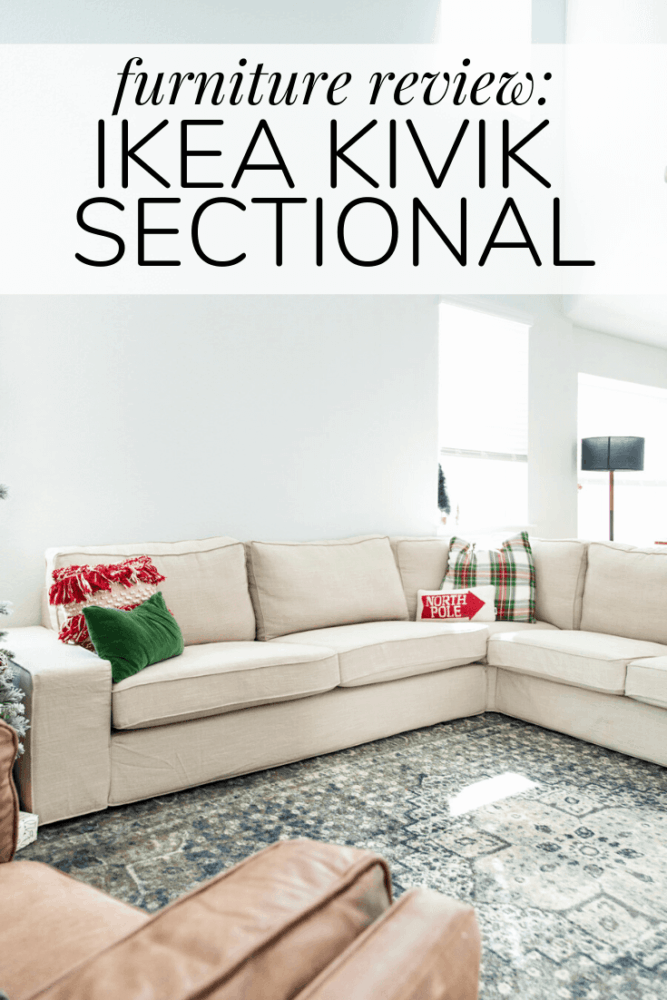 which kivik did we get?
We got the 5-seat corner sectional in Hillared Beige.
KIVIK VS. VIMLE
Let's touch on some of the reasons we ended up choosing the KIVIK over the VIMLE. They're both really gorgeous couches, and they're pretty similar, so it was something we went back and forth on. Here was our thought process:
We originally liked the VIMLE better because it is taller than the KIVIK. We have 20-foot ceilings in our living room and didn't want the couch to feel like it was meant for a dollhouse. But, once we looked at the measurements we realized that the overall height is actually the exact same – the arms on the VIMLE just come up higher and give it a taller appearance.
We sat in both couches multiple times, and we both agreed that, despite the fact that we liked the appearance of the taller arms, the low and wide arms on the KIVIK are much more comfortable. We didn't feel like we could really lean on the arms of the VIMLE nearly as well. Overall, we personally found the KIVIK to be more comfortable.
We vastly preferred the texture and color choices of the cushion covers on the KIVIK. The VIMLE has some great color options, but it felt more limited and the textures of the fabrics felt a bit cheaper to us. The KIVIK had several color options that we really liked, and had a nice thick-weave texture that feels much fancier than it is. We loved having more options that we were happy with, because if we want to swap out the color of our sofa down the line (which is entirely possible!), we'll have multiple options.
This wasn't actually something that factored into our decision-making process, but it doesn't hurt that the KIVIK is just a bit cheaper than the VIMLE!
Is it hard to assemble?
If you've ever bought an IKEA couch, you'll know that it does not come pre-assembled like many sofas do. As with most stuff from IKEA, you get to do it aaaaall yourself.
I took care of the vast majority of the sofa assembly by myself on moving day. The only thing I wasn't able to do on my own was connect the sectional pieces (because it's really a two-person job). It wasn't a fast process – it took several hours – but overall I'd say it wasn't terribly difficult…and for me, it's worth it to assemble it myself when I'm paying such a great price for such a big sectional!
is the ikea kivik comfortable?
We find it very comfortable.
As with most couches, when it first comes out of the box it will be on the firm side – it'll take a few weeks for things to soften up and get really cozy. But, we spend a lot of time lounging on this couch and have absolutely zero complaints. The cushions are all made with memory foam so it quickly adapts to your body and is very supportive. There have been many nights that I've almost ended up just sleeping there because I was too comfortable to move!
I love that we can easily fit 6 (or more) grown adults on our sofa and no one feels squished. I love that the arms are nice and low and wide so people can comfortable rest an arm, a head, or even a drink on it.
The KIVIK is not nearly as deep as our Crate & Barrel lounge sofa, but for us that's not really a problem – we can still very comfortably lay on the sofa (just not next to each other), and I find cuddling on the couch is actually way easier when you've got a corner seat!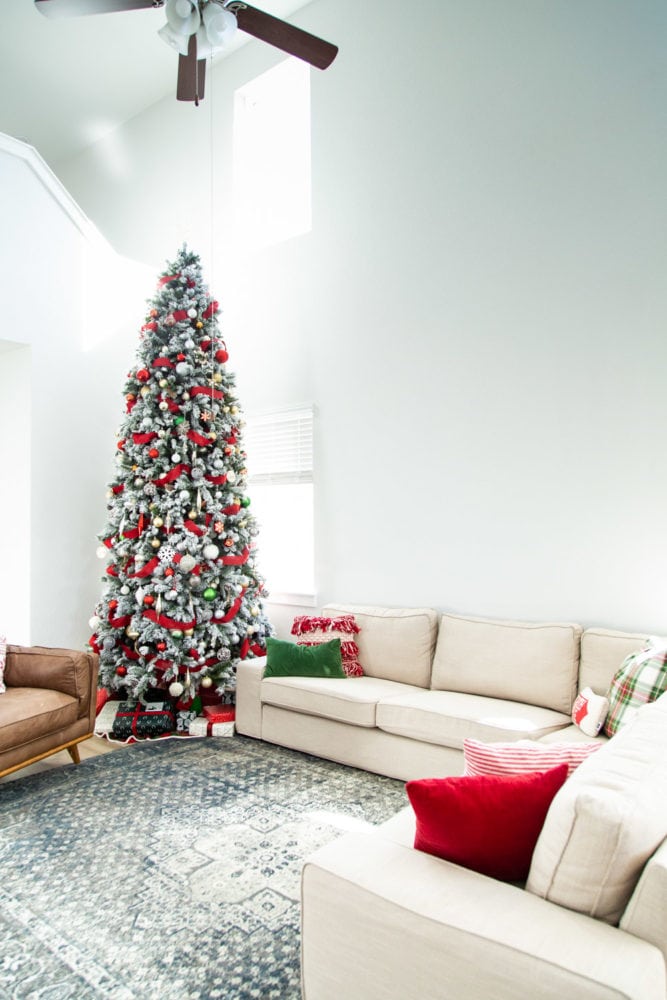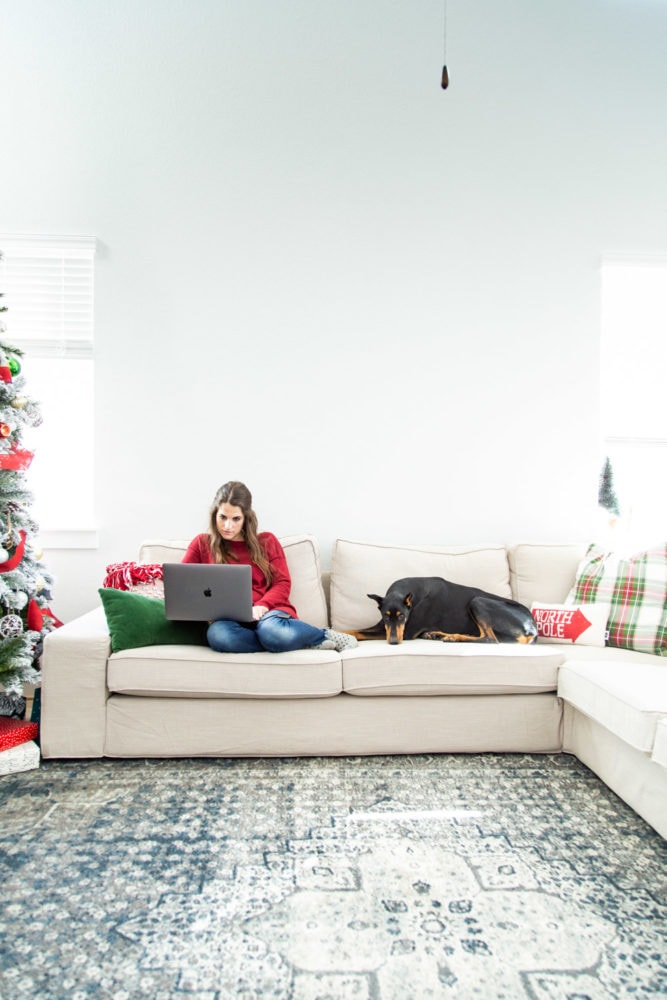 is it easy to clean?
Yes, yes, yes!!!!
A small part of me started to hesitate about getting a light-colored sofa, but I knew that our last IKEA KIVIK held up really well so I figured it would be fine. Thankfully, I was right. We've had a few spots show up from the dog's pawprints or when Grant leaves a sippy cup of milk on the couch and it leaks, and so far everything has come up with just a washcloth and some warm water. I've even used baby wipes to get a quick spot of dirt!
We've had the couch in place for almost a month, and it still looks perfectly clean so far. I vacuum it with my Shark handheld a few times a week to get Hadley's hairs off of it (she sleeps on it at night, so the hair can add up quickly), and it's more or less pristine.
With our last IKEA sofa, I found that my best schedule was washing it about once a quarter. When the seasons change, I would pull off all of the cushion covers and spend a day getting the couch back to clean. In the 6 years we owned our last sofa, I never had a reason to remove the cover from the back and arms (just the cushions), but the only additional step there would be to pull the sectional pieces apart first.
Will it hold up over time?
We haven't had this specific sofa for long, but based on our past experience with IKEA sofas, I think that the answer is a resounding yes.
The interior of the sofa is well-constructed and very solid, and while not all IKEA products are known for their durability, their sofas are generally very well-reviewed and tend to hold up extremely well over long periods of time.
Our KARLSTAD sectional looked practically brand-new when we moved and sold it, and as far as I know it's still going strong another 2 years later in the office building that purchased it from us.
Our first KIVIK sofa saw tons of use and abuse in our media room – there were movie nights, video game marathons, and even a pee accident or two, and we loved it enough to come back to it all these years later.
As always, you know I'll be honest with you if our opinion changes, but for now I think it's safe to say we absolutely feel like we made the right decision with our IKEA KIVIK couch, and we're beyond thrilled with it so far.
If you have any more questions for me, just drop them in the comments and I'll be sure to answer them!
Other posts you may love