Last month, we did a quick update in the boys' bathroom and I've been loving the change. But, it doesn't feel quite complete yet! I really want to add a few more small touches (and maybe one big one) to really round things out. And we're starting with adding some wall decor!
We added tons of beautiful trim on one side of the bathroom, but the area above the toilet was still blank. I really needed something to balance it out, so last week I went on a hunt for cute, quirky, fun art to add in here.
Because while the trim is gorgeous, it's still a kids' bathroom and I don't want to take things too seriously in here!
I landed on some adorable prints from Etsy and I couldn't be happier with how it turned out. The trim in the photos mirrors the trim in the actual bathroom, they're black and white so they don't compete with the shower curtain, and they're just so darn playful and fun.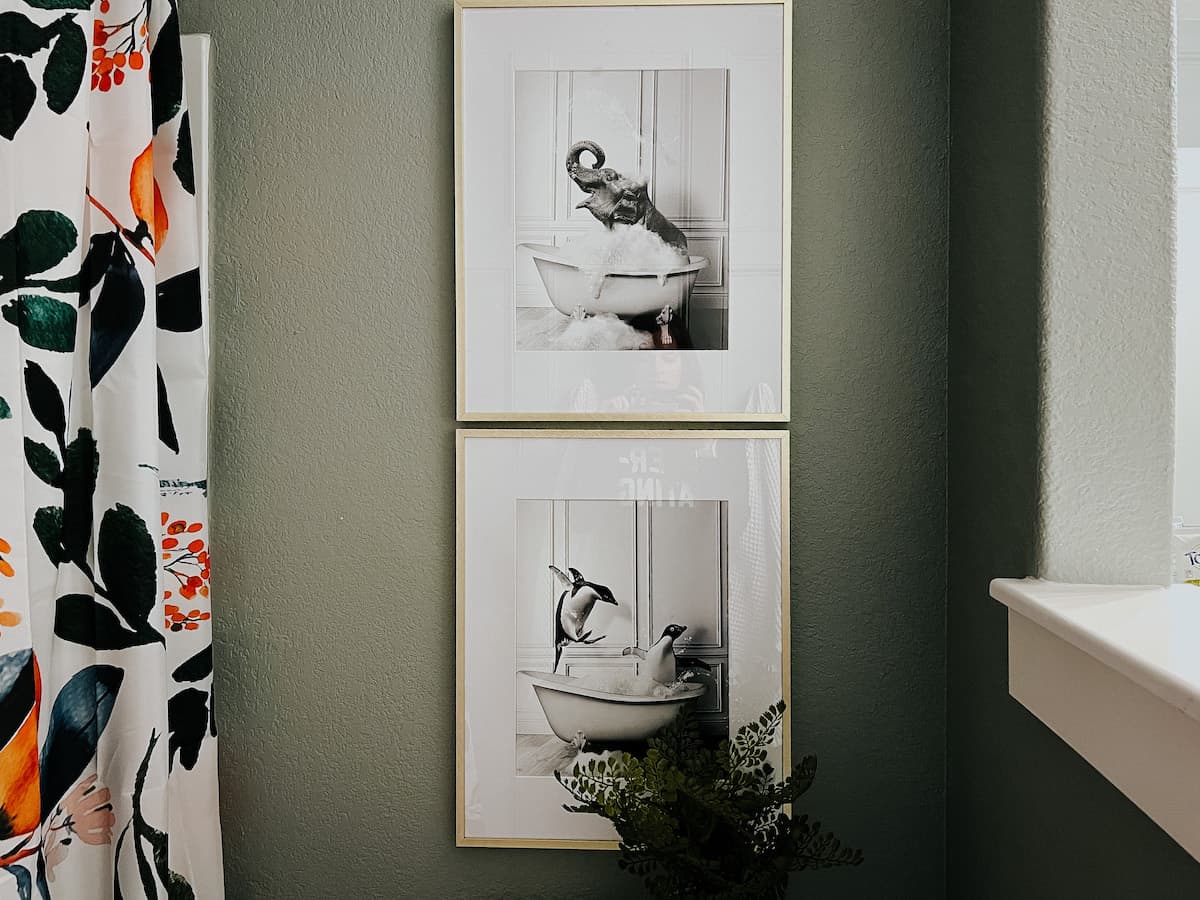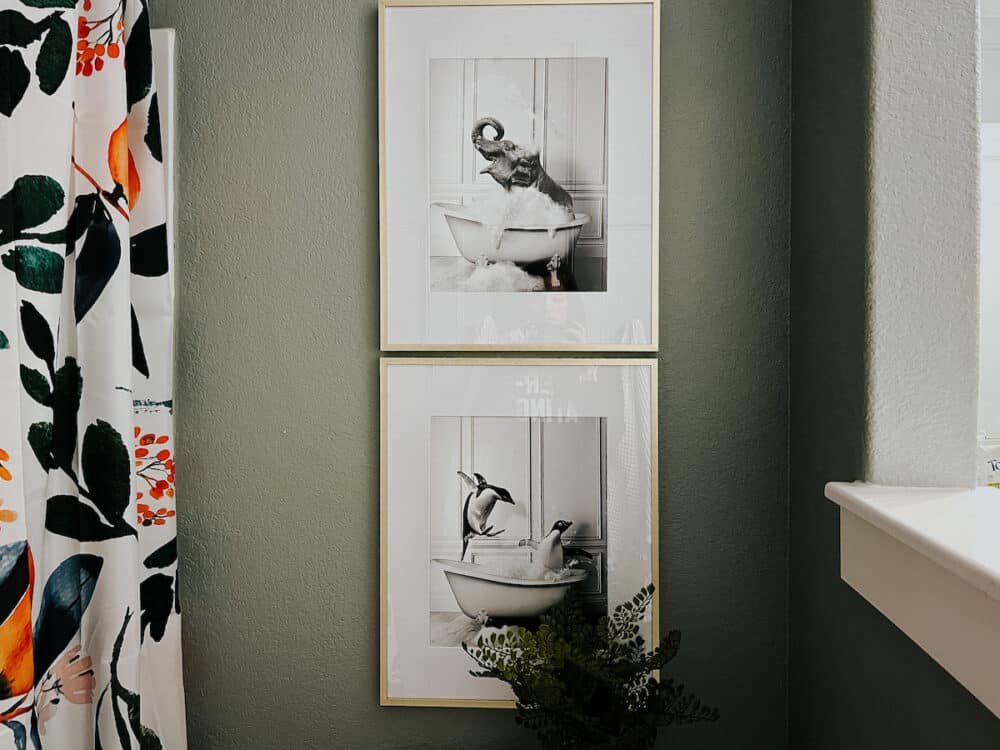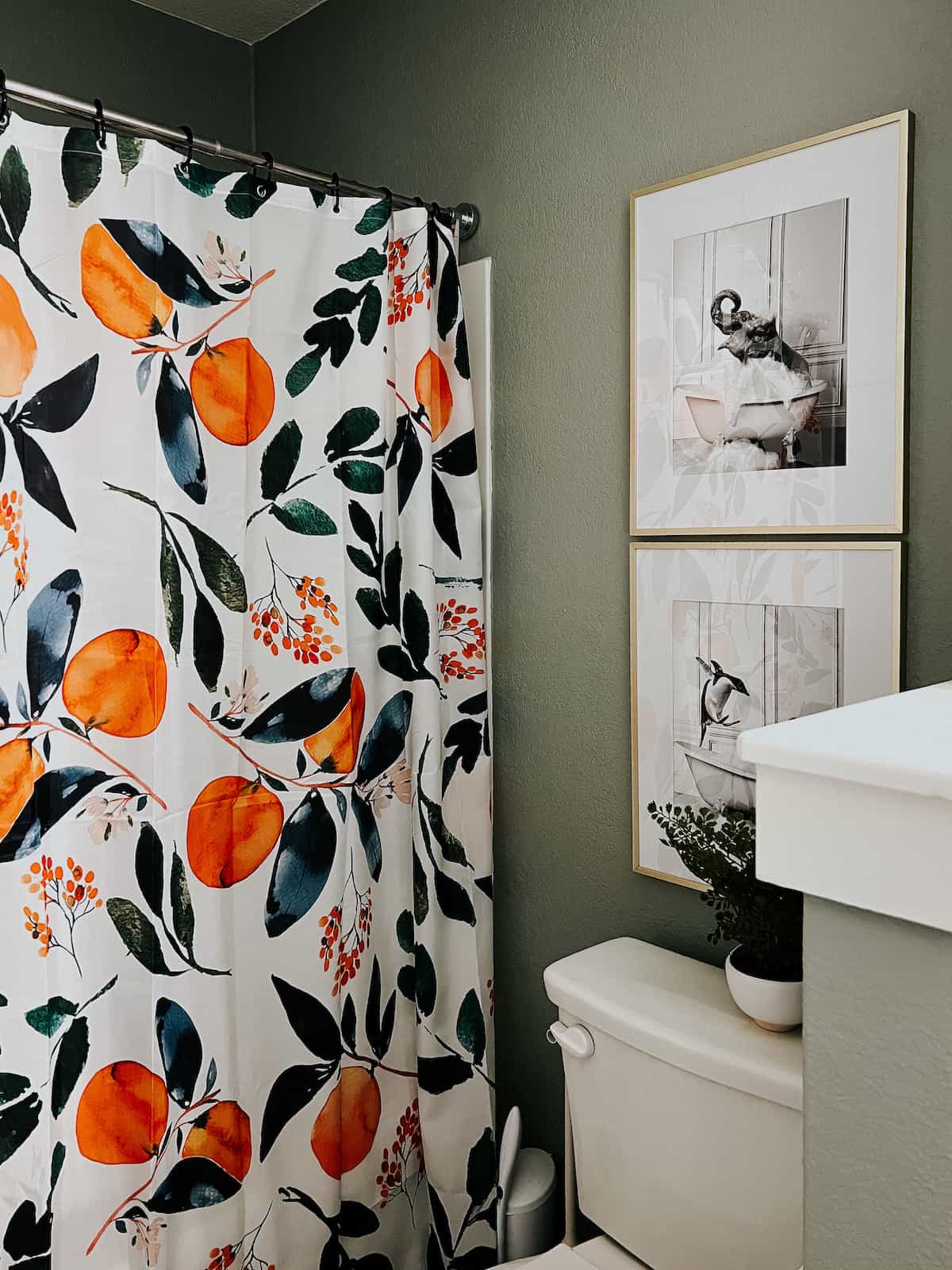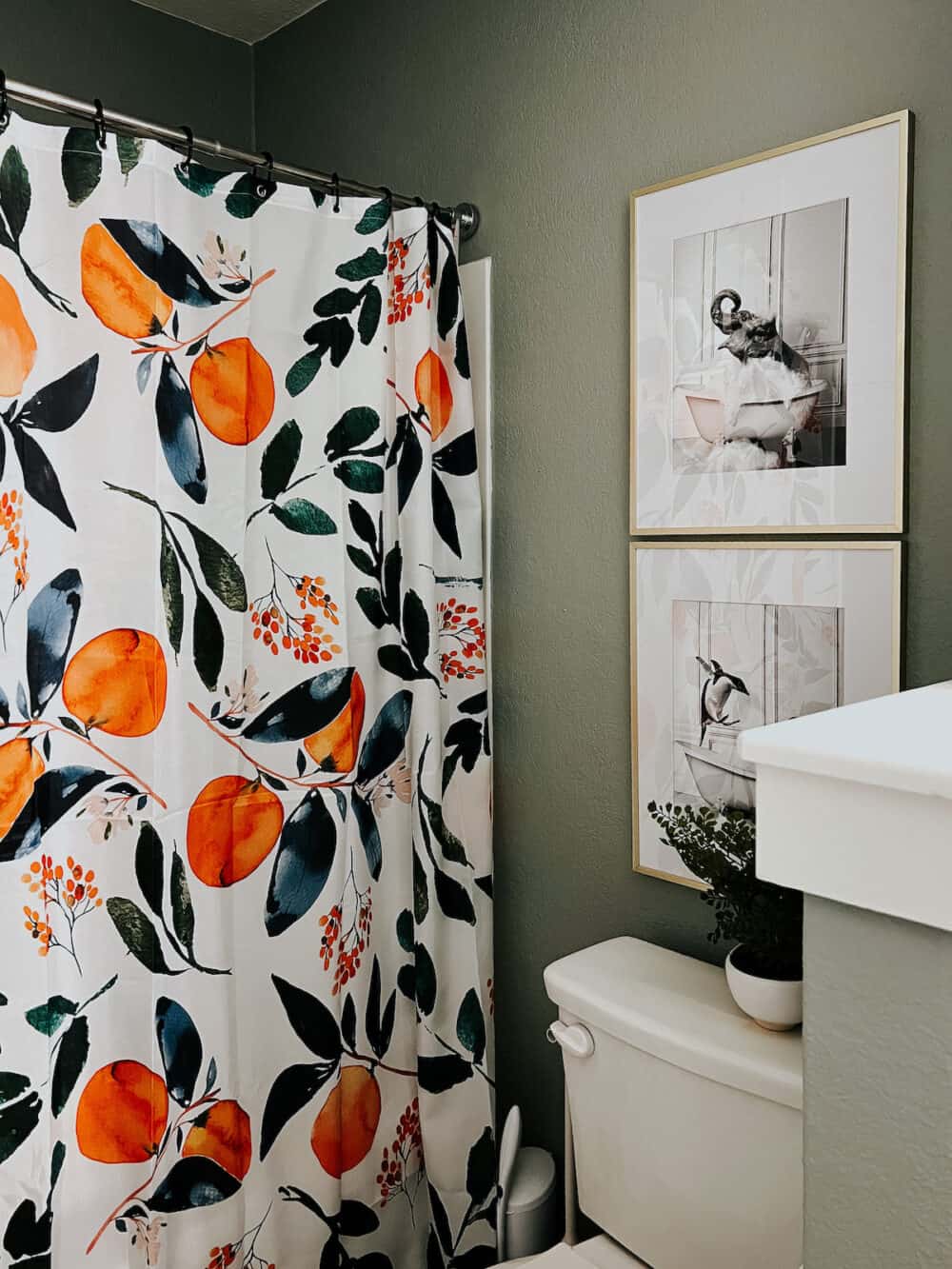 Elephant print | Penguin print | Gold frames
I mean…how adorable is that?!
I love how stacking the two pieces on top of each other really makes the room feel a lot taller, and the large size makes such a big impact.
At first, I questioned if the prints would feel a little too whimsical next to the citrus shower curtain, but I think it actually works just fine! I also added this cute little faux plant for a little bit of "life" in the room.
One of my goals this year was to spend more time focusing in on smaller areas of our house, and I think this is a perfect example of that! I wasn't worried about finishing up the entire bathroom yet, I just wanted to wrap up this one tiny little corner.
And, I think I definitely accomplished my goal.
I found a ton of really adorable options for kids' bathroom art while I was looking, so I put together a little roundup of some of my favorites. They're all from Etsy and I would be happy to have any of them in this bathroom!
In fact, I'm debating that t-rex print for Grant's room!
Kid Bathroom Wall Decor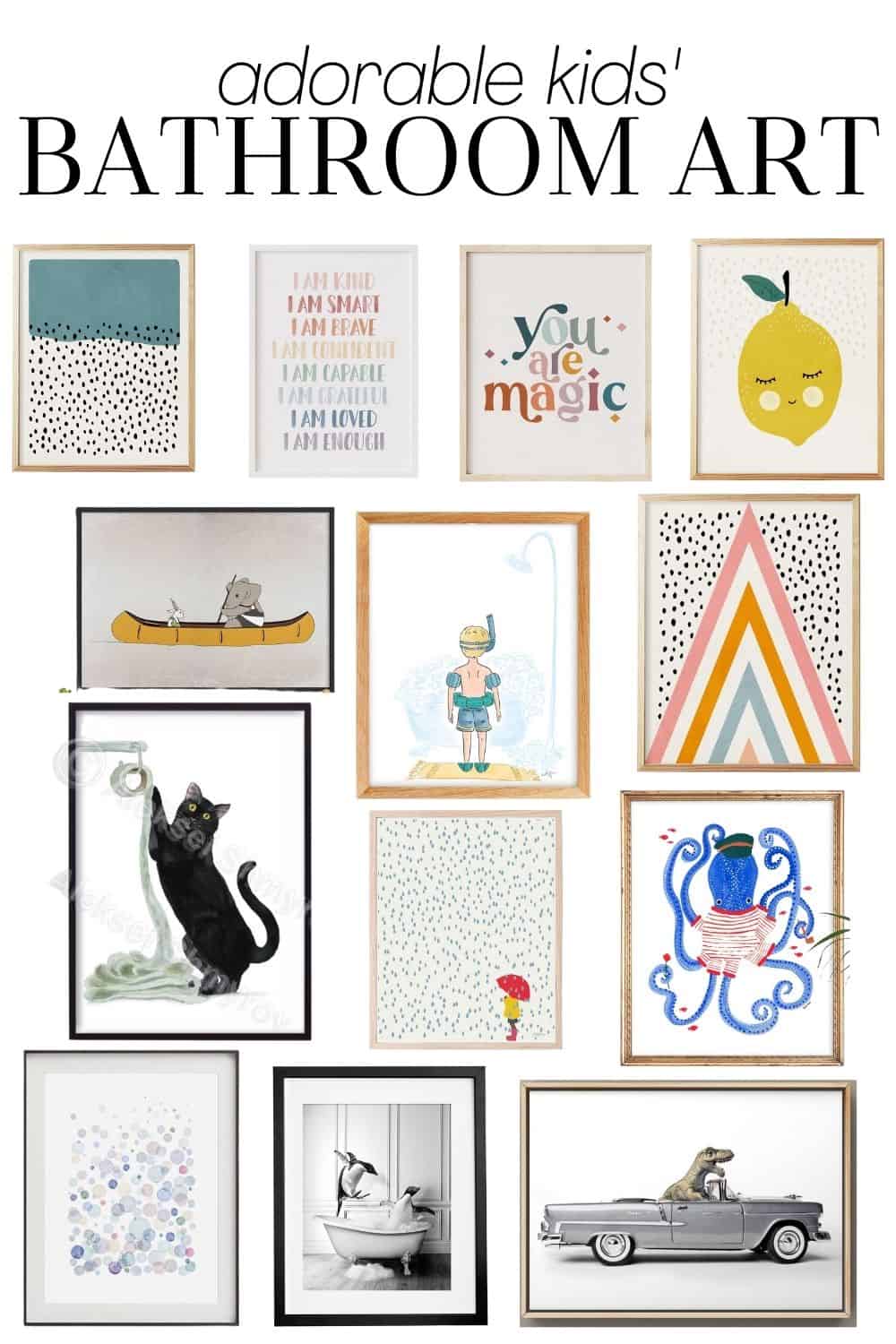 This little update made a big difference in this bathroom, but I'm not done yet!
Here's a quick look at everything else on my list in here in the next few weeks:
I want to do a faux marble epoxy treatment on the counter like I did in my bathroom. I don't like the gray counter at all, and I'm still head over heels in love with my counter!
I'm debating swapping out the faucet while I'm at it. It's such a cheap update and it makes a really big difference in the entire room. Maybe something black?
I would love to either replace the mirror or frame this one out. I think replacing a builder-grade mirror is one of the most impactful things you can do in a bathroom, so I'm officially on the hunt! It will be hard to find an affordable mirror large enough for this space, so framing it out might be my best bet.
And finally, I maaaaay end up painting the ceiling (and trim?!) the same color as the walls. I think it would make a really big impact. And, in such a small space it's always a fun surprise to have a painted ceiling.
And that's what I'm thinking for now.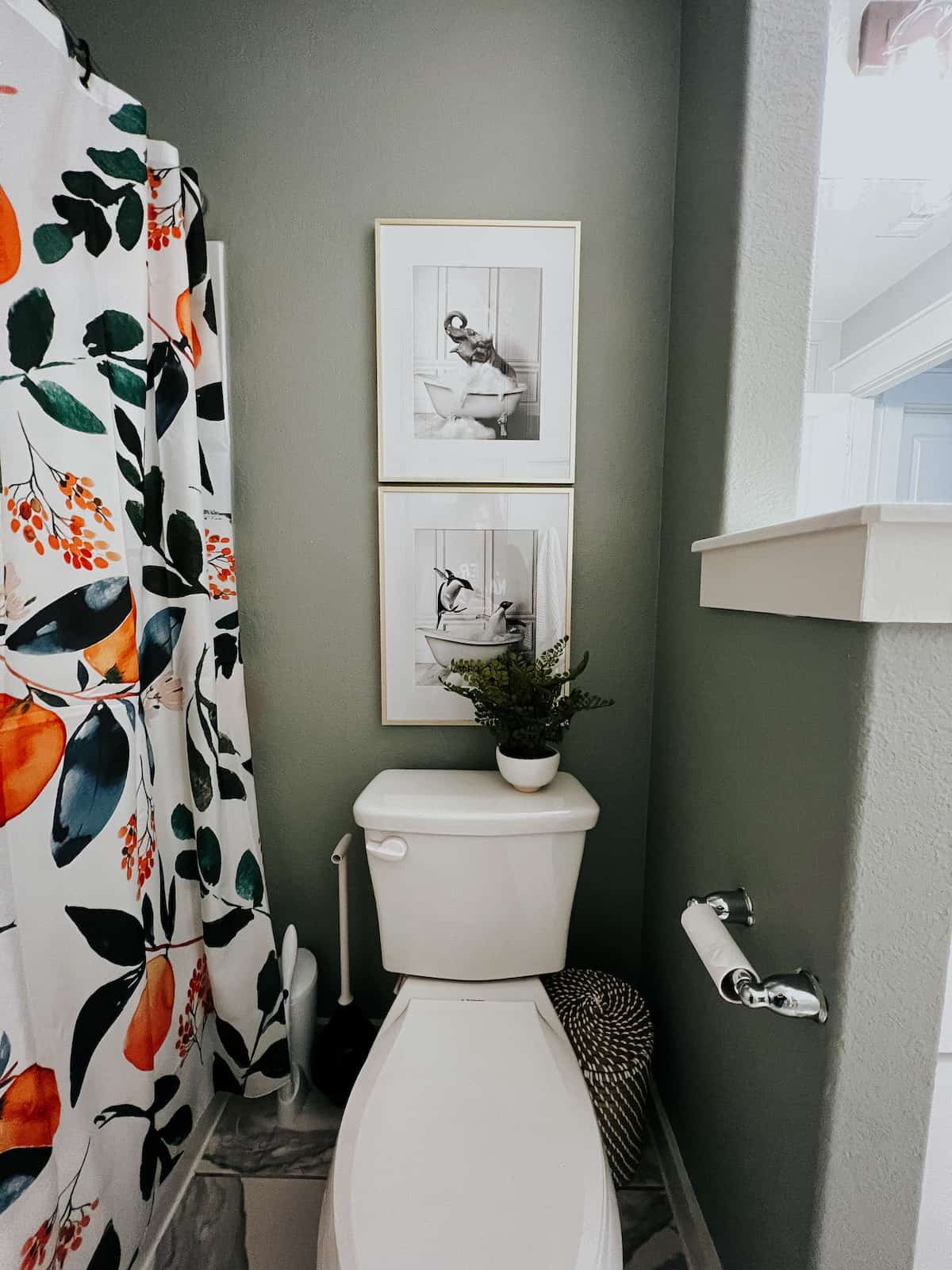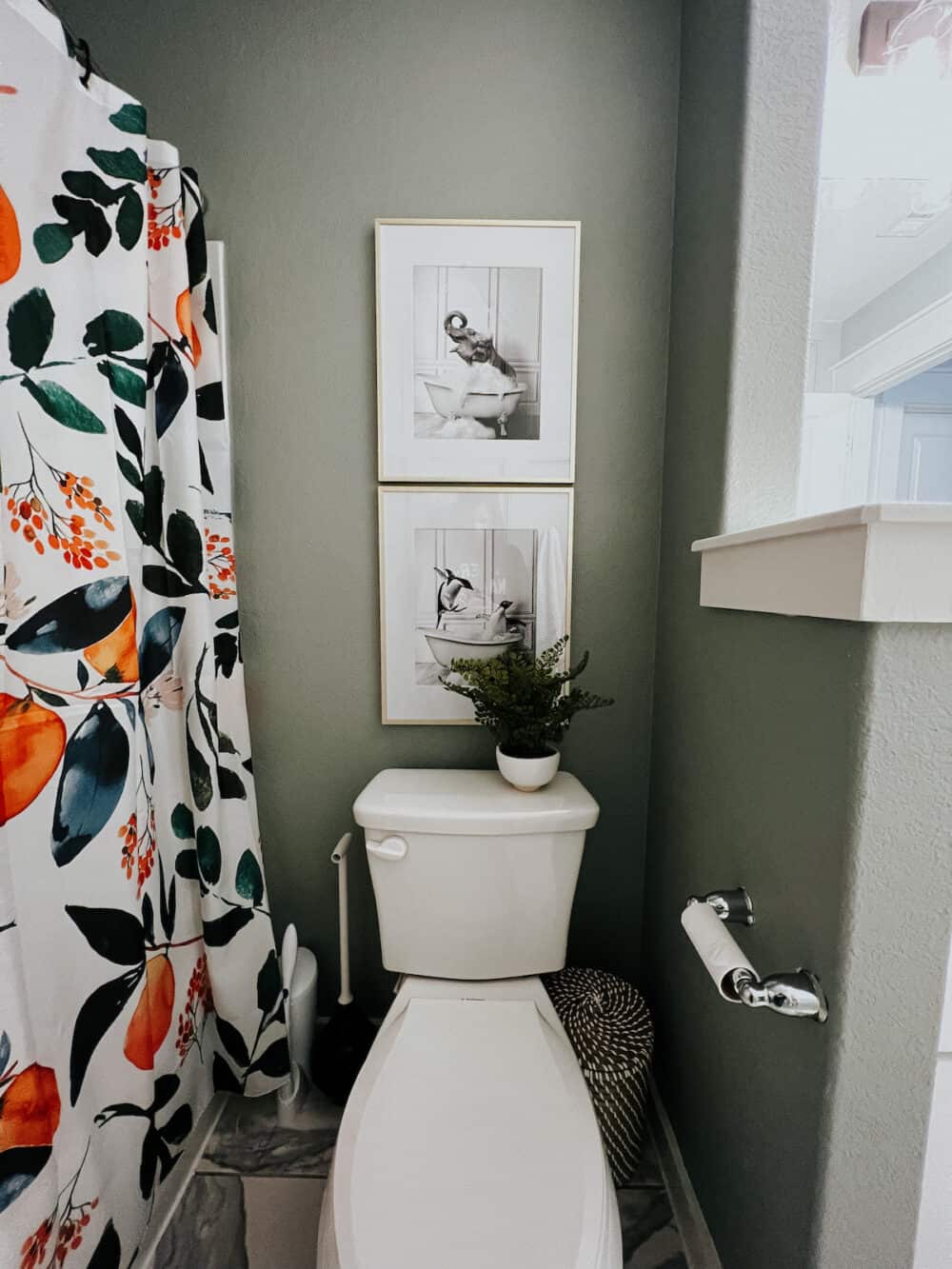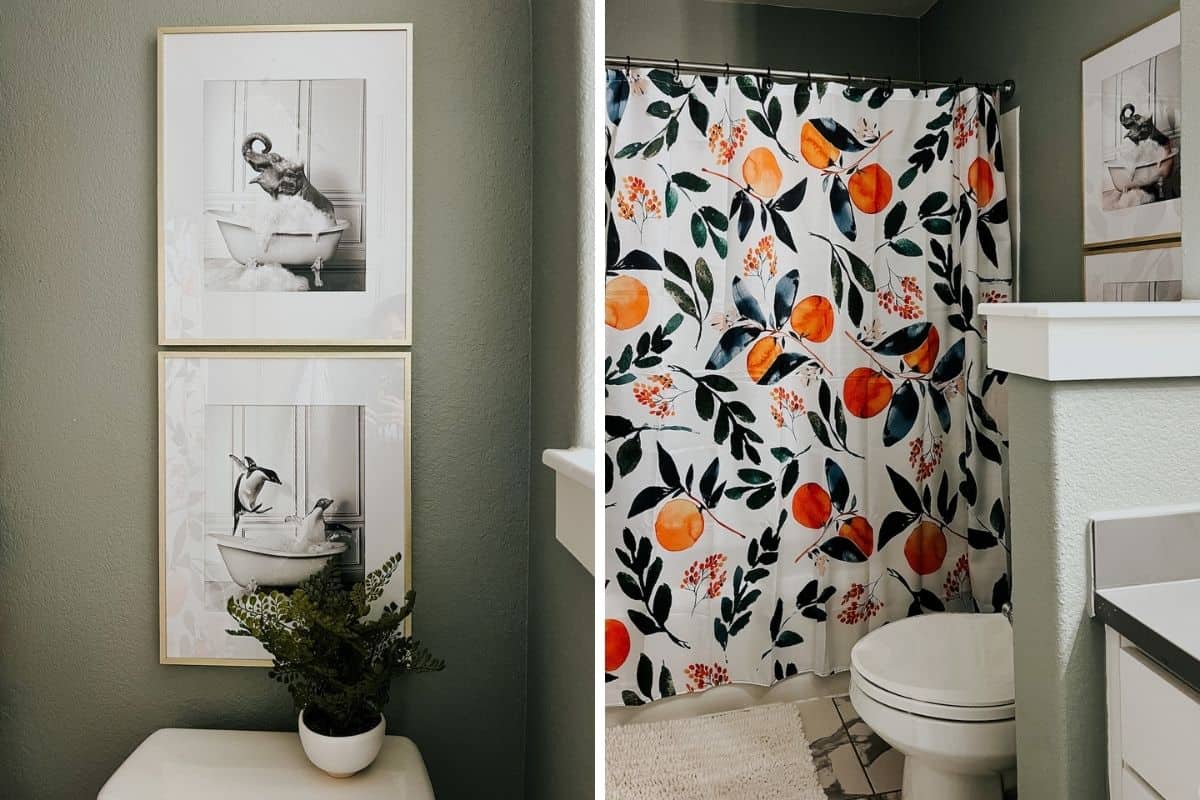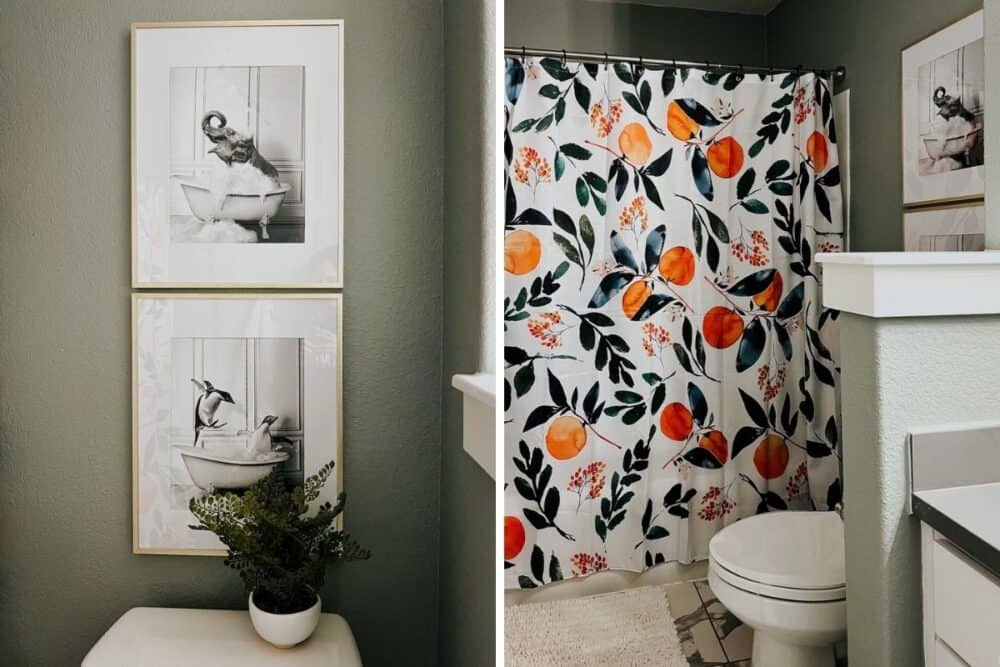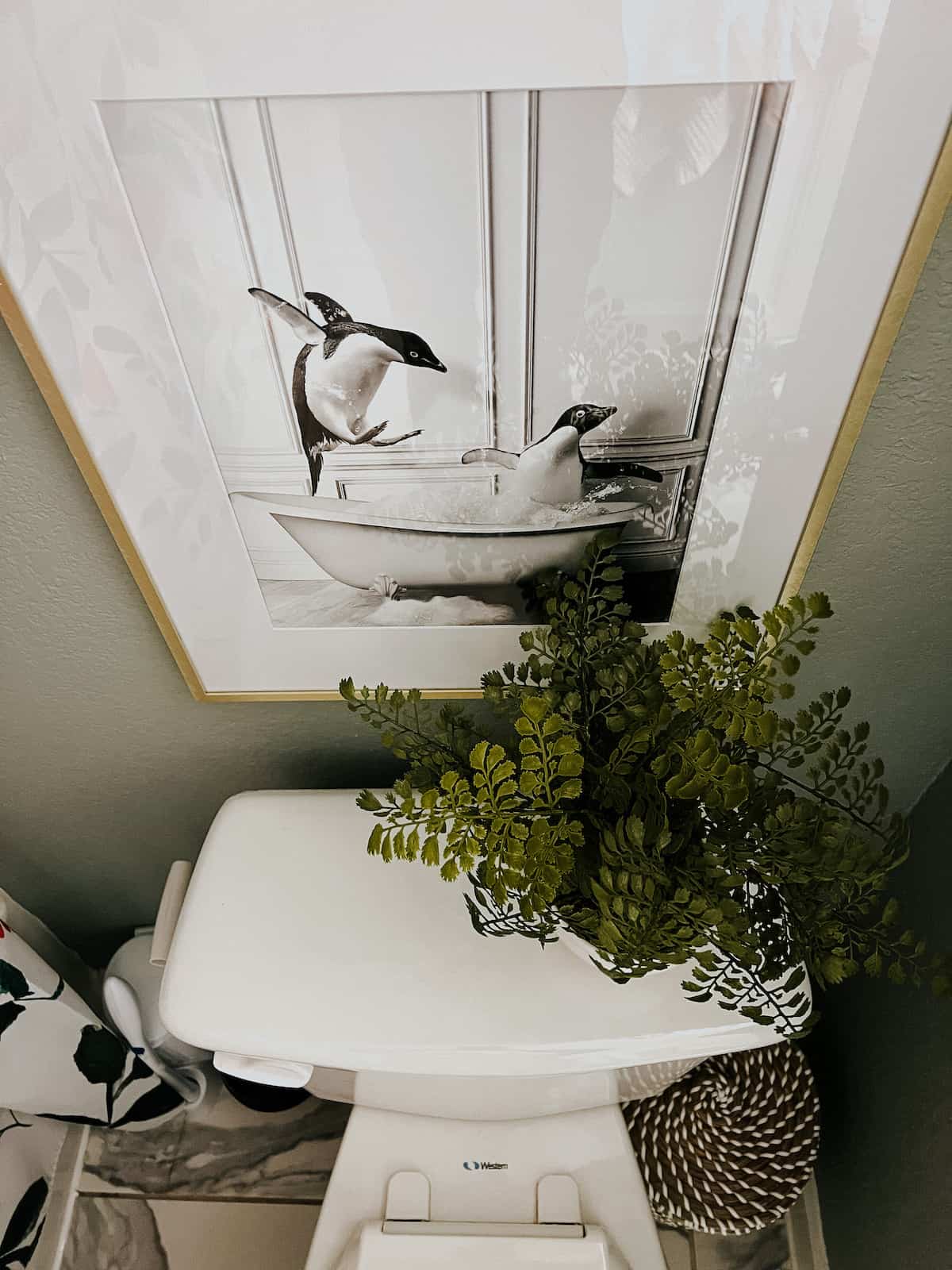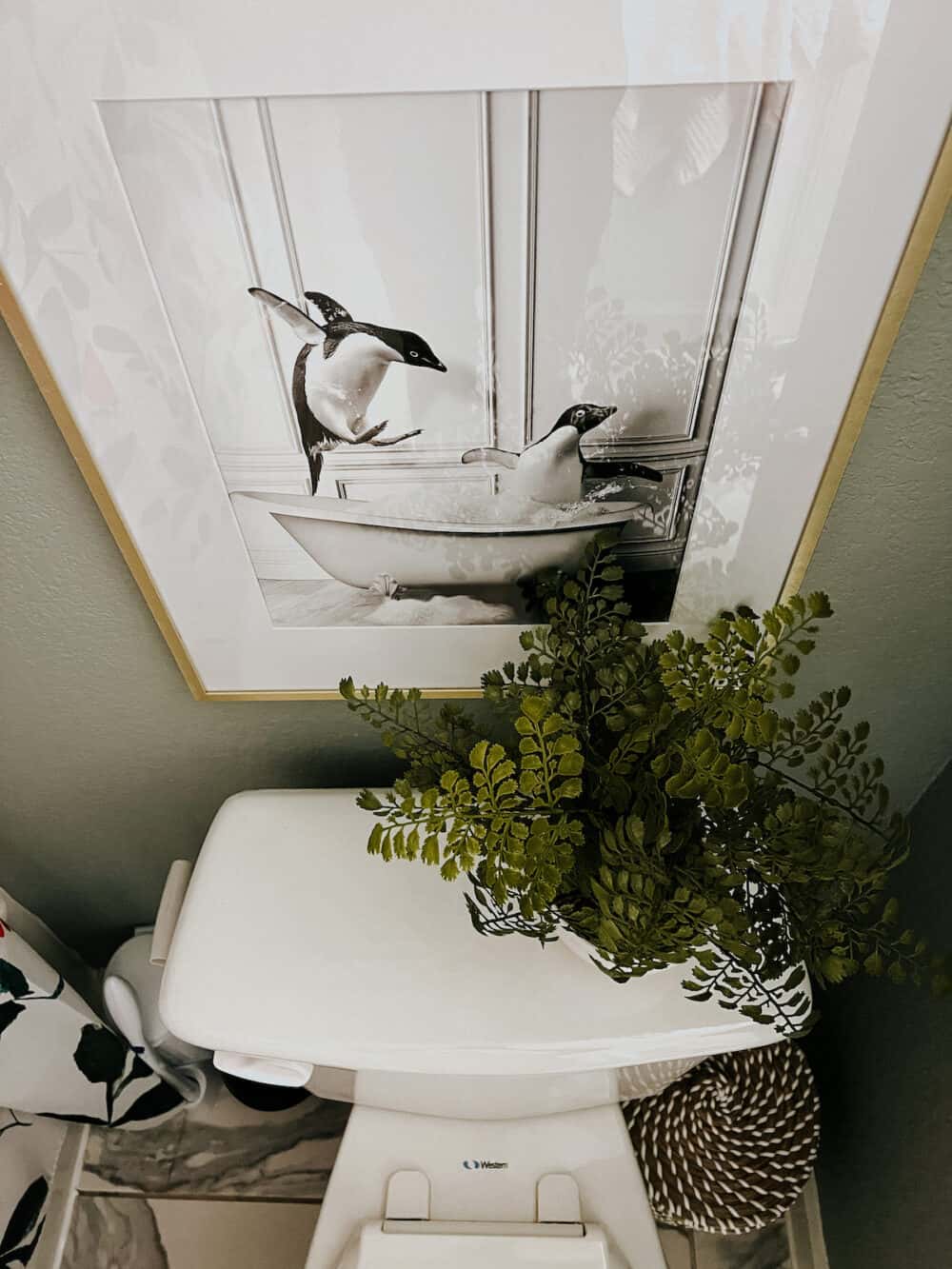 Long term, we will 100% be adding a window in that shower and replacing the fiberglass surround with tile. But, that's a bigger project than I anticipate taking on anytime soon. For now, I think these small updates will make a world of difference.
Stay tuned for all the fun! For now, I'll just be enjoying these adorable little prints every time I give Grant a bath!