My Five Favorite Bathroom Cleaning Hacks
A confession: I love to clean. I mean, don't get me wrong – if I was able to choose between a good book and scrubbing the bathroom floor, I'd prefer the book every time. But, there's nothing I love more than a freshly-cleaned house, and I genuinely don't mind the process of getting there. With some good music to keep me company, I even find it downright therapeutic. And, what's more, I really love finding new and easy ways to keep my house clean, so I thought I'd share a few of my favorite bathroom cleaning hacks and products with you today.
Because, while I genuinely do like cleaning, cleaning the bathroom isn't my favorite. So, anything I can do to make it a little easier is a huge win in my book.
My top 5 bathroom cleaning hacks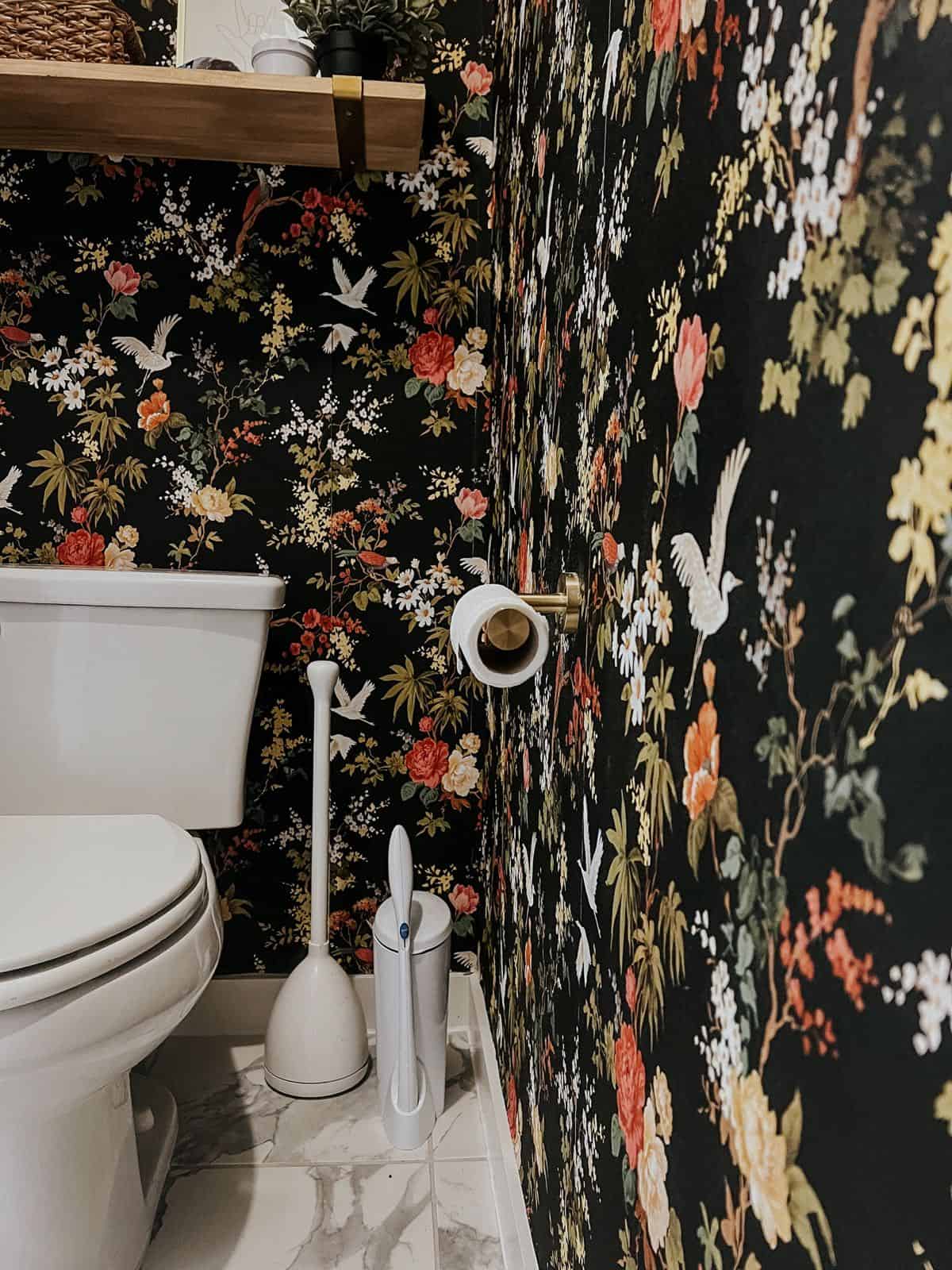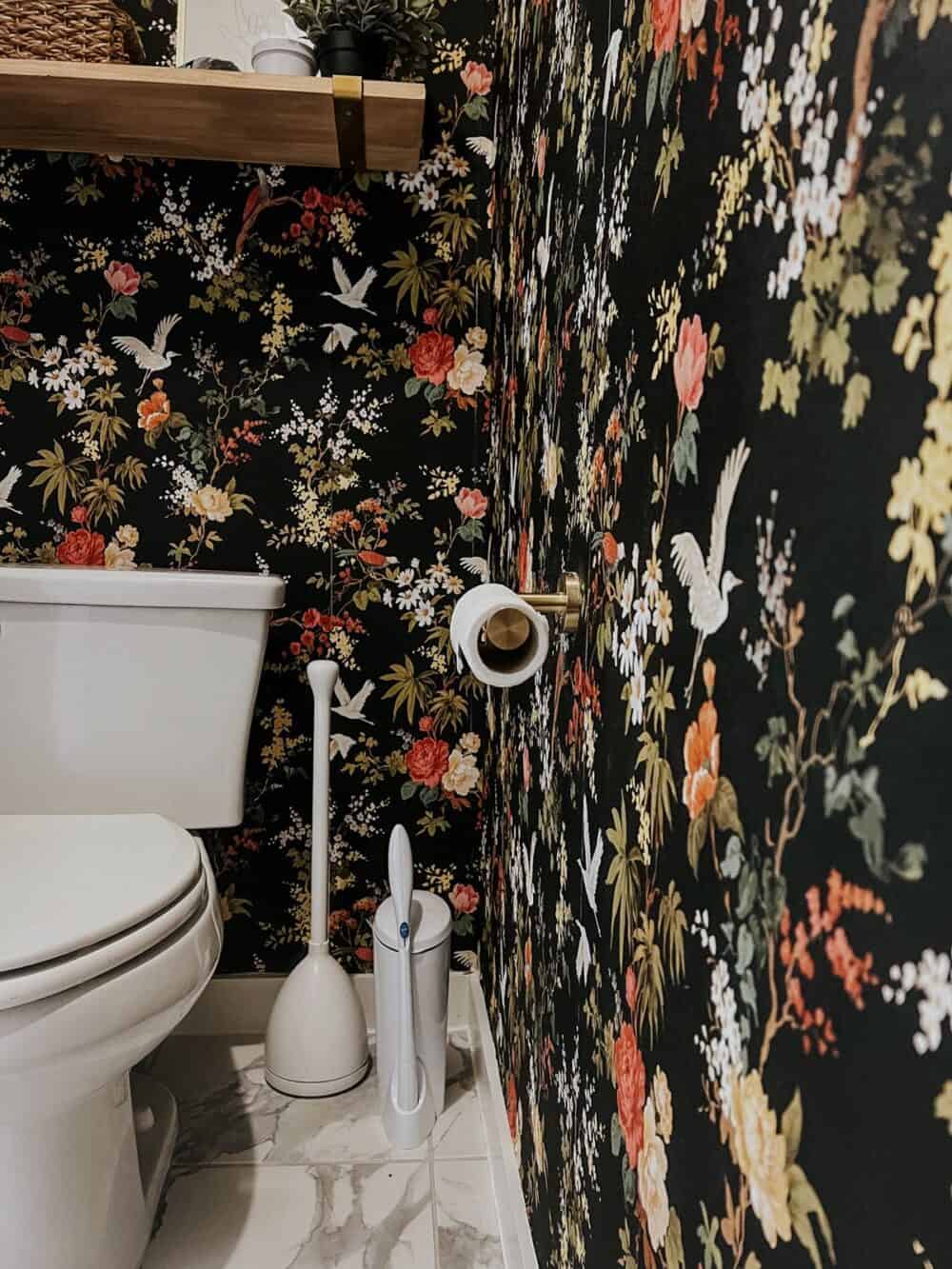 1. keep your toilet clean with minimal effort
I hate cleaning toilets. Haaaaaate it. So, I'm all about finding any way I can to make it a little bit easier. I've got two favorite things I use to make sure it's as simple as possible. First up, I always keep one of these cleaning tablets in the tanks of our toilet. They clean it automatically with every flush and I've noticed they really do keep things looking (and smelling) nicer. It freaked the kids out at first because it turns the water blue, but I love that it always looks like they've just been cleaned!
Once a week, I do a deeper clean with this little cleaning wand. I love that the scrubby pads have cleaner built right in so I don't have to add anything. And, I love that the scrubbers get tossed when I'm done because there's nothing more disgusting than a toilet brush, if you ask me. Nothing.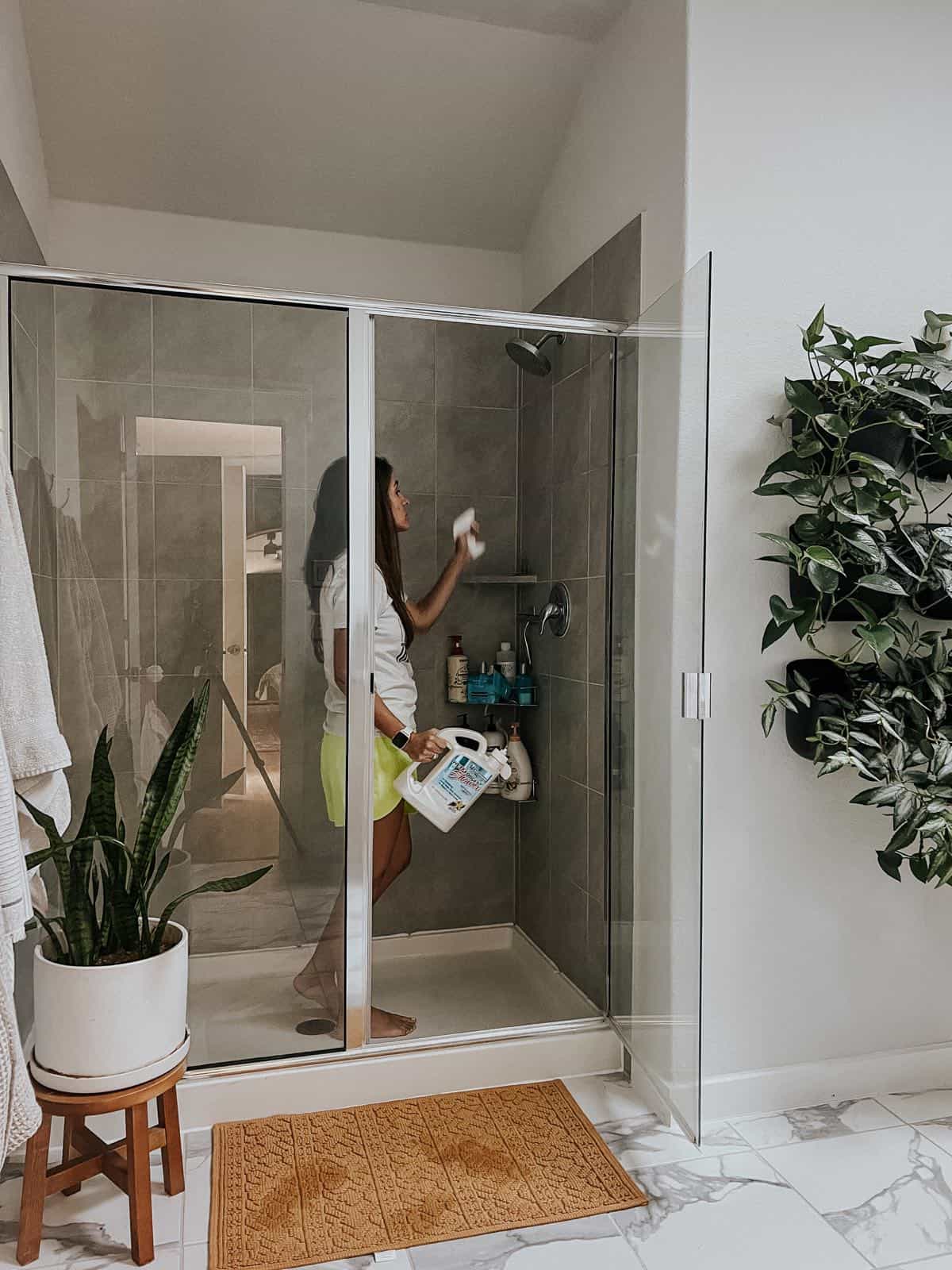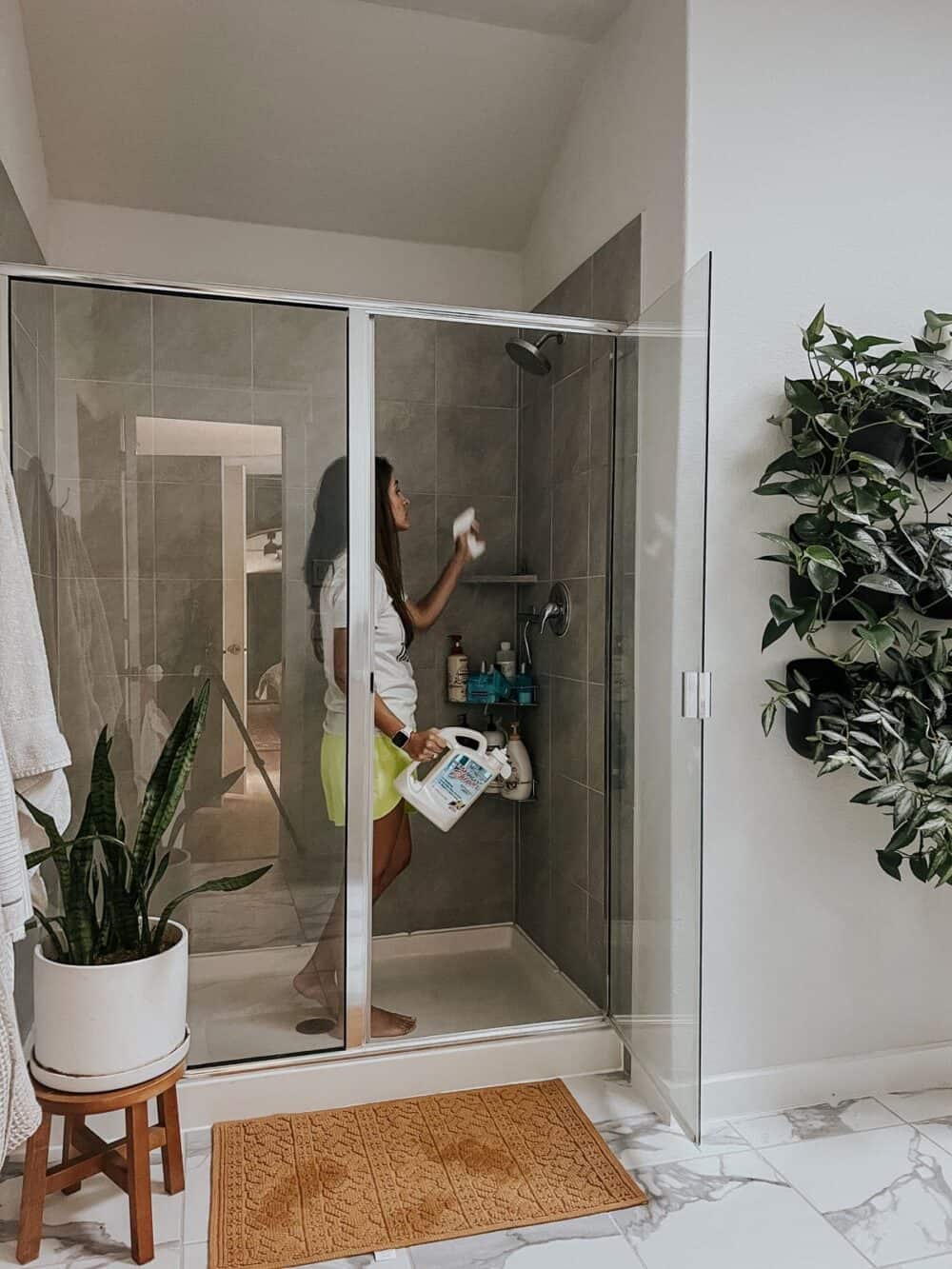 2. wet and forget shower cleaner
I recently discovered this really simple shower cleaner when I was browsing some the top-selling cleaning products on Amazon. As one does. Because I like to stay up-to-date on the most exciting cleaning tools. Because I'm 100 years old.
But, I'm glad I found it, because it's great! I use it weekly – every Friday morning after my shower, I take a second to spray it all around on the walls, door, and floor of the shower. Then, about 12 hours later I just rinse it off. It works really well to prevent buildup and hard water stairs, and I find myself scrubbing the shower a lot less regularly. I still give it a really solid scrub once a month or so with some regular bathroom cleaner and a good brush, but this makes the job a lot easier.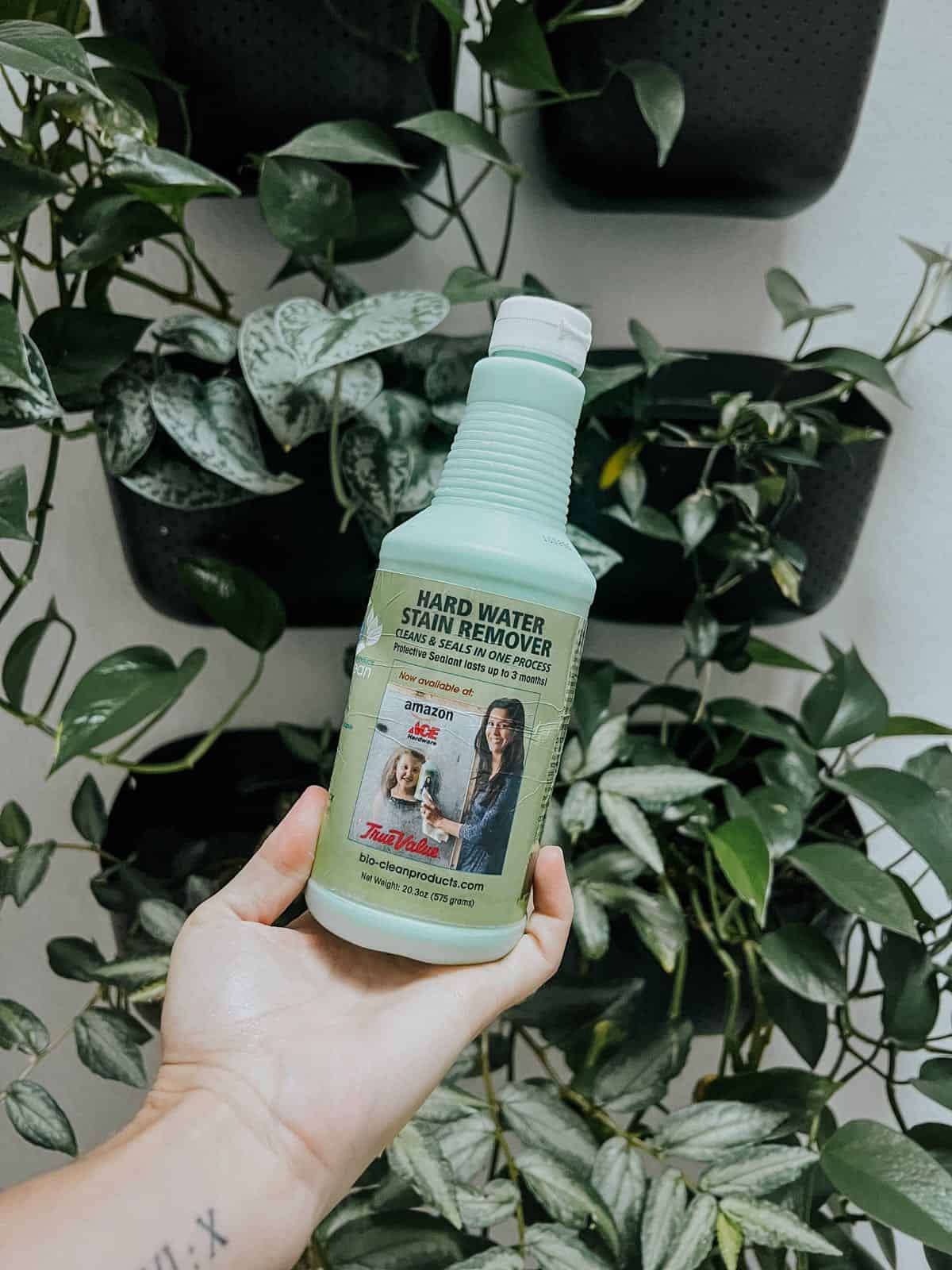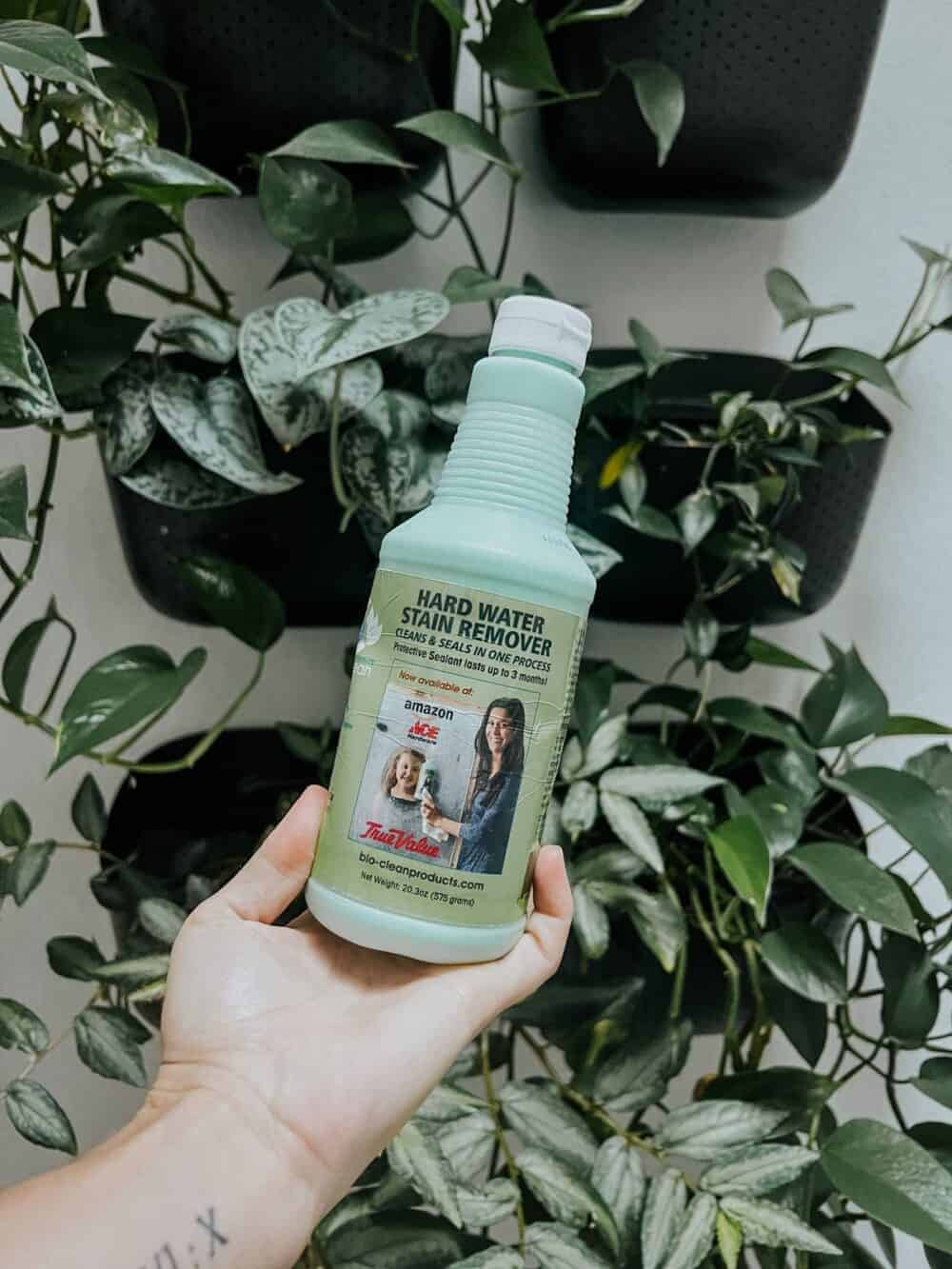 3. Remove Water Stains from the shower
Speaking of showers – despite my best efforts, the shower door accumulates some hard water stains after a while. About once a quarter, I need to give it a really deep clean. I've been using this hard water remover for a few years now, and I'm always amazed at how well it works!
I simply scrub it on using a washcloth, then rise it thoroughly. It always removes the water stains like a charm and leaves things looking way better. I try to always use a squeegee after showering to remove the extra water from the door. I keep meaning to try this to prevent the stains, but I haven't yet. Writing this post was just the motivation I needed to finally order some, though, so I'll keep you posted!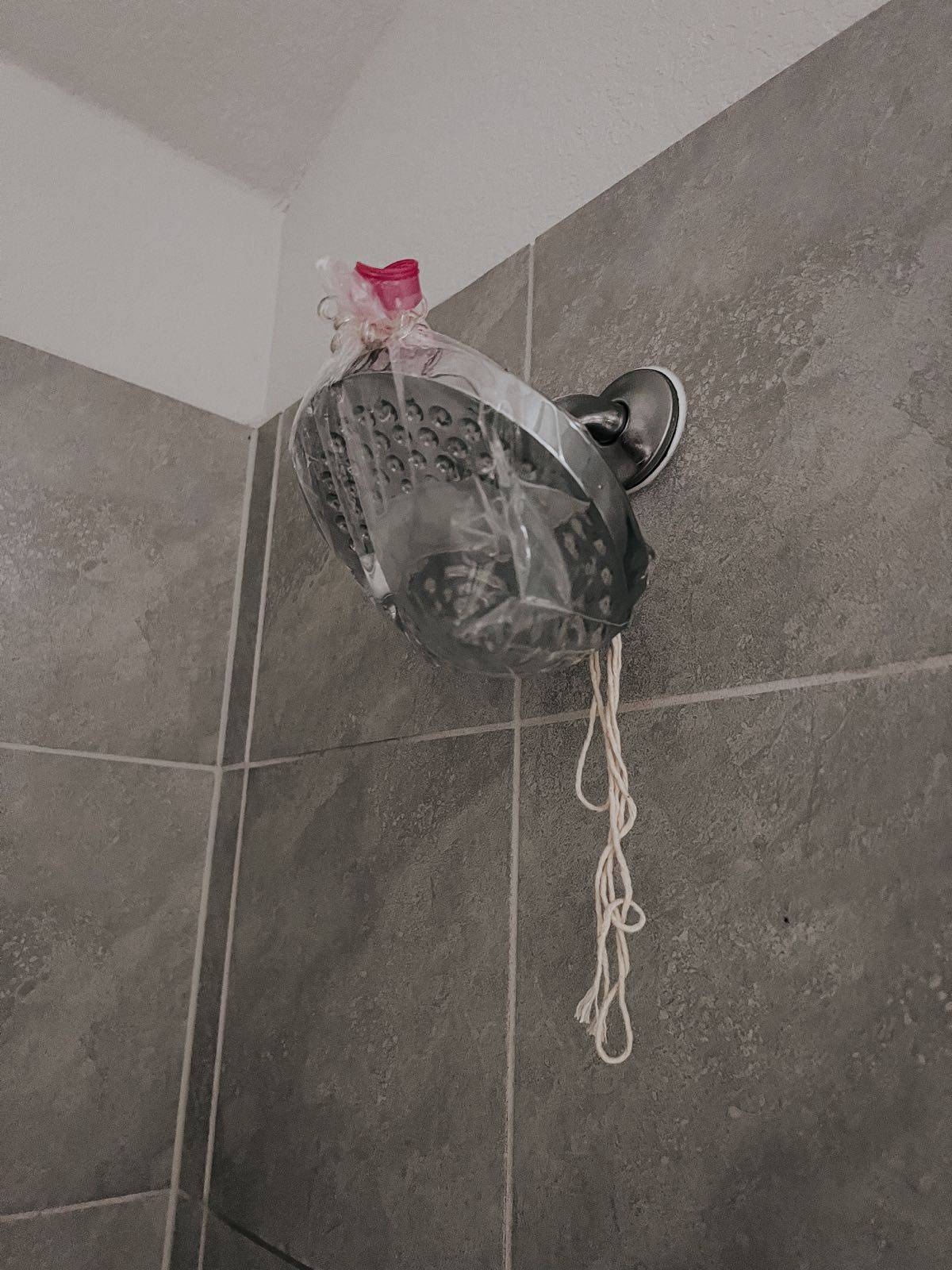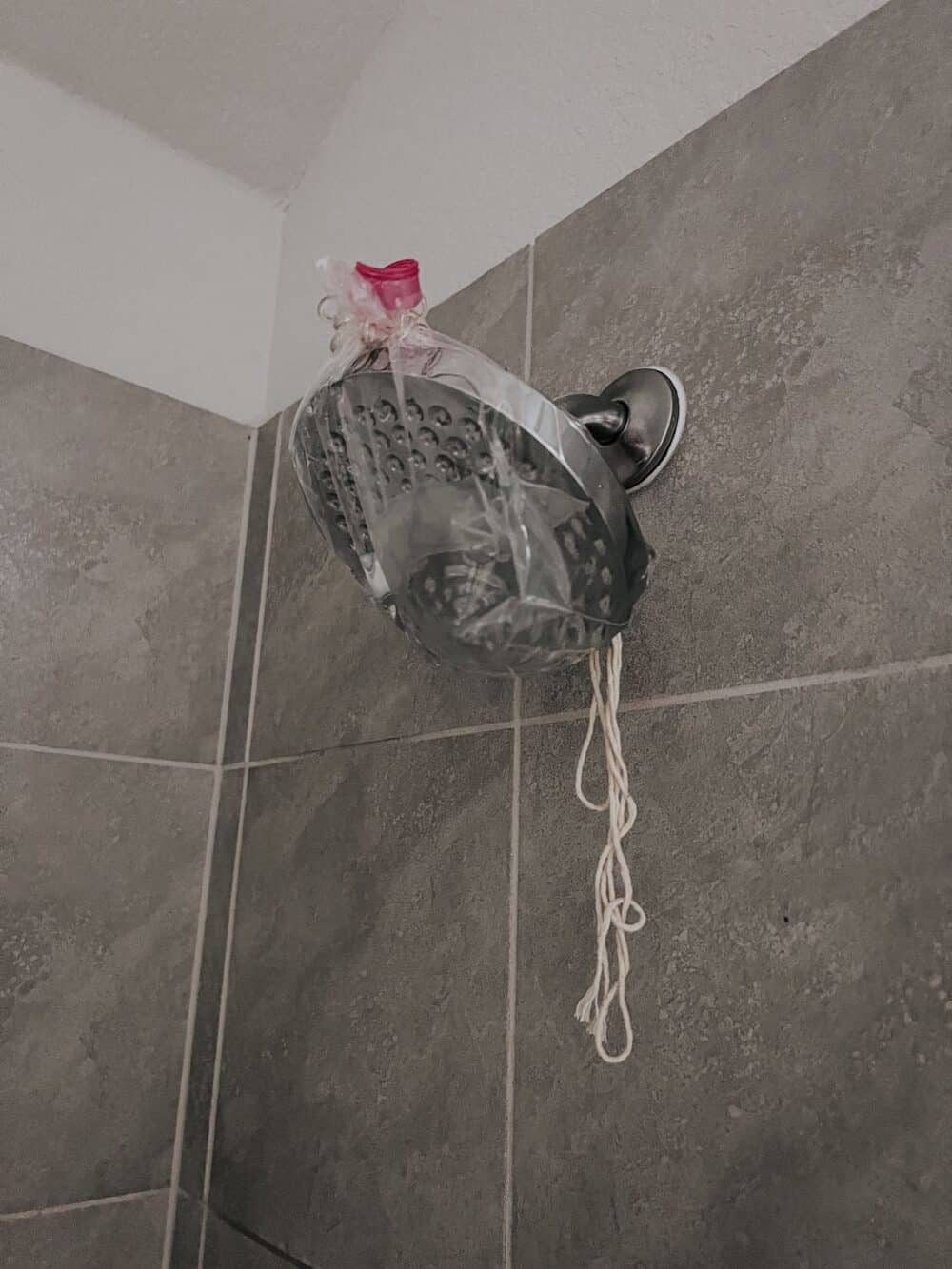 4. the easiest way to clean a shower head
Okay, one more shower tip – if your shower head (or sink faucet) needs a deep clean, I've got you covered. Grab a plastic zip-lock bag and fill it about halfway with some white distilled vinegar. Pull the bag up over the shower head and use a rubber band or some string to tie it in place. Make sure the shower head is as submerged in the vinegar as possible.
Allow it to soak overnight, then take it off in the morning and you're good to go! This can remove a lot of buildup and grime and will keep your shower head functioning great. And, if you're as obsessed with good water pressure as I am, that's a big deal.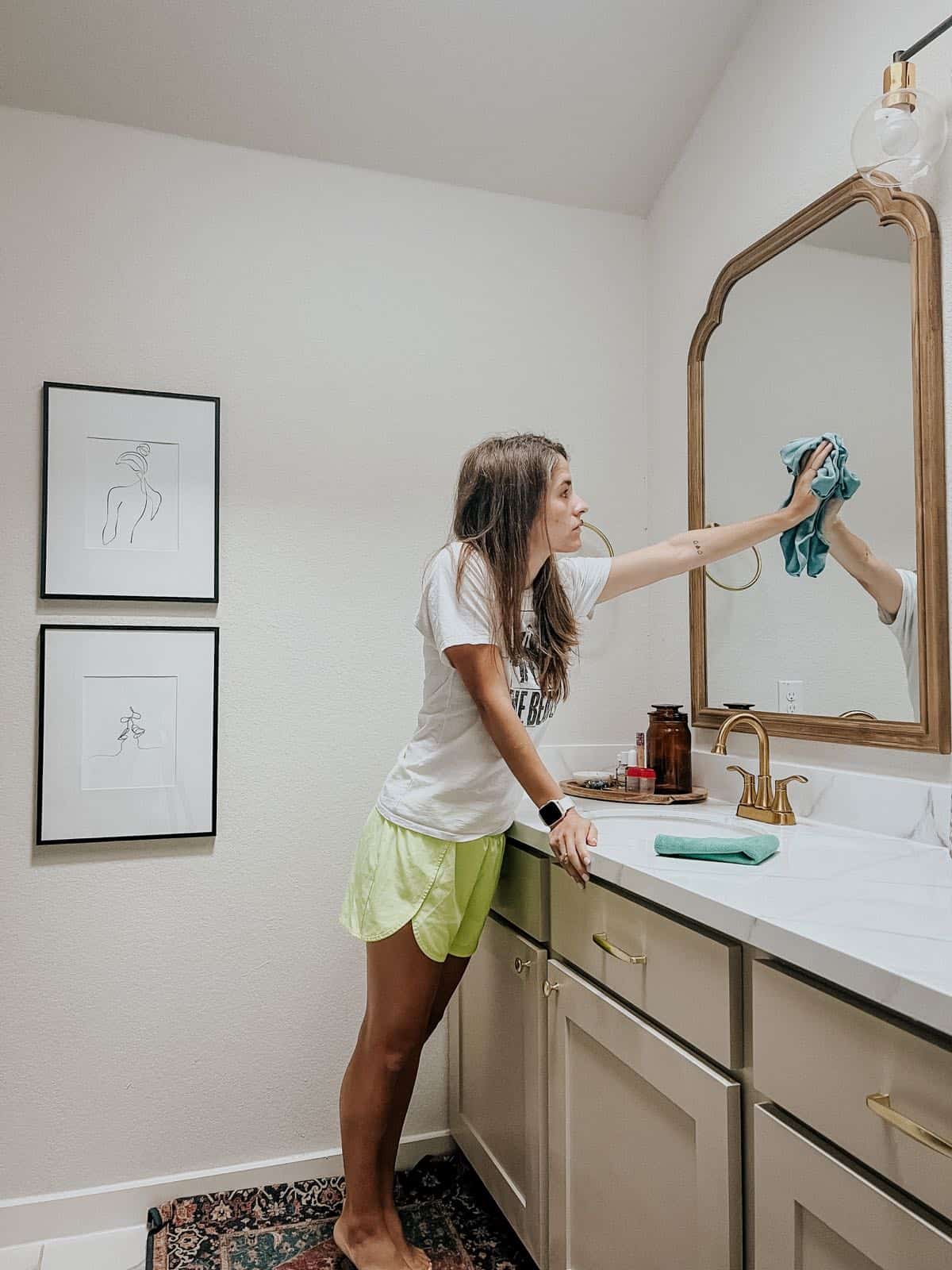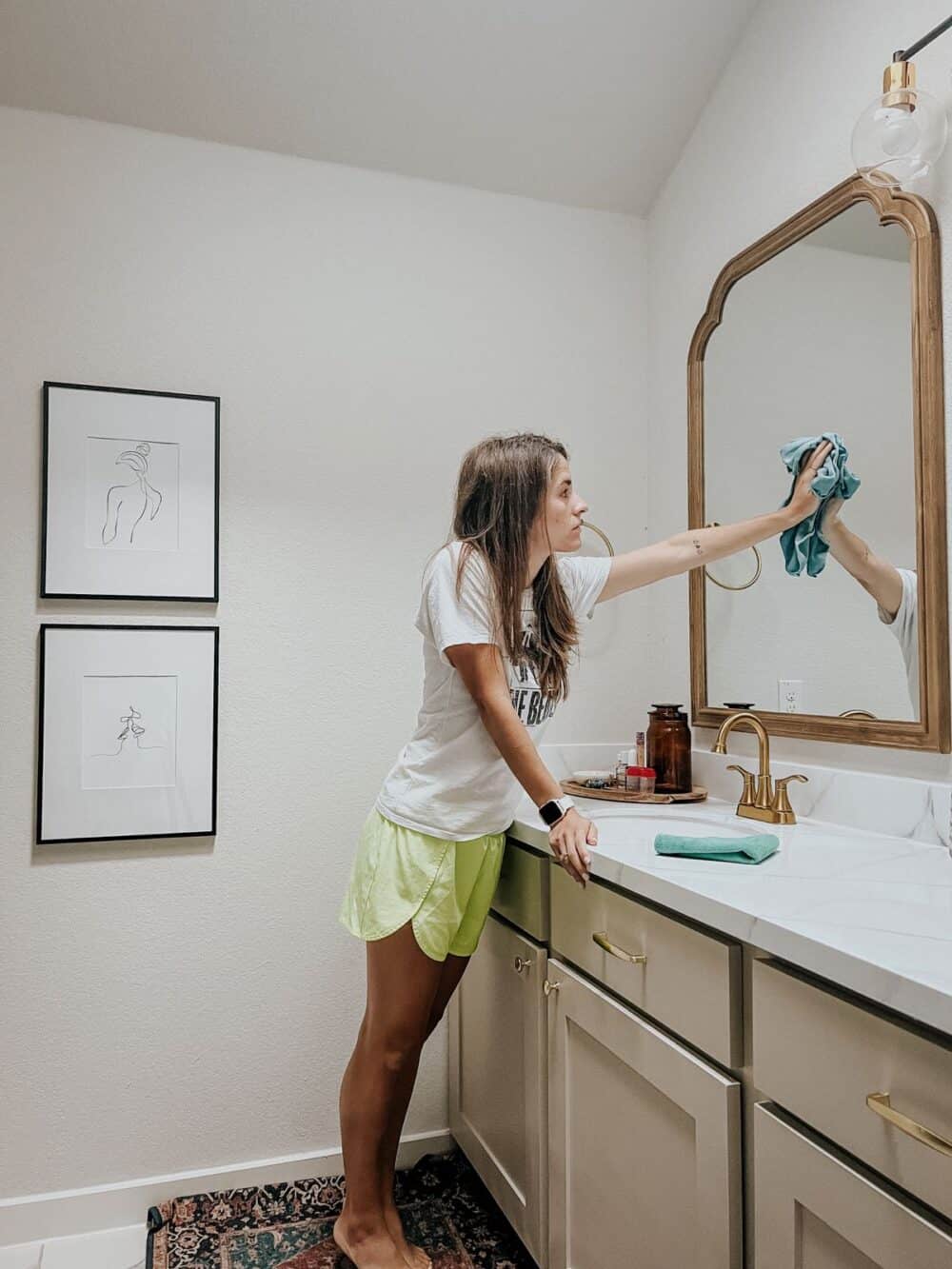 5. clean the mirrors with just water
For the longest time, I really struggled with getting the mirrors in our house clean and streak-free. Then, I discovered this microfiber cloth set and it changed the game for me. You don't need anything but water and they leave the mirrors looking brand-new with basically zero effort.
To use them, you just get the green cloth damp and clean the glass – this is when you remove any stains or smudges. Then, grab the blue cloth and buff all of the water off – this is when you get it extra shiny and beautiful. If you notice any streaks when you're done, just buff 'em out with the blue cloth and you'll be left with a super clean mirror. I promise, it's the best!
Oh, and a bonus cleaning hack? Keep a pack of disinfecting wipes in the kids' bathroom. Each night around bath time, take 5 minutes to wipe everything down. The toilet, the floor around the toilets, the counters, the sink. It's a breeze, and will keep your gross kids' bathroom feeling a lot less grimy on a day to day basis.
And those are my top tips for keeping your bathroom clean! Need more tips and tricks? Here are a few other posts you may love.
other cleaning tips