How to Decorate A Staircase
We've all got those spots in our house that are hard to decorate, right? For me, it's always been our bedroom (just, you know, in general), our staircase, and our entryway. They're kind of awkward spaces that don't seem to look right no matter what I do, and they've been the source of endless frustration for me over the years. Typically, when I'm really struggling with how to decorate a space I like to think it out via a blog post – I did it when I was trying to figure out how to decorate the wall behind our bed, how to decorate the awkward corner in our room…and today I'm doing it to help me figure out how to decorate a staircase.
We've got a gallery wall on our stairs that has been there since very shortly after we moved in. I really do love it, but while my style has evolved over the years, the gallery wall never really evolved with it. And since we're getting ready to sell our house, I'm wondering if I should be decorating our staircase with something a little less personal and a little more neutral. Theoretically, I know there's about a zillion ways to decorate a staircase, but I was having a hard time coming up with anything that would work.
Enter this blog post. I did some research, came up with some ideas, and now I'm feeling much more prepared to tackle that pesky wall behind our stairs when it comes time to list our house!
You know I like to share, so I figured I'd put together the results of my research and share 'em with you. Hopefully, it can help you out if you're having a hard time figuring out a good way to decorate a staircase in your house!
How to Decorate a Staircase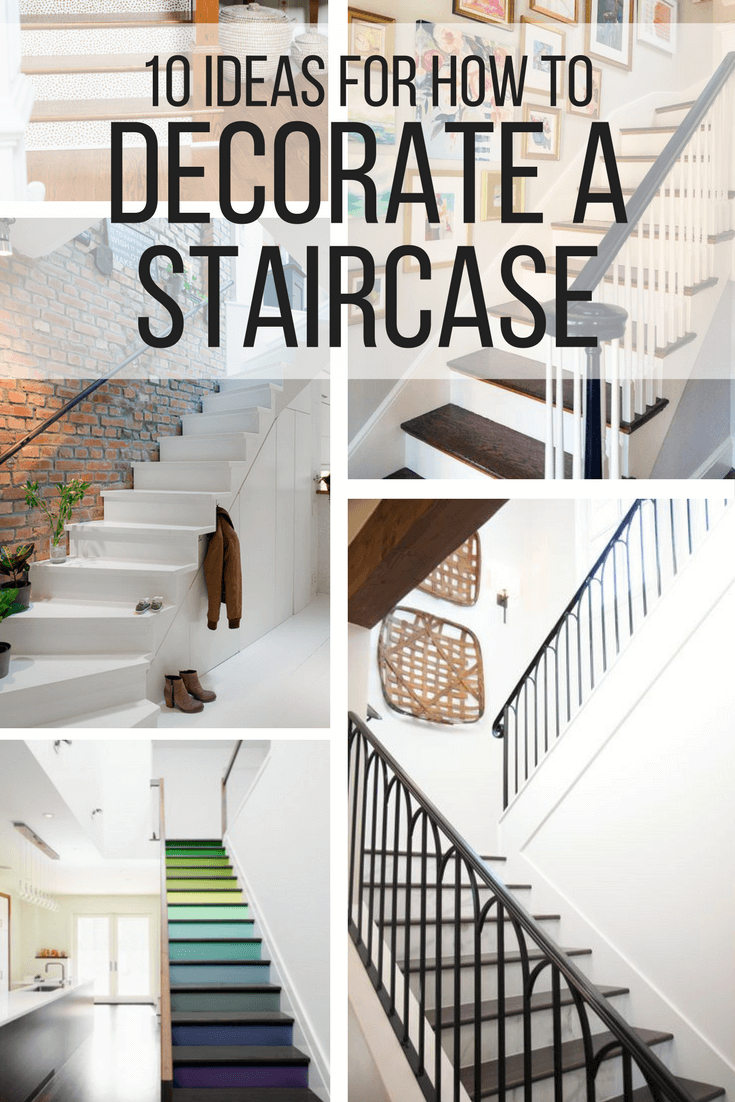 This post contains affiliate links. Click here to read my full disclosure policy. 

A D D   A   G A L L E R Y   W A L L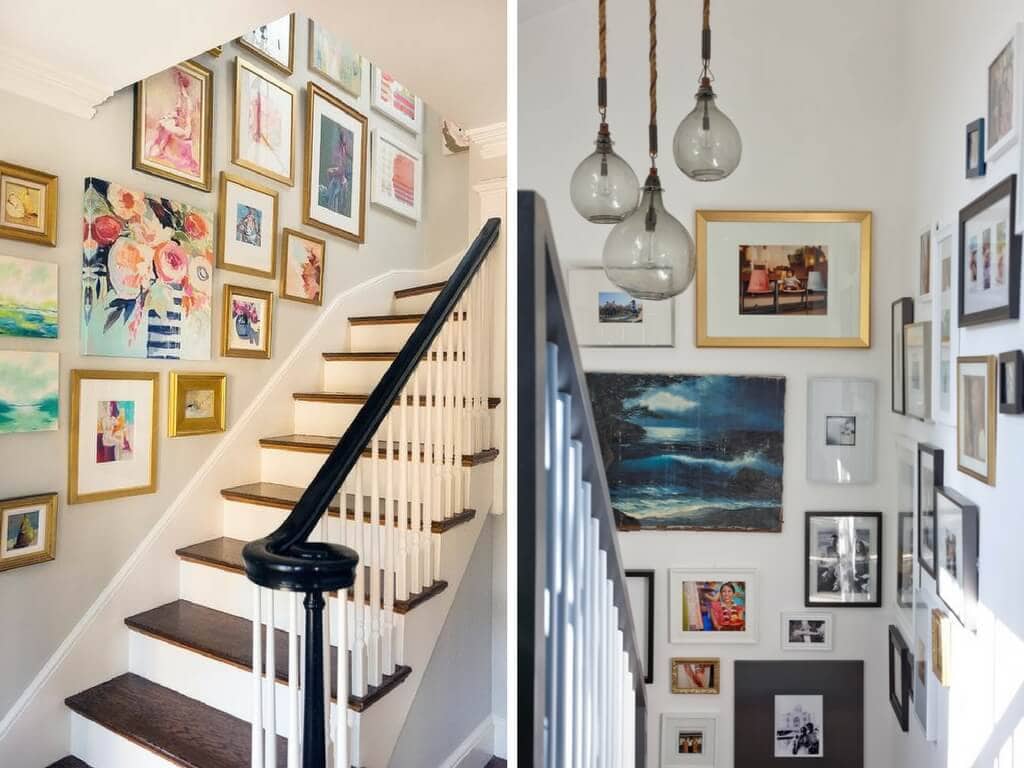 Yes Please | Style by Emily Henderson
Probably the most popular way to decorate your staircase is to use a gallery wall. It's what we did in our home, and it's a really classic way to pretty up your staircase. It can be tricky to know how to place the gallery wall, but there are a ton of different options for how you configure it and you almost can't go wrong. I personally feel like the fuller it is, the better, but there are also some really gorgeous options that are a little more linear and have just a few photos in them. Either way, you'll want to pick something to kind of tie everything together (in the photo on the left all of the frames are gold, and in the photo on the right they're mostly black and darker, more neutral colors in the photos). Of course, the problem we have with this option is that art can be so personal and it's tricky to make it universally appealing to buyers when you have a ton of it on the wall – we need to simplify!
U S E   M O L D I N G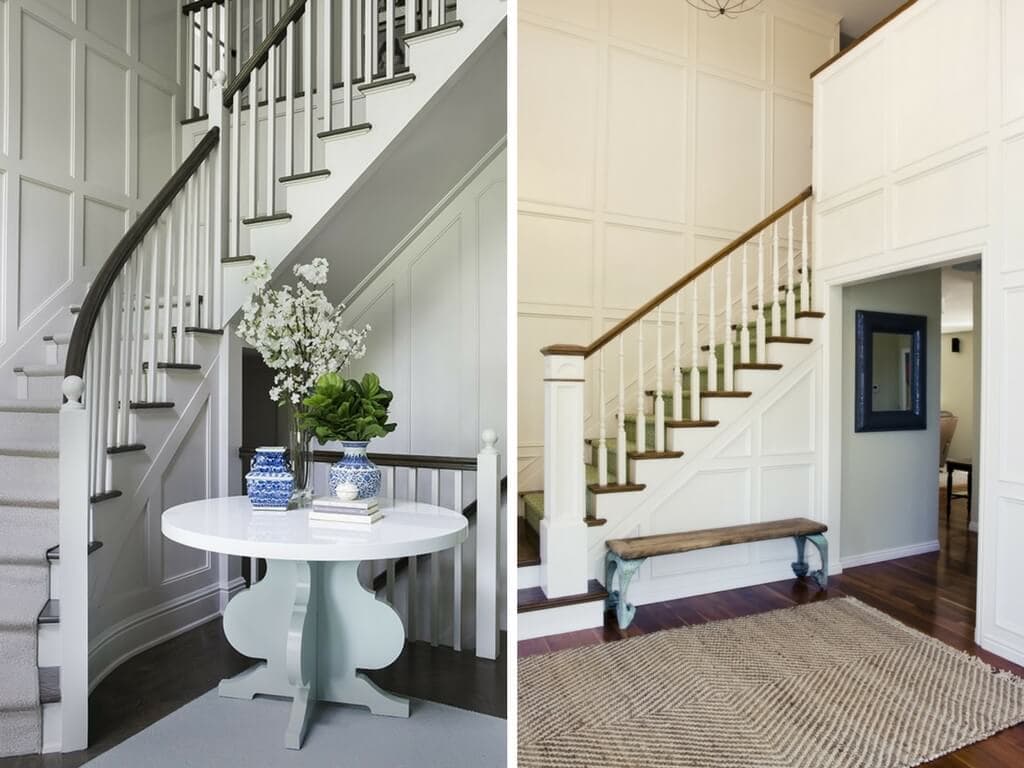 Sage Design | Tiek Built Homes
I always think molding around staircases is such an elegant option! It looks really fancy and high-end, but it's actually a super affordable project to take on yourself. This is exactly what we would have done in our home if our walls weren't textured. However, with how thick the texture is on our walls, this kind of molding just wouldn't look great unless we removed the texture first. One of the best parts is that if you add molding to your walls, you're basically done. The trim adds enough visual interest that you don't need to add any art or anything else – it looks good all by itself!
D E C O R A T E   T H E   S T A I R S
Bower Power | Marie Claire Maison
I am also so in love with the idea of just doing something really fun and unique to the stairs themselves and leaving the walls alone. There are a ton of different options – wallpaper, tile, paint… some people even paint murals or words onto the stairs. You're really only limited by your creativity here (well, that and how bold you really want to go) and this is such a good option if you want something a little more out of the box. I love the subtle dotted wallpaper that Katie used on her stairs, but I'm also in love with the bold painted look. And I won't lie – I stop in my scroll every time I see a tiled staircase pop up on Pinterest. It's such a good look!
A D D   A   W A L L   T R E A T M E N T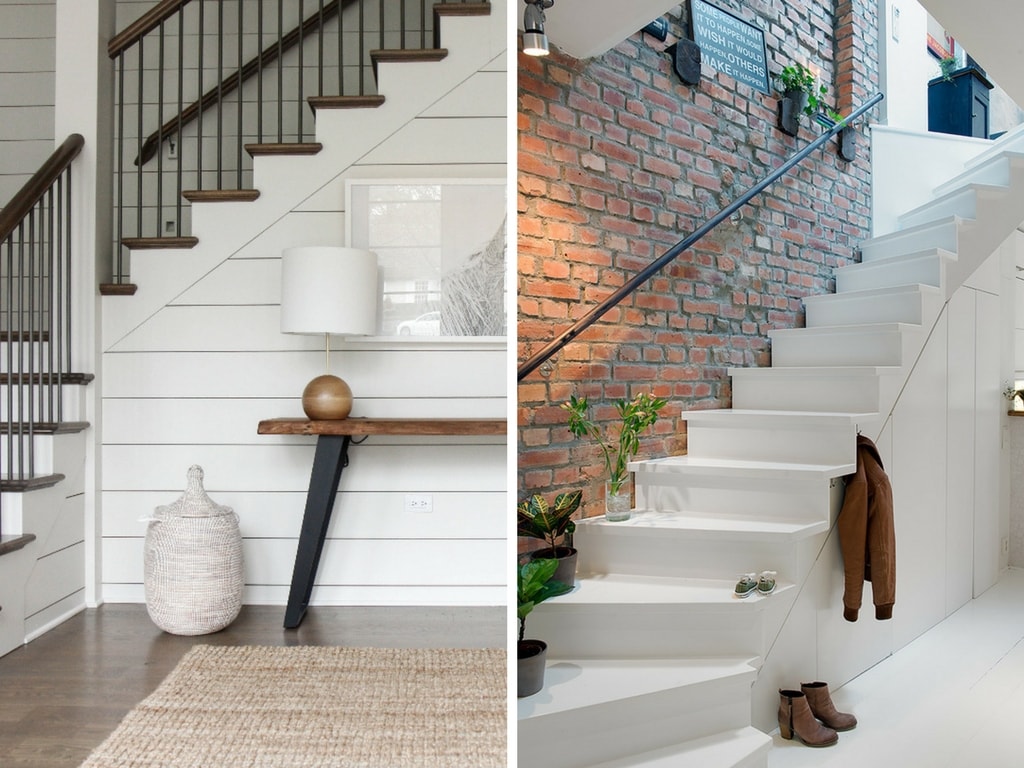 Shiplap is always a winner, right? I know some people are tired of it but let's be real – I don't think I'll ever get tired of shiplap. I feel like it's such a classic, neutral look that works well in almost any house, and it adds so much beautiful texture to any space! I'm also a huge fan of the brick. Again – it adds lots of texture and doesn't need much else added to it. The idea here is similar to the molding idea – use wallpaper, wood, brick, or anything else you can come up with to cover the wall behind the staircase. It'll make a huge visual impact without a ton of effort and is a guaranteed way to make a big statement in your space. This is something we've always considered in our home, but we just added a fair amount of shiplap to a certain space downstairs (more on that later!) so it's a no-go for us.
U S E   O N E   L A R G E   P I E C E   O F   A R T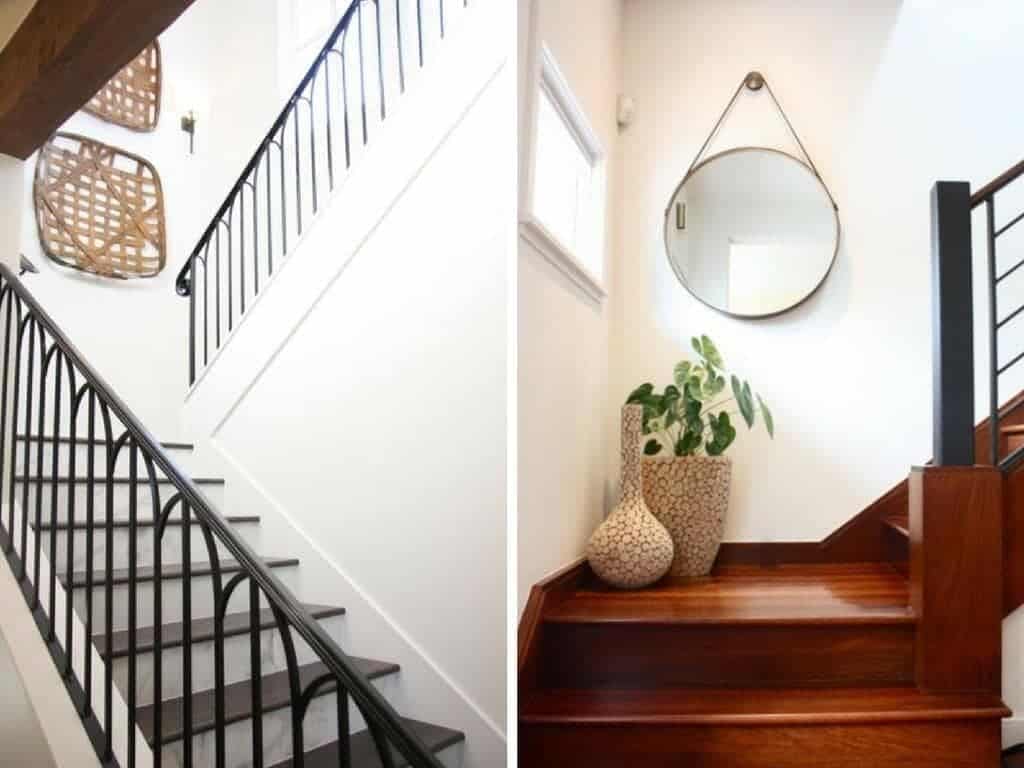 As much as I love a good gallery wall, I'm always a big fan of keeping it simple – this is probably the winner for us! If your stairs are already beautiful all by themselves, you don't need to do much to make the staircase area stand out. Just grab a big, flat basket, a mirror, or something else nice and large and hang it up, then call it a day! I really love the tobacco basket idea – it's a great way to highlight a really tall ceiling. A mirror is perfect for an area without a lot of natural light. I've even seen people hang bicycles up on the wall above their stairs!
If you want some ideas for what to buy to make any of these ideas work in your home, I've created a little gallery below with some fun options. I'll probably end up grabbing one of these options for our staircase – which do you think I should use?!

How do you have your stairs decorated?