DIY Tree Stump Side Table
We've been wanting a new side table in our living room, and so we decided to take on a DIY tree stump side table! We've done this project before, and it's one that we absolutely love – I'm sharing all of the details today!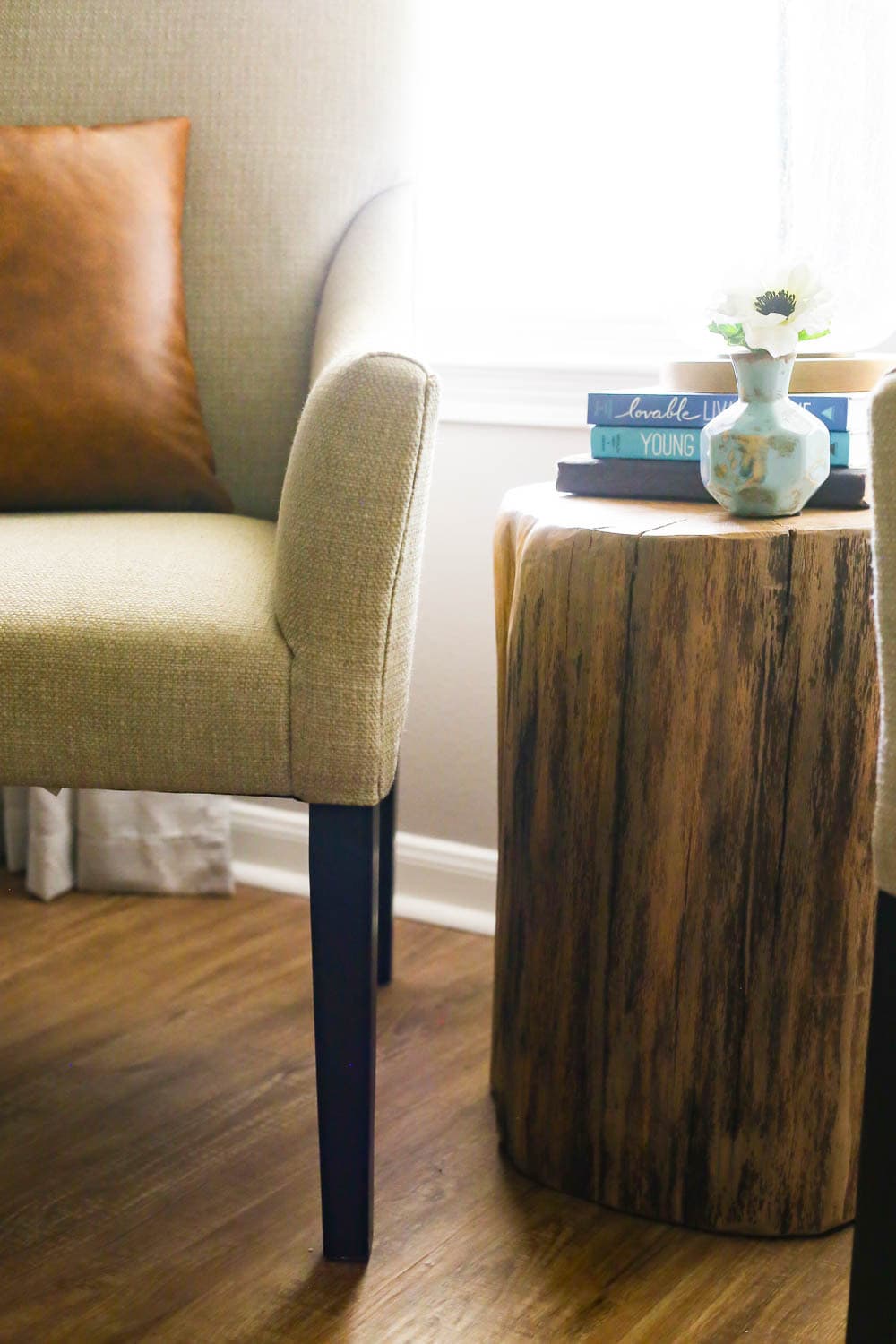 Every once in a while we do a project that we love so much it just has to be repeated. Today's project is one of them. Way back when we were first working on Jackson's nursery, we made a DIY tree stump table to use as a side table in his room. It's served us well over the years and is still going strong in his room today.
So, of course, when we were debating what to do with the rest of the wood left over from Corey's wood rescue mission, I immediately requested another tree stump side table – and this time, we wanted it to be a bit larger so it can be a bit more versatile.
This is such a simple project that really just takes a lot of patience and elbow grease (and a fair amount of luck with tracking down the perfect tree stump, I guess!). Here's how we got it done:
DIY Tree Stump Side Table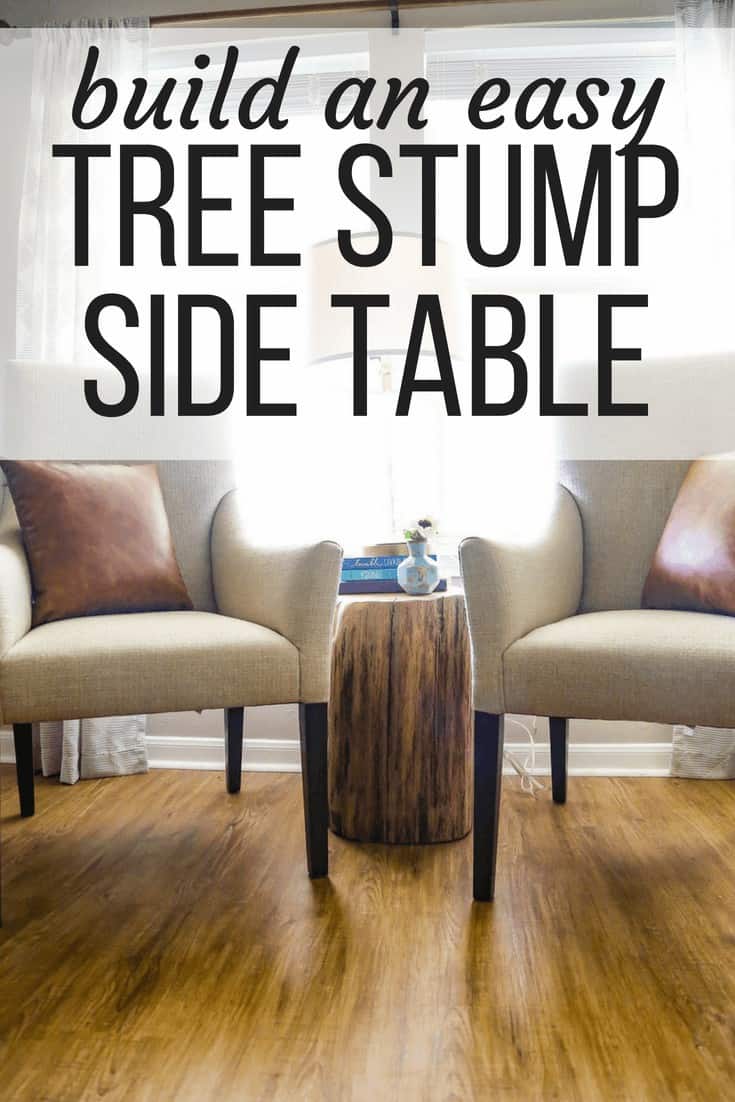 Materials Needed:
Tree stump (obviously)
Crowbar (for removing bark)
Orbital sander with multiple grits of sanding pads
How to make a tree stump table:
The first step is to find a tree stump. This may seem impossible if you haven't ever tried to track one down before, but here are a few ideas on how to find your own tree stump:
If you have a dead tree in your yard to be cut down, ask to save the stump! This is how we got the stump for our first table.
If you notice trees being cut down in an area near you, ask if they have a plan for the wood and if you can have any of it. This is how we got this stump!
Check Craigslist for anyone giving away free brush or tree branches/stumps. They may even give it to you for free if you're willing to come to pick it up!
Ask friends and neighbors who are cutting down trees or clearing our their yard if they'd be willing to let you have a stump.
Basically, just get creative, don't be afraid to ask, and keep your eyes open!
Once you've got your stump, you need to allow it to dry out for several weeks. We've seriously procrastinated on this project both times we've done it and ended up waiting for months, but 2-3 weeks should be enough to get the stump to a point where it's ready to be cut and sanded. Last time we stored ours in the garage, but this time we left it on the side of the house – there were tons of little bugs that made a home in the stump over time, but they really just create gorgeous vein patterns in the wood so we didn't mind a bit.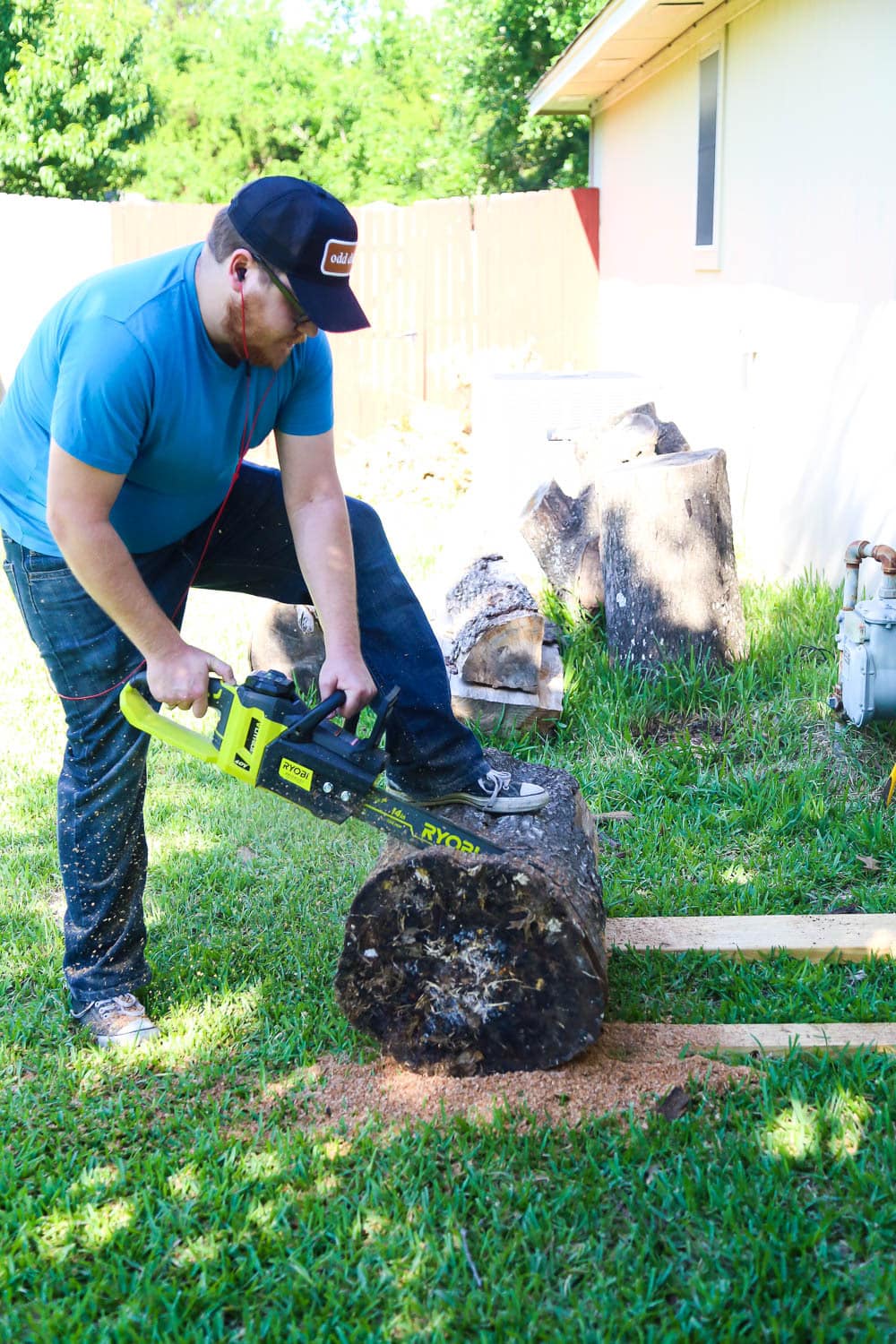 When your wood is dried out and ready to go, you'll want to start by cutting it down to the size you want. We used our 14″ Ryobi 40-V chainsaw for this project. If you'll remember, we've been chatting a bit over the summer about some of their amazing outdoor tools – they sent us a lawnmower, a pressure washer (my new favorite tool ever!), and this chainsaw to try out and we're in love with all three. We've used this chainsaw quite a bit this summer to trim some overgrown trees and take care of other stuff around the yard, but we wanted to see how it would handle an actual project around the house.
Psst: Be sure to check Instagram today for a giveaway of one of our favorite Ryobi outdoor tools!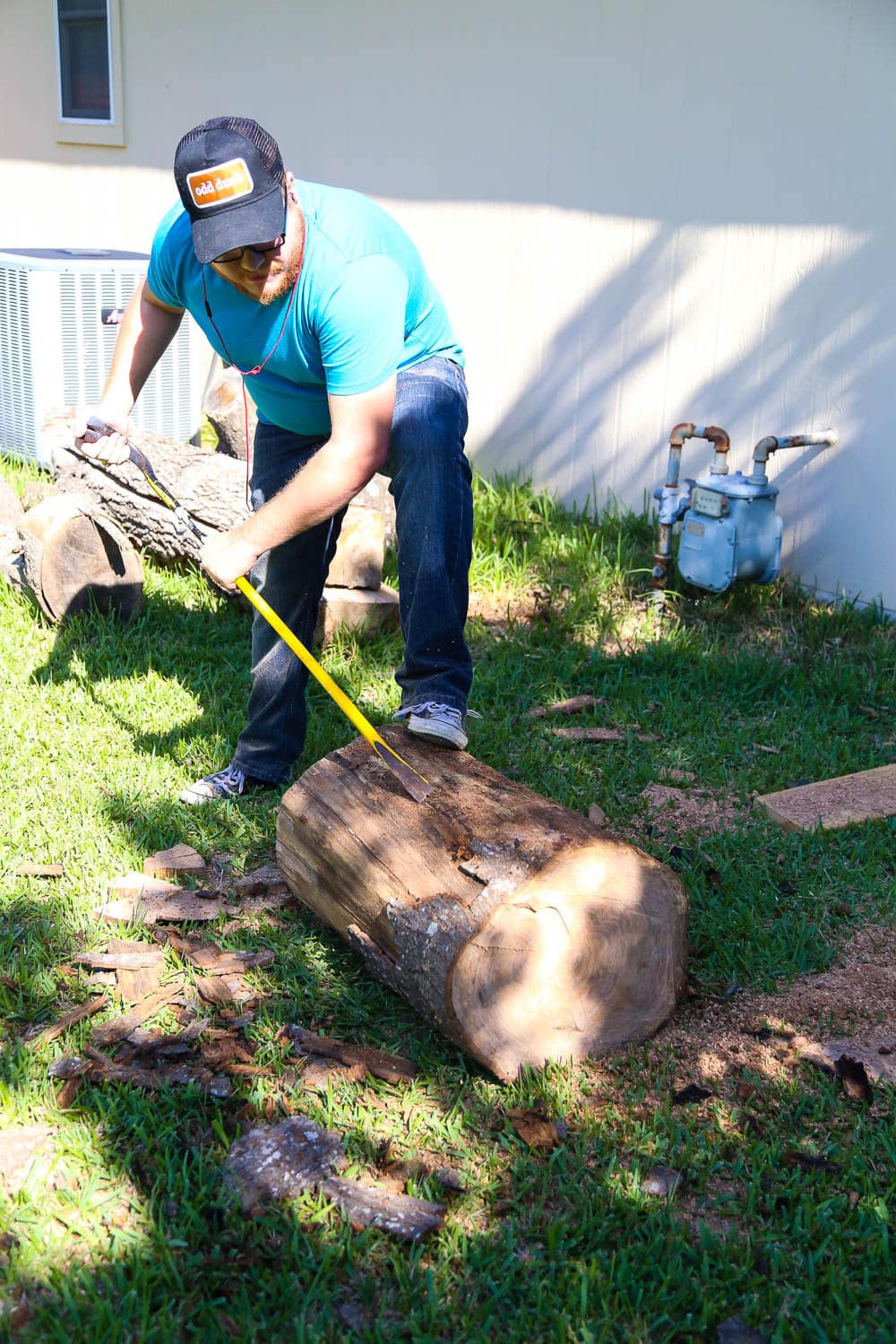 And, as expected, it performed beautifully! Corey cut the table to the approximate size we were shooting for (unless you have mad chainsaw skills, it's really hard to cut to an exact size on a stump this large, since it can't make the cut in one pass) and then we removed all of the bark from the stump using the crowbar.
At this point, it was looking much closer to a table, but we still had a long way to go. This is where things get extra tedious – sanding.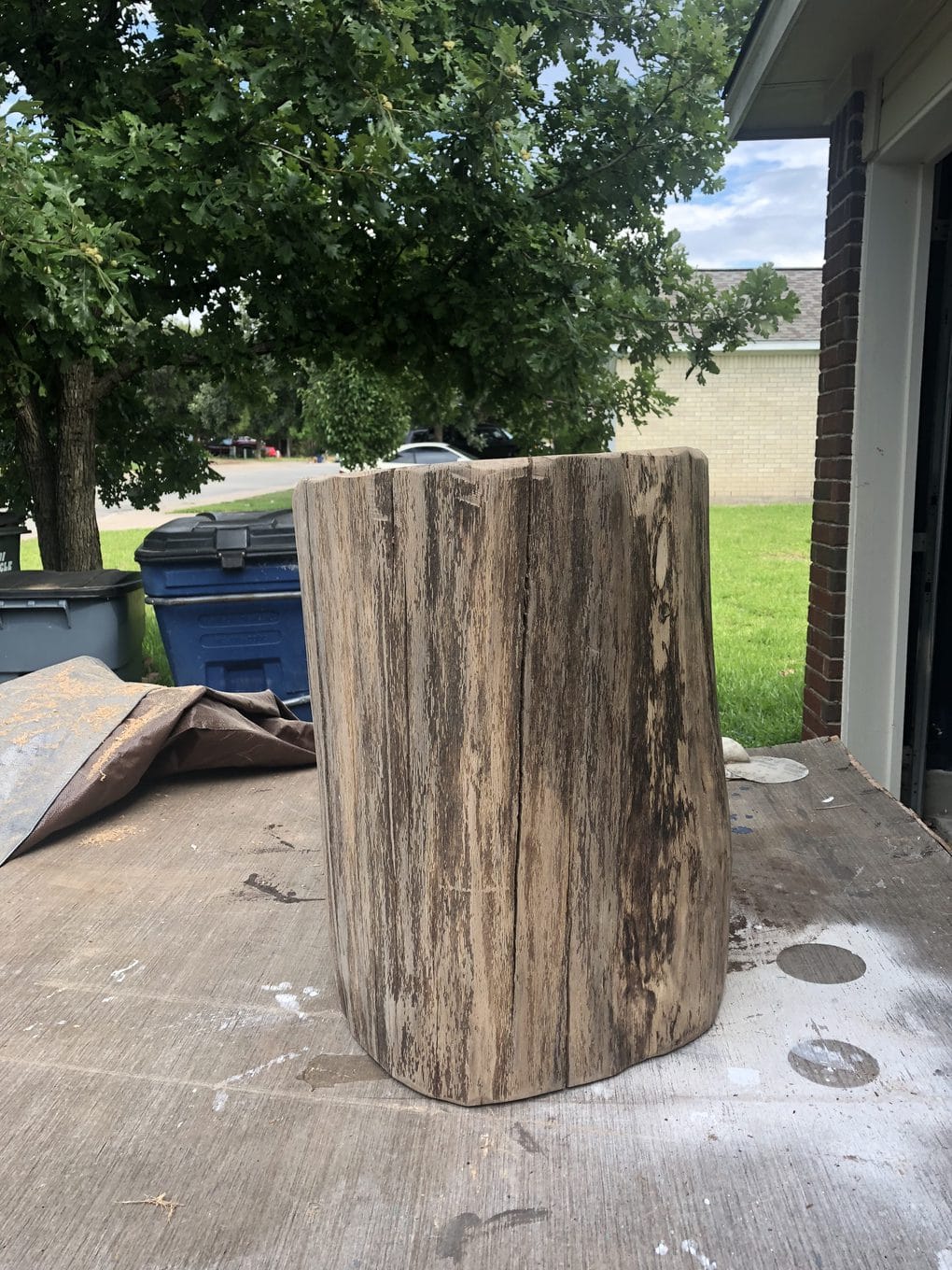 Here's what the table looked like before we got started. It's going to be hard to see too much of a visual difference between before sanding and after sanding, but the big difference is in how it feels. Before you sand, it'll feel like a rough tree (duh). After sanding? It'll have an almost factory-finish feel like a gorgeous piece of furniture right from the store. It's a ton of effort, but it's oh- so worth it!
A note about sandpaper grit before we dive into the details – the lower the number on the grit, the rougher the sandpaper is. So, for example, 80-grit sandpaper is extremely rough and will sand the piece down by quite a significant amount. Something higher, like a 220-grit sandpaper, is more for finishing and to smooth out the details. When you're sanding, you'll always want to start with a lower grit and work your way up to a higher grit for the perfect finish.
Let's break down how I got it done:
First off, I started off using the orbital sander with 80-grit sandpaper to get all of the super rough patches off the table. Corey stepped in a couple of times with the belt sander and some 35-grit sandpaper for particularly stubborn areas, but I was able to do most of it on my own. You'll use a lot of different sandpaper for this project, but I spent the most amount of time right here with the 80-grit.
Once the majority of the table was sanded down and it was starting to feel smooth, I switched to 120-grit. I thoroughly sanded the entire table again.
Next up, 220-grit – sand the entire thing again.
And finally, once things are feeling really smooth and almost done, I finished the whole thing off with 400-grit sandpaper.
I found this was a pretty perfect combination to get the smoothest possible finish. Once I was done sanding the majority of the table, Corey used his handheld planer to level out the top and bottom of the table. He also rounded out the edges of the table a bit more.
Reading this back to myself, it sounds like this was a pretty quick process. It wasn't. I spent a good two hours or so sanding the table when all was said and done (and this is a small table!).
But, I mean, would you look at that finish? Where's the heart-eyed emoji when you need it?!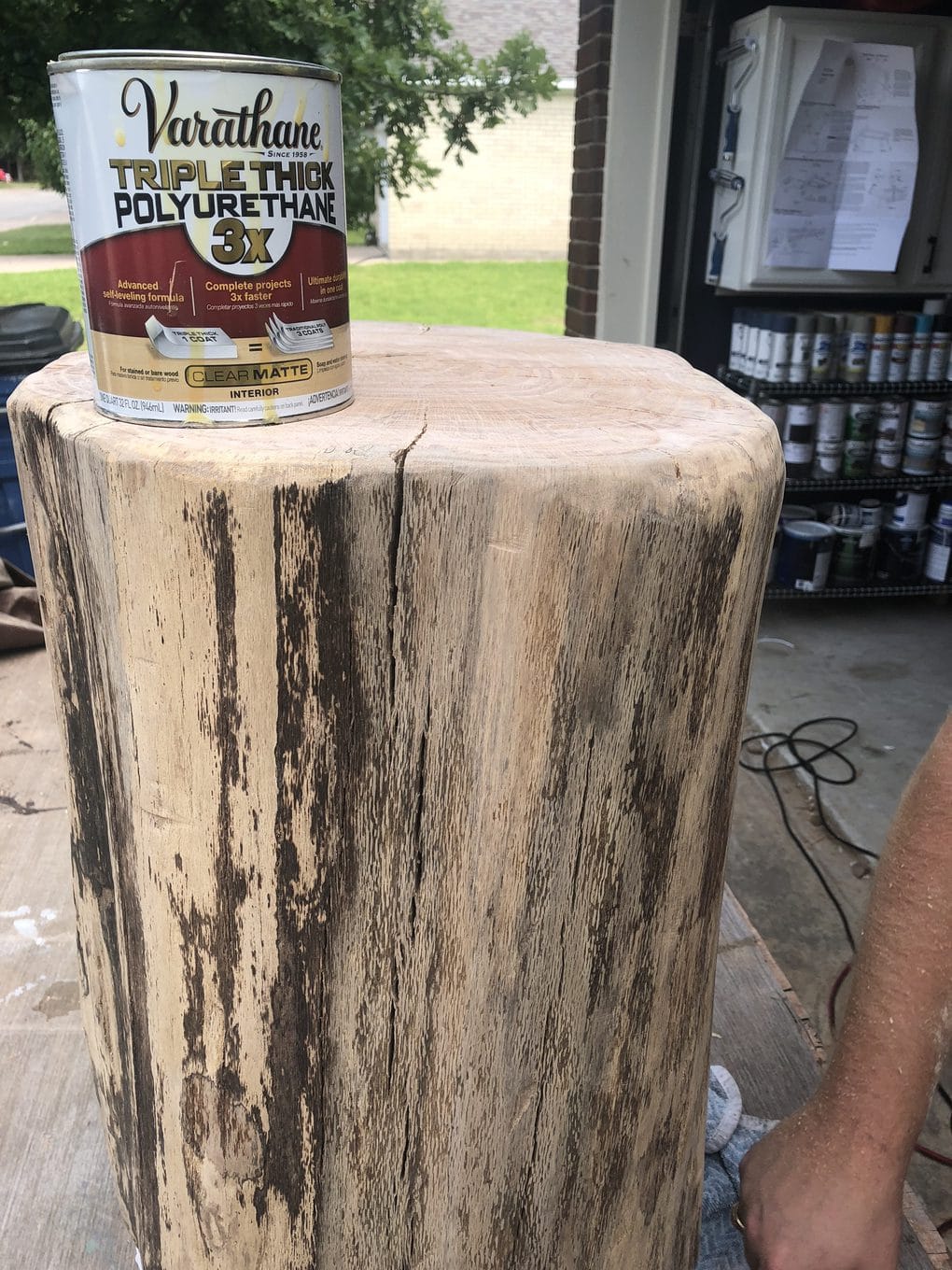 Finally, the veeeeeery last step is to seal the whole shebang. We love to use Varathane's Triple Thick Polyurethane for projects like this – it has a really gorgeous finish and is incredibly sturdy. We used it on our mantel in the old house as well, and I find it's the perfect poly for finishing off raw or stained wood (it's not recommended for painted surfaces).
I gave the whole things two coats of poly (with a quick sanding in-between), and we brought it inside.
And I love it! It's hard to photograph (I've never quite figured out how to photograph directly into a window!), but trust me when I say it's just beautiful in person. It's a bit short for this space, but stacking the lamp on some books takes care of that pretty easily. It's almost the exact same diameter as the old table, so we've got just as much room on the top – all we really need is the space to set a drink or two down, so we don't need it to be large. I feel like this more substantial table is perfect for this area – the old one felt a bit too light with the small chairs. I love how chunky this is and the wood tones it brings into the area.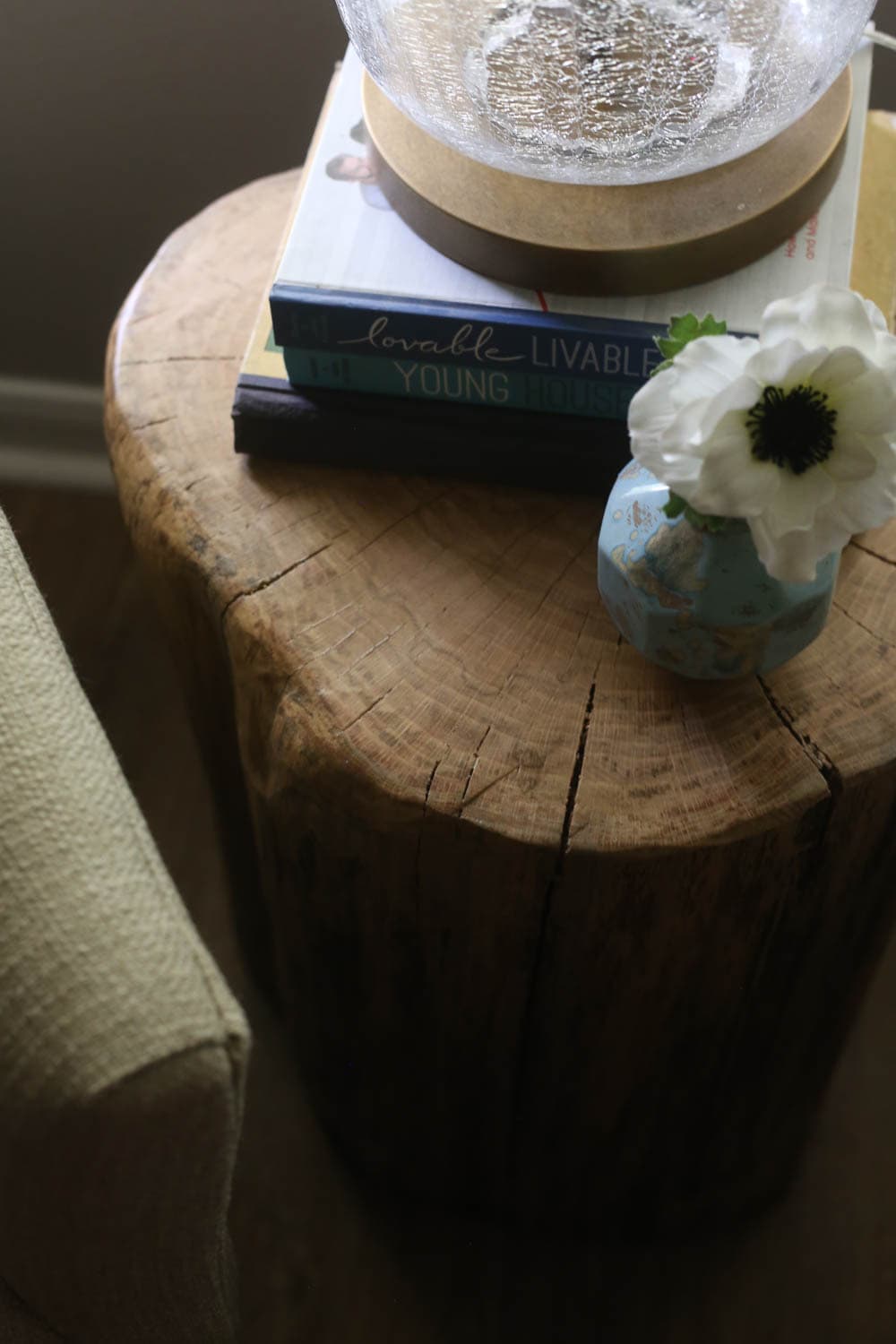 This little corner still needs a bit of work – I'm working to find a good replacement for the curtains (I love them, but accidentally ordered the wrong size and the curtain rod is hung way too low) but it feels a little closer to complete now!
Of course, thanks to all of these pregnancy hormones, my mental to-do list in here is just growing and growing.
This nesting stuff is no joke, y'all!