Our Kitchen – Before & After
Corey and I are currently packing up and moving into our new home. While we're busy over the next couple of weeks, I'm sharing a look back at our first home throughout the years. You can see the living room here and the dining room here.
I'll never forget the feeling I had walking into this kitchen for the first time when Corey and I were looking at homes. It's really a pretty massive kitchen for the size of house that we have, and I couldn't get over how open and bright it felt (which, honestly, is just a theme of the entire first floor of our house – there are windows everywhere).
I laugh a little looking back at photos from right after we moved in because for as large as the kitchen is, the space really isn't planned out all that well. This kitchen was made to have an island in it, but there wasn't one built in – which meant that we basically had a giant dance floor in the middle of our kitchen. We love a good kitchen dance party, but it ended up feeling a little ridiculous to have that much space being so under-utilized, so we knew almost immediately that we'd want to add an island.
Another thing we knew immediately was that those upper cabinets separating the kitchen from the dining room had to go. They blocked so much light and visibility to the rest of the house, and the kitchen had enough cabinetry that we really didn't need them at all. In fact, when we were moving in, we made a point of not putting anything in them so we wouldn't get used to having them around!
The kitchen is probably the room that I still feel has the most potential – we never got around to replacing the counters, I would have loved to actually tile the backsplash, and we had about a zillion other ideas for how to make this kitchen amazing. But, our time in this house is up and we made as much progress as we could in the 6 years we've lived here. It's time to pass the torch on to someone else who can take it the rest of the way.
THE KITCHEN BEFORE & AFTER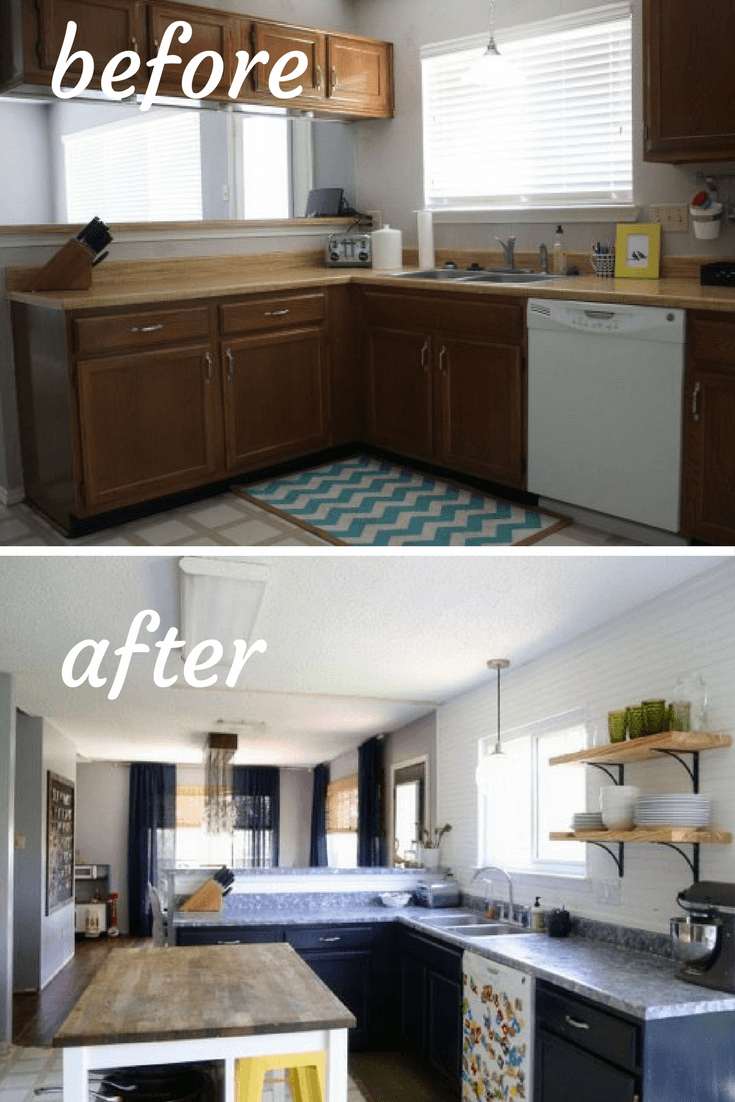 Despite the fact that we didn't get to complete everything we had hoped to in this room, I have to say I think we made a pretty positive impact on the room overall. When we first got here it was dark, dated, and had tile with fruit on it. Seriously – fruit.
Side note: one of my favorite stories from moving into this house is that right after we moved in we were talking with family and someone jokingly mentioned that it's too bad that tile didn't continue on the other side of the kitchen. My mom, in all her sweet sincerity, said that she was sure we could track more of it down if we wanted to and she could help us look.
Oh, mom. Sometimes the sarcasm just flies right over her head.
Here's how it looked when we first moved in: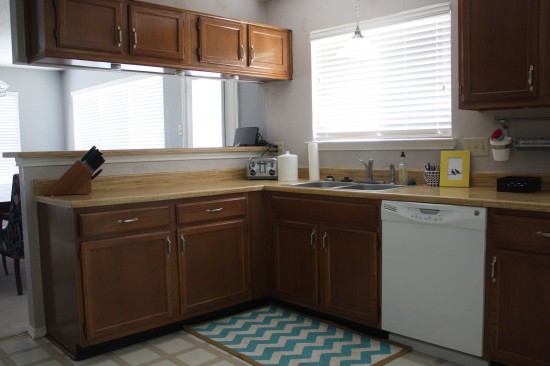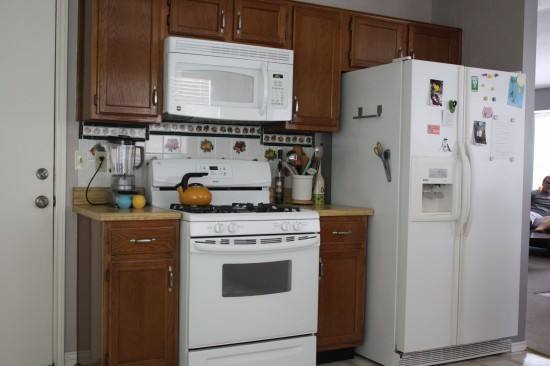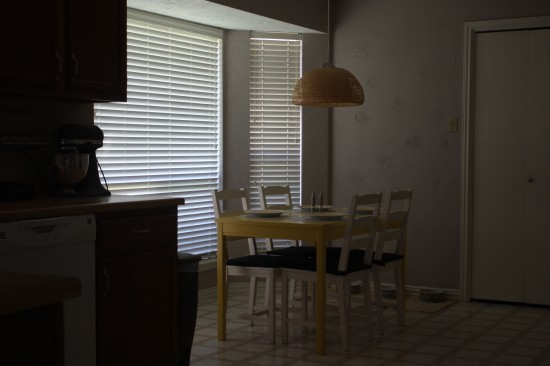 As far as the evolution of the kitchen, this is one room that has quite a drastic level of change, even if we didn't get to take it quite as far as we would have liked. The change has been slow and steady throughout the years, and I'm pretty proud of how far it has come.

I mean – come on. This really does look like an entirely different kitchen, doesn't it? The kitchen is so much brighter and more modern now, and it's way more open to the rest of the house, thanks to the removal of the upper cabinets that separated it from the dining room. If we stayed here longer, we would have knocked down that bar in-between the kitchen and dining room so that it was level with the rest of the counter, and created an island there. I think it would open the space up even more, and provide some more functional counter space.
Maybe I should leave a note for the next homeowners? I'm sure they'd welcome my design input.
The new house that we're moving to has a much smaller kitchen (which will definitely be an adjustment for us!), but the kitchen is more updated than ours was when we moved in, so we'll have (slightly) less to do. I'm definitely going to miss all of the space and gorgeous light in our kitchen, and even if we didn't get it where we wanted it, I am so so proud of how it turned out.
Here's a look at our kitchen today.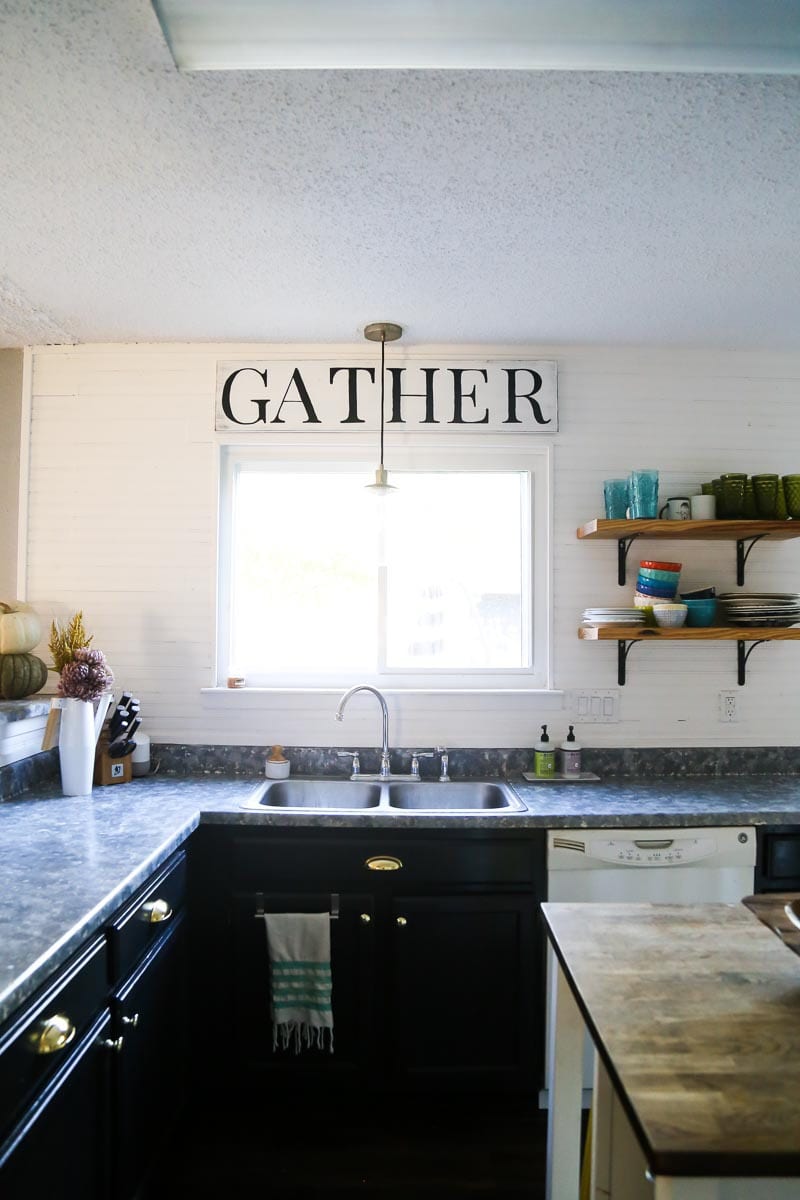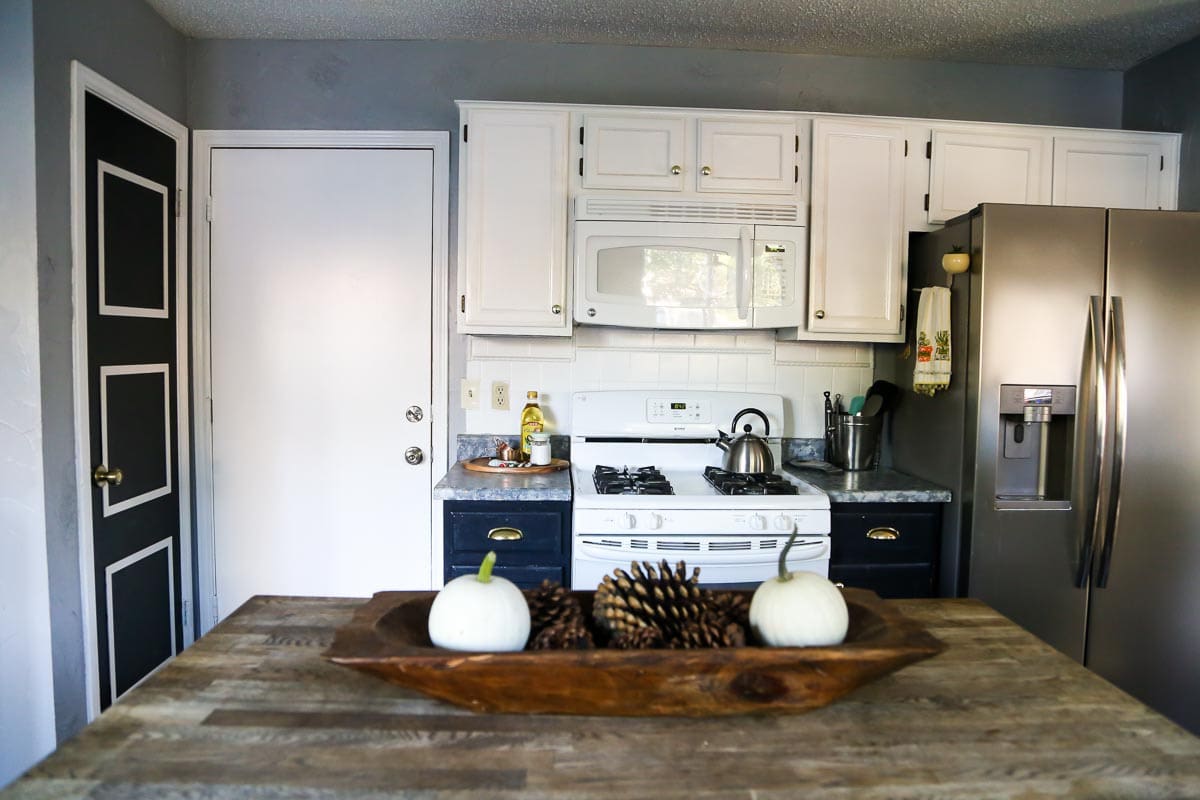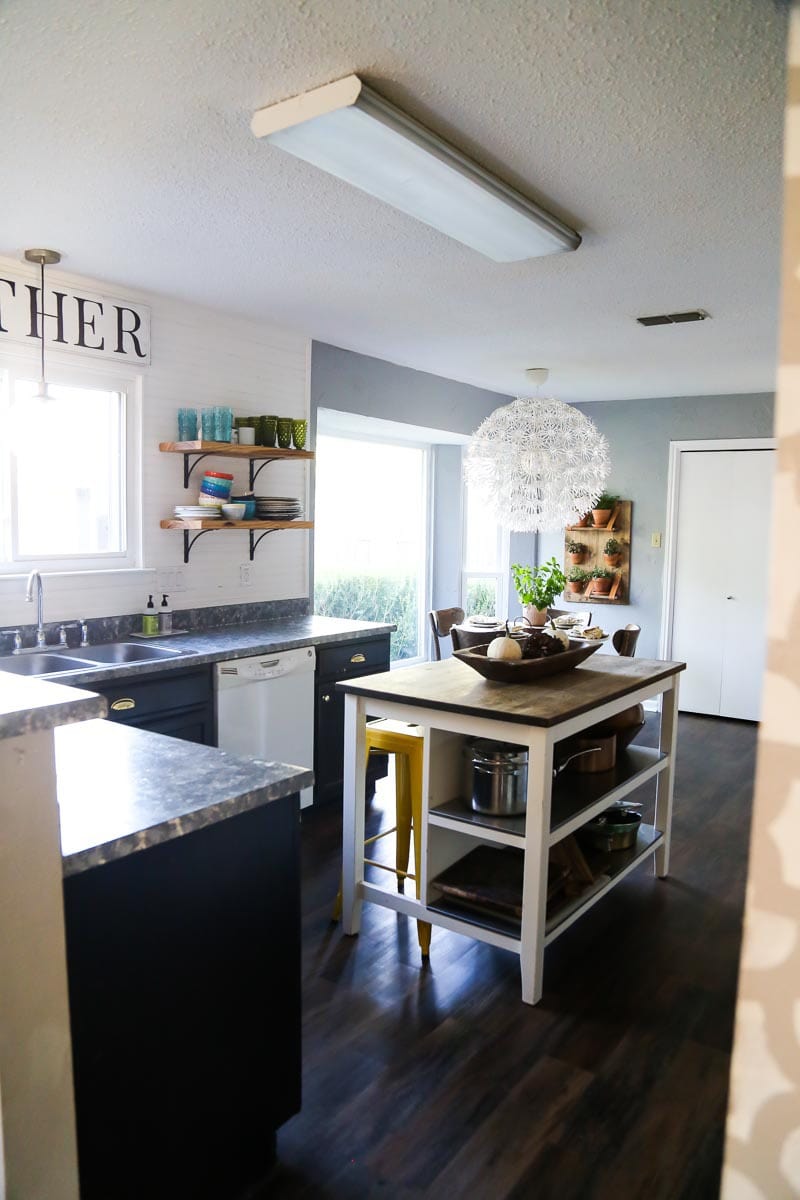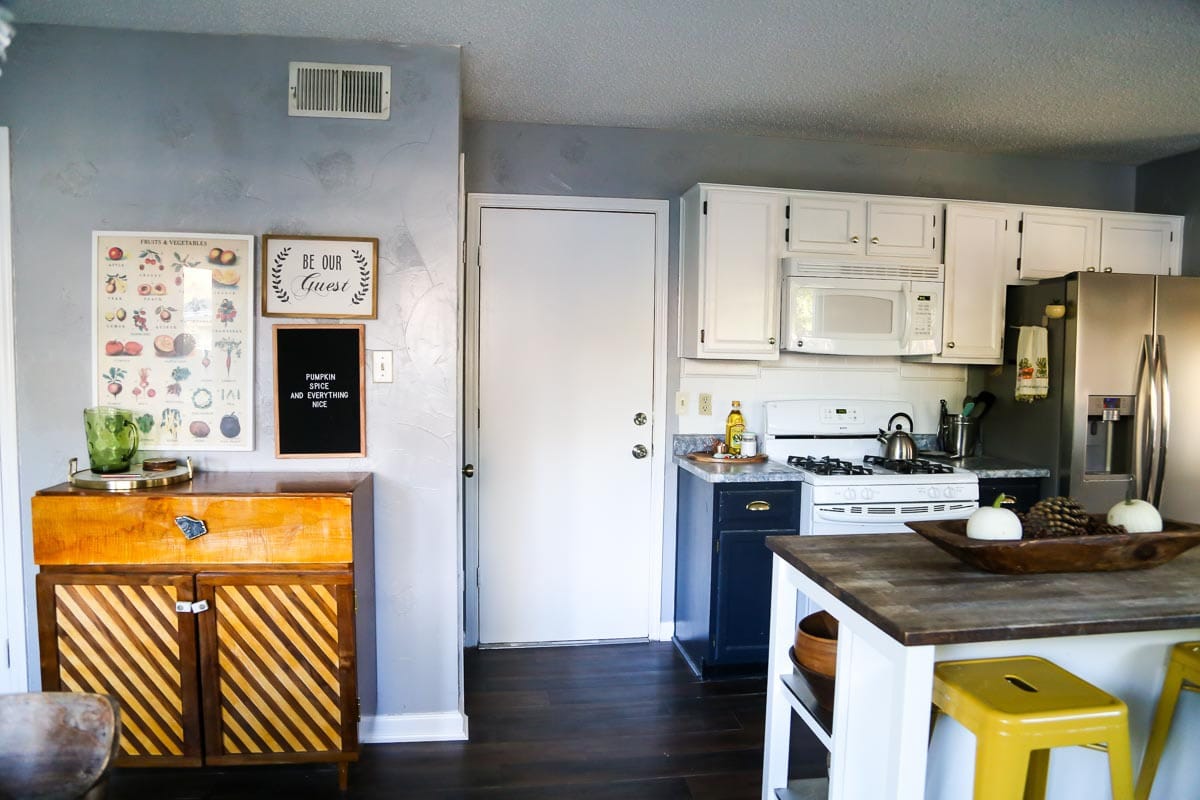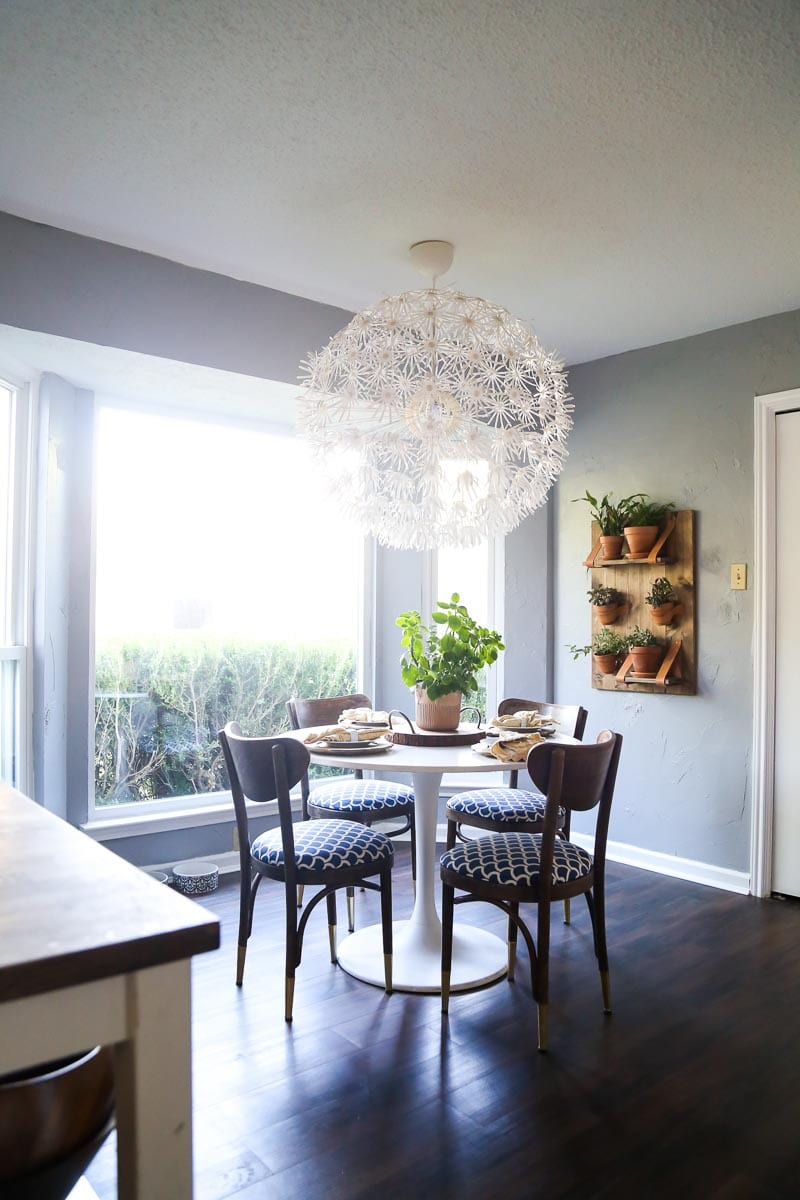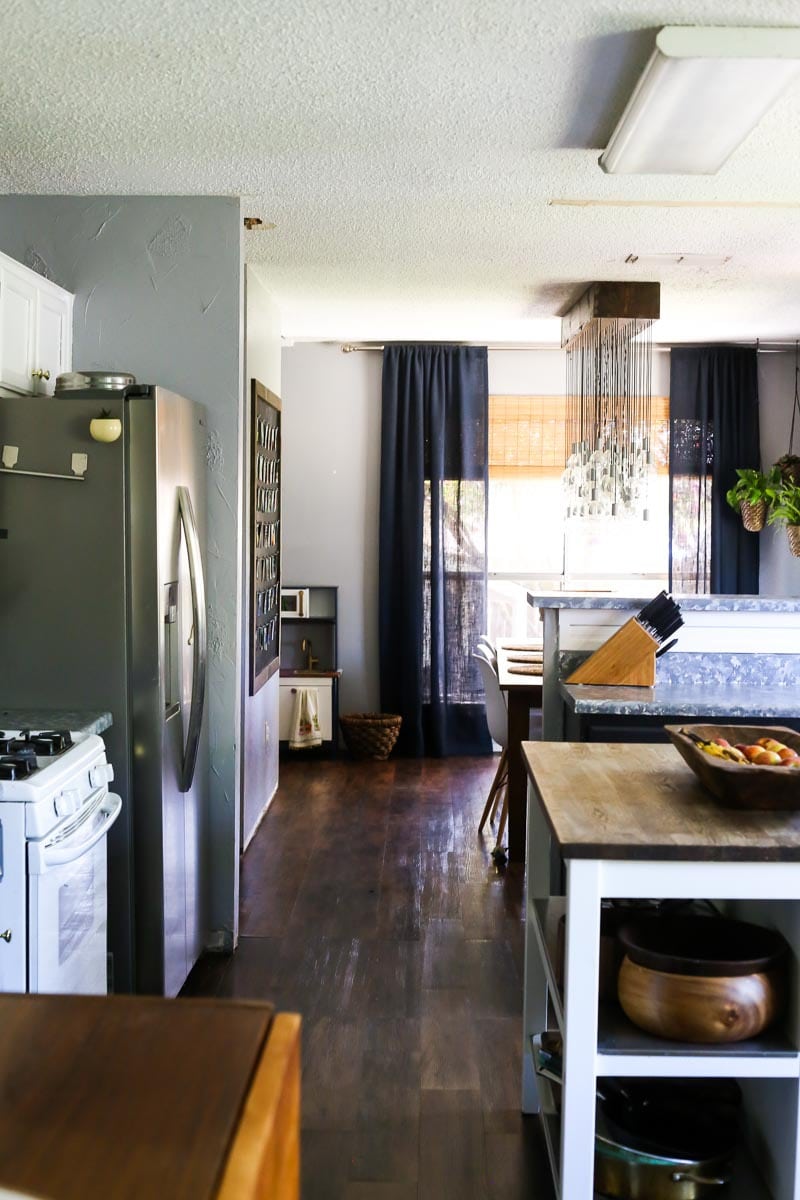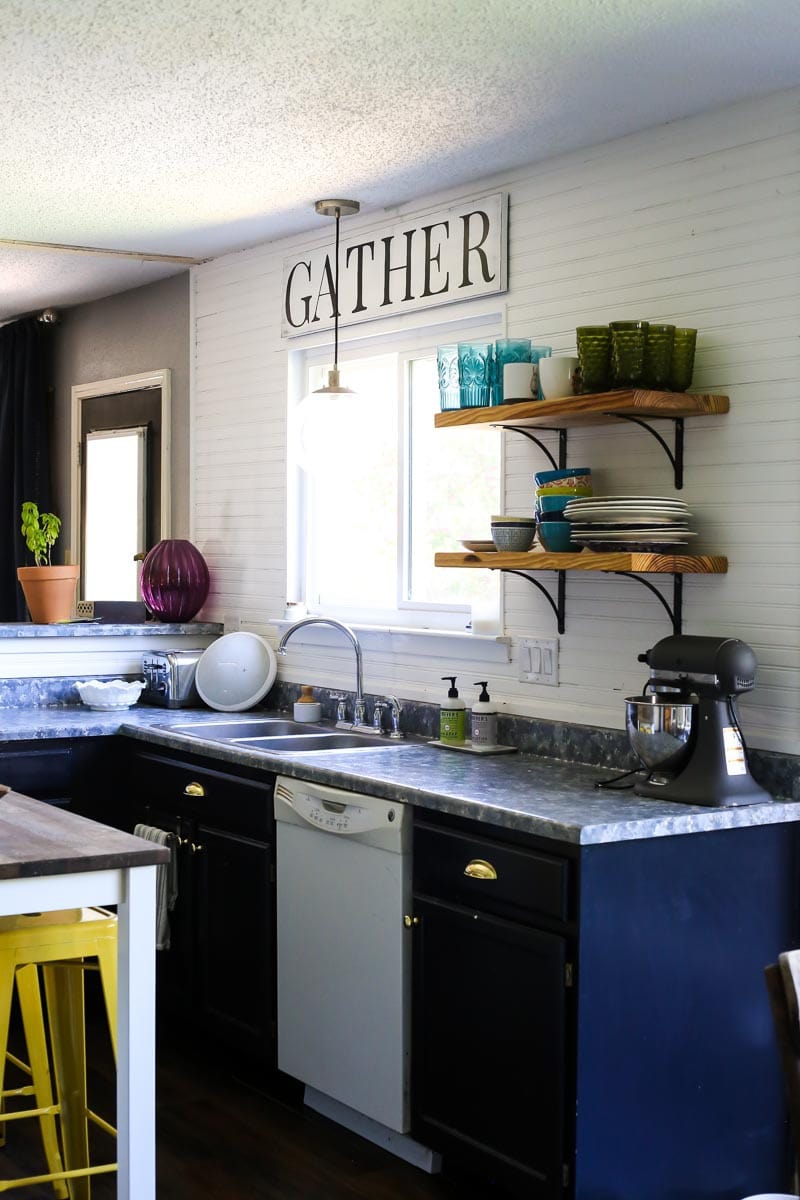 This post contains affiliate links. Click here to read my full disclosure policy.
I tried to collect sources for most of the things in the kitchen – if there's anything you're curious about that I'm missing, let me know and I'll add it! Just hit the arrow below to scroll through all of the items to find what you're looking for.

Here are a few kitchen related posts from the last 6 years:
IKEA Island Hack | IKEA MASKROS Light Review | Painting Kitchen Cabinets | DIY Faux Granite Countertops | DIY Beadboard Backsplash | Easy Open Shelving | Pantry Organization | Why We Have Two Refrigerators | Choosing New Kitchen Hardware | Our Painted Counters – 1 Year Later | DIY Bar Cart | How to Organize Junk Drawer | How to Organize Spices | DIY Vertical Wall Planter | Installing Vinyl Plank Flooring