A Peek Inside Our Bonus Room Shelving
Earlier this week, I (finally!) shared the big reveal of the new ELFA shelving we installed in our game room. I can't even begin to tell you how much storage this new system has added to this room and how excited I am about the new setup.
Today, I wanted to take you on a little more of a deep dive to give you a closer look at exactly how we're using this space. I'm going to open up the drawers and pull out the baskets so you can see exactly how much we've packed into this wall of ELFA shelving – and how much room we have for growth!
Our Family Room ELFA Shelving System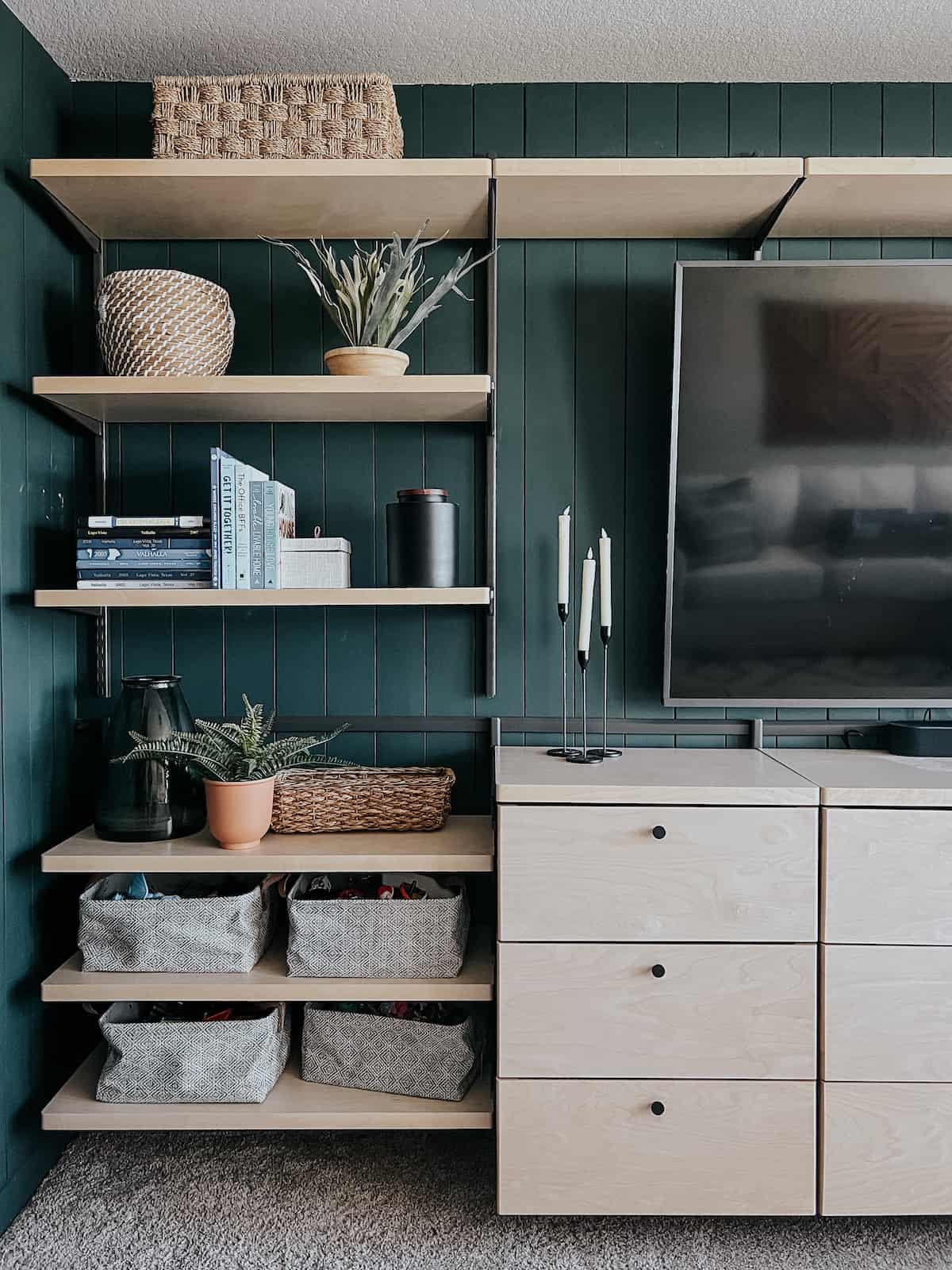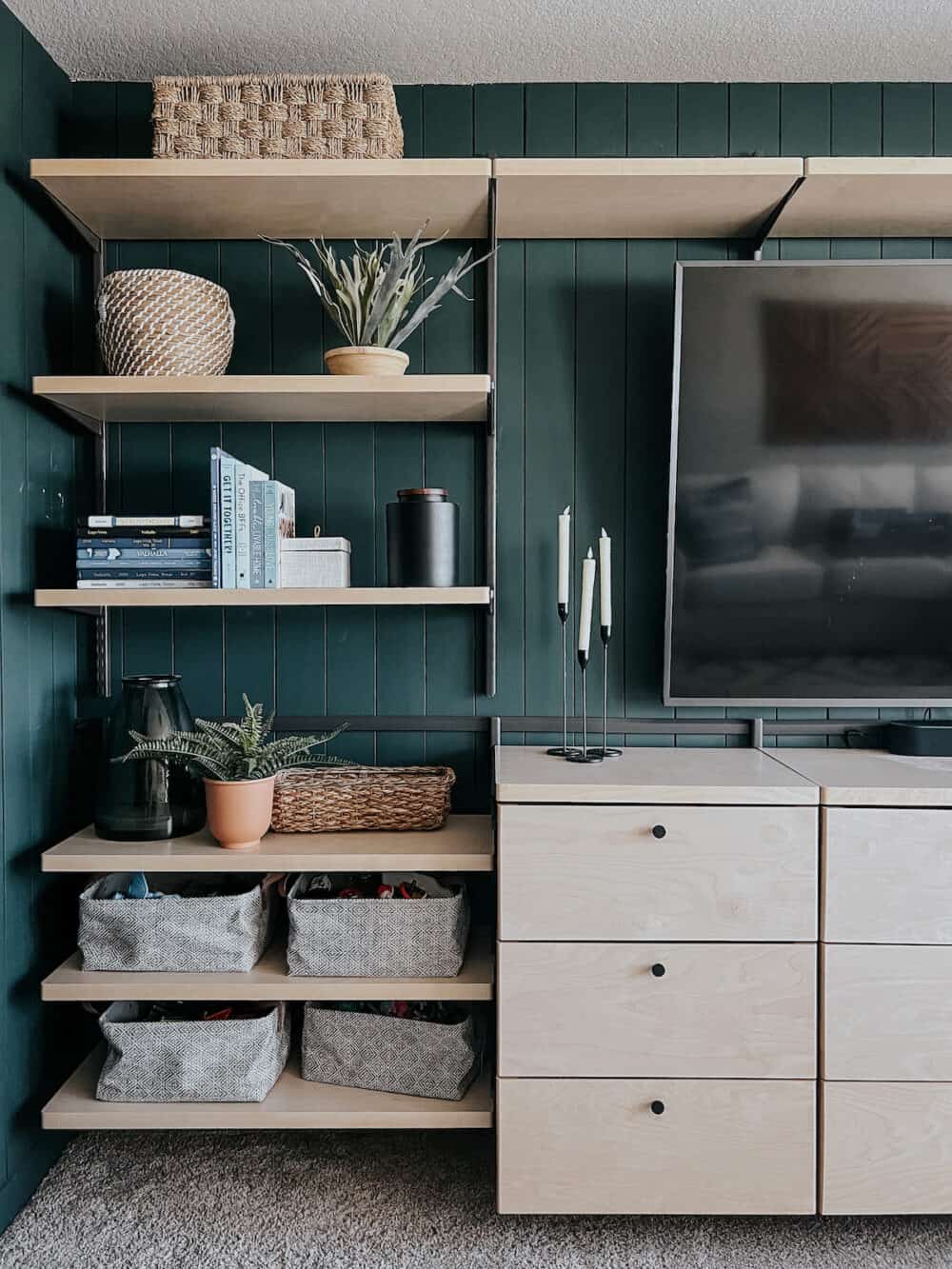 The Drawers
Let's start with my favorite part of the entire system – the drawers! I love that the ELFA system has these super lightweight drawers that can be made to look like a big dresser. They hold so much stuff, and honestly most of ours are still completely empty!
Here's a rundown of what's stored in the drawers as of right now:
Larger toys that don't fit into baskets
Video game components
Television components
Some office supplies, like paper, envelopes, and ink cartridges
Extra cords and computer supplies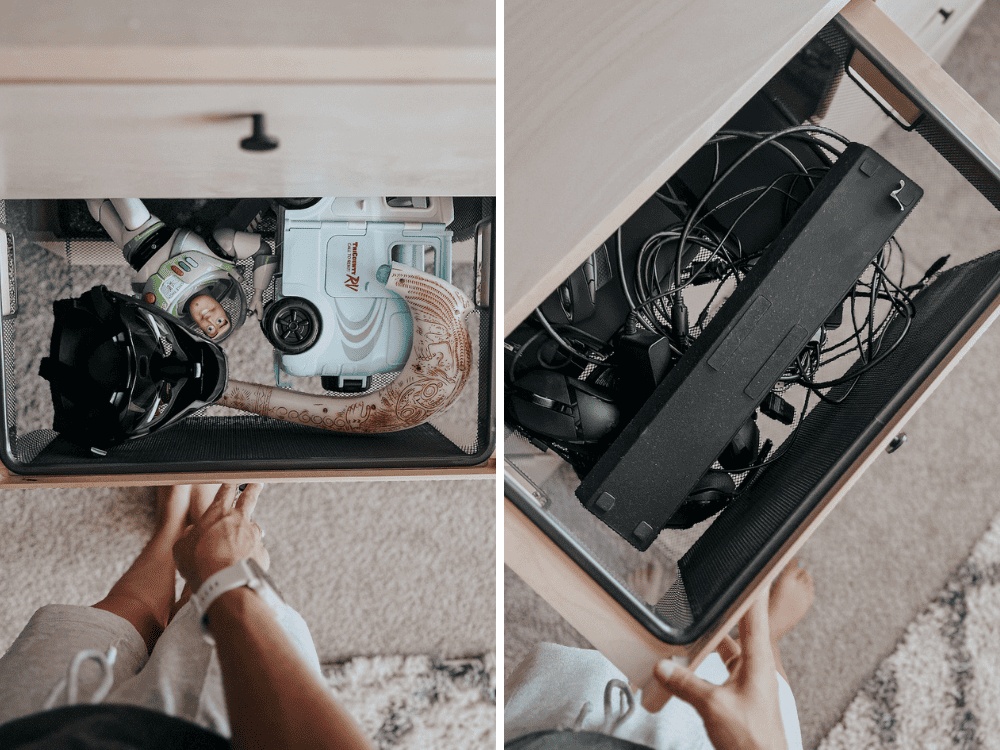 When I tell you we have room to grow when it comes to these drawers, I'm not kidding! We have 5 drawers that are completely empty, and I don't think a single drawer could be considered "full". I can't tell you how much I love having some extra room available, because we all know how things seem to just creep into your house over time. It gives me such peace of mind to know that I've got a ton of space to stash clutter when I need to!
Sources:
The Lower Shelves
The lower two shelves on either side of the drawers are dedicated to toys. I originally had all of the kids' toys in the drawers, but I decided that baskets are the more logical choice. They still occasionally like to dump everything out on the floor when they get really into a game, and I think baskets give less chance for them to wreak havoc on the shelving system itself. We love using baskets to organize toys, because it makes cleanup a breeze! We don't bother with making the kids categorize the toys (we tried, it failed, we gave up). They just know the toys belong in the baskets, and they dump them all in there when they're cleaning!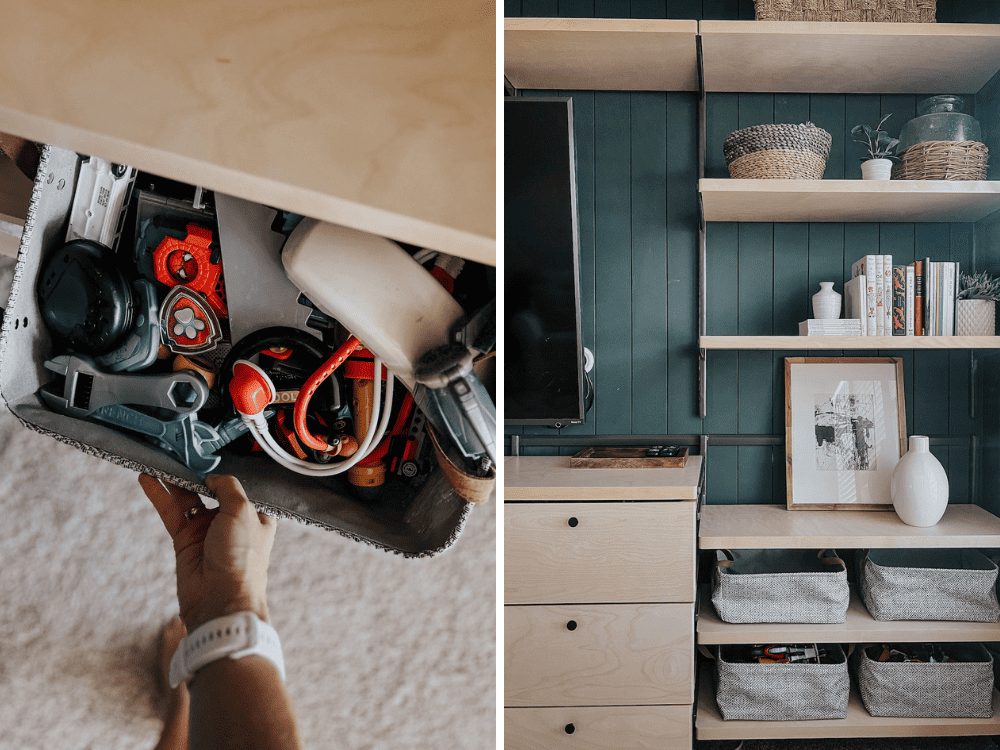 I was really pleasantly surprised to find that with this new setup, we actually still have room to grow in the toy department too! Although, I desperately hope we can keep toys to a minimum. We have two baskets as of now that are totally empty, which is great because Grant has a birthday coming up later this month and I know more chaos is coming.
We were very intentional when we picked out the baskets for these shelves. The kids have destroyed many a basket thanks to leaving them out, stepping all over them, or letting the dogs get ahold of them. These fabric baskets are super flexible, won't break if they're stepped on, and look great on the shelves. It's a win all around.
Sources
The Upper Shelves
Right now, the upper shelving is full of random things that I put there mostly so they didn't look empty! We'll definitely be keeping the books there, at least for now, but much of the other stuff you see on there is just a placeholder.
Why? Because these shelves are going to be all about the LEGO sets!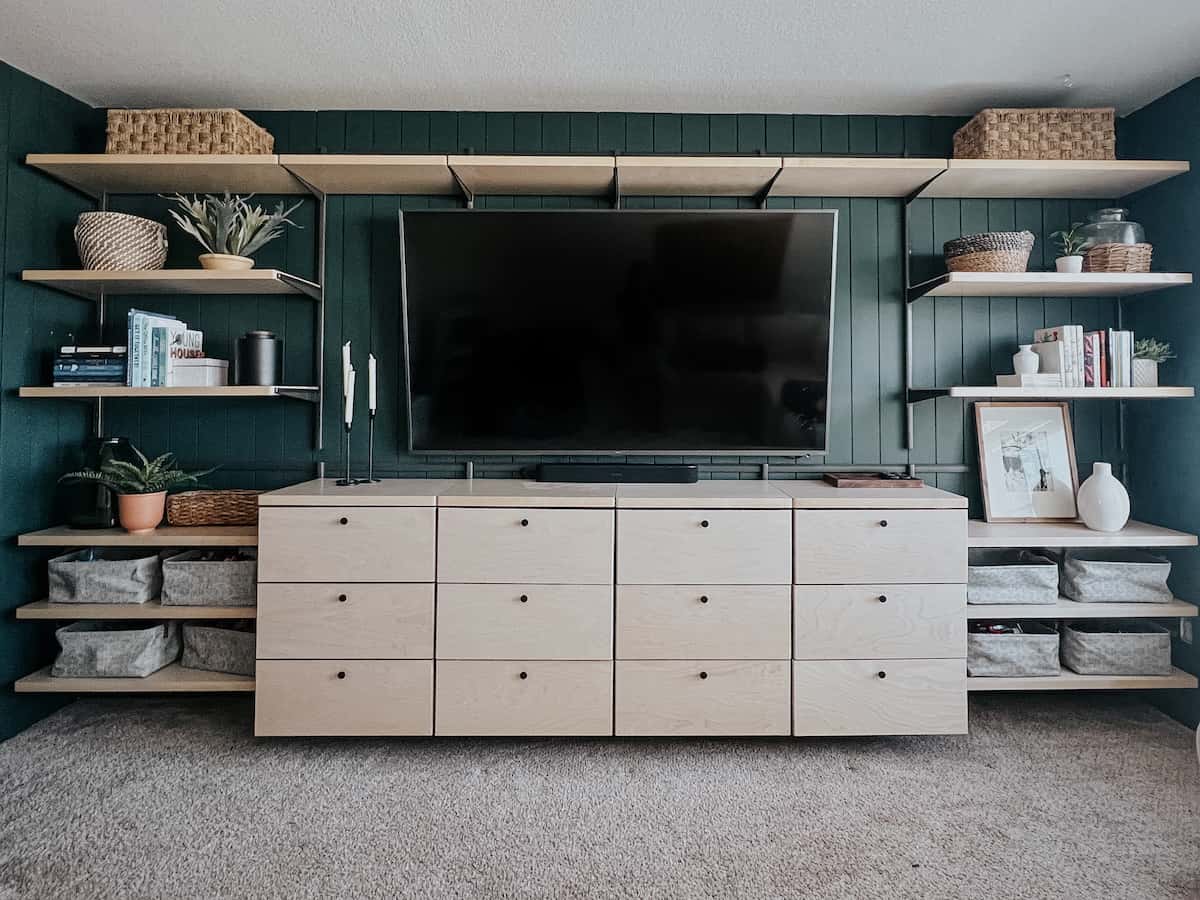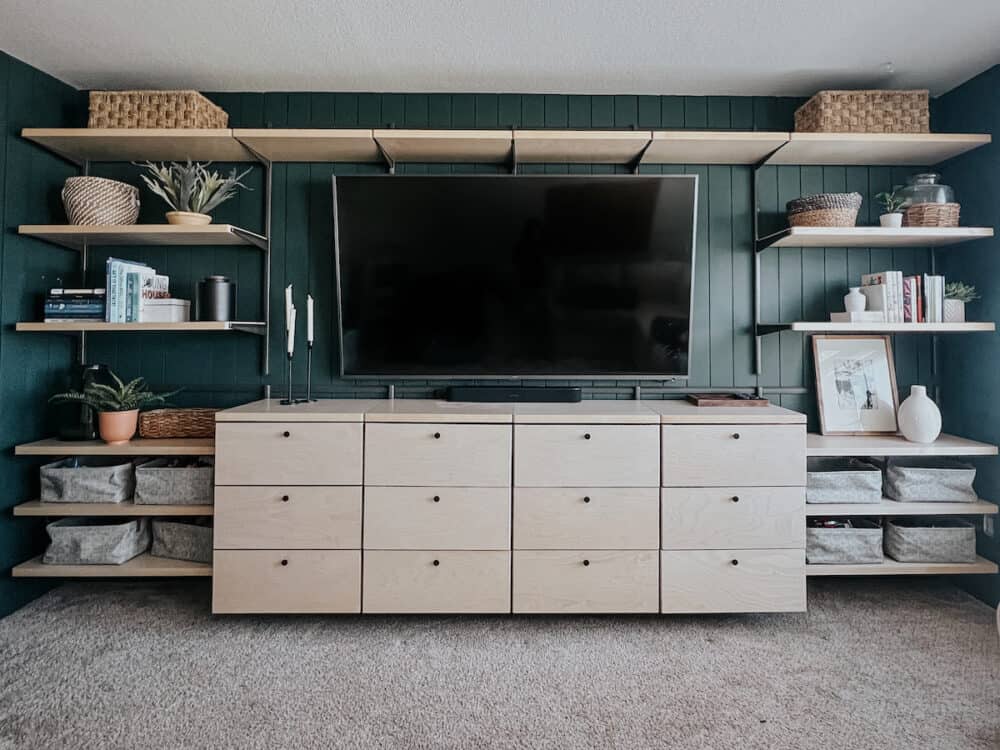 For years now, Corey has wanted a good place to display LEGO sets of his own. The kids are very into LEGO, but Corey and I both grew up with it too, and they've got so many great sets for adults now! As soon as we started planning this shelving system, we knew we wanted to set aside most of the shelving for us to be able to display some LEGO sets that we build together.
We've been planning and slowly starting to purchase a few new sets, and we're both so excited! Over time, these shelves will slowly fill up with some fun creations, and we even plan to play around with some seasonal sets! I mean, why WOULDN'T we want to get the Home Alone house to build together every Christmas?!
This will have to be an update we share later as we continue to add to it, but for now it's really exciting to know we have all of this big blank space just waiting for us to act like kids again and start building.
Sources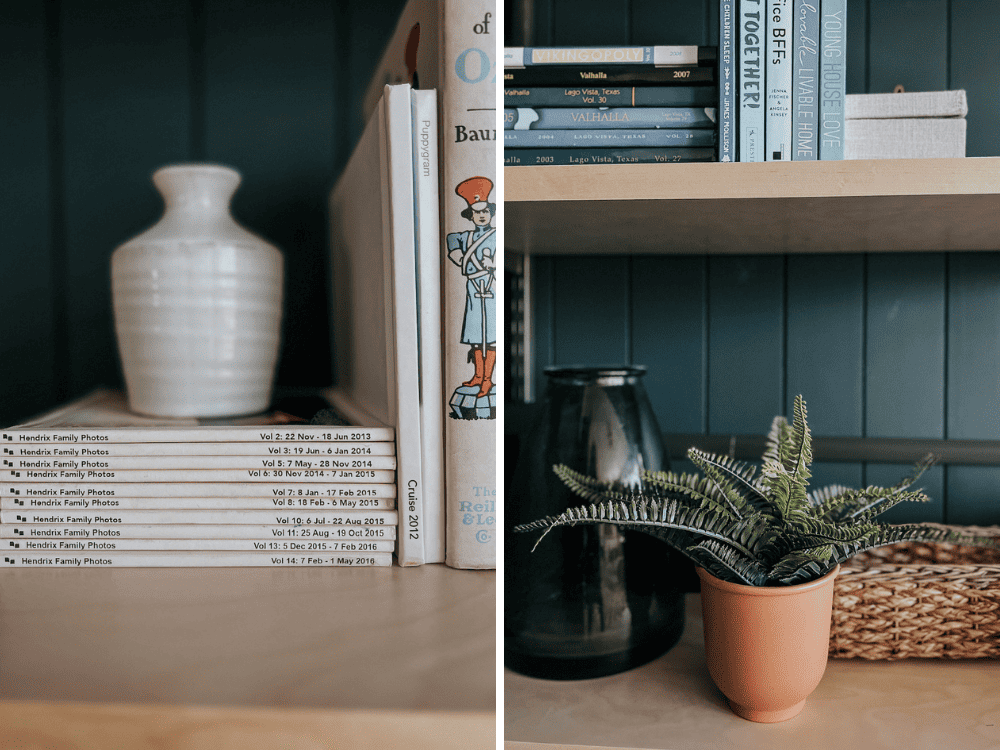 And that's where we're at with the game room as of today! We still have big plans for this space in the long run – we've been eyeing new couches that fit our needs a little better, we still plan to shiplap the entire room, and we're always thinking about different ways this room can grow with our kids as they get older!
But, for now, I'll just be over here basking in the glow of aaaall this storage space.
related posts
Toy Storage Ideas