DIY Tool Storage + Organization
This simple tool organization setup is easy to build and holds tons of tools to help you keep your workshop organized and clean.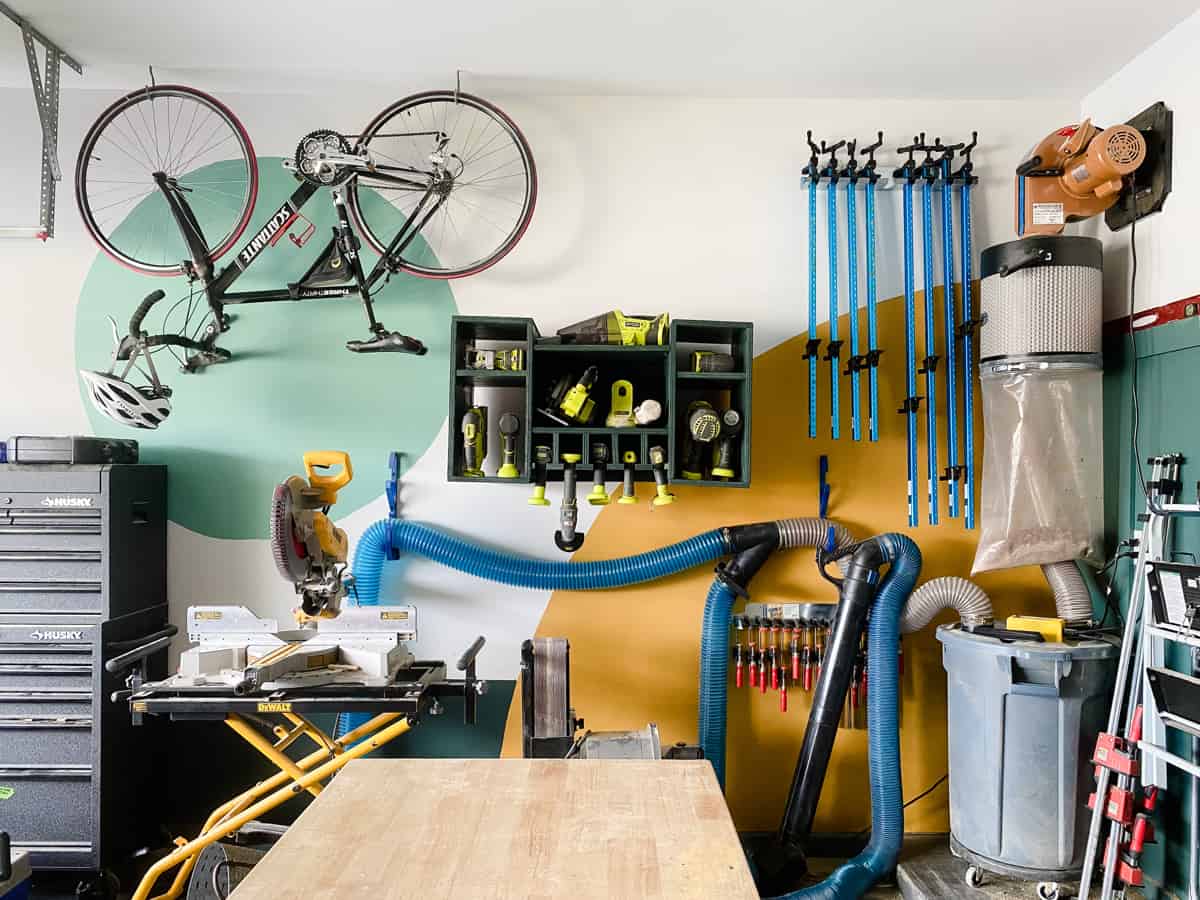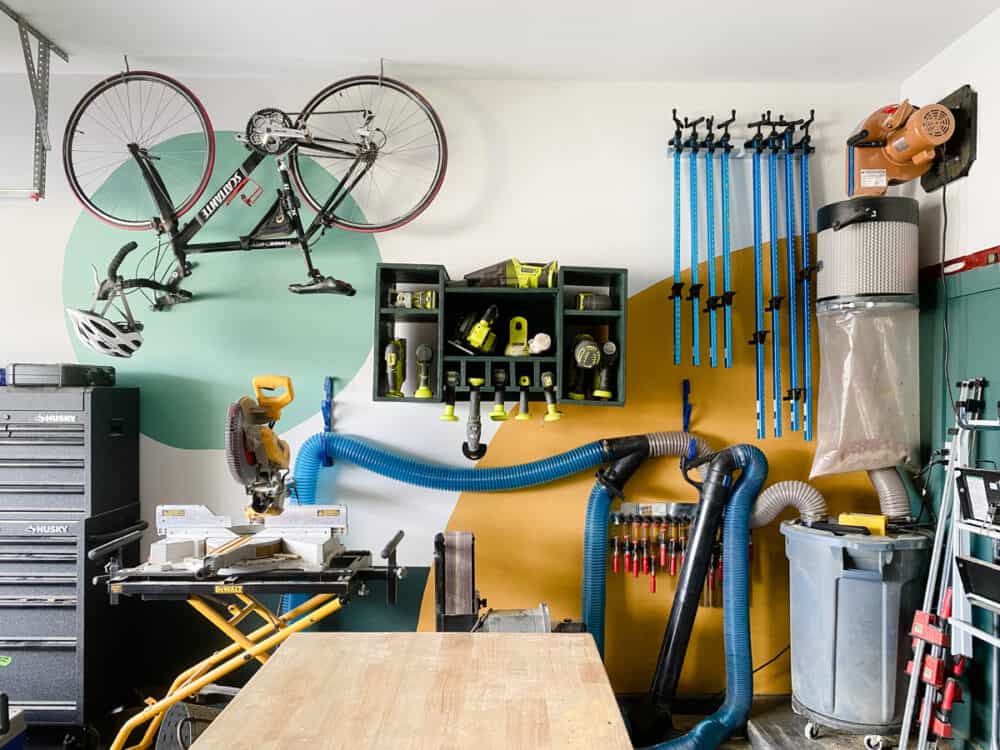 This post is sponsored by Kreg and Build Something.
We're quickly approaching our one-year mark of living in this house and one of my biggest goals for this year was to get our garage as organized as I possibly could. We've always used our garages as a workshop space, but we've never really and truly taken the time to et them as organized and functional as they could be. And as a result, we've always been pretty frustrated by our workshop spaces!
I've been working on slowly organizing our workshop one section at a time, and also doing my best to make it look great in the process. I started with the back wall and added some board & batten to make it cute, then I painted a little mural when I organized another wall.
This time around, I needed some tool organization. We've been just throwing our tools into a cabinet in our workbench and it was not working. They were in complete disarray all the time and I often ended up leaving them out because it was such a pain to shove them all in the cabinet.
Enter the tool storage cabinet!
I got a wild hair a couple of weeks back and painted a big mural on this last wall (click here to watch that!), and I had a nice, empty spot just waiting for some organization.
I researched a ton of different DIY versions of this basic idea, and I pieced together a design that would accomplish exactly what I needed – to get all of my most-used tools in an easy-to-access and fully organized spot, so I can grab them easily and (more importantly) clean them up easily!
The full plans for this project are over on BuildSomething.com today! If you haven't checked it out before, it's a really useful website from the folks at Kreg that has tons of building plans and ideas in just about every category. I've shared a few projects over there, and I love checking it out when I need ideas for new building projects!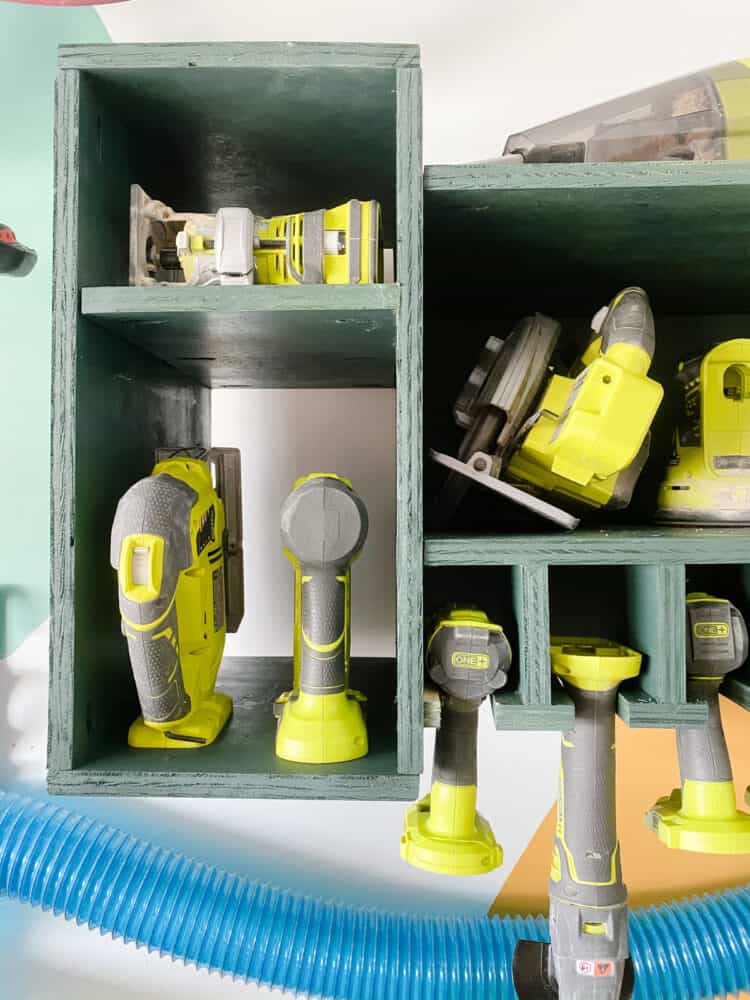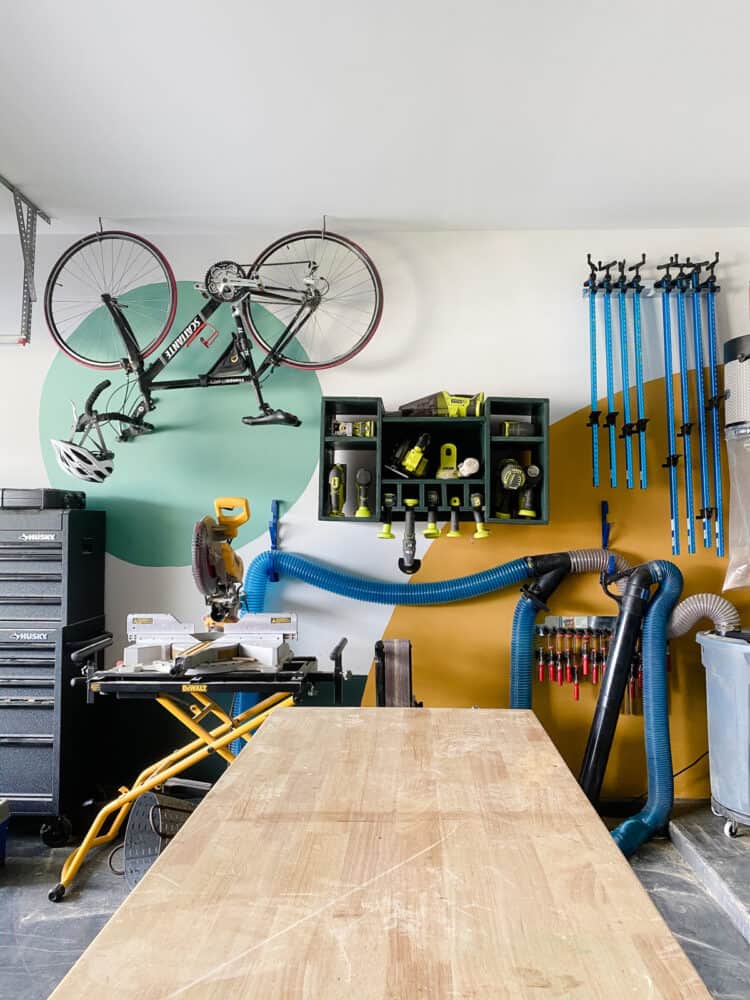 I built this over a couple of days all by myself and, while it's not at all perfect (there are a couple of wonky shelves, for sure!), it is always so satisfying to see a design from my head come to life!
This tool organization system holds so much and I was honestly a little surprised once I finished it at how many tools I was able to put up there. I already find that the garage feels way cleaner, and it's so much easier for me to put things away when I'm done because it all actually has a dedicated spot (what a novel concept!).
I, of course, decided to paint my tool storage cabinet a fun dark green color (Hunt Club Green by Rust-Oleum) – I wanted it to feel like it belonged with the rest of the fun colors on the wall, and I love how it turned out. I'm a big believer that your spaces stay more organized for the long haul if you take the time to make them look pretty too (versus just organizing without making it look nice), and I have a feeling that this cute little wall is going to be highly motivating for me when it comes to keeping the garage clean!
Plus, I already feel so much more inspired just being out here now – there's something about letting your creativity run free all over the walls in the space where you want to be most creative that's really satisfying.
Click here for the full project plans and directions if you need some tool organization yourself! And, while you're there, be sure to take a moment to browse around on BuildSomething.com to see what other projects you could tackle!