2018 Christmas Gift Guide: Board Games
Can you believe it's already the last day of November? Christmas is just around the corner, so I'm continuing our gift guide today with my very favorite category of gift ideas – board games!
We love a good board game around here, and when the holidays hit it seems that everyone turns into a fan of games. Corey and I are always looking for new and unique games to play, so today I'm sharing a few of our favorite games of the year that are sure to be a fabulous gift for anyone on your list.
Miss any of the other posts in our gift guide series? Catch up here!
2018 Christmas Gift Guide
Okay, let's jump in – I divided the big ol' list of our favorite games into categories to help you find the perfect game for any person (or any occasion). I'm only including games that Corey and I have personally tried and can vouch for – I know there are a ton of other great party games out there, so if you have one that you're shocked I didn't include, please let me know in the comments so we can add it to our list of games to try!
40 Board Game Gift Ideas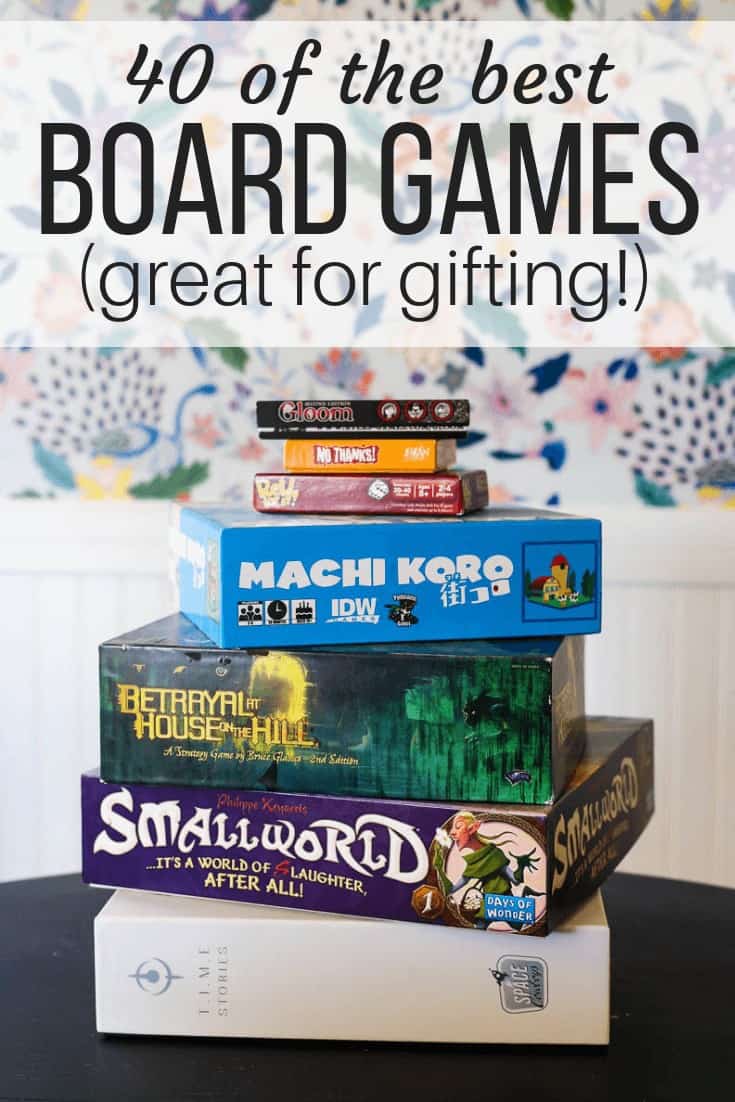 This post contains affiliate links. Click here to read my full disclosure policy.
For people who like to chat while they play
These games are perfect for the family gathering full of kiddos running around, or for that friend who just can't seem to focus on one thing at a time. They don't require a ton of attention, or they're team games which means it's no big deal if one person needs to step away. They're perfect for groups of people who love to chat, or who just want something to do while you watch a Christmas movie.
Games for the devoted gamers
This section is perfect for people who take board gaming seriously and don't mind spending a few hours on one game. The games are a bit more complex and require attention, strategy, and may have a bit of a learning curve. Any of these games can definitely be played by inexperienced gamers, but you'll want to save them for a group of people willing to invest some time in playing!
The crowd-pleasers
These games are just the all-around great games. They're well-balanced, will only take up about 45-minutes to an hour, and aren't too hard to learn. These are some of the games we're most likely to bring to gatherings with friends who we know are board game fans, and they never fail to be winners!
Games that will feel familiar
Do you want to try something new but don't want to branch too far out of your comfort zone? These games are all similar to other, mega-popular, games but with a fresh twist. They're perfect for someone who wants to expand their board game collection but has an affinity for the classics.
For the crowd with a short attention span
These games all take 20 minutes or less – some can be played in as few as 10 minutes! They're perfect for when you want to squeeze in a quick game in-between dinner and dessert, or if your group just can't stay focused for long!
Games that are guaranteed to make you laugh
These games are best for a group who likes to be a little silly and isn't afraid to get really into the game. They require a bit of creativity and a sense of humor – and they never fail to put us in a fit of giggles.
For the group that likes to work together
These are all cooperative games, meaning the entire group plays as one – you all win, or you all lose! This is perfect for a group who gets a little too competitive, or for when you just all wanna get along.
Games the kids will love too
Many of the other games on this list are great for kids, but these games are ones that we've found are particularly appealing to the younger crowd (while still being great for adults too).
I hope you find a few games on this list to try out this holiday season! They're all great games that we've played many times over the years, and I can guarantee we'll be pulling a few of them out for our Christmas gatherings!
What are your favorite games to play this time of year?