Selling a house is stressful. There's just no way around it. You have to turn your life upside down, allow dozens of strangers to come tromping through your house, criticizing it and evaluating what they do (and don't) like about it, and keep your fingers crossed someone likes it enough to buy it. And even once you've found a buyer, you still have to have someone spend a few hours in your house whose literal job is to find every tiny thing that's wrong with your house.
Stress. Ful.
As hard as it can all be, staging doesn't have to be the most difficult part of the selling process. I know a lot of people struggle with how to stage your home, how much it might cost to stage your home, and what it really even means to stage your home – I promise, it's not all that complicated. I picked up a few things along the way as I was staging my home to sell, so today I want to share a few home staging tips that might help you out if you're preparing to sell your home.
I snapped a few photos of our staged and styled living room moments before we left the house for one of our showings, so the photos below show exactly what it looked like when people walked through. I've just sprinkled a few visual examples throughout the home staging tips to help you get an idea of what it might look like in practice – keep in mind, I didn't spend any money to do this (aside from having the house cleaned) and it only took me about an afternoon to get it all staged and ready.
(Need the info but don't have time to read it now? Be sure to pin this post for later!)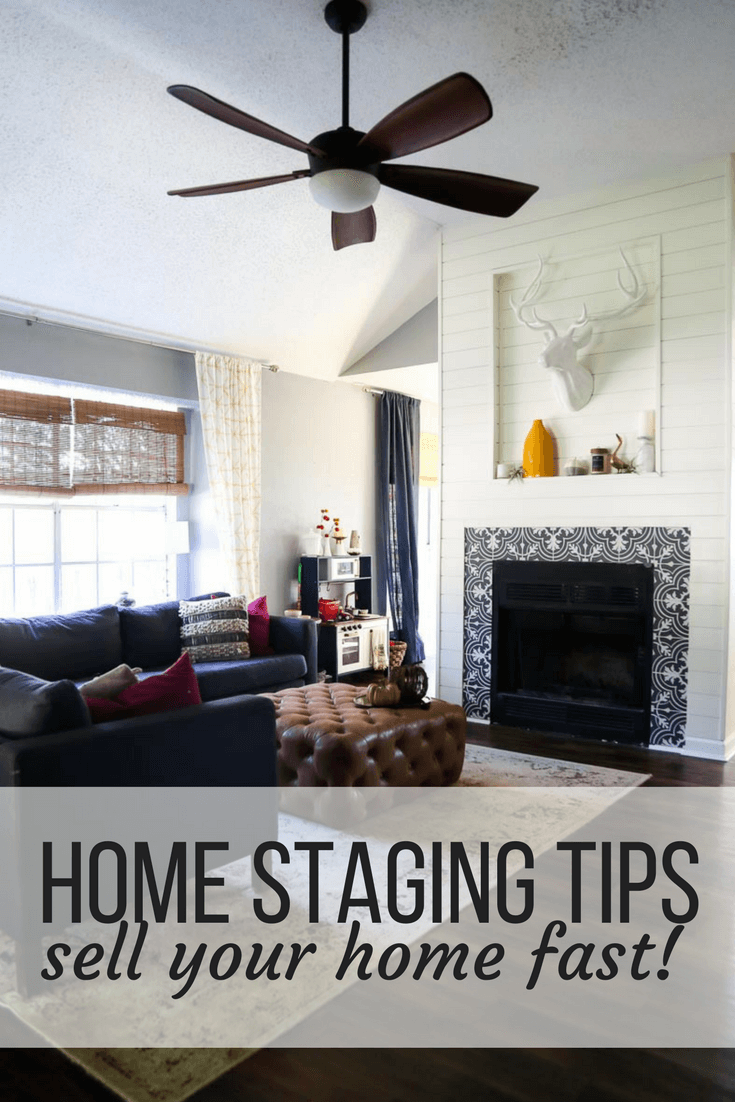 10 EASY HOME STAGING TIPS
First up, remove any furniture from the room that you can live without for a few weeks. When people are walking through your home, you want the room to look as open and empty as possible – this makes the room feel larger, which is always a plus to potential buyers. Remove any kid furniture or anything that might make the room feel smaller. For us, this meant that we moved my desk up to the guest room, and we removed both Jackson's play kitchen and his toddler table. You could just toss the excess stuff in the garage, but I'd actually recommend something else. Like…
If it's in the budget, rent a storage unit. I know, I know. Normally I'm actually pretty against storage units (it seems silly to me to pay money to store stuff that can't fit in my home – why have the stuff in the first place?), but for this purpose, it's actually perfect. Corey and I found a storage unit really close to our home that was very affordable and had no minimum rental period. We got a 10×10 storage unit and as we were clearing our house and preparing it for showings, we slowly started taking things over there. It was the perfect way to get things out of our house that might be in the way during showings, and we can cancel our lease at the storage unit as soon as we move into the new house and pull all of our stuff out. The reason I recommend this over just tossing everything in the garage is that a stuffed-full garage can send the message that there isn't enough room in the house to store everything. If you can keep your garage and all of your closets as empty as possible, it creates the feeling that there's ample storage in your home.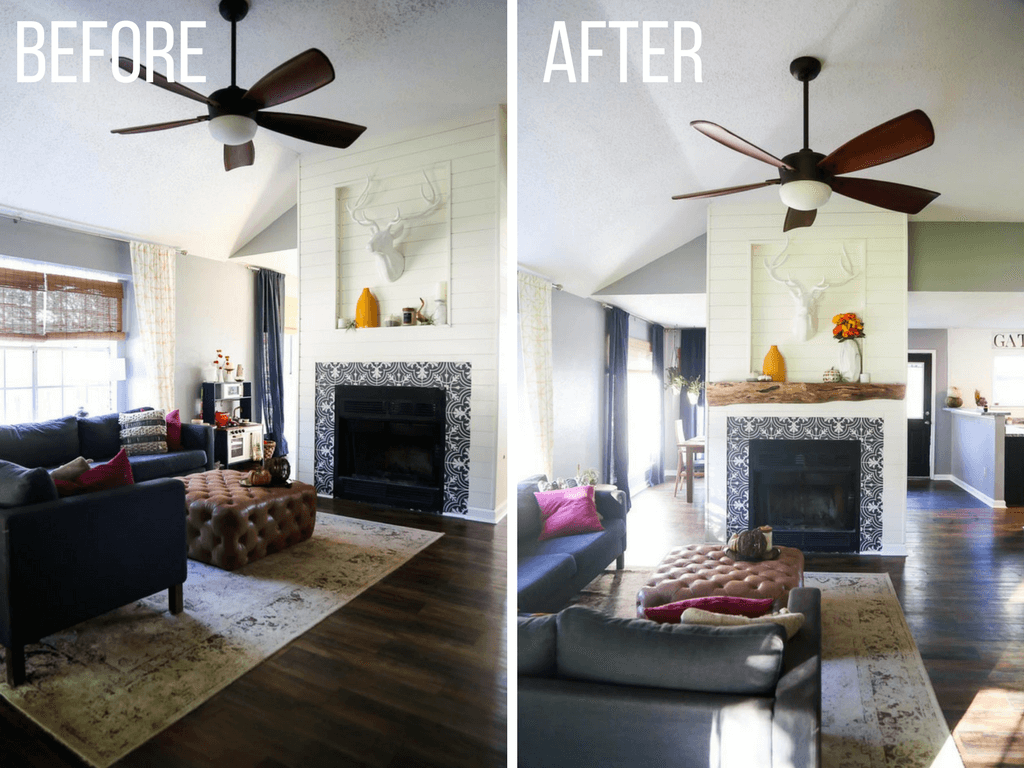 Take down super personal decor, but don't go too far. Obviously, you'll want to remove family photos, take down anything super specific to your family, and pack away your creepy doll collection (I won't judge!). But, depending on your market I would be careful not to go crazy with this. I would argue that one of the main reasons our home was so highly desired by buyers was because it was well-decorated, which set it apart from other listings. You want buyers to be able to envision themselves in your home, but you also want them to feel like your home is one they want to be in. If you remove all of your decor, the home looks just like every other house on the market. However, if you leave some neutral, simple, and beautiful decor up, buyers may be much more interested in seeing your home. Again, this may vary depending on what your market looks like (we talked more about knowing your market when I discussed things to do before listing your house), but I followed these guidelines and we had people clamoring to come see our house and had multiple offers within 48 hours (and my agent had to immediately switch the listing to pending because his phone was still ringing off the hook). So, I'd recommend trying to find a good balance between well-decorated but not-too-personal.
Clear the counters, and keep most surfaces clean. I took down a lot of the decor that I normally have on our entry table, and I moved everything off of the counters that we didn't absolutely need. The cleaner your counters and tables are, the less distraction there is for potential buyers. But, again, I'd recommend leaving at least some decor out. A totally empty entry table may not be distracting but it also doesn't do your home any favors!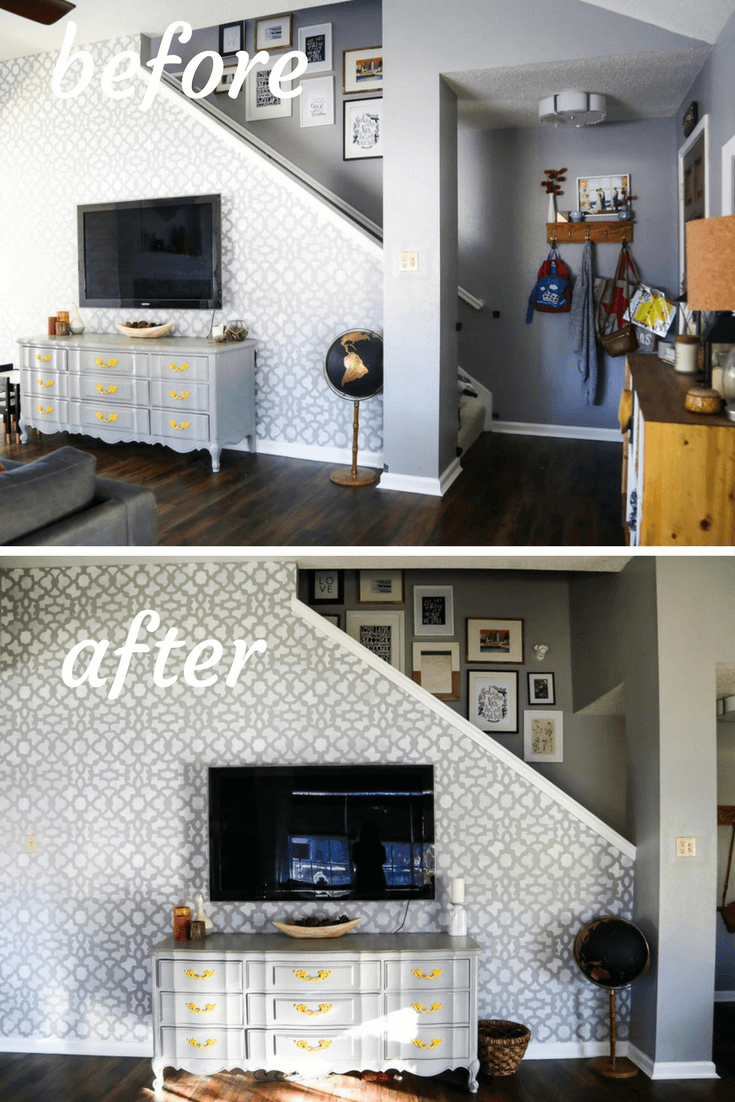 Don't forget about the exterior! Our home has never been super strong on the curb appeal front, but we made sure to do what we could to make the exterior of our house feel cozy and clean. I cleaned up in the backyard and left our patio and Jackson's play area looking nice and neat. We also got rid of any trash or leftover project materials floating around in the backyard and the workshop, and set a fresh new welcome mat by the front door.
Set the table! I didn't fully set our dining room table, but I did put out a pretty centerpiece and left our placemats on the table. I did set the breakfast nook table with plates and fabric napkins, though. Basically, you want to create a cozy feel that screams "this is home!" and one of the very best ways to do that is by creating a mental image of family dinners around the dining room table.
Try to finish all of your projects, but if you don't, just leave a note! Corey and I had about 3 projects that we were still scrambling to finish when our house went up on the MLS. We considered waiting, but we really wanted the weekend traffic and didn't want to push back to the following weekend since we had already had an offer accepted on the house we'll be purchasing. We needed to get moving, we just weren't 100% done. I left a short hand-written note on our counter with a list of the projects we were still wrapping up. It didn't stop anyone from putting in an offer, and it bought us a little extra time to get things done.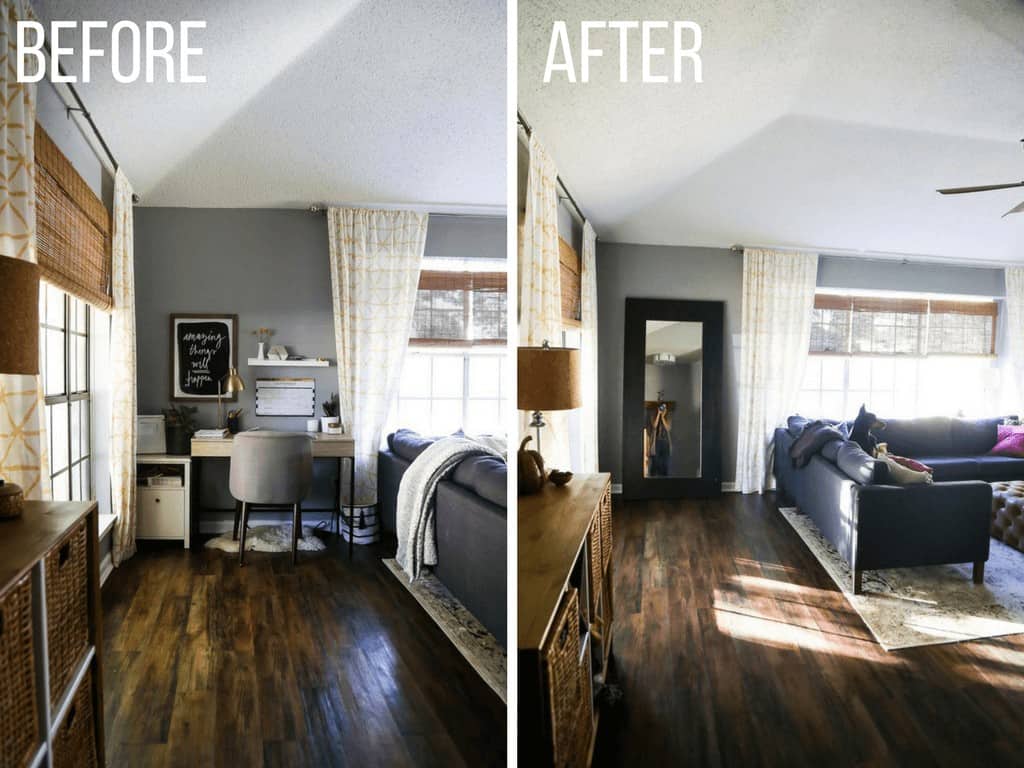 Have your home professionally cleaned. Listen, if you really want to save money then do it yourself. However, I found that it was 100% worth it to hire someone to come out to my house and thoroughly clean it so that I didn't have to. I made sure she cleaned the ceilings, the baseboards, and all of the little nooks and crannies that often get missed in a normal cleaning routine. This is vital for putting your best foot forward for potential buyers, and will go a long way to making your house look better.
Once it's cleaned, KEEP IT CLEAN! Okay, this is the hardest part. After you have your home cleaned, you want to keep it that way. I recommend getting your home cleaned as closely as possible to the actual listing (we had our home cleaned on Thursday and the listing went up on Friday evening), and I also recommend planning ahead so that you can avoid making any unnecessary messes. I went grocery shopping while the cleaning lady was at our house and purchased a bunch of pre-prepared meals, a rotisserie chicken, sandwich supplies, and a few other things that would help me make sure I didn't need to do any cooking in my house over the weekend. I was pretty confident we wouldn't be dealing with showings for too terribly long, so I was able to completely avoid food prep from the time she cleaned until the time we accepted an offer. If your wait is a little longer, my wonderful Instagram followers helped me remember that a crockpot can be a genius way to keep the kitchen clean. Another measure we took was to take showers in Jackson's bathroom instead of ours after our shower glass had been cleaned – we knew our bathroom would be a big selling feature, so we wanted it to look as good as possible.
Have a pre-showing routine. Every time we had a showing scheduled, I had a quick routine I'd run through to make sure the house was ready (we had 7 over the course of the weekend, so I got really good at this). I vacuumed about twice over the course of each day and mopped at the beginning of each day (I didn't find that it was necessary to do those before each showing, but if you have carpet you may want to). I did a quick walkthrough of the entire house and checked for anything out of place – I cleared the counters, moved anything off the floor, and made sure a few lamps were on to add a cozy feeling. I checked to make sure that the lids to the toilet were closed, and I opened all of the curtains and blinds. On my way out the door, I made sure to fluff all of the pillows on the couch and take the trash out. It only took about 5 minutes by the time I got the hang of it, and when we had multiple showings in a day it was pretty easy to keep everything clean.
Staging can be stressful, but it doesn't have to be! You don't need to go out and spend a ton of money – I did all of this for free, and didn't spend a single cent (aside from finishing up projects we already had planned and having the house cleaned) in order to stage our house. A few other suggestions could be sprinkling some fresh flowers throughout your house, lighting a candle for an hour or so before the showing, and grabbing some pretty new plants for your front porch.
When all else fails, one thing that helped us a lot was asking ourselves, "Is this problem area going to prevent someone from purchasing our house?" For example, we didn't get around to moving some wood we had by the side of the house, but we knew that wasn't going to be a huge deterrent. It's all about prioritizing and knowing what will actually make a difference and what probably won't.
Have you ever staged a home to sell? Do you have any home staging tips to share?