Moving Tips & Tricks: Our 6-Week Timeline
We're just over six weeks away from moving to our new house (!!!), and I wanted to check in today with an update. I've also got some tips for making the moving process as easy and painless as possible!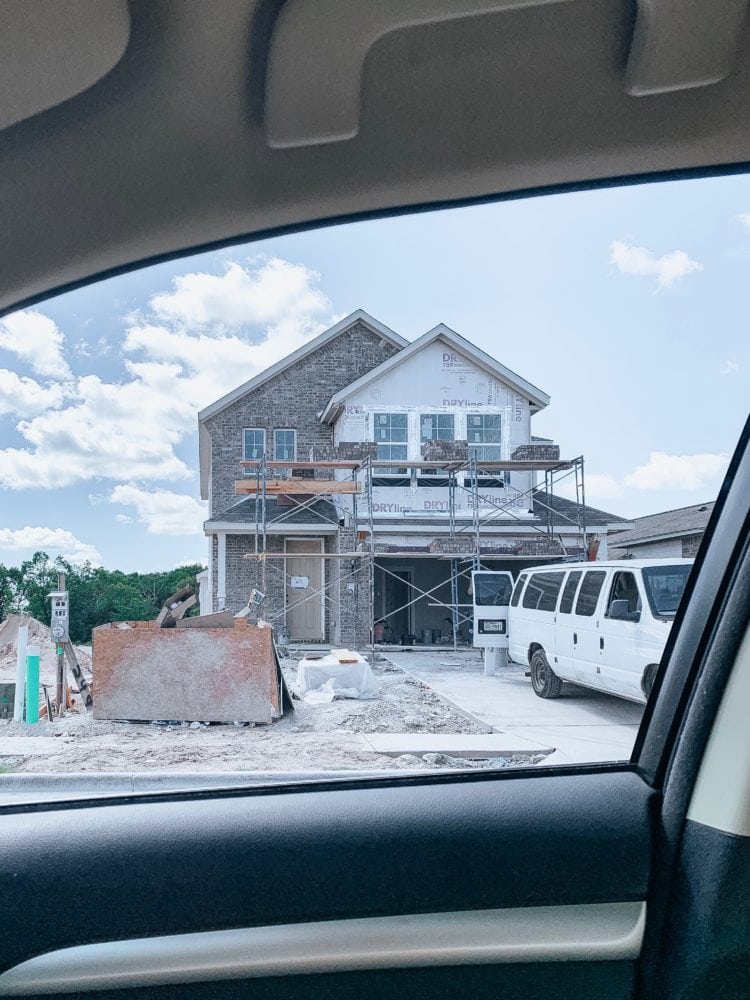 It's hard to believe that after all of this planning and excitement we're finally at just under six weeks before we get to settle in to our new house! Brick is going up, they're prepping the subfloor for the flooring install, and doors were hung! We've been doing lots of preparing and planning on our end (moving is exhausting!), so I thought today would be a good day for a little check in to see how things are coming along.
Want more of our moving journey?
One thing I didn't anticipate about building a new house is all of the stress that surrounds the actual building of your house. We drive past the new house to check in on it all the time, and if they haven't made progress in a few days we start to get a little antsy – will they finish on time? Will we have to push our closing date back?!
Regardless of what happens with the building, we're told we have six weeks left before the big move. So, we're officially within the timeframe that I feel like I can start making some serious progress! Today I'm putting it on the blog to help keep me accountable and motivated to start getting things done! Since we're chatting moving today, I figured it was the perfect time to share aaaaaall of my favorite moving tips and tricks in one big place!
moving tips and tricks
Everyone's to-do list will vary pretty greatly depending on what you need to do in your house. But, last time we were moving I spent some time making a really detailed 6-week timeline to keep me on track! A small version of it is pictured below, but you can see the full 6-week moving checklist here. I'll be referencing this timeline a lot as I work on prepping our house!


Once your timeline is planned, there's still a lot left to do! Here are some other moving posts that should be really helpful as you start the packing up and moving process. They're listed in order of when you'll need them – from before you even list to right up until move day!
Our 6-week moving timeline
Here's a more detailed look at what I'm hoping to accomplish this time around in the next 6 weeks. These are the big projects that I want to tackle each week until we move. Most of this will be in addition to the timeline from last time!
WEEK ONE (this week!): The goal: Garage clean out! This will be the biggest and most overwhelming part of the entire moving process for us. We've pared down a lot of our belongings over the last couple of years (a 1,100 square foot house will do that to you!), but the garage is a complete and utter disaster. I'm going to spend a lot of time out there working this week and weekend.
WEEK TWO: The goal: Sell a ton of stuff! Next week, my big focus will be on selling some things around the house that won't be coming with us. I don't want to waste time moving anything that we already know we won't be keeping. So I'll spend next week listing things on Craigslist and Facebook Marketplace. I'll (hopefully) be offloading as much as possible to make the move even easier! (See my tips for selling things on Facebook right here)
WEEK THREE: The goal: Do one final purge! I keep things around our house pretty minimal, but I always see moving as a really great time to pare down even more. I'll be doing a quick week-long purging spree to get rid of as much as I can before we officially start packing everything up. This will also be a great time to take anything that didn't sell last week to be donated!
WEEK FOUR: The goal: Pack the non-essentials! This is where I reeeeeally get into the whole packing thing and start making some serious progress on packing up the house. My goal in week four will be to pack everything except for the essentials. This will really be the time where the house starts to feel a little, uh, chaotic! My official goal will be to pack up the non-essentials in the kitchen, bathrooms, laundry room, and living room. I like to save the kids' rooms for last to help keep life as normal as possible until the last minute.
WEEK FIVE: The goal: Clean, prep, and organize! At this point we'll be down to the wire and should have a better idea of if we'll actually be closing on time or not. My plan will be to take care of all the last minute organizational things like scheduling the utilities switch, scheduling the house cleaner, and making a final to-do list. I'll also (hopefully) be starting to pack up the rest of the house!
WEEK SIX: The goal: Buy a house! This is the week we're scheduled to close on the new house! We don't actually have to have everything out until the following week, so my plan is to spend this week slowly moving things over. Oh, and (spoiler alert) starting on our very first project in the new house! We love scheduling our moves so that we have several days to get things from one house to the other, because it makes things a lot less stressful. Since we can't be guaranteed that we'll close on time (keep your fingers crossed!), I won't really know what this week looks like until we get a little closer. But basically, this is crunch time!
I never considered how buying a brand new home would make all of the timelines a little more iffy feeling! We technically have a scheduled close date but I hate to get too set on it. You never know what could happen!
Keep your fingers crossed for us that we're able to close on time and that six weeks from now we'll be getting ready to settle in. And, of course, if you've been reading for a while then you know the drill – be sure to tune into Instagram stories to catch the play-by-play of aaaaaall this moving excitement. You know I'll be sharing the details and how I'm progressing on my goals as we go. It should be a fun time for everyone!