Welcome to styling week! As part of our No-Spend Summer Challenge, this week is all about styling things in your home by working with what you've got. And, I have to say, I'm really excited about it! I'm pretty bad about styling things and just leaving it for months without making any more updates. But, I love breathing some fresh life into my home by playing with the decor. So today, we're talking about how to decorate a mantel, and I'm sharing three different ideas from my own mantel!
Our mantel has looked largely the same since I finished building our DIY fireplace It's fine, because I really do love how it looks! But, it was really fun to try switching things up a bit. I find it's such a great way to stretch my creative muscles and always leaves me feeling inspired. I'll share at the end of the post which one I ended up sticking with…and if we're being honest, it'll probably stay looking exactly like that until it's time to decorate for Halloween in a few months!
3 ideas for how to decorate a mantel
style one: ALL THE PLANTS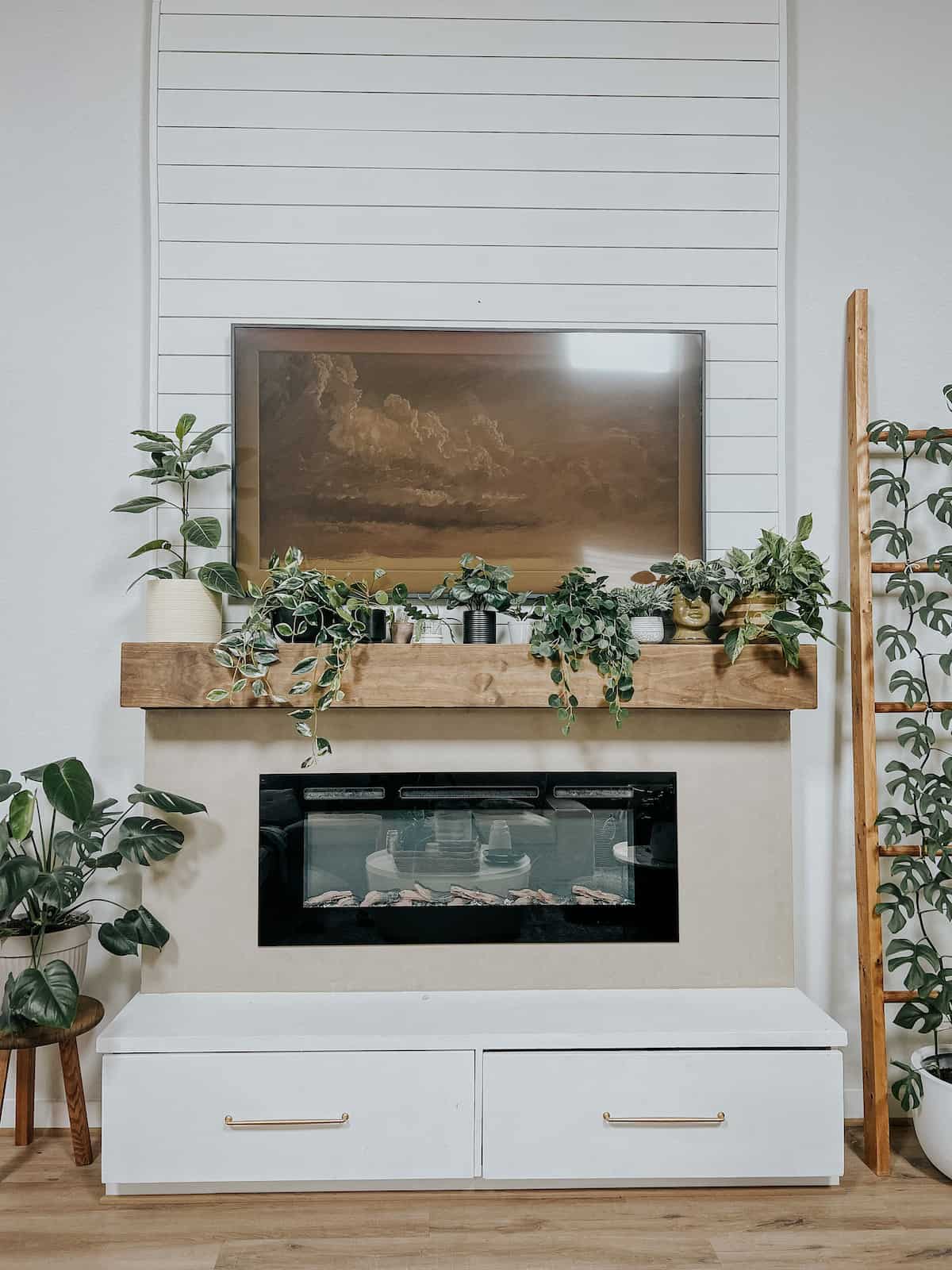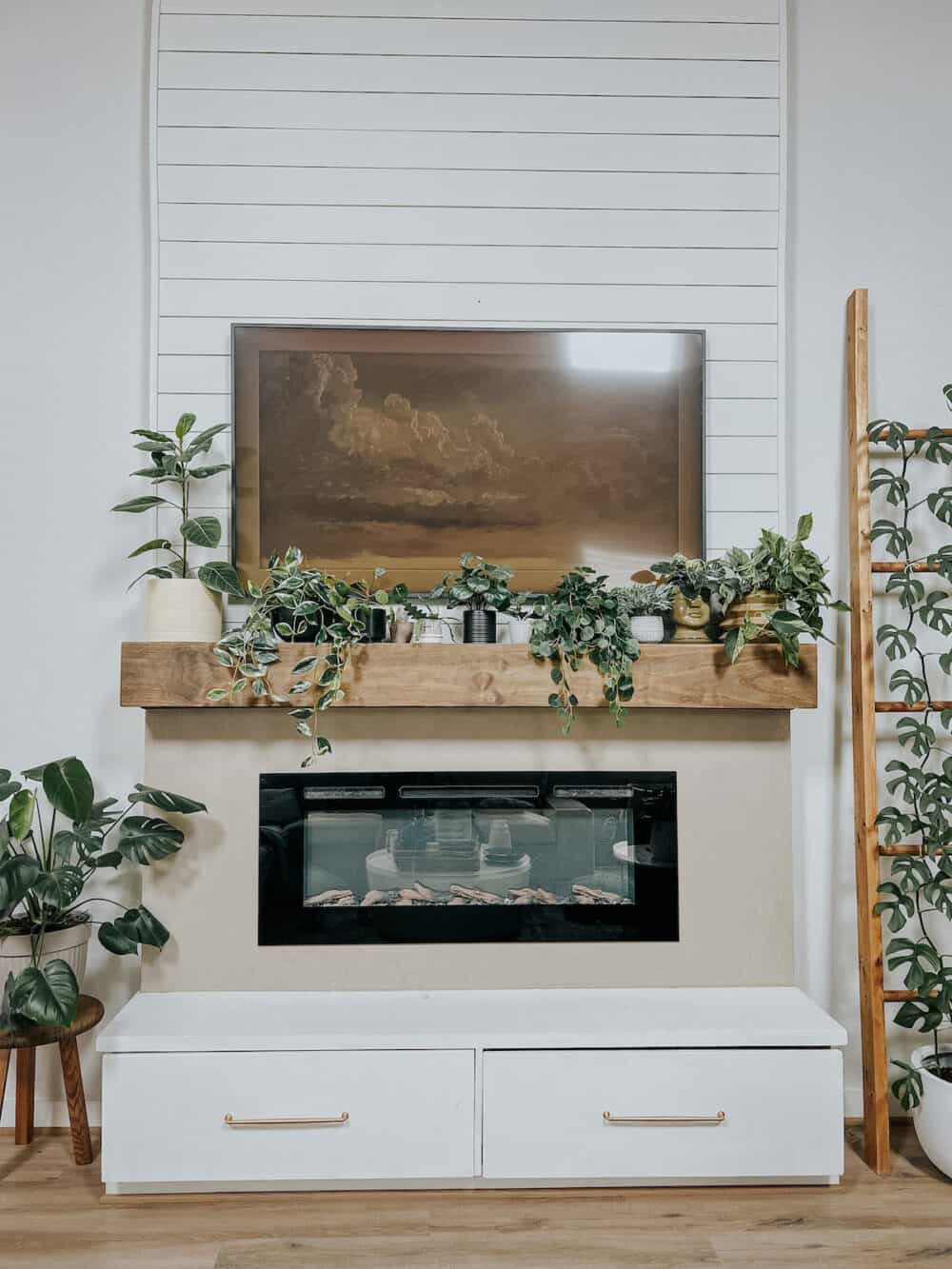 For the first attempt I, OF COURSE, had to just go wild with plants. Because why the heck not? We all know I'm a little obsessed with decorating with all the plants I can, so this one was really fun for me.
You may or may not be able to tell, but this is a solid mix of real and faux plants. I wanted to make it look really full, but many of my live plants are too big to fit under the television, so I had to pull from my faux collection.
I really, really love how it turned out. This is something I could definitely see myself doing on occasion – like at the beginning of spring when the whole house feels like it needs some extra life!
Here are some tips for decorating your mantel with plants:
Consider the light the area will get. This is across the room from a few windows, so any plants on here will get a fair amount of indirect light, but I wouldn't put any high-needs or difficult plants over here.
Don't forget to add a drip tray under any plants you plan to water on your mantel! You don't want to damage the wood with any dripping water.
Play around with the size, scale, and shape of the plants. Have some that will hang down over the side, some that will stand up tall, and some in-between!
You can do a really concentrated and lush look (like I've done here), or you can keep it more sparse and just line up plants with a little more room to breathe. It's all about what makes you smile!
Looking for some faux plants that would be perfect for the mantel? II've got you covered.

Style Two: Keep it SimplE + Symmetrical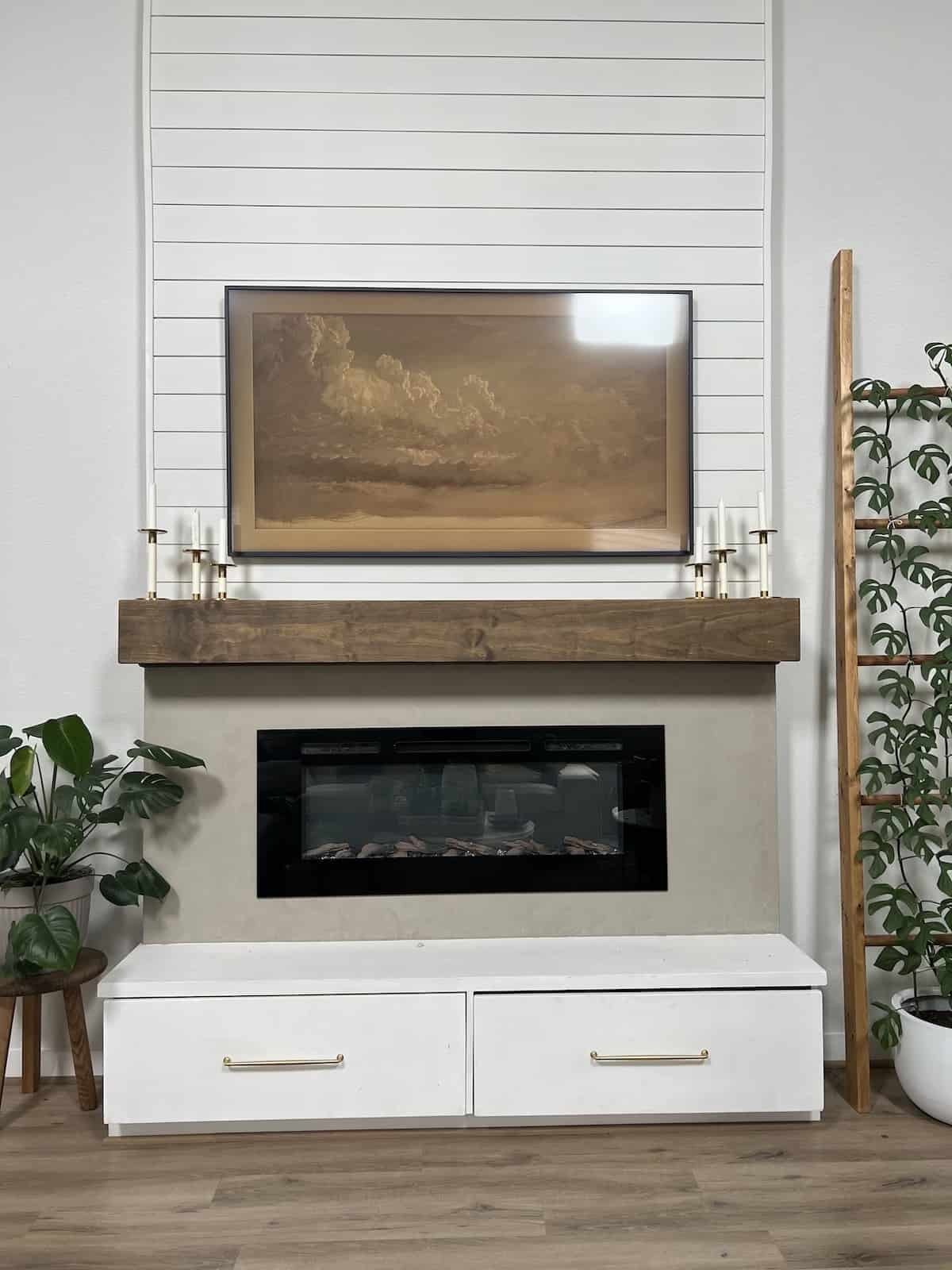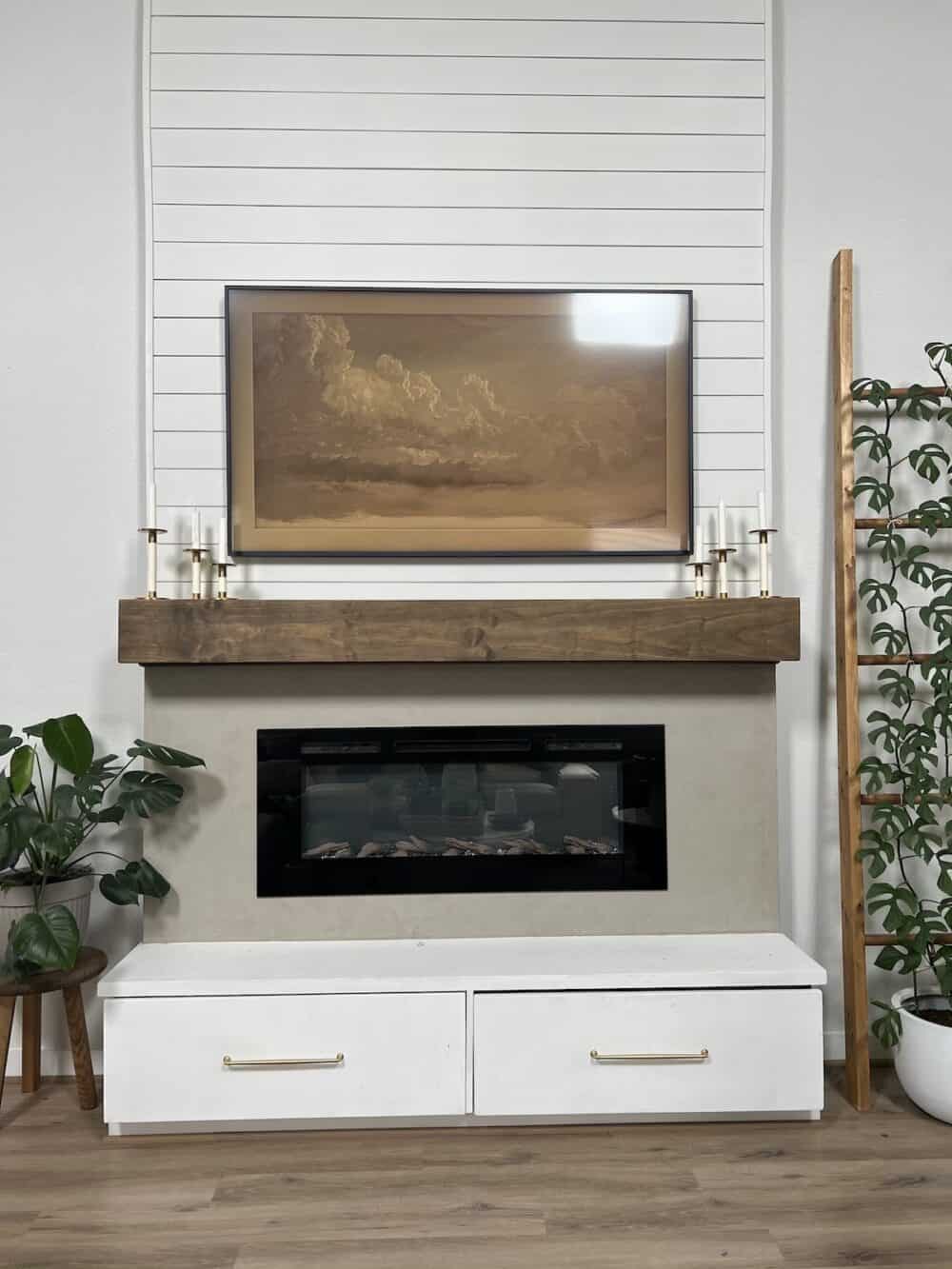 If you're looking for something super simple and easy to maintain – why not just toss a few candles up there? It's romantic and classic, and it looks great. This is a really good option if you have a lot going on in your space and need a good spot for your eyes to rest.
I kept the candles away from the base of the television, for obvious reasons, but if you don't have a TV there you could line the entire length of the mantel with candles. It would feel so magical when you light it up!
A few tips:
You can gather them on either side of the mantel, like I've done here, or you can spread them out.
Get varying heights of candles – if you keep them all exactly the same, the display won't have any dimension!
You can either use all the same candleholders, or you can do a collection of mismatched ones. Vintage candlesticks would be so beautiful displayed all together on the mantel!
Here's a few gorgeous candle holder options that would be great for this.

Style Three: STYLE EACH SIDE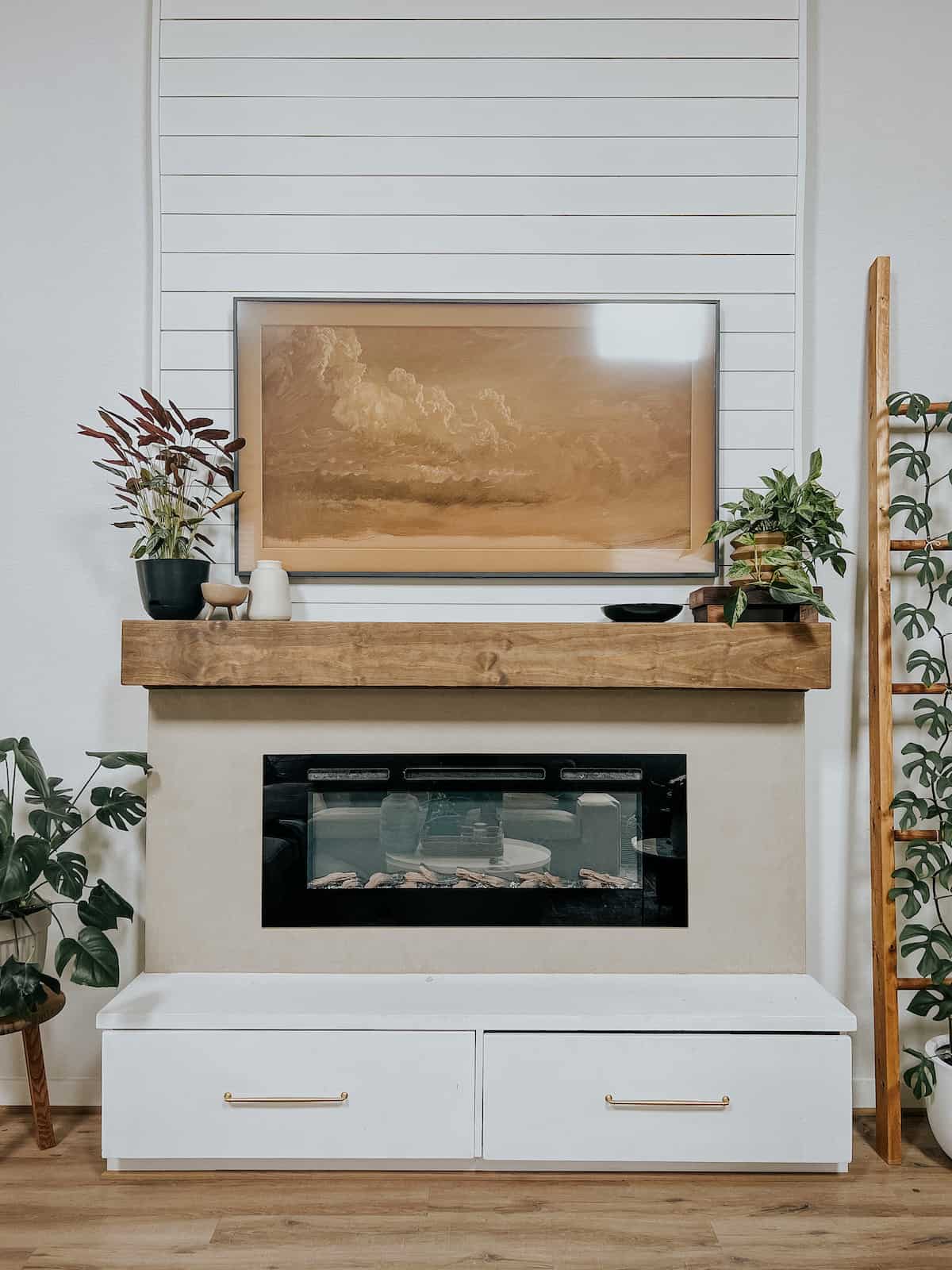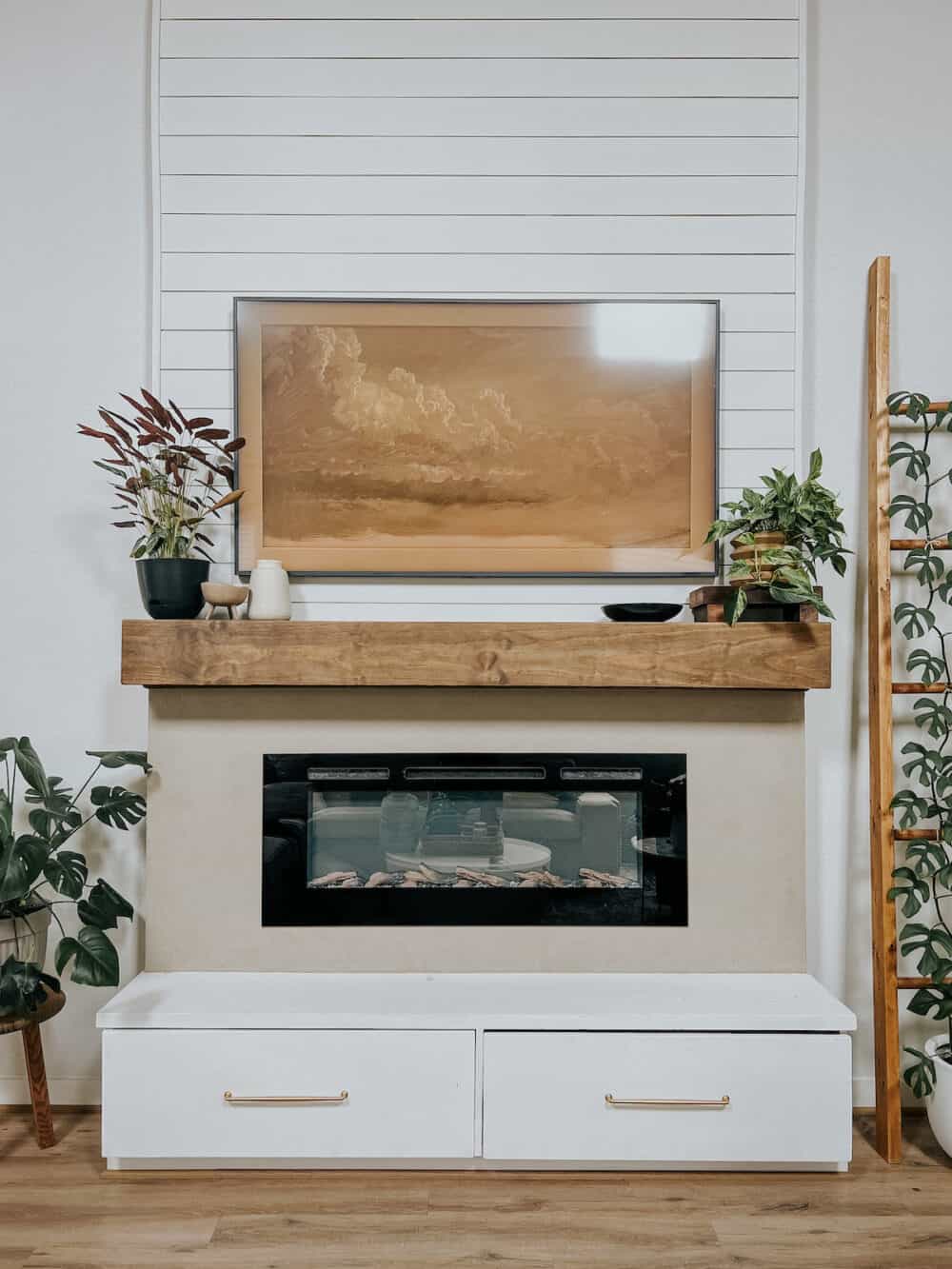 This is how my mantel typically looks on a day-to-day basis (and how I plan to leave it now!). Nothing super fancy or complicated, just a few pretty pieces on either side of the television. I really like that this side allows the shiplap and the art on our television to shine. I also like that it gives some room for your eyes to rest. We've got a lot going on in the rest of our living room (especially when it comes to plants), so keeping it simple over here is great.
When I'm taking this simple approach to styling, I generally leave the area underneath the television empty, then I gather 2-3 things on either side of the TV. If we didn't have a TV here, I'd probably have a large mirror or piece of artwork. So, I think my general approach would be the same either way!
Here are some tips for the this method of styling:
Remember that groupings of 3 things is usually the most visually-pleasing. This is really easy to do on the mantel – add a vase, a bowl, and a plant and you're good to go!
Try to find some items with good height to anchor each side. If everything is really low to the mantel, it might fall flat. I always try to have a tall plant, some big floral stems, or a taller vase on either side of the television – it helps the scale make more sense and grounds everything!
Things like vases, candles, pretty bowls, and books are really great to use here!
If you'd like to fill the space in the middle, low candles, a long dough bowl, or a small stack of books would all look great.
This was a really fun little exercise in styling, and I definitely should do it more often. Stay tuned later this week to see my official styling project for this week…because this isn't all I'm doing!
Need More Styling Tips?