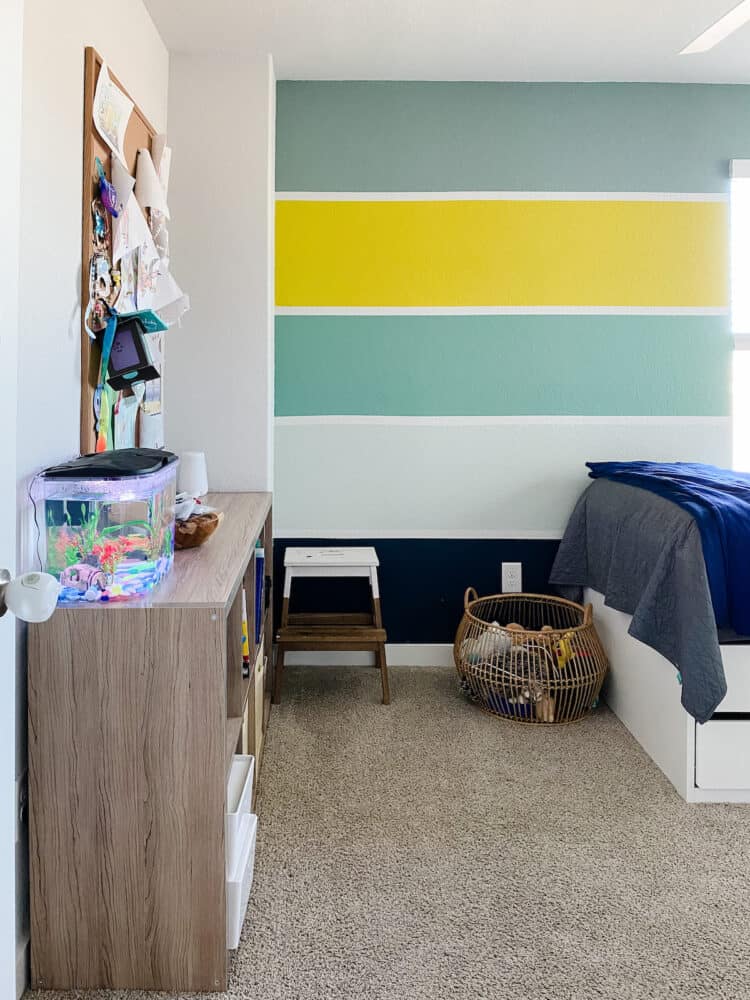 Do you let your kids have a lot of say in how their rooms are decorated?
It's always been important to me that Jackson is able to have some sort of control over his space, but he's just now really getting to an age where he knows what he loves and can really verbalize what he wants for his room.
He's been talking about wanting a change for the last few months, and this week we're diving into the first ever room makeover that's been fully directed by Jackson himself!
He's got opinions, friends, and he's ready to share them.
You may be wondering to yourself, didn't you just decorate his room last year?
Why yes, yes we did.
And we still love the bold stripes he has on his walls – they're fun and cheery and make me smile every day. But, he's ready for a change and I'm a big believer in letting kids have a fair amount of freedom when it comes to their rooms – paint is cheap and easy to change, so why not have fun with it?!
If you want to watch his new room come together over the next couple of weeks, be sure to follow my Instagram stories for all of the behind-the-scenes. But, in the meantime, I thought it'd be fun to take a look back at all of the rooms Jackson has ever had! I think it's fascinating to see how styles shift and evolve over time, and you know I love me a good throwback!
jackson's nursery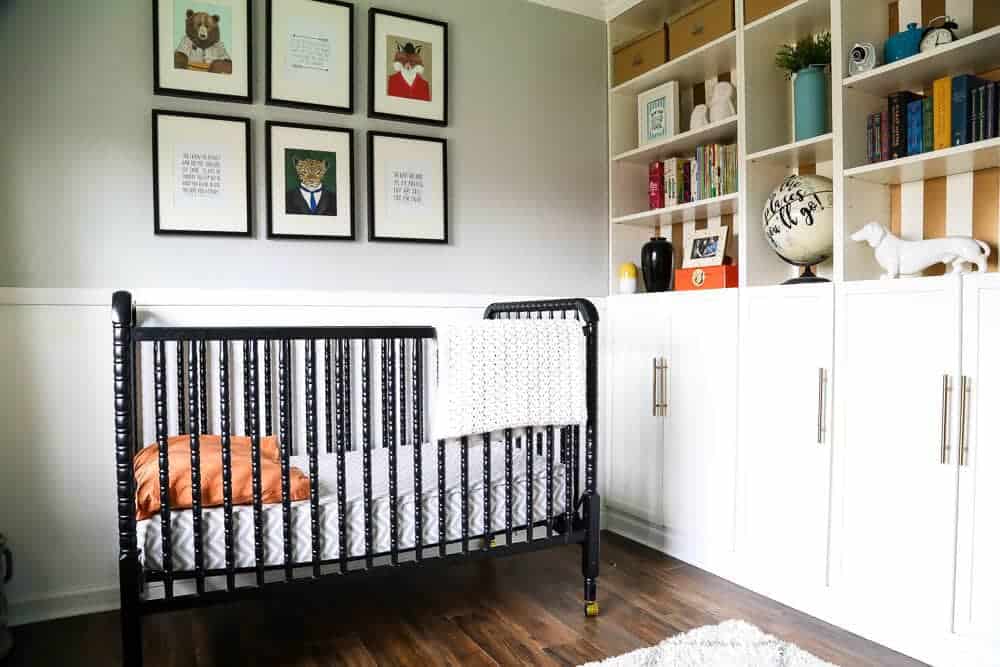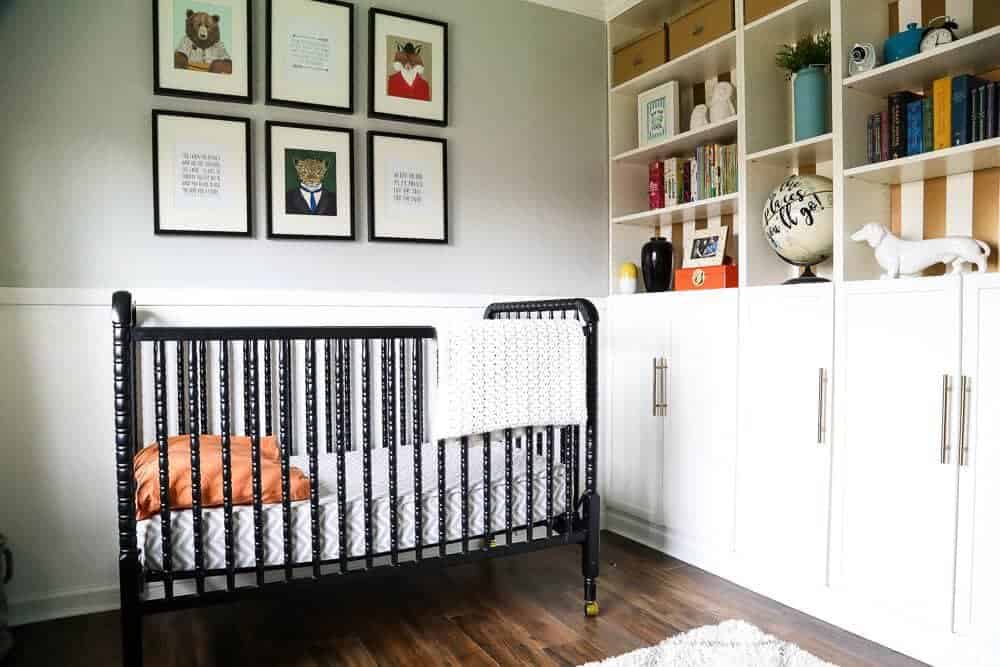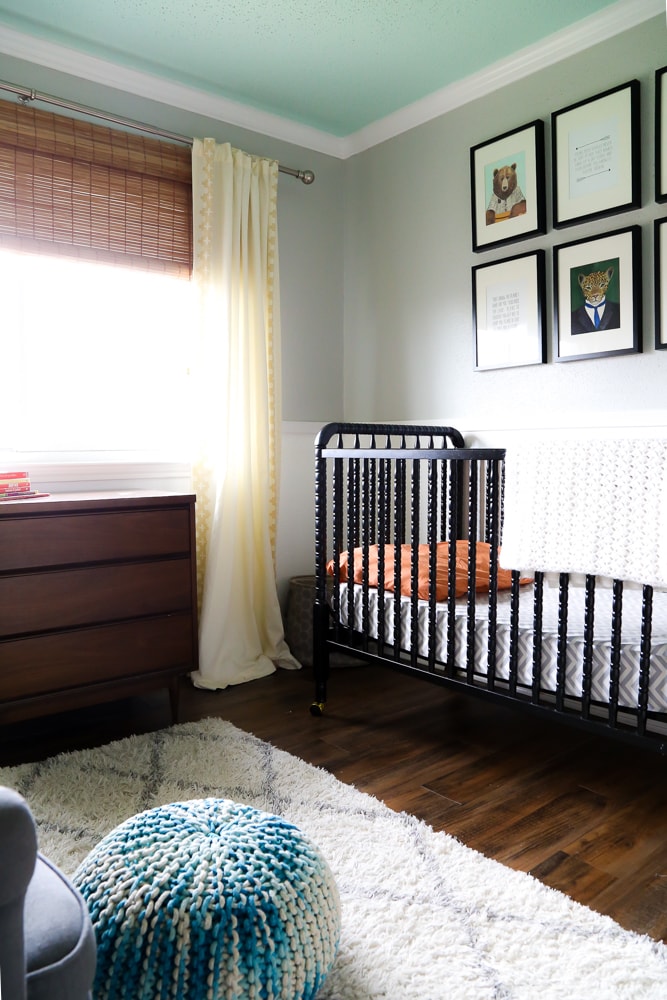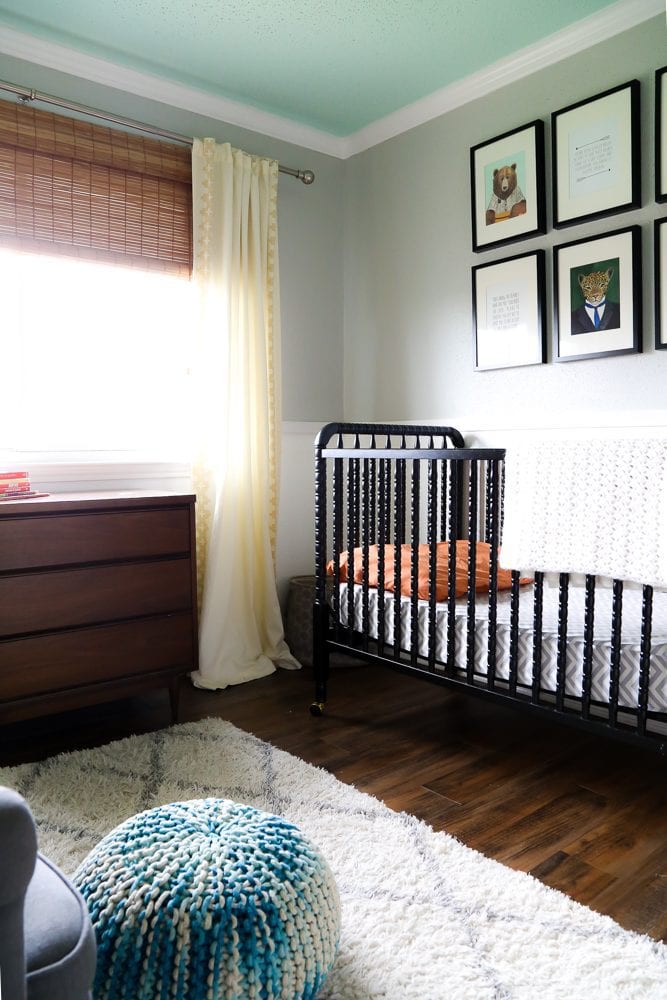 Let's start from the beginning, shall we?
Jackson's nursery is, to this day, one of my favorite spaces we've ever designed. It was so cozy and beautiful – I loved all of the shelving and that tiny little room held so many wonderful memories.
This room marked a few milestones for me as a DIYer. It was the first time I…
I mean…that's a lot of firsts!
Jackson's first big kid room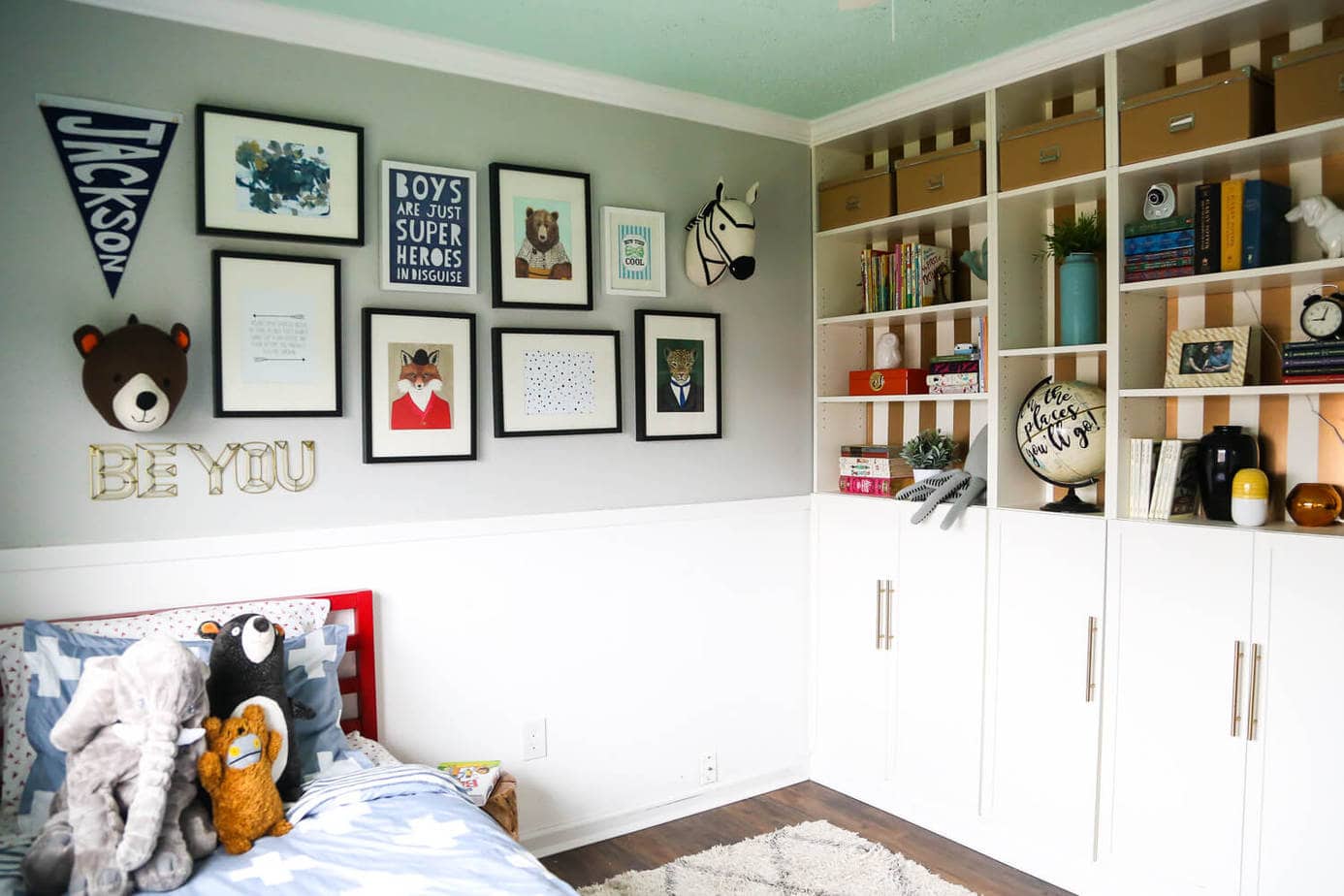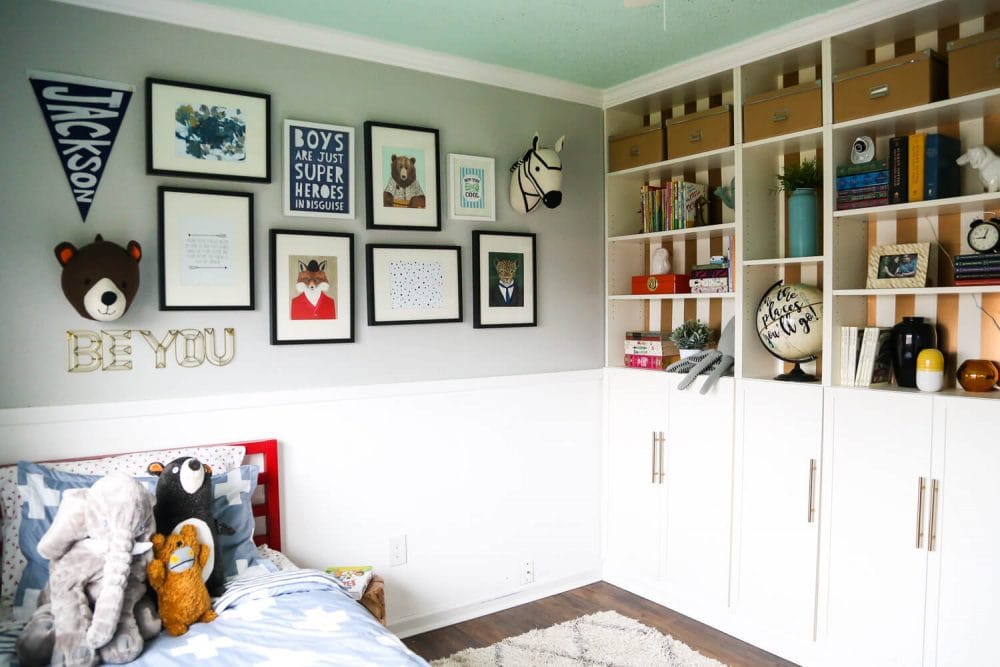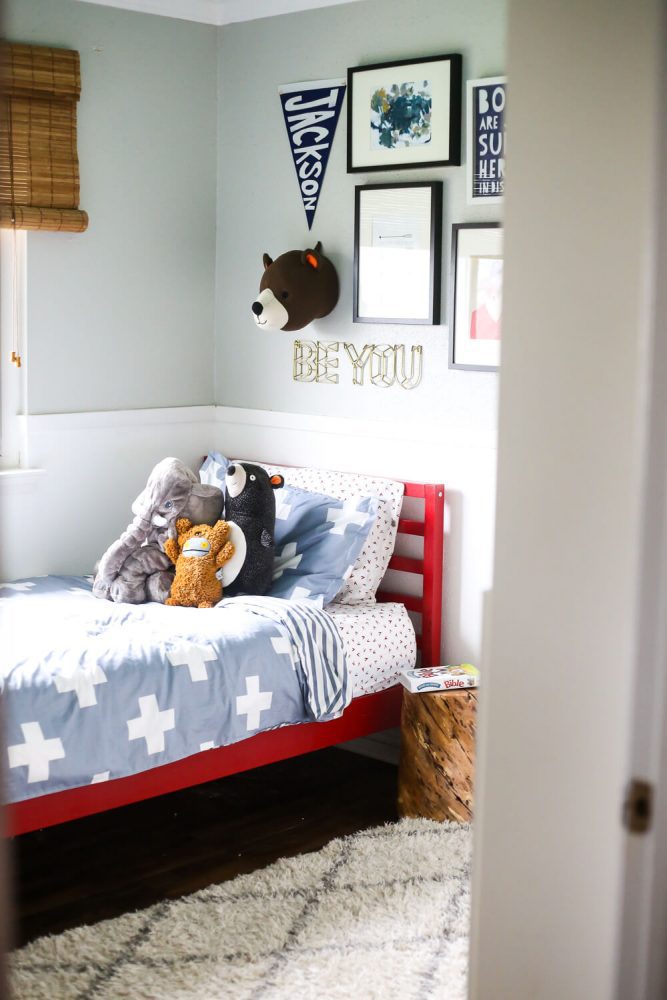 When Jackson turned three, we transitioned his room to a big kid room for the first time. This was also the first time we gave him any sort of control over his room. We kept it simple for this first room – we just asked him what color he wanted his bed to be.
In true Jackson fashion, he threw us for a loop by insisting his first big kid bed should be red – bright red.
Not exactly a color I tend to decorate with a lot.
But, I went for it and honestly I loved this version of this room even more than I loved it as a nursery! The gallery wall might be my favorite art installation I've ever done, and I loved how seamlessly this space transformed from nursery to big kid room!
Jackson's room at our second house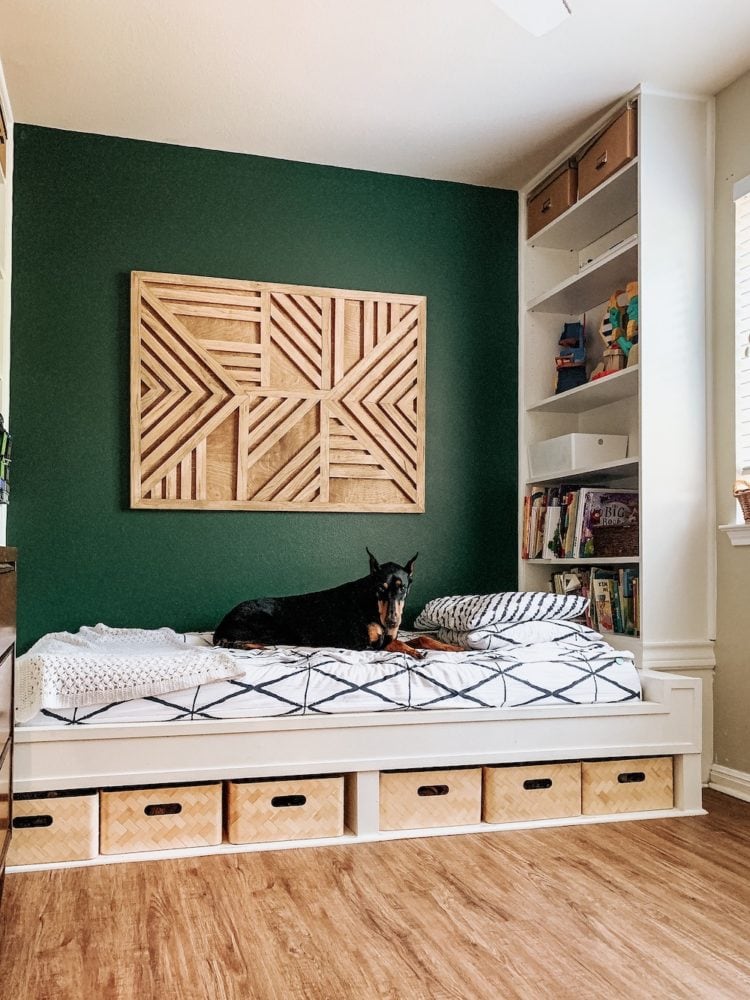 In our second house, we had very little space for toy storage, and his room was tiny and didn't allow for a lot of different layouts. We decided to embrace the small space and create a built-in bed with shelving all around it. This is one of my favorite projects we did in this house, because it added so much function to his room and it worked so, so well for us.
This was one of the trickiest rooms I've ever had to design, and it took us a long time to get it right. We were in this house for two years and, honestly, I feel like I only got this room about halfway done. But, Jackson loved it and that's really all that matters!
In this space, I let Jackson pick the color for behind the bed, and this time he wanted green. This was more in my comfort zone, and I honestly think that this space was the beginning of my love affair with using green in my home! Since then, I've used it in our entry and in the game room, and I'm sure it'll make more appearances as we continue to work on this house.
Jackson's Room at This house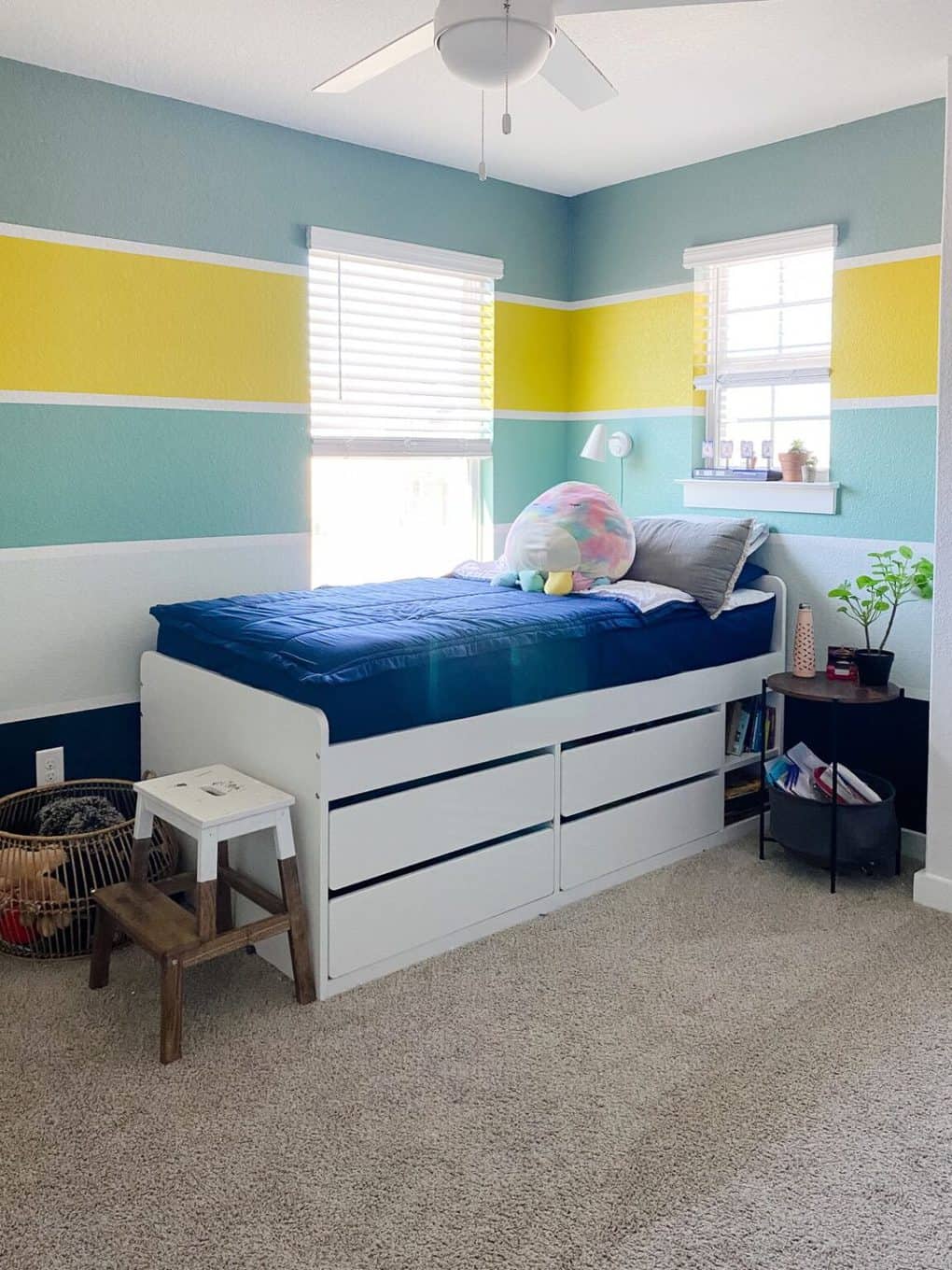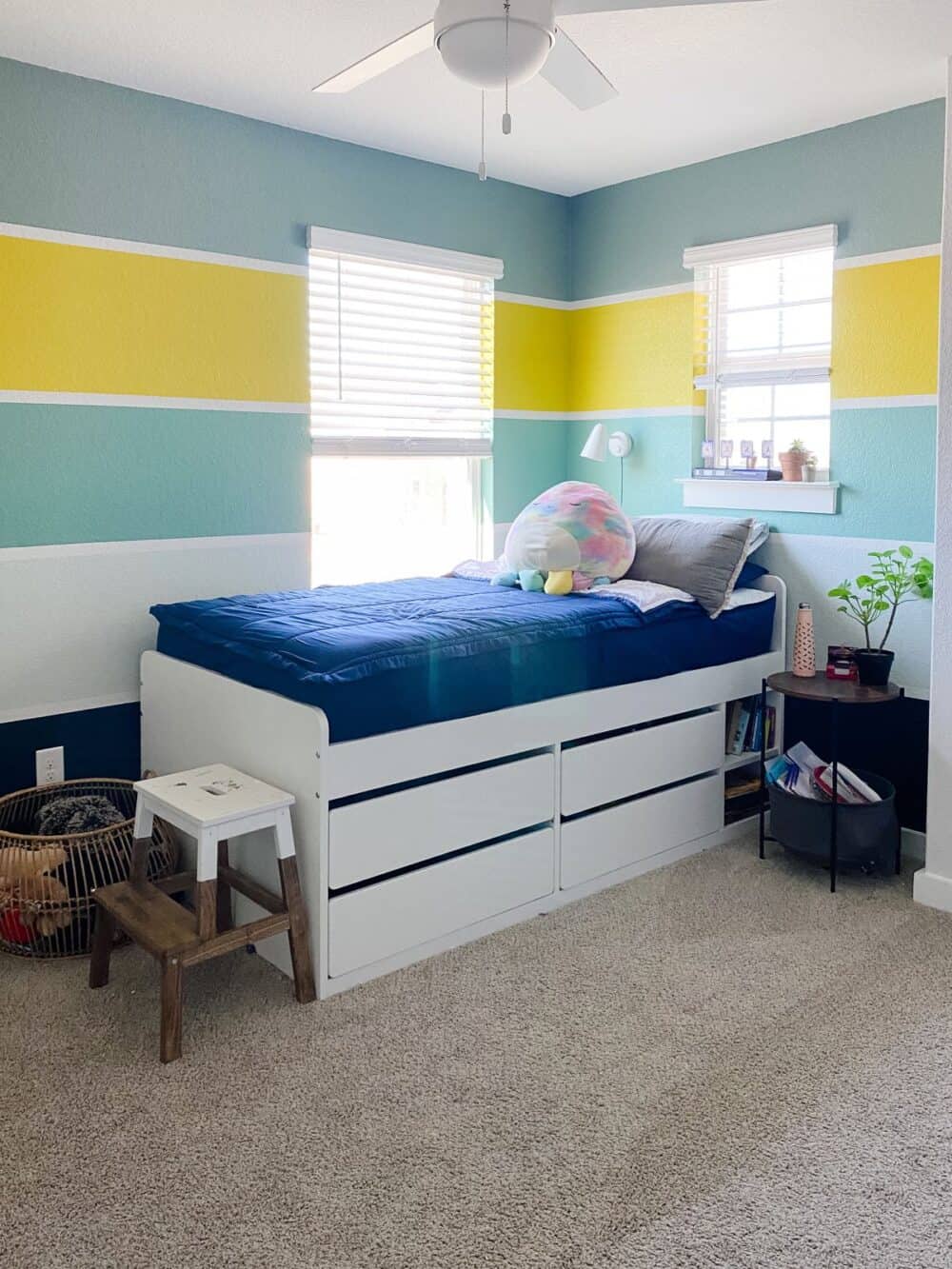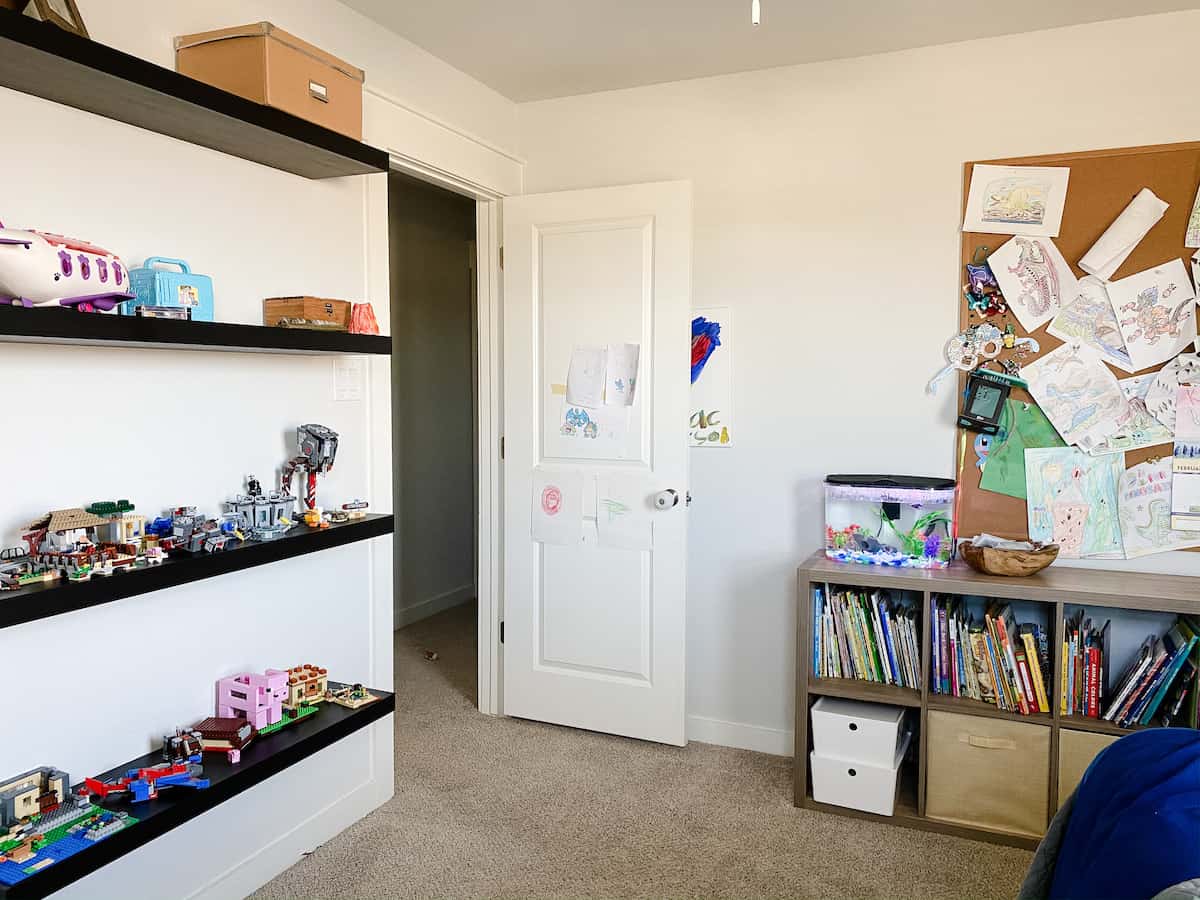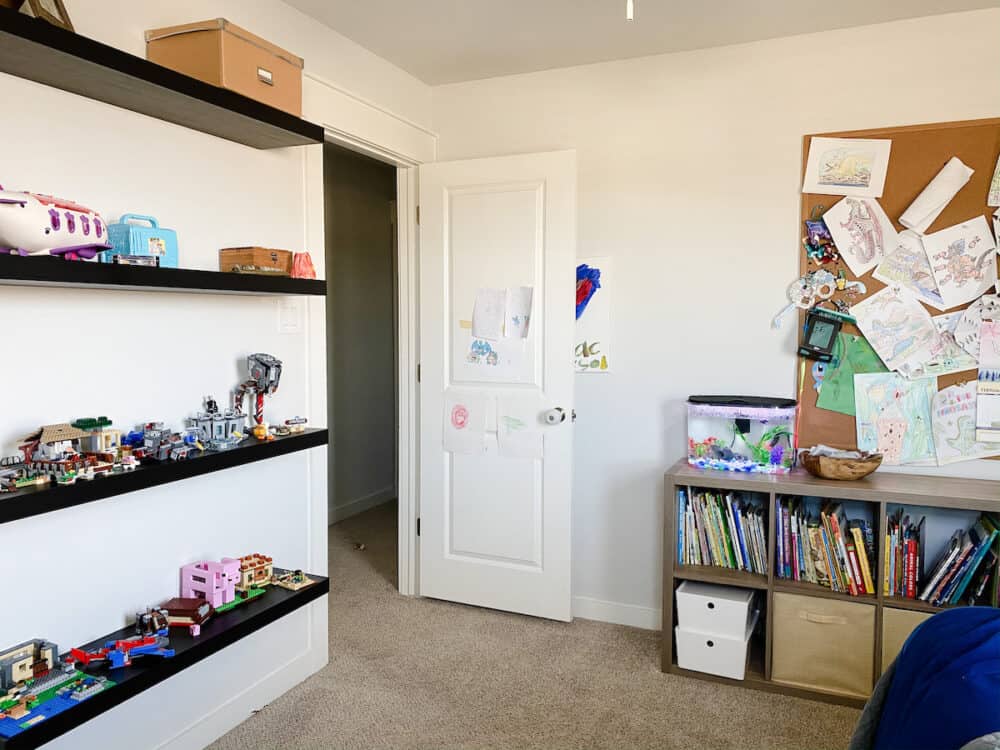 And that brings us to today and Jackson's room at our current house. We lived here for about 6 months before we did anything to his room, then we decided to give it some big personality with bold stripes on one side of the room.
Jackson helped me plan the stripes and choose the colors, and he really has loved it over the last year. But, he's getting older and his tastes are changing, so he's ready for something new!
I'm really excited to start making some changes in here because his room has never really felt finished to me. We've done things here and there to help make it better but there has always been something missing. This time, I'm hoping to really pour some extra energy into this space until we can confidently call it DONE.
You know, until his changes his mind next year and we have to repaint again!
I'll be sharing all of the plans and projects in this room over the next couple of weeks, but in the meantime, here are a few of my best tips for letting kids be involved in designing their rooms:
Remember that paint is just paint. It's easy to change, it's cheap, and it's so low-commitment. Why not let them change it every couple of years?!
When they have a wild idea (like the one Jackson had for his room – just you wait), try not to say "no" immediately. Think about how you can take their idea and run with it to make it something you can both love.
Once you have a general direction from your kid, work with them to design the space by giving them options you're already okay with. For example, if they want a green room you can bring home three sample shades of green that you're comfortable using. Let them choose from those options.
I can't promise you'll end up loving every space your kid designs with you, but I can promise it's a great way for them to learn something new, stretch their creative muscles, and get some ownership over their space!
I can't wait to share Jackson's updated room with you soon!