An Ode to the Kitchen Counter Lamp
Can we talk about kitchen counter lamps?
It might be a slightly unexpected place to set a small tabletop lamp. But, my kitchen countertop lamp might just be my new favorite addition to our house.
We first dipped our toes in the water of having a kitchen counter lamp in a pretty unexpected way – with an A Christmas Story inspired leg lamp during the holidays.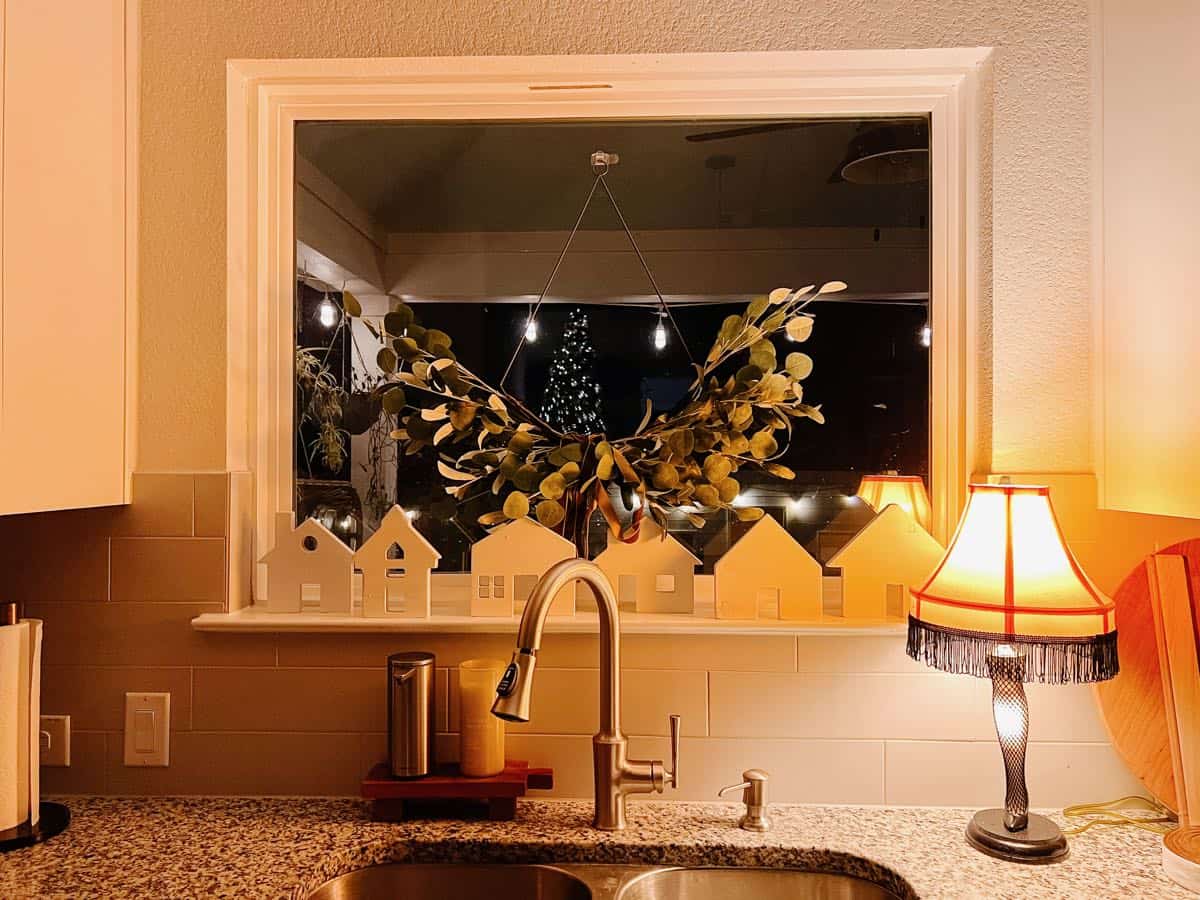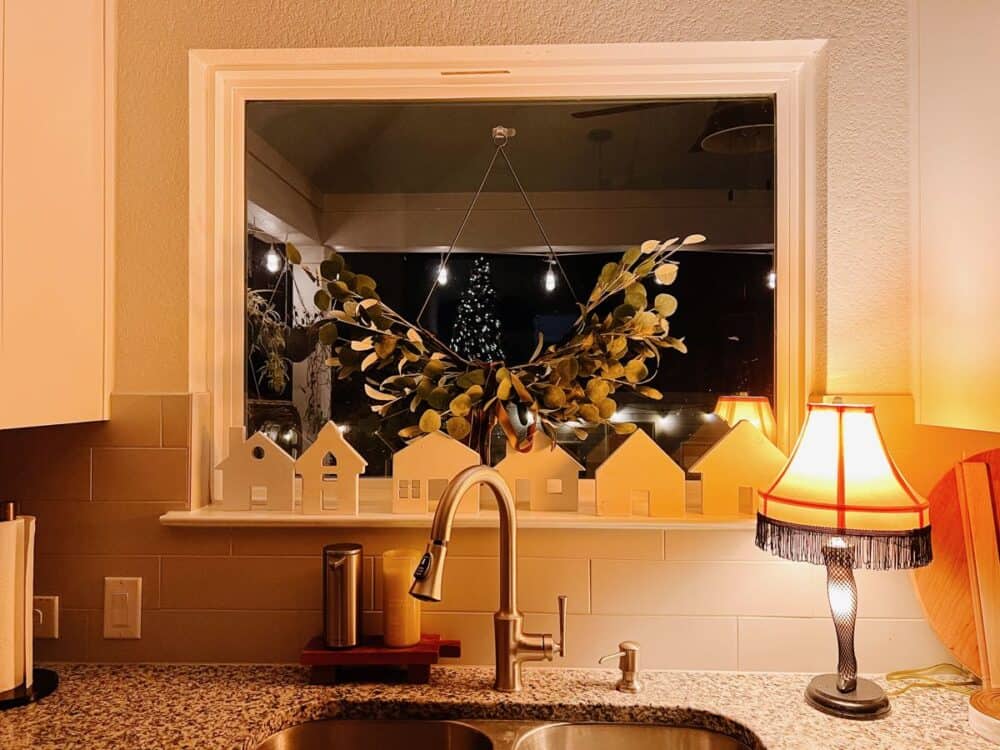 I know.
But, it's Corey's favorite Christmas decoration. And, the only real place it worked was the kitchen counter. So, I set it up there and we used it all season long.
And you know what?
I loved it.
Everything about it! I loved the cozy glow of a small lamp in the kitchen. I loved the warmth it brought to the space. And, I loved having a little extra lighting in the kitchen without turning the overhead lights on.
Of course, the leg lamp got put away after Christmas, and I've kind of been missing the aesthetic it added to the kitchen ever since! So, I decided it was high time to get a real kitchen counter lamp.
And I'm in love.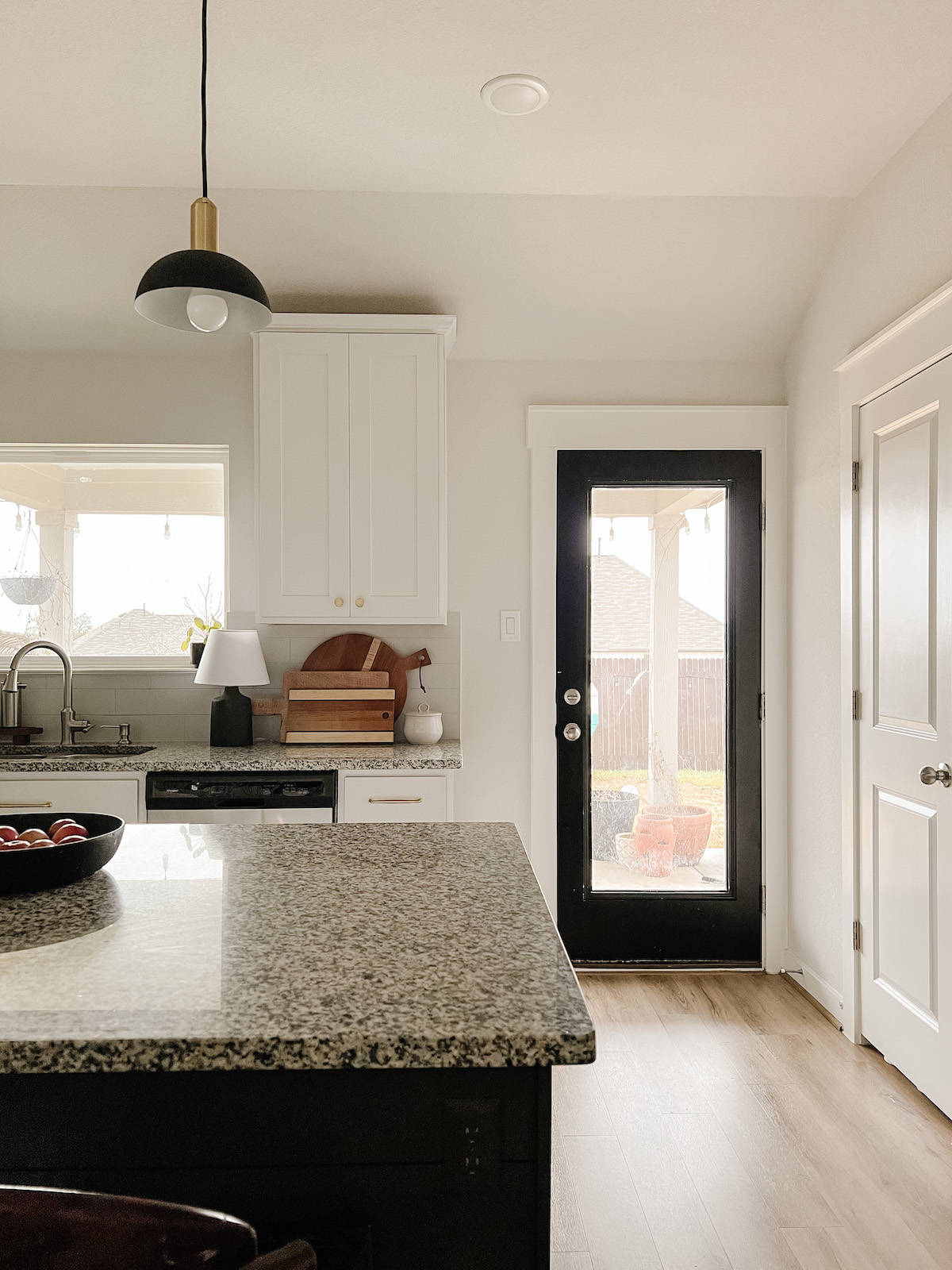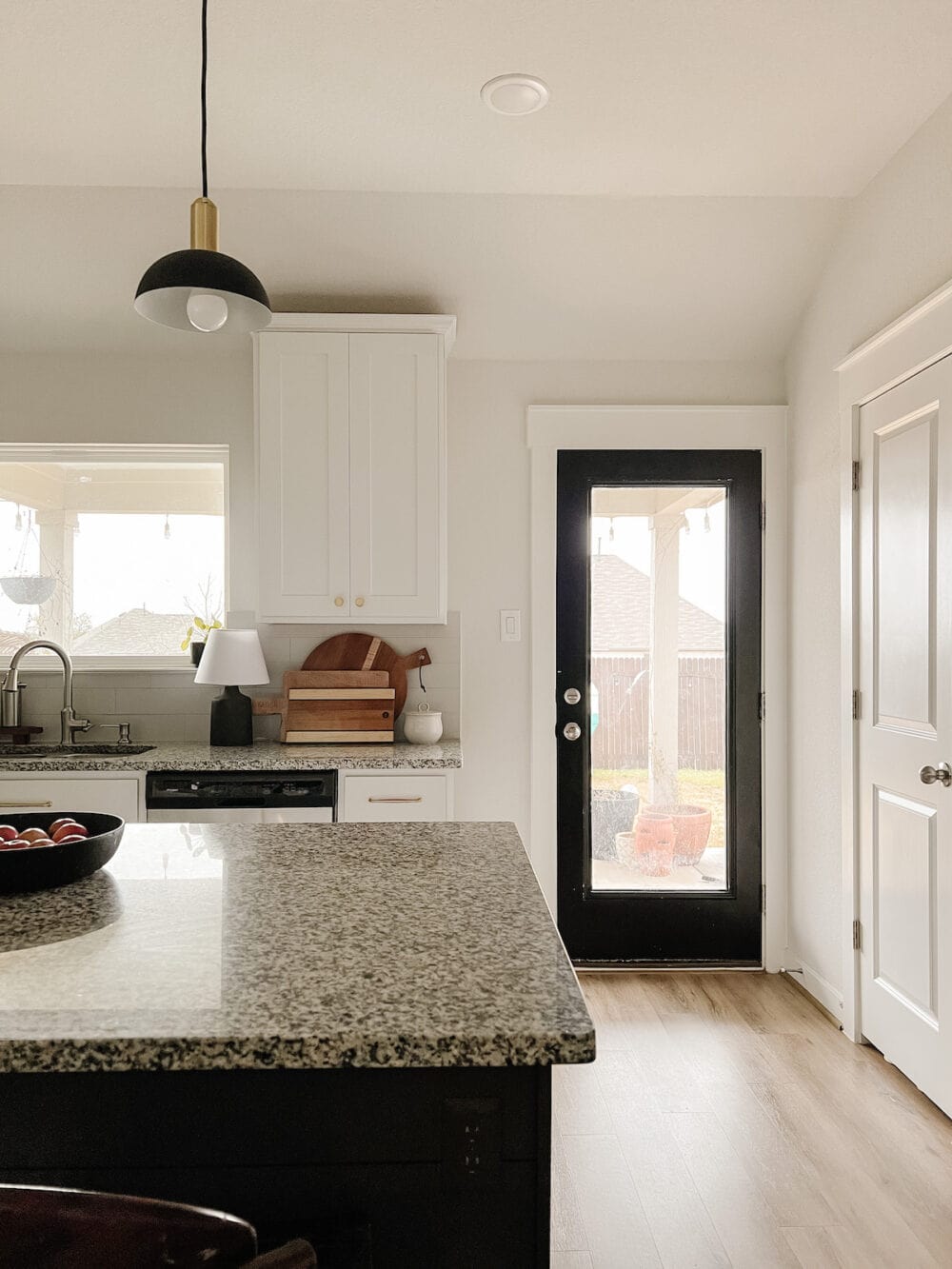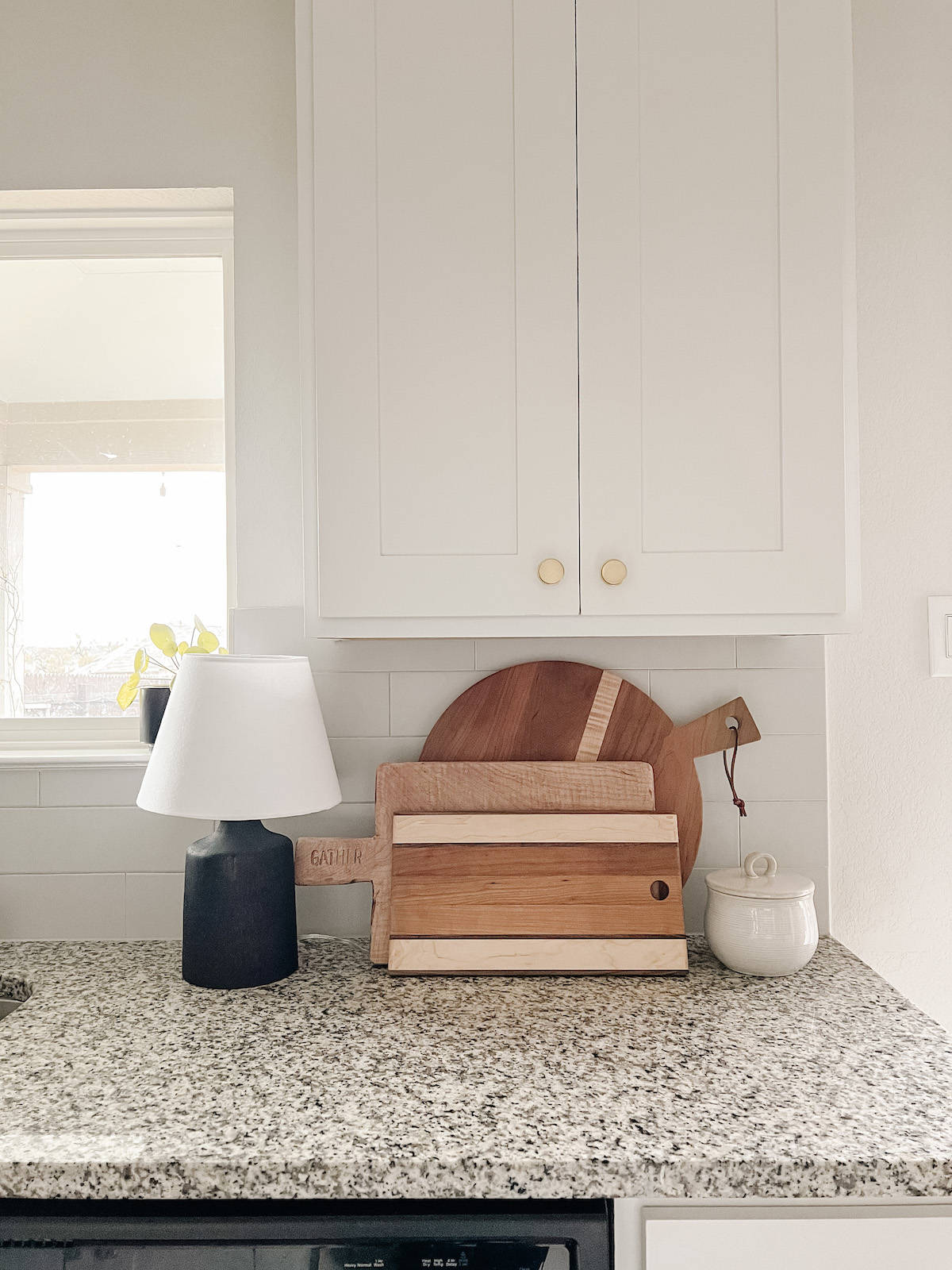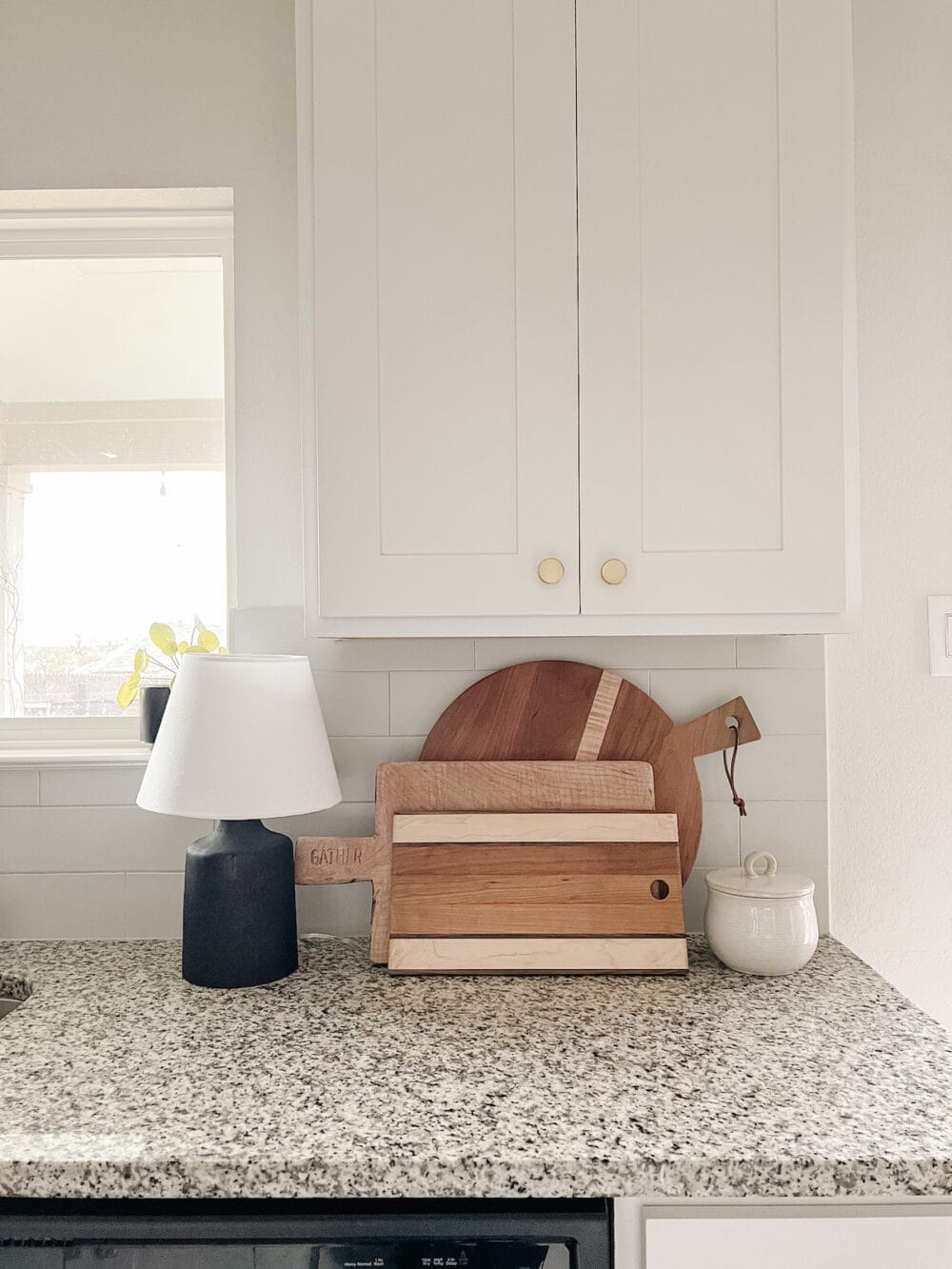 If you need help envisioning what this could look like in your kitchen, I've got you covered. Click here to see a Pinterest board I created with a ton of beautiful kitchens that have lamps. If you aren't fully convinced you need a kitchen counter lamp after browsing it, I don't know what to tell you.
Adding a little lamp to your kitchen counter is a great way to add some extra lighting to the kitchen in a really cozy way. It brings so much warmth to the entire space. Plus, it looks pretty dang cute, too, if you ask me.
Let's answer a few important questions about adding a kitchen counter lamp. Then I'll share a few of my faves!
Where do you hide the cord?
One of the biggest potential problems with adding a kitchen counter lamp is managing the cords. Having a visible plug isn't ideal, and may create more a more chaotic feeling in your kitchen.
For me, it works out really nicely to have the lamp cord tucked behind some wooden cutting boards I have on my counter. There's an outlet behind them, and I can just shove the cord back there and you'll never know the difference.
If you don't have an area in your kitchen where you can easily hide the cord, you still have a few options! This light bulb is rechargeable and doesn't need power from a cord. You can just screw it directly into the lamp, cut the cord off the lamp, and you're good to go! Another option is to stick a puck light in the lamp. They're also controlled by remote and are battery-operated. Just grab a rechargeable battery or two and you can use that to keep the lamp lit as often as you want! This is a great solution for kitchens that don't have a lot of outlets.
Where should you put the kitchen lamp?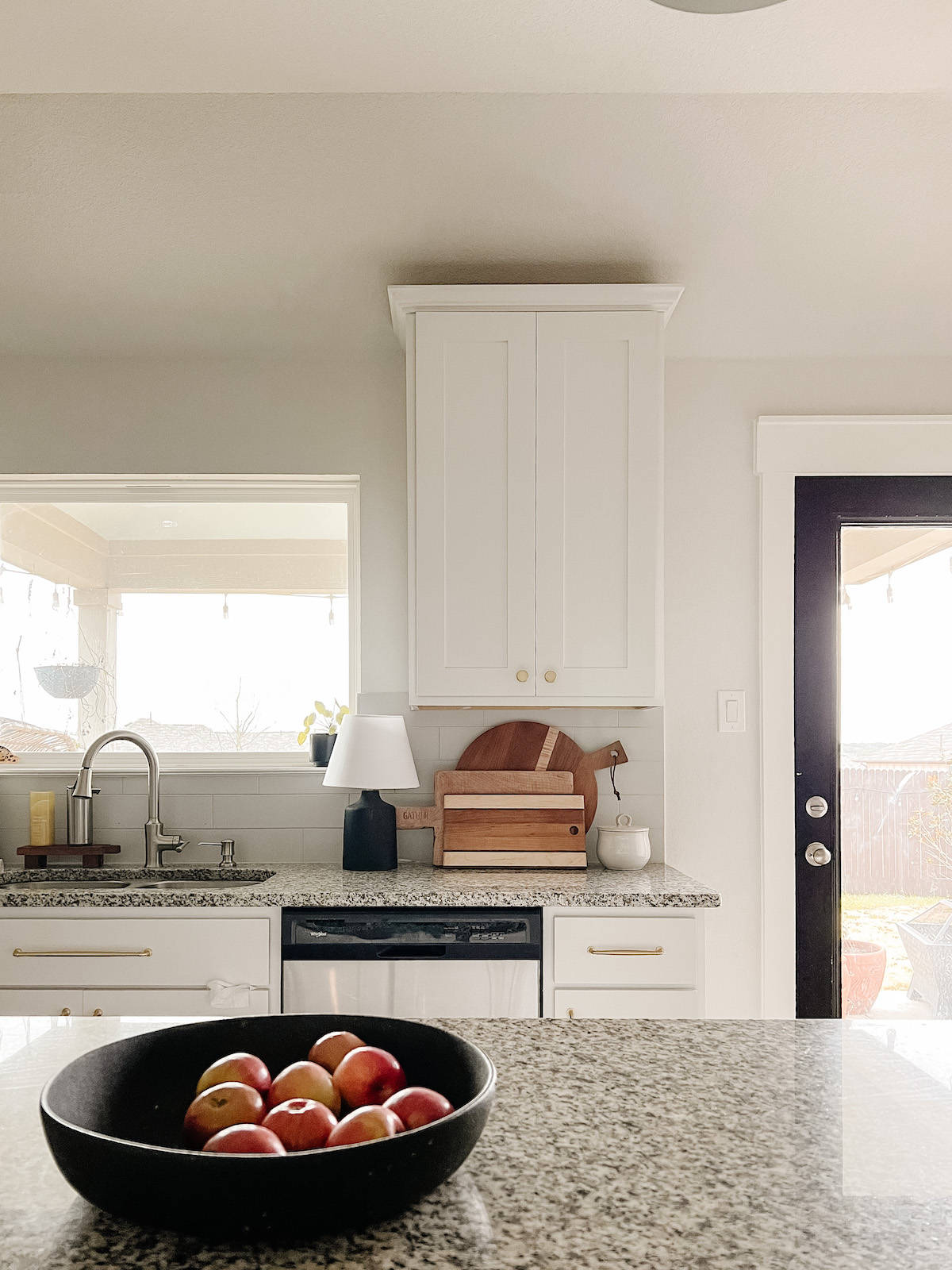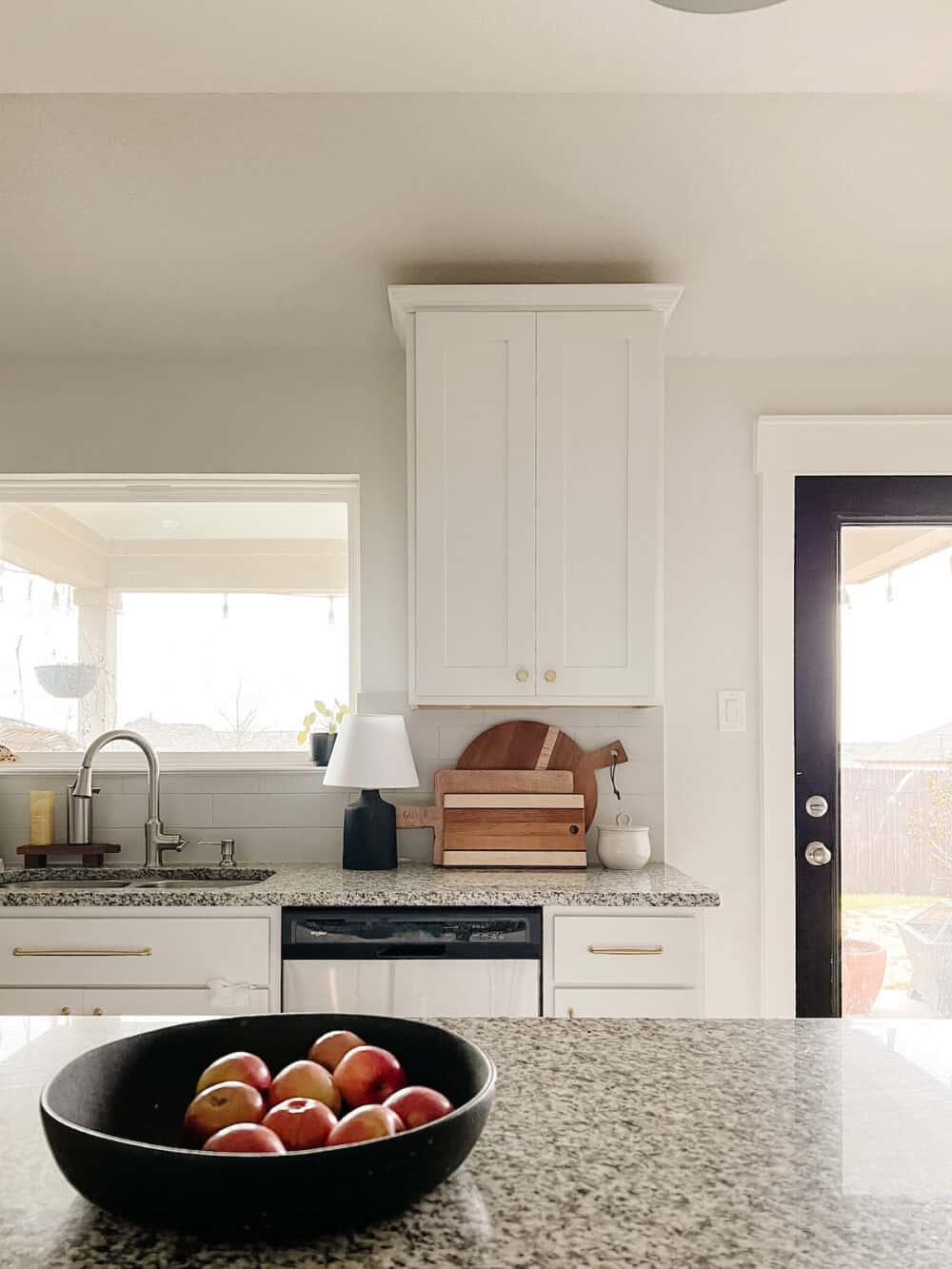 Obviously, this depends on the layout of your kitchen and what works best for your specific needs. I have my lamp on our kitchen counter, but if you have shelves in your kitchen you could definitely toss a mini lamp up there, too!
For us, the biggest factor for choosing the location of our lamp was the plug. I wanted it in a spot where I could easily hide the cord, and where it wouldn't be in the way of a cook space. I also wanted it to be further away from the stovetop, so I didn't have to deal with grease splattering on it or anything.
Having the lamp right next to the kitchen sink works out really nicely. It's centrally located in the kitchen so it adds a soft glow all around. And it's the perfect little bit of light for midnight snacks or grabbing a drink of water!
Favorite Table lamps to use in the kitchen
I specifically wanted a black lamp in my kitchen to add a bit of contrast to my mostly-white kitchen, so I purchased this one and painted it black.
Here are a few of my favorite other options for kitchen counter lamps. I will add that this is a great opportunity to look for a vintage lamp or something really unique. Spend some time shopping around to find something that feels really special. You can add texture with a pleated shade, choose a clear glass lamp to add some reflectiveness to the kitchen, or play around with different colors to add some fun to the kitchen!
Don't forget to measure how high your lamp can before purchasing. The last thing you want is to get excited about a new lamp then realize it's too tall!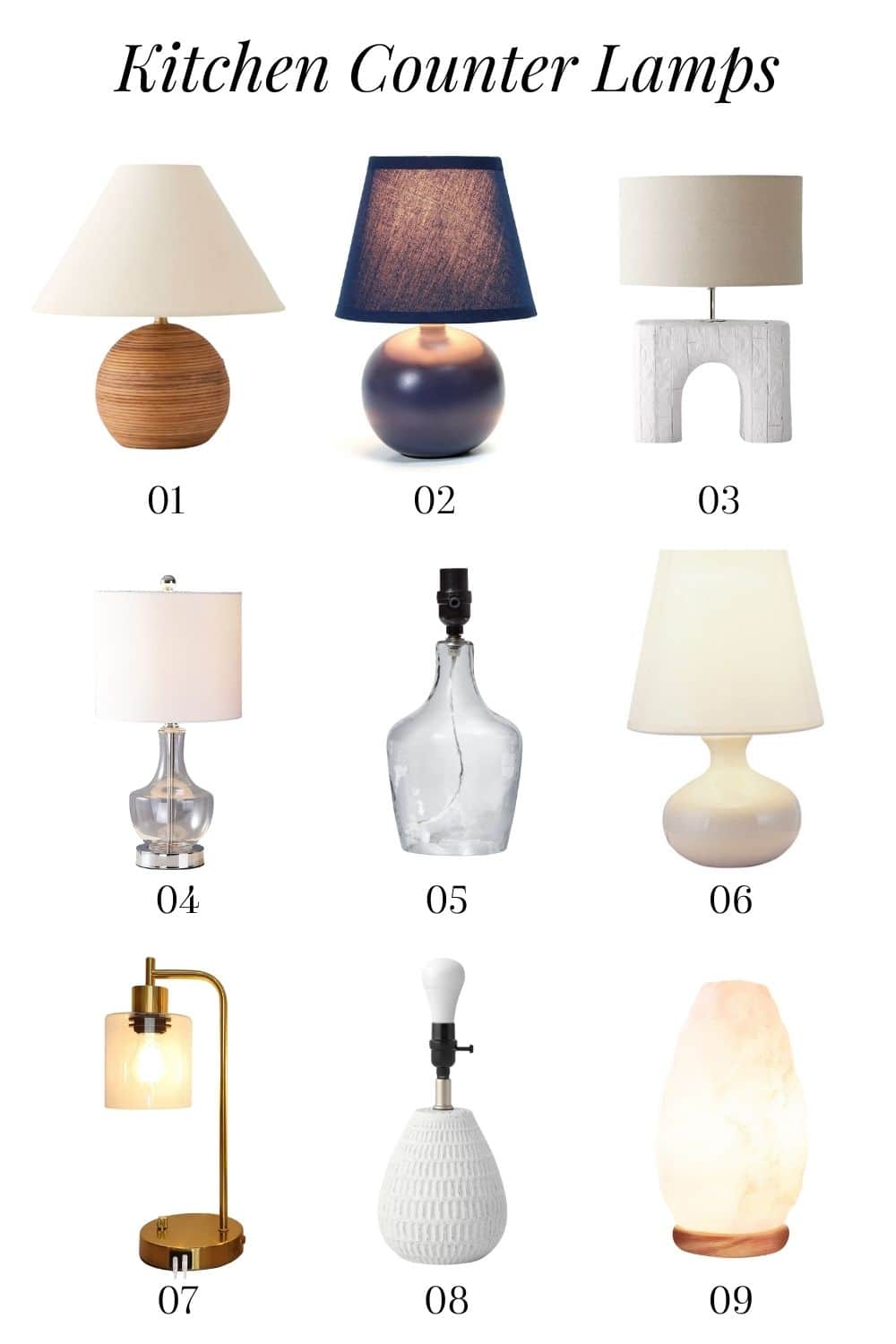 Our kitchen lamp has been the perfect addition to our kitchen to create a cozy mood and add a little light to the space. Now that we have it, I can't imagine not having this extra little light source in here!
I'm still planning on adding some under-cabinet lights in here at some point (soon!), but this is the perfect first step.
Would you ever try adding a kitchen counter lamp to your home?
Related Posts