We've reached the last week of our Konmari method challenge, and it's time to tackle decluttering and organizing sentimental items!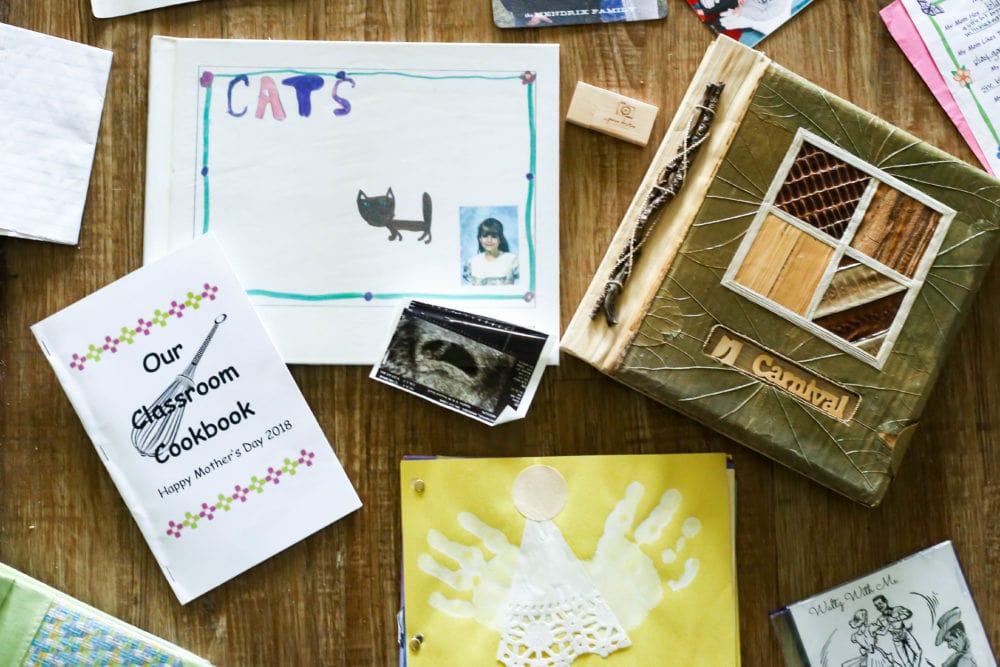 Friends, we've made it.
With this week complete, we've gone through the entire Konmari method and it feels so good!
I know many of you aren't working at the quick pace that I was (I've been doing one category a week!), so you may still have a few to go. Please don't feel behind or stressed about that. I wanted to get these posts out to you quickly so you have them to reference when it's time, but this is a process you should absolutely take your time with.
Let's do a quick recap of everything we've talked about so far.
The Konmari method: The Order
If you are just finding this post and you're new to the Konmari method, please go back and read this introductory post to help you get acquainted with what I'm talking about and why it's so effective. This is a great way to get the excess clutter out of your home if it's something you're struggling with, and I can't recommend it highly enough!
Now, let's jump in and chat about sentimental items and mementos!
Tidying sentimental items
This category is one that I get so many emails about.
Some people email me to say that they just can't imagine letting go of some of their beloved possessions, and do I think it's okay if they just keep it?
Sometimes I get emails from people who display sentimental items proudly in their home and feel heartbroken at the thought of taking them down.
Most recently, I received an email from someone who has some memory issues and the sentimental items in her home are the only way she can hold on to those precious memories – she was wondering if that was alright.
Each one of those emails breaks my heart.
I've said this before, but I'd like to emphasize this one more time for the people in the back: you should never feel guilty about keeping something in your home that you love!
The Konmari method is all about getting rid of the excess. The whole idea is that you should purge all of the things that don't really bring you any happiness so that you have more room in your home for the things that do! If you can't fathom getting rid of sentimental items in your home, don't!
All that being said, I'd like to recommend you watch this week's video to learn about how I keep sentimental items in my home without taking up too much space. You can watch as I go through all of our mementos and memories and see some of my tips and tricks for deciding what to keep and what to purge so that the things I do have left are just the most precious memories.
Note: If you are reading this in a feed reader, you may need to click over to the full blog post to see the video! You can also click here to watch it on YouTube.
tips and tricks for decluttering personal items
I shared a lot of these tips in the video, but if you're unable to watch, here are the highlights:
Take a photo of things that are bulky or awkward to store
Things like old sports trophies, that cute stuffed bear you've had forever that's literally falling apart, and the vase you painted with your best friend in college are all sweet things to hold on to but if you aren't actively displaying them, you may be better off just snapping a photo.
The most important thing to remember when you're decluttering sentimental items is that the item isn't what's important – it's the memory. So, grab your phone and take a photo of your son's bowling league trophy and then feel no guilt tossing it. As a bonus, you could even take artsy photos and display them in a gallery wall (something like this), so you can see the items all the time. It accomplishes the same thing, just takes up less space and, let's be honest, probably looks nicer too.
Choose just one item to keep from a collection
If you have a collection of something that was gifted to you or even just a large grouping of sentimental items (like kid crafts, your old rock collection, or sentimental figurines that you're no longer displaying), consider choosing a favorite and keeping only that one.
This method is perfect if you feel guilty about getting rid of a large grouping of things that are important to you but you also don't want to put them on display in your home – keep just one of them and find somewhere to put it that will make you smile. Even if you just tuck it inside a kitchen cabinet where you'll see it every day but no one else will, that's better than leaving it locked up in the attic and never looking at it!
Create photo albums
We create a yearbook for our family each and every year that contains aaaaall of the sweet memories from the year. That's great for digital photos, but what about the old printed photos that you don't have the heart to get rid of?
I recommend grabbing a couple of nice, sleek photo albums and storing them in there. A collection of pretty photo albums will look great sitting on any shelf in your home, and you're much more likely to enjoy the photos that way.
Here are a few great options:
Photo books don't have to just be for photos!
In addition to creating albums for your photos, I also have always loved the idea of creating photo albums of kid artwork and crafts! Kids love to create and they often want to keep everything. Instead of piling everything into a box where you'll never look at it, use your phone to take a photo of their best creations and once you have enough, you can create a photo album with all of the photos. They'll love seeing their artwork in a book and you'll love that it's not taking over your entire house! I recommend using a service like Blurb to create your book – we've used them for years and love the quality!
You can also take this approach for old letters, ticket stubs, etc. It allows you to consolidate a lot of memories into a smaller footprint, and the photo book is much more likely to stay preserved than the papers alone would.
Get creative with displaying things
One of my very favorite suggestions that Marie Kondo makes in her book is that you should find some way to display your favorite sentimental items, even if you're the only one who ever sees it.
A few ideas:
Hang old posters or artwork in your closet, or line drawers with them.
Tuck little mementos or figurines into your makeup drawer, your t-shirt drawer, or a cabinet in your home.
Pick a favorite old trophy (remember tip #2!), and hang necklaces from it in your bathroom
Once you let go of the idea that displaying something has to mean it's visible to everyone, you'll find that there are a million way to repurpose your sentimental items into things around your house that you'll see and love every day.
Of course, if this isn't your favorite approach, that's okay too! I really like to have a small box of sentimental items that I can pull out and go through on occasion. It takes up very little space, and Jackson and I like to look through it a few times a year.
Just think about how you like to enjoy your mementos and sentimental items, and then work from there to find your storage solution.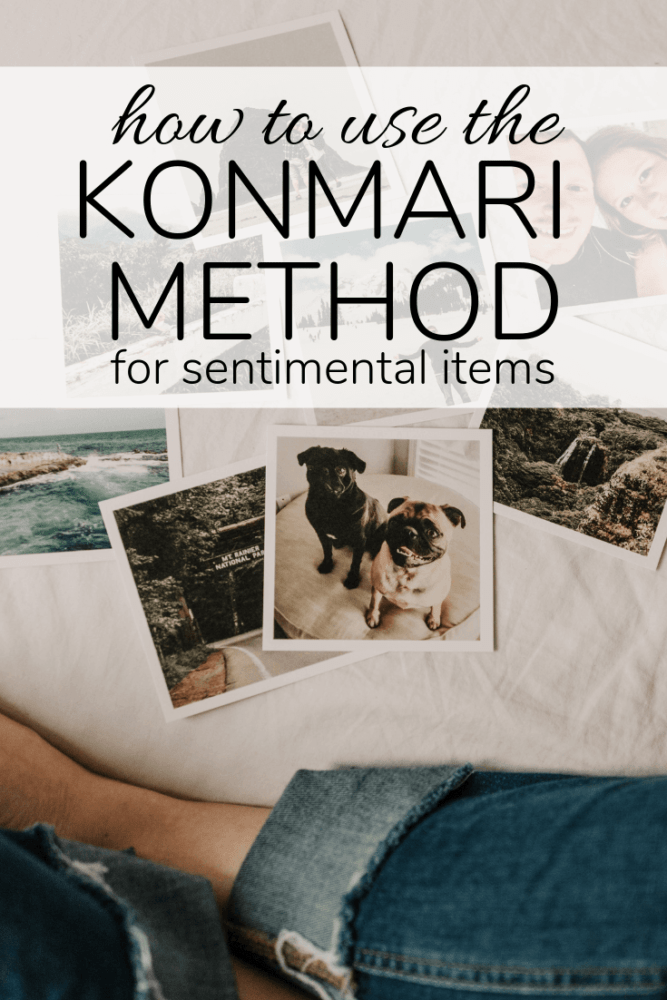 I hope this series was as fun for you as it was for me – I really enjoyed diving back into the Konmari world, and my house is feeling so much cleaner (hopefully yours is too!).
As always, I'd love to hear how it's going for you – leave a comment here or shoot me an email to let me know how you're doing!