How I Organized My Closet On A *Major* Budget
Organizing your clothes closet is hard. The organization systems that your home comes with are almost never sufficient, but replacing them can be incredibly costly. I've always dreamed of a hyper-organized, beautiful closet with wood cabinetry and a giant window. But instead, I've always been stuck with pretty terrible organization. And a window? Forget about it!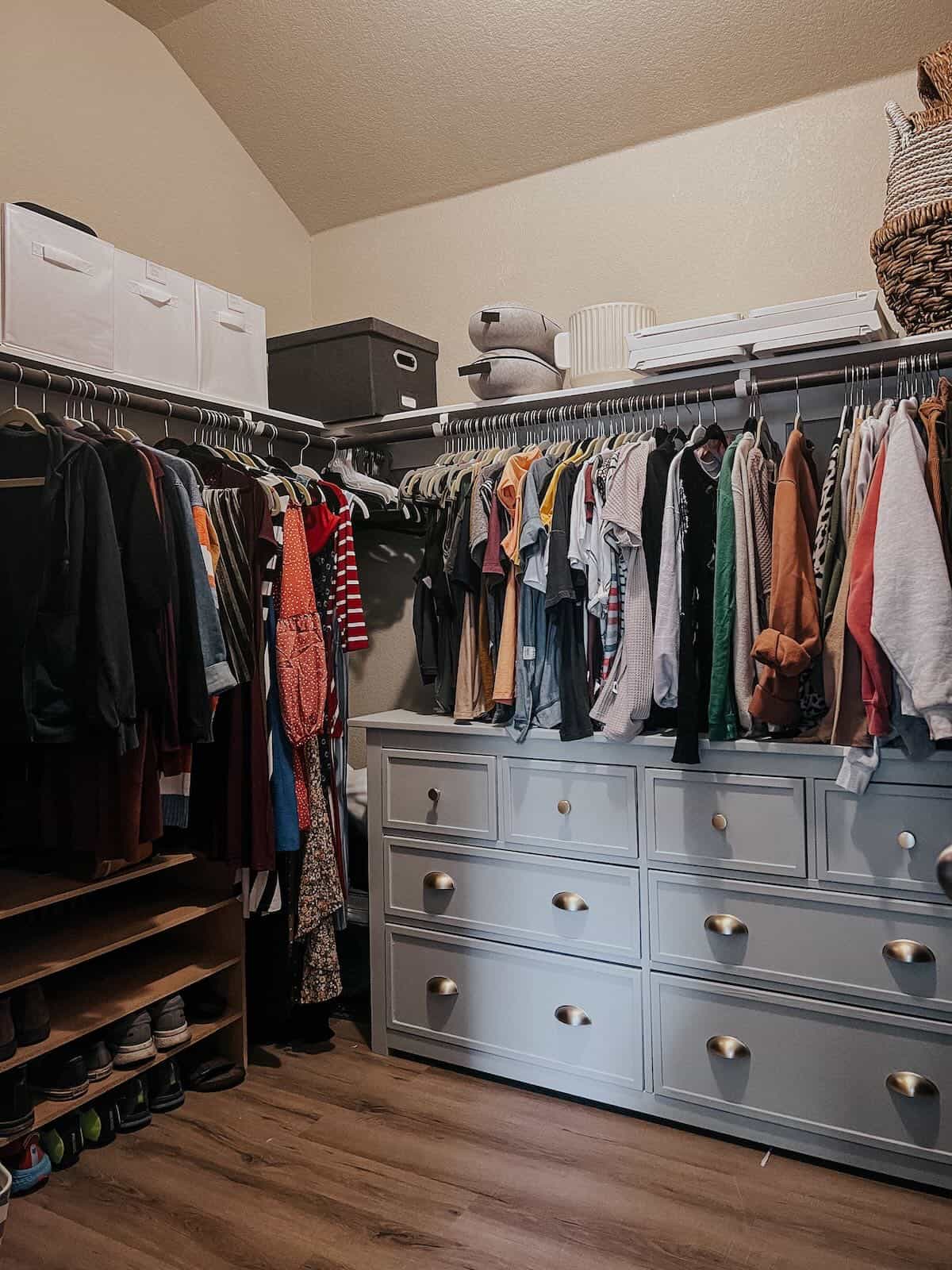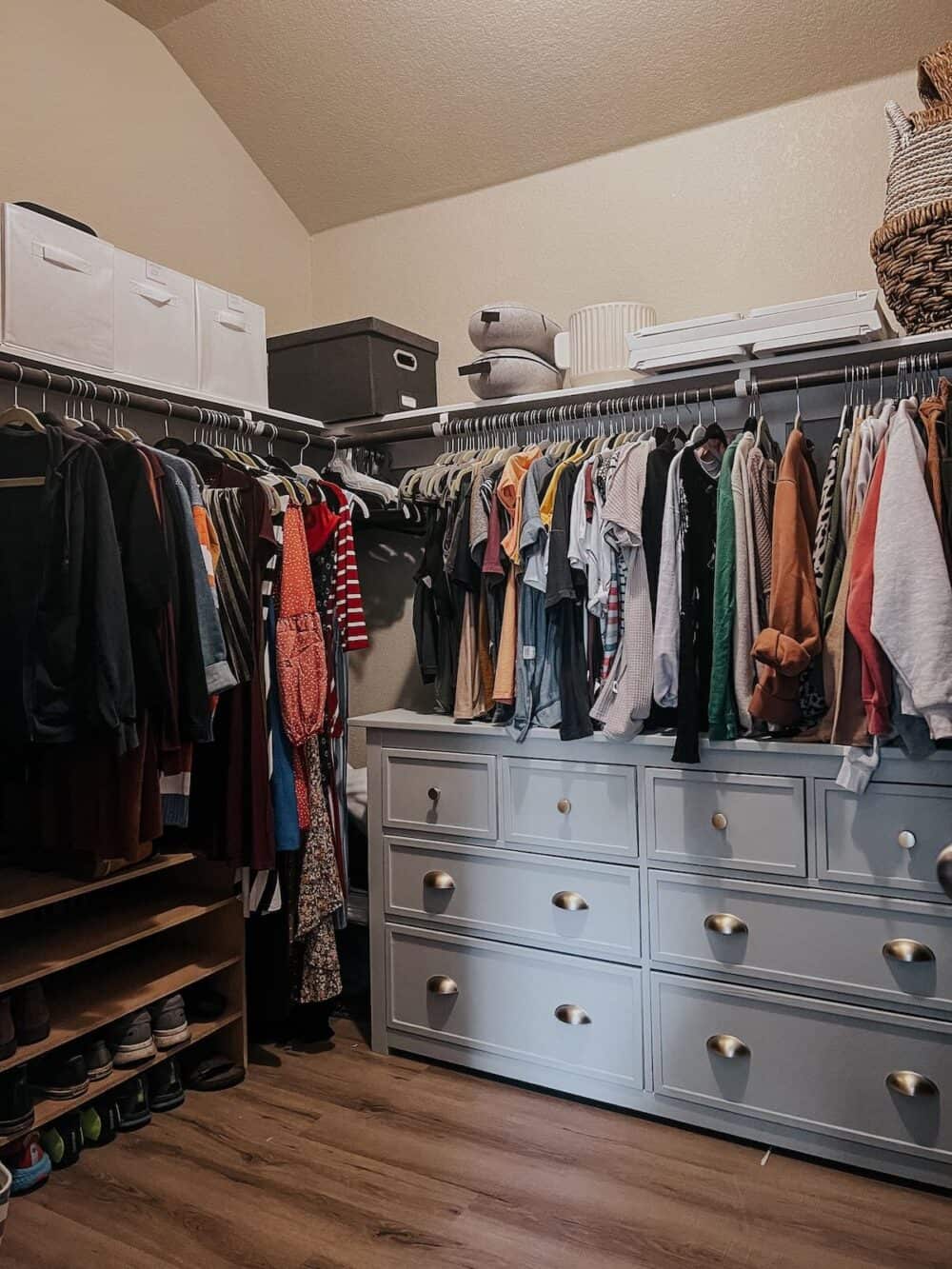 Well, I didn't add a window to my closet. But, I did spent some time over the last couple of weeks re-thinking how things were laid out, and I actually don't hate it now. It's still not the beautiful closet of my dreams, but it feels neat and orderly. And sometimes, that's all you can really ask for, right?!
I think I spent so much time dreaming of the perfect closet organization system that I kind of forgot that it's possible to achieve a lot on a small budget. When I challenged myself to really work with what I already have, I was pleasantly surprised by how much I was really able to do.
budget-friendly closet organization
None of the stuff I did in this closet is really revolutionary, but it all added up to a space that feels 100x more organized. Here are five simple swaps I made in here that I think made all the difference.
1. Add a Dresser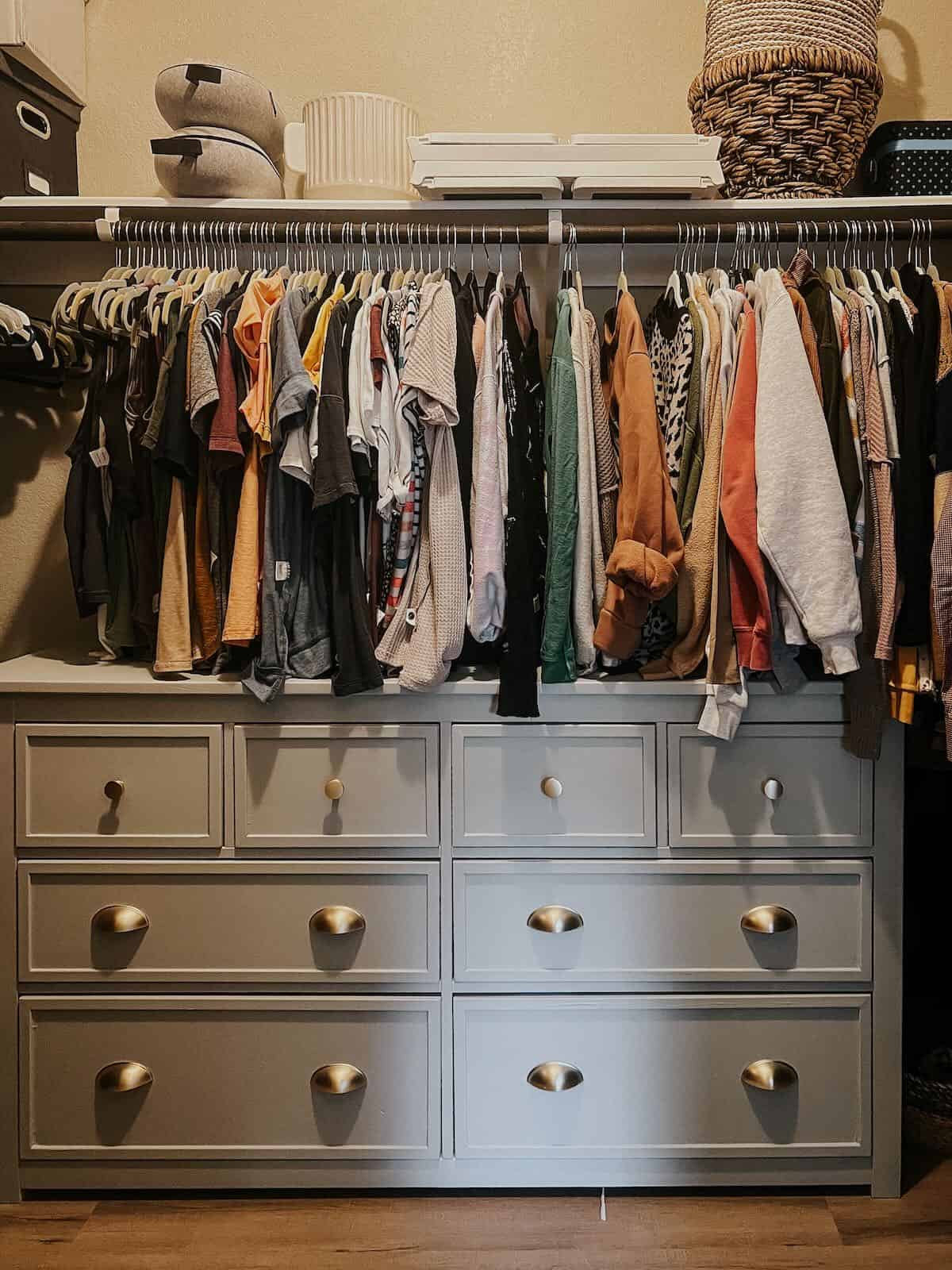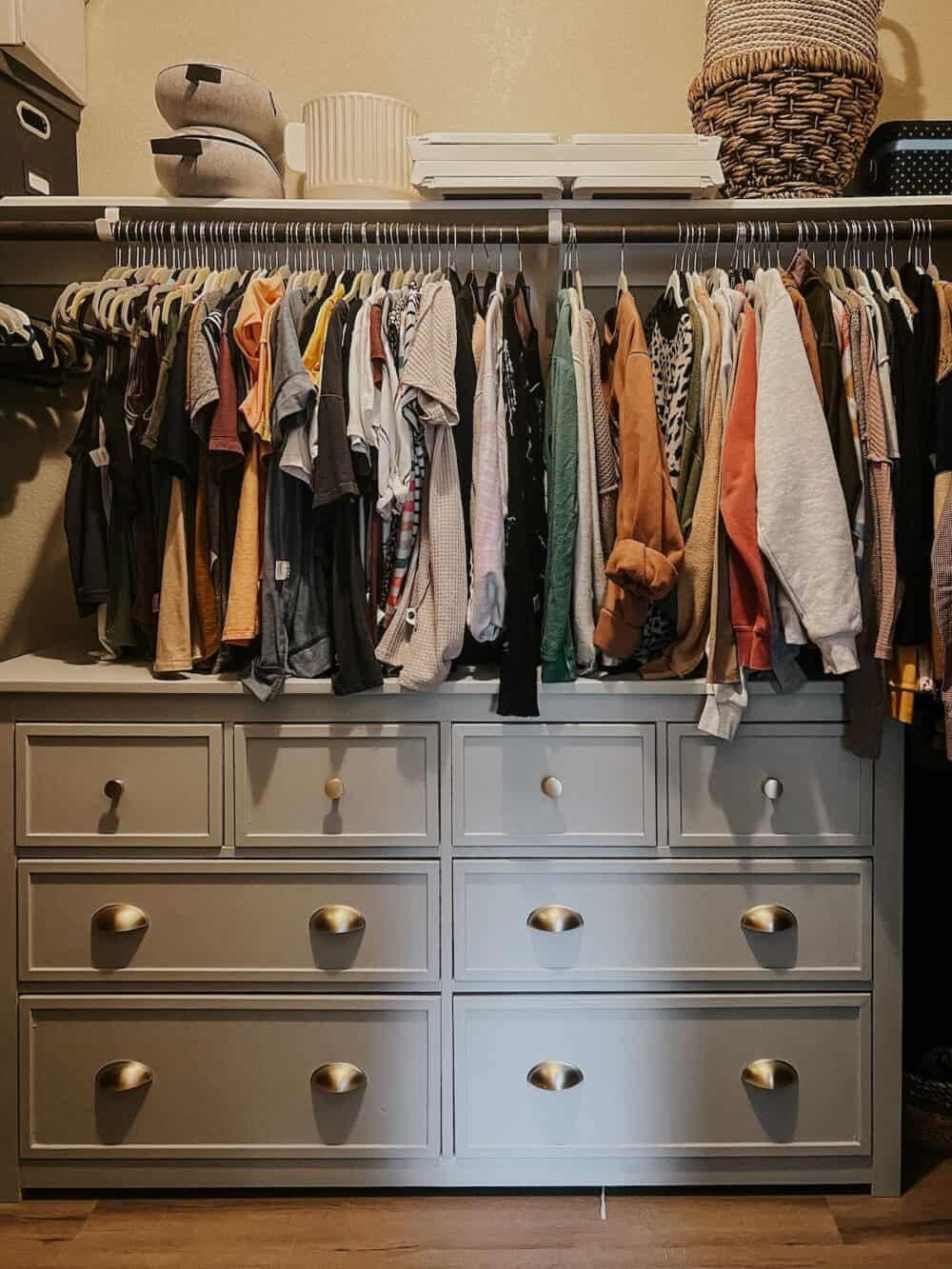 I already talked about how I gave this $40 Facebook Marketplace dresser a makeover for my closet, but this guy is really the MVP of this entire little refresh. I pulled all of my clothes out of the dresser in our bedroom so that Corey and I each have our own dresser now. This guy holds so much – all of my pajamas, pants, shorts, workout clothes, bathing suits, underwear, and my favorite wear-around-the-house t-shirts.
And the best part? There's even still an empty drawer on the top row!
This is very much a personal preference thing, but I would argue that dressers are one of the very best ways to organize your clothes. They can hold so much in such a compact space, and it's so easy to just toss one in your closet for a little extra storage under the hanging racks.
They're even more functional if you…
2. Use Drawer Dividers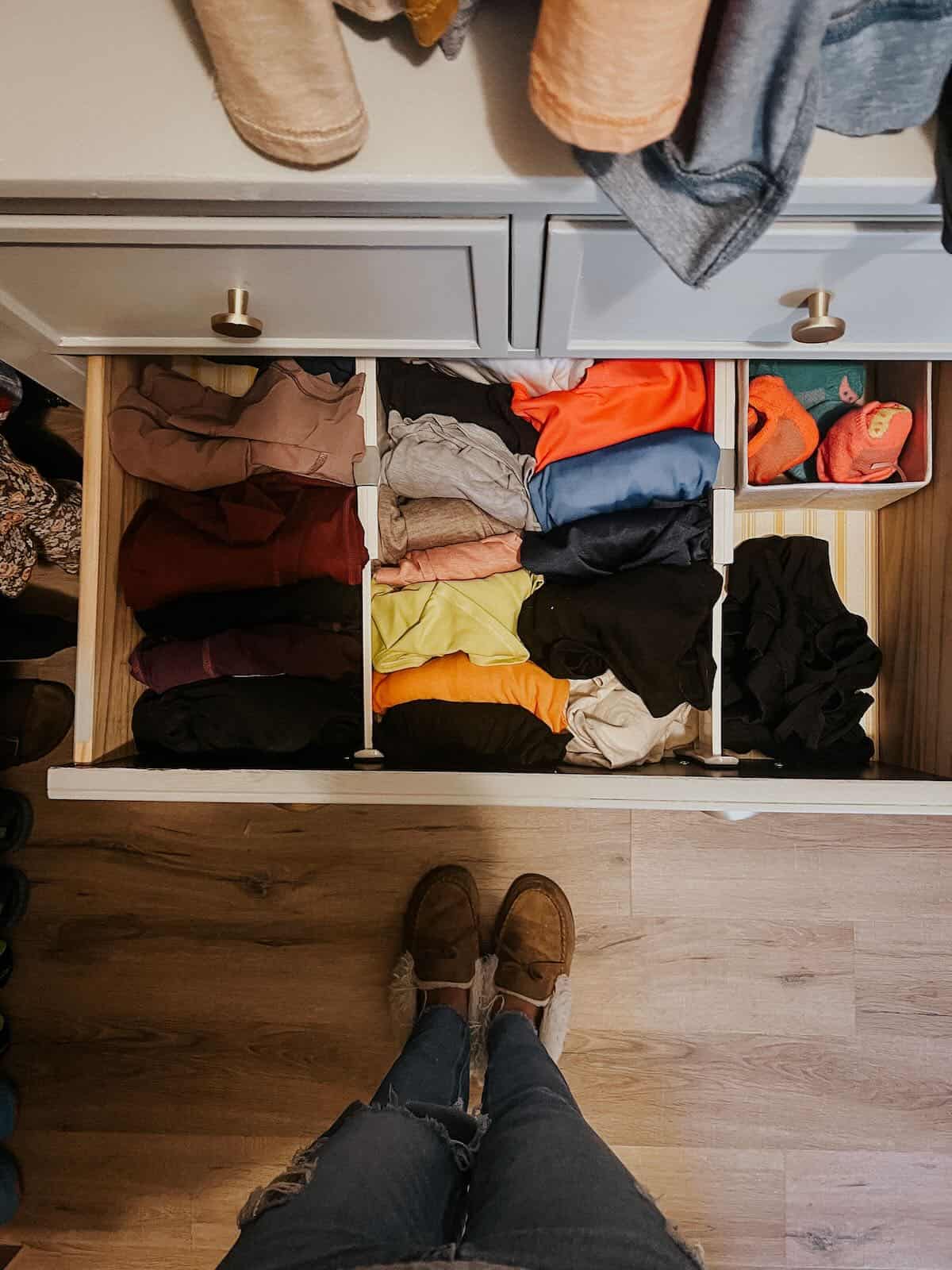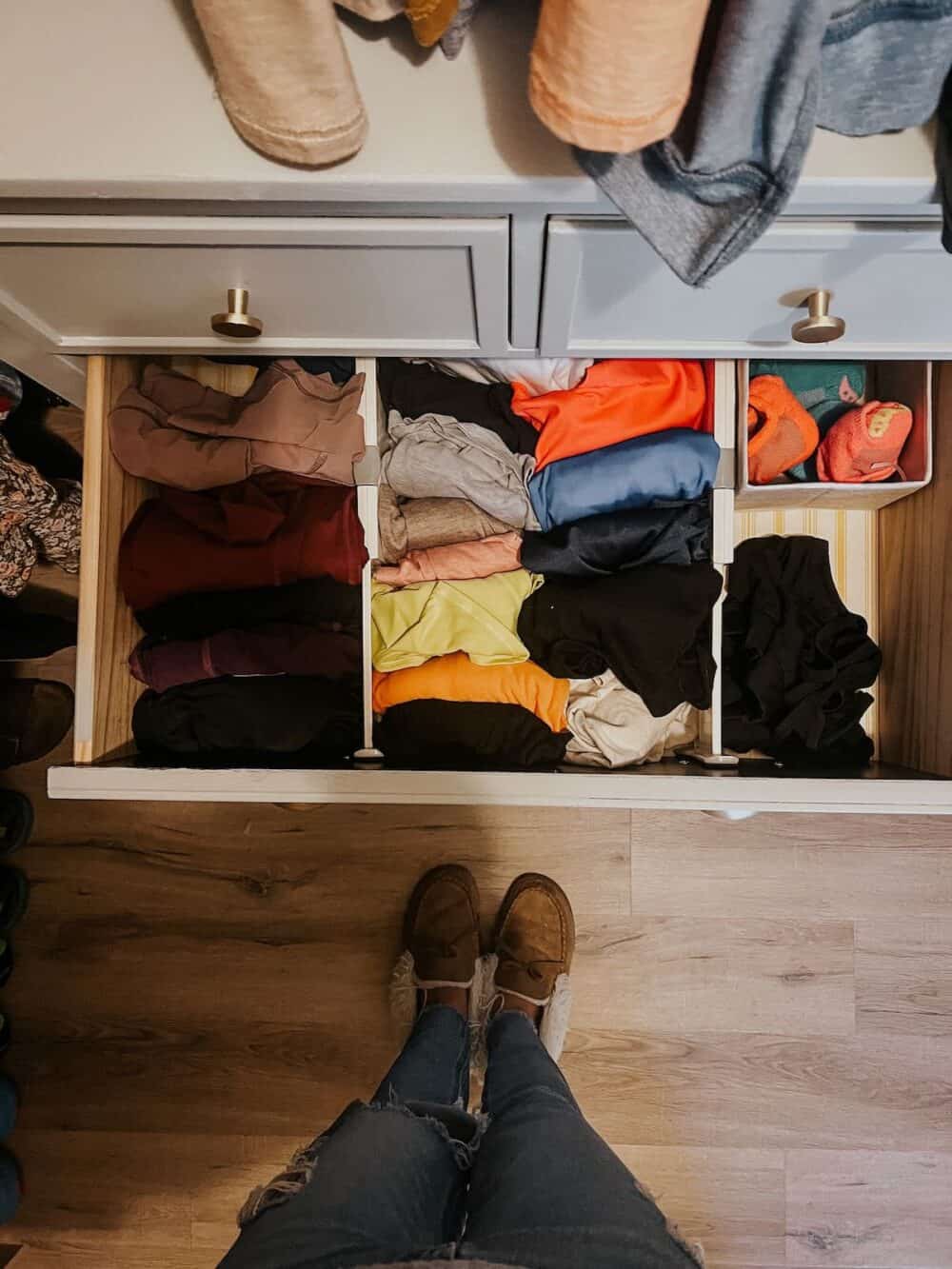 I cannot emphasize enough to you the difference that drawer dividers make in your dressers. They're a GAME CHANGER! If you struggle with the habit of just tossing things in and shoving the drawer closed, or if you have a hard time keeping things organized in your drawers, dividers will make all the difference.
I used a set of these drawer bins for most of the top drawers. There's one for my underwear, one for my bras, one for my no-show socks, another for my regular socks…you get the point. Everything has a place, and everything is contained.
I also used some of these drawer dividers in the other drawers – they help separate my workout tops from my sports bras and my leggings. They create a row for pants and a row for shorts within my drawers. They're one of the most genius products around, and they make it so much easier for me to find what I'm looking for!
3. Use matching baskets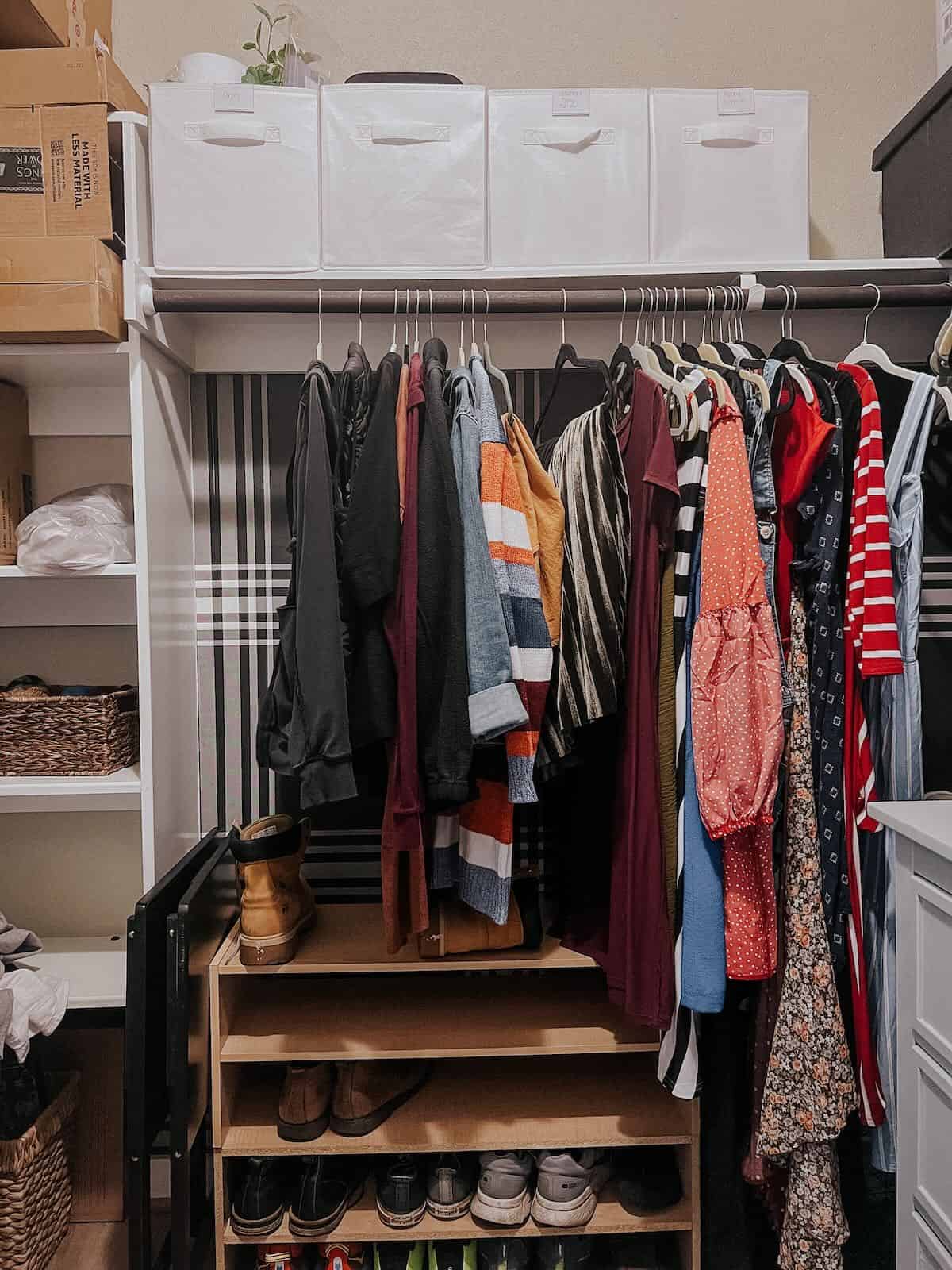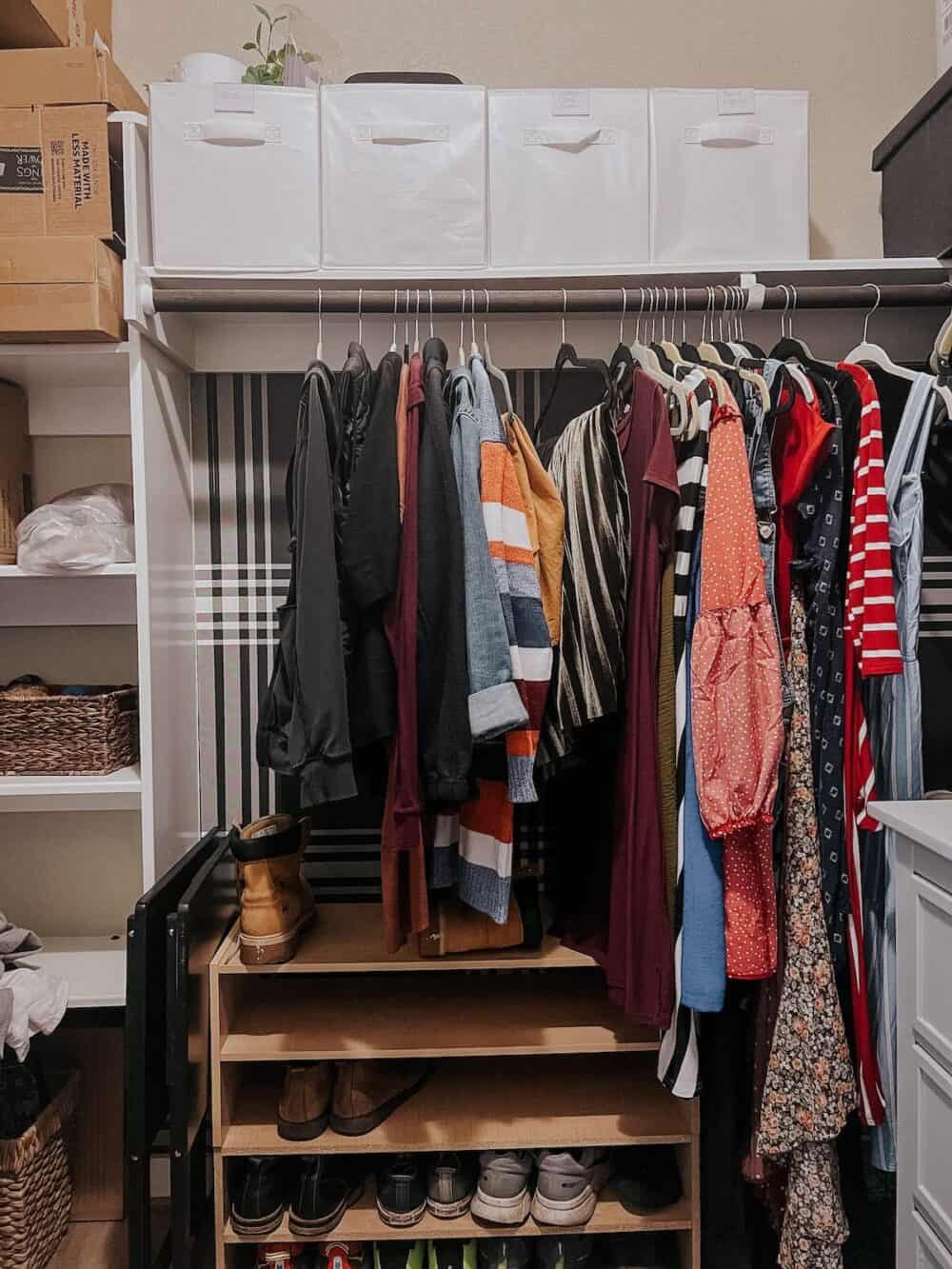 I was kind of surprised to realize that one of the things that made the very biggest difference in my closet was simply adding some baskets to the top shelf! The shelves around the top of the closet have always been a bit of a dumping ground for us. It's an easy place to stash seasonal items, hide Christmas gifts, or store anything that we just aren't sure what to do with.
I didn't want to make myself fully give up that storage (it's handy!), but I did want to get it under control. So, I grabbed a set of 8 matching fabric baskets that perfectly fit on the shelf. I sorted everything up there and was pleasantly surprised to find it all fit really nicely into the bins.
I still have a few non-matching bins from before – I considered replacing them but that felt like it violate the spirit of a "budget" makeover, so I decided to embrace them. They're a little bigger than the new ones, and I'll probably replace them eventually but they do a great job for now.
4. Add simple hat hooks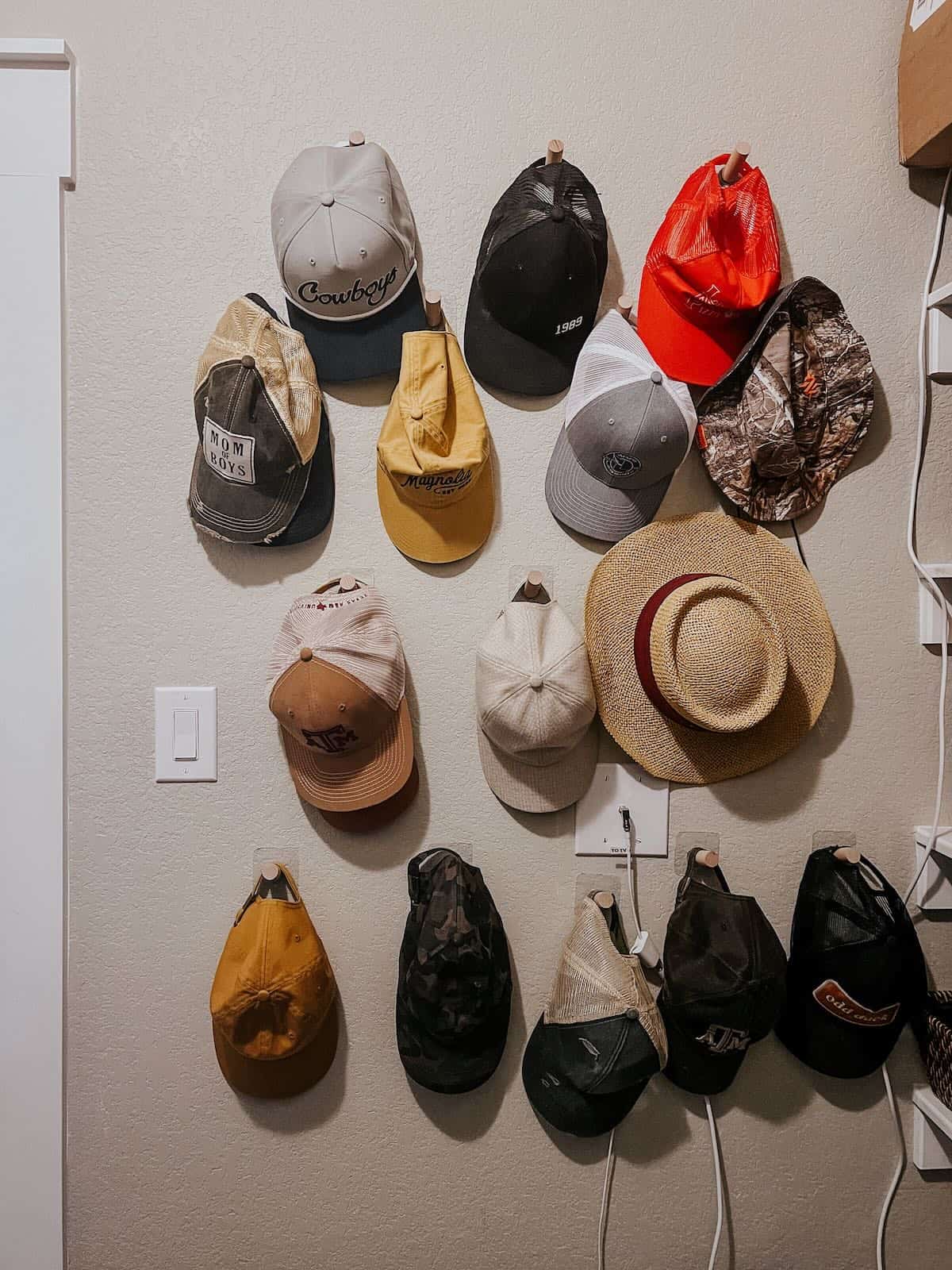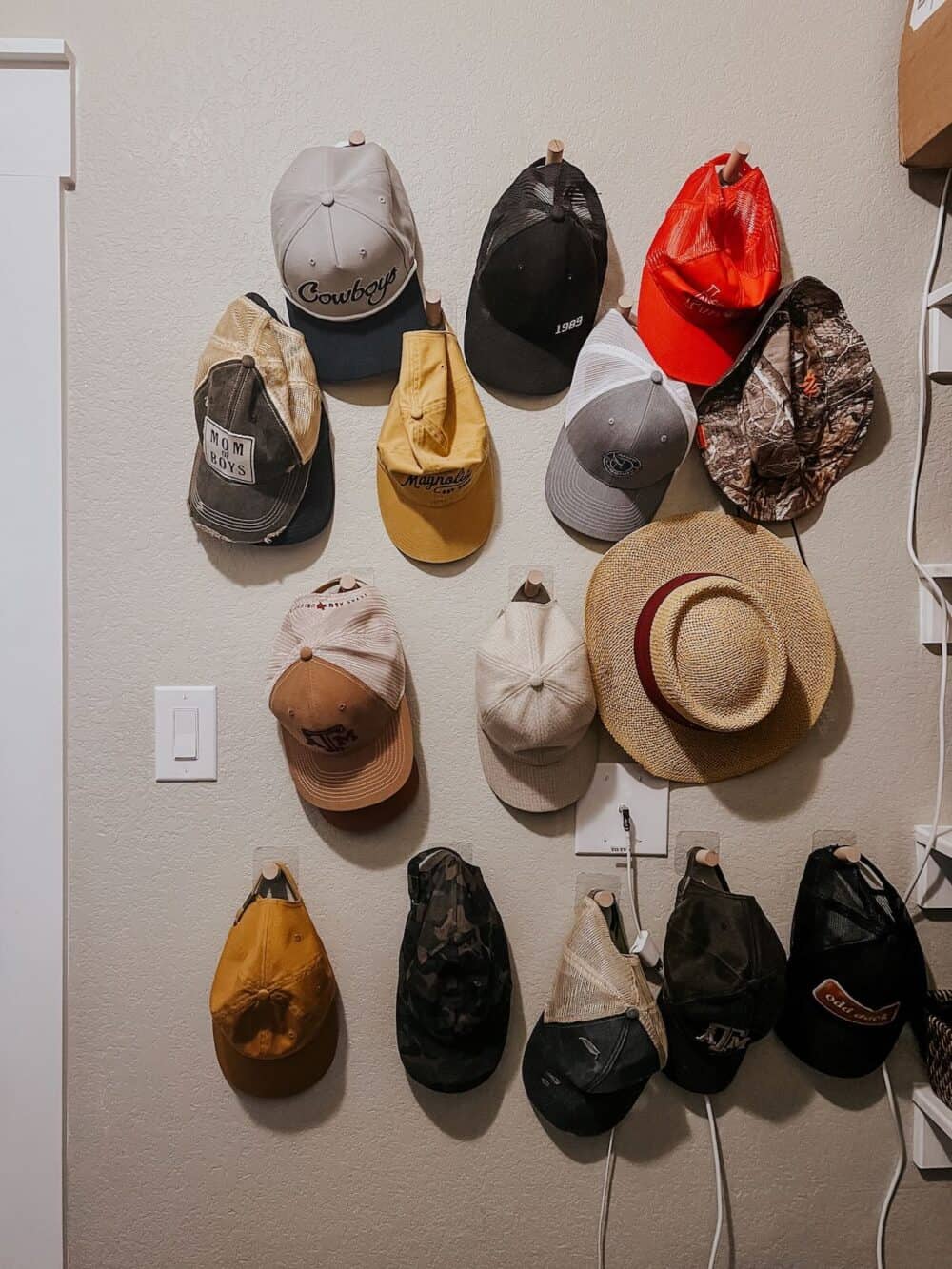 Over the last few years, my baseball cap collection has gotten a little out of control. I've had a set of these hat hooks on the wall for about a year now, but each hook had three or four hats piled on top of it! It was impossible to find the hats I wanted, and they were constantly falling off. It was time for some more hooks. I ordered another set of 8 and tossed them up on the wall with zero attempt at measuring or planning ahead.
I like to live on the wild side sometimes.
It's not the most adorable hat display in the world, but it works and sometimes that's all that matters, right?
5. Labels, labels, labels.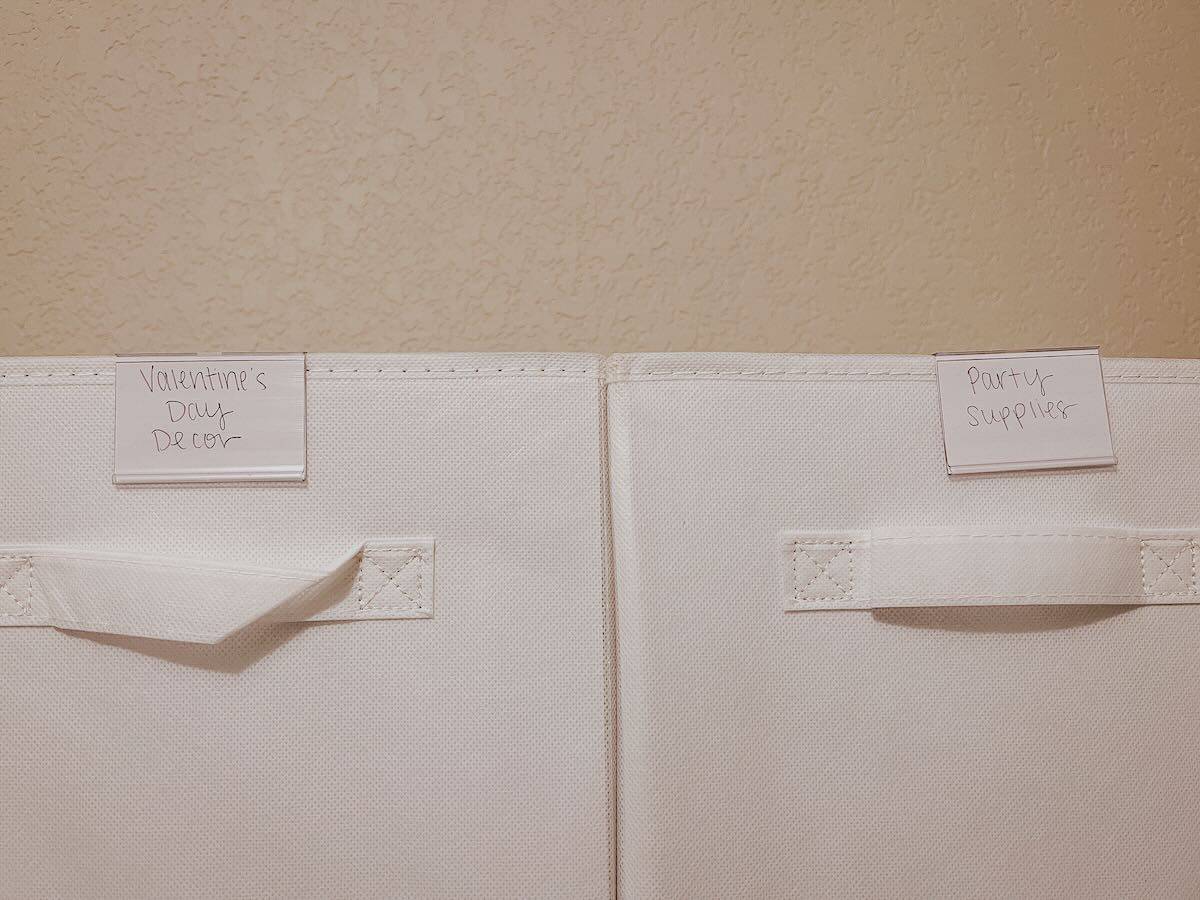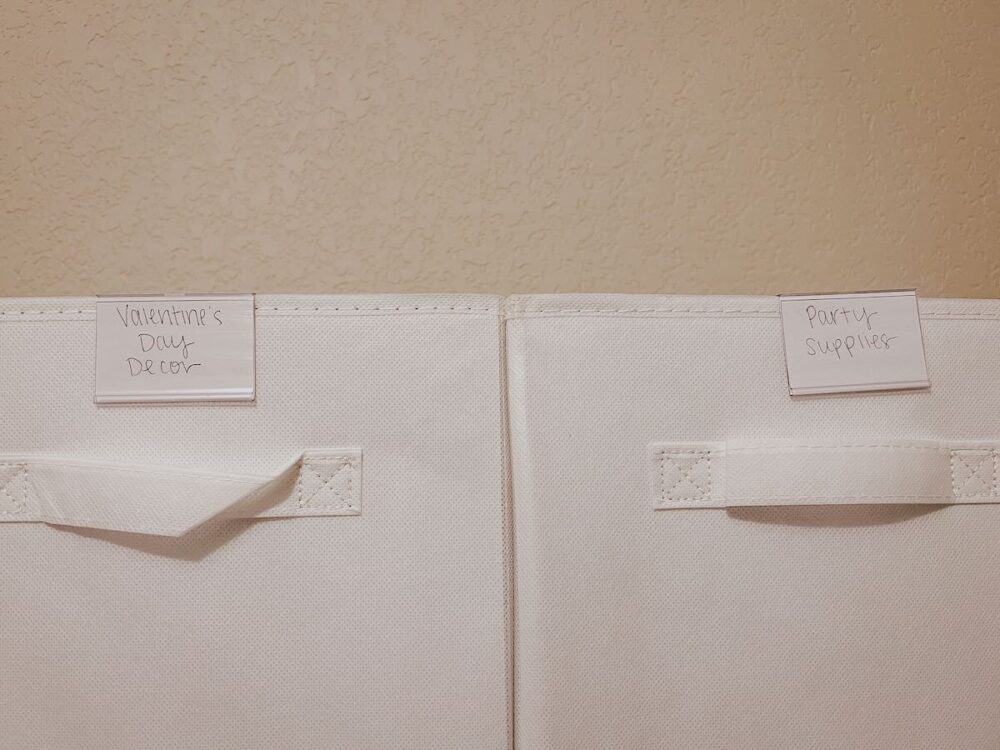 I feel like I harp on this every time I talk about organizing, but that's because it's important. Labels help you keep things where they belong. They help everyone else in your family know where things goes. And they just tell your brain, "this is an organized space".
I grabbed this set of basket labels, and it's the perfect way to label literally any basket. They fit really great on the fabric baskets on the top shelves, but they also work well on lots of other baskets I already had in the house. There are a ton of them so they'll last forever, and I love that it's so (so!) easy to find what I need now.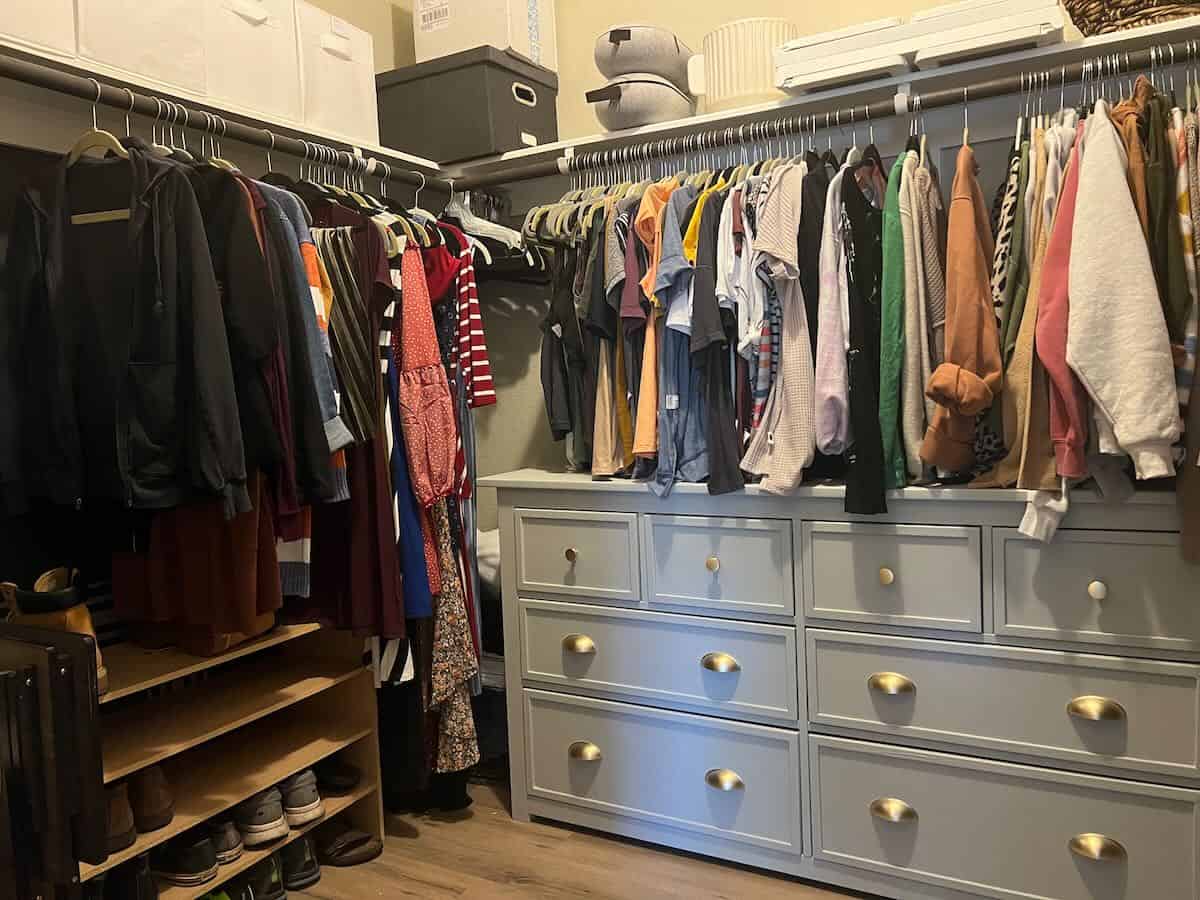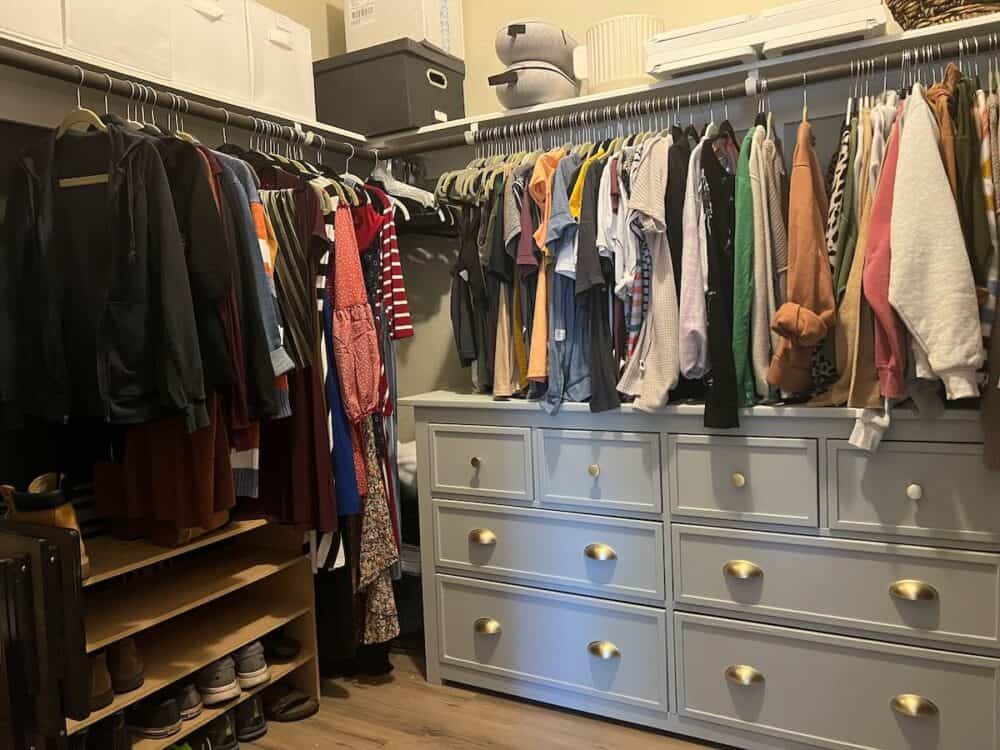 I might not have the beautiful, perfectly-styled closet of my dreams. Yet. But thanks to a few small changes I do have a closet that is organized, tidied up, and functional.
And sometimes that's worth celebrating, too.
other posts you may like