Every once in a while, I like to do a little post rounding up old projects or purchases to let you know how they're doing. You can see volume one right here, and volume two right here. Today, though, I have a special take on the post – a look at all of our organizing projects we've tackled over the last year or so!
I've been on a major organizing kick in the last year, and have spent a ton of time and effort organizing little spaces in our home. There isn't a drawer too small or a corner too insignificant for me to turn my attention to it. But, I'm sure it's left some of you wondering if any of it actually, well, sticks.
So today, I'm giving you an unfiltered look at all of the recently-organized spaces in my home. I snapped photos without changing anything about them, and I'm sharing my thoughts on how each of them has held up.
The goal all along has been to create spaces that are so organized they can't become a mess again…so let's see if I accomplished it!
spice drawer organizer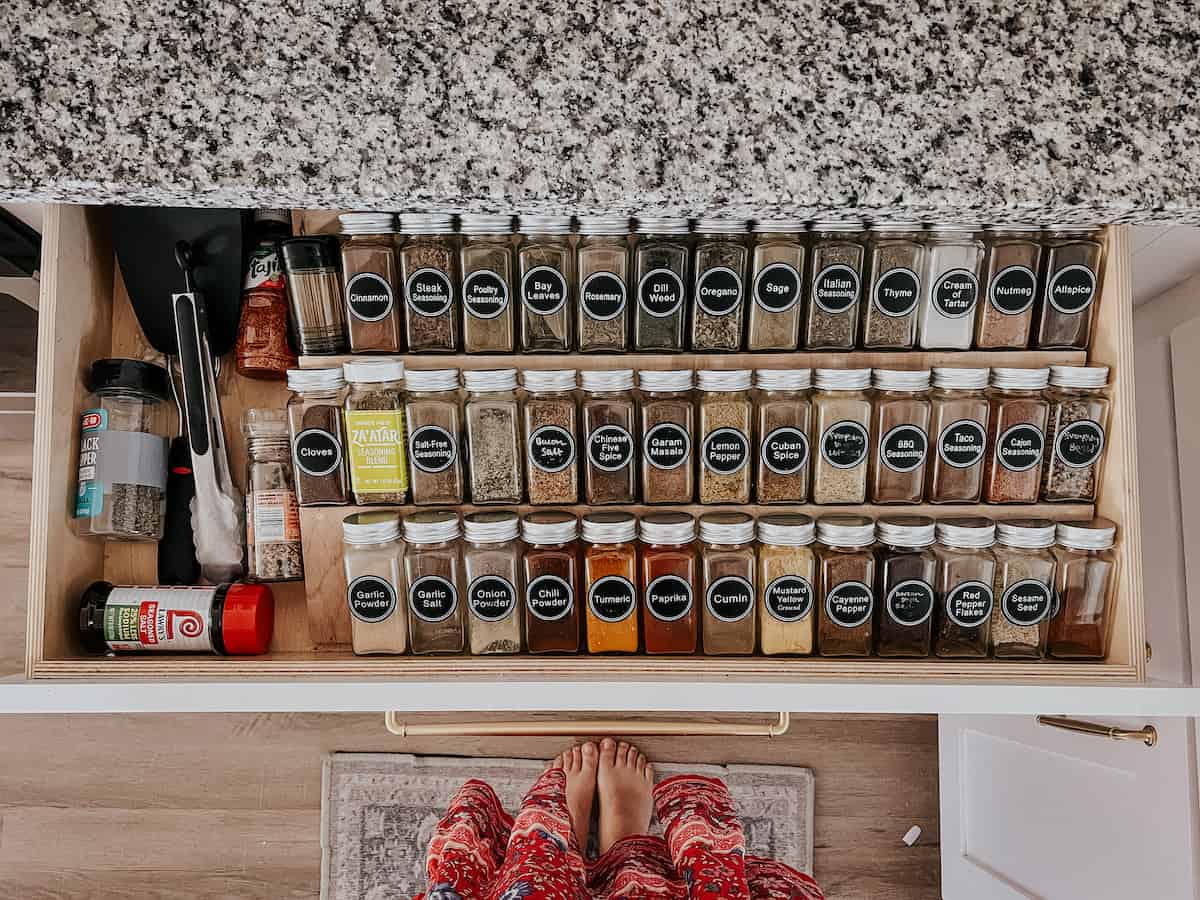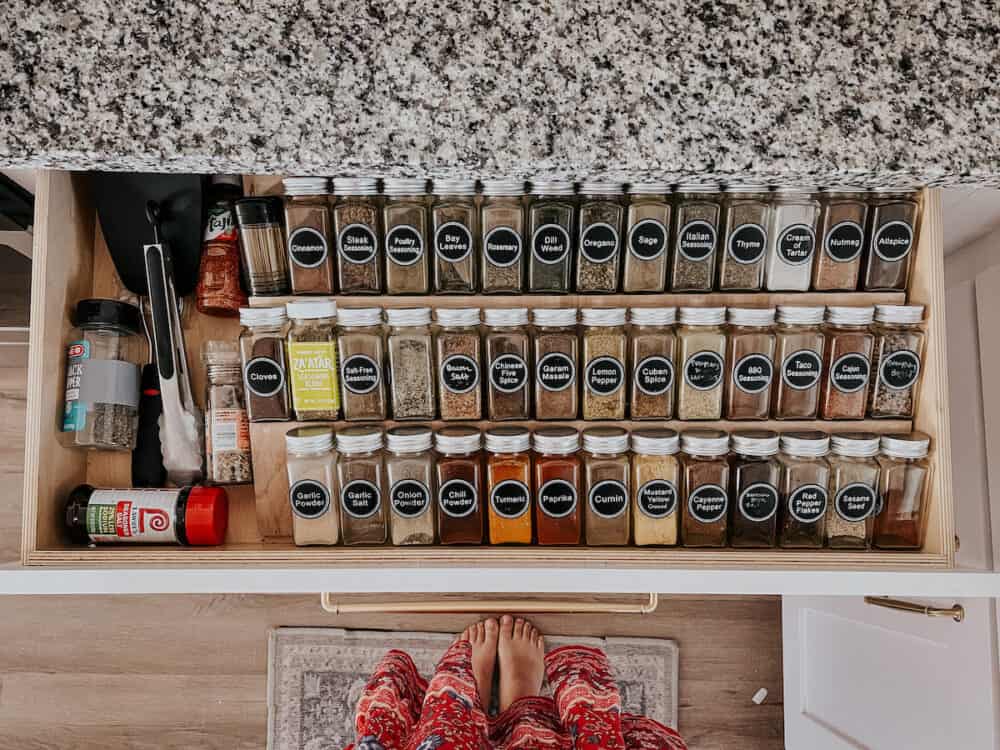 I can't even begin to tell you how great this project has been. Our spice drawer was a complete and utter disaster before we took this on. These simple little risers made a world of difference!
I think this project is especially great for a giant drawer like ours (because it's so hard to keep organized). But, it would work really well in any spice drawer! I'd 100% recommend this setup and I'd do it again without hesitation!
Silverware drawer organizer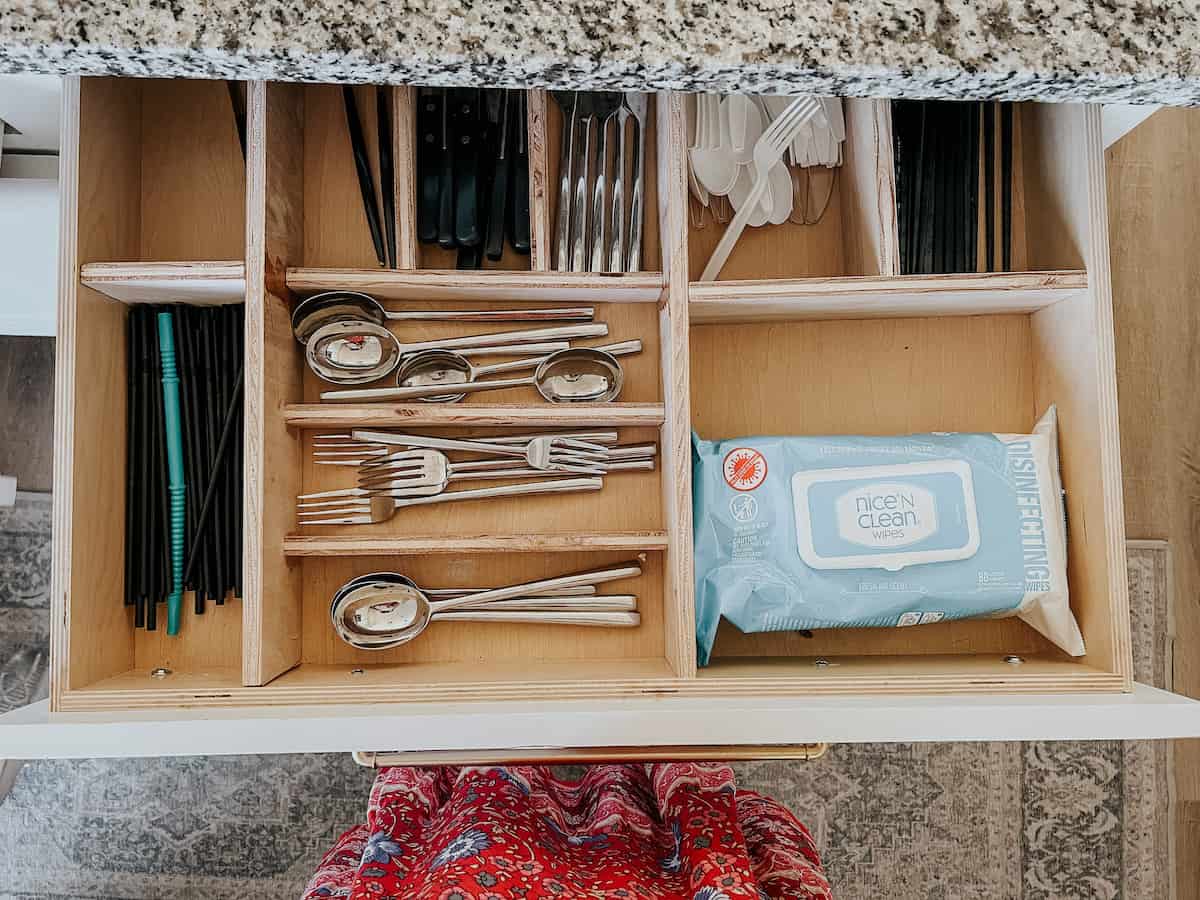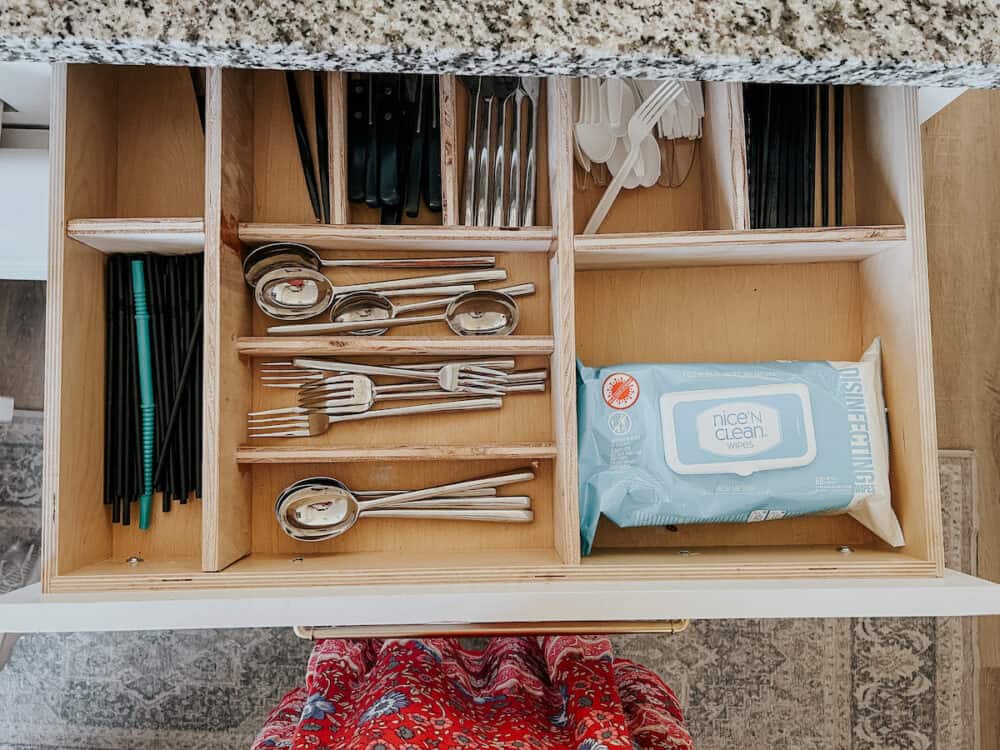 When I first assembled this project, I thought we'd be able to just slip it into place and call it a day. That wasn't really the case. Over time, some of the silverware started to slip underneath the organizer, the organizer shifted a bit, and it started to break.
So, I pulled it all out and repaired it. Then, I added glue all along the bottom and sides of the organizer and pressed it into place. Now, it's glued to the drawer itself and it has held up beautifully. It's obviously a more permanent solution, and if we ever took it out it might damage the drawer. But, we'll store silverware here as long as we live in this house and I don't see why future owners wouldn't want silverware drawer organizers! So, I'm good with it being a permanent fixture.
pull-out cabinet drawers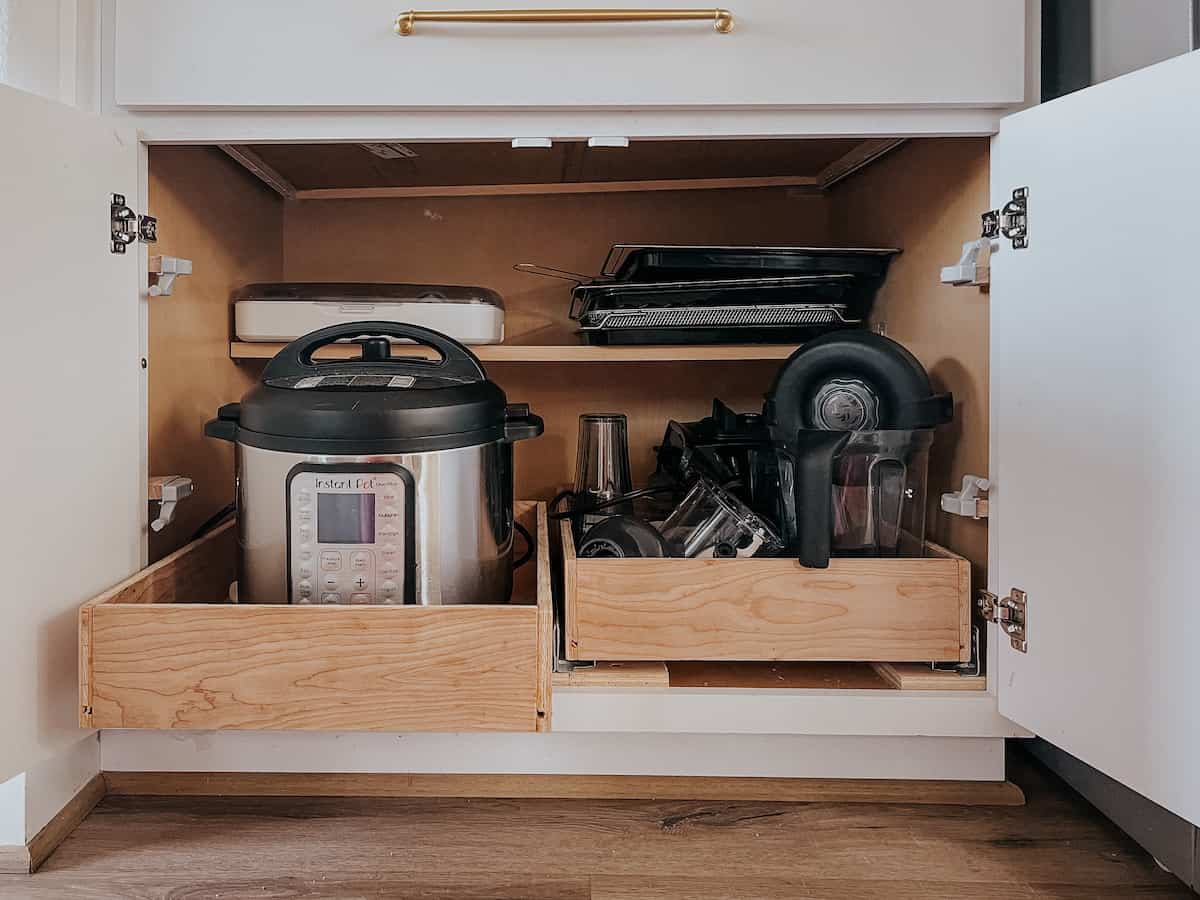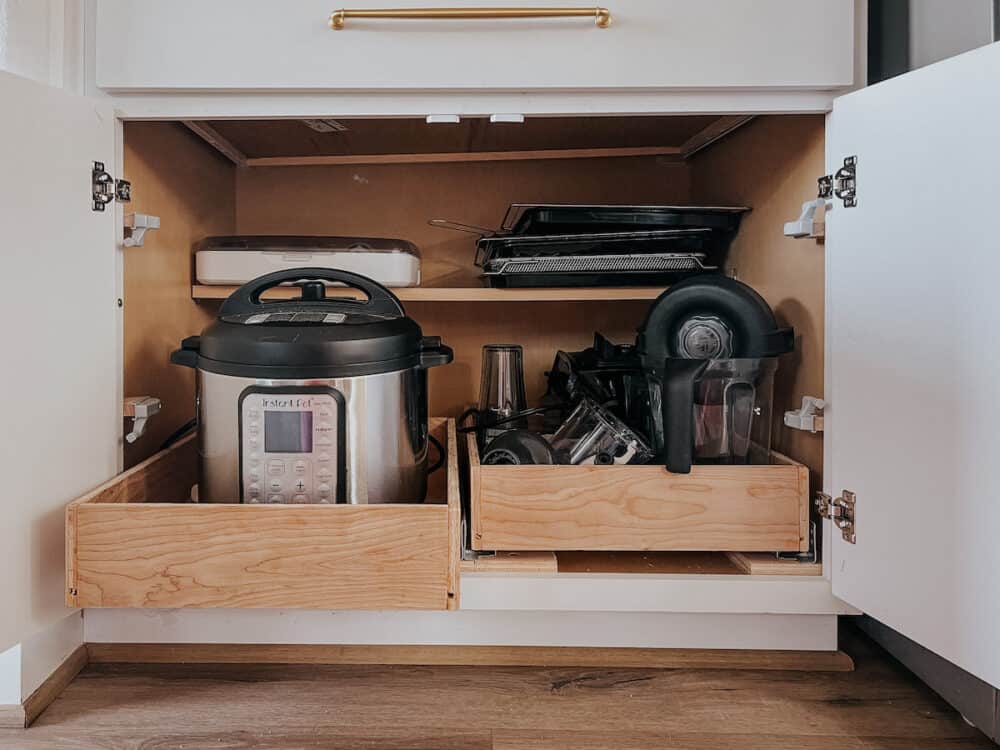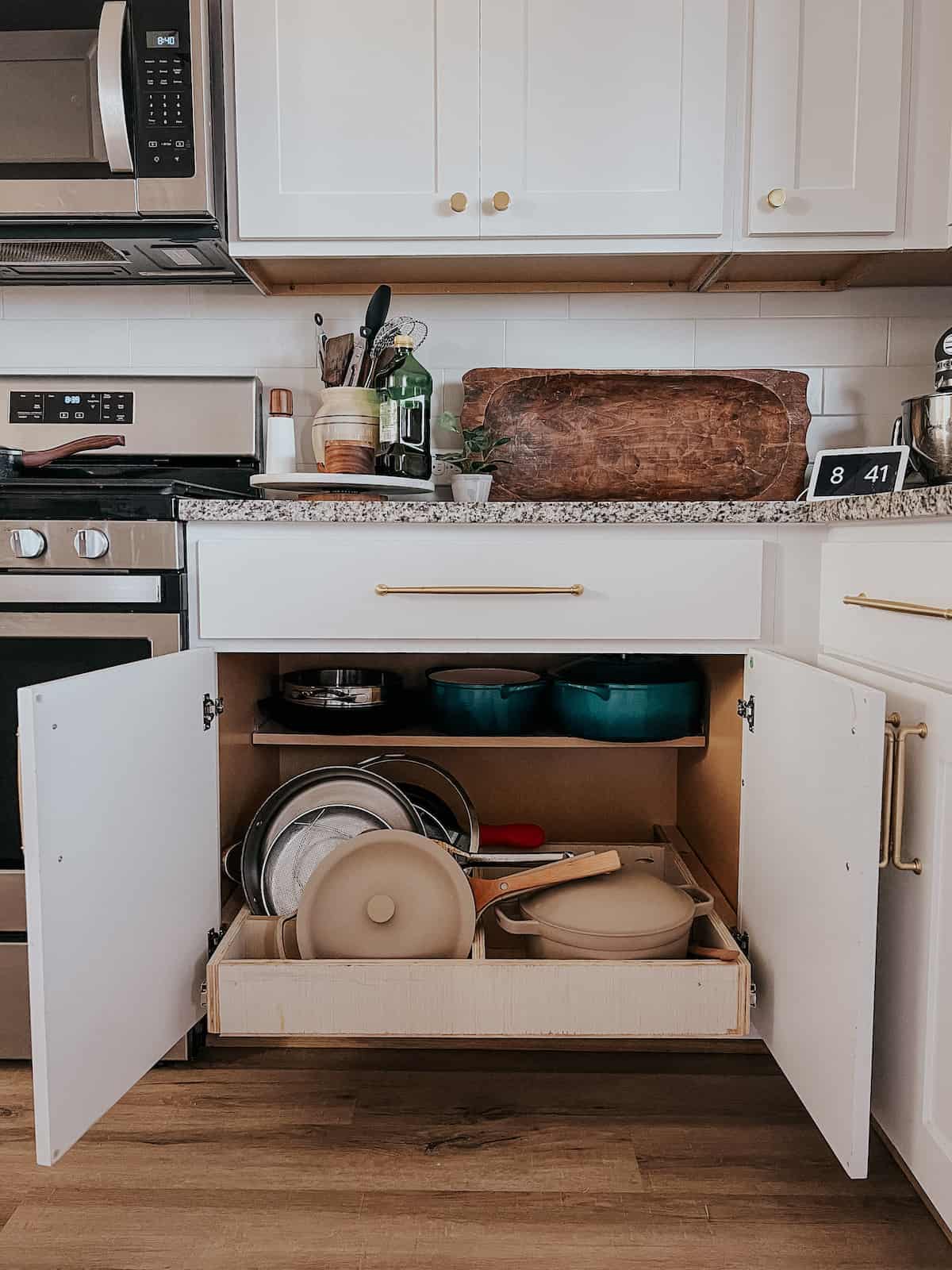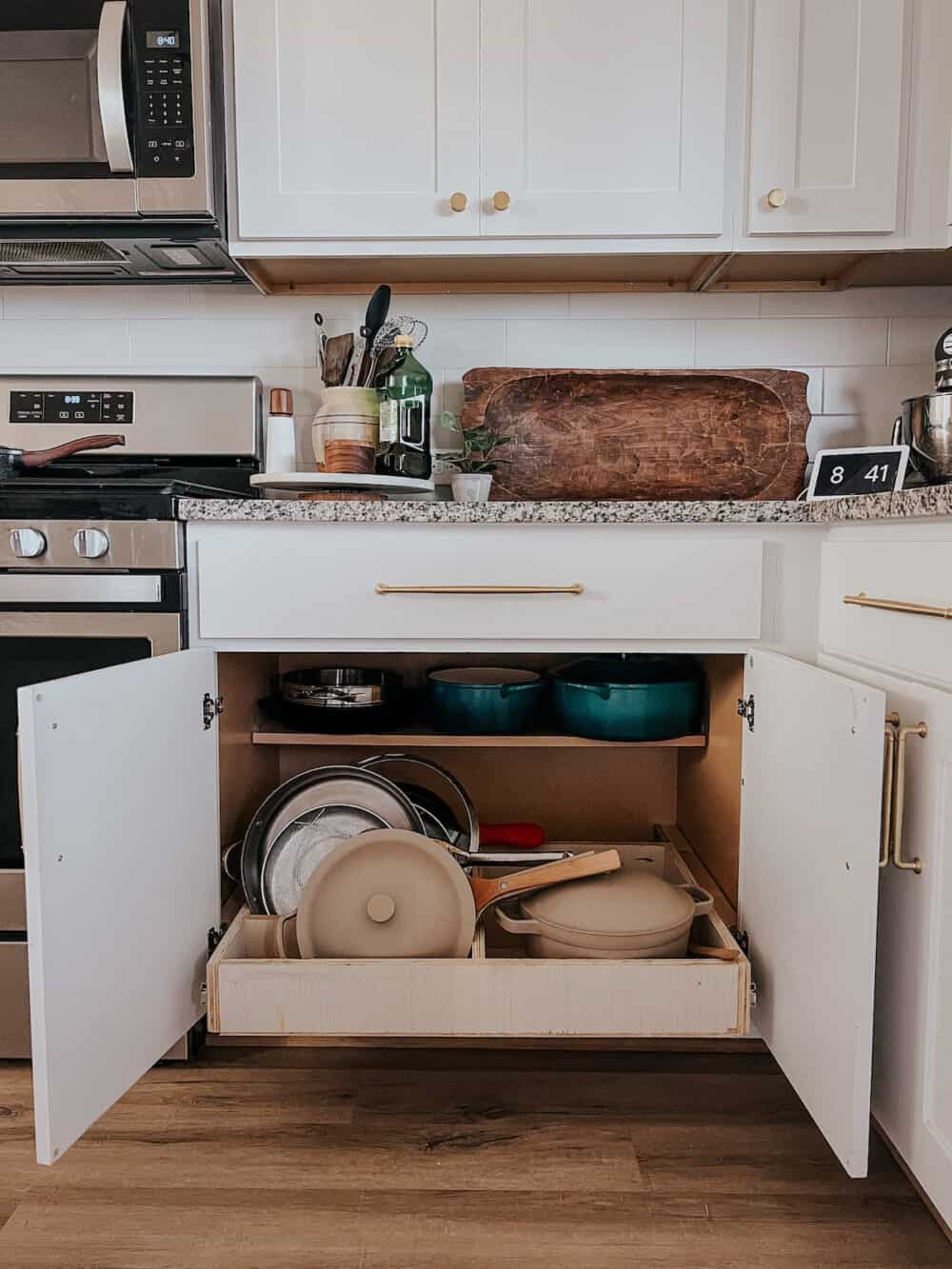 I love these so much more than I ever realized I might. Having the ability to pull out the drawers to more easily access things is so nice. And, they've held up really great! The drawers by our fridge have been there for two years, and they're still just as great as they were the day we installed them.
I will say, I don't think it's 100% necessary to build your own drawers. If you want wood drawers, it definitely saves a LOT of money to build your own. But if you're okay with a metal drawer, you'll save some time and money by just buying one. I did that in our tupperware cabinet and it works just fine! It won't hold as much, but it works for a lot of situations!
SEE THE PULL-OUT DRAWERS HERE.
SEE THE POT AND PAN ORGANIZER HERE.
the pantry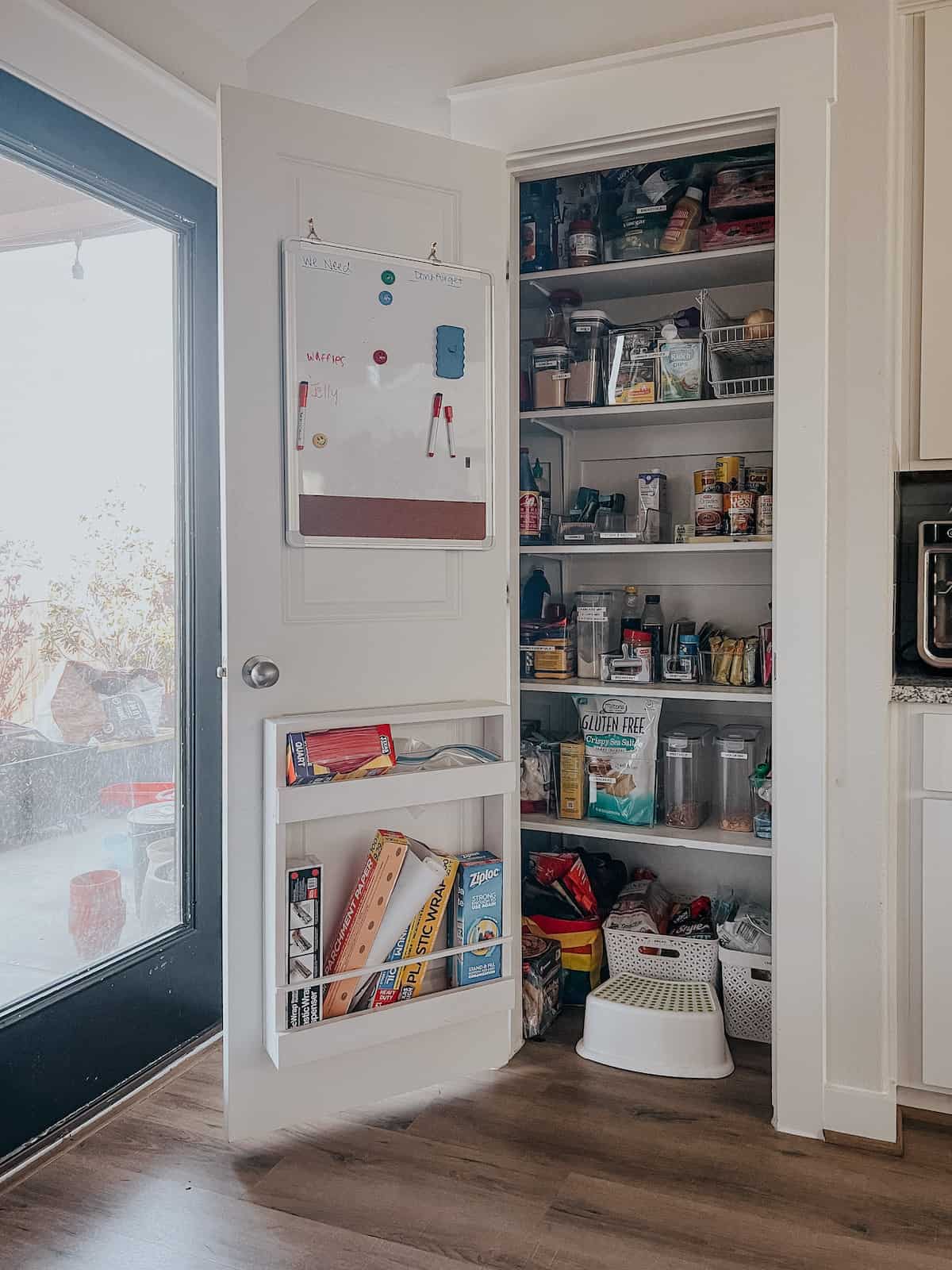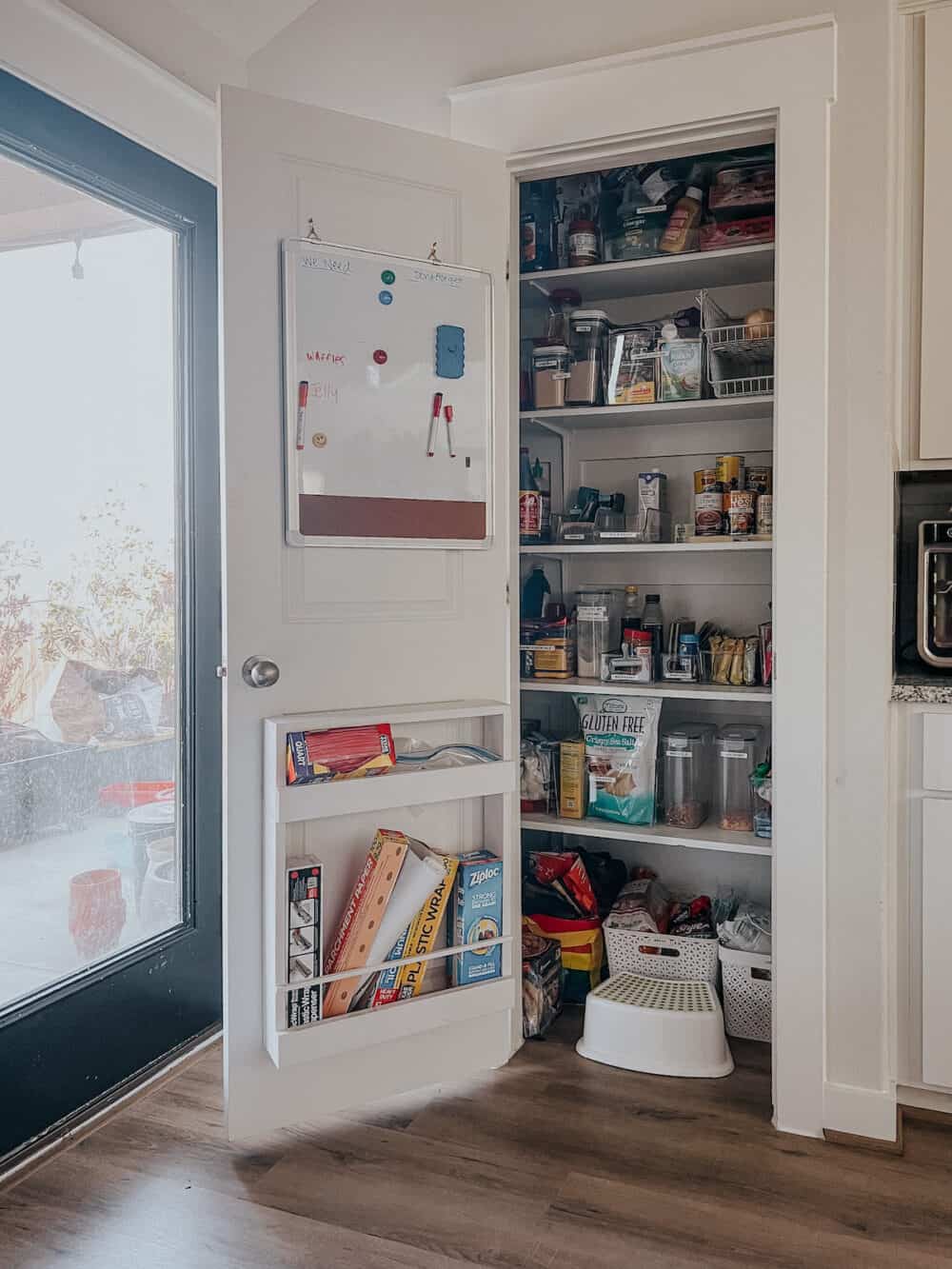 Let's be fully transparent – I still hate our pantry. It's small, it's hard to keep organized, and it doesn't have nearly enough space for what I'd like to store in there. But, with my efforts at organization, it's become at least manageable!
For the longest time, we didn't even use this as a pantry because I couldn't imagine a good way to make it work. But, now it's perfectly fine and stays more or less organized. I still struggle a bit if we make a Costco run or go rogue and pick up some new snacks, but as a whole, it stays looking pretty good. I'm really glad I decided to take this on, and I'd say it's held up really well!
SEE MY PANTRY ORGANIZATION TIPS HERE.
SEE THE DIY PANTRY DOOR ORGANIZER HERE.
Linen closet organization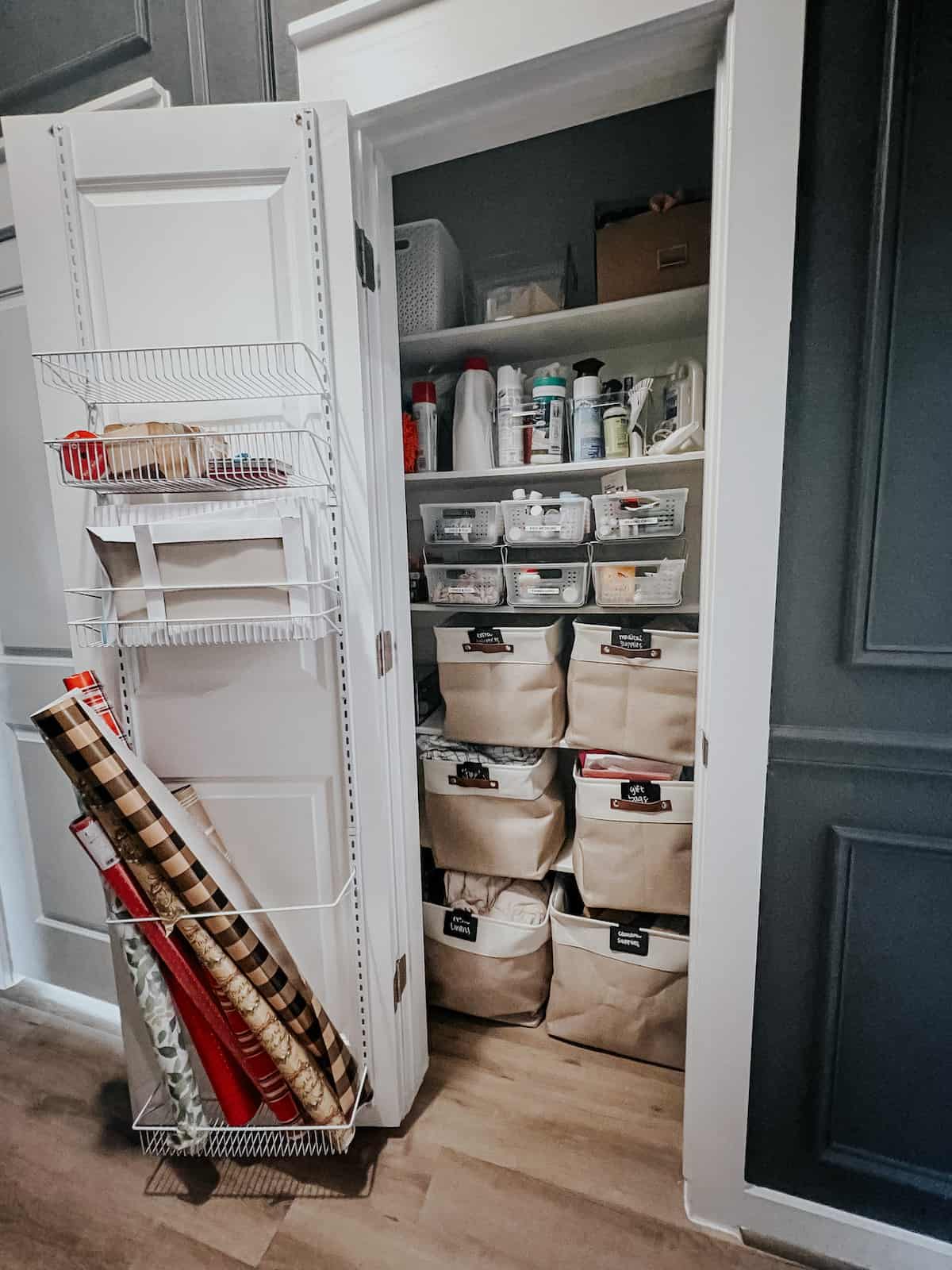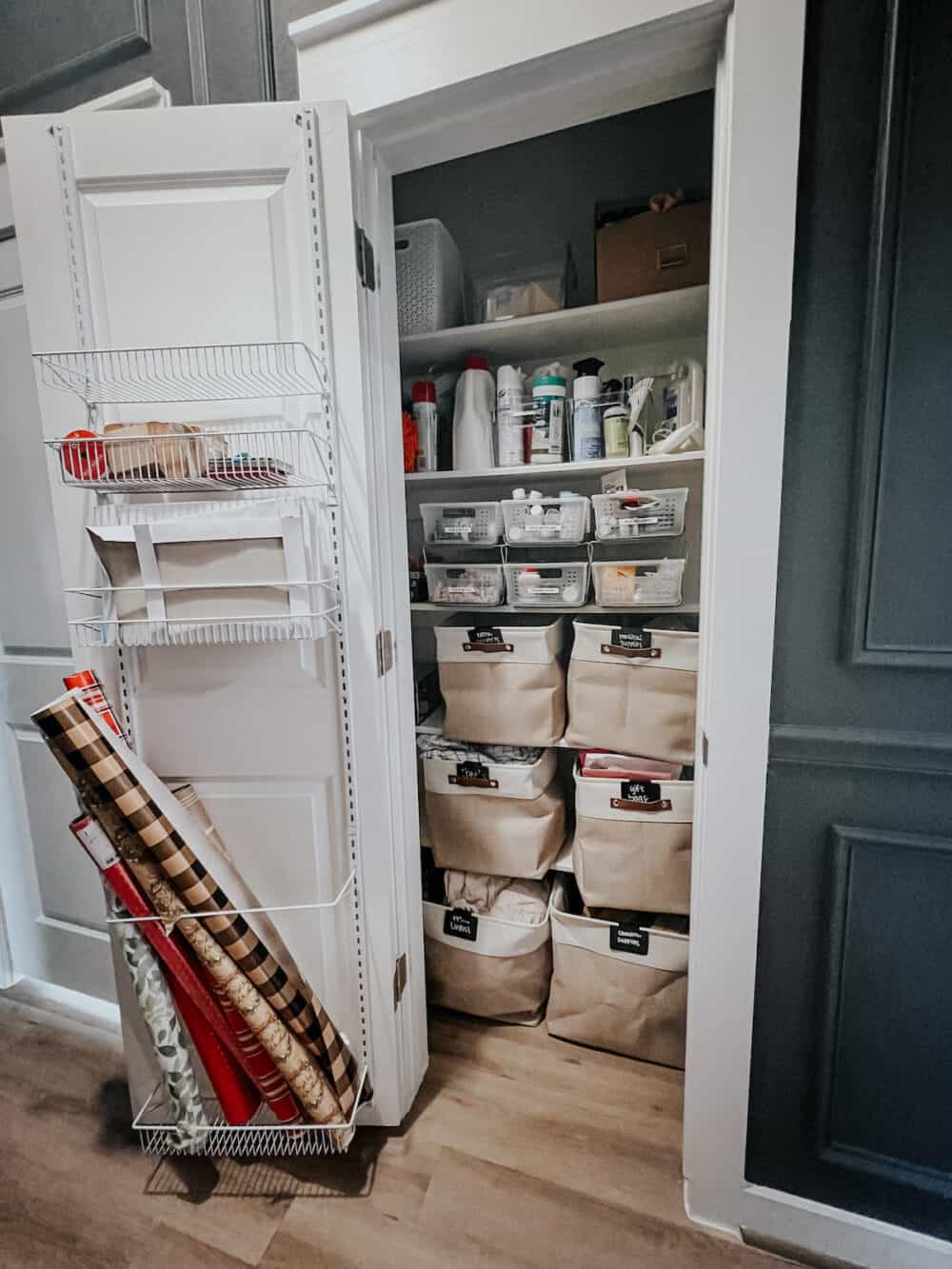 Oh man, out of everything on this post this might be the most satisfying for me on a day-to-day basis. The linen closet was an absolute nightmare before I whipped it into shape, and I'm so beyond pleased with how it has held up! Having a ton of big baskets in here has made it so easy to keep things organized. The gift wrap station on the door is working really well for us, and the medicine organization is still holding up nicely.
This was one of the very easiest projects out of all the organizing projects I've done, but there's just something about this perfectly organized linen closet that makes me so happy! The one thing I need to work on in here is the shelf with cleaning supplies. I recently re-arranged a few things and it's all just tossed into the baskets right now. I need to take a few minutes to organize them by category and label the bins. But, at least they're mostly organized!
the art closet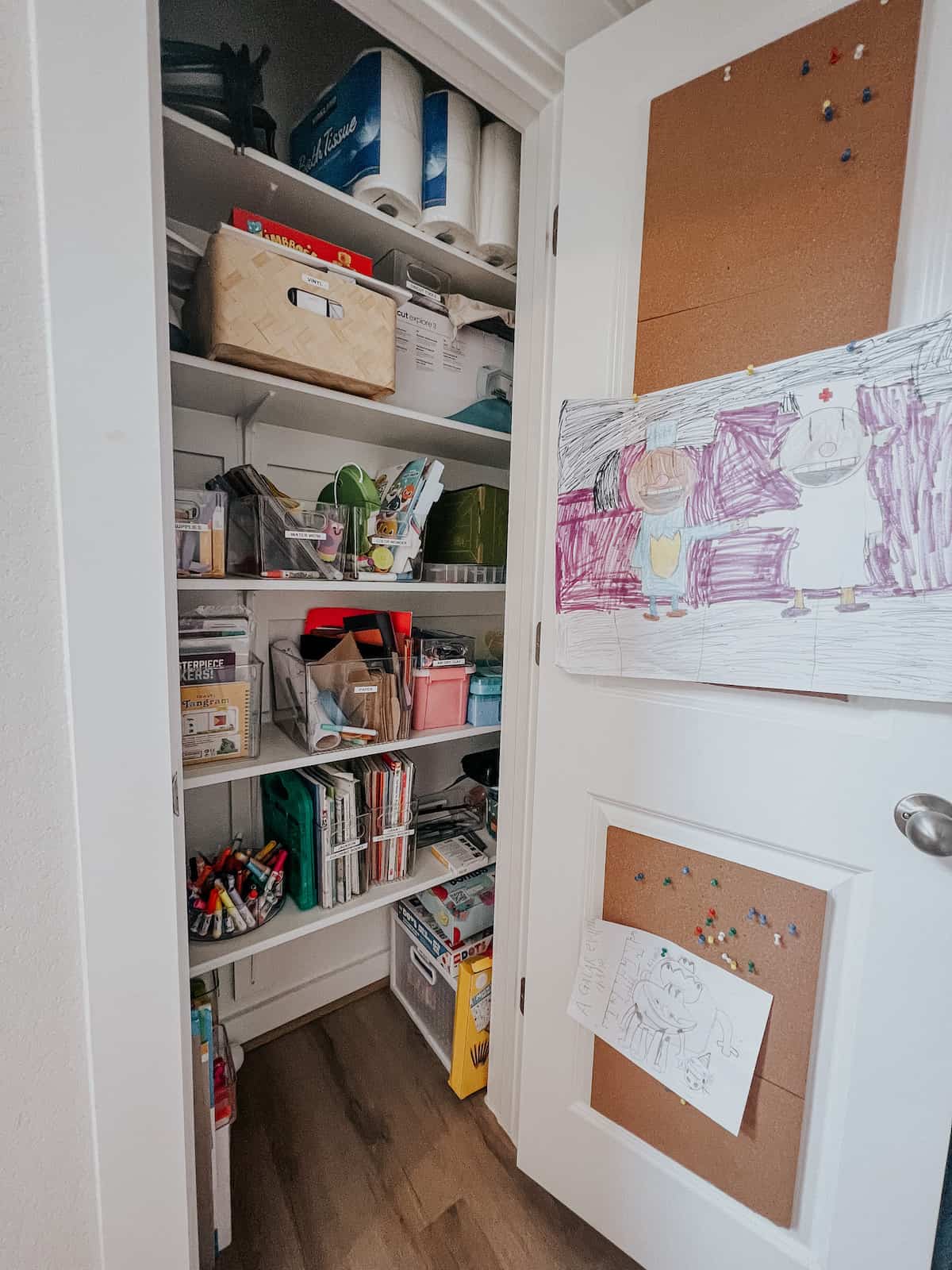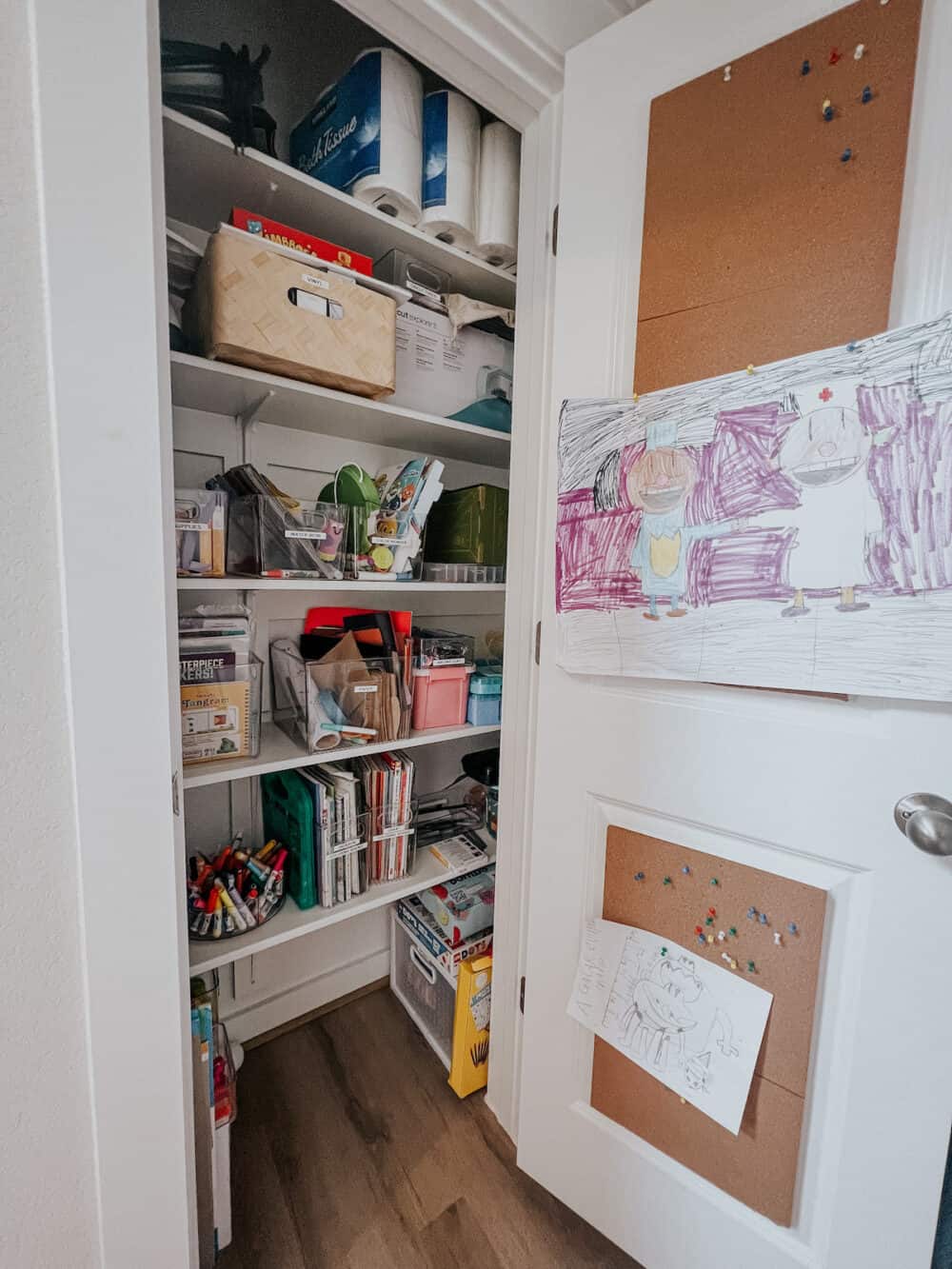 After moving in, the art supplies in our house went from several fully-disorganized cabinets in our kitchen to a fully-disorganized closet next to the laundry room. I finally got tired of the chaos and spent a few hours one day organizing it down to the smallest little detail.
Out of all the organization projects I've tackled, this closet is probably the one that requires the most maintenance. Everything else (mostly) stays exactly as I left it with minimal effort on my part. But, this is the one space that is pretty much fully controlled by the kids. And that means it's hard to keep it organized. The kids tend to just throw things in and close the door, despite my (frequent and always very calm) reminders that everything has a place.
Once a month or so, I head to the closet and spend 5 or 10 minutes getting it re-organized. It's not as seamless of a system as I'd like, but it's a million times better than it was! So, I'd still say this one is definitely a win.
SEE MORE ABOUT THIS PROJECT HERE.
the junk drawer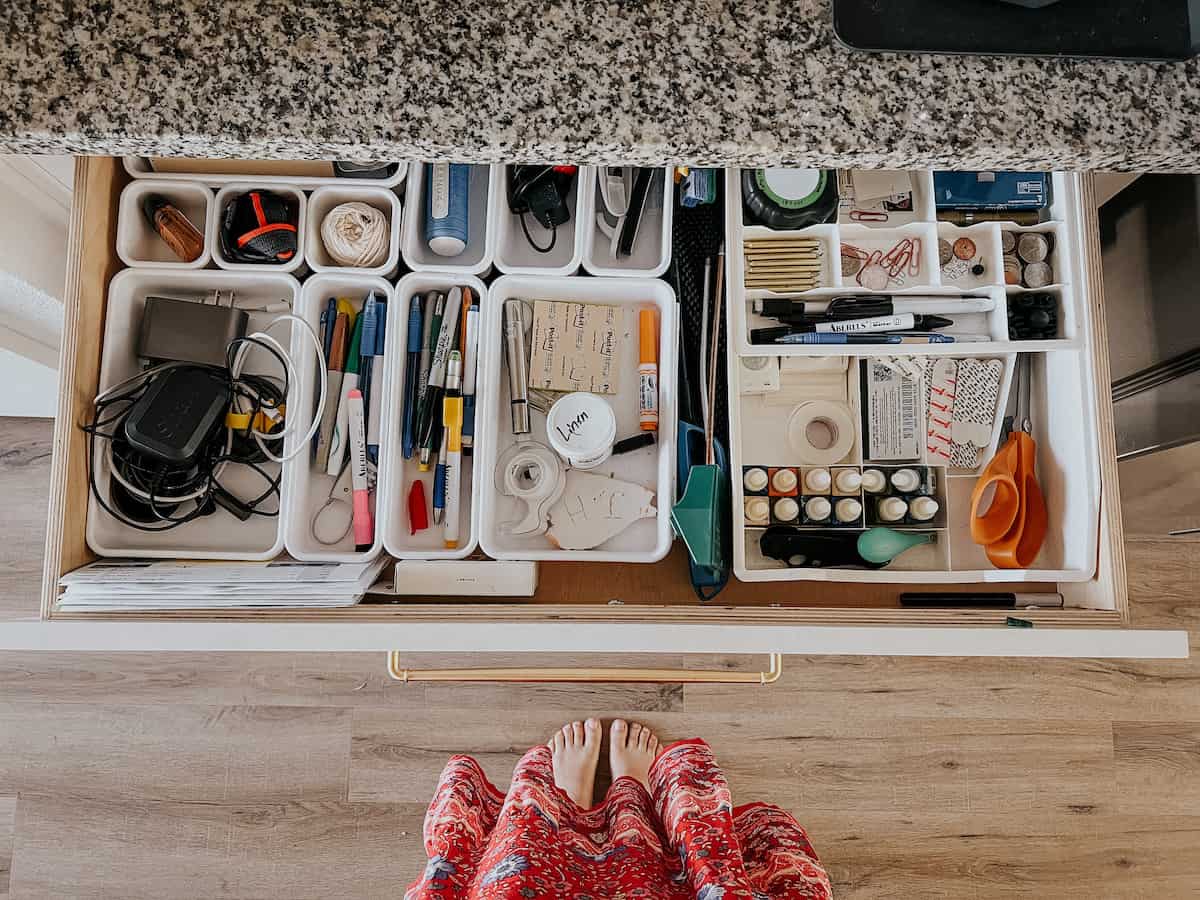 We all have a junk drawer, right? I've spent a literal decade trying to get mine under control, and up until recently it always fell back into disarray. But, I finally decided to really dig in and put in a serious effort with this one, and it's held up SO WELL! We have a really large junk drawer in our house, and it's organized to the last inch.
Every once in a while I'll find that someone put something back in the wrong spot or just hurriedly tossed something in, but for the most part it stays looking exactly as it should. And it only takes me a few seconds to find what I need every time. That alone is worth the effort!
SEE THE JUNK DRAWER DETAILS HERE.
my organizing MVPS
After all of the organizing I've done lately, I've got a pretty good handle on the products that work best for our family. The biggest lesson I've learned is that, for us, just working with what we already have around the house does NOT work. If my stuff is mismatched and hodge podge, I won't keep up with it. But, if all my organizers match and look pretty and everything feels fresh and new? I'm WAY more motivated. It's a little thing, but it works!
Here are the products I've found myself returning to again and again.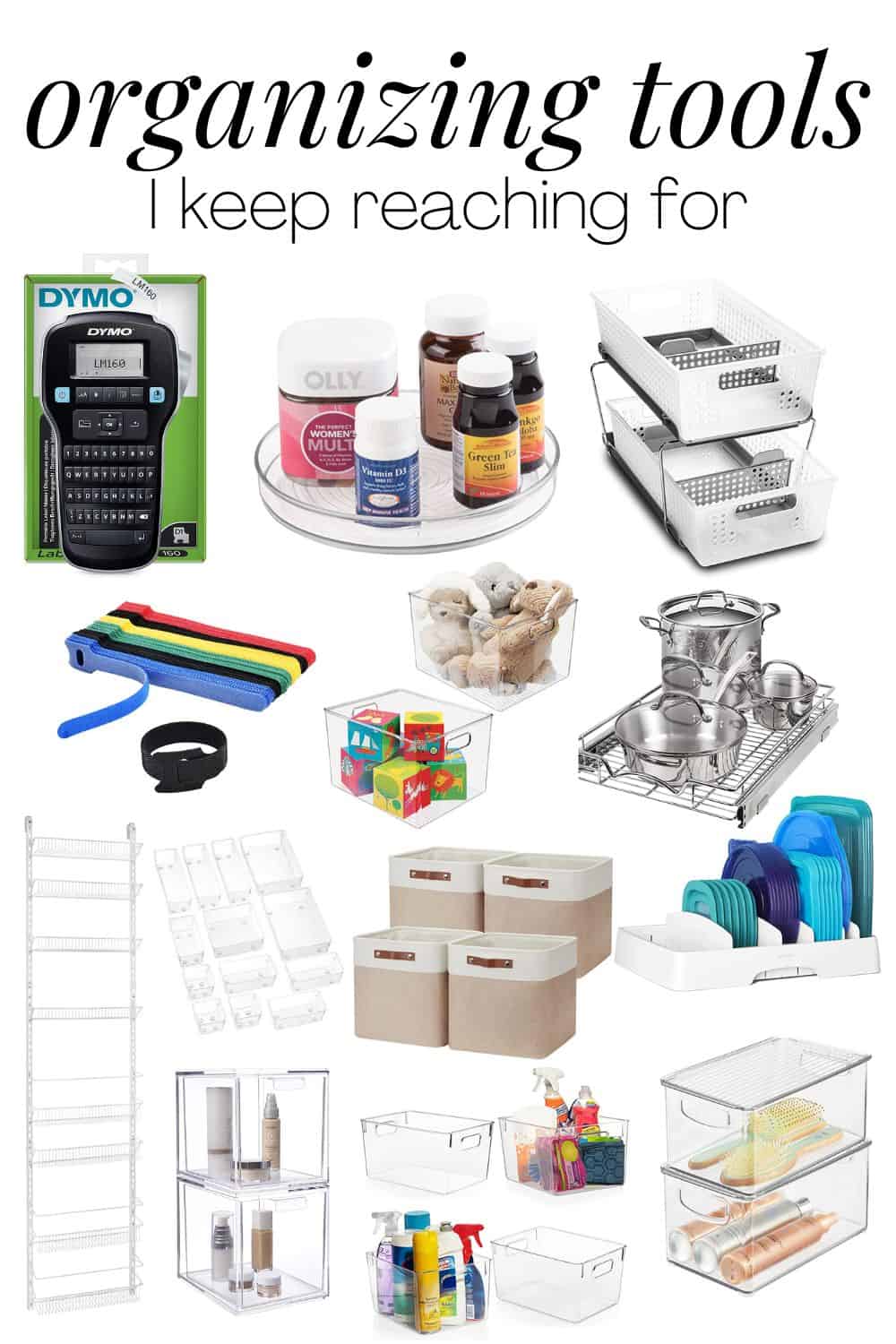 These are the things I find myself going to over and over. Having things that match makes it really easy to switch things up anytime I need to! I've still got a loooong list of spaces in my house to organize, but so far I'm feeling really great about what I've managed to get done.