As Corey and I continue to get used to this new house and settle in more and more, we're continually learning how to function in this new, smaller, space.
One room in particular that I forsee being a struggle for us is the dining room. Corey and I were incredibly spoiled with the dining room in our old house, and we used it almost every single day. I'm so used to being able to decorate a huge table every season, and it's never been a problem to try and fit as many people as we needed around one table – our old one comfortably seated up to 12 people!
In the new house, however, we have a lot less space and we're still learning how to best utilize it. For the first week or so we were using the table that used to be in our breakfast nook, but we quickly realized that, while that table was fine for occasional use it was not a full-time dining table. It's a little flimsy, it's tiny, and we felt cramped every night when it was just the three of us eating – I couldn't fathom trying to squeeze any more people in there!
I started to research dining tables before we even moved into the house, but in the end we decided to track something down on Craigslist rather than buying new. We may still buy a new dining table at some point (or we'll build one), but for now we still need to figure out how to really utilize this space best, and we need to do that with an affordable table that won't break out hearts if it doesn't work out. I snagged a pretty little pedestal table on Craigslist for just $100 and it's the perfect size for this little nook. We can fit 6 people comfortably, and I'm thinking we may be able to squeeze in one or two more if we build a bench to go in that corner. Baby steps. We'll see what happens.
Eventually I'll be giving this table a makeover – nothing crazy, I'd like to keep it wood toned, but I won't even think about that until after the holidays. My first, and most pressing, challenge with this table was figuring out how I wanted to decorate it for the holiday season. We typically host Christmas day at our house, and while it's pretty casual I always like to make things as pretty as possible – plus, setting the table for Christmas is one of the most fun parts of decorating!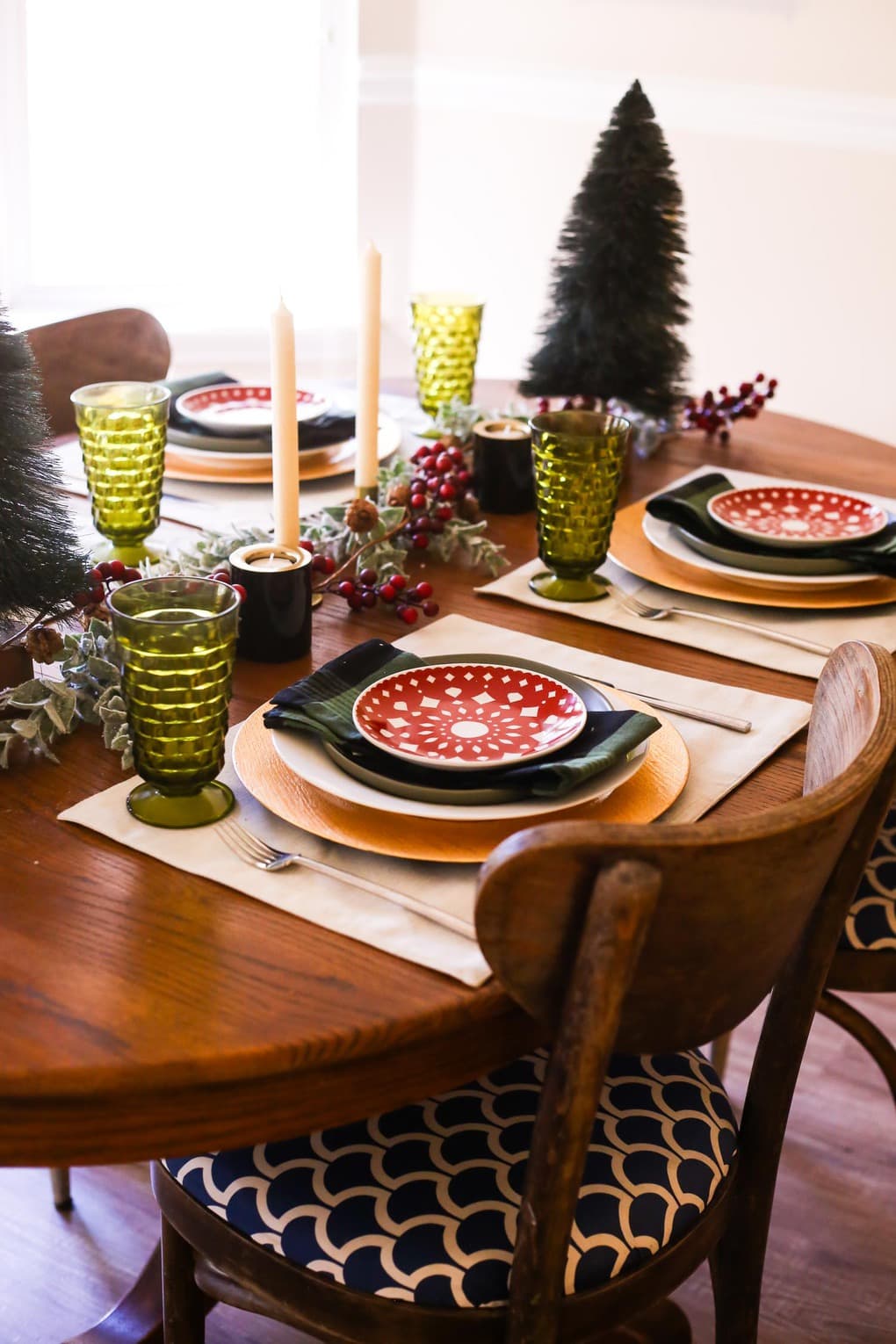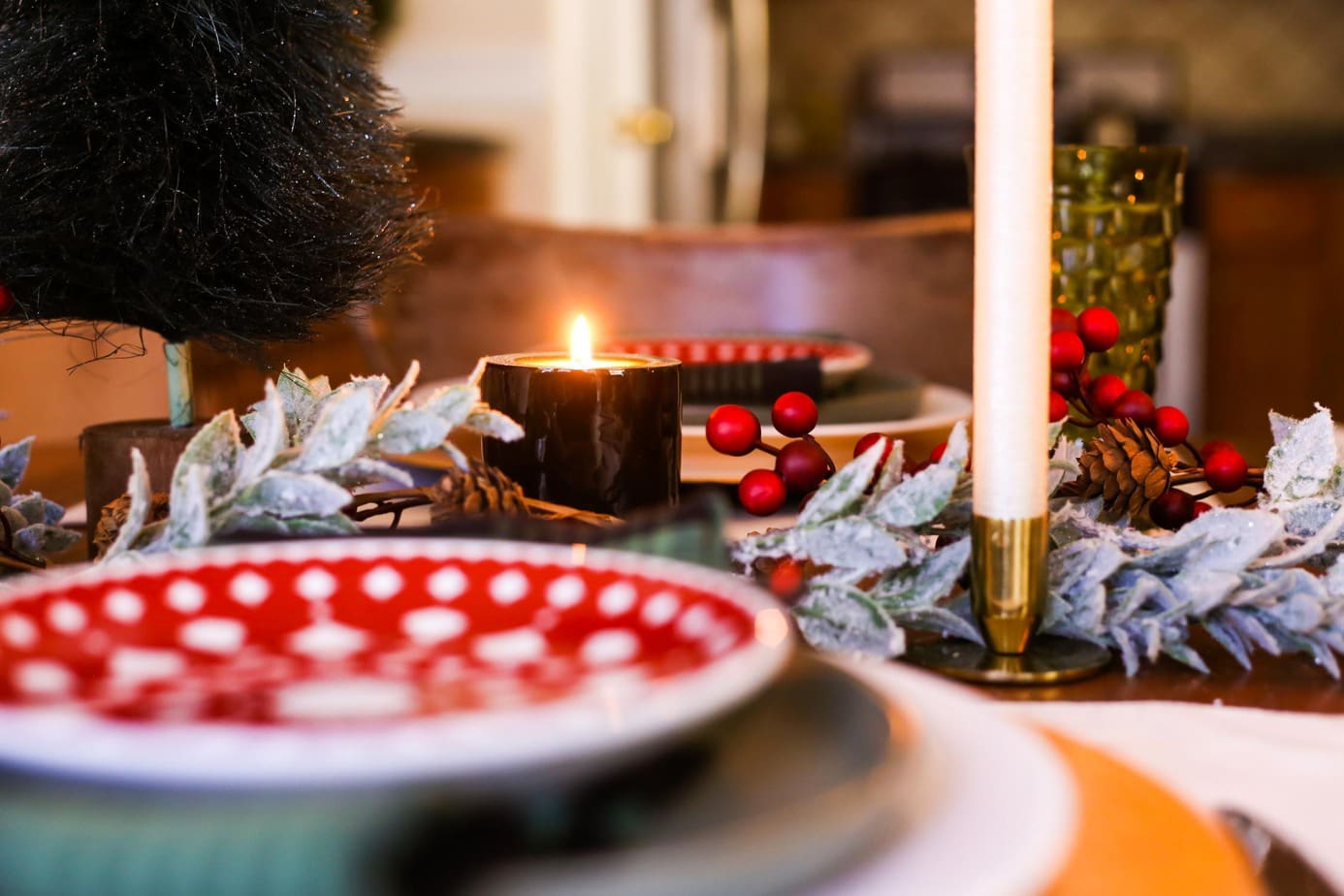 This post contains affiliate links. Click here to read my full disclosure policy. 
We'll be grabbing a folding table and chairs to supplement our seating for the actual holiday – so I still need to get that and figure out how I want to style it – but this is our cute little main table all dressed up. I kept it very simple since the space is so small, and I think it's perfectly charming and cozy for this tiny little nook.
A lot of the stuff that I used to decorate the table is new this year – I wanted to use some deeper colors, lots of candles, and nothing too tall or large, and I didn't have anything that fit the bill. I'll link all of my new finds at the bottom of this post, but it's pretty much all from Target. Because I occasionally forget that there are other places you can shop.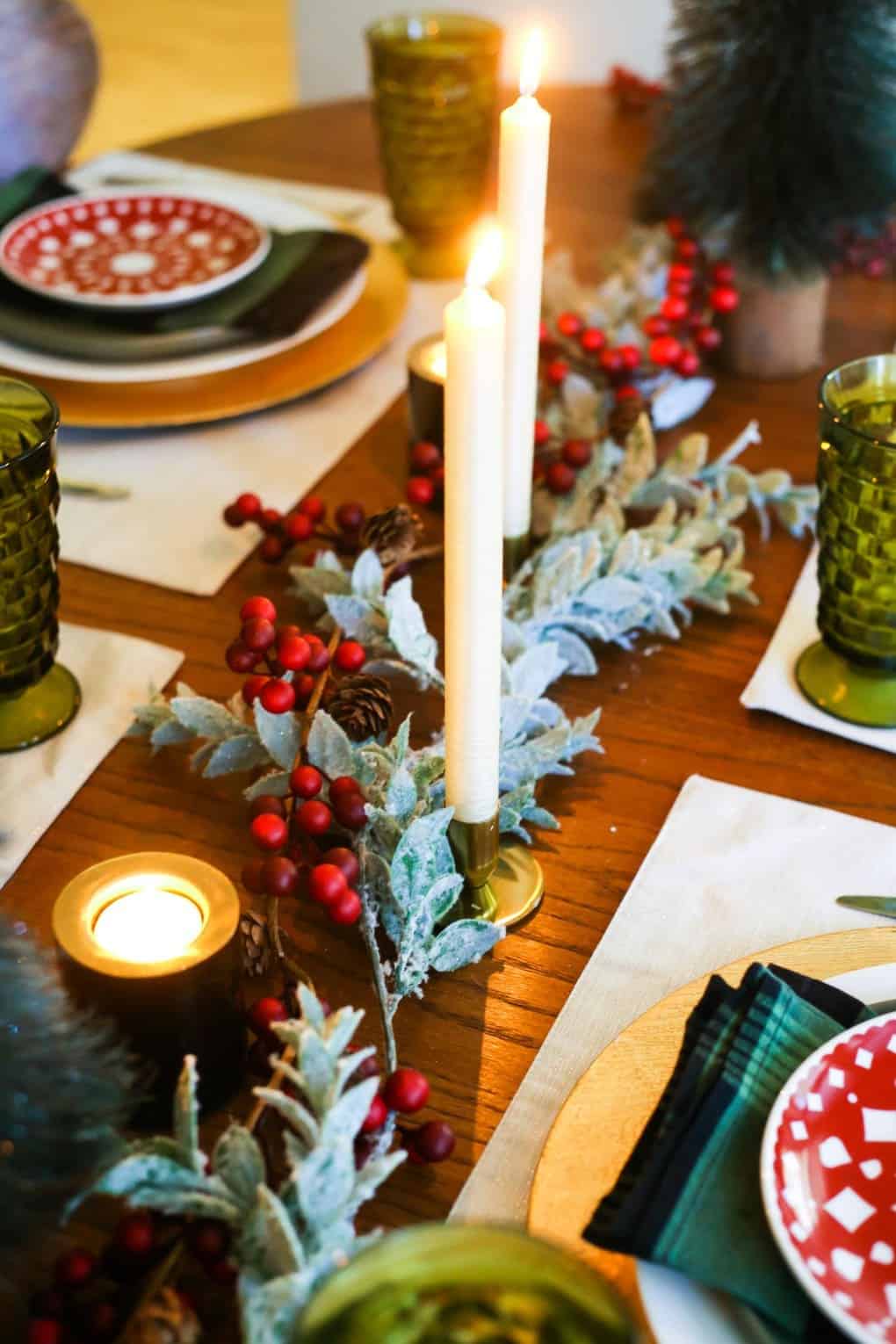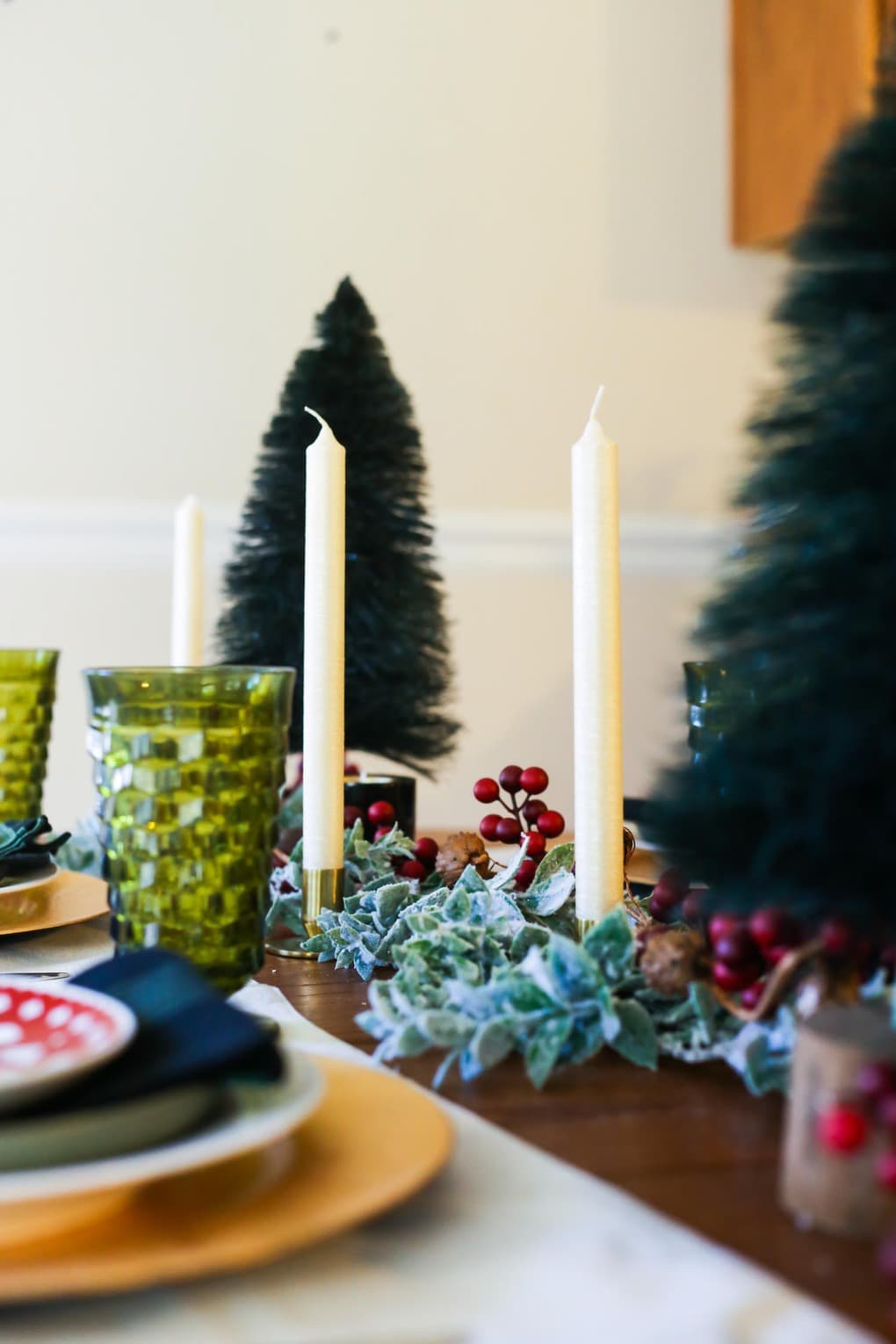 I think my favorite additions to the table are those simple little black tealight holders. They were only $4.99 and I think they're just so pretty. Of course, the dark green trees are pretty amazing too – Target had a ton of these trees in a bunch of different colors. I debated between this green and a shimmery cream-colored one, but I'm glad I went with the green in the end – I've been gravitating to darker colors for my decor this year, and I'm loving how it all looks together.
I would have loved to replace the placemats (these are several years old and pretty dirty – I have the hardest time keeping cloth placemats looking nice!), but I didn't really see anything that I just loved. Thankfully, these are nice and neutral and blend right in – and cover up all of the not-so-pretty orange-y tones on the table!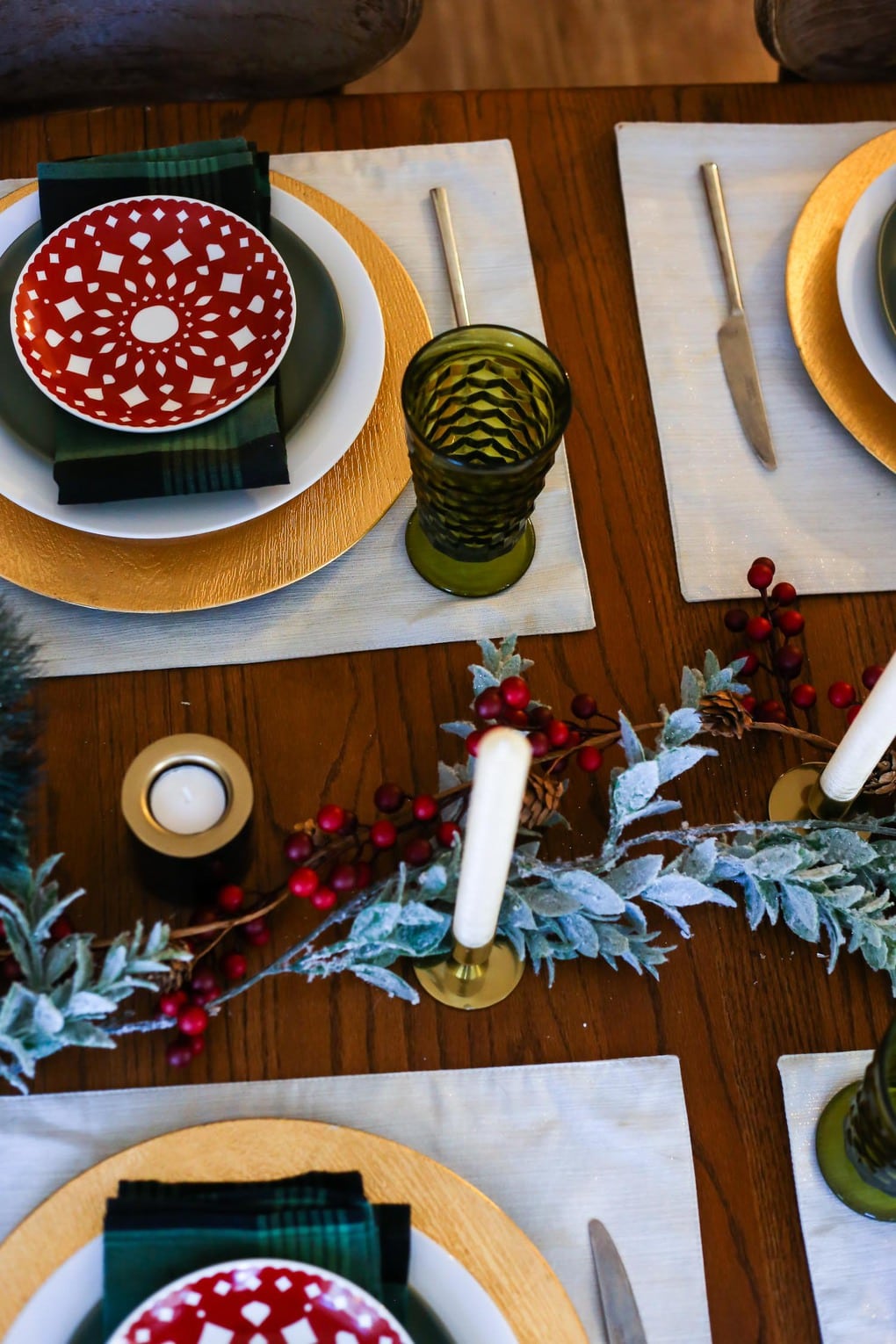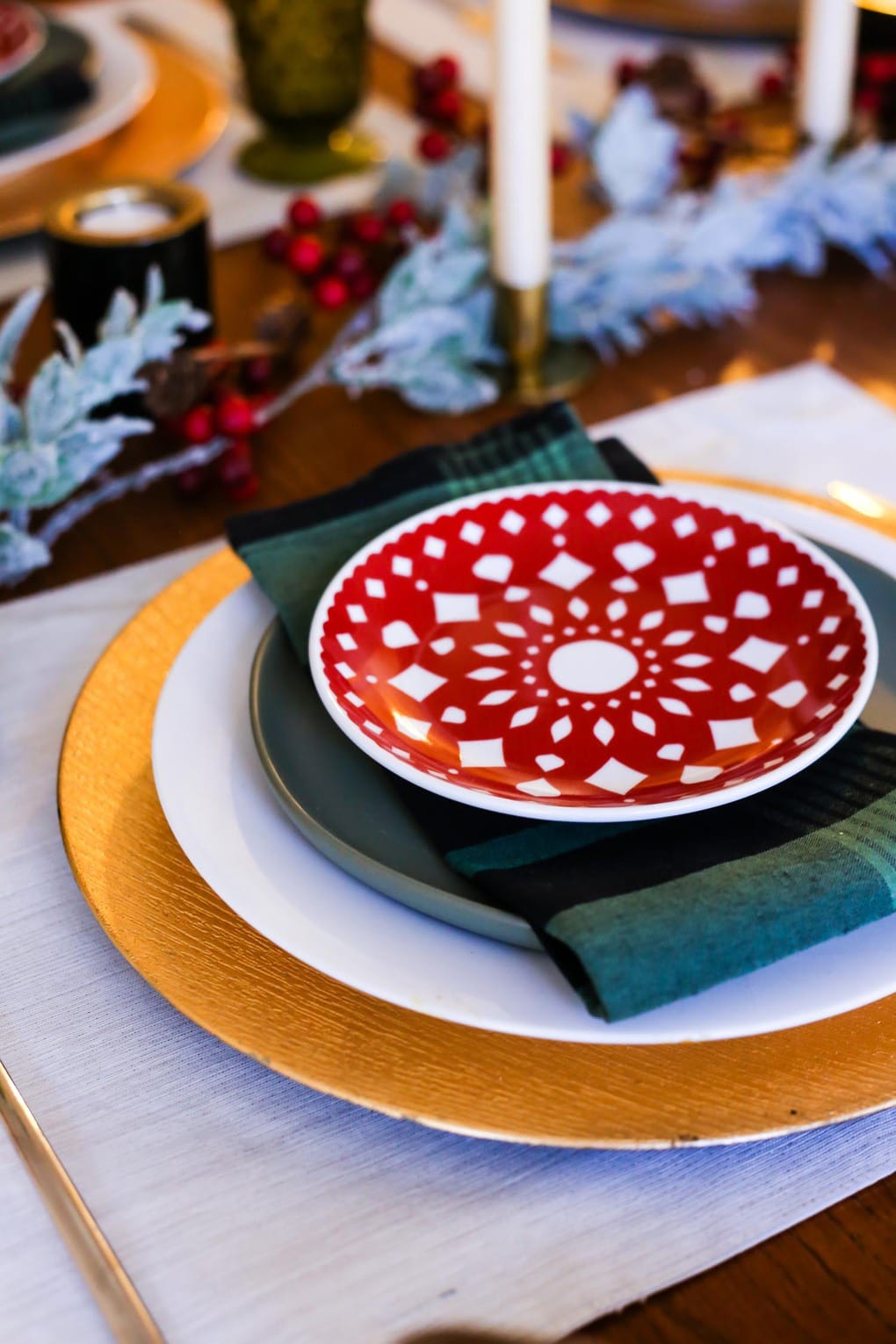 Those green plates from the Hearth & Hand line at Target are exactly what I searched for all last year. I really wanted to bring some more green into our Christmas place settings, but I couldn't find anything that was just the right color without feeling cheesy or too traditional. I love the uneven shape of these plates, and the color is just perfect. I'd really like to get some more of the salad plates from that line – we've been looking for new salad plates for a while now, and these are just too beautiful to pass up. I'm thinking the x-pattern is the one I'd like to go with. It's so charming!
This table may not be quite up to the standards of our old table – it's not as spacious, it's not nearly as beautiful or well-made, and I haven't quite figured out how to decorate it. But I'm so thankful to have this new house and all of the new challenges that go along with it – after all, if I never stretch my creative muscles a bit on something difficult they'll never get any stronger, right?!
You know I love a good challenge.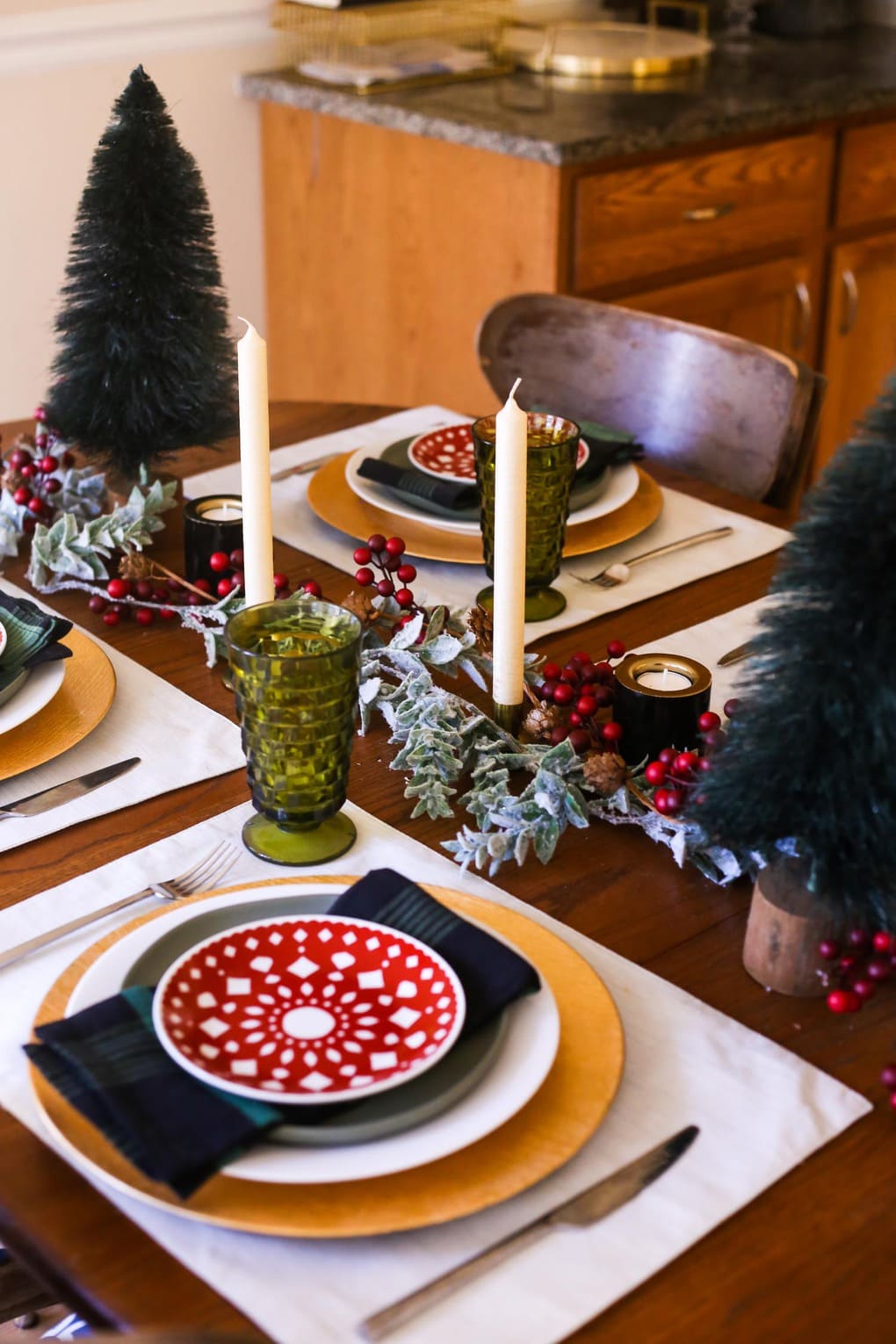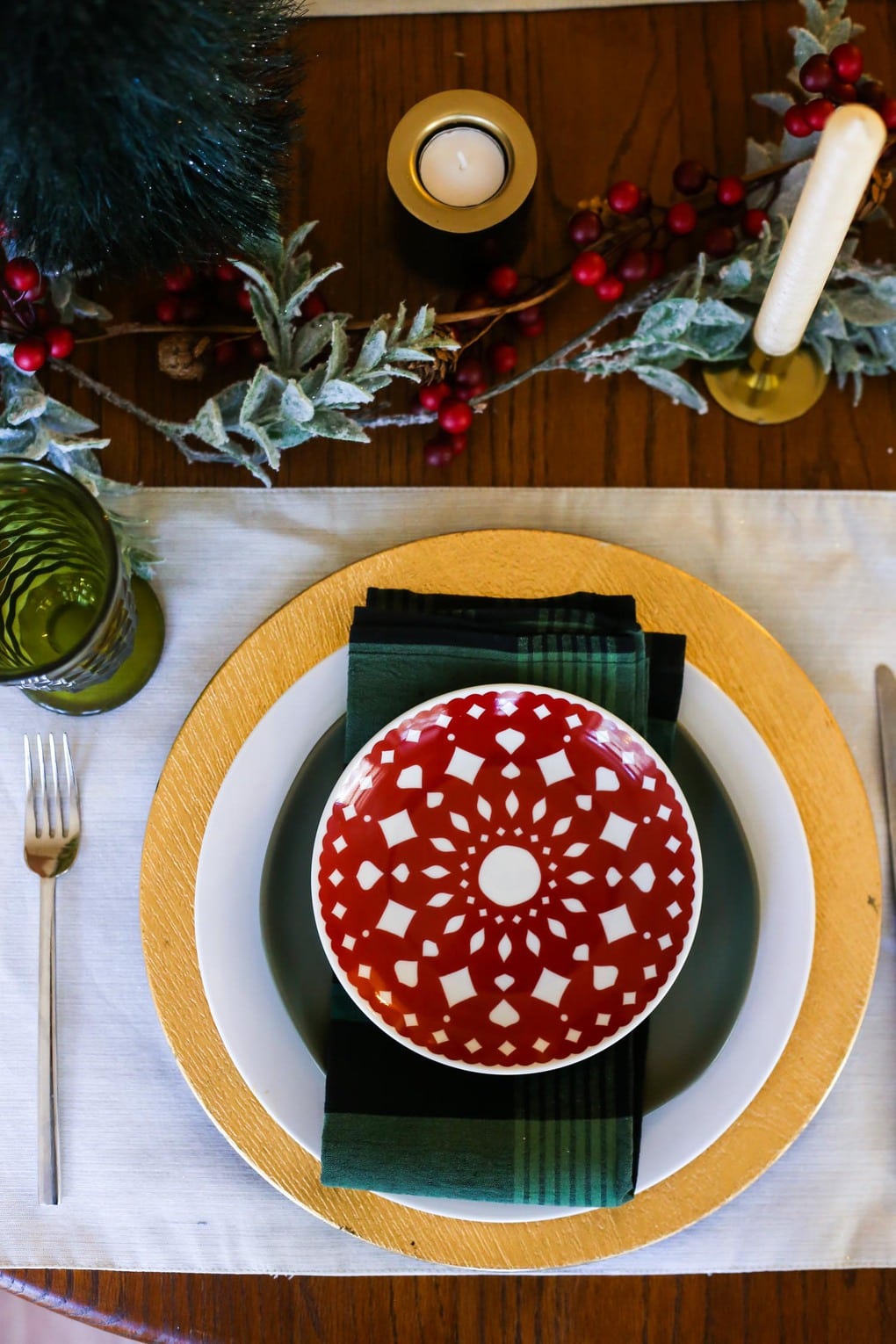 Here's the source for most of the products you can see in these photos (some stuff is a few years old, so I chose similar items instead) – if I missed anything, be sure to let me know!