Looking for some inspiration for how to set your table for Christmas this year? Here's my fail-proof formula for a pretty, simple Christmas tablescape.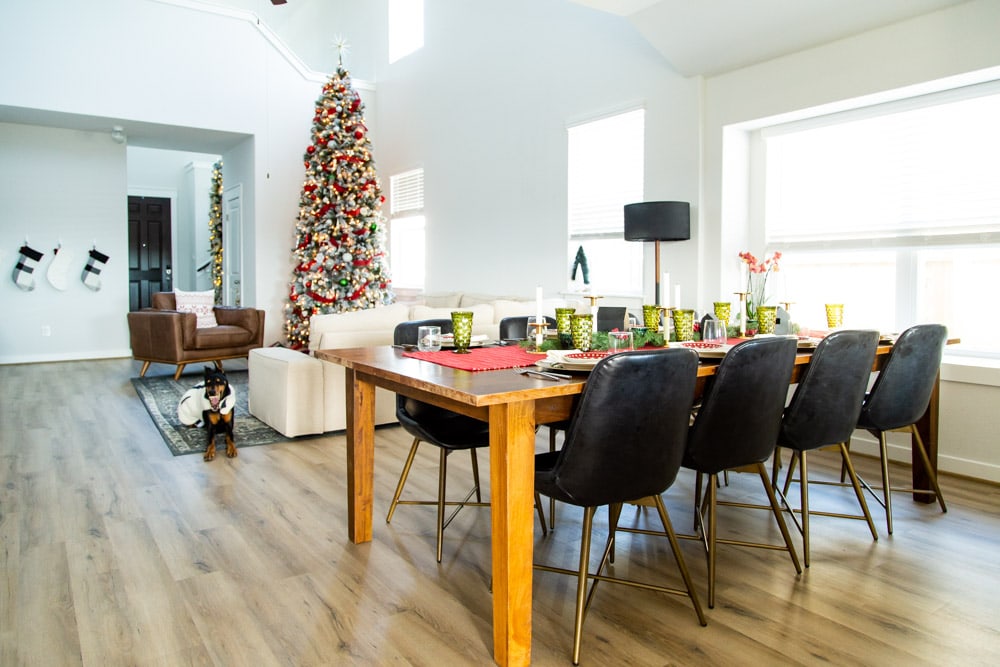 One of my very favorite parts of decorating for Christmas each year is setting up our dining room table. It's one of those things that I don't feel like I'm particularly skilled at (I'm still learning how to style around my home as I go!), but I love stretching my creative muscles and seeing what I can come up with.
It feels even more special this year, because we were recently blessed enough to get to bring the table from our first home into this house to live with us! It was a gift to us from Corey's grandfather when we first bought a home, and when we moved we had to sell it – we were devastated. My mom's office bought it to use as a conference table, never ended up needing it, and it has sat in storage for the last two years. They were incredibly generous and decided to just give it back to us – and I definitely got teary-eyed a time or two when we were bringing it back in!
So, of course I had to put in some extra effort for the perfect table setting this year. I went into planning our dining room table with a specific vision in mind – I wanted lots of dark colors and black accents, something kind of modern and minimal feeling. Buuuut then I looked around at what I actually had and realized that in order to accomplish that, I'd need to do a lot of shopping..
So, I pivoted and decided to just work with what I had as much as possible. I did still buy a few new things, but they were all things I wanted or needed already so it didn't feel like a huge deal.
I wanted to share a peek at our table and my go-to formula for decorating a simple, traditional Christmas table. I find that even when my styling skills are floundering, if I stick to these basics I always end up with a beautiful finished product!
My christmas table formula
So, what's my secret?
A nice long runner + lots of candles + a bit of greenery.
That's it!
Put those three things together and you'll end up with gorgeous results every single time. Also, I always recommend layering plates – just a single dinner plate alone can look plain, but once you put it on top of a charger and add a little salad plate on top, you've got some dimension!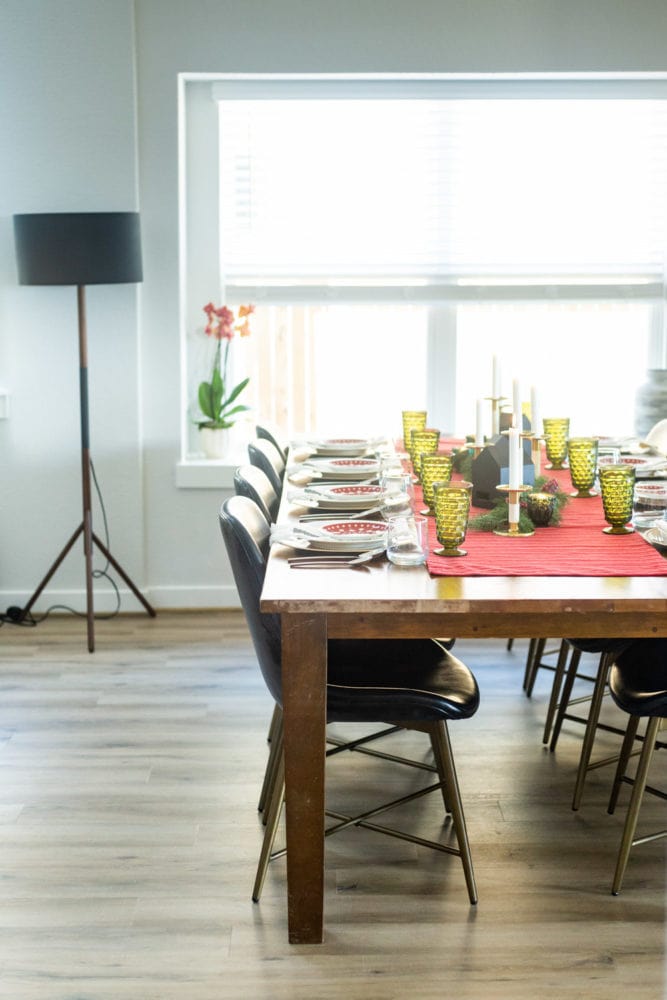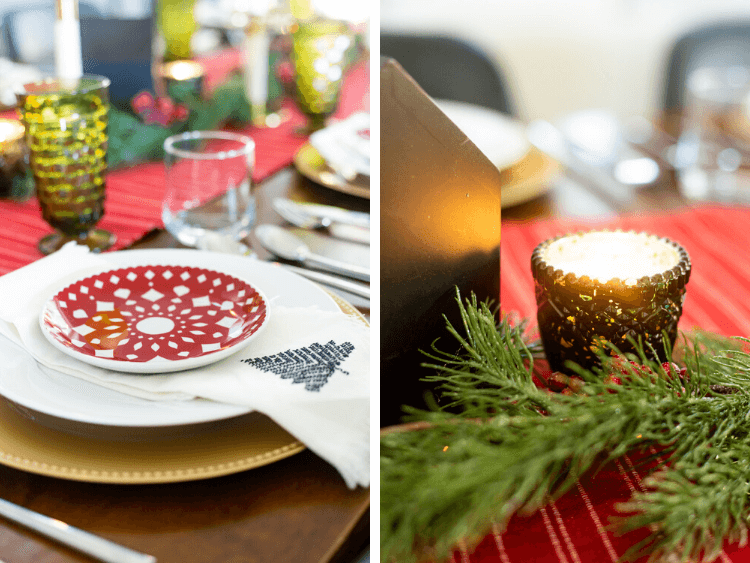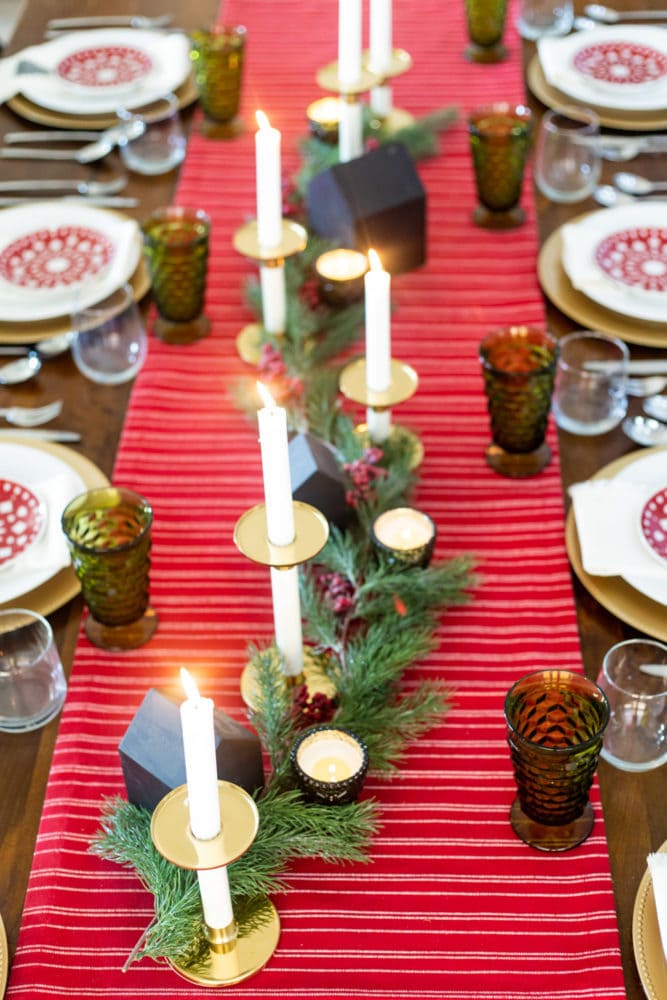 While I'm throwing out little tidbits of table-setting wisdom, I'll also say this: you cannot ever go wrong with investing in some plain, white plates. Corey and I registered for these from Crate & Barrel for our wedding and they've lasted us so well throughout the years. We've gone through periods of time where we've craved more color and stopped using these day-to-day, but we've never gotten rid of them…and I'm so glad!
White plates are the perfect base layer for any table setting. You can add in colorful chargers, salad plates, napkins, whatever – and your white plates will blend right in no matter what.
We've tried different placemats over the years for Christmas, and this year I decided to keep it extra simple and just…not use any. I love the look of a pretty placemat, but I can never keep them clean and looking nice – and when you've got a gorgeous wood table like ours, who wants to cover it up?! This year we stuck to just chargers under the plates for the first year ever, and I really love the look.
Speaking of chargers…would you have guessed these are from Dollar Tree?
You probably would, because my Instagram friends are ones who taught me this trick! I needed to grab some new chargers at the last minute and the messages came pouring in that Dollar Tree had some good options, and y'all were right! I snagged these for just $1 a piece, so even if they only last us one year it was worth it.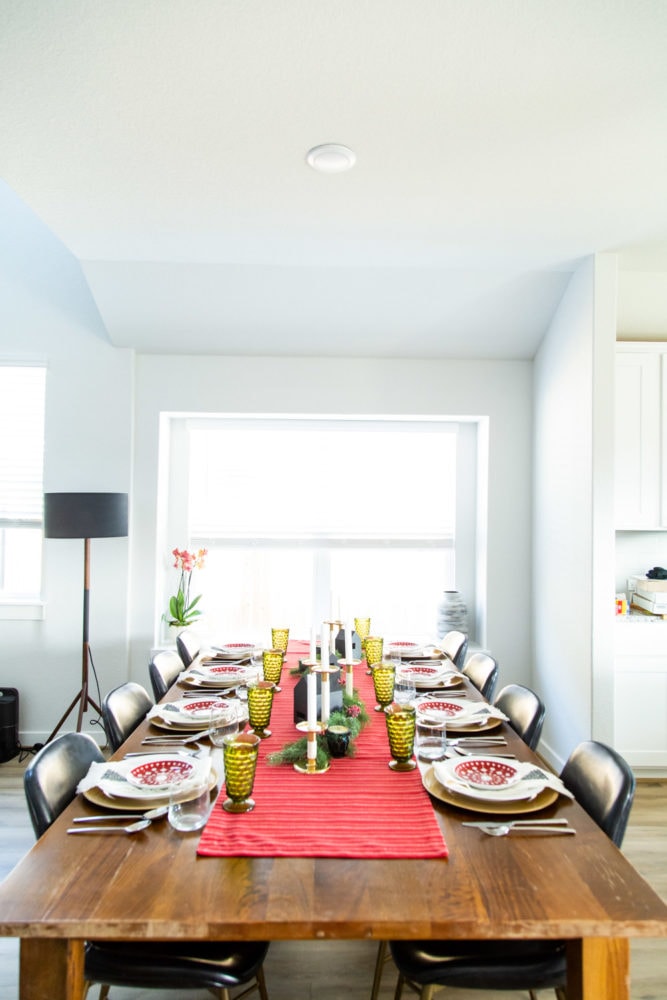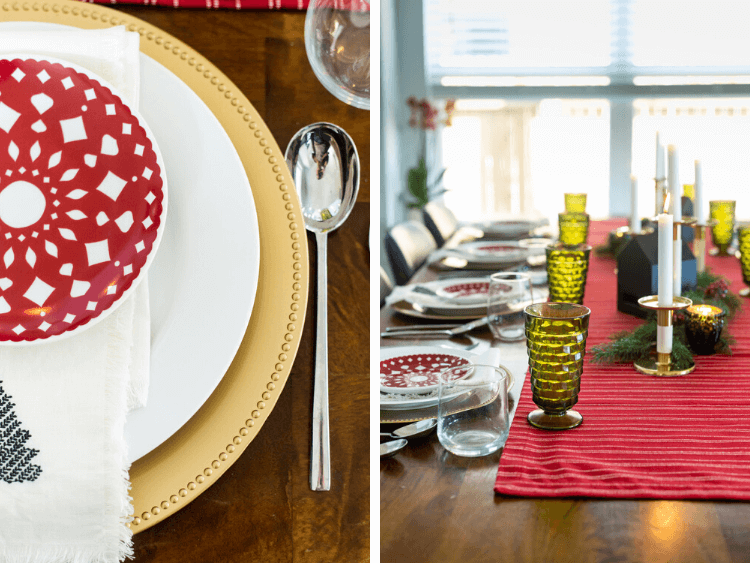 As for the centerpiece, I kept things really, really easy. I laid out a long and wide runner, layered a small garland on top, and then just littered the entire table with candles and a few cute wood houses (they're from Target a few years back).
Done and done!
The gold candlesticks are from IKEA – I had gone there intending to buy these black ones, but they were all out and the gold ones were sitting right next to their empty shelf. It ended up being a happy accident, because I love them. They add a little shimmer and glamour to the table, and the varied heights add a lot of visual interest.
I also grabbed a few of these candles from Target on a whim because I loved the vessel they're in (and because they smell incredible), and they actually add more to the table than I expected! They bring in some of that dark color I was craving, and the textured glass containers feel special.
I love to use a ton of candles for my table settings, because they add such a lovely ambiance to the meal. I also think they're nice to use over something like a vase with flowers, because they don't block your line of sight and they allow for easier conversation flow. I like to keep my table settings as practical as possible because we use our table, and when it's full of people I want things to be comfortable and easy.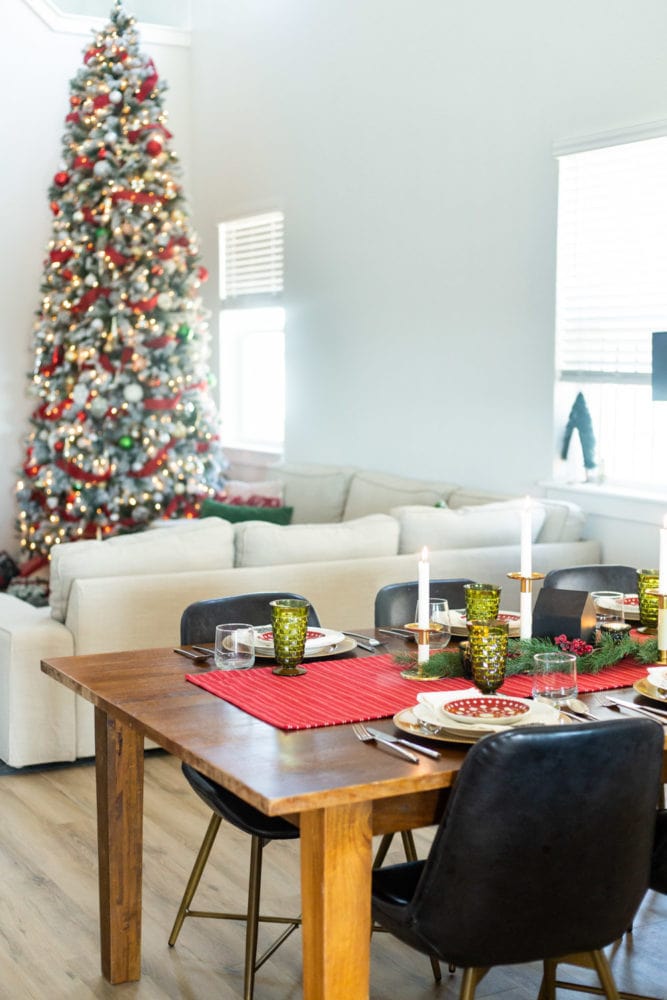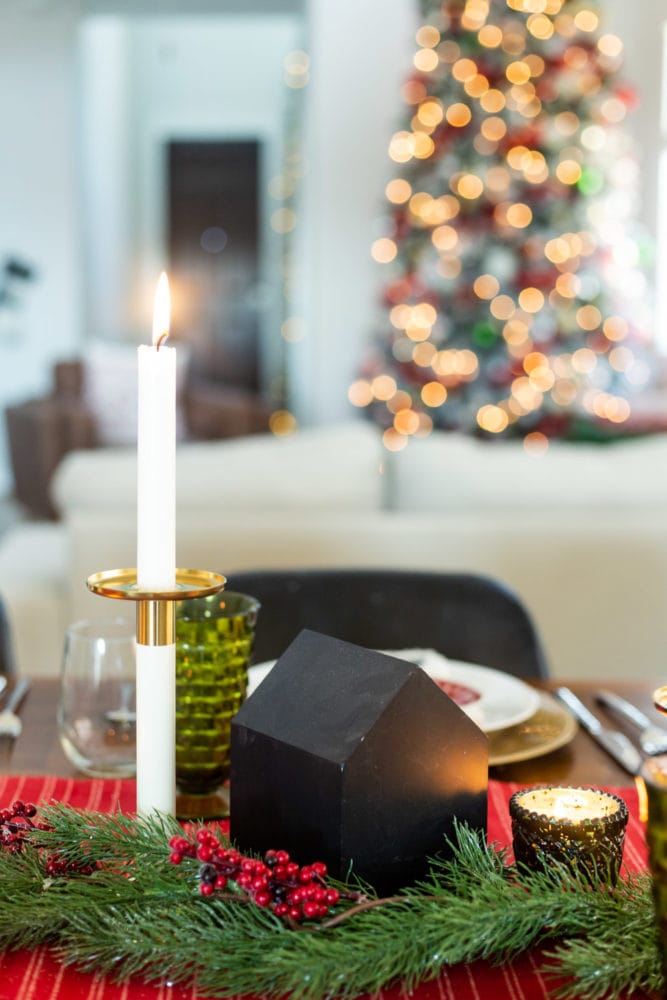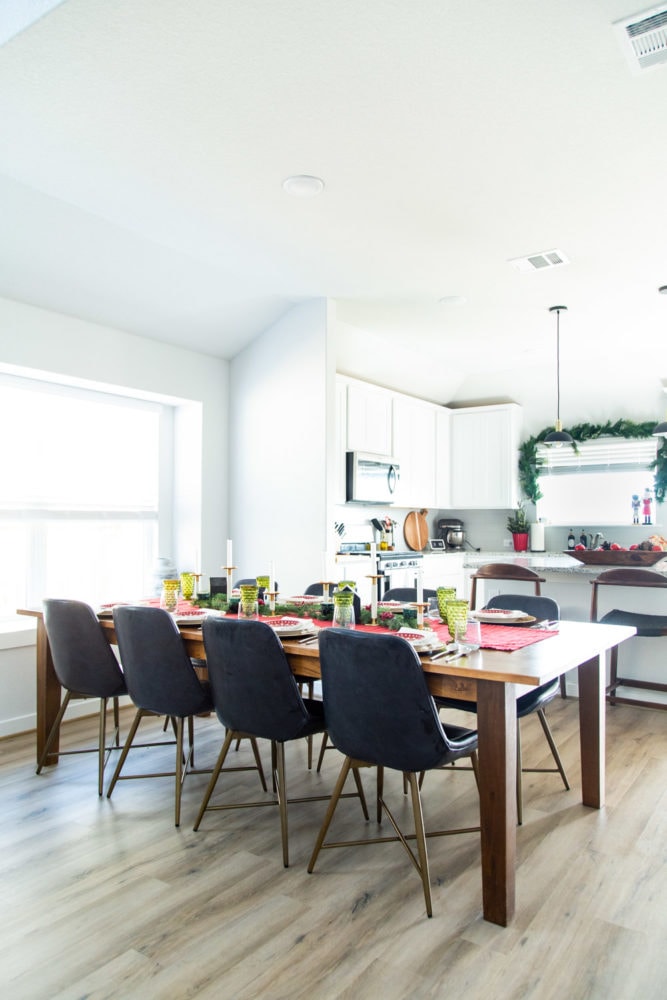 Our dining room still has a long way to go (as does, you know, every space in our house!), but I can't even tell you how much we're loving it.
It means so much to us to be able to comfortably fit so many people in our home again, and there are really just no words for how special it feels to have our beloved, ginormous table again.
If you're curious about sources for anything you see here, it's all linked below – if I couldn't find the exact thing, I linked a similar product.
Sources

Want to see our Christmas tables from years past?
Do you have any go-to table setting tricks? I'd love to hear 'em!