The Power of a Paintable Outlet Cover
One of the best things I discovered early on after moving to this house is the paintable outlet cover. It's one of those tiny little things in your home that you don't think about often…but it makes a huge difference!
The first time I ever used a paintable outlet cover was when I added shiplap to our kitchen island. It has two outlets built into it, and once I painted the island they stuck out like a sore thumb. I found some covers that worked and swapped them out, and I was honestly shocked at the difference it made.
Since then, I've used them all over our house. They're in our bedroom, the entryway, Grant's room, and now the upstairs hallway!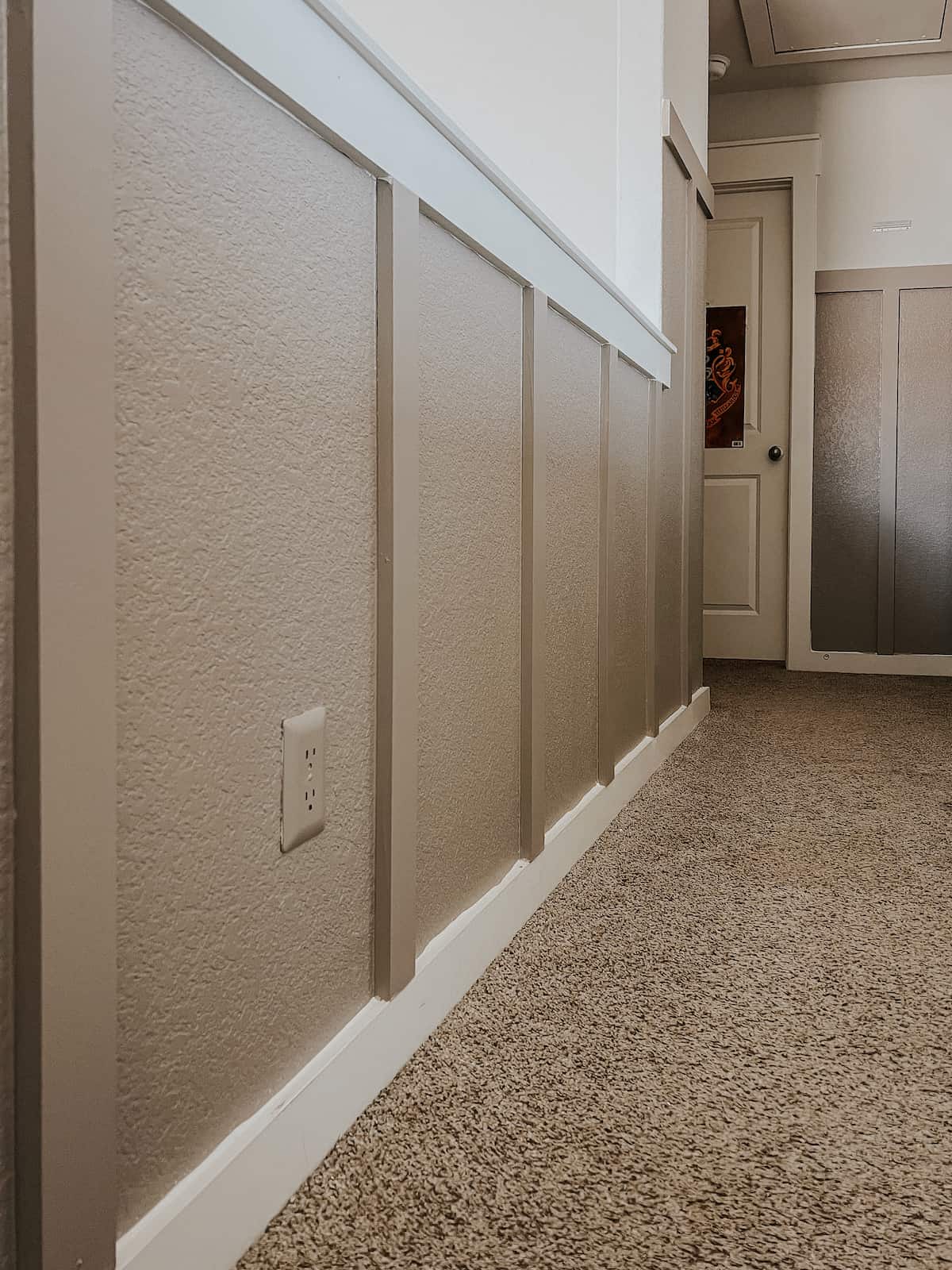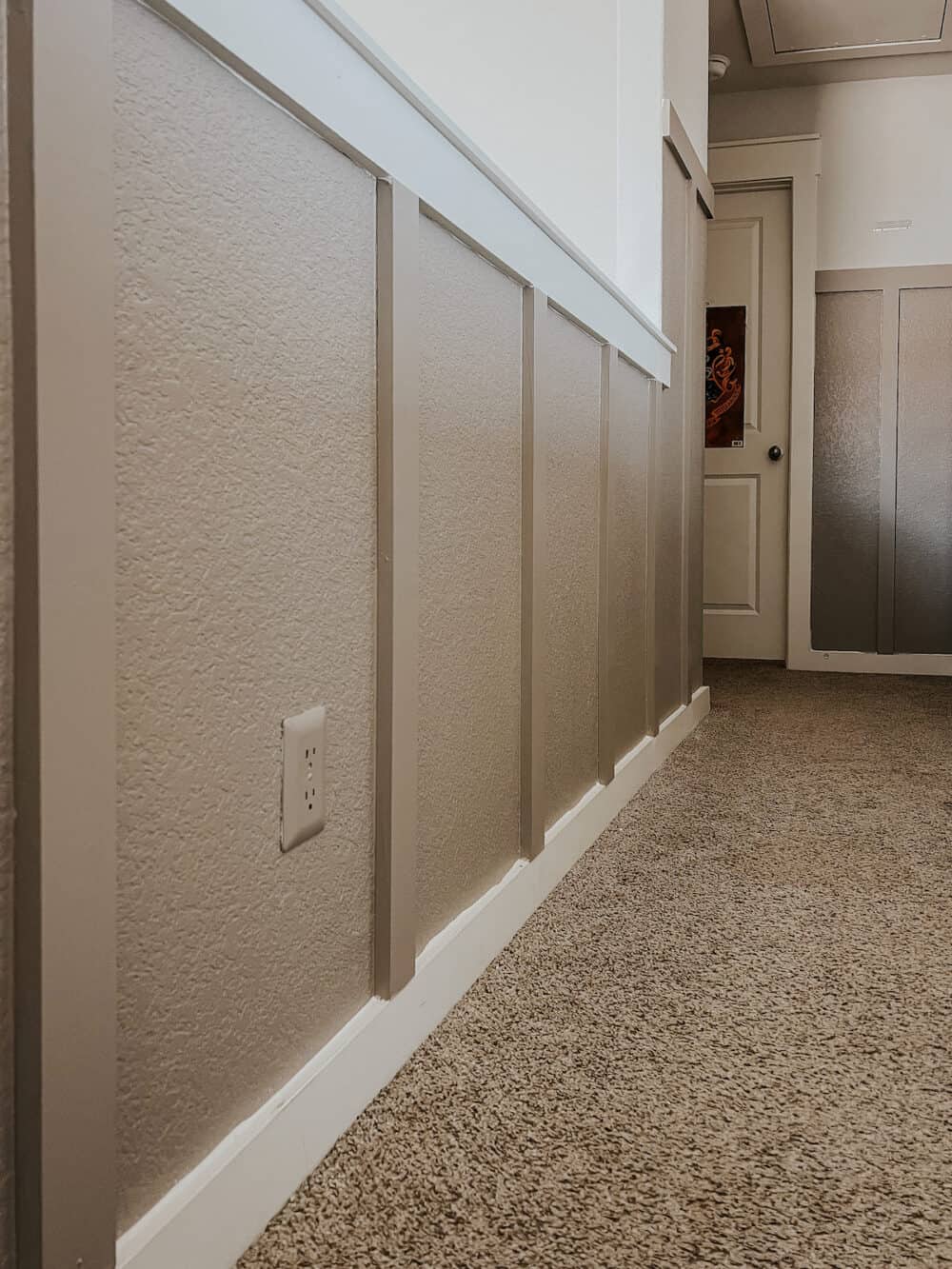 Despite the fact that they're one of the most-sold items on my Amazon shop, I haven't ever dedicated a blog post to my love for them. So, I figured it was worth taking a second to create an ode to the paintable outlet cover. Because, it's truly one of my favorite little items around my home.
Why Do I Need a Paintable Outlet Cover?!
Okay, let's start off with the top question I get when I share these – WHY?
Some people will argue that you can just…paint the outlet. I mean, isn't any outlet cover technically paintable? Well, yes and no.
Sure, you can paint any outlet cover you already have laying around your house. And you can paint the outlets themselves if you really want to. But they aren't made to be painted. Most outlet covers are plastic and glossy – two characteristics which are notorious for being hard to paint. If you paint your regular outlet, it will chip over time. Probably pretty quickly, depending on how much you use the outlet.
The paintable outlet covers I use have a few features that make them the perfect choice if you want an outlet to blend in.
They're plastic, but they have a slightly textured surface that holds on to paint really well. We use our island outlets all the time, and after almost 3 years there's not a single chip or scratch on them.
They cover the entire outlet. This was key for me! If you buy a decorative outlet cover (like black or gold), it doesn't cover the actual outlets. Those are still white and very obvious! Sure, you can swap them out for a different color, but that's a lot of work and won't perfectly match your paint. These guys cover up the outlets, so everything is disguised.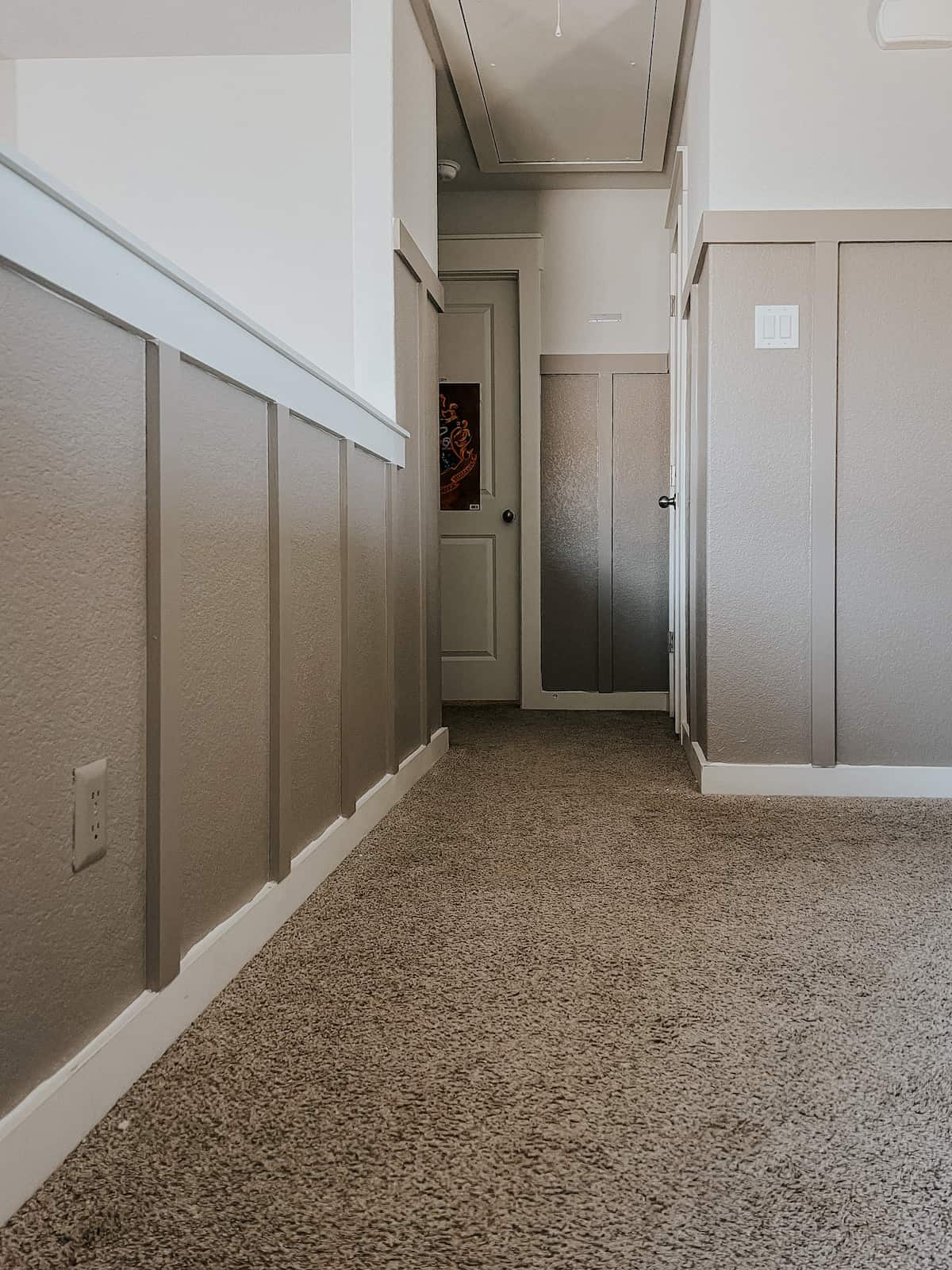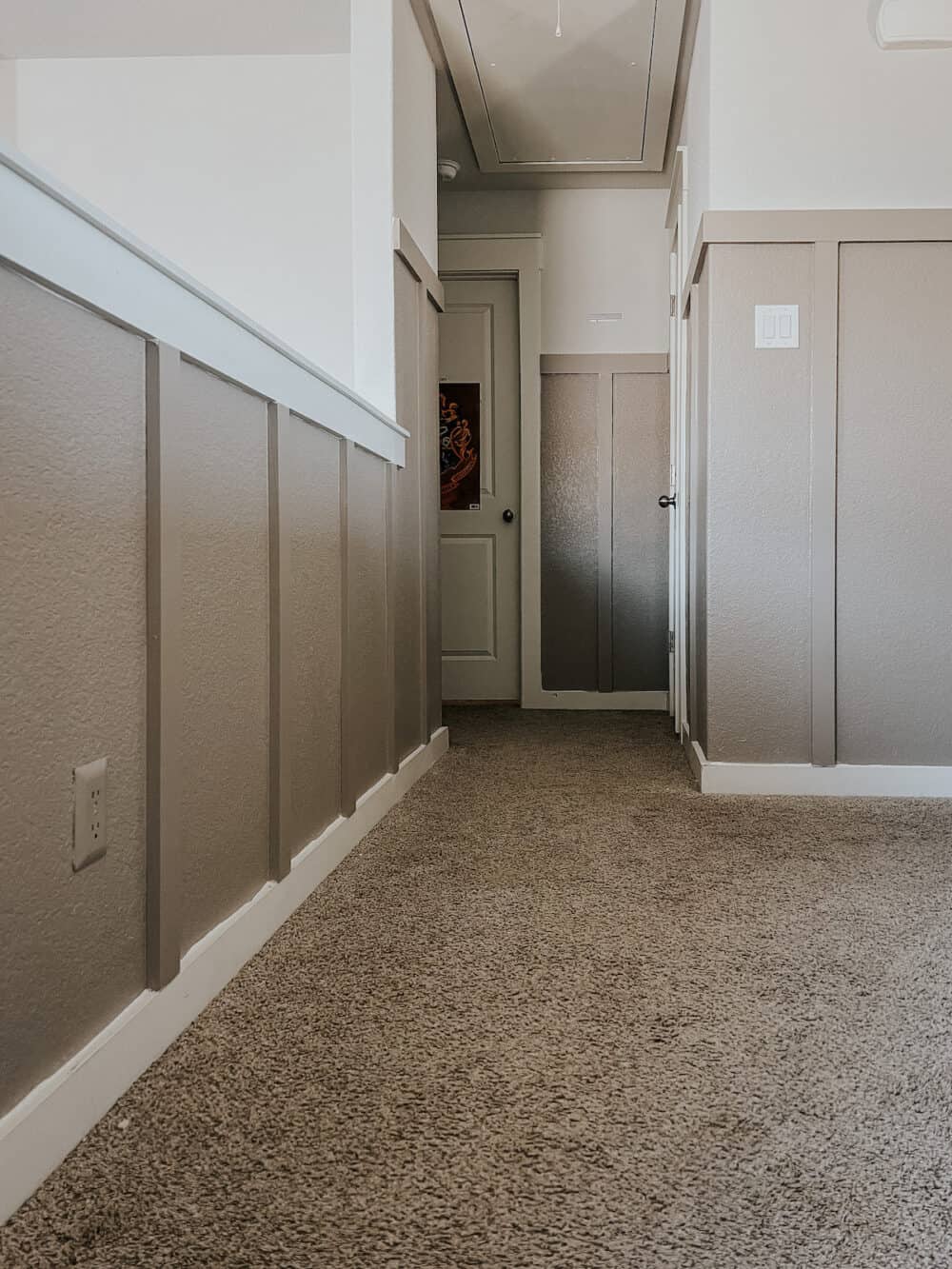 The best part? They're cheap! They typically run right around $2.50 on Amazon. It's honestly one of the most impactful changes you can make in your home for under $5!
Paintable Outlet Cover Examples
Now that I've run my mouth about how much I love them, let me share a few examples of the difference they make. I use these in basically any room in our house that has a more saturated paint color. They're all over the place in my house!
Below, you can see how the dark walls in my bedroom look with these paintable outlet covers. Before, they were really distracting and kind of like a big, annoying blemish on the walls. Now, they blend right in!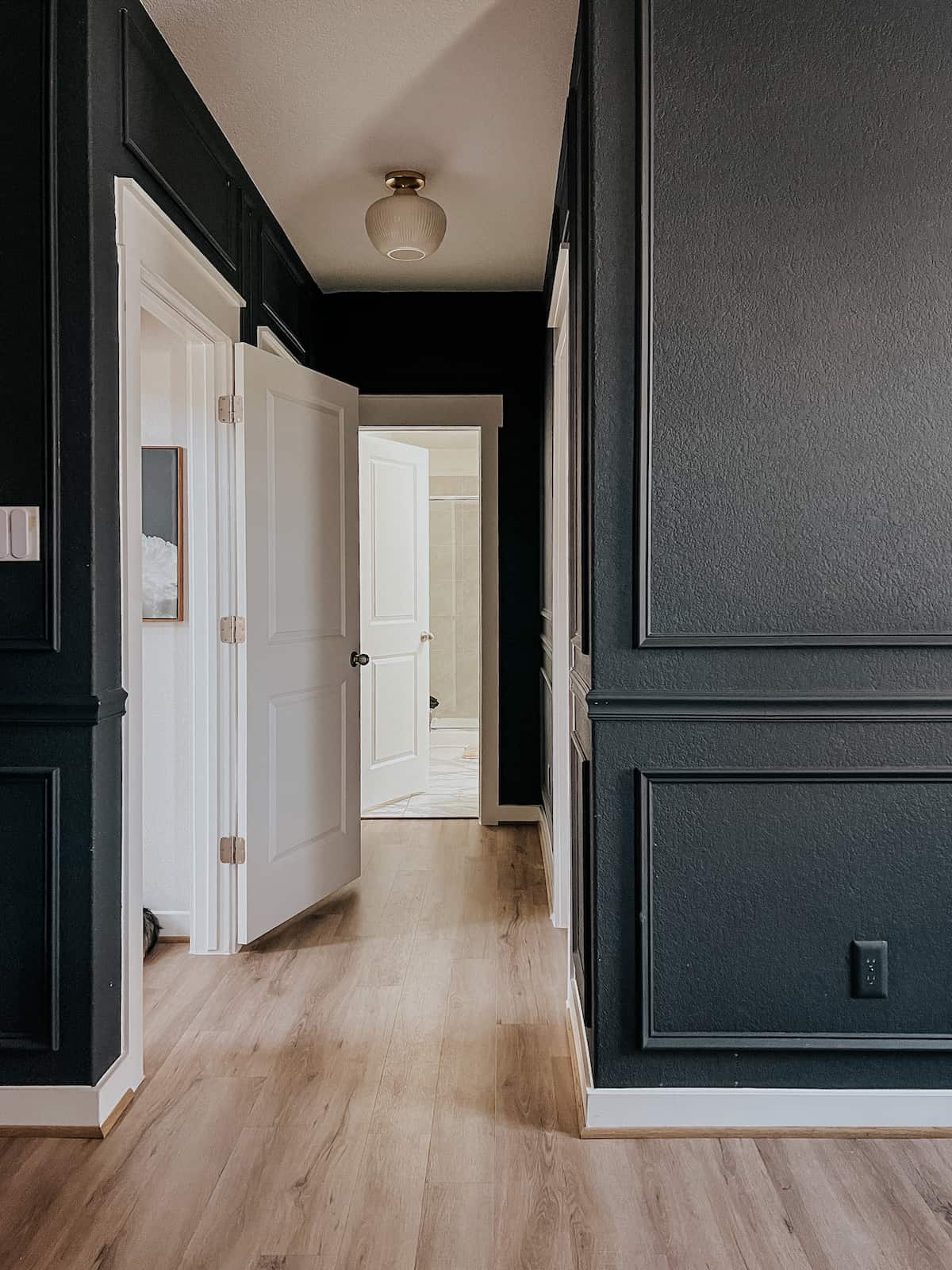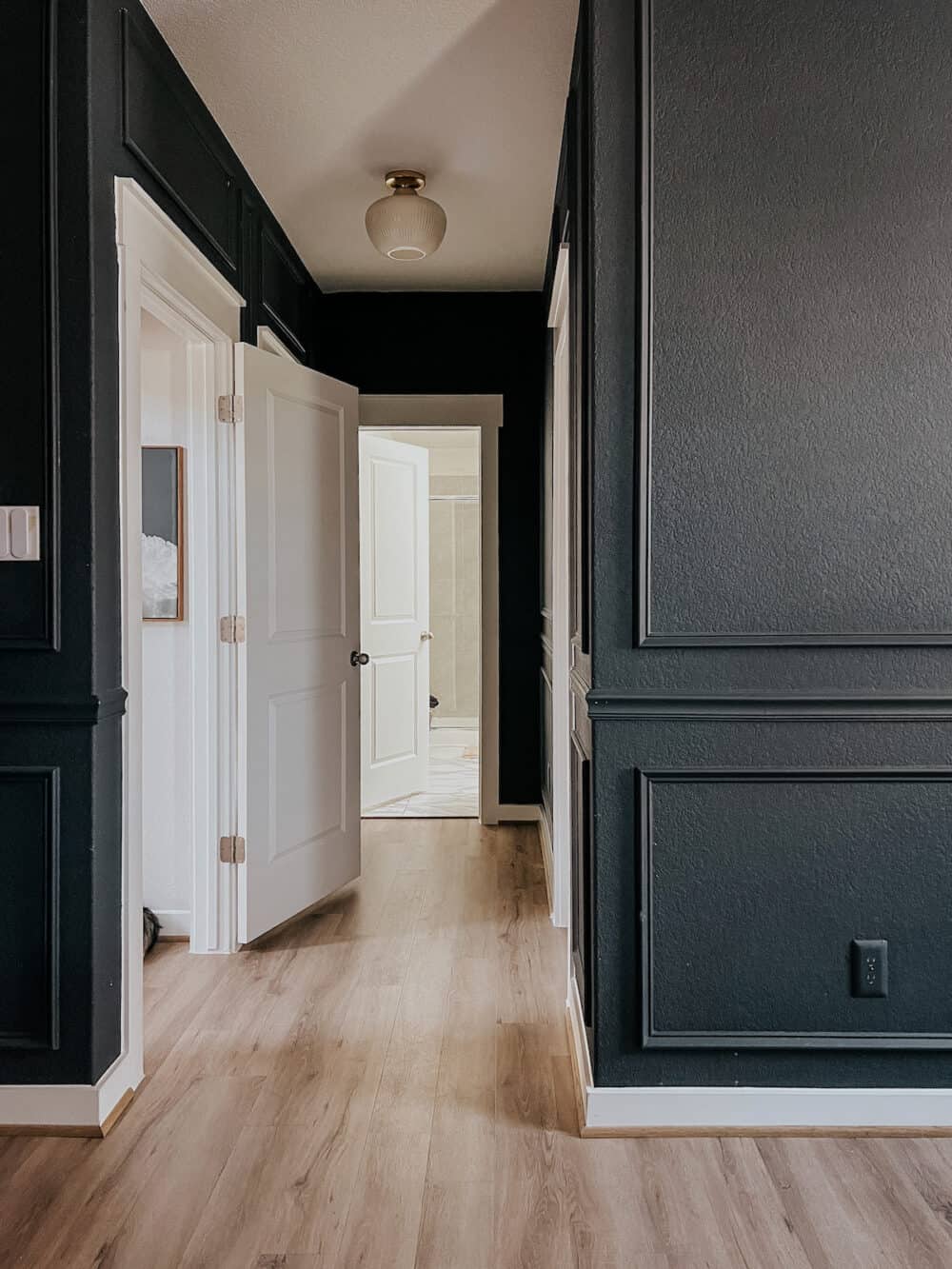 Similarly, they make a huge difference in the entry. Both here and in Grant's room, the walls are painted a pretty saturated green, and without the outlet covers, they were a huge distraction. But for under $3 per outlet, they look a LOT better!
I mena…can you even spot the outlet below?!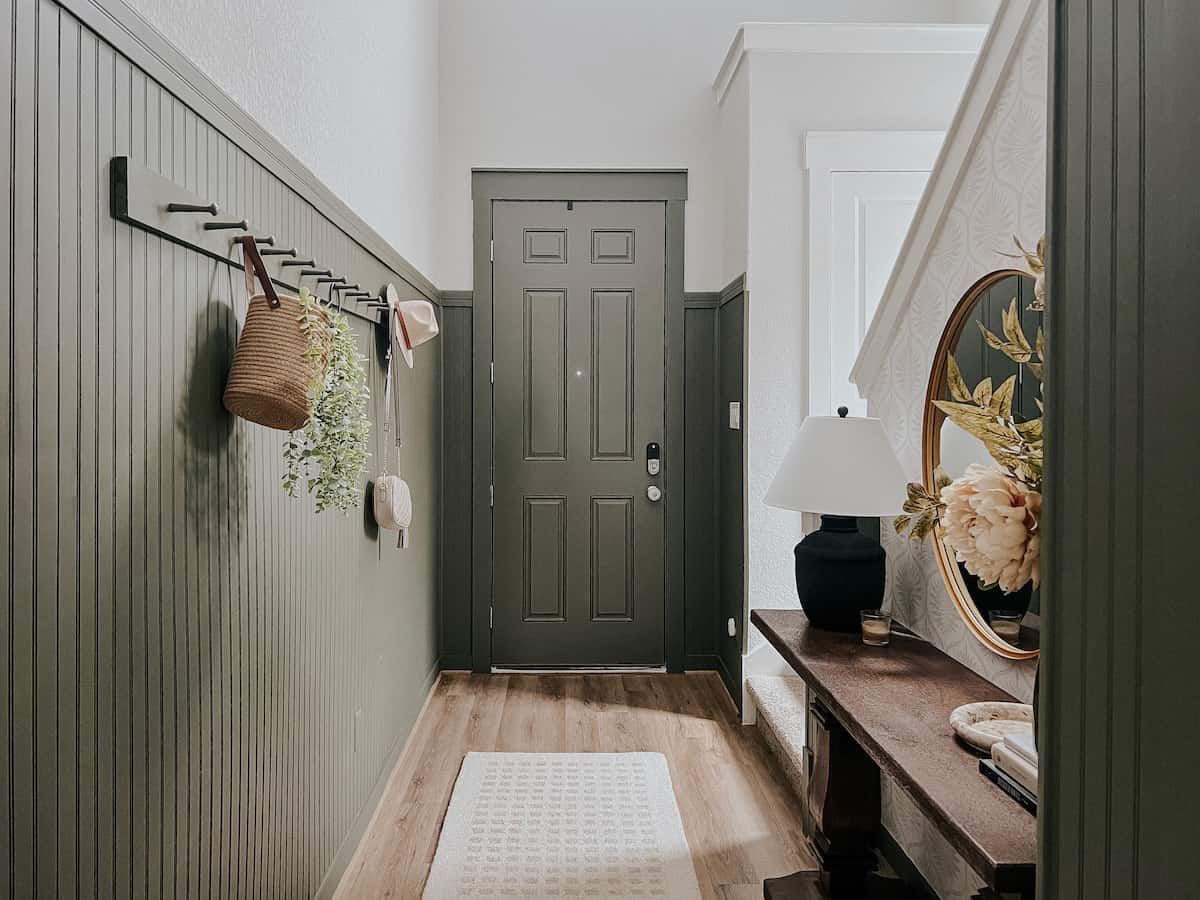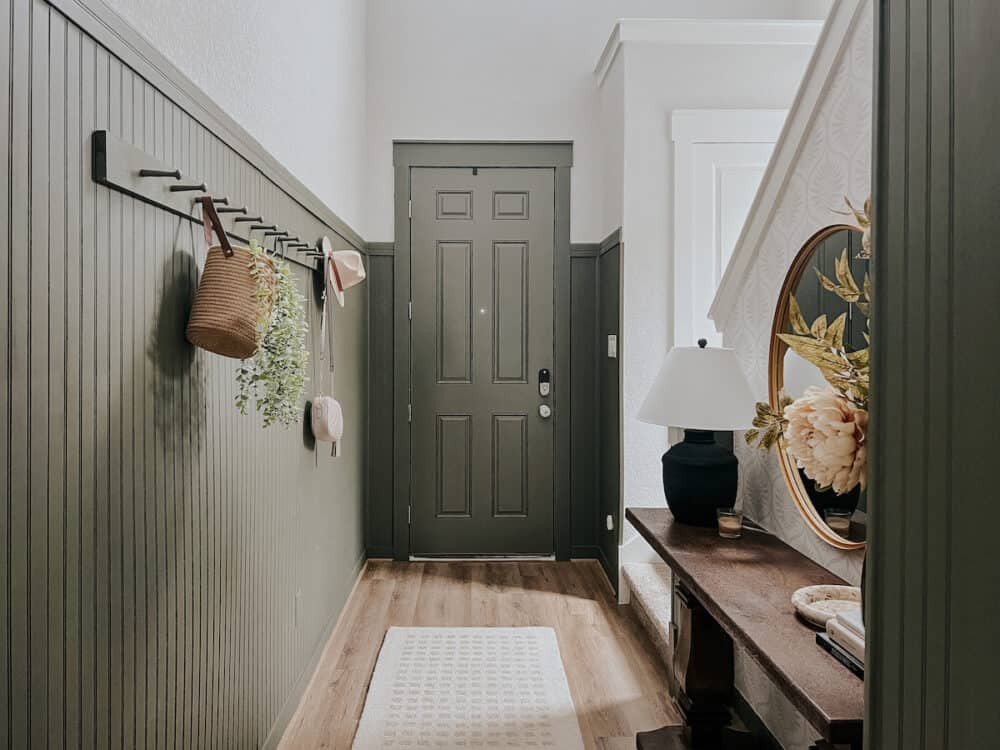 They're similarly awesome in the kitchen. Also known as the room that started it all! These two little outlets on the back of the island really stuck out before I swapped them out for the paintable versions. Like I mentioned before, we've had these little covers on our outlets for approaching three years now. I use them multiple times a week and there are zero scratches on them. You can't beat that!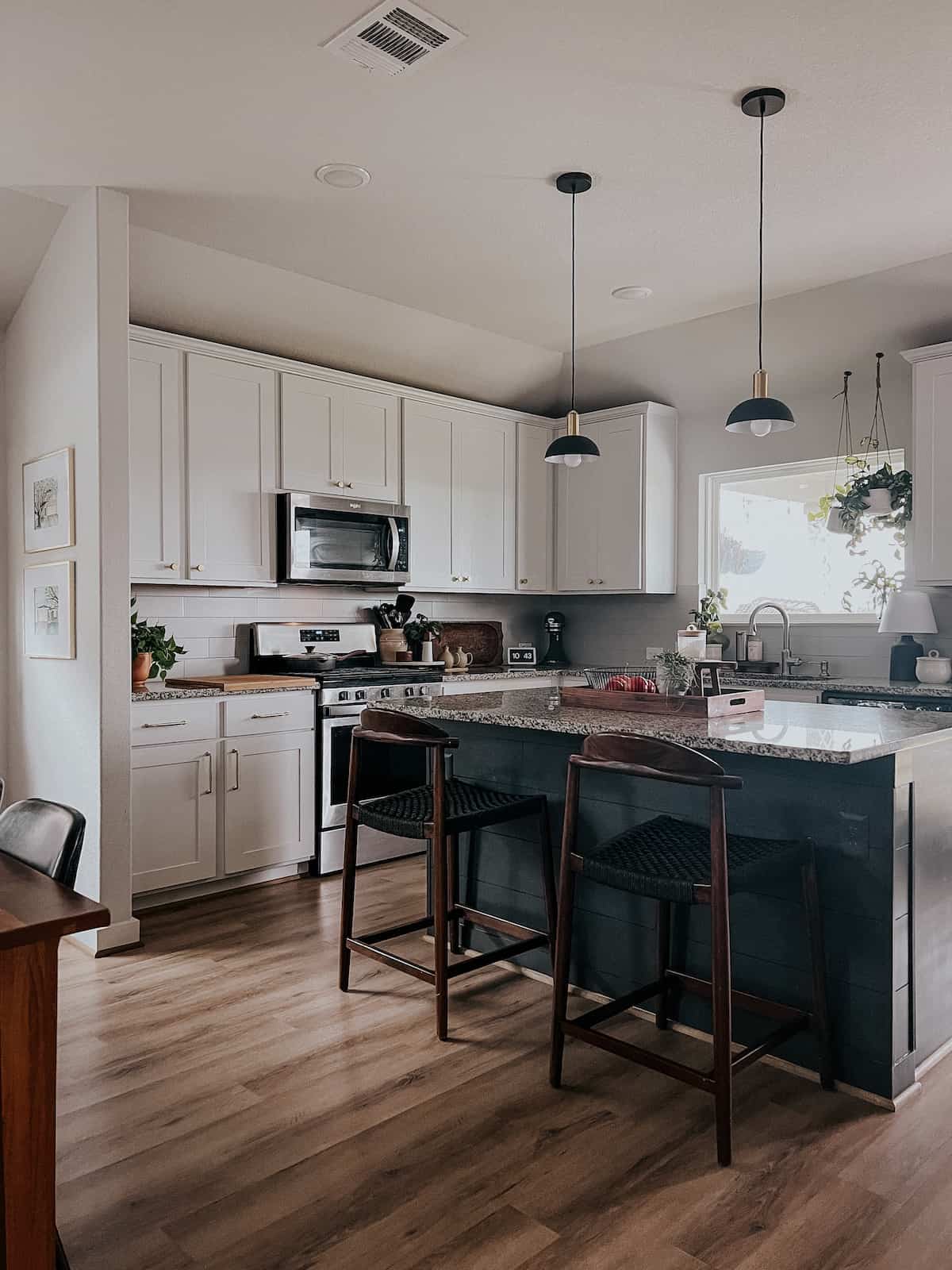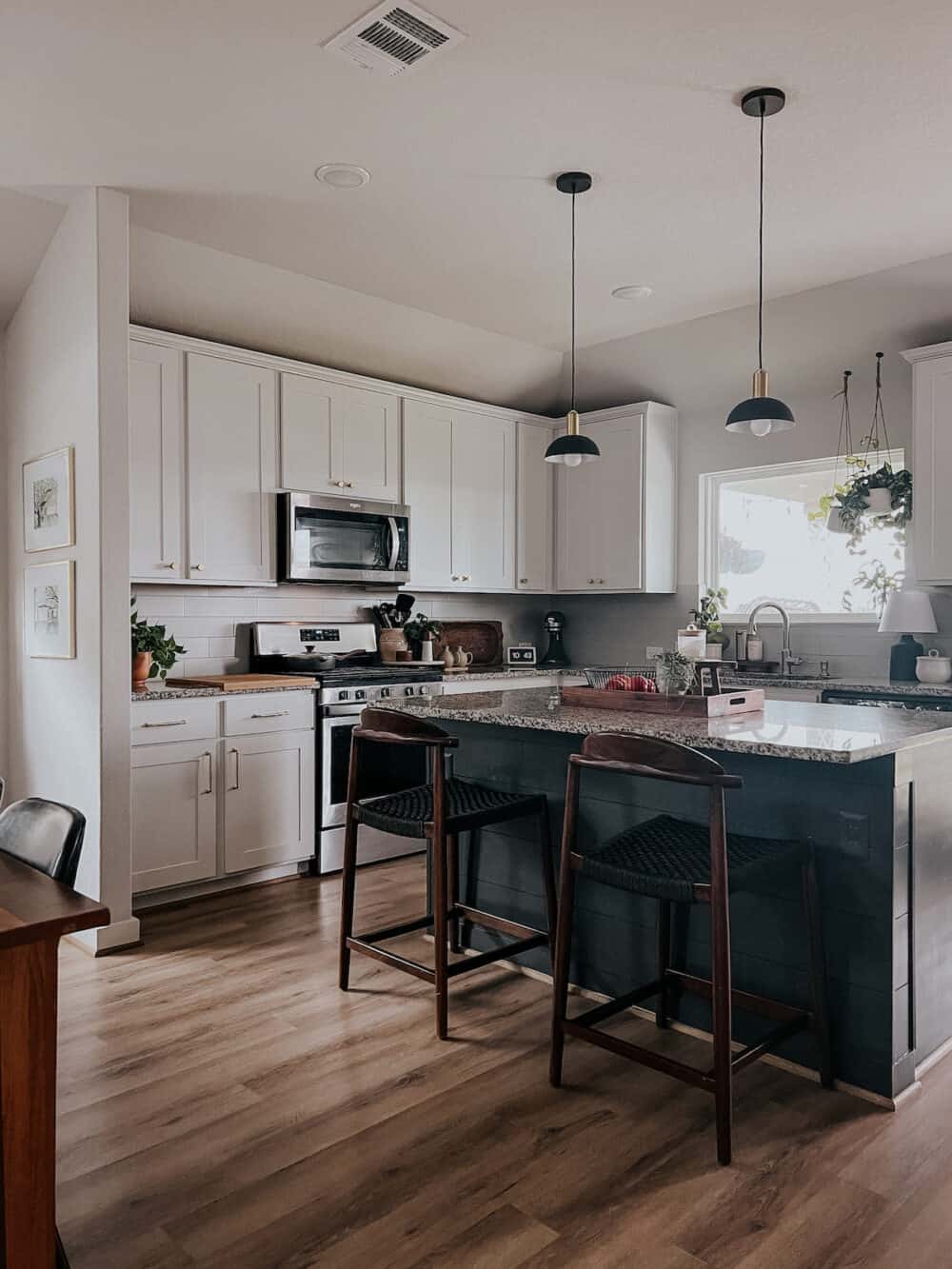 And finally, let's take a look at the upstairs hallway again! When I shared the reveal of the board & batten wall treatment earlier this week, I hadn't yet replaced the outlets. But, they stuck out like a sore thumb to me so I ordered some covers the day after I finished painting for same-day delivery so I could get them fixed as fast as possible!
Also, it's worth noting – when I painted, I was unsure if I wanted to paint the trim, doors, and baseboards. Now that it's all done, it's obvious to me that it all needs to be painted. But, I'm tired. So, that'll come later, once my poor hands have had a little break from painting. So, I guess stay tuned for that update!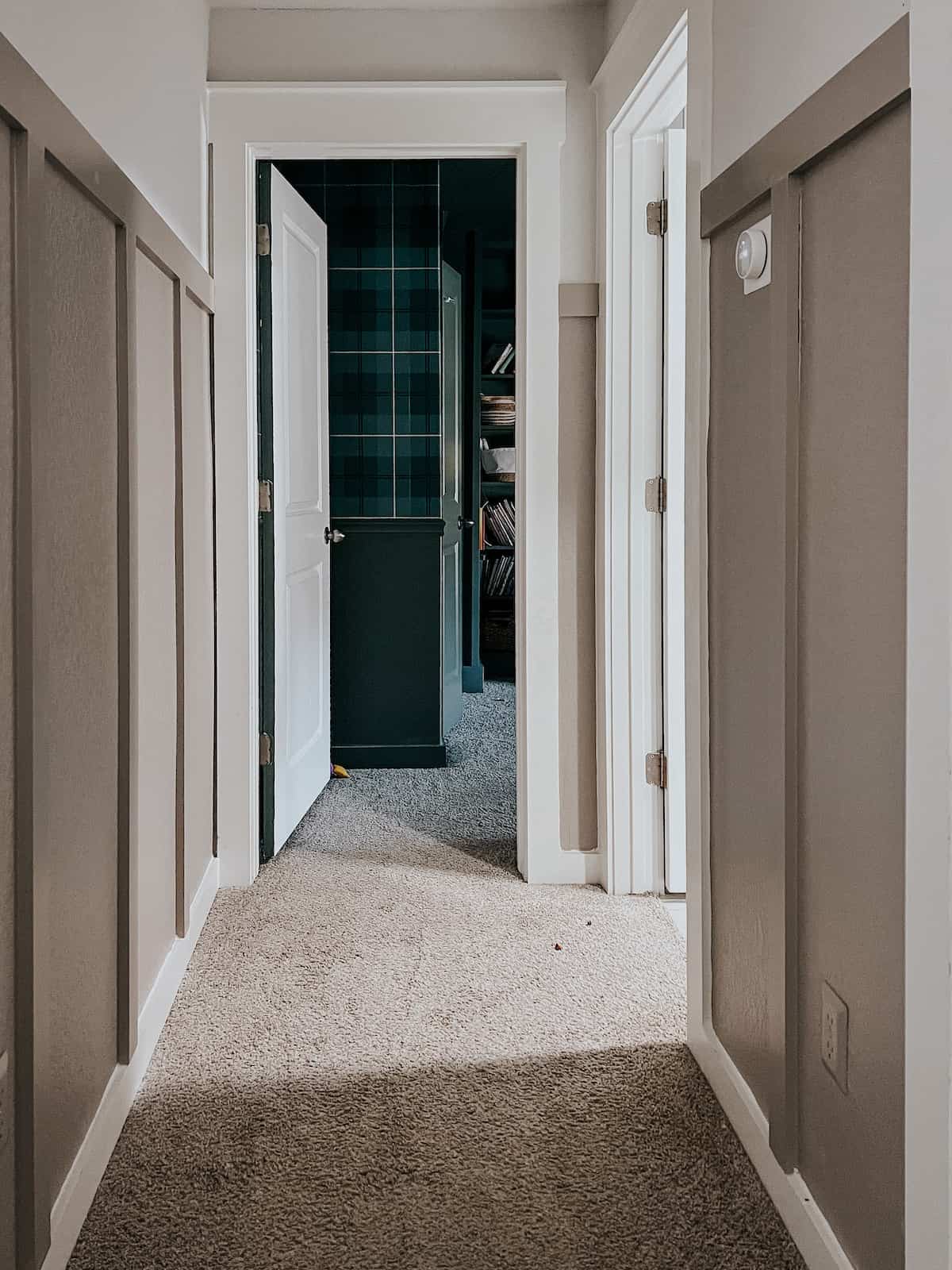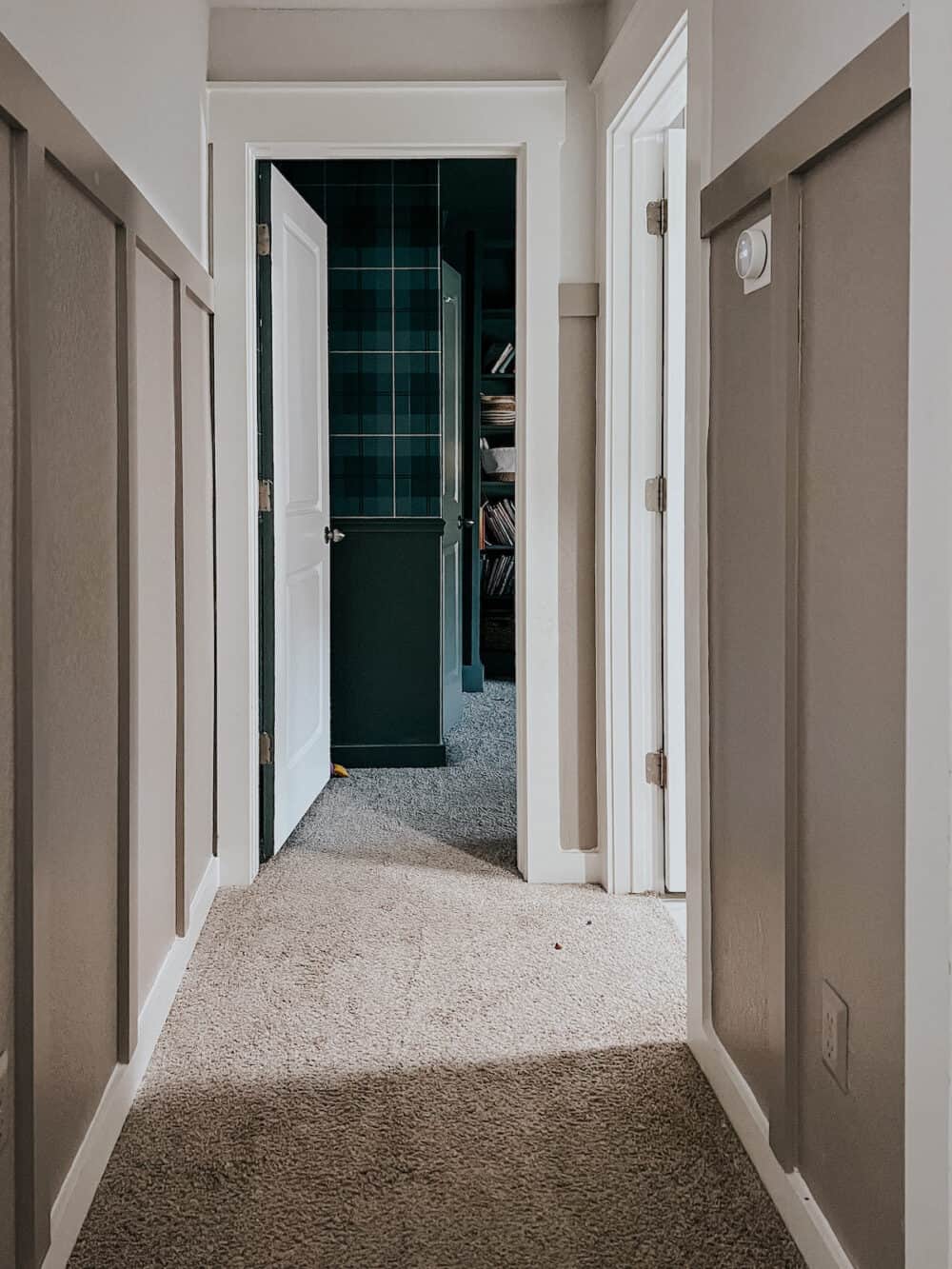 And there you have it. My little love letter to the $2.50 paintable outlet covers that make the biggest difference. Sometimes it's the little things, y'all!
related posts
Other Little Things…