It may be Halloween today, but I officially have Thanksgiving on the brain. I've been having a lot of fun decorating for fall this season for the first time ever, so I figured this is the year I should take setting the table for Thanksgiving a little more seriously. Now, my sister generally hosts Thanksgiving at her house so we probably aren't actually having people over that day, but I always like to have my table all set and looking nice when we have a big holiday. Plus, it's just fun to play around with different table settings!
I tried out a few different options over the weekend and landed on something I really love. You can see what last year's table setting looked like here – it was definitely the best tablescape I had ever done, but I wanted to up my game a bit this year so I pulled some inspiration from a few of my favorite bloggers. I'll share the table setting I set up for our table next week, but today I wanted to share some of the tables I used as inspiration. Get ready for some serious Thanksgiving eye candy!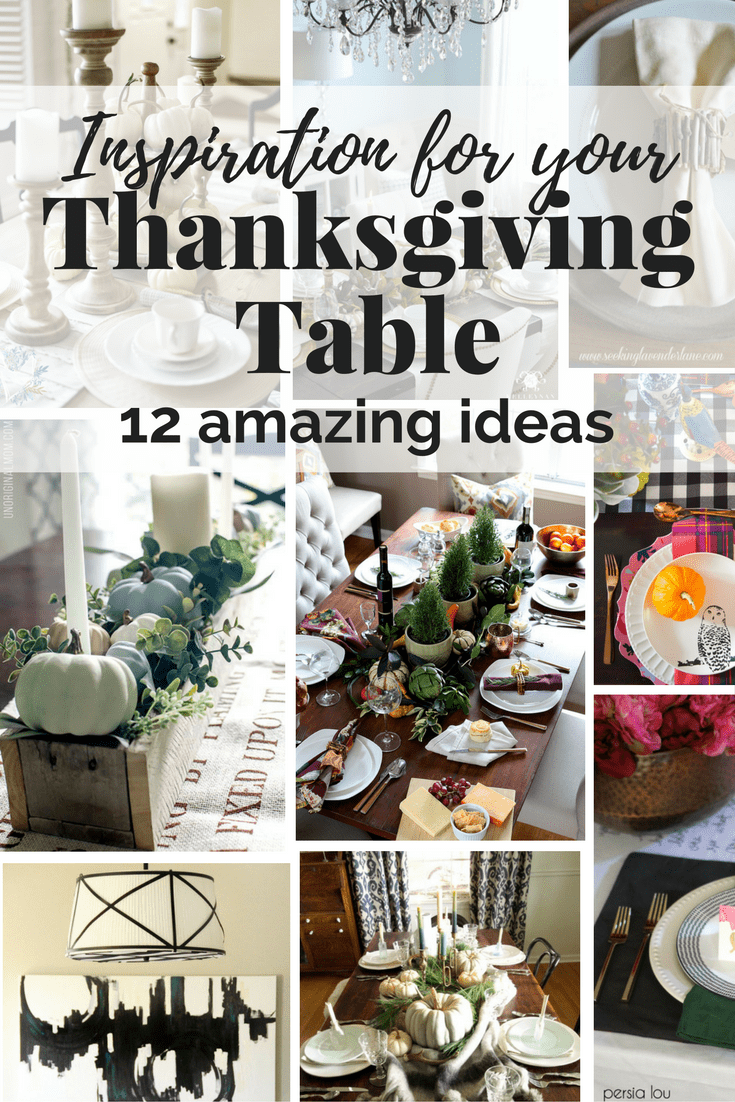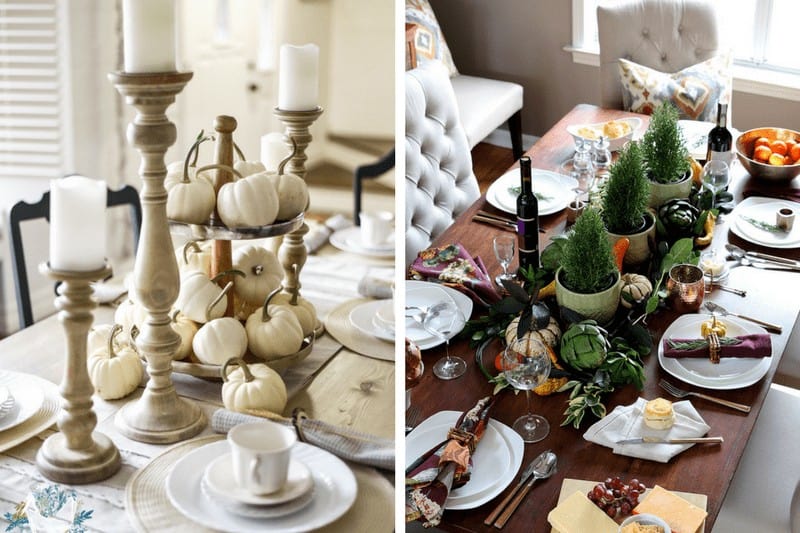 The Weathered Fox // Jen Woodhouse
I love the neutral colors and textures on the left – white pumpkins make me so incredibly happy, and this is such a beautifully done tablescape. My big takeaway from this one is that I want lots of candles on our Thanksgiving table this year! From Jen Woodhouse, I'm really loving all of the greenery and vegetables – I never think to use things like artichokes for decoration but they look so good! I'm also a sucker for a good copper mug – our grocery store has some really gorgeous copper serving dishes right now, I may need to pick some up!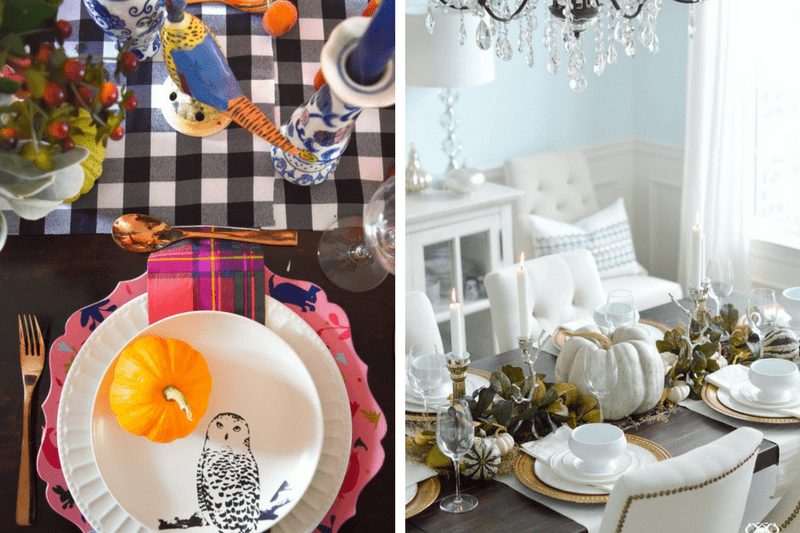 You guys, the color! Ariel from PMQ for Two is always so fantastic at putting some bold colors together, and I love what she did with this tablescape. I really wanted to incorporate our new Anthropologie plates into our setting, so this was really inspiring and a great reminder to myself that it can still feel like a fall table setting even if it's brightly colored! Of course, on the other hand, we have Kelley Nan's super simple and neutral tablescape which is just as gorgeous. I adore the magnolia-style leaves and the gold/white/green color palette!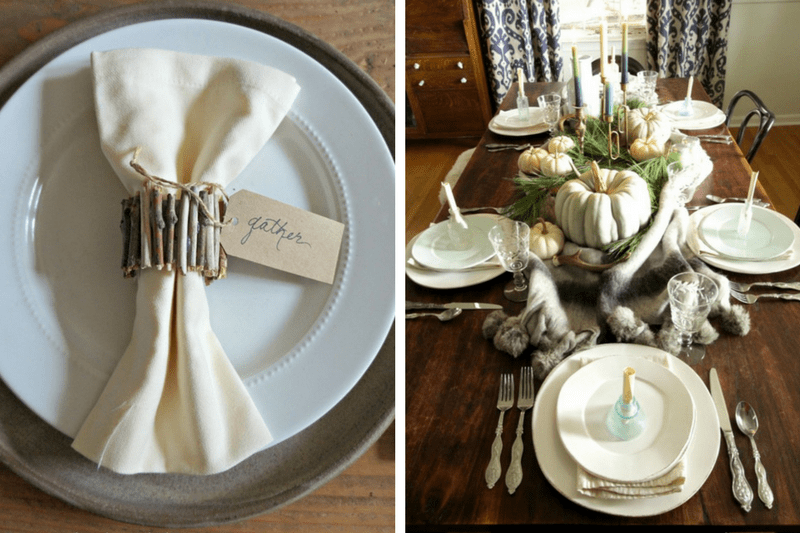 Seeking Lavender Lane // Cassie Bustamante
How cute is that DIY napkin ring?! And it's made from sticks – it doesn't get any more affordable than that, y'all. Such a great reminder that little bitty touches go a long way towards making a table setting feel more special. I also love the cozy flannel runner from Cassie – the pom poms look so cute on the table! This definitely validated my quick & easy fabric table runner, and made me want to try laying it a little less perfectly on the table – the messy look is a winner!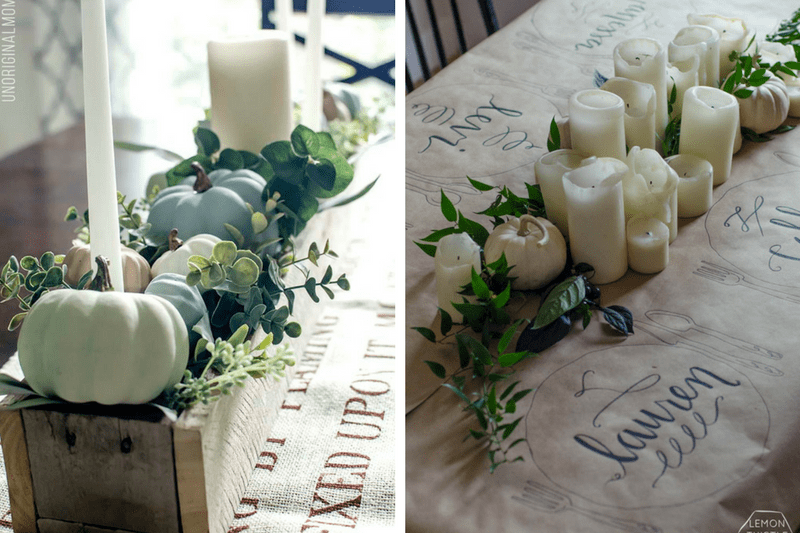 Unoriginal Mom // Lemon Thistle
Long + skinny centerpieces are apparently right up my alley! I love all of the white accents in both of these, and I'm swooning over the candles. I love the blue pumpkins on the left (how gorgeous is that color?!) and all of the greenery is just perfect. That centerpiece really makes me want to take another shot at a wooden planter centerpiece (we've done it before, but it didn't last long). I absolutely adore the casual feel of the butcher paper tablecloth from Lemon Thistle – how pretty is that lettering on it?! And, seriously, it doesn't get any cuter than those silverware outlines.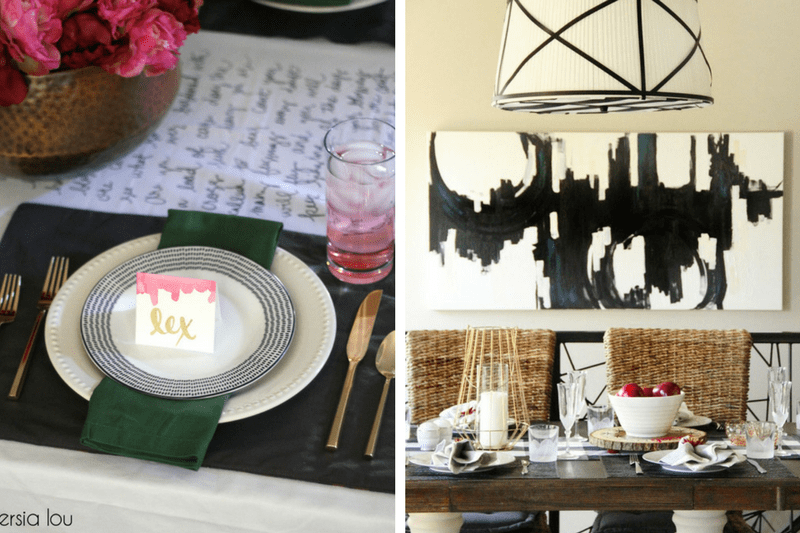 I love the pinks in the table setting from Persia Lou, and the place cards are so cute! I always get really caught up in trying to fold my napkins in the perfect arrangement, but I love the look of just laying them in-between the plates! It's so simple but adds a really fun dimension to the place setting…definitely filing that way in my brain for later. Oh, and the gold silverware? Perfection! I was really, really drawn to all of the texture and the super cozy feel of the table setting from Fresh Crush – everything about that photo is just so inviting and I genuinely want to pull up a chair and join right in!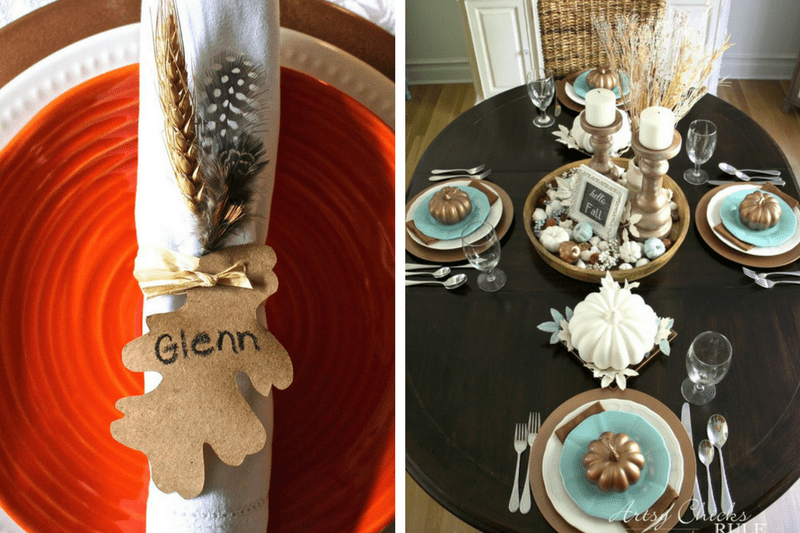 2 Bees in a Pod // Artsy Chicks Rule
What is it about feathers that just scream "fall"?! I love using them with the napkins, and the little leaf name tag is too cute! The layering of the plates in the photo from 2 Bees is also really gorgeous – I'm a giant fan of a well-layered table. The colors in the tablescape from Artsy Chicks are just amazing – who would have thought I would have been so inspired by all of this blue for fall?! We have a ton of blue in our house already, so that makes me think that next year I might be looking for some cute blue accents to add to our fall decor!
There are SO many amazing ideas here! Which one is your favorite?! I'm really pleased with how ours turned out – I'm putting the finishing touches on it and photographing it this week, so next week I'll share what our table is looking like this season!