The Konmari Method: Cleaning Our Living Spaces
New to this series? I'm going through the KonMari method from The Life-Changing Magic of Tidying Up to clean my house out once and for all! Today I'm tackling my living spaces – scroll down to see the rest of the series!
I'm almost to the end of the whole KonMari journey, and I can hardly believe how much we have gotten rid of. We've made some major Goodwill donations in the last few months, and it feels so good to clear so much clutter out of our home. Going through everything we own in such a systematic way was a really great way for me to take a good hard look at what we're buying, how we're decorating our home, and get some inspiration for where we want to go. I was shocked at how many ideas I got for projects and other things just through the process of cleaning out our home!
This post is all about tackling the living spaces in our home – the living room, bedrooms, and extra rooms. I'll admit, we aren't quite finished with this category yet…we currently have Corey's dad staying with us for a while, so I haven't ventured into the guest room to clear it out. The garage and workshop also haven't been cleared out but they're both high on our priority list for this summer, so they'll get done soon!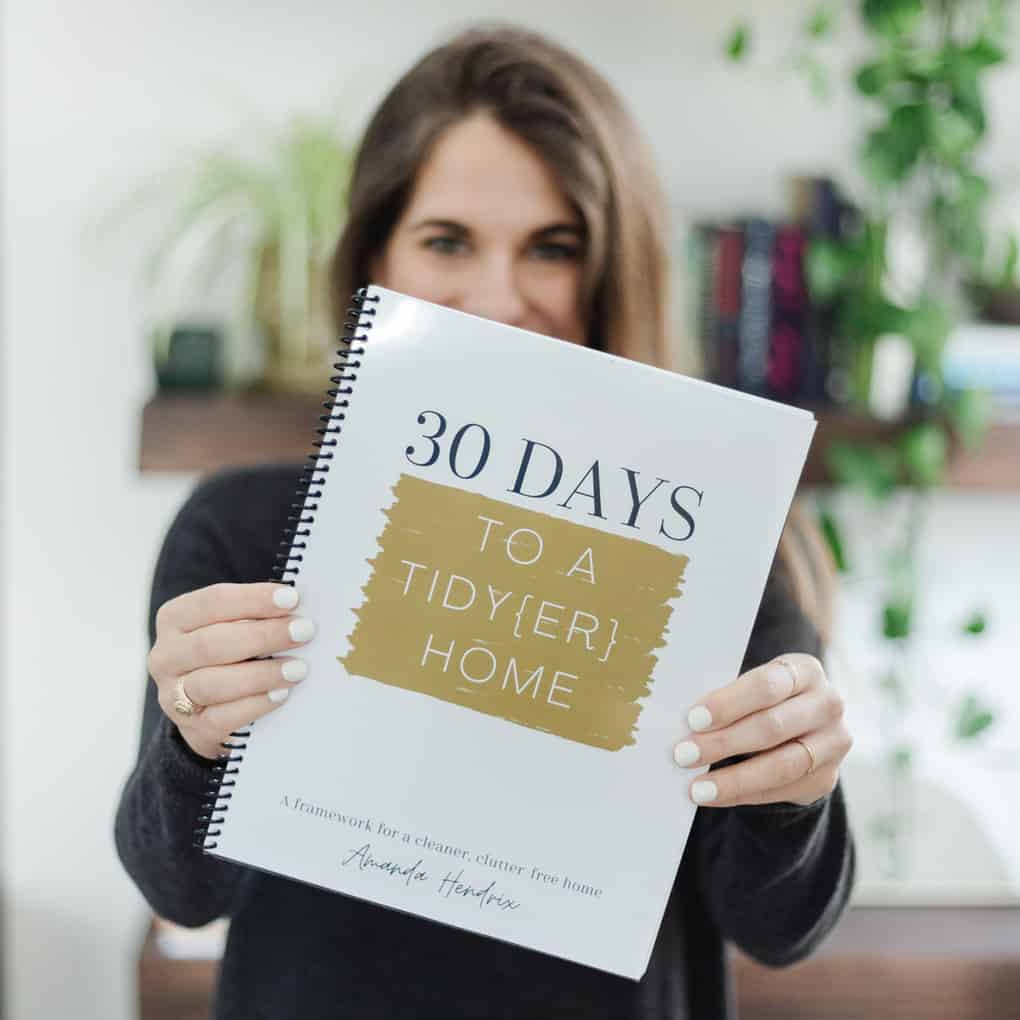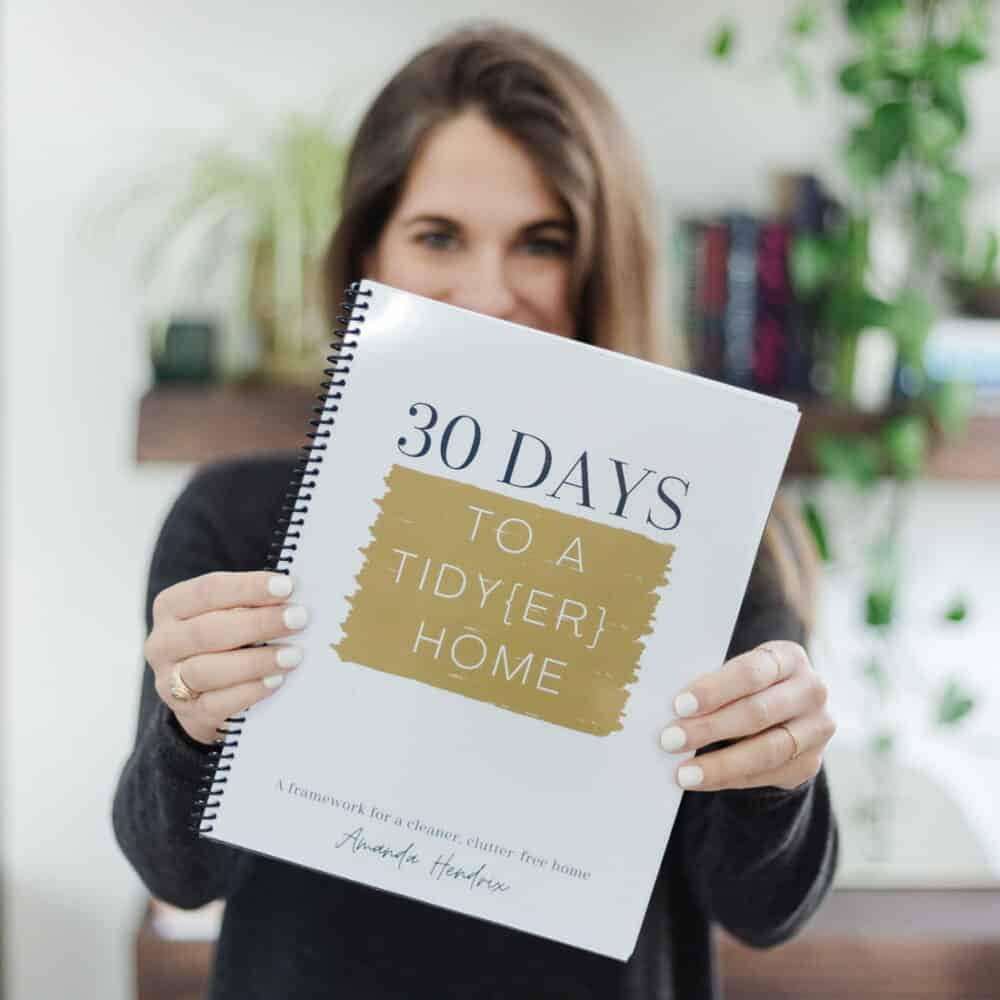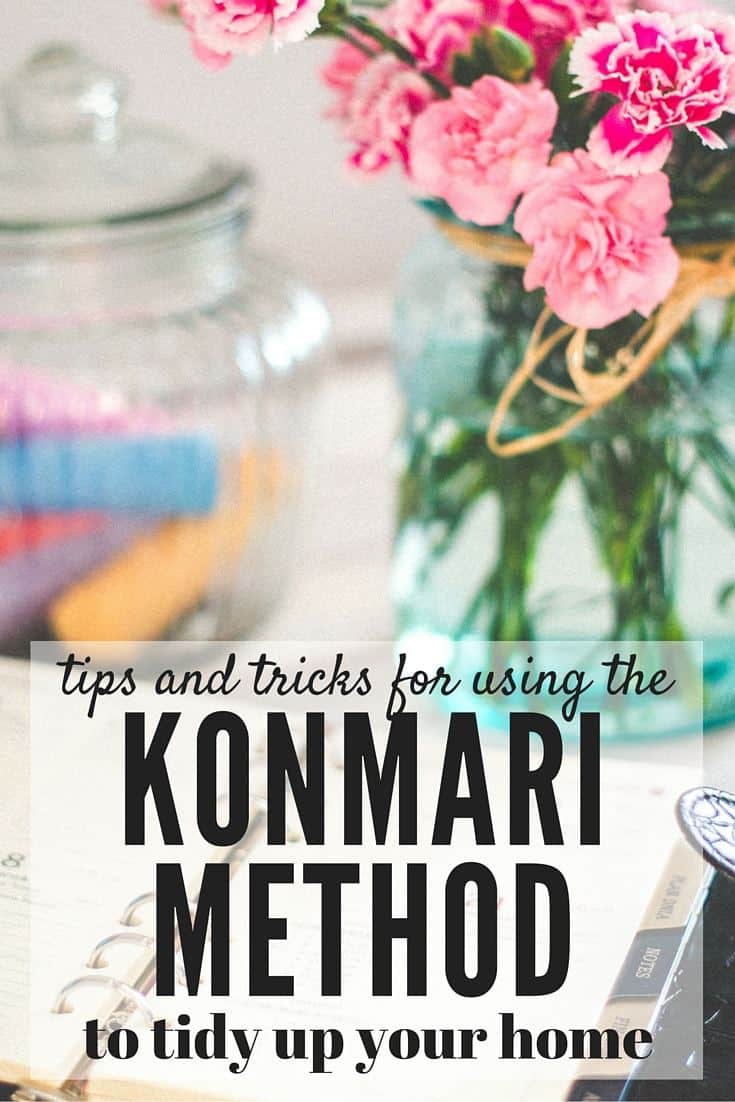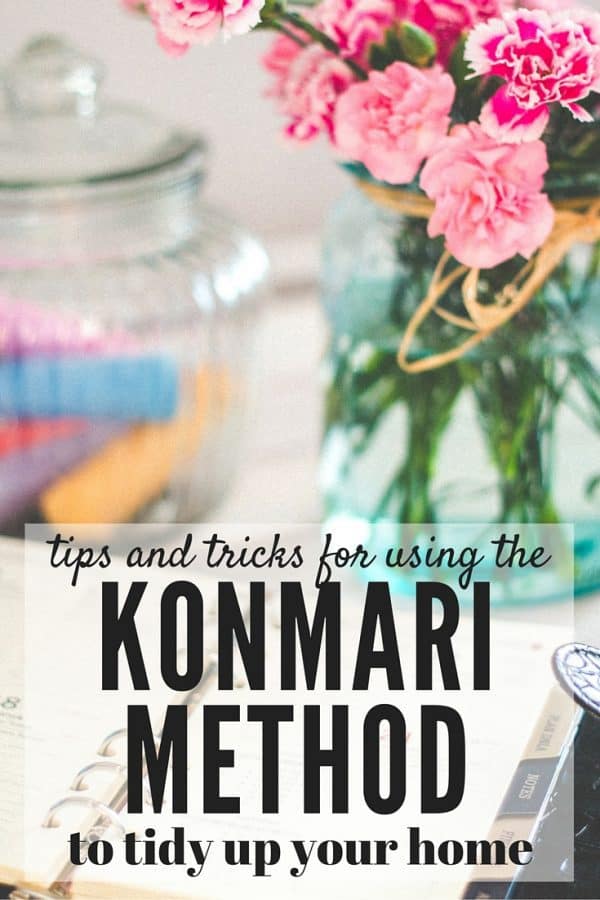 This post contains affiliate links. Click here to read my full disclosure policy.
Decluttering Living Spaces With the Konmari Method
Here are my reflections and tips from KonMari-izing our bedrooms and living spaces:
I learned to be brutal with our decor.
We have so many random decorative items that we've had for years and I've kept around just because I didn't want to leave a blank space. But through this process, I learned how to let go of things that I didn't absolutely love anymore and I'm so glad I did! Now, instead of feeling like I don't have any room for the pretty pieces I see when I'm out shopping, I can actually start looking for things to replace what we've gotten rid of. It's a good feeling!
As a result of the first lesson, I also learned to embrace white space.
Sometimes you don't need a pretty tchotchke on every surface for your home to feel complete. Sometimes leaving it blank, giving space for your eyes to rest, and keeping things minimal is just as impactful, if not more. This is a lesson I've known for a long time but haven't ever been good about following through on – purging our home of all of this clutter was a great way for me to practice this lesson in a practical way!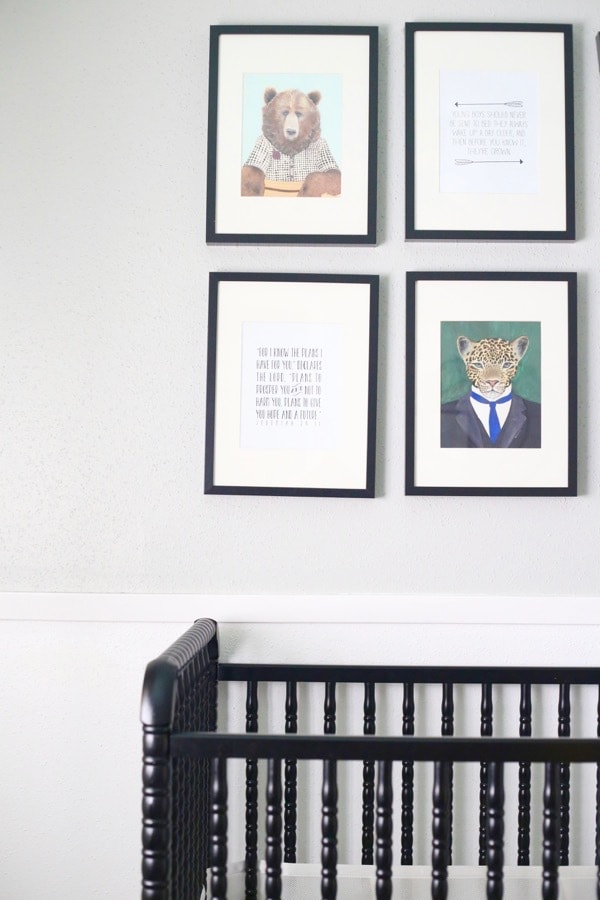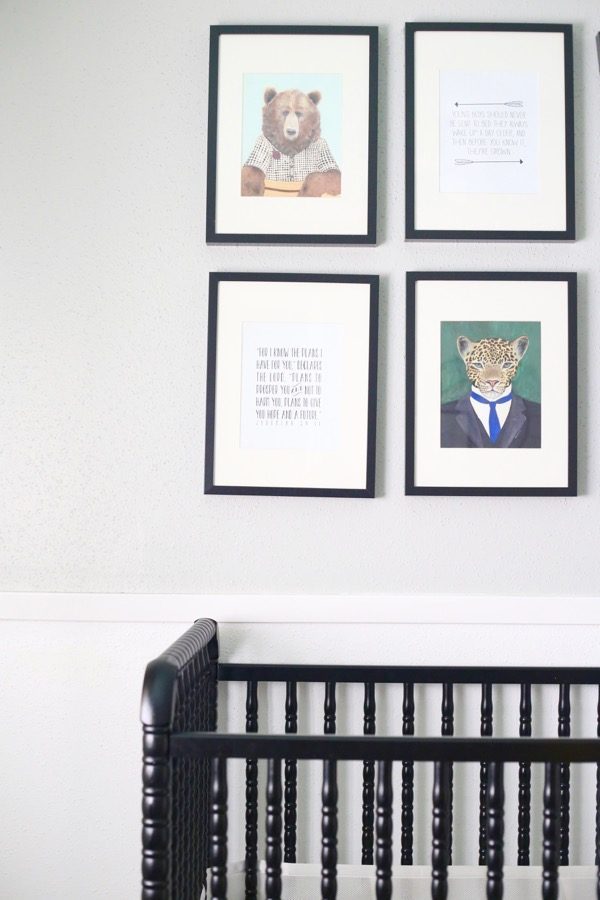 I learned to stop ignoring the little annoyances that have become invisible.
Things like the random basket of junk Corey has had sitting next to our bed for years. And the toys that had spilled out of Jackson's baskets and were scattered under the couch and entry table. And the vases I have kept in our room since before we even moved into the house that I don't actually even like. There's something about reducing the amount of stuff in your home that makes you suddenly see the clutter and other things you don't like that you've been glossing over all this time. I'm so much better about keeping our living spaces neat and picked up now that I've cleared them out and there's actually space for everything again!
I learned that less is more when it comes to toys.
Corey and I have always been pretty conservative when it comes to buying toys for Jackson, but our families aren't so careful. Even though we clear out extra toys pretty regularly, he still has an appalling amount of toys that are floating around our house – most of which he never plays with. I waited until he was napping one day and went to town on all of the toys in the living room. Within just a few minutes I had a trash bag about half-full of toys to donate, and he hasn't even noticed that they're gone! It was a little harder to get to the toys in his room, but I just had Corey occupy him downstairs while I cleaned out the toys in his room. We have one last step to go through when we clean the garage up (he has a lot of toys in there!) and then we'll be done! I'm finding that he doesn't miss any of the toys I've cleared out so far, and it's easier for him to find the toys he does want to play with!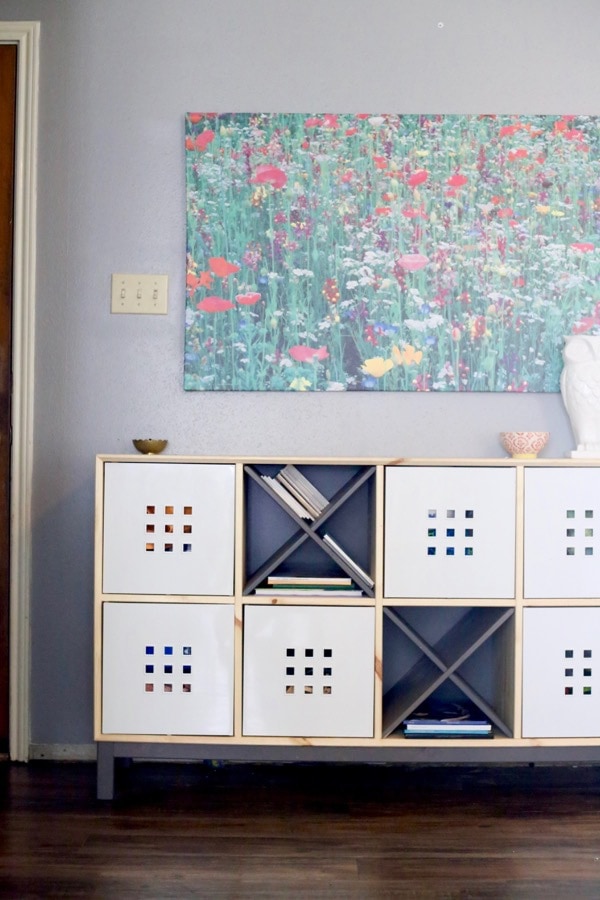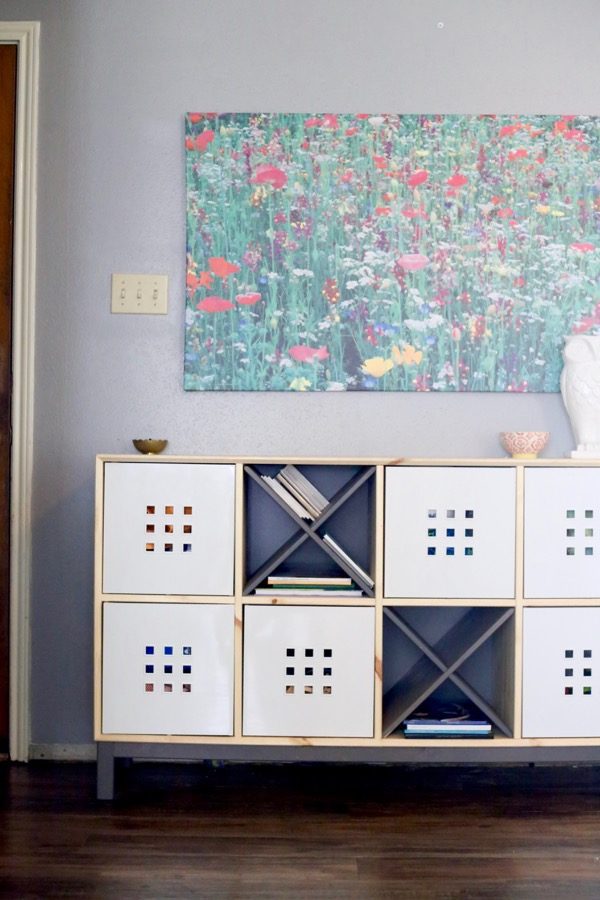 Want to see another category? Click around below to see all of the posts in the Konmari organization method series!
Here are all of the posts in my Konmari Method Series:
I know I've said this a time or seven since this whole project started, but let me just emphasize again how good it feels to clear our home of all of this clutter! I still feel like we have a lot more purging that we could do, but I'm married to a hoarder so this has been a good way for us to learn how to compromise and how to come to a happy medium when it comes to things that we hold on to just in case and the things we get rid of. Now that I've started on this, I feel like over the next several months I will likely continue to toss little things here and there until we reach that perfect point where we have just enough stuff.
What's the dynamic like in your home? Are you and your spouse tossers or hoarders?