15+ Gorgeous Accent Wall Ideas
Want to do an accent wall in your home but don't know where to start? Here are more than 15 gorgeous DIY accent wall ideas to get your inspiration flowing!
I love a good accent wall. There's just something special to me about taking one little ol' wall in a space and transforming it into something else that's so satisfying.
Accent walls always make such a big impact for such a little amount of effort – and it's generally really affordable too!
I've done a ton of accent walls over the years. I've done them in our living rooms, I've done them in bedrooms, I've done them in hallways and bathrooms and entryways! Accent walls are such an easy way to add focal point and some dimension in a space, and they're the perfect way to try out a style before you fully commit.
So, let's jump right in. I'm sharing a ton of interiors with accent walls of all sorts. Browse around and see if something strikes your fancy!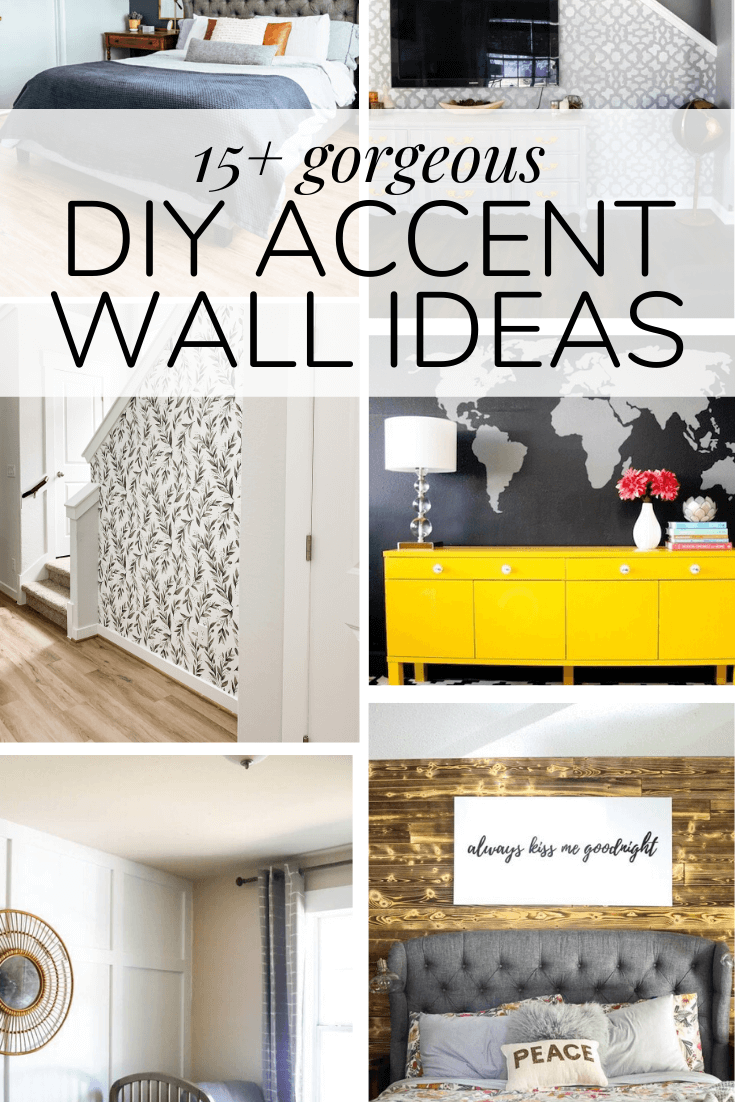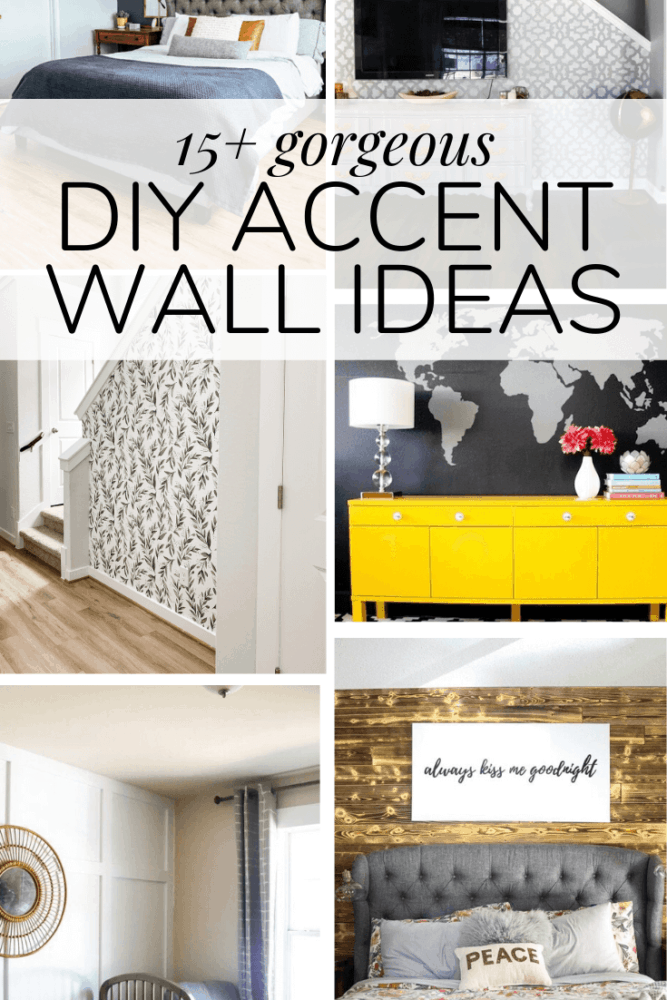 Gorgeous DIY Accent Wall Ideas
1. Paint Just One Wall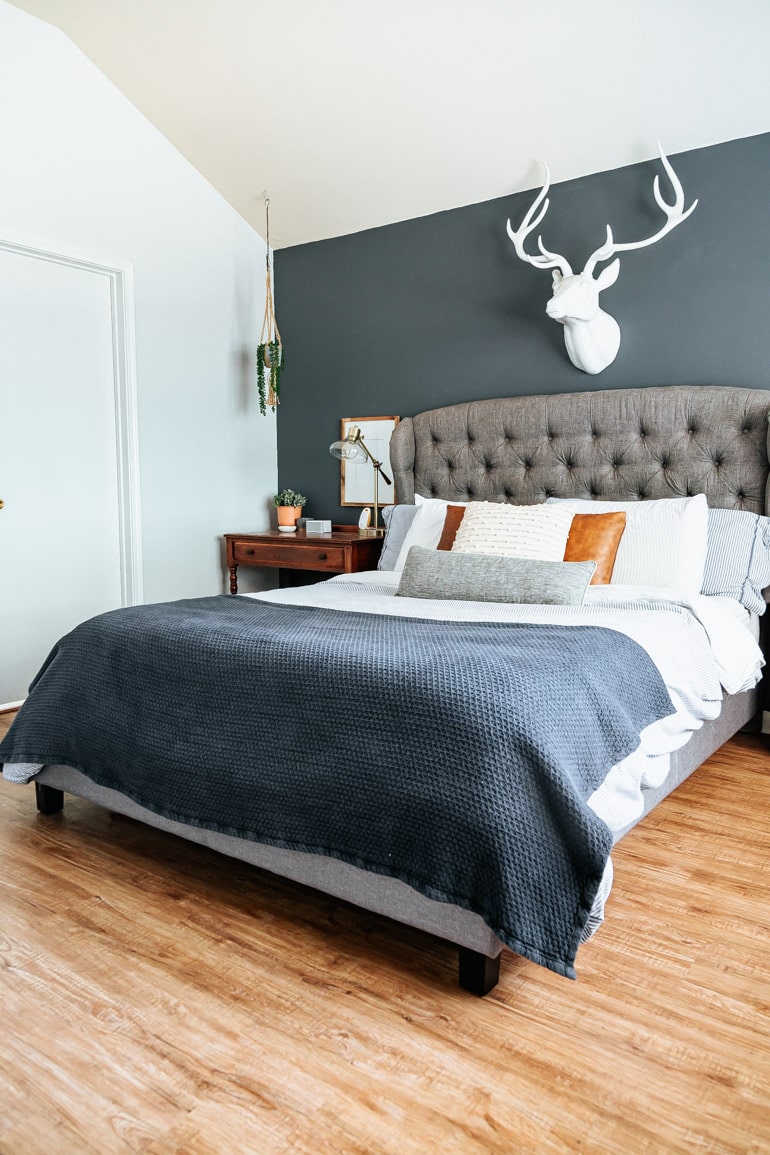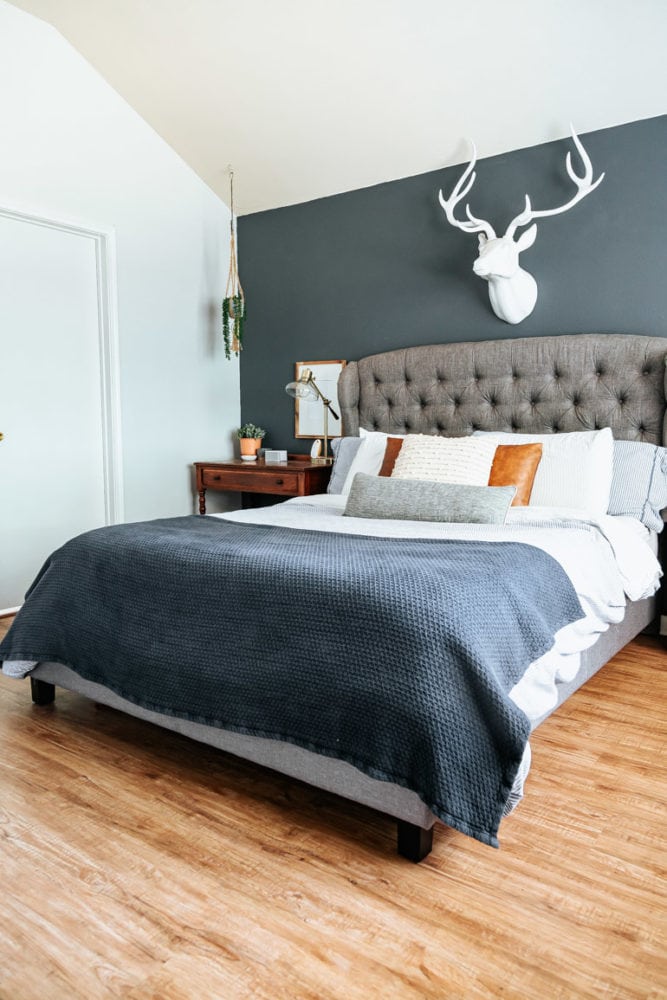 Probably the most common way to do an accent wall (and what I'm sure most people automatically think of when an accent wall is mentioned) is to just paint one wall in a room a different color than the rest of the room.
This is such a great way to try out a new color in a space or dip your toes into a bold color for a room if you aren't sure you want to go all the way in. Personally, I tend to prefer to add something to the wall rather than just painting one wall a different color, but this was such a great technique for us when we were selling our last house and left one wall dark blue. I always recommend this approach to anyone who says they want to paint a room in their house a bold color but they're afraid they'll hate it. Start with one wall and see what you think – then, you can either leave it alone or add more later! Or, if you really do hate it, it's only one wall to paint over!
Wallpaper One Wall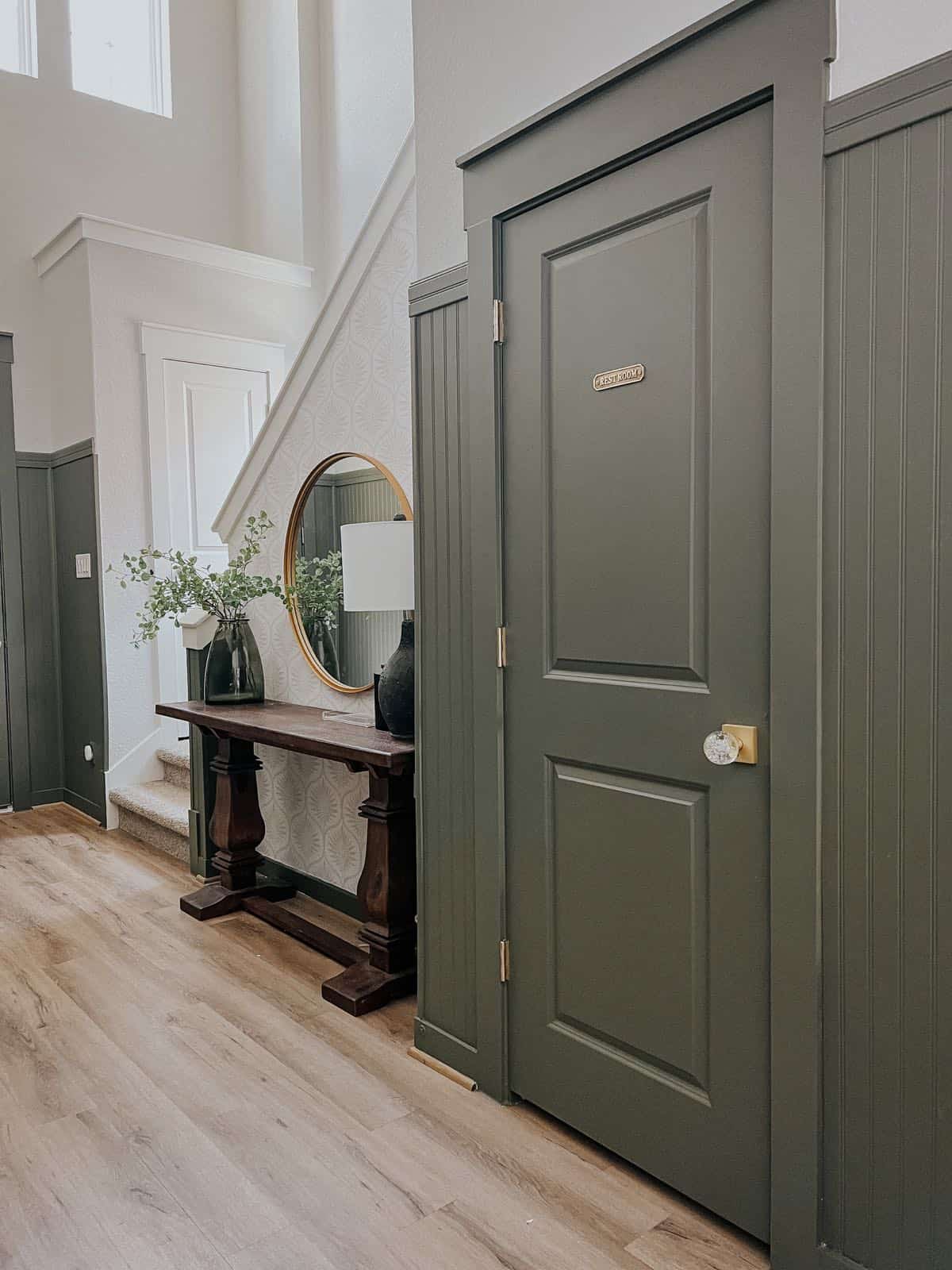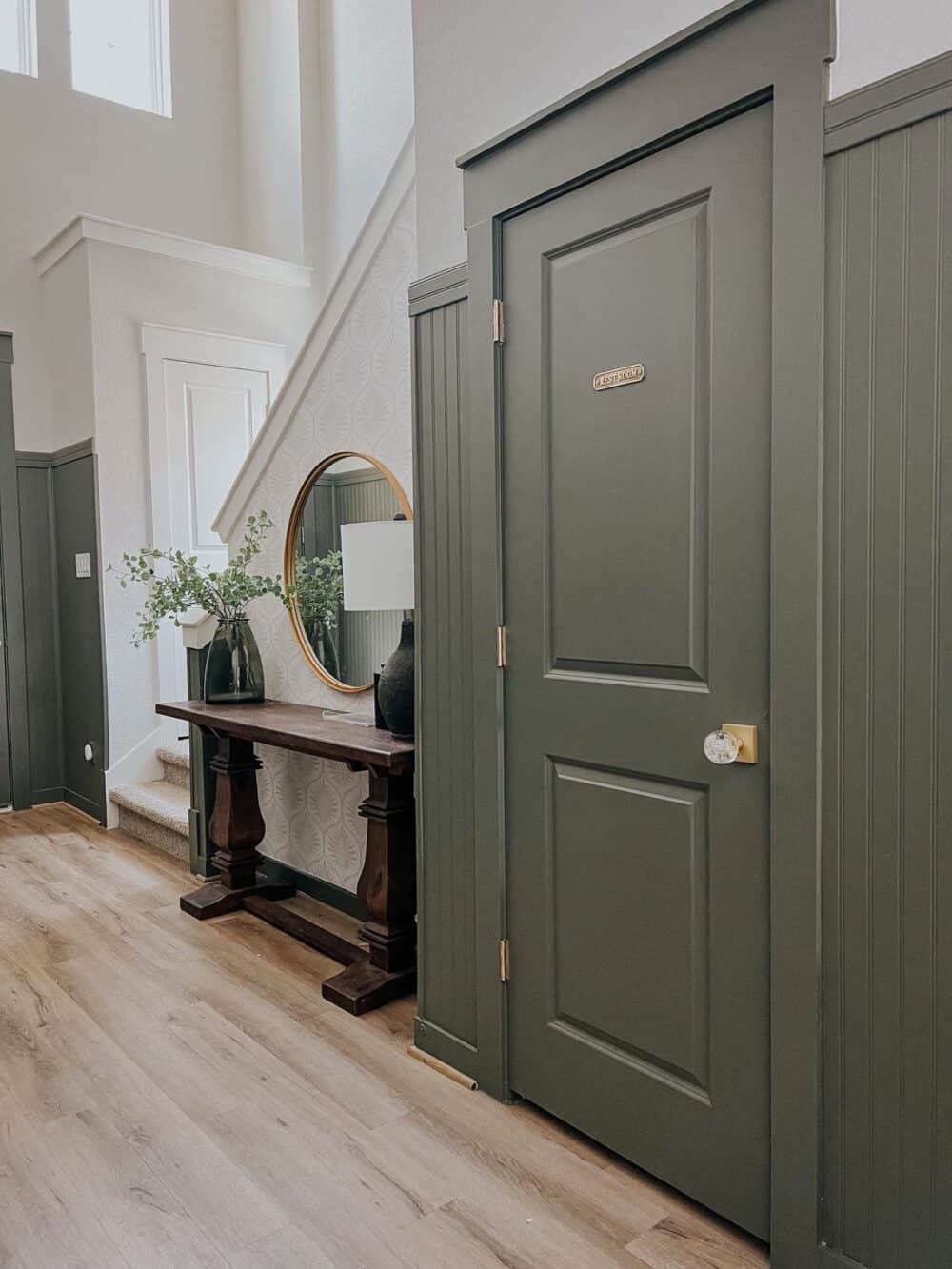 We have a wallpaper accent wall by the staircase in our entry. It's a perfect little nook for a feature wall!
Wallpaper can be pricey, so using peel and stick wallpaper or pasted wallpaper is a really budget-friendly way to get the look for less.
You can learn more about the wallpaper in our entry here. My biggest recommendation is to not cheap out – you want your wallpaper to be thick and high-quality or it'll be difficult to work with. I wrote a blog post all about installing pre-pasted wallpaper as well, and let me assure you it's not as difficult as you might expect.
Stencil a Wall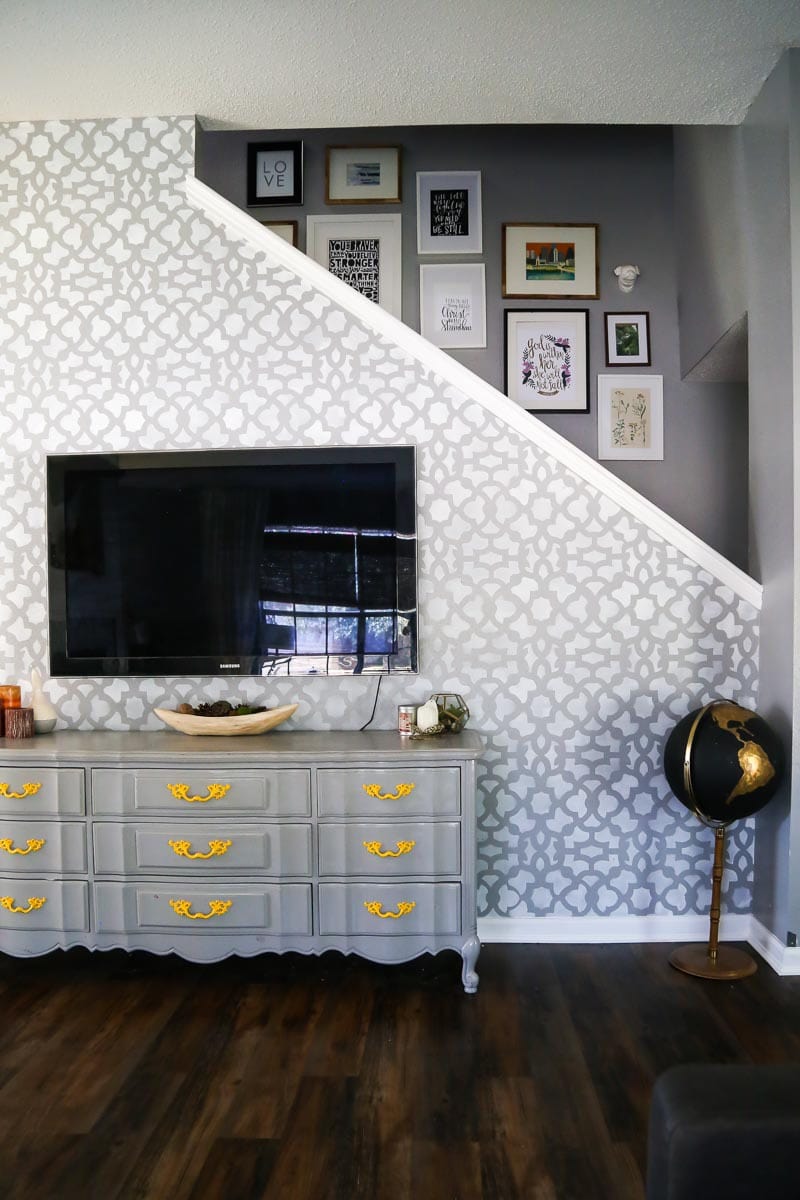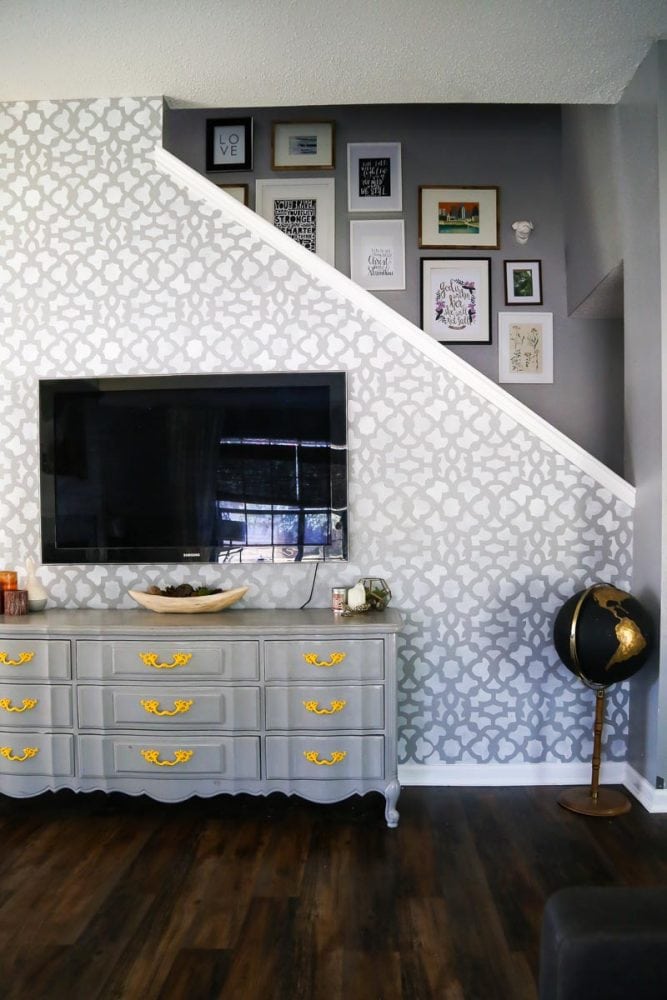 Waaaaaay back in our first home I got a wild hair and stenciled the staircase wall – it made such a huge impact in the space and was one of those things that eeeeeeveryone commented on when they first visited our house.
I have since lost my touch (and my patience) for stenciling and I haven't tried it again, but it's such an affordable way to make a big impact. A stencil and paint is far cheaper than adding wallpaper, but it gives you the same look. It's also easier to fix any mistakes, hah!
My biggest recommendation with a stencil is to embrace a little bit of imperfection and just go into it knowing that you may not have all perfect lines but no one will notice. There were plenty of mistakes in that big stenciled wall I did but even I couldn't find them once the whole wall was done!
Paint a Mural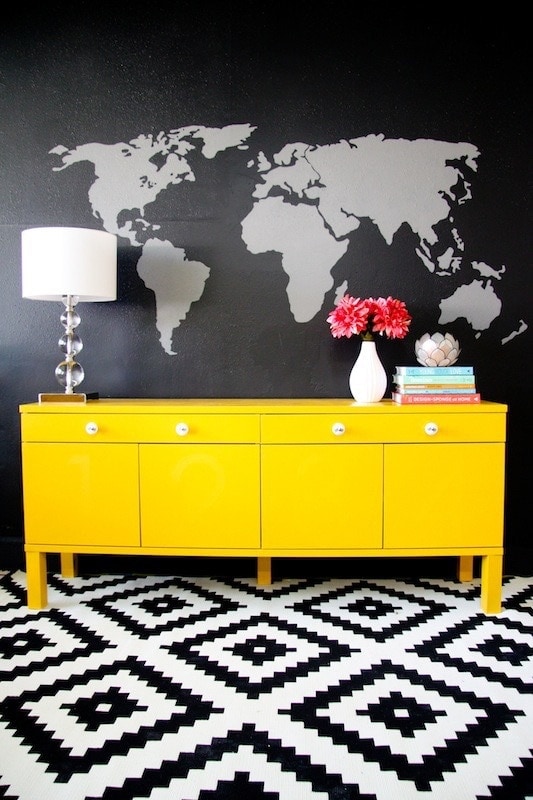 Another favorite project from the archives is this giant map mural that I painted on one of our walls! You can click over to the post to see the full tutorial, but I just used a projector and traced this image on the wall and it was so easy and made such a fun statement in the room. Alternatively, you can use wall decals for a mural look with less commitment.
This could be applied to just about anything you want – you could add words to the wall, trace a map or a pretty landscape scene…anything! Or, you could skip the projector and freehand some stripes or a fun pattern. It's becoming more and more popular to do imperfect, freehanded murals on the wall and I'm here for it.
I'll share a few more favorites at the end of the post to get your inspiration flowing!
Add Wood Planks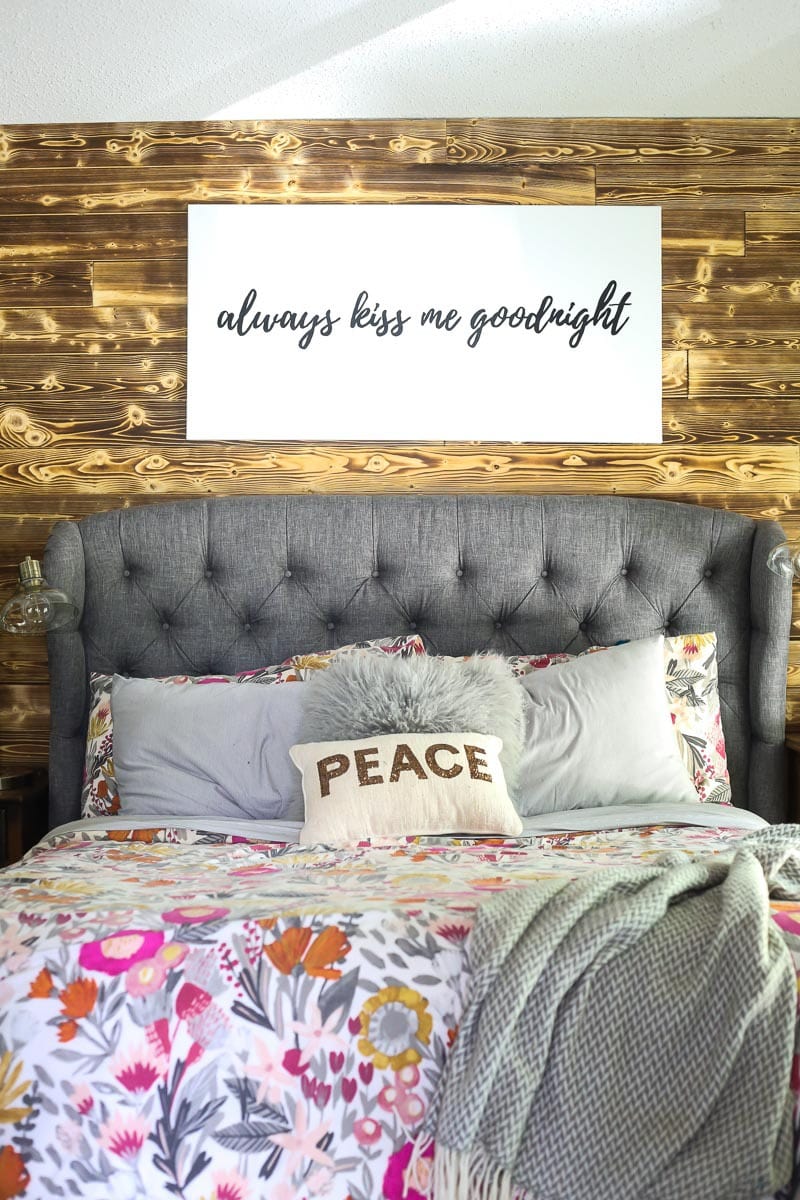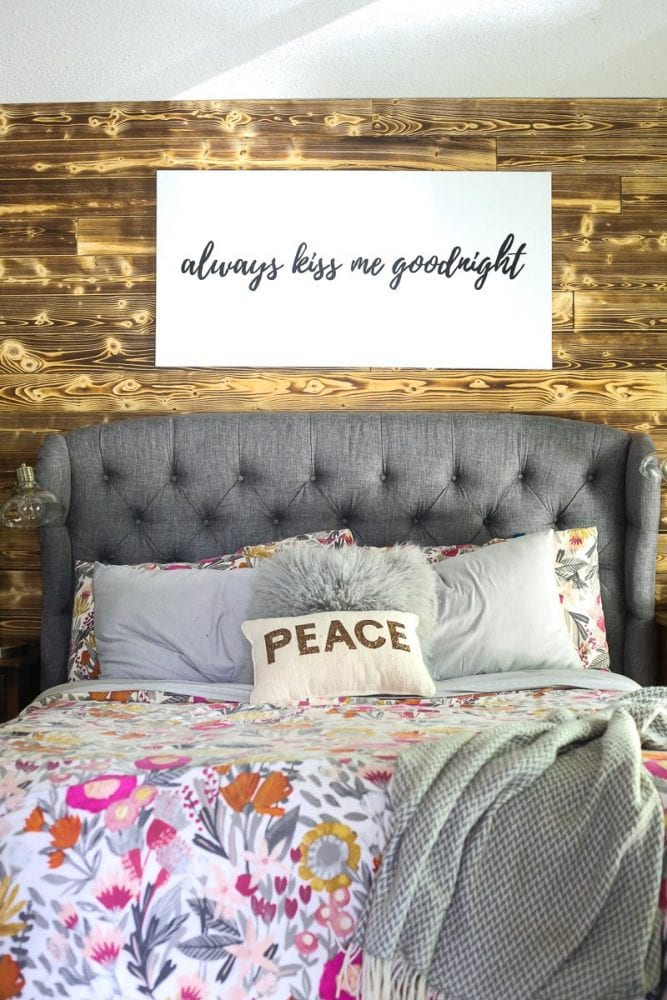 We've all seen a shiplap accent wall, but what about some beautiful natural wood? I did this charred wood accent wall in our first house (right before we moved – OF COURSE) and I loved it so, so much. It added so much warmth and texture to the room and was such a unique statement
You could do this with almost any kind of wood. Obviously you can go the "traditional" shiplap route and paint it white, you could do raw wood like this (cedar would be fun!), or you could paint it a fun color. Lay them vertically, horizontally, or even in a herringbone pattern.
The sky is the limit, my friends. Click here to see a similar look with faux wood vinyl planks!
Board & Batten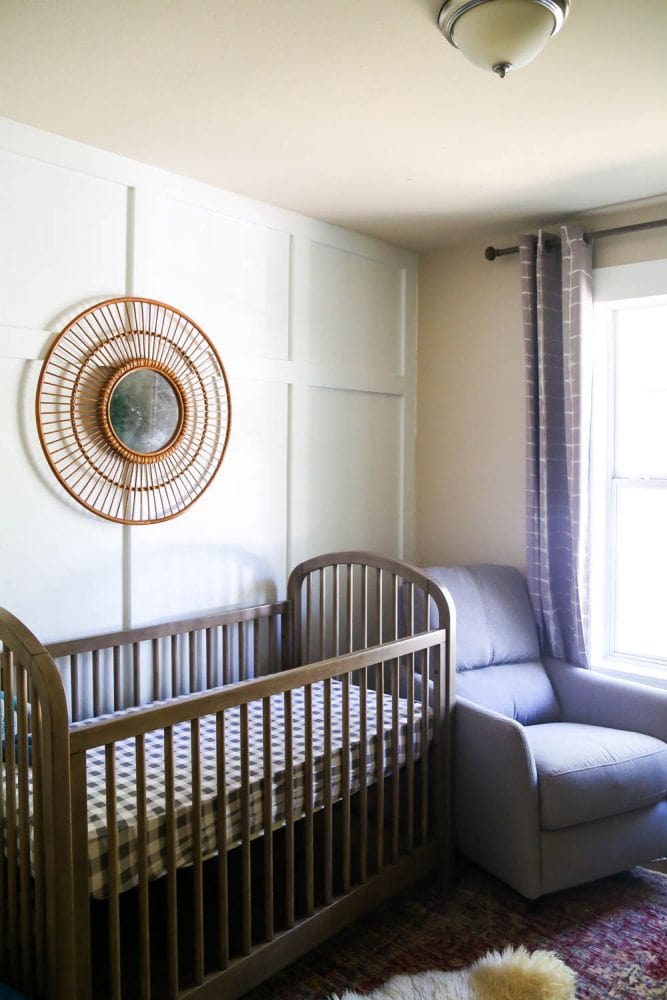 One of my very favorite spaces in our last home was Grant's room, and the easy DIY board and batten accent wall I added to it was one of the main reasons!
I did this project while largely pregnant in the middle of Vacation Bible School week (I was volunteering) and it only took a few days to knock out…so if I can do it under those circumstances, anyone can do it.
I mean, have you ever volunteered at VBS? It's no joke. Especially when you're a thousand months pregnant.
I've also done a board and batten accent wall in my garage and in my best friend's garage. It's a classic, and you can adjust the sizing of the boards to create different designs for different styles!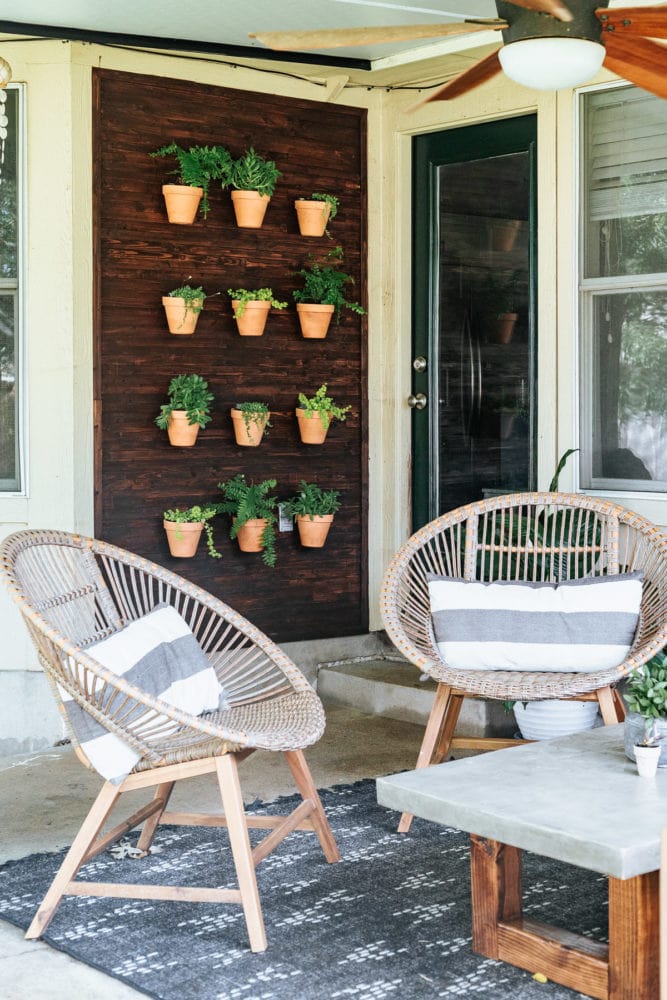 Sure, I did this DIY living plant wall outside in our last house but there's no rule that it can't be an indoor project! If you've got a weird small wall that you aren't sure what to do with, something like this would be so perfect.
In fact, as I'm sitting here typing this I'm staring at the short wall between my dining room and kitchen and the wheels are turning, folks.
This project was really easy and fun to put together, and I was so pleasantly surprised with how big of an impact it made without having to spend a ton of money or put a ton of time in. A little collage of plants on the wall makes a room really come alive, and a living green wall is the best kind. Click here for more plant wall ideas!
Geometric Accent Wall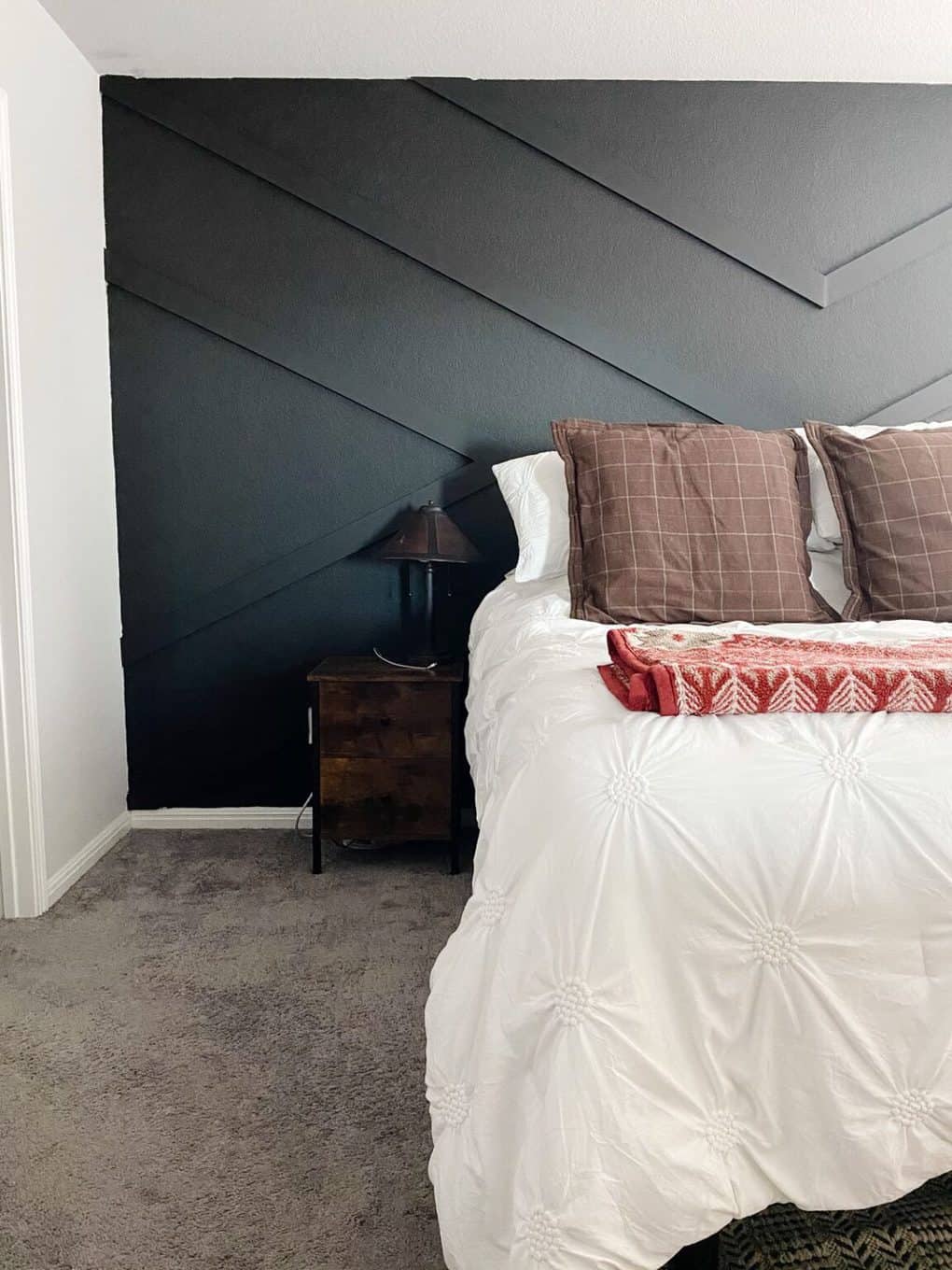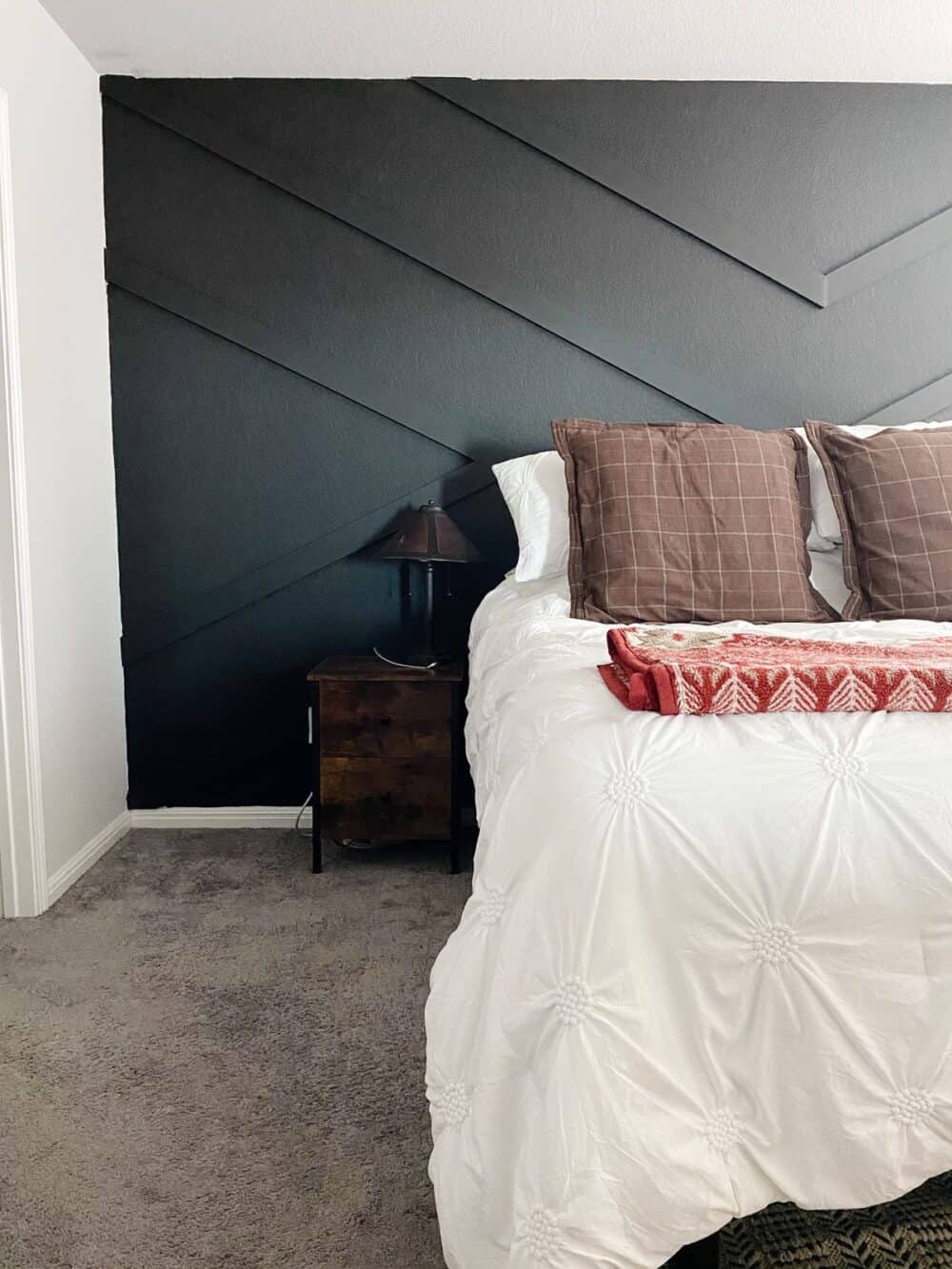 When it comes to accent wall design ideas there's really no right or wrong method. Choosing some really unique and fun geometric designs (like I did for a friend here) adds so much depth and visual interest!
You can do a grid (see an example of that here), horizontal stripes, vertical stripes, or any type of shape you want. A geometric accent wall creates a really nice backdrop for your headboard in a bedroom, and it's always a fun and unexpected choice! I also love an accent wall like this in a home office – it really inspires creativity!
And, since I just can't stop with the accent wall ideas, here are a few more of my favorites…
Even More Accent Wall Ideas
See some awesome wall mural ideas right here.
Add a brick wall (or faux brick wall) to your space. You can whitewash it if you want it to feel more neutral!
Create an artwork accent wall! Because wall decor can totally count as an accent wall! A big gallery wall of family photos or wall art that takes up an entire wall is a really beautiful and impactful choice. Choose matching frames if you want a quiet and cohesive look, or go with mismatched frames for a bolder feel.
Why not make your accent wall the ceiling? See some ideas here!
Try a tile accent wall! Especially in a kitchen or bathroom, taking a backsplash all the way up to the ceiling creates a really functional and beautiful accent wall.
Accent Wall Tips
Finally, let's wrap this little post up with a few tips and tricks to keep in mind.
If you have all white walls in your space, a pop of color will make a bigger difference than you think. Take the time to consider if you want a bold and bright color or if you want to keep it a little more neutral! For example, a bright green accent wall in an all-white room will make a statement (which isn't a bad thing!) whereas a beige hue or more neutral shades might blend in a little more. The paint color you choose makes a huge difference.
If you are working in a room with a fireplace or other focal point (like a large entertainment center), consider making that the accent wall. Having two competing focal points in a room can feel a little visually overwhelming.
If you aren't sure where to start, the foyer or entryway is a great place to play around with accent walls.
Remember that at the end of the day, interior design "rules" are just suggestions. Home decor is extremely subjective, and all that really matters is what you love! If it makes your heart happy, give it a shot!