Do you have an ugly bathroom in your house?
I feel like most of us could probably say that we do. I've got two. We've actually got a big renovation on the docket for early 2019 for our kid/guest bathroom (more on that later), but our master bathroom is incredibly ugly as well – and as of right now we have no plans to take on a huge renovation for it anytime soon.
Buuuuuut sometimes there's something you can do about an ugly bathroom even if you don't have room in the budget for a full renovation.
Y'all, today I'm so excited to announce a big collaboration with one of our very favorite brands in the whole world, Rust-Oleum. You've seen us work with them more than a few times before (I'll link the posts below!), and we're partnering up with them again over the next few months to show you how to transform an entire bathroom using nothing but paint.
Allow me to introduce you to it: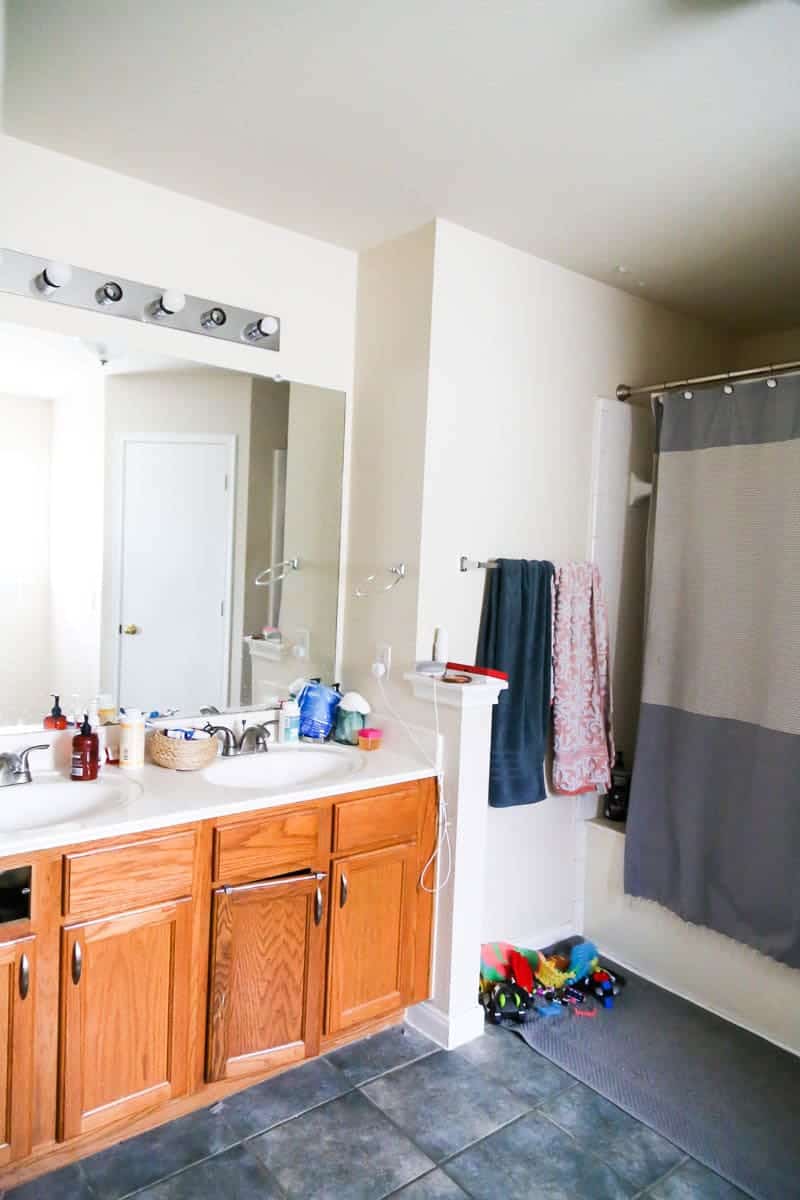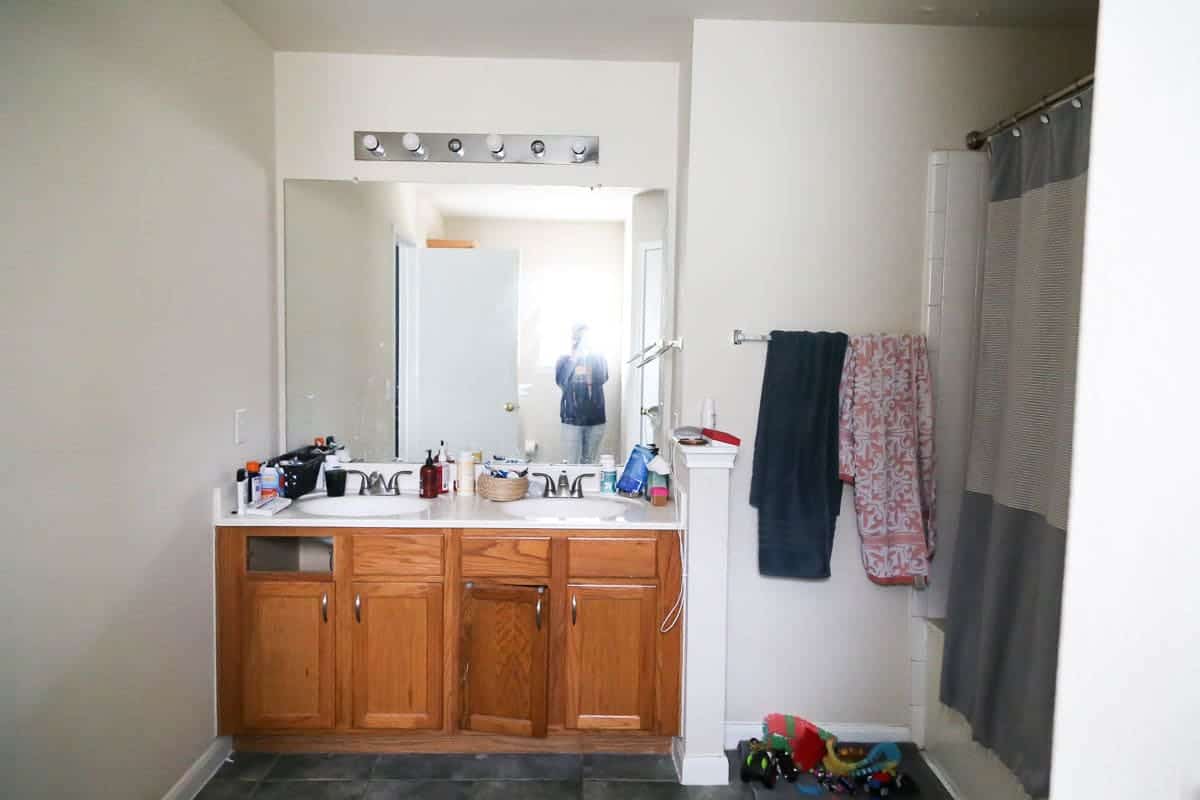 Is it the ugliest master bathroom in the world? Probably not. But it's gotta at least be in the competition for the ugliest bathroom in Texas, right?
Please take note of the splotchy green tile, the yellow-ish bathtub, and the vanity that's missing a faux drawer. Oh, and the peeling paint on the ceiling and the way-too-short shower curtain.
I mean, really, this thing is bad.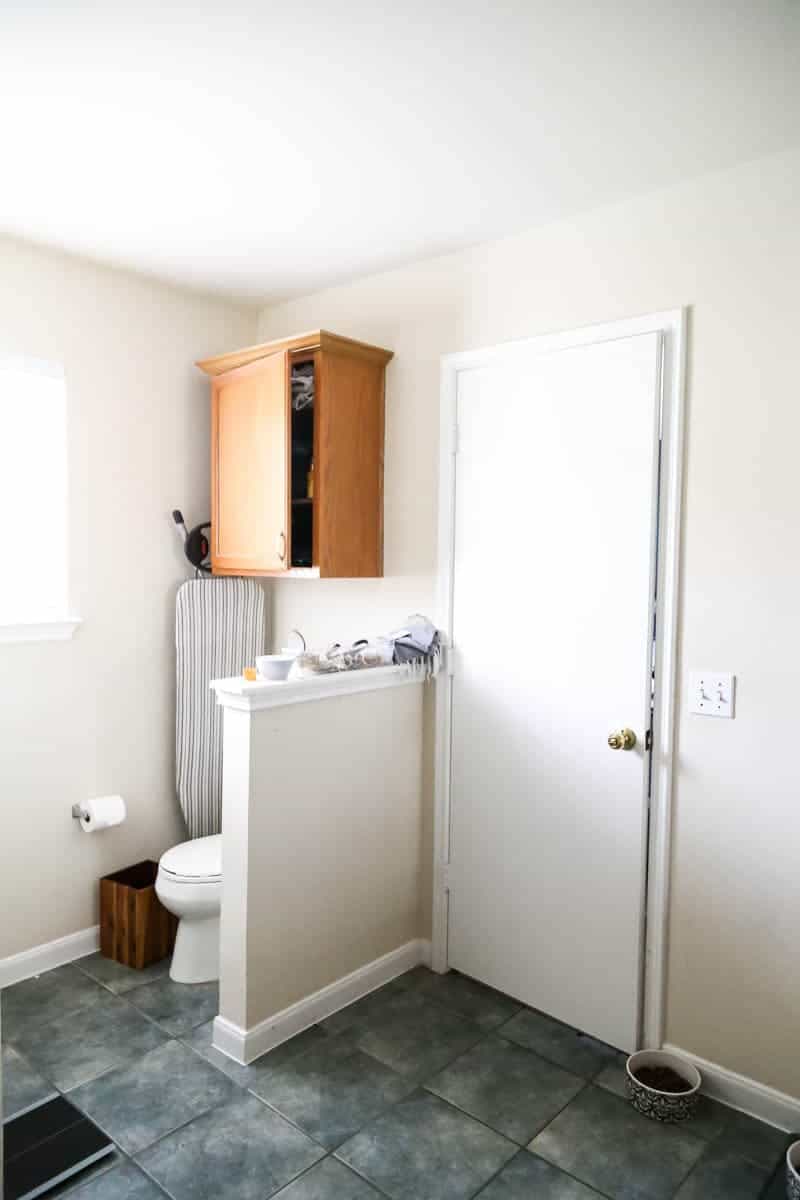 We've always felt that this bathroom has some pretty serious potential, and we still do feel that way! It's very spacious (especially considering our house is a whopping 1,100 square feet), it's got a good layout, and I'm a firm believer that any bathroom can be stunning with the right materials.
We just don't have any of the right materials yet.
Even though we aren't planning on taking on a full renovation for this bathroom right now, I kept feeling like there had to be something I could do to make it more bearable. Because, it's not just ugly – it's disorganized and messy and I don't even like being in there. It feels dirty all the time (probably because I hate spending enough time in there to get it clean), and it's just all-around bad.
Enter, our best friends at Rust-Oleum. We chatted with them and came up with the super exciting idea to show you how you can take one super ugly bathroom and completely transform it into something amazing using just a bit of paint and elbow grease.
I cannot wait to get started.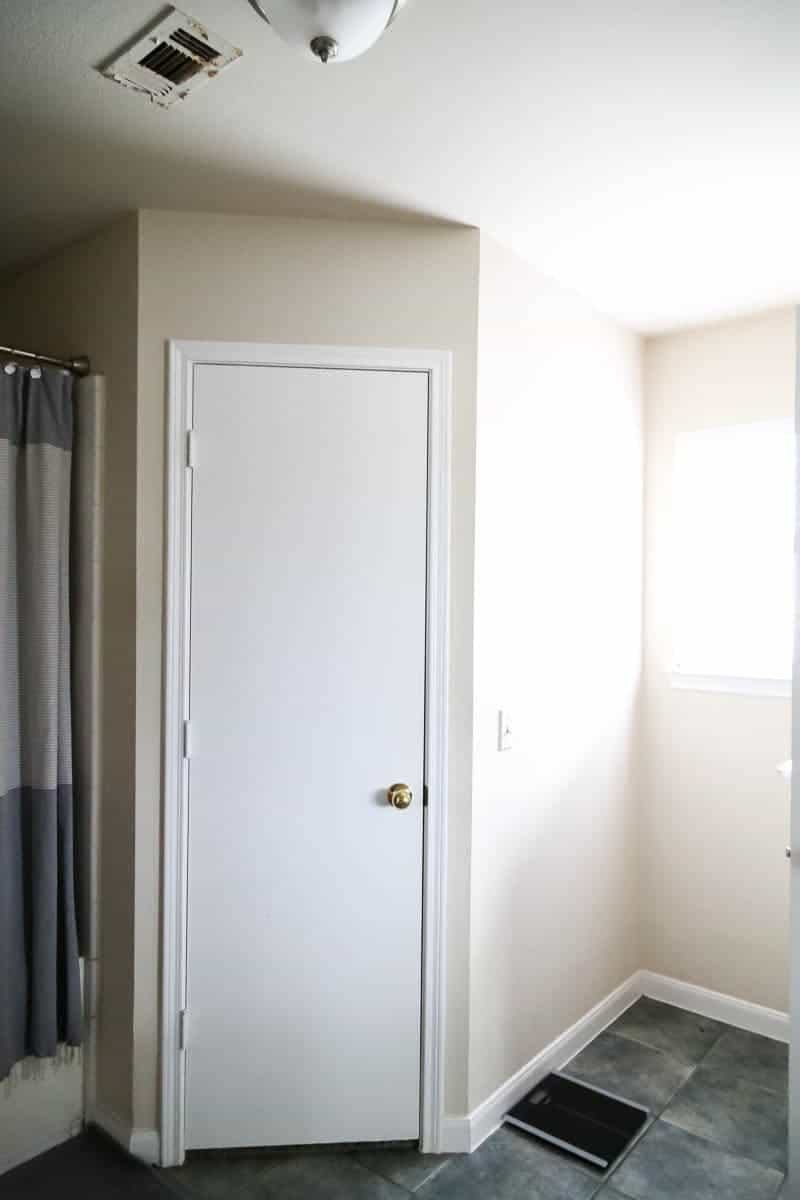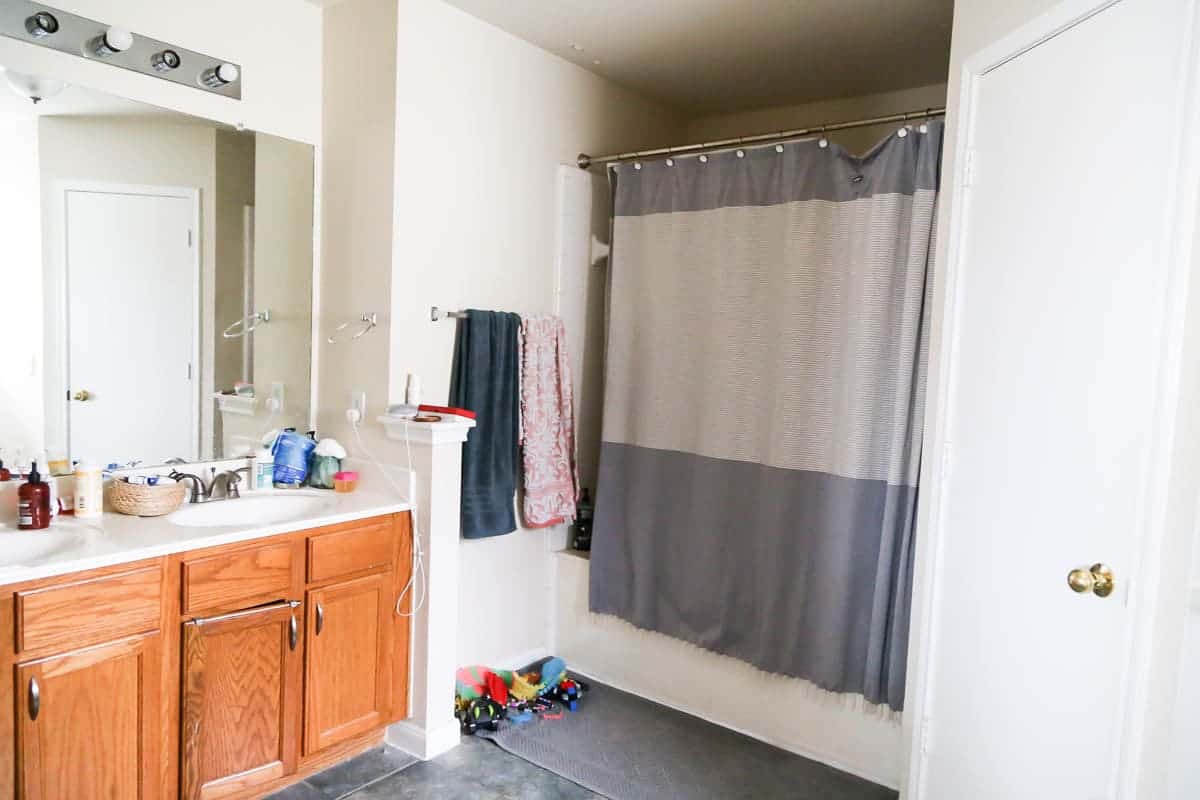 So, what's the plan? Well, you'll have to stay tuned to get all of the details, but here's a quick rundown of a few things on the agenda:
A fresh coat of paint on the walls
Totally transforming the vanity
Painting the tile floor (!) with a fun pattern
Refinishing the bathtub and tile to make them look clean, fresh, and modern
Plus a few more fun things!
Another fun thing I'd like to point out about this makeover is that my goal is to really show you that this is possible for anyone to do. Even if you aren't a full time blogger who works on their home for a living. That means I'm going to be taking you through this makeover in real time, and we'll be working on a normal human's timeline. I'm not trying to squeeze this into a weekend or make it feel like an HGTV show where people just snap their fingers and a whole house is transformed. This is going to be a slow and steady process that will last for a few months – because it's the holiday season and ain't nobody got time to slave away in the bathroom all day amiright?!
In addition to that, it'll be a budget makeover. My goal is to do as much as possible with just paint products and I want to replace as little as possible. I'm planning on a new shower curtain and new lighting for sure, but beyond that I think most of the things in the room will be staying. The goal of this project is to show a totally realistic project that anyone can take on with just some time and a tiny budget!
I'm really hoping that this fun project inspires you and shows you that this is something you can do. Even if you have small kids or work a full time job or have a super full social calendar (or all three!). I'm going to be tackling this at a realistic pace, and I'm going to be sharing every single step of the process with you. I'll be sharing a lot on my Instagram stories, so be sure to follow me over there if you don't already.
Stay tuned for the first project later this month!
Wanna see the other fun ways we've partnered with Rust-Oleum?!