Christmas Around the House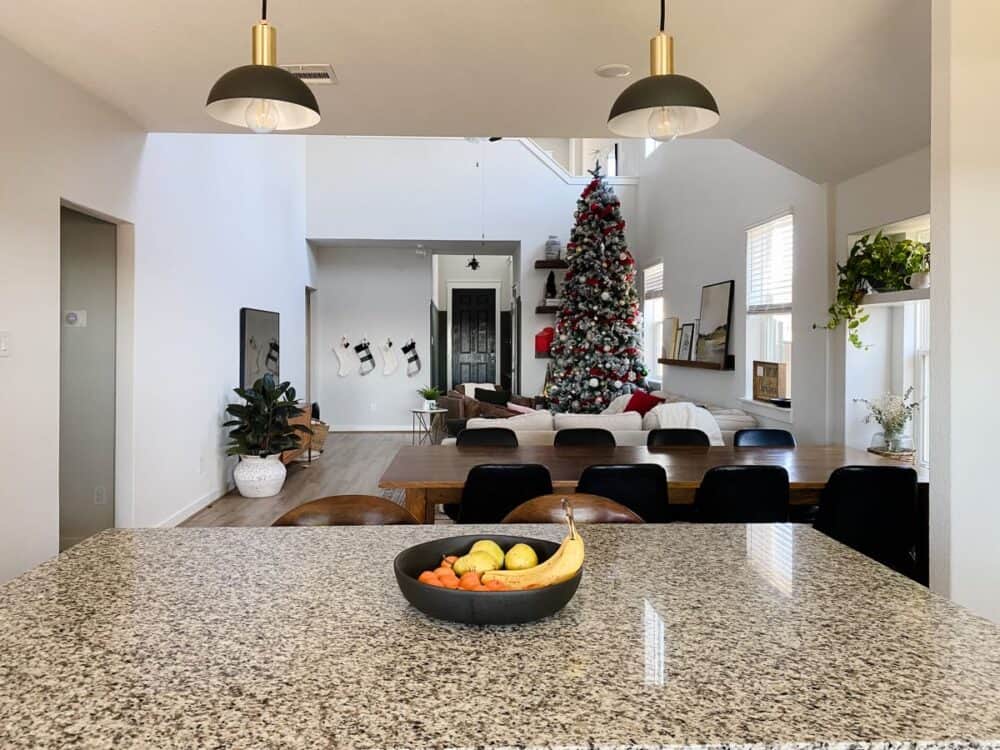 I shared our tall Christmas tree last week (it gets enough questions that it deserved its own post!), but I didn't take any photos of the rest of our house all decked out for Christmas this year. I always love to document how we decorate and how things evolve and change over the years, and I always love getting a little glimpse of how other people are decorating for the holidays.
So today, I thought I'd take you on a little tour through our home and a closer look at how we spruced things up for the holidays.
After a year of complete chaos, I was feeling like we all needed a bit of simplicity to round out the year. So, you'll notice that our dining room table is bare, and I had several spots that I see myself decorating someday that just got left alone this year. Maybe next year we'll tackle the stair bannisters and add a little more cheer to the dining room and upstairs but, for now, it feels nice to have just enough to make everything feel festive.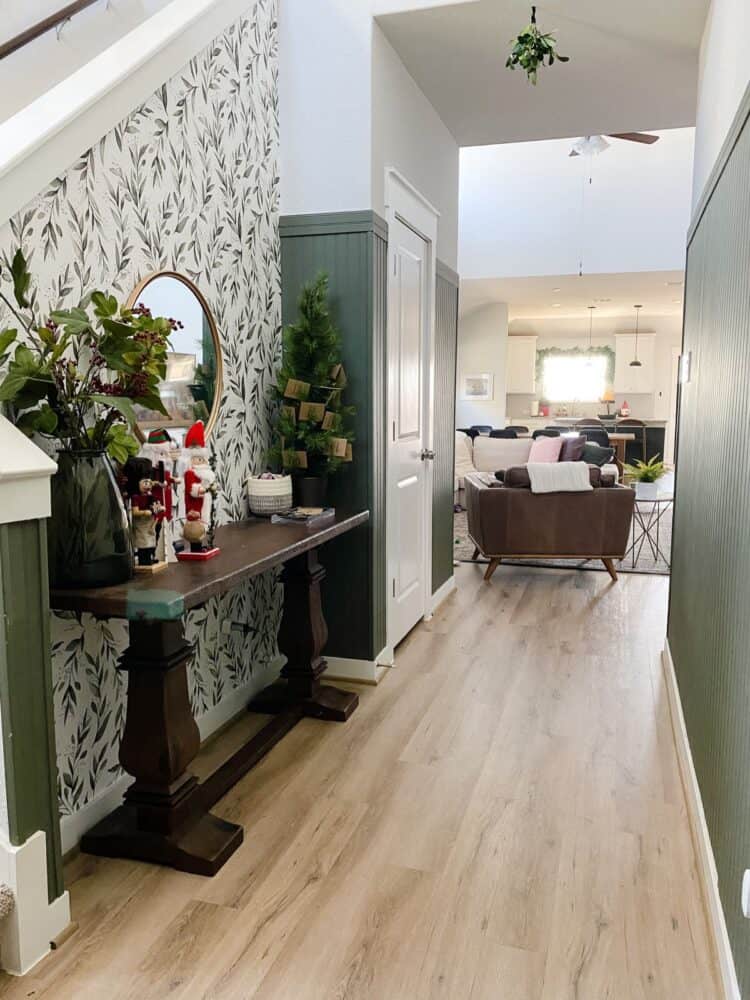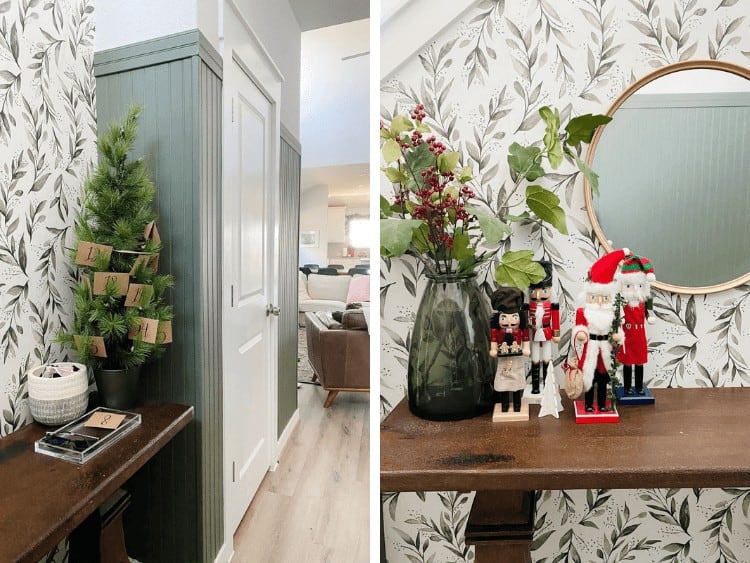 In the entry we, of course, have our activity advent tree which is possibly the most important Christmas decoration we own! It's the highlight of the kids' day to see what's inside each envelope, and this is a tradition we will never stop doing.
We also have an accidental nutcracker collection – we bought our first one two years ago and let Jackson get another last year…he's been begging for another one, so I let each boy pick out one more. Now, Jackson has declared that we should let them each pick out a new nutcracker every year, so it's looking like I'm going to need to find a larger display space for these dudes eventually!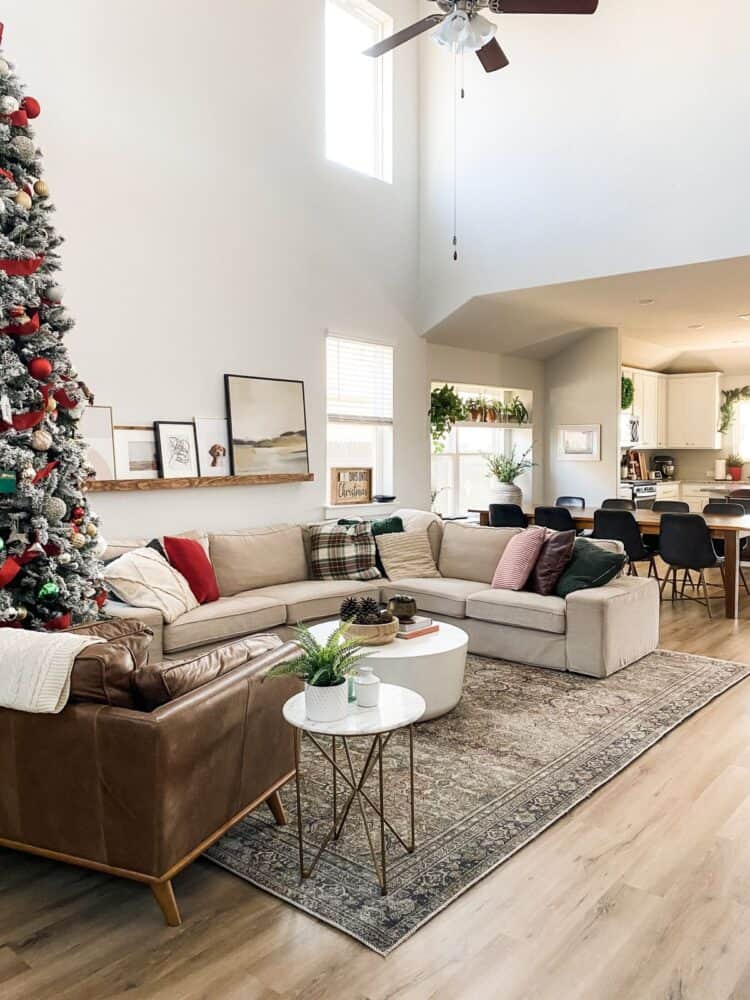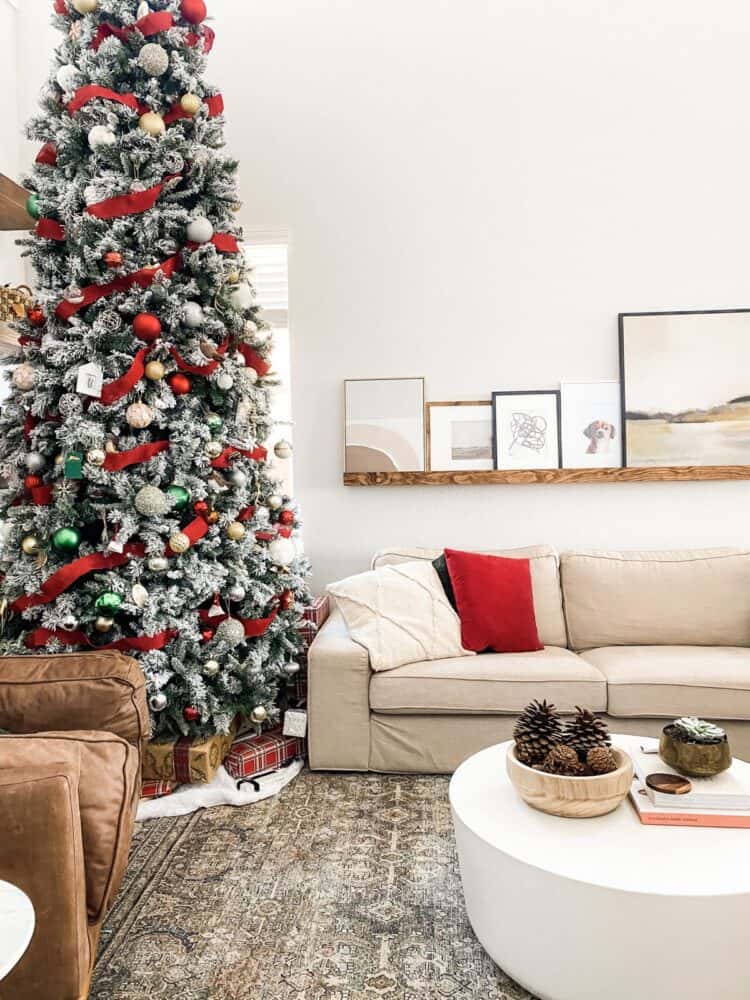 Our living room more or less just has the tree in it, along with a few small decorations here and there. I can't put anything too precious within reach of tiny toddler fingers, so the tables in here mostly just have the things that are on them year-round (which he's used to seeing and isn't intrigued by anymore).
Next year I'd love to swap out some of the art for something more Christmas-y, and maybe even add a garland to the art ledge. I'm also hoping we'll have our fireplace done by next year so I'll have that to decorate too!
One interesting thing about a large open space like this, though, is it can be really tricky to decorate it without making things feel really visually overwhelming. I'm still learning where the balance is, and trying hard not to make our great room feel too busy, so I have a feeling it'll be a process that takes some time for us!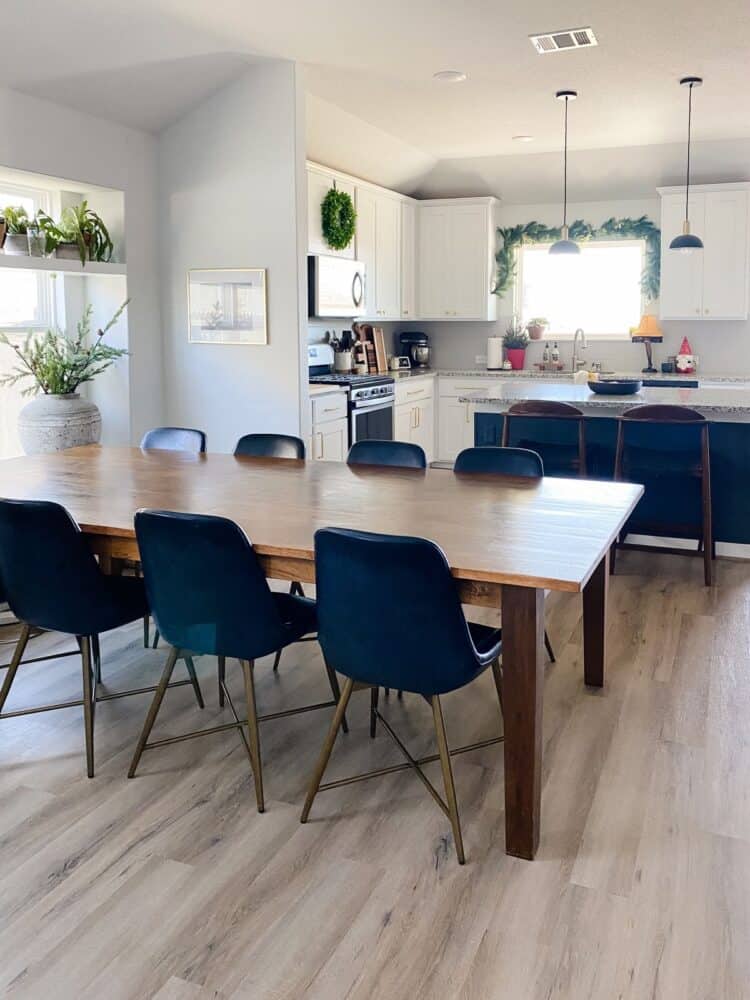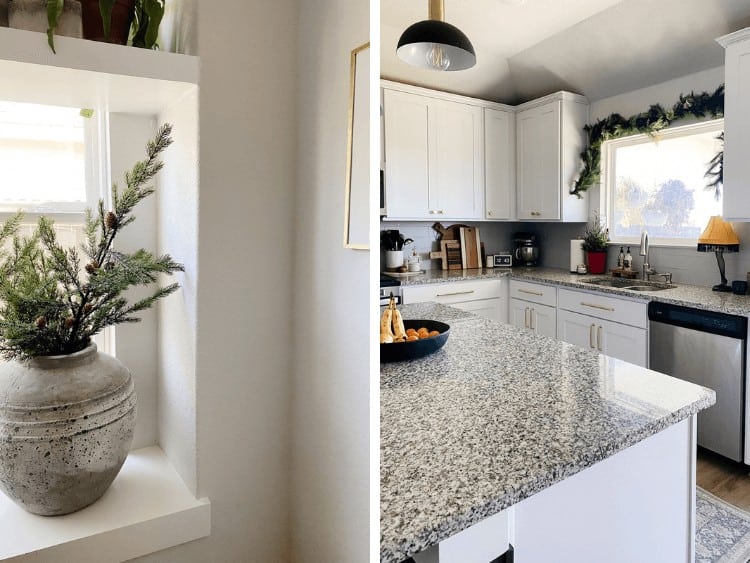 Most years I set up a pretty centerpiece on the dining room table, but with all of us here all the time, this table is basically the hub of our house with someone always sitting at it working, playing, or eating. It's just easier on us if it's empty, so it stays bare.
But, of course, on Christmas morning you know I'll have a pretty table set and ready for brunch!
All I added to the dining room this year are these beautiful faux evergreen branches that I added to my favorite ginormous vase. They pair so well together that I kind of want to leave them there year-round.
Over in the kitchen, we've got a garland above the window, a wreath above the stove, and a few other small touches around the room. We finally got a cookie jar for the first time – we make so many cookies this time of year, it seems absurd that we never got one before! I've also got the island bare other than a fruit bowl because, again, 2020 has been a dumpster fire and we all just need a little bit of calm and simplicity in our lives right now.
And yes, I'm suggesting that keeping my table and counters bare is a logical and effective way to cope with the stress of this year. It makes no sense, but it's how my brain works.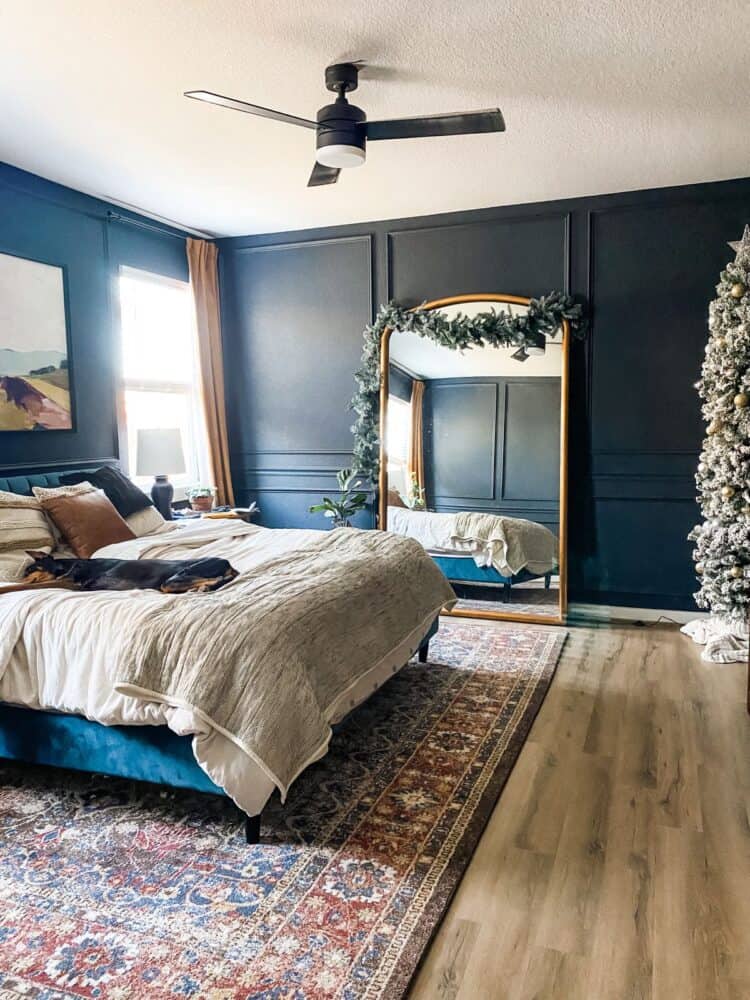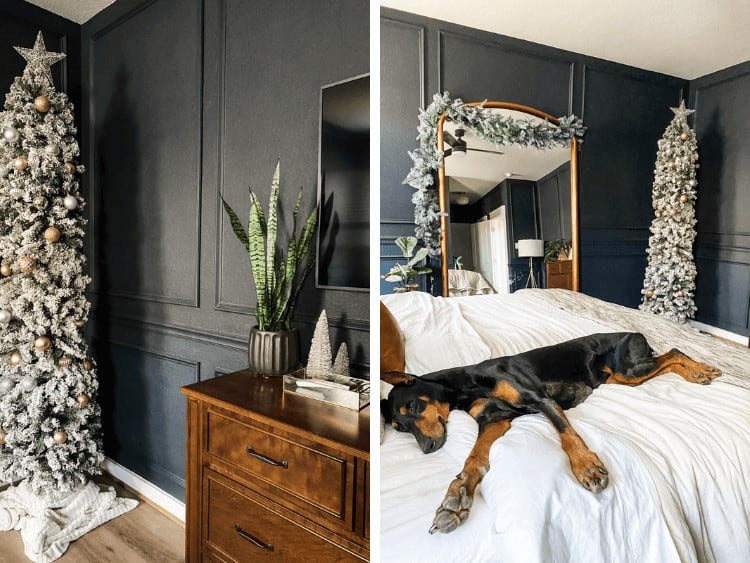 We started adding a few small touches of Christmas in our bedroom a few years back, and it always makes me smile!
This pencil tree used to be our main tree back in our last house, and last year we had it in the entry. We got the smaller one for the entry this year, so this one lives in our room now and I love it. We had to take the top piece of the tree off and leave it in storage because it's a 9′ tree and our ceilings are also 9′ – but thankfully it's a skinny enough tree that you can't even tell!
The garland on the mirror makes me so happy and I think next year I want to add even more for a fuller look.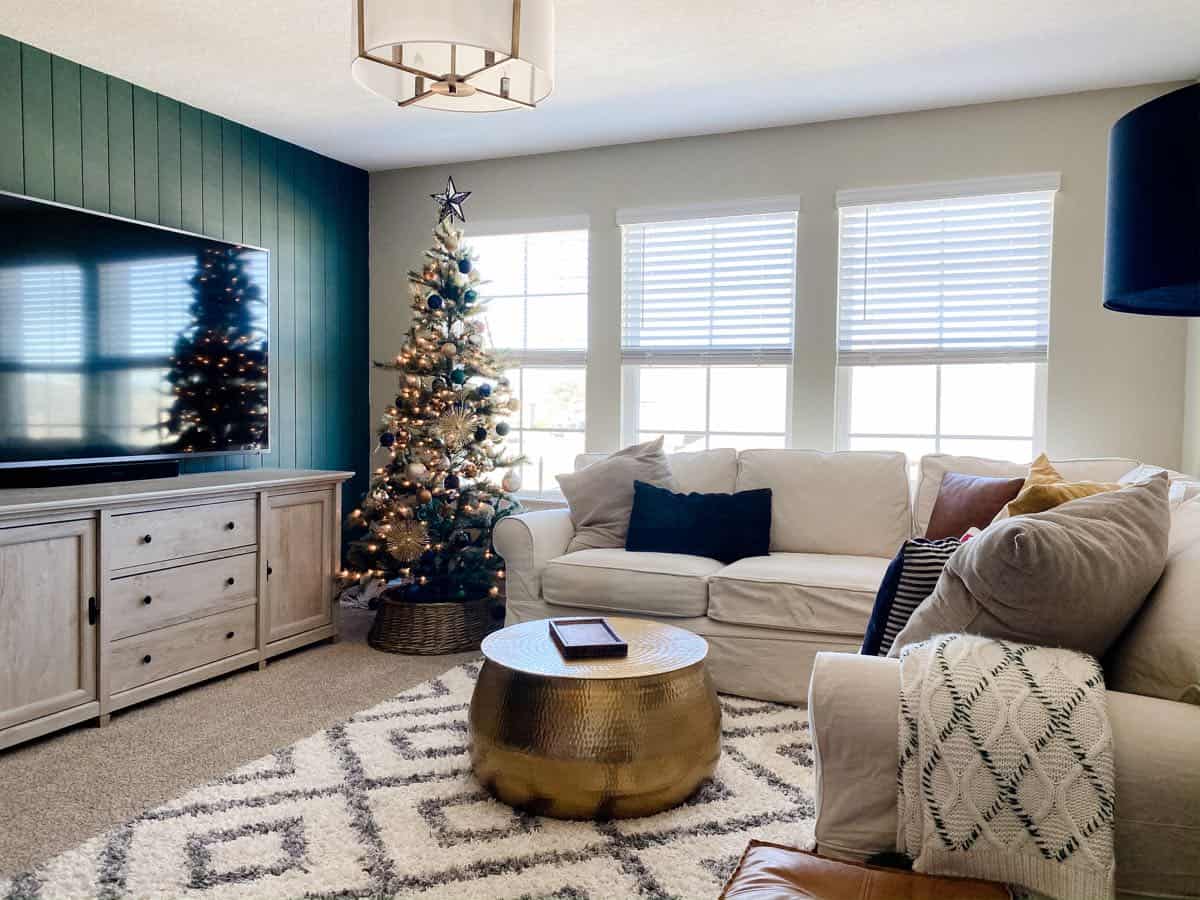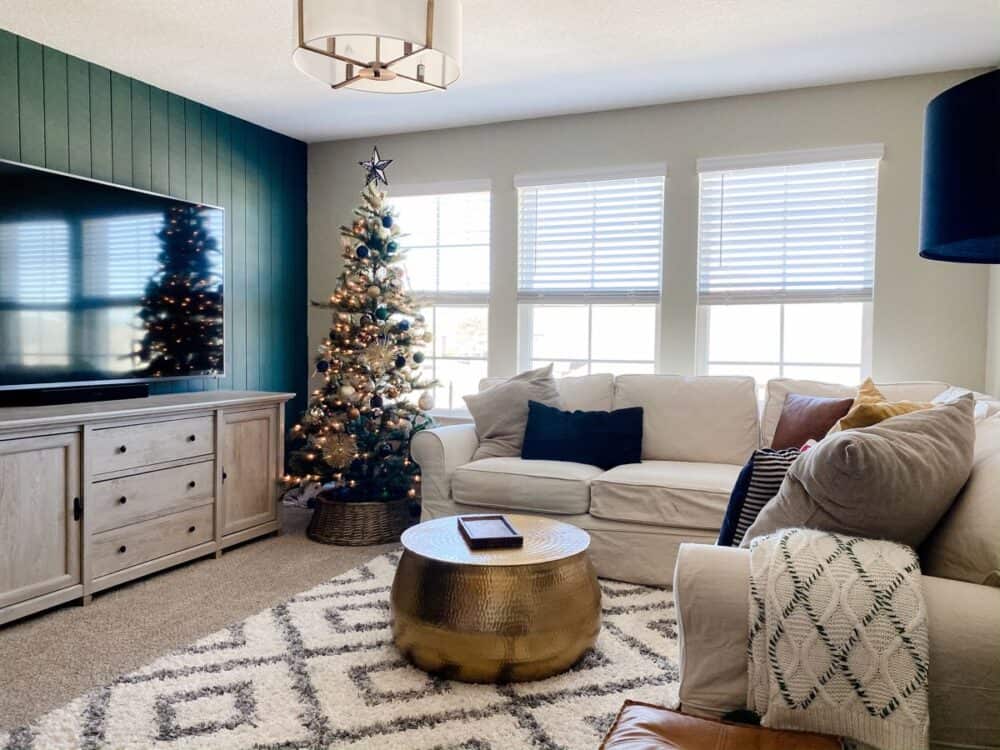 I've already shown you around upstairs – having that little tree up in the game room makes all of us so happy, and it's the only tree in the house that's really visible from the street, so I'm so glad we decided to add it.
Speaking of visible from outside…would you like a peek at the front yard?
Corey (and the kids) and I have two very different philosophies when it comes to outdoor lights. They want it to be bold, inflatable, fun, and full of stuff. I want some simple white lights, a few wreaths on the windows, and nothing else.
I tend to get my way when it comes to the interior decorations for the most part, so a couple of years ago I decided to abandon my need to control what happens on the outside and just let the boys all do their thing.
So that means my front yard looks like this.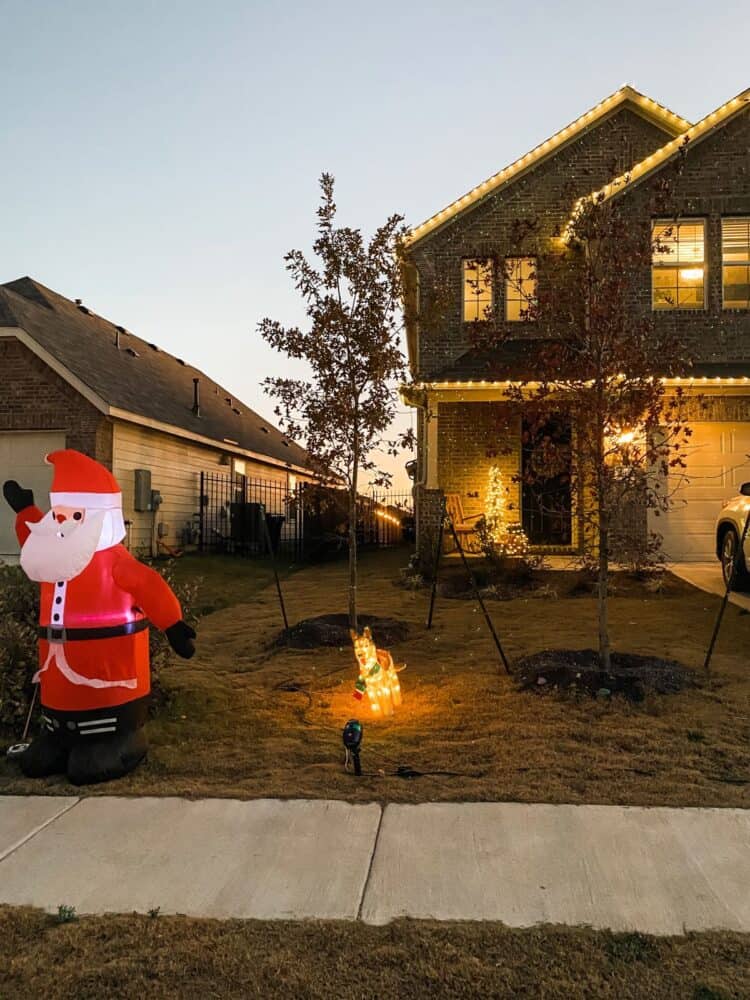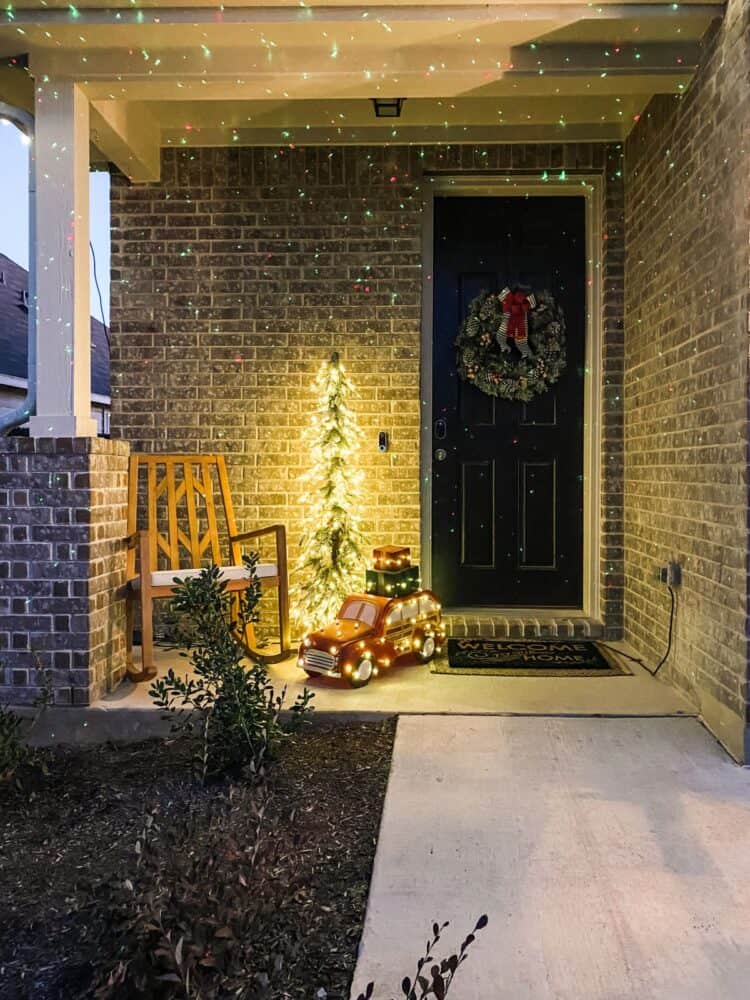 It's not the look I would have chosen (like, at all), but it makes them happy so it makes me happy too.
I mean, I can't be annoyed when every time Grant sees that Santa blown up he starts shouting "Ho ho! Hi, Ho Ho! Hi Santa!" and runs to give him a hug.
And that's our home all decorated for Christmas this year.
If you want some more, you can see a peek at how it looked last year here, or you can click here to see how our last home looked at Christmastime!
Shop the Post