Blanket ladders have kind of been all the rage for quite some time now – they're a versatile, beautiful way to add a cute accent to your home, and they look beautiful anywhere. And the best part? DIY blanket ladders are super easy to build on your own, so there's no need to splurge on anything fancy or expensive.
You can build a DIY blanket ladder with about $20 in wood and an hour or so of your time!
Today I'm going to walk you through two different methods for building blanket ladders, and I'm going to share three different ways you can style them that have nothing to do with blankets.
Because blanket ladders can do a lot more than just holding blankets!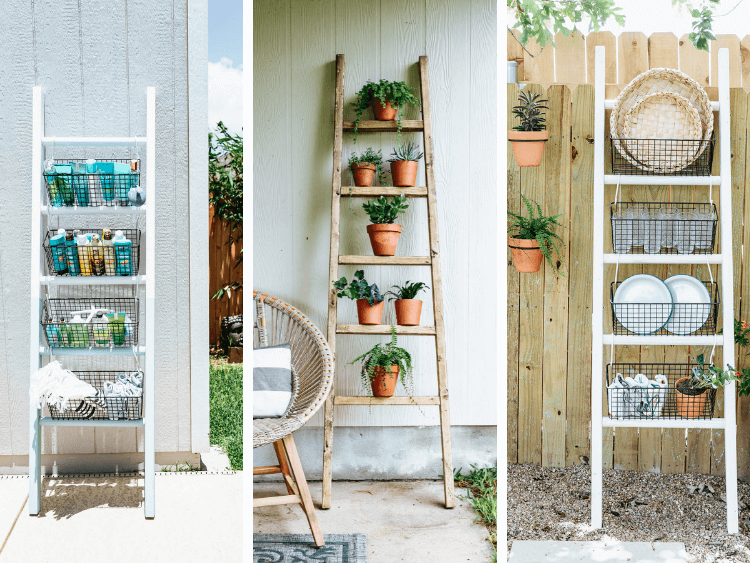 DIY Blanket Ladders: 3 Ways to use blanket ladders in your outdoor decor
Before we dive in, I created a fun little video to show you the basic process for anyone who likes to see the building in action. It's a great way to give a little visual of how to build the ladders and, of course, to see them in action!
How to build a blanket ladder
First up, let's chat about how to build the ladders themselves. I went with two different designs, just to show off how versatile this project is. You can follow my method for either of these, or you can come up with your own design – the basic step-by-step will be the same either way!
Option 1: DIY Dowel Rod BLanket Ladder
Materials Needed:
(2) 6′ 2X3 select pine boards
(1) 8′ 1.5″ dowel rod
Screws
Directions: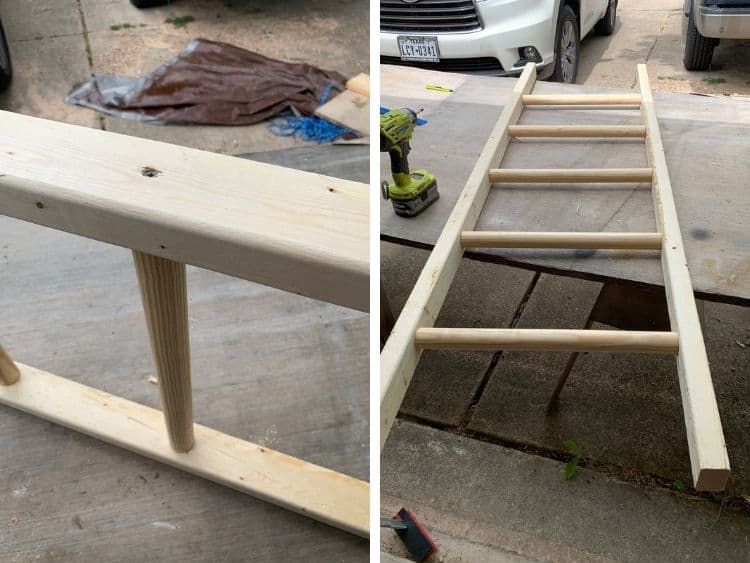 Start by sanding down your 2×3 pine boards so that they're smooth and ready for stain or paint.
Cut five 18″ rungs from the dowel rod (I used a miter saw – click here. to learn how!)
Measure and mark five spots on each of your 2X3 boards for the ladder rungs. Make the first mark 15″ from the bottom of the ladder, and space the rest of the rungs 12″ apart. Pre-drill holes at each mark in the center of the 2X3 board. Pre-drill a hole in the center of each side of your rungs as well.
Now, screw from the outside of the 2X3 board into the dowel rods on either side to attach the rungs to the ladder.
Simple, enough, right? Now let's chat about how to make the angled ladder – it's slightly more complicated, but not much!
Option 2: Angled Ladder
Materials Needed:
(3) 8′ 2X3 select pine boards
Screws
Directions:
Cut two of your 2X3 boards down to 6.5′

I made this ladder slightly taller, so I started with 8′ boards. You could stick to the shorter boards if you prefer, but I liked the impact this one has with a little more height!

Cut your third 2X3 board into 5 rungs, slightly angled

Since this ladder is slightly angled, you'll want the sides of the rungs to be angled as well. I cut mine at about a 5-degree angle, and it worked well! Don't know how to do this? Here's my tutorial on how to use a miter saw. Cut the first rung to be 18″ long, the second to be 17″, and continue taking one inch off until your final rung is 14″ long.

Pre-drill holes

Just like with the other ladder, you'll want to pre-drill your holes. For this one, I started with the first rung at 18″ from the bottom, and the rest were spaced 12″ apart. After I marked the spots for my screws, I pre-drilled two holes on each side for each of rungs (with just one screw, they'd be able to rotate), and I also pre-drilled four holes in the rungs themselves (two one each side).

Assemble the ladder

Now you're ready to assemble! Just drill in your screws into the pre-drilled holes. With this one, it might be helpful to have either some clamps or a second pair of hands to help hold things in place as you work.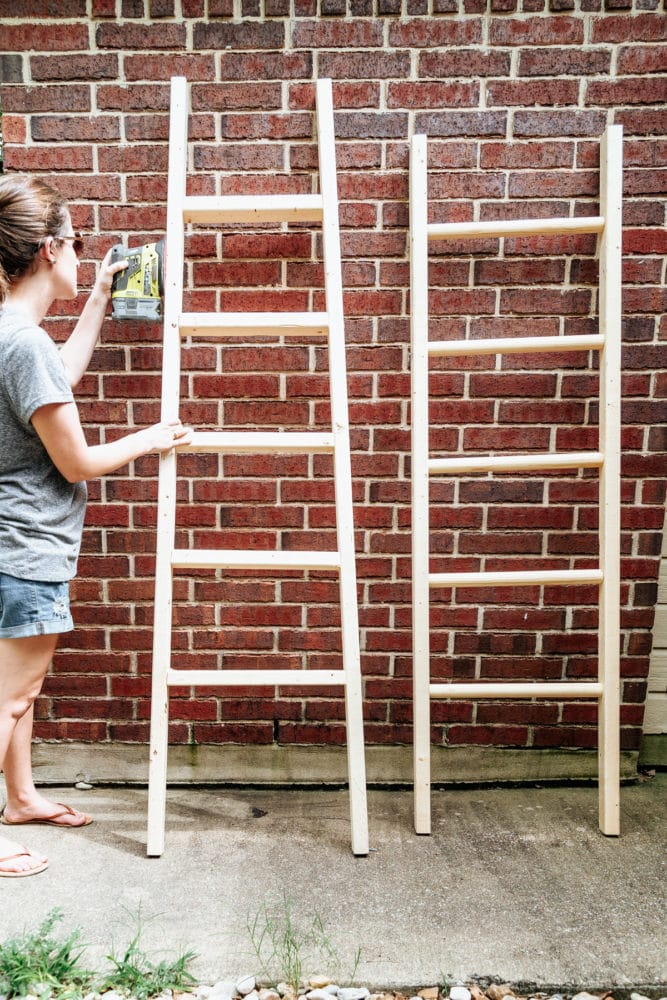 And honestly, that's it!
Building a blanket ladder is incredibly easy and takes only about an hour or so from start to finish. It's a perfect beginner project because anyone can do it, and you'll be thrilled with the results.
Now that you know how to build your ladder (and have two options for how to tackle it!), it's time to move on to how to use it!
Of course, you can style it in your living room or bedroom with some blankets. That's the most obvious use for a blanket ladder, and there's nothing wrong with it. But, what about using it to hold plants? Or as poolside storage?!
You can get so creative with your blanket ladder and use it for just about anything. So, here are three creative ways you could use your blanket ladder outdoors!
How to use blanket ladders outside: Three ideas
IDea 1: Make a serving station
Materials Used: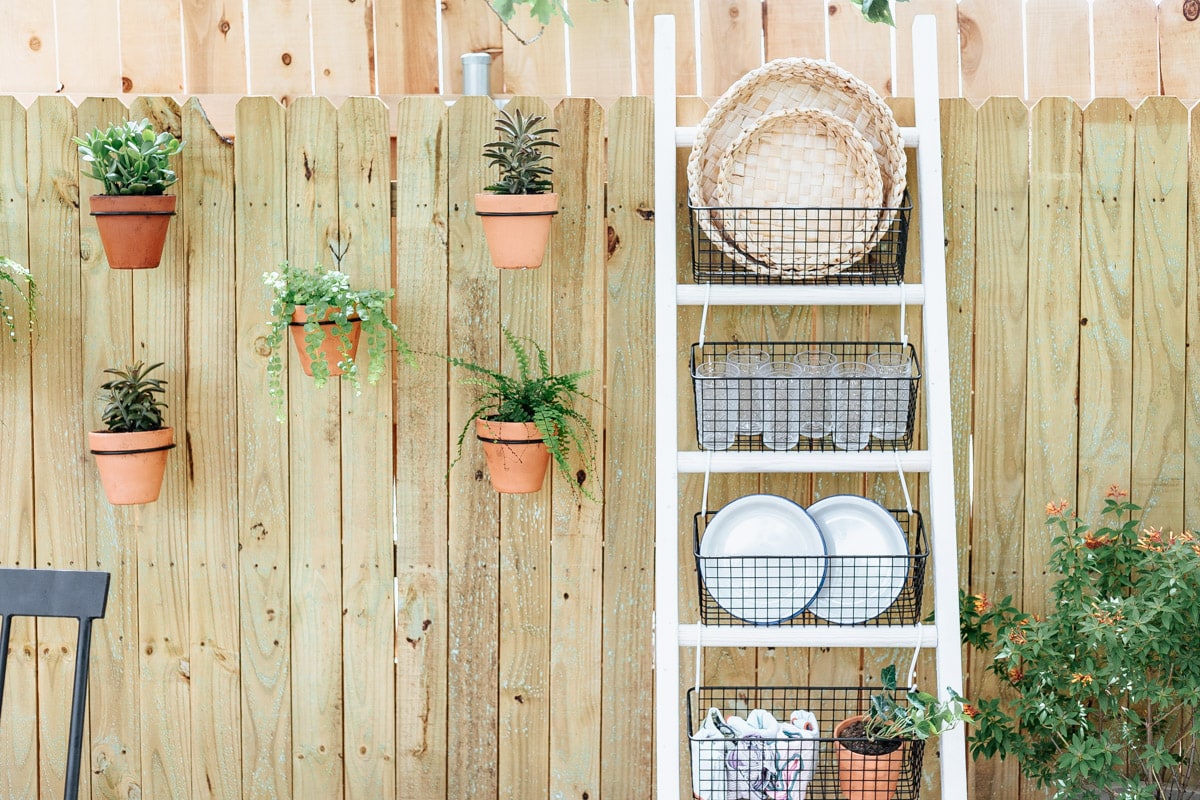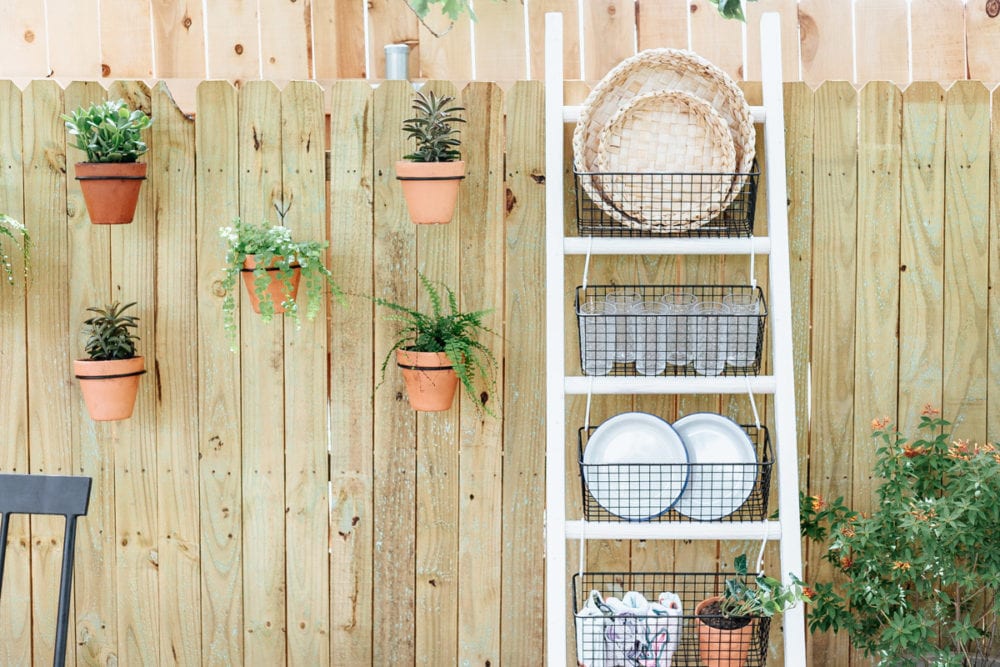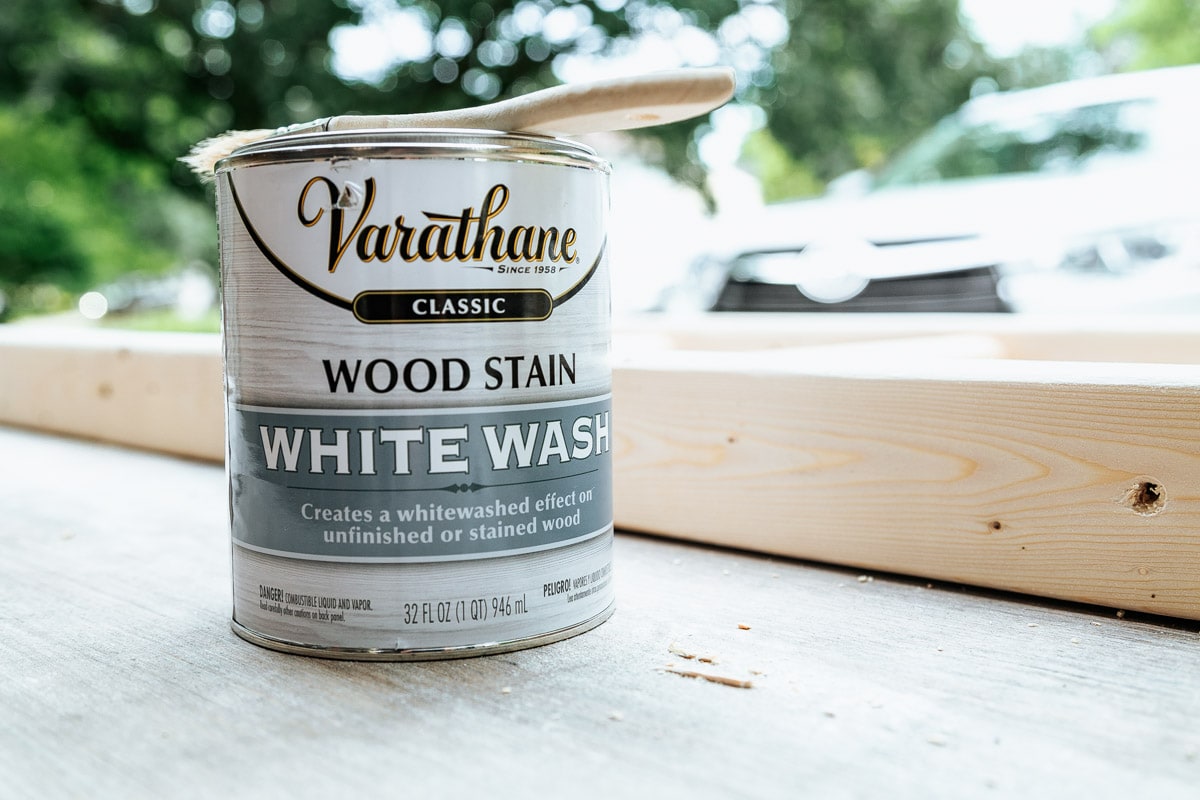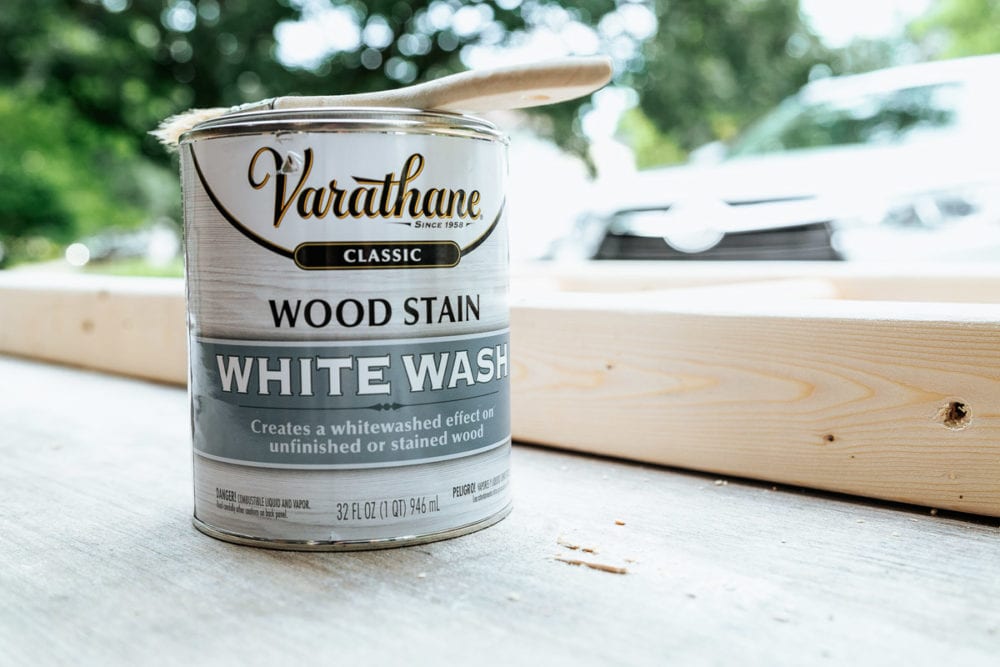 Do you love that finish as much as I do? It's Varathane's Whitewash stain, and I love that it gives you the look of a true whitewash treatment without having to deal with mixing up the perfect ratio of paint and water!
I stained my ladder with the Whitewash stain, sealed it with Varathane's Spar Urethane, and then I was ready to fill it up. For this one, I grabbed some large S-hooks and wire baskets to turn the ladder into a great place for storage. NOTE: If you purchase your S-Hooks online, be sure to pay close attention to their sizing. I didn't think about the fact that they'd all have different openings, and ordered ones that were way too small the first time around. Whoops!
I loved the idea of making this ladder a little serving and storage station for some outdoor dining supplies. This would be a fun solution for a small patio, and a great way to set things up if you have a group over for an al fresco dinner and want to make it easy for everyone to serve themselves. I simply loaded the baskets up with some plates, cups, and other necessities and placed it near our grill cart – it looks absolutely adorable and would be so functional for a dinner party!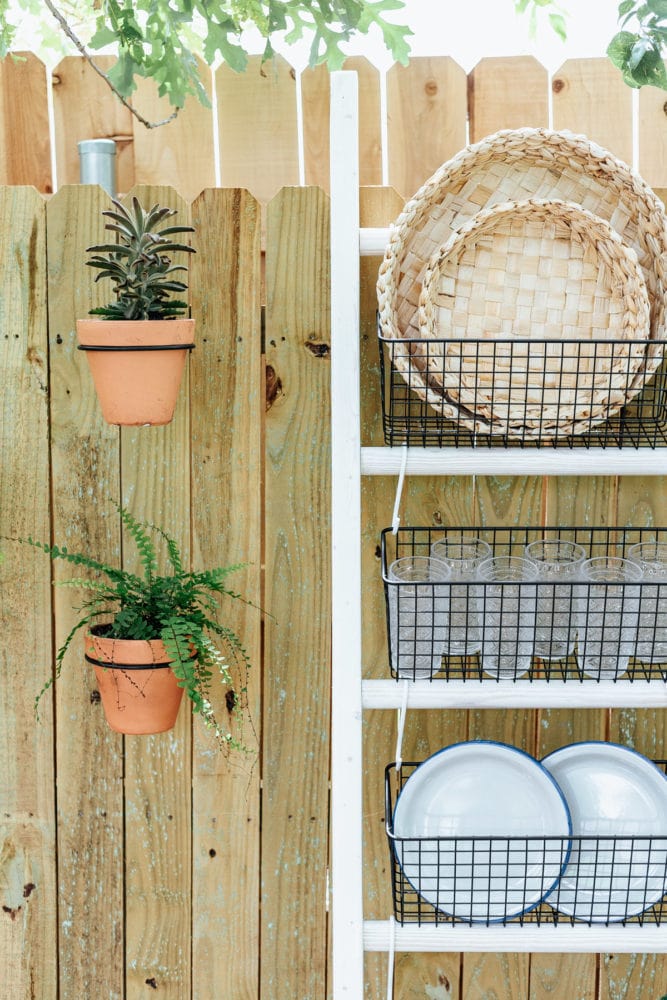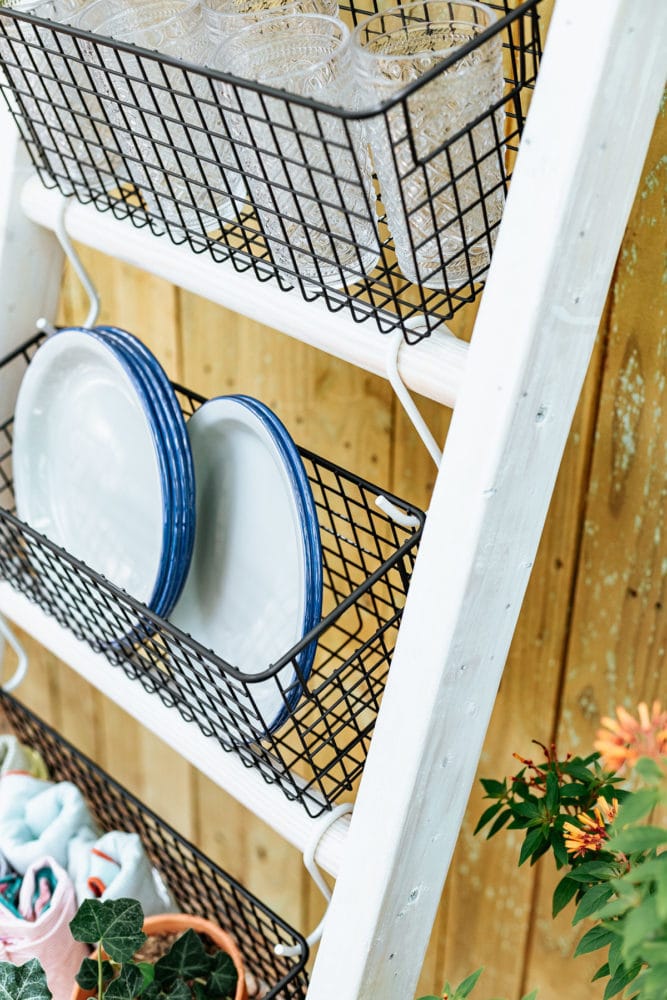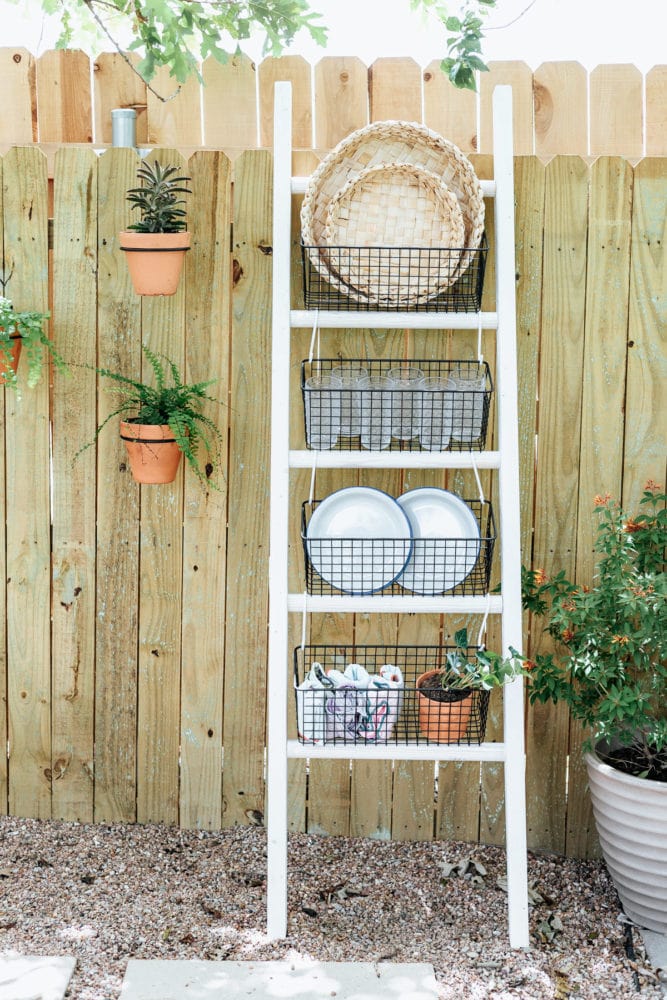 When the ladder isn't full for a party, you could use the baskets to hold just about anything – plants (hint – see the next idea!), kid toys, gardening supplies, etc. Or, you could just pull the baskets off when they aren't in use and leave the ladder out as a cute decor piece!
Idea 2: Fill it with plants
Materials Used: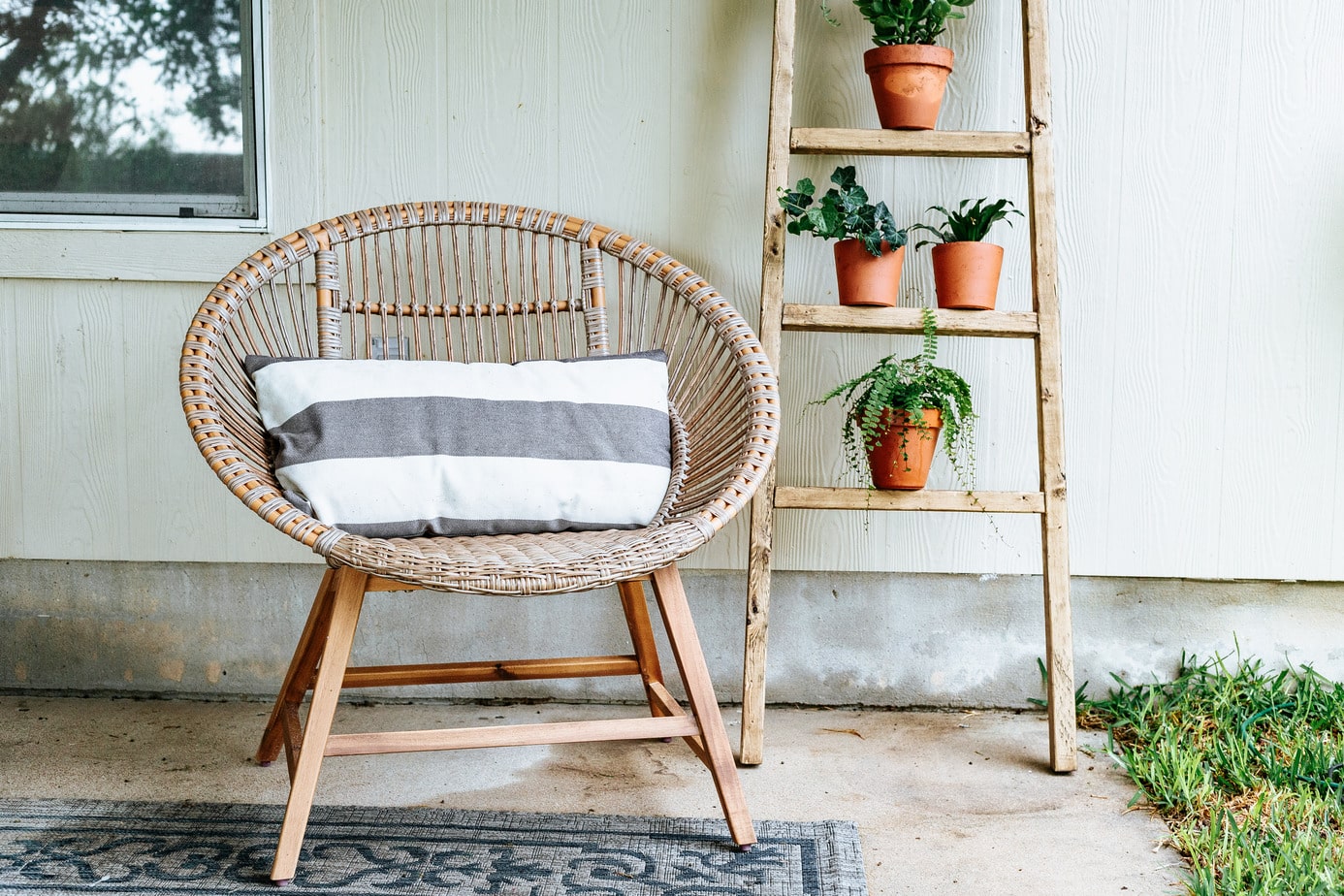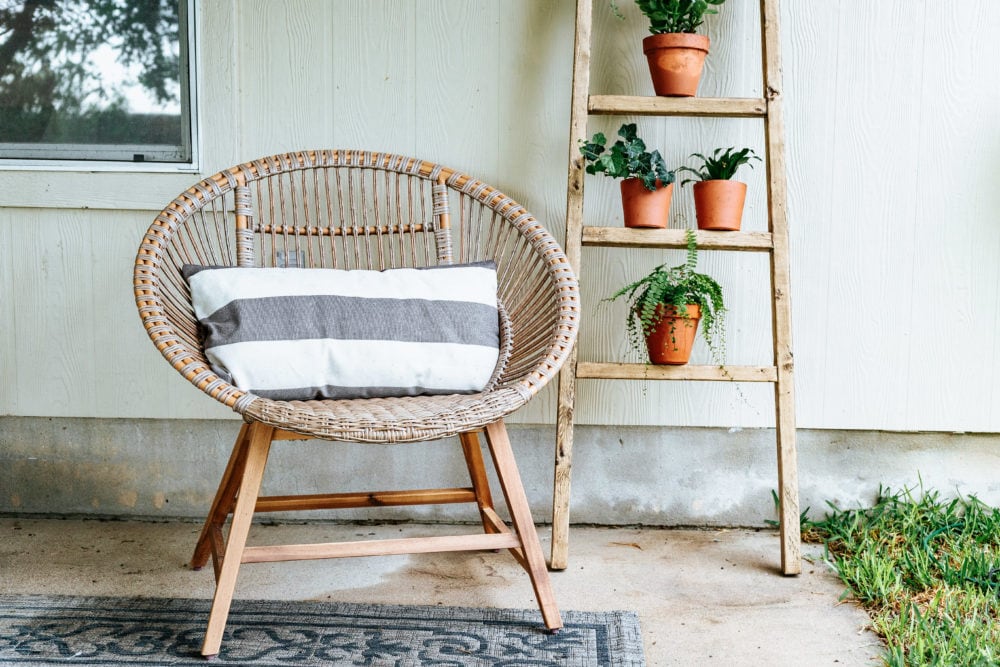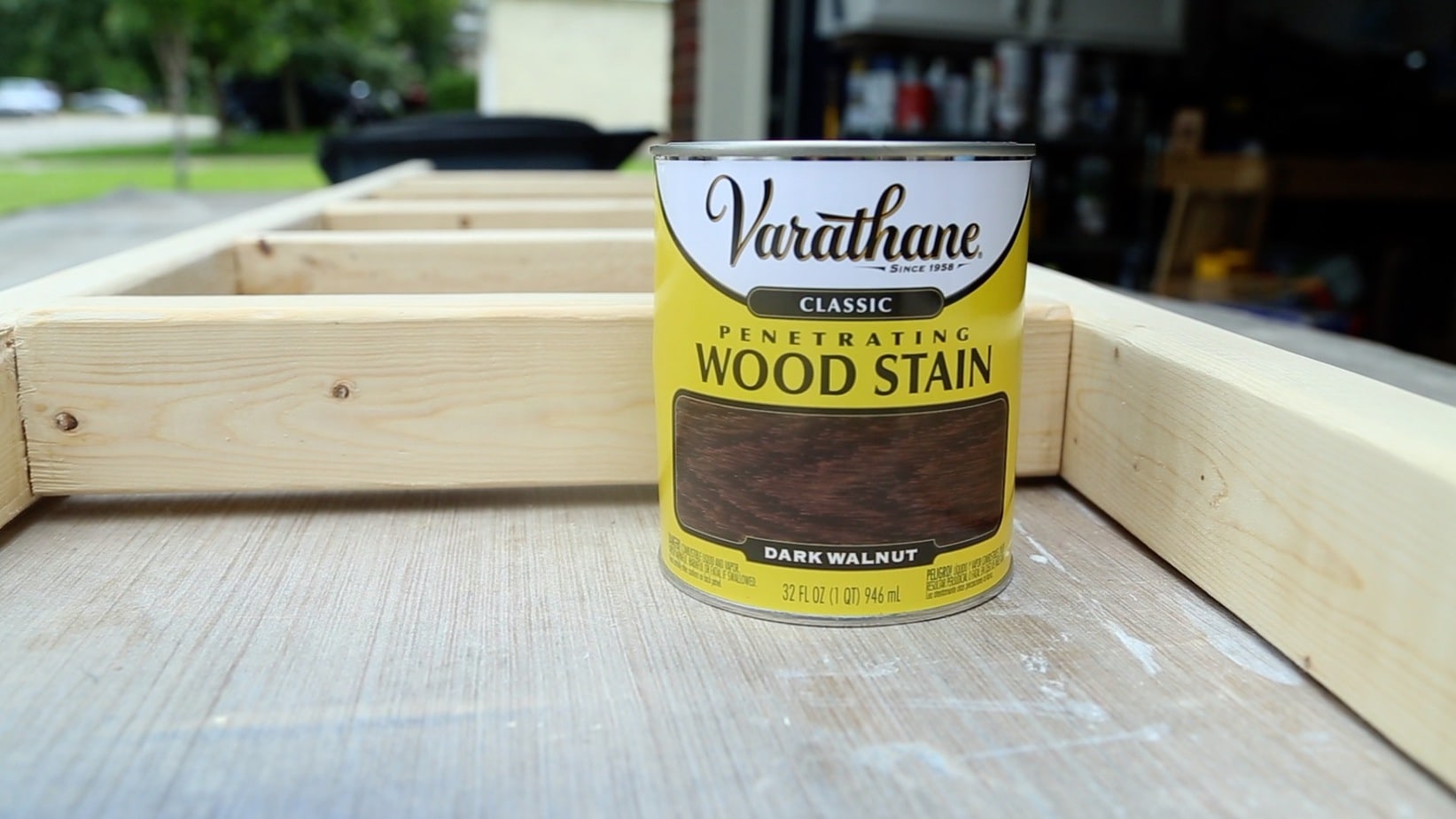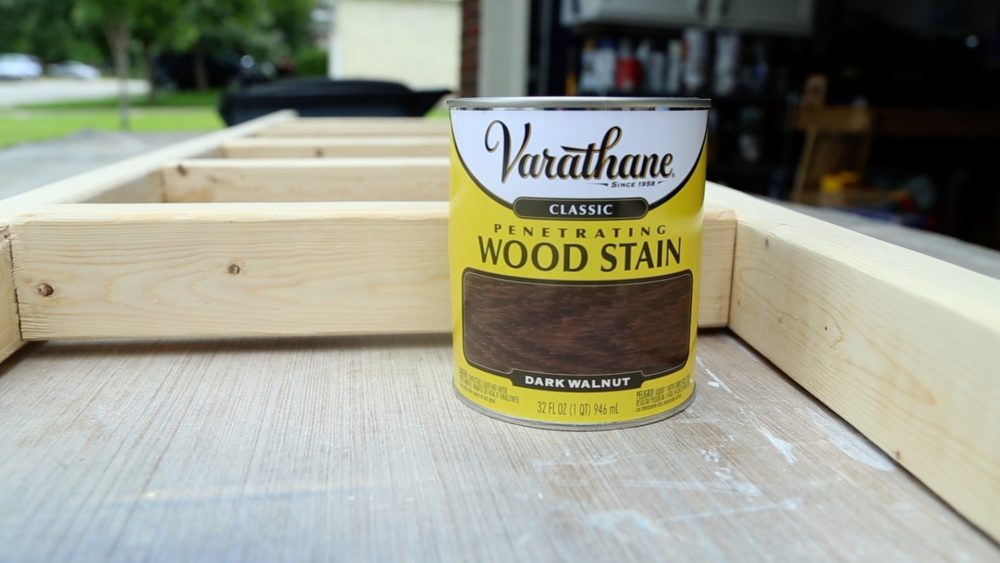 This one might be my favorite, simply because I'm a sucker for a corner filled with plants.
I started by staining the ladder with my ride or die favorite stain – Dark Walnut from Varathane. It's a deep, rich brown tone with just the right undertones (it's never too yellow or too red!), and it goes with anything. I went with just one coat for a slightly more rustic and weathered feel, but you can do two to get an even deeper color.
After my stain had dried, I sealed it with Varathane Ultimate Spar Urethane. After that had dried I was ready to fill it up with plants!
Obviously, I'll note that this is purely decorative and if you really want to use this full-time to hold plants you're going to want to make sure it's in a spot where the wind (or wild children) can't knock the plants off the rungs. I stuck to mostly smaller pots on the ladder, to ensure they were sturdy on the 3″ rungs. If you wanted to be able to place wider pots, or if you don't have an area where it can be protected from wind, I'd simply use slightly wider boards for the rungs to provide a more stable shelf.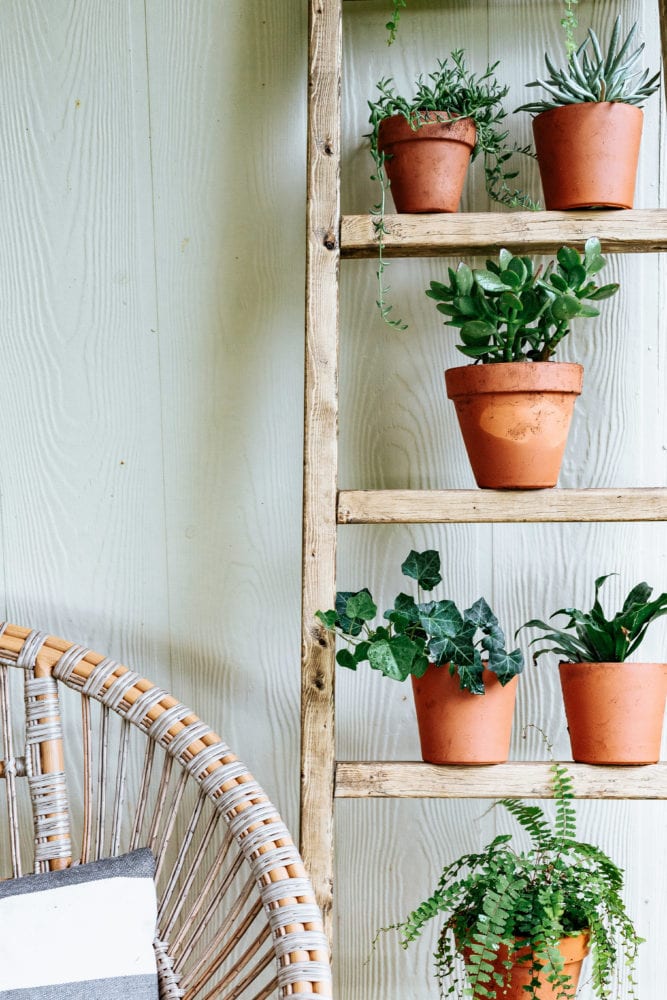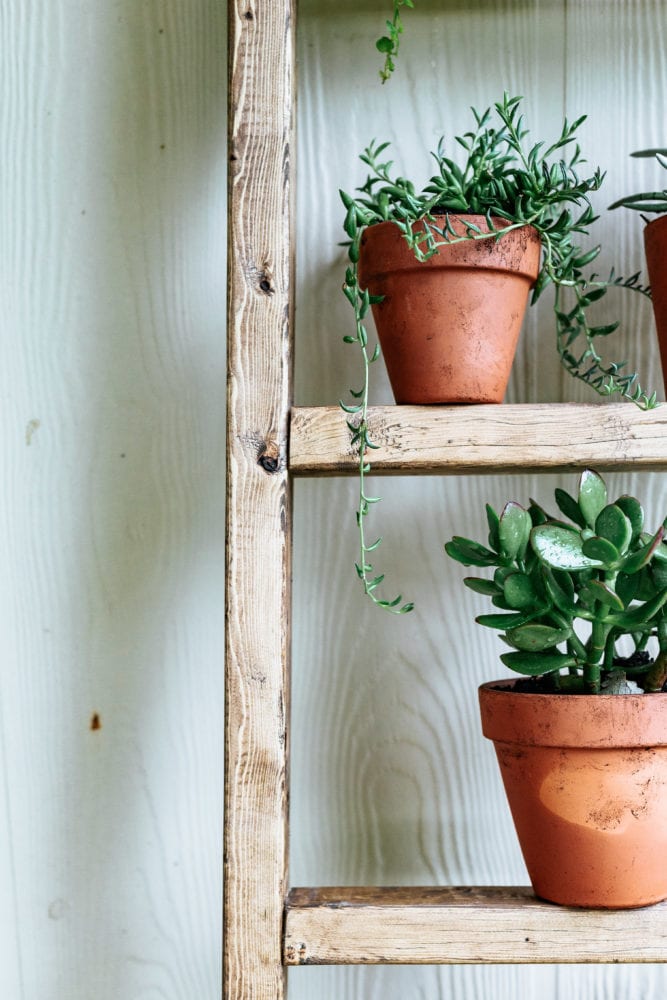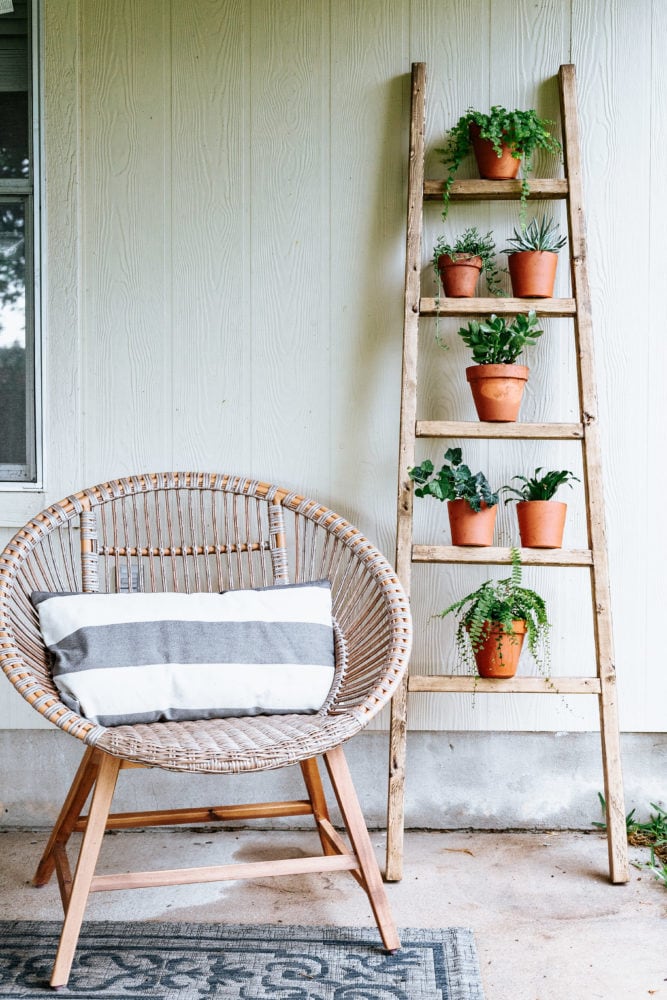 I love the look of the rustic terra cotta pots with the rich wood, and this is such a fun and simple way to display a few favorite plants! The best part is that since the ladder is already sealed with Spar Urethane, you can even keep the plants in place as you water them. I'd still make sure that there isn't any water that just sits on the wood for a long time, but it could easily handle day-to-day waterings!
Idea 3: Use as poolside storage
Materials Used: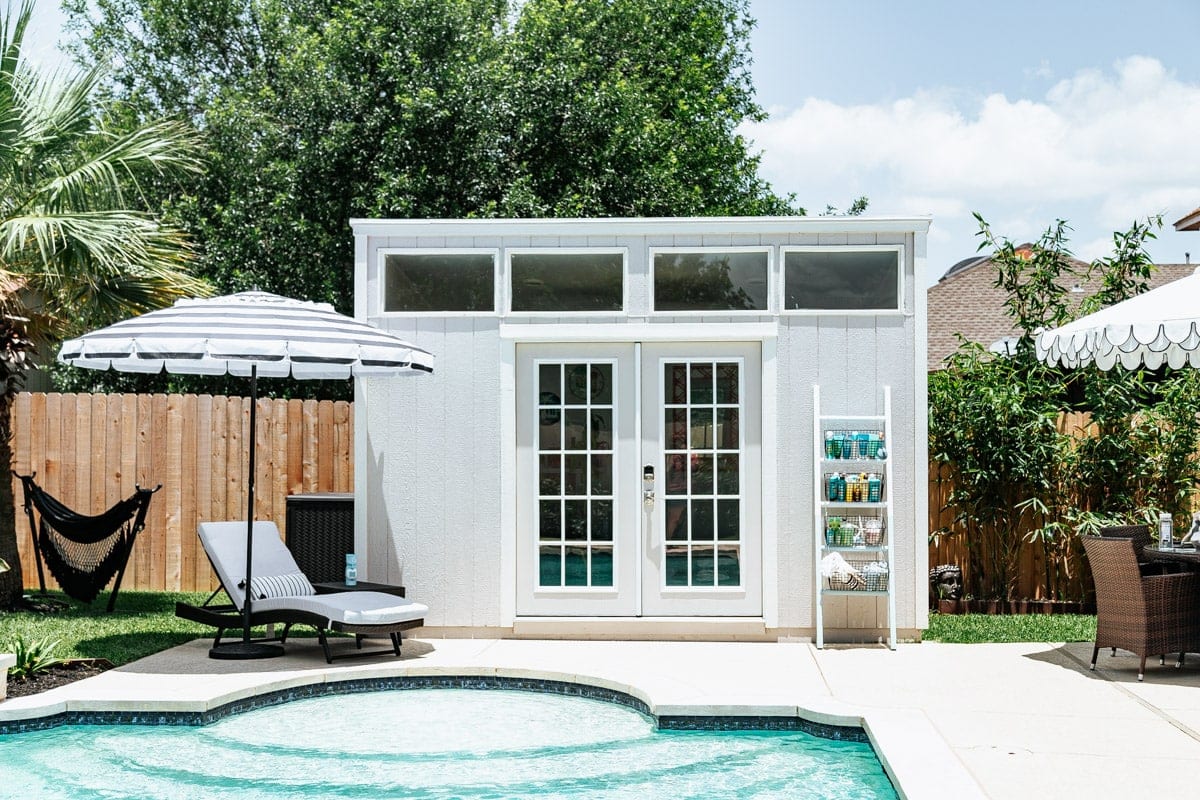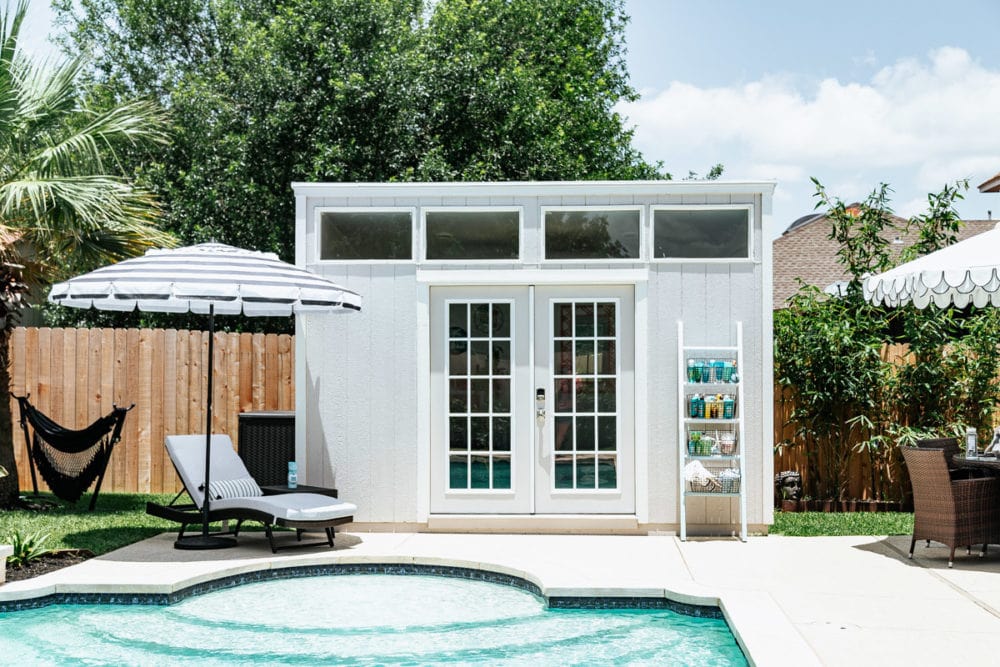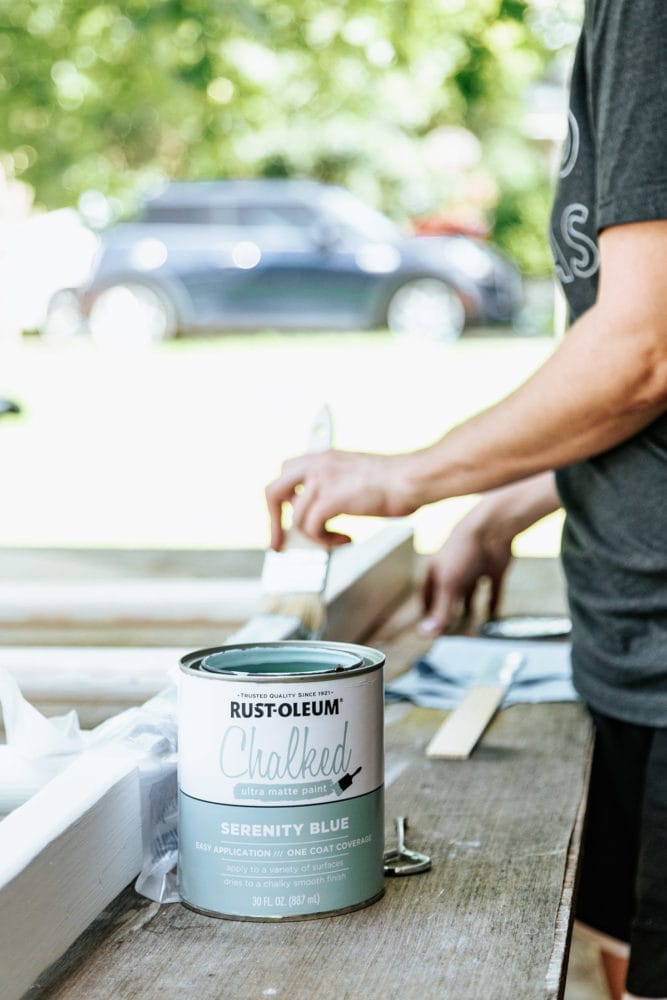 For this final idea, I had to take a field trip to my sister's backyard to show off how one of these ladders could be used as a functional piece of storage (and decor) poolside!
I wanted a beachy feel for the finish, so I taped off the ladder and painted the top half with Chalked Paint in Linen White, and used Chalked Paint in Serenity Blue for the bottom half. I love the matte finish that the Chalked paint provides, and the colors are just so beautiful too. I sealed the ladder with Varathane's Spar Urethane, and then it was ready for a new life by the pool.
I took the same S-hooks and baskets from idea #1 and styled this ladder as storage for an outdoor shower area. Filling the basket with some soap and shampoo, along with sunscreen, towels, and a few other little supplies allows it to do double-duty as storage for both the pool and a poolside shower, and it is way cuter than basically any other storage option.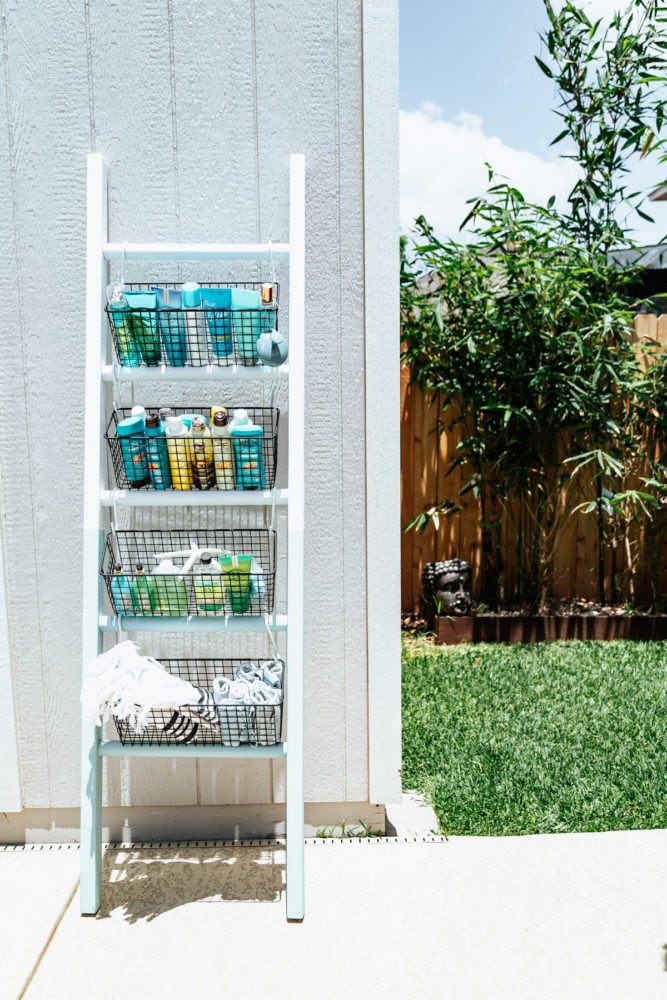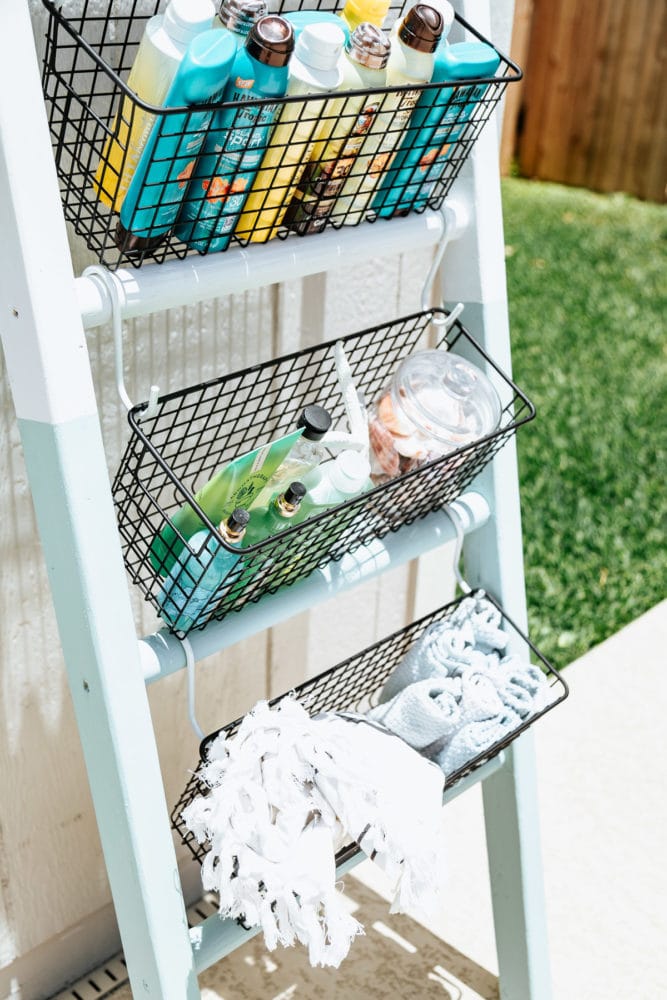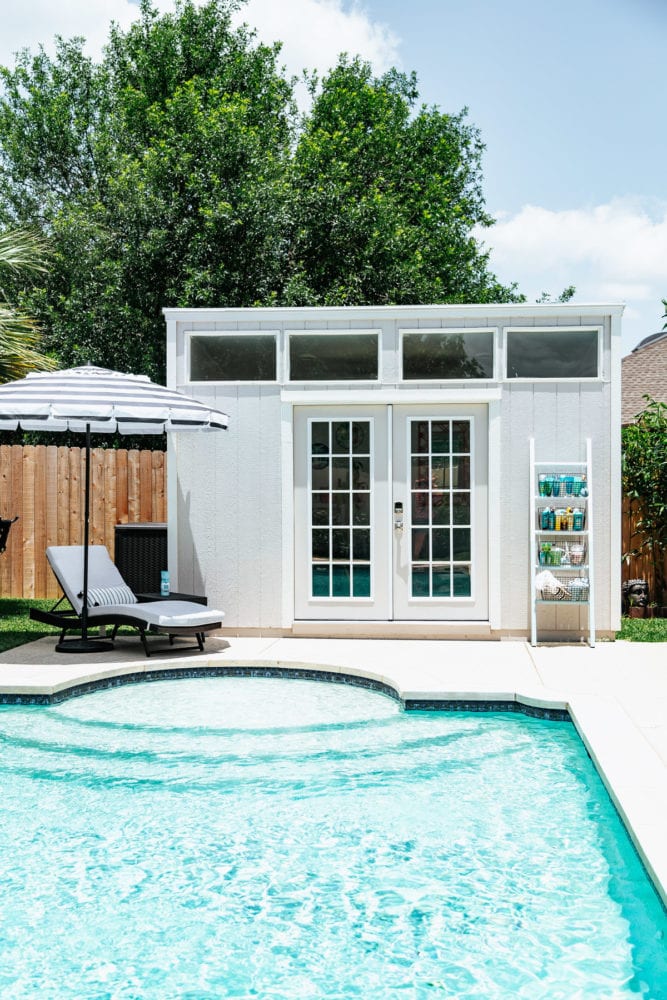 Side note – is my sister's yard not the most beautiful backyard you've ever seen in your life?
I love that between the Spar Urethane and the wire baskets that allow for drainage, this option is totally water-safe and can just live outside all the time. It can be tricky to figure out how to store things in an accessible and beautiful way in the backyard, especially near the pool, so I just love the idea of adding a ladder with some baskets and filling it up with everything you could possibly need!
And those, my friends, are three simple ideas for how to use that cute blanket ladder in your outdoor decor. I could keep going with ideas for days, because this is such a functional little project.
If you love this post and want to find some more outdoor decor ideas, keep reading!