I'm getting ready to embark on a really fun room makeover for my bestie – see the befores and the mood board right here today!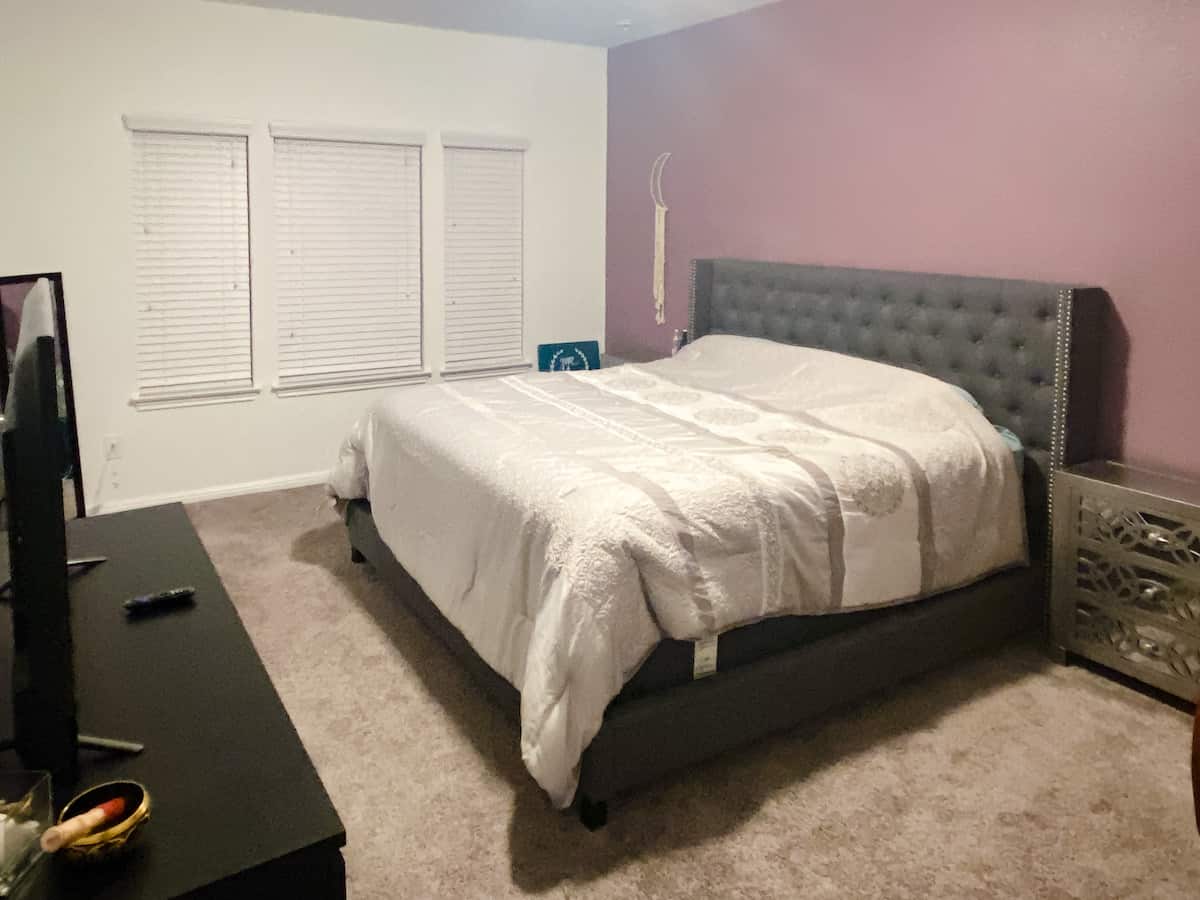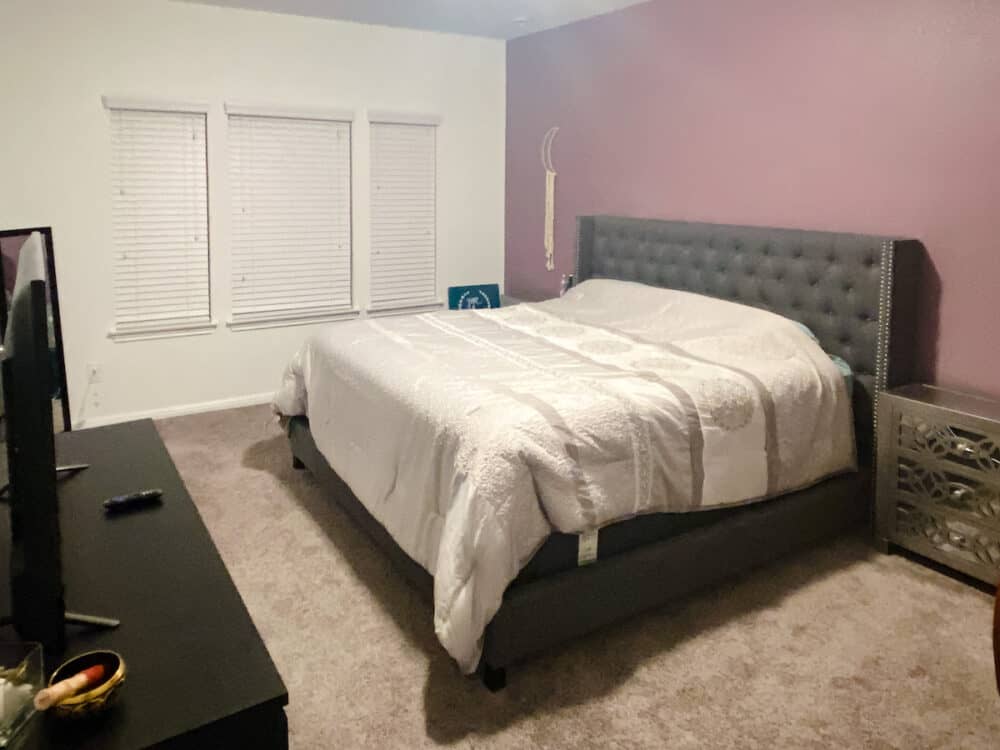 There are very few things I find more exciting than beginning a new room makeover. There's just something about the promise of a room that has so much potential that gives me all the excited feels. And, when that room happens to be the bedroom of my best friend who claims her and her husband have never ever put any effort into any of their bedrooms? It's even MORE exciting!
You may remember that up until this house, we had never really paid much attention to our bedrooms either. It's easy to push our rooms onto the back burner because no one other than us really sees them. Why waste time on those spaces when we could make the places all of our guests see beautiful?
But, y'all, we've learned with this home that it's so worth it and so important to pour some time and effort into your bedroom. Ours was the very first room we really focused on in this house, and less than a year after moving in it's my favorite room in the house and I actually feel relaxed when I spend time in there.
Pay attention to your bedroom! It's worth it!
All that to say, I needed a good project for my last quarterly Home Depot makeover of the year, and I (nervously!) asked my neighbor and dear friend Parisa (she's the one I made the Adirondack chairs for!) if she'd be up for letting me make over her room. She enthusiastically said yes, and this exciting makeover was born.
Note: This post isn't officially sponsored by Home Depot – but the makeover will be a part of my year-long collaboration with them!
We've already secretly begun working on the space, and I can tell you with confidence that the final result is going to be SO SO GOOD. But, I wanted to take a moment today to introduce you to the room, to Parisa, and to aaaaall the fun we have planned for this space!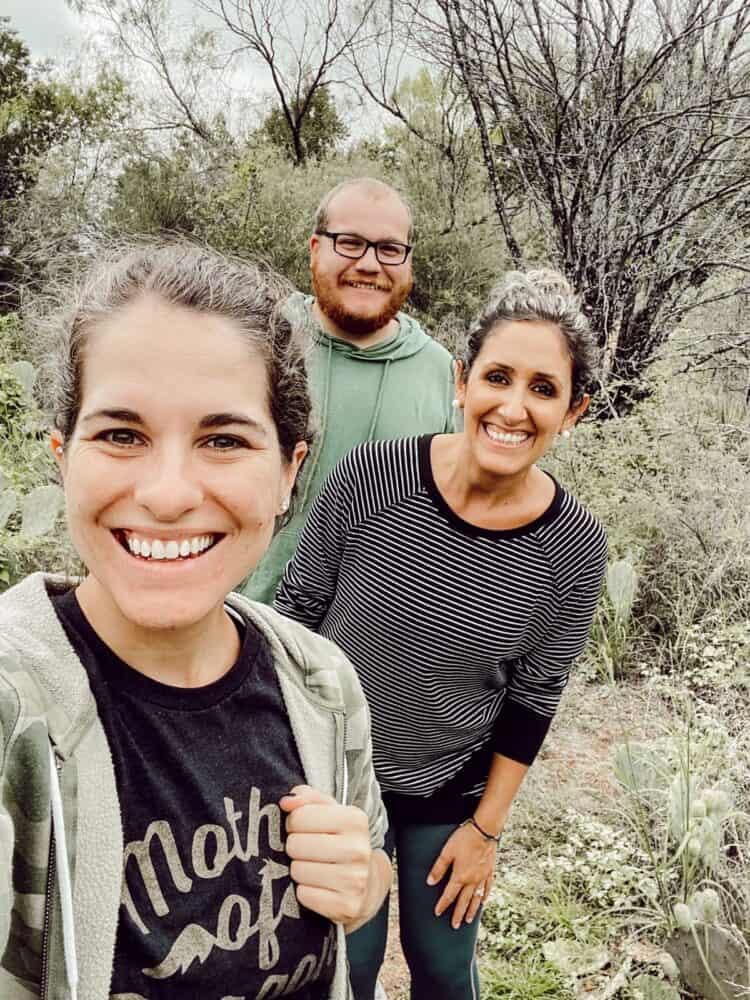 Friends, meet Parisa (not pictured: her husband, John, who is also one of our closest friends and was probably being responsible with the children while the three of us were goofing off). We met shortly after Corey and I moved to this home, and we became fast friends. When the pandemic hit earlier this year neither of us could stand the idea of not hanging out at all for goodness knows how long, so our families decided to quarantine together. They're the only friends we've seen since March (whew, that's hard to process, isn't it?!) and they've been our literal sanity savers in 2020.
Parisa has the sweetest, most wonderful family and we're just so grateful to have them in our lives. So, it's been such a joy to get to do this space for her!
Now, let's shift gears and talk about her bedroom, shall we?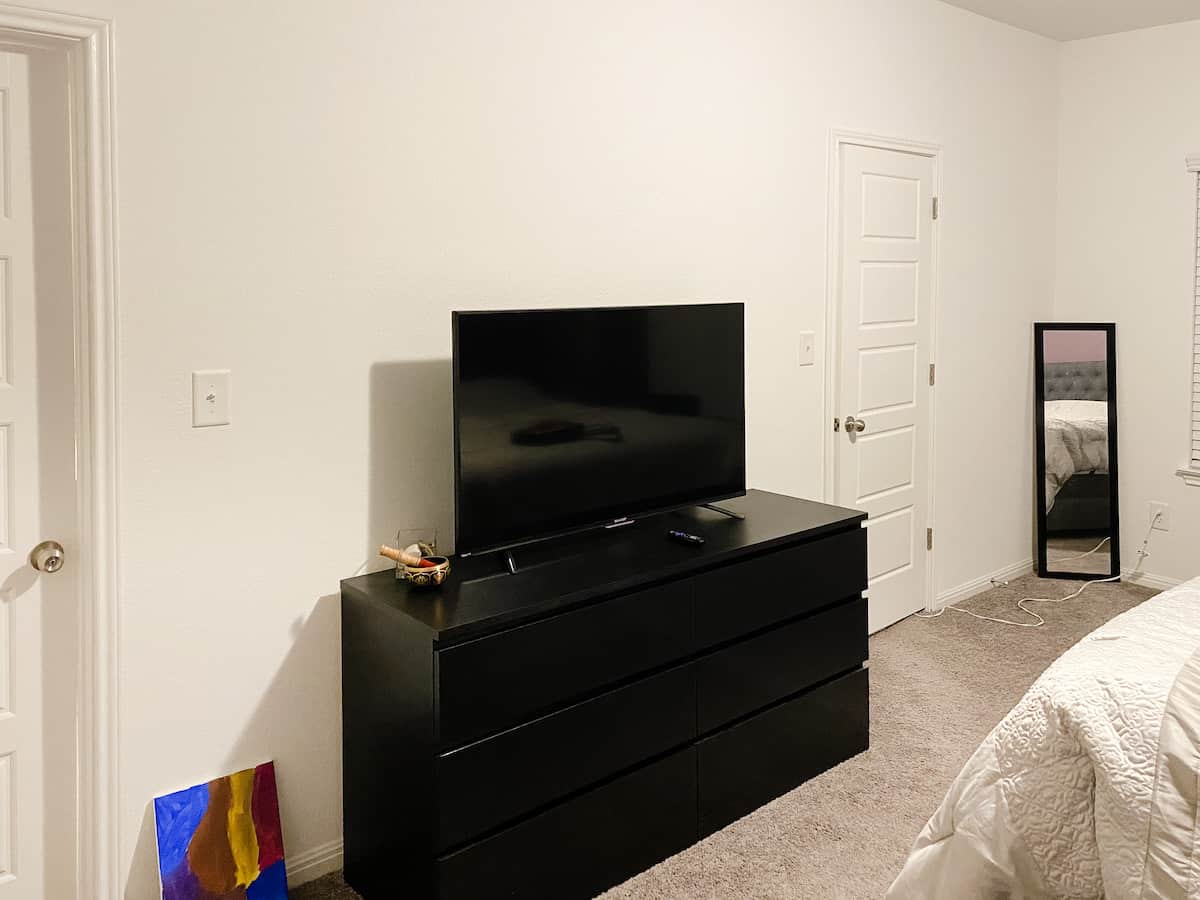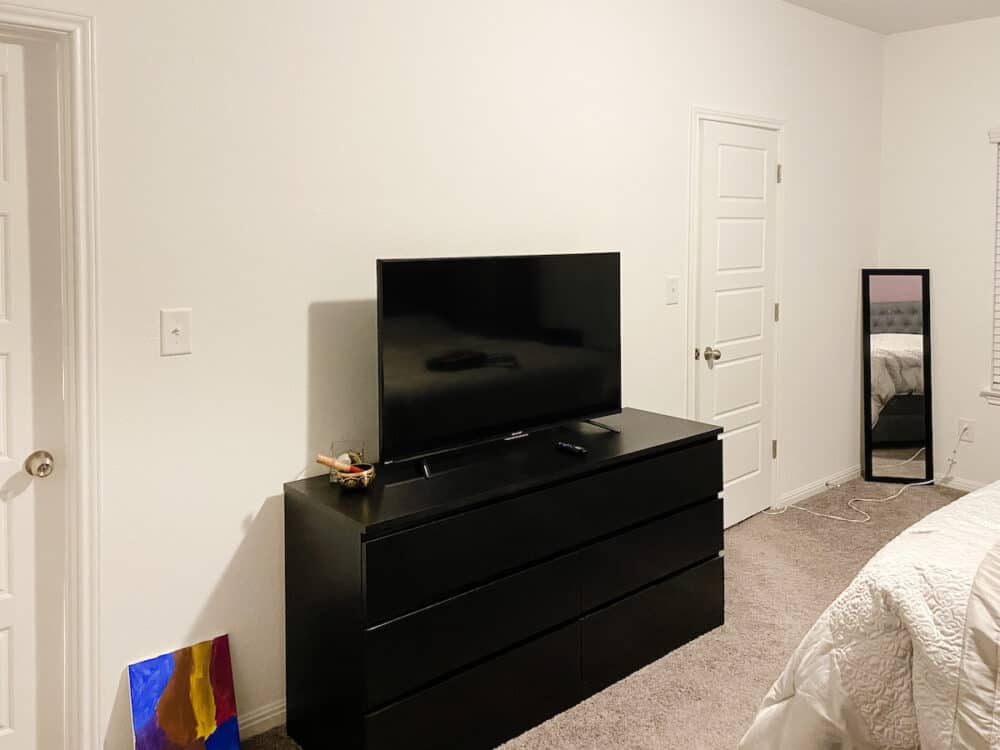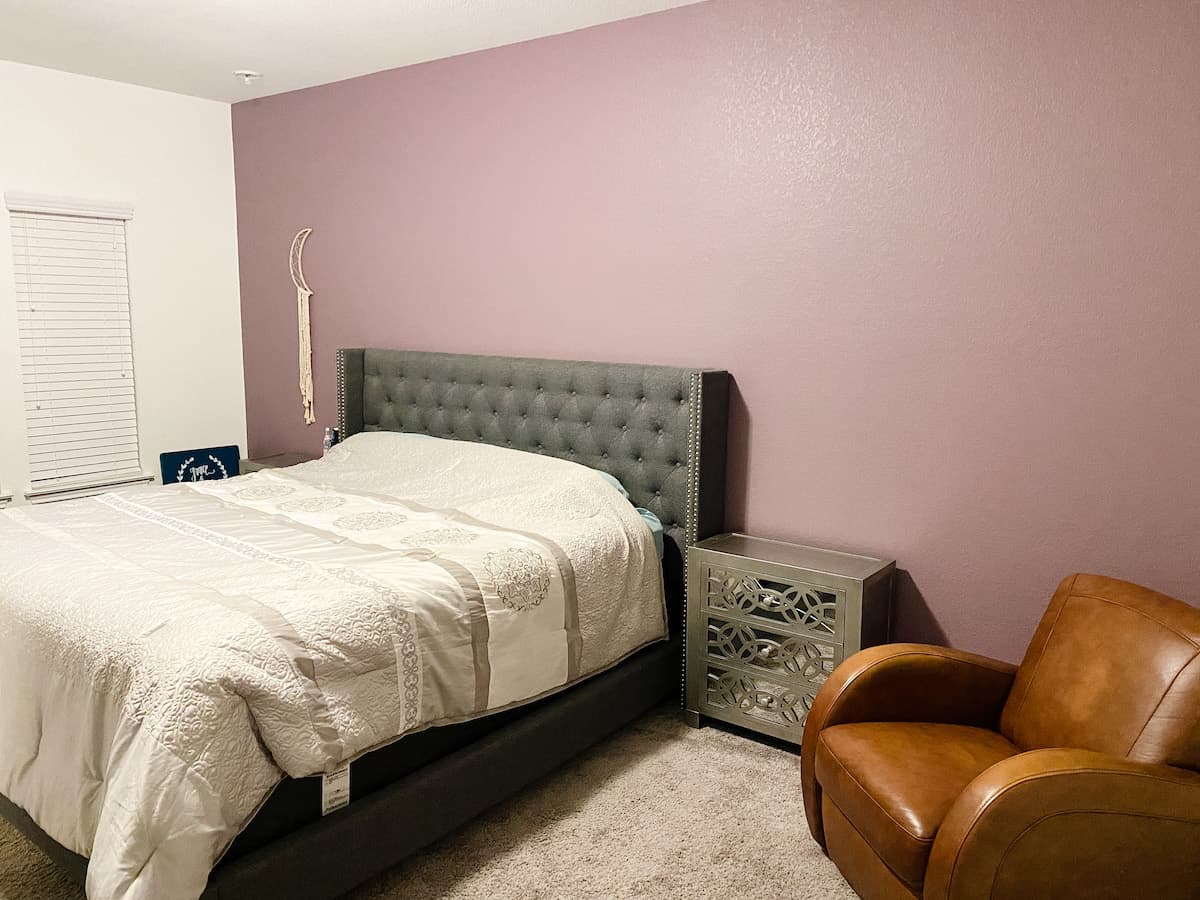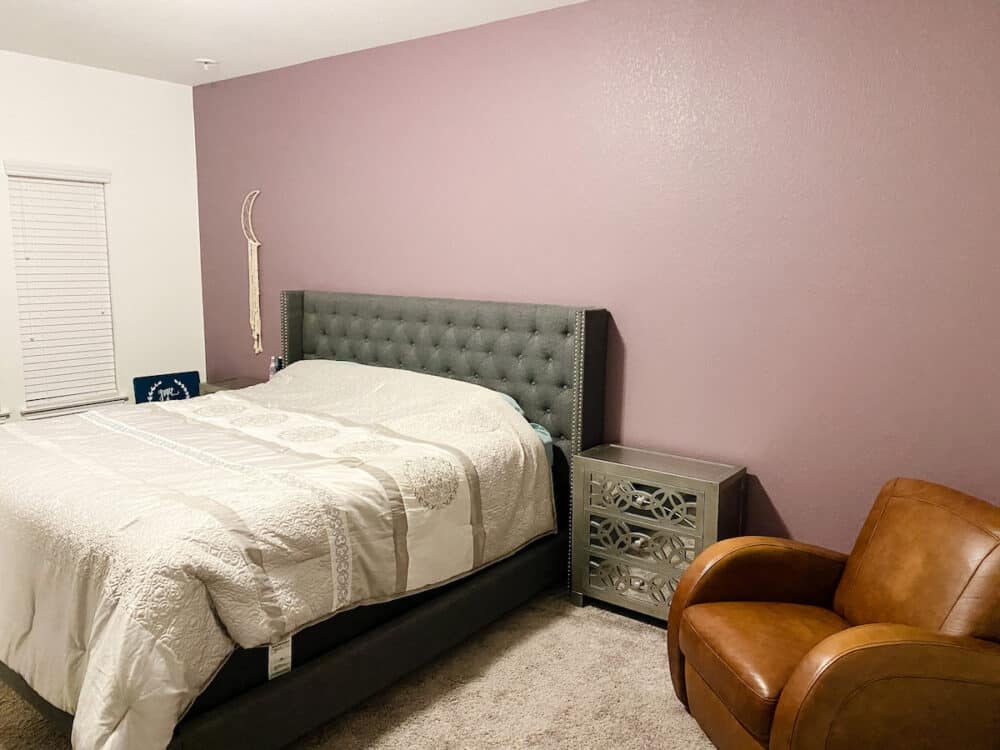 Parisa's room has great potential (tons of natural light! 9 foot ceilings!), but it's a little long and narrow (it's seventeen feet long!), and they haven't really done much to make it feel special yet. They had a purple accent wall painted shortly after they moved in, but everything else is basically untouched.
One of the running jokes we laugh about is that Parisa took more than 18 months after moving into this house to buy nightstands for their bedroom – it was driving her husband nuts, so she finally made a decision and ordered them a couple of months back. Annnnnd, they arrived broken. (the mirrored glass is totally shattered!).
So, even when she tried to make some progress in her room, it didn't really turn out the way they planned (and she didn't want to get a replacement of the nightstands because what if they just came shattered again?!).
When I asked Parisa what she wanted for her bedroom, she immediately said she wanted something light, airy, and spa-like. She said she wanted lots of white, and she was dying to change the purple accent wall to a serene-feeling green.
I was beyond excited to dive into planning the space, since her style is so different from mine. It was a really fun way to stretch my creative muscles, and see if I could capture exactly what she wanted. You might think it would be an additional challenge that almost everything in the space needed to come from Home Depot, but if you've seen our other Home Depot makeovers so far this year, you'll know by now that it was no problem at all!
I came up with this mood board and sent it over to Parisa – and she pretty much approved it immediately. Done and done!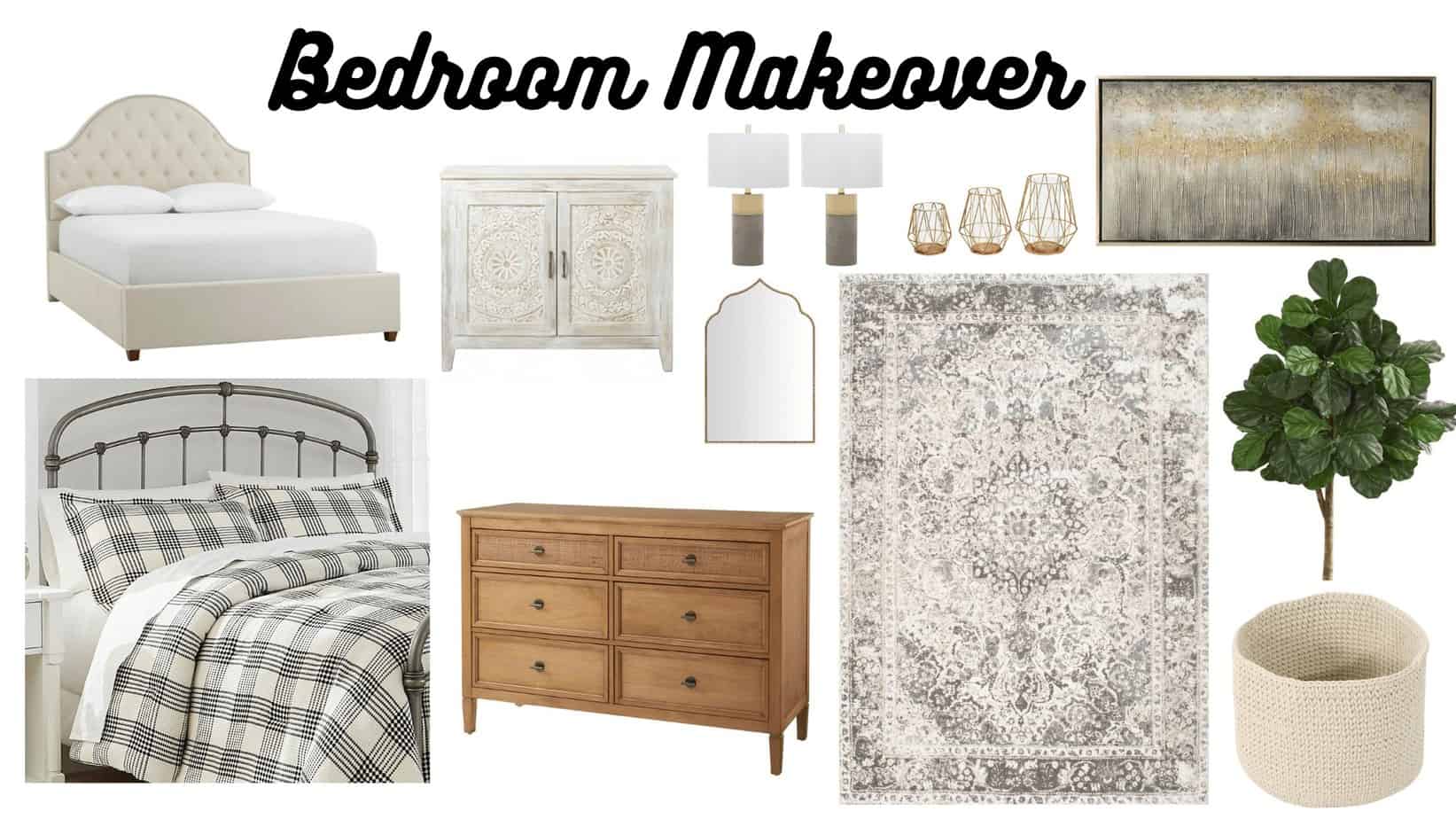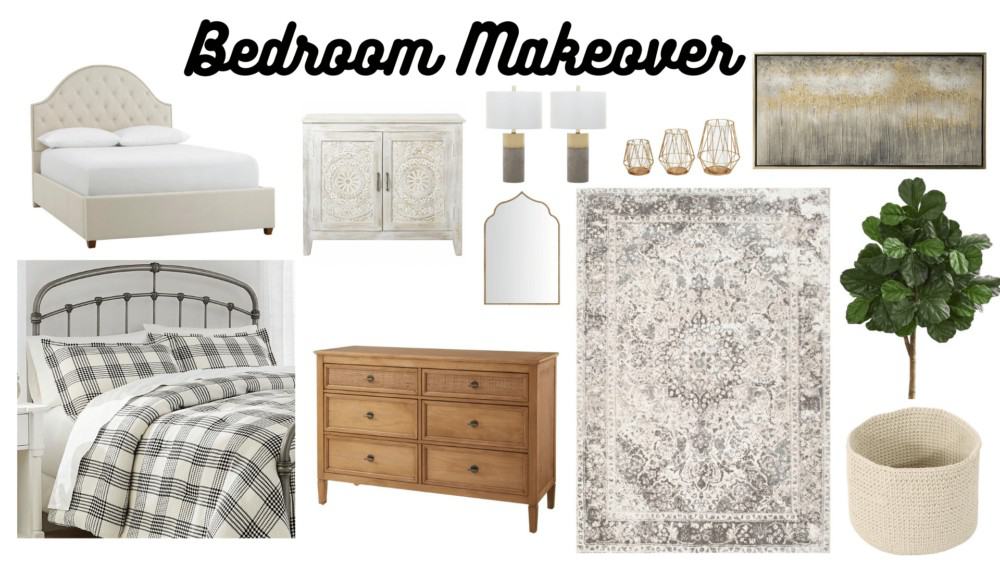 Sources:
The only thing left to figure out was that accent wall – we both agreed something needed to be done to really define the wall. It's really the only wall in the room that the bed can go on, and with the room being so long it felt like a good opportunity to really make the big wall feel intentional.
We talked about adding some trim and, I laughed later when Parisa told me that she had originally thought I just meant add a piece of crown molding to the top or something. If you know me, you know that's definitely not what I had in mind!
I'll be sharing the full accent wall treatment next week in Instagram stories, so be sure to stay tuned for that! All I'll tell you for now is we found the perfect cozy-feeling green, we changed it up in a big way, and it was the first time I got to try this type of wall treatment!
So much more on this space coming later, but for now, I'd love to know – would you ever tackle giving your BFF a room makeover? Does it sound fun, or like too much pressure?!
Wanna catch up on our other Home Depot makeovers?