Our DIY Electric Fireplace: One Year Later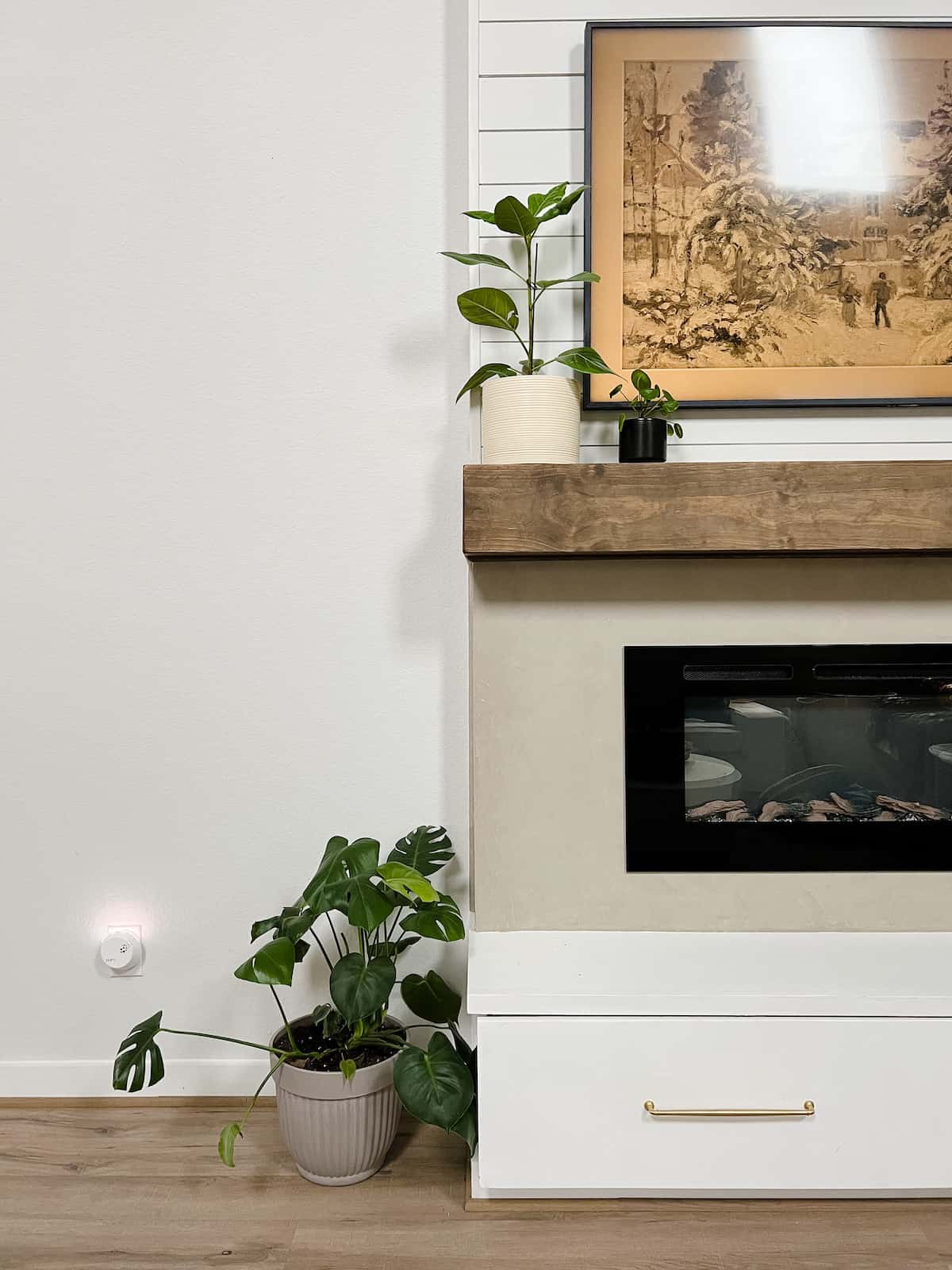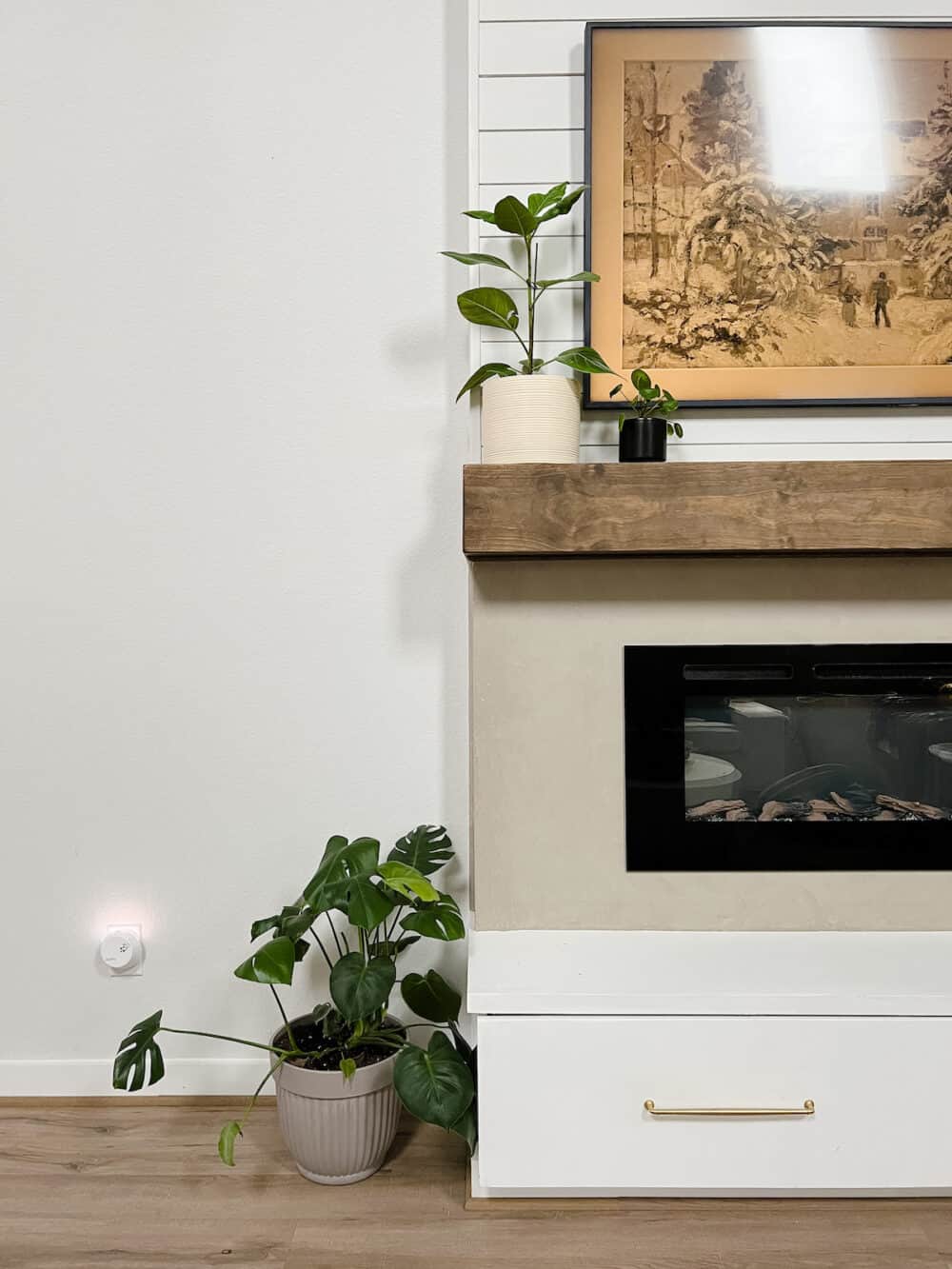 Probably the biggest, most impactful update we've made to our home since we moved in just over two years ago is adding an 18-foot-tall DIY electric fireplace in the living room.
It was a massive undertaking, and it's honestly probably the project I'm most proud of out of everything I've ever done! It absolutely completes our living room and it feels like it always should have been here. Now that we've had it for a year, I can't even imagine our living room without it!
I wanted to take a moment to dive into how it is holding up one year after installing it, if we'd do anything differently, and if we're still loving it.
(Spoiler alert, the answer is yes. Yes, we are still absolutely, 100% loving it!)
one year later: our thoughts
Honestly, this project is the best thing we've added to this house and I can't put into words how glad I am we did it.
I have zero regrets about our fireplace and would do it again a hundred times over.
would I change anything?
In terms of the design, absolutely not. I can't think of a single thing about this fireplace that I don't adore.
However, there are a couple of technical things I'd do differently if I was doing this again today. For starters, we didn't really plan an easy way to access the cords and inner workings of the fireplace. If we ever need to replace the TV or fireplace, I fully believe we'd be able to do it without ripping the whole thing apart, but it wouldn't be a simple process.
In hindsight, it would have been wise to find a way to build a panel somewhere on the side or something that would allow us to really easily access all of the cords and things back there. As it is, they're just running between the studs – and then covered with shiplap – similar to how they are in the actual walls of your home. Not ideal, but hopefully it won't be an issue for us.
And if it is, we'll deal with it when it comes up!
Also, there's one part on the shiplap where I made a mistake cutting and the corner trim bows out a bit. It's not obvious (and my husband, who notices every mistake hasn't ever mentioned it), but I get a little twitchy every time my eyes land on it. It's fixable, and someday I might take the time to pull it up and fix it.
is it enough heat?
We have this electric fireplace. It definitely isn't enough to heat up your entire house, but it does a great job of warming up the living room and dining room area! I'd compare it to a mid-sized space heater. It's enough to warm the space up a small amount (and we relied on it heavily when we had the big freeze last winter!), but you can't expect it to be your only source of heat.
My favorite feature of the fireplace, though, is that it can be turned on without any heat! It's often not warm enough here in Texas to need a space heater running, but during the winter I love the ambiance of a fire. I'll often turn the fire on just to enjoy the flames and feel cozy without any heat, and it makes me so happy!
Are you happy with the electric fireplace you chose?
Absolutely! It looks great, it's given us no issues, and it functions really well.
We have (almost) zero complaints about it. The one thing we've noticed is a slight rattling sound sometimes when it's running. After doing some research and reading reviews, we've realized it's just a component right inside of it that has a tendency to move around. It's a really easy fix, we just haven't taken the time to do it yet. Honestly, mostly because the noise isn't all that bothersome!
So, overall, yes – we'd wholeheartedly recommend it! Just know that if it starts rattling on you, it should just be a quick 5-minute fix to tighten a couple of things up.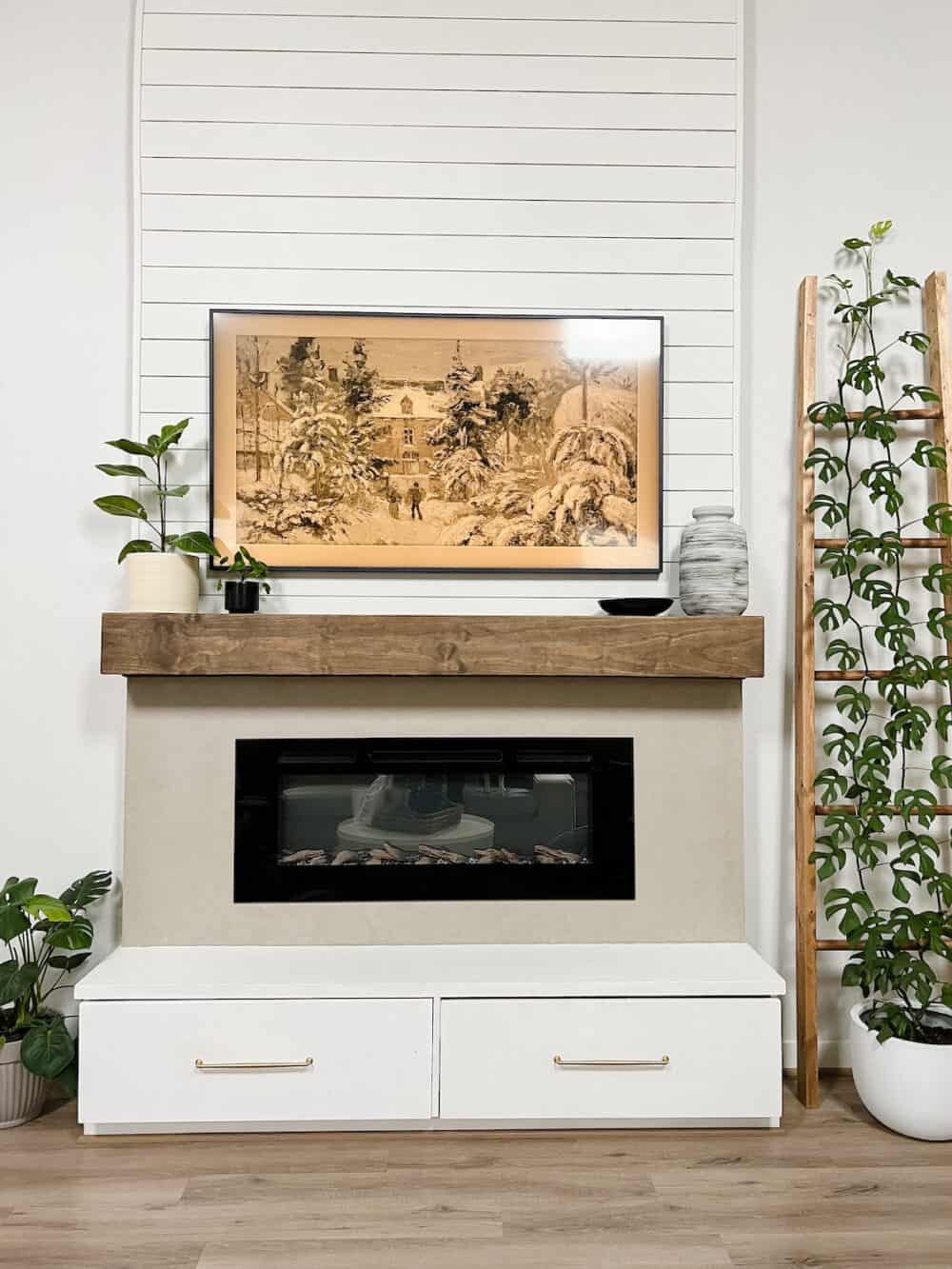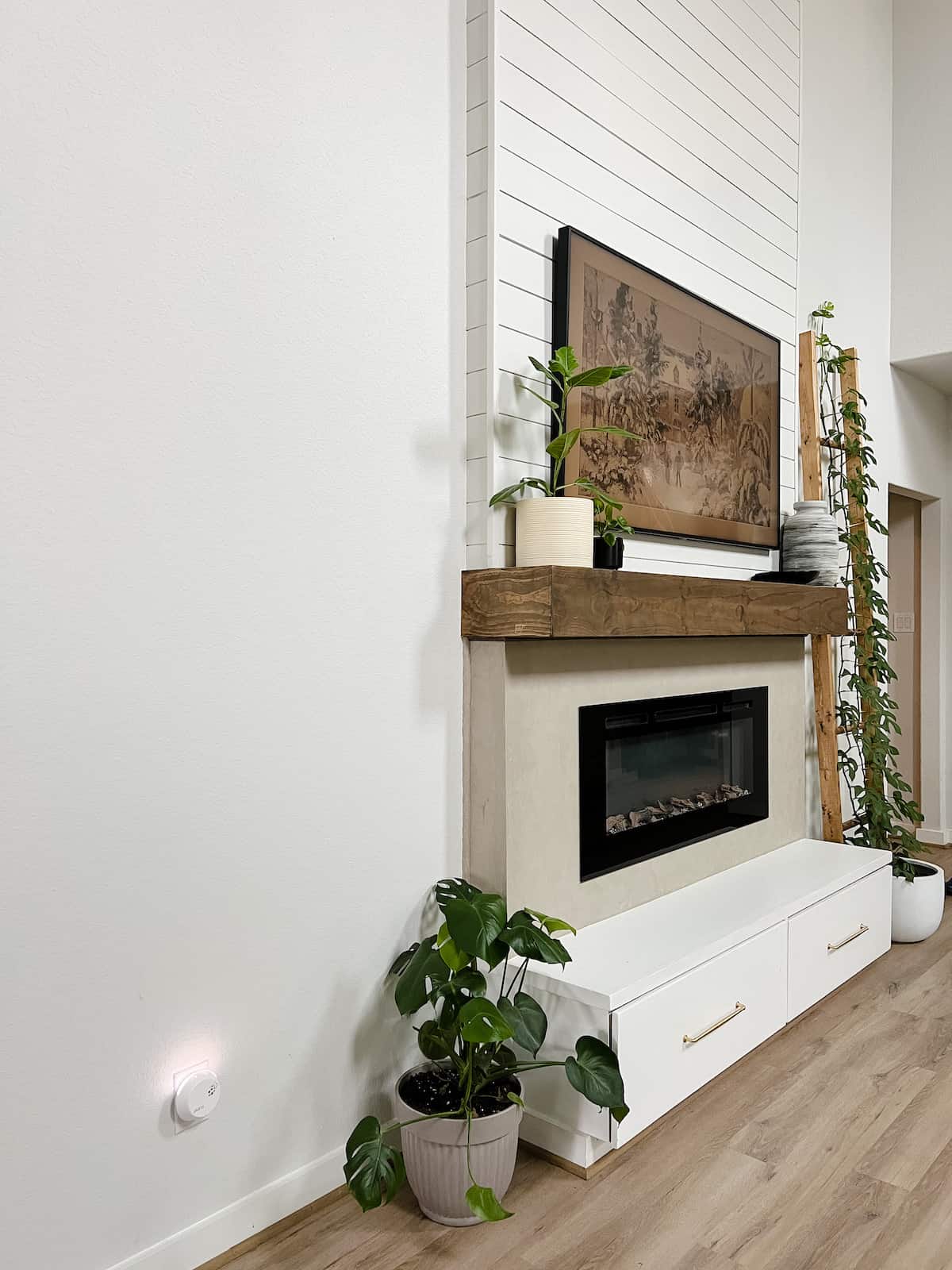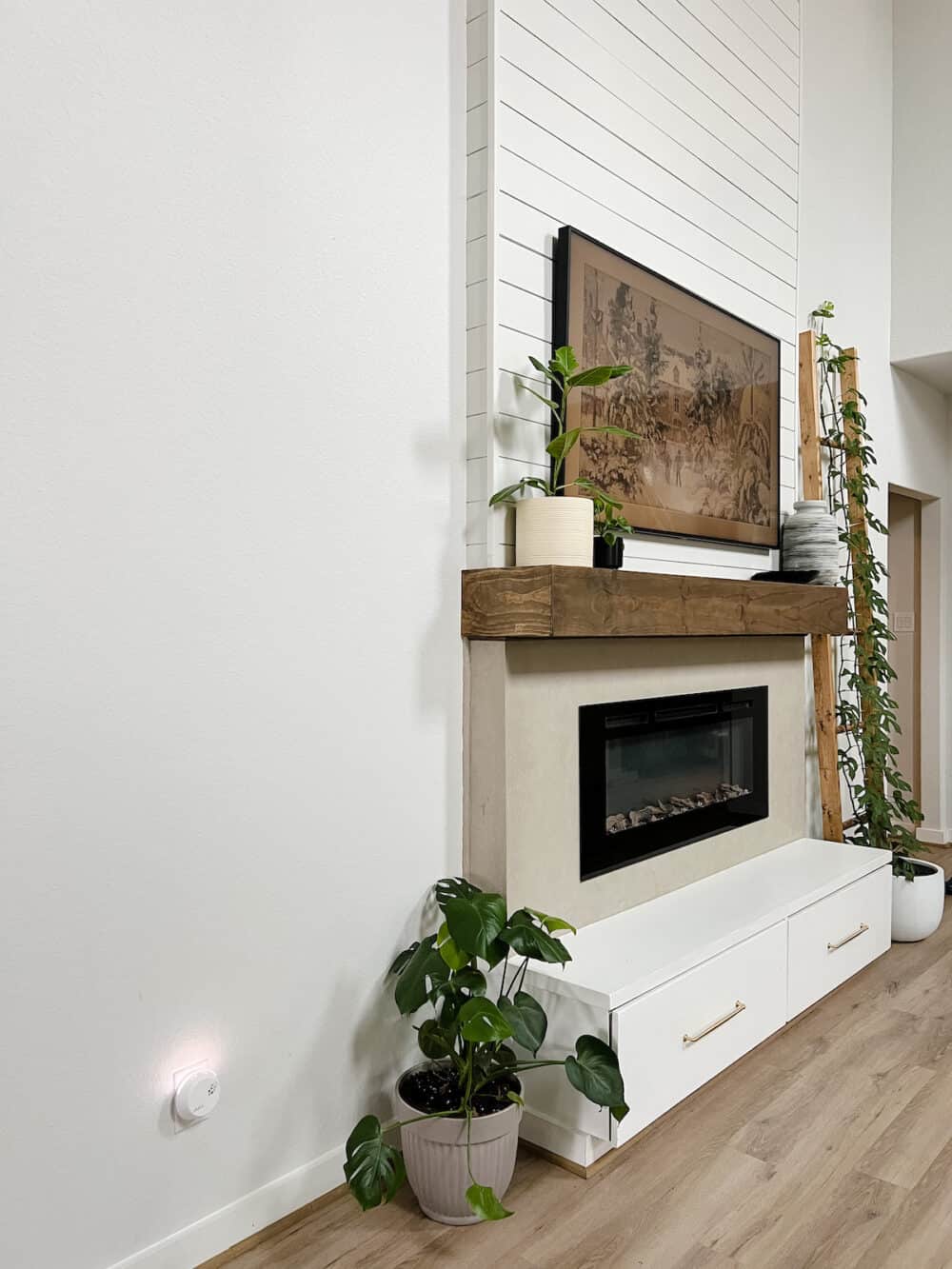 How is the Roman Clay Holding up?
The area surrounding the fireplace itself is covered with this Roman clay. This project was my first time using it, and I am 100% in love with how it looks.
I'm not aware of any areas where the Roman clay has chipped or worn down. It looks exactly like it did on the day I finished it!
We definitely aren't super precious with this area, either. The entire reason we built a hearth around the fireplace was so we could use it as extra seating, and people sit on it often. The kids are constantly climbing all over it, and this little area sees some use just about every single day.
So, overall, I'd highly recommend it! It's very durable, it adds so much texture to the fireplace, and it really adds something that no other material can quite match!
do you like having the drawers?
The drawers in the hearth were one of the most important features to me when I started planning this fireplace. I wanted a place to store toys in the living room, and I wanted it to be easy for the kids to keep up with.
These drawers have truly been a total lifesaver for us. The one of the left houses our Nintendo Switch and some television components. The one on the right houses a rotating collection of toys that the boys have brought down from upstairs. It's almost always full, which to me is a sign it's working.
I'm so glad we have these drawers here, and I wouldn't love the fireplace nearly as much without them. The only minor issue we've had with them is that Grant has a bad habit of leaning on them or trying to climb into them, and he broke one set of drawer slides so the drawer wouldn't close anymore. I replaced them and it works great now – so, if all that happens is I have to replace the drawer slides every once in a while, that's no big deal!
Of course, hopefully he'll just stop climbing in the drawer at some point. But, we'll see.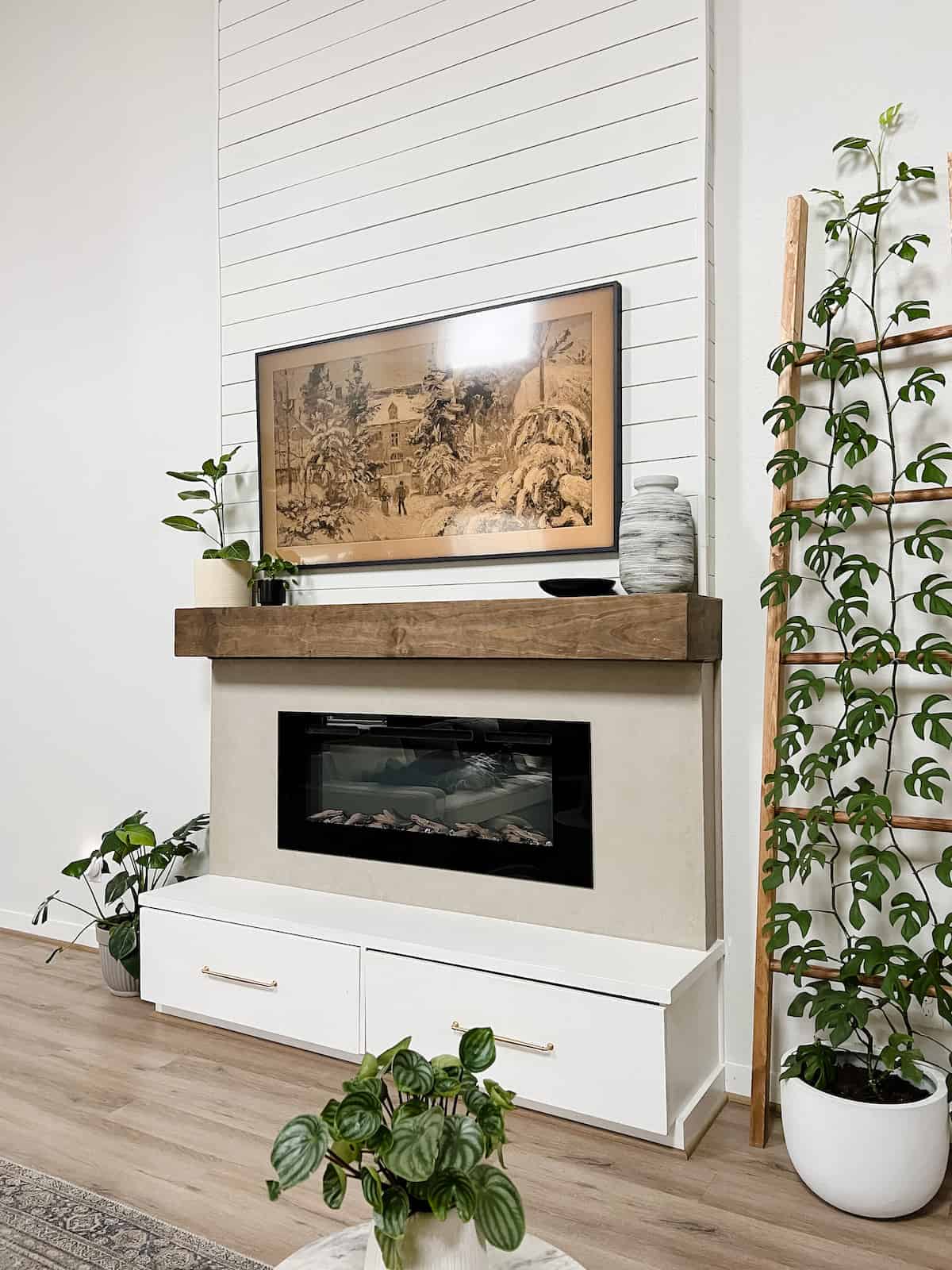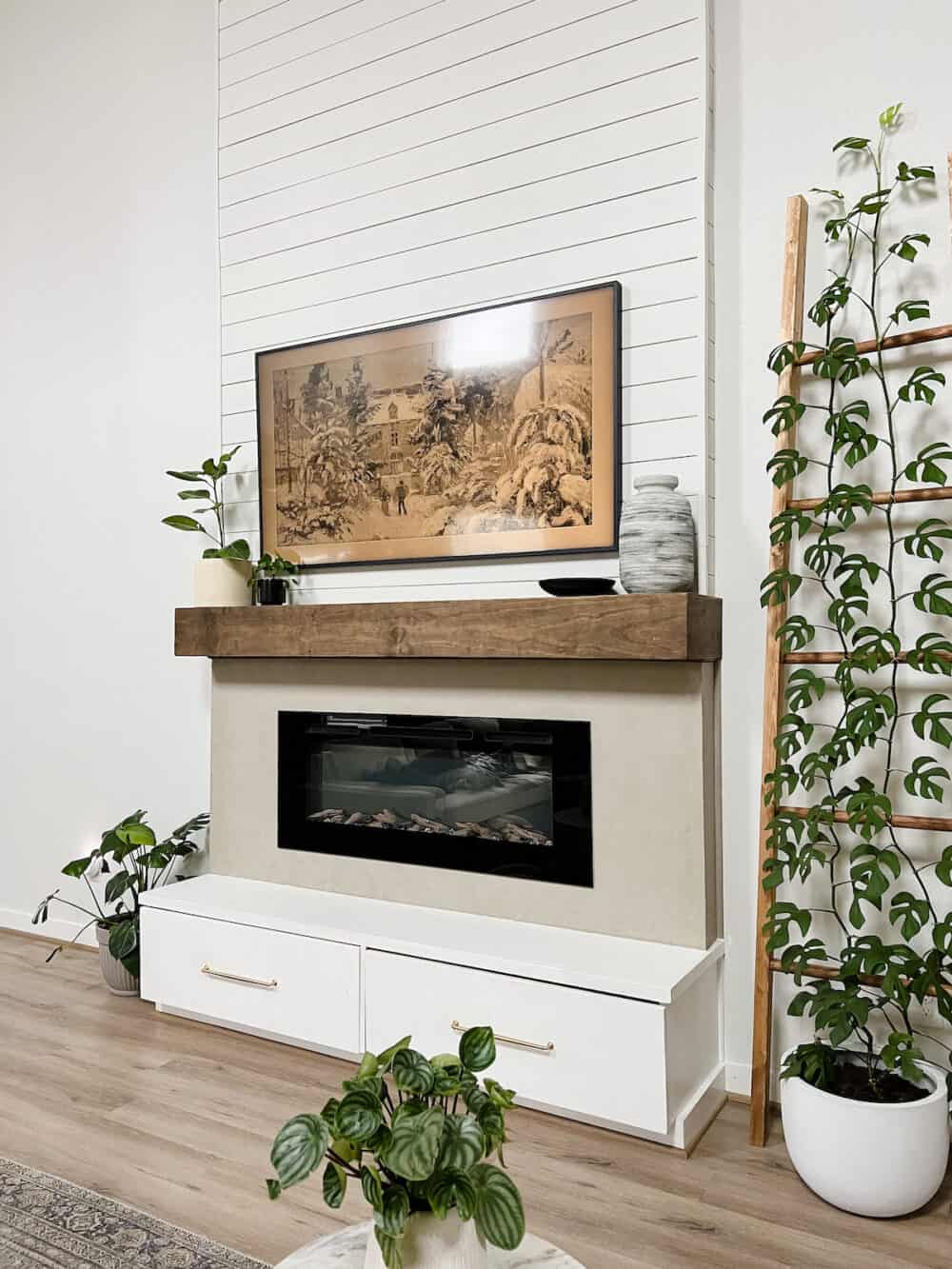 And that's our fireplace!
If you missed this project and want to catch up on all of the details, here are some posts that might help:
And, if you're curious about how other things around our house are holding up, click here to see a post I wrote last summer with a check-in on a few things. Got questions about something else in our house? Drop them in the comments and I'll include them on my next check-in!