How's It Holding Up? Volume 1
One thing I've been wanting to do for a while is start a series here on the blog where I regularly check in on various things we've tried or purchased for our home to let you know how we feel about it over time.
It's easy to say we love something right after buying it, but knowing whether or not something holds up over time is the real test of if it's worth grabbing for yourself!
So, without further ado, let's jump into the first round of "How's it holding up?" I'm going to start with the things I get asked about most frequently, but if you have something you'd love to hear about in a future volume, just leave a comment below or send me a message on Instagram!
Our Ruggable rug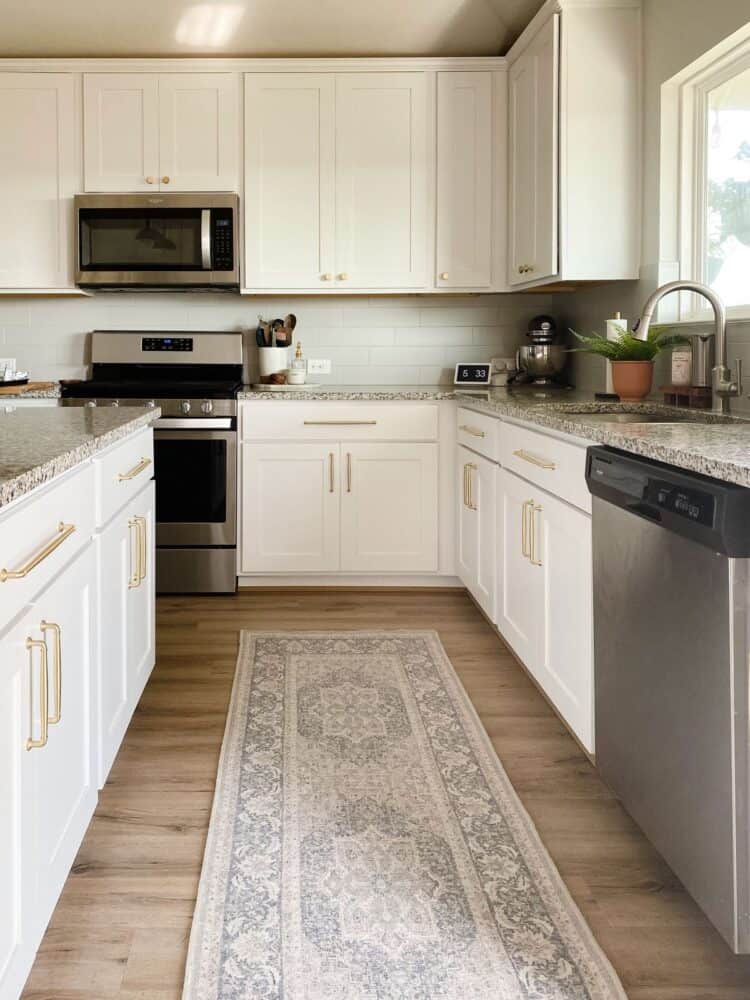 We got a Ruggable runner for our kitchen about a year and a half ago, and it's been a great decision overall! It's so easy to clean it (and it gets cleaned often living in the kitchen), and I haven't had any issues whatsoever with curled edges or corners (which seems to be a common concern people have).
We've dropped food on this guy more times than I can count, and everything has come right out with no issue. We love it so much, in fact, that I just grabbed this rug for our bathroom too!
Now, there are a few important caveats about Ruggable rugs – they aren't meant to be used on carpet, and really only stay in place well if they're on hard surfaces. My only other complaint about them was that they aren't particularly cozy underfoot (the rug cover is super soft, but the padding is thin), but they recently released a thicker rug pad that is so. soft. I got it for my bathroom, and I'm really impressed with it so far. So, with the update I'm even more enthusiastic about my love for them!
Hadley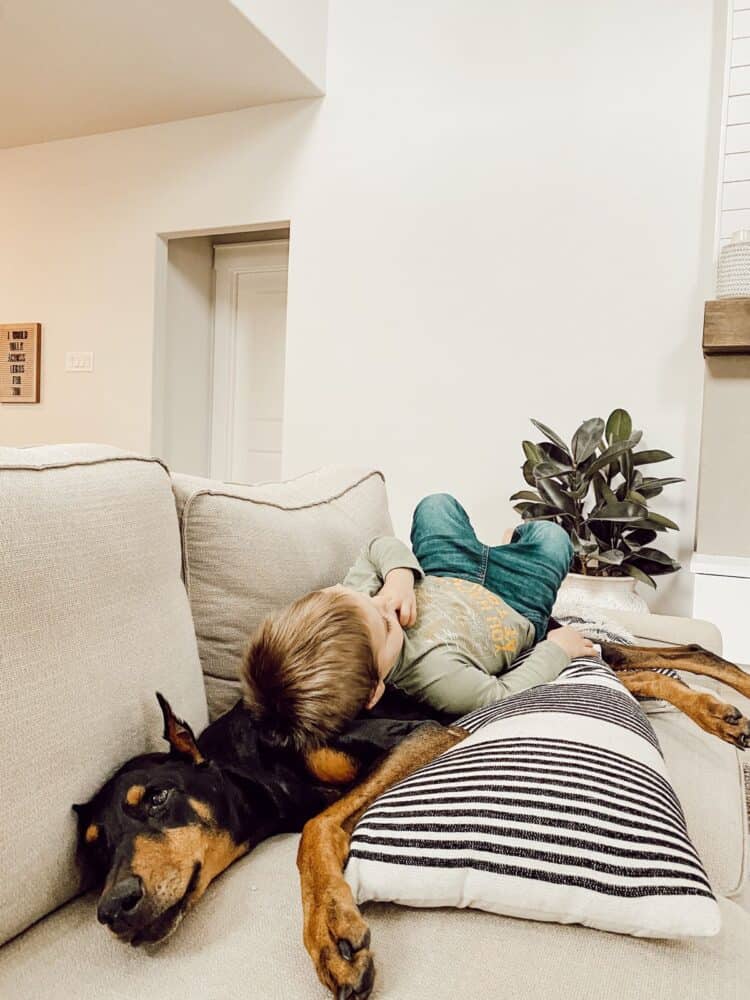 I love that y'all are always so invested in what's going on with our sweet, quirky Doberman, and I often get asked for updates on her!
If you haven't been here for all of it, Hadley is a 9 year old purebred Doberman and she has severe anxiety issues. She's always been a really, um, unusual dog, but as she got older she got to a point where she was hardly functioning most days. For the entire two years we lived in our last house (which was 1,100 square feet), she would only enter the living room and our bedroom, which reduced this 70-pound dog's entire existence to about 700 square feet. She wouldn't walk down hallways, she wouldn't cross thresholds if anything was sitting in them (even a child's sock), and she was just on edge all the time. Even when we moved to this house, she refused to go upstairs and was nervous in any space other than our room or the living room.
In about December of 2019, we took her to the vet to discuss our options and they prescribed her Fluoxetine. It took a few weeks before we started to notice a shift, but she's an entirely different dog now. She'll go anywhere in the house without issues, she's not nearly as whiny as she used to be, and she seems more like a dog and less like one big bundle of stress.
Hadley still is (and will always be) very quirky. She has to walk a lap around the island before she'll go out the back door. If you pet her, she whines so much that it's hard to tell if she's happy or having a panic attack. She's almost never interested in playing and would prefer to spend her days napping and sunbathing. But, her quality of life has been drastically improved since we started her on the doggy antidepressants, and it was one of the best decisions we've ever made!
Motion-sensitive lighting in the closet
I installed this really simple strip lighting in the coat closet in our entry a few months back and I definitely have nothing but good things to say about it! The lights are bright, the sticky strip on the back works really well, and the motion-sensitive feature is great and not too sensitive.
But, in the interest of complete honesty, I haven't actually charged the lights in quite some time so they haven't been working lately. Our kids are terrible about leaving this door open all the time, which means people are constantly walking past it and turning the lights on. But, even with the not-ideal conditions, the lights seem to only need to be charged once a month or so. It's really easy to charge them – just unplug the sensor from the light strip and use the charge cord that comes with the kit. In fact, now that I'm writing this post maybe I'll get motivated to actually take 2 minutes and plug them in.
This closet was a serious labor of love – it took me multiple attempts at a system before we landed on these built-ins, and it ended up being the best decision. It stays organized and looks great all the time, and I'm so glad I took the time to figure out a plan that would work for us.
the game room desk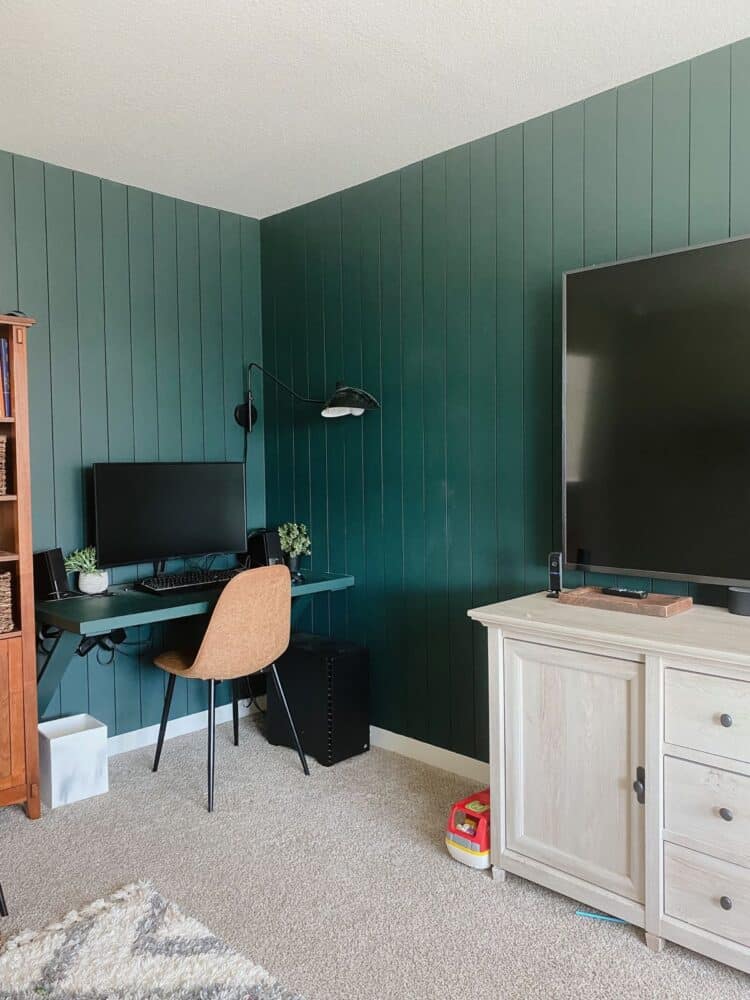 We built this really simple desk in the game room upstairs to house our desktop computer and it's held up so well over time! Because of the location (you know, in the middle of all of the kids' toys), it's not the best place to actually focus on anything, but it still gets used all the time.
Corey and Jackson both use the desk regularly to play video games, and Corey will often get a little work done in here after the boys are in bed. It was such a simple build, and it's a project I'd highly recommend if you need a low-profile desk in a corner of your home!
This desk won't be here forever – our long-term plan for this room is to add a ton of built ins for storage and display, and that will probably also include a different built-in desk that's a little longer and positioned differently. But, we'd do this again in a heartbeat!
Grant's Crib tent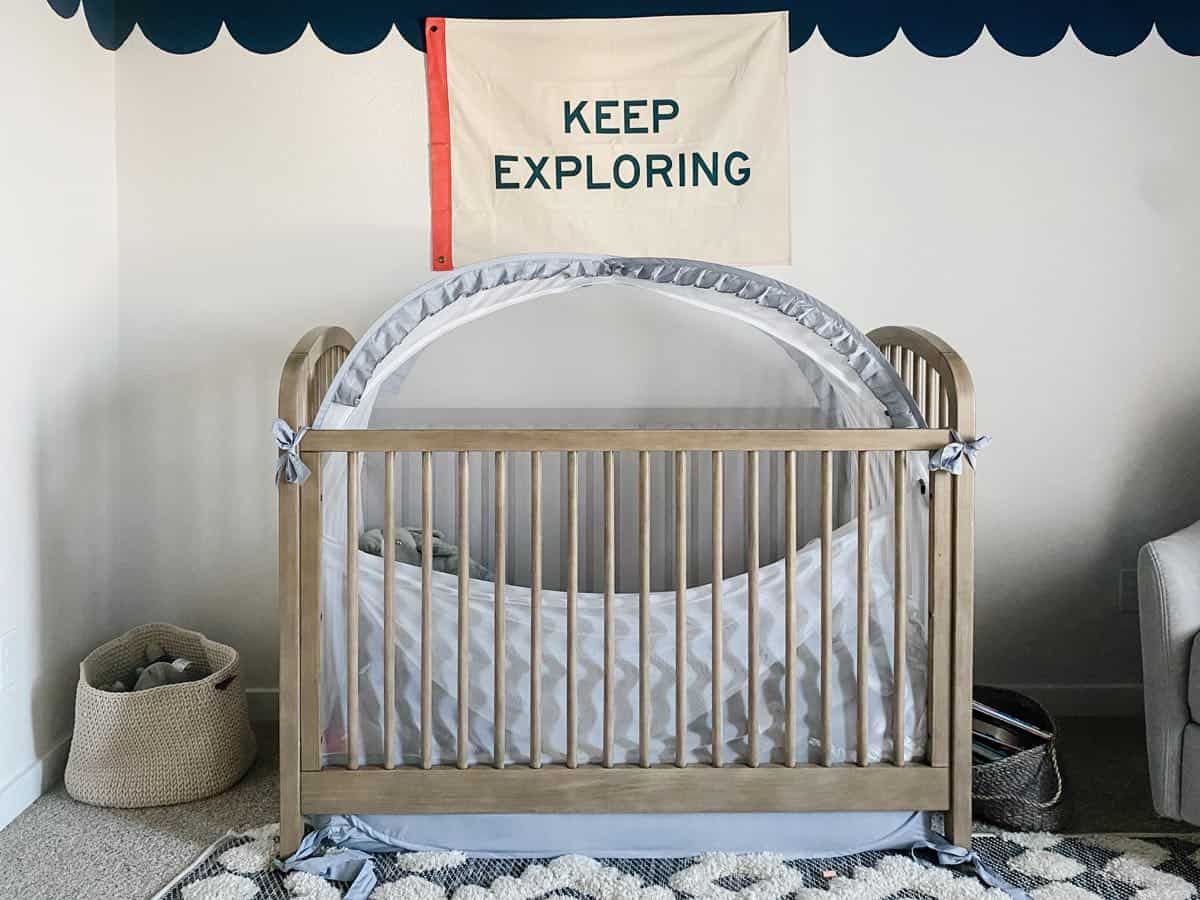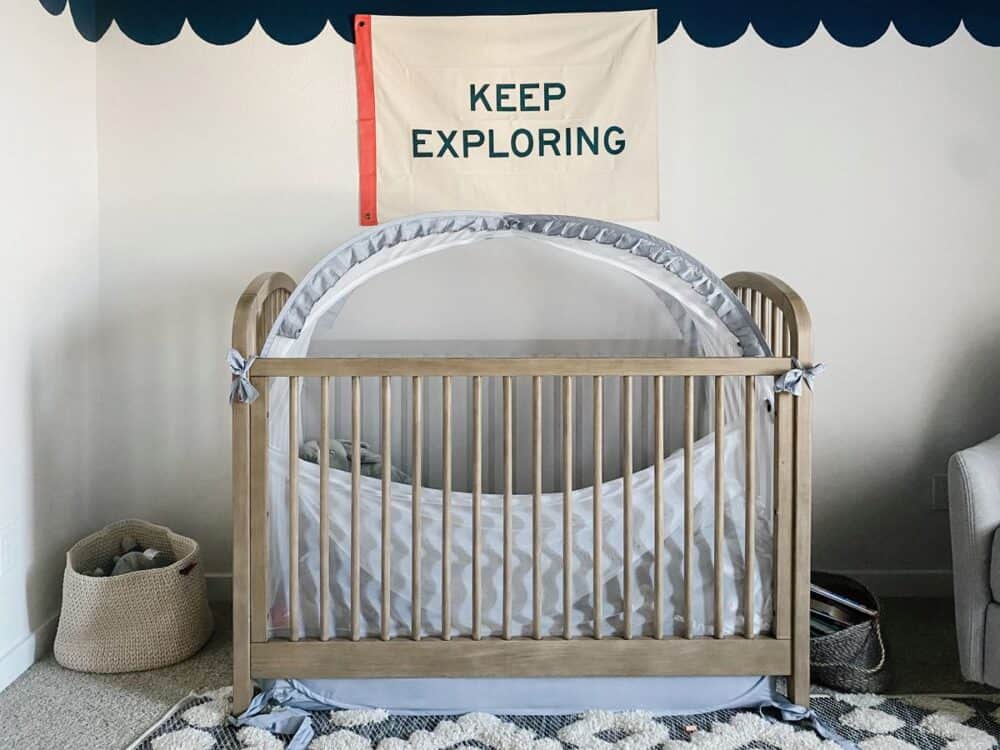 I keep telling myself I need to put something on this list that I won't rave about, but turns out all the things y'all ask me about on the regular just so happen to be among my faves!
We grabbed this crib tent a few months back because Grant kept escaping from his crib and we were not ready for him to be in a big kid bed. He still causes too much chaos to be free to roam the house (or even just his room), so I needed to squeeze a few more months out of the crib. It has been the best thing we could have possibly bought for him – he absolutely loves it and has never complained once, and there have been zero escapes (or attempted escapes) since we added it to his room.
This obviously isn't necessary if you've got a nice calm kiddo who you can trust in a big kid bed from a young age, but Grant's going to be in the crib for as long as any of us can stand it. I'm sure we'll have him in a big kid bed by kindergarten. Maybe.
the raised garden beds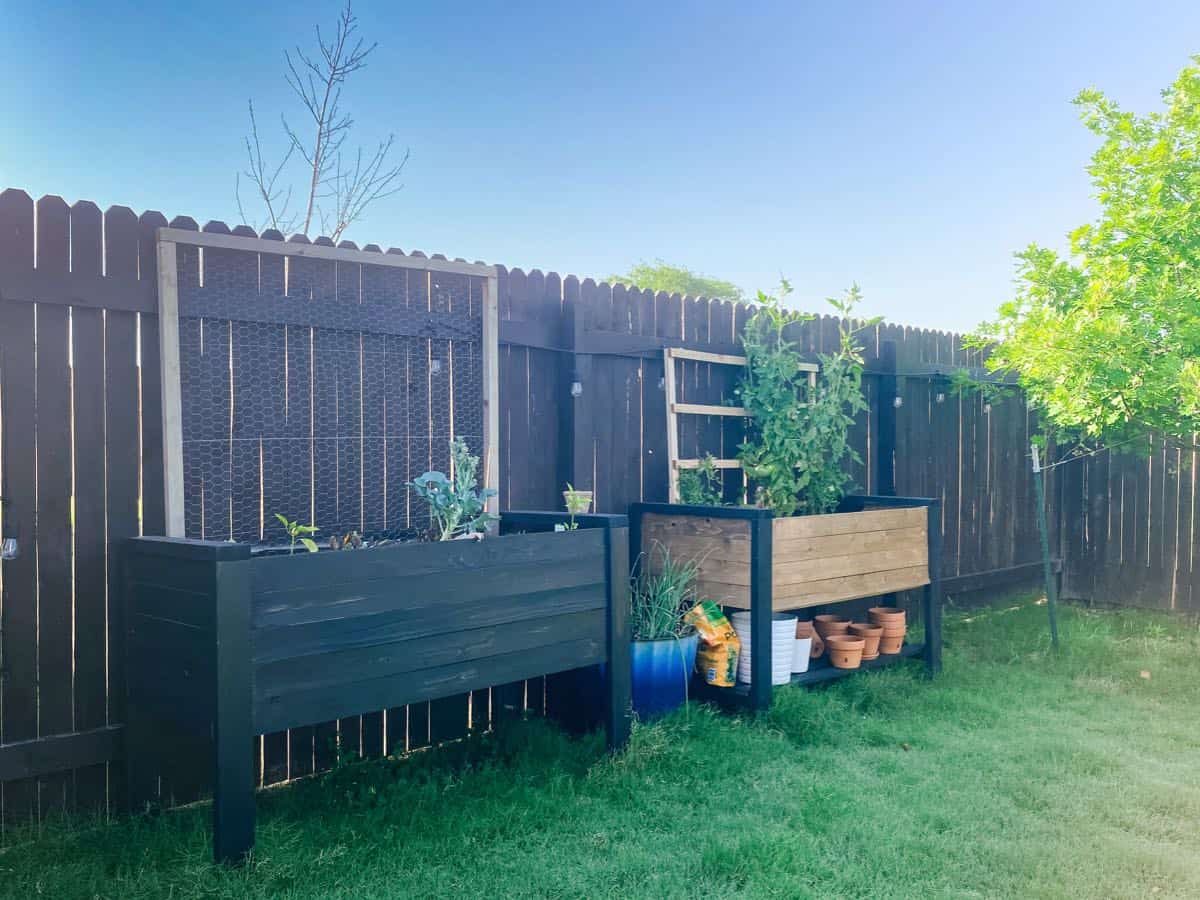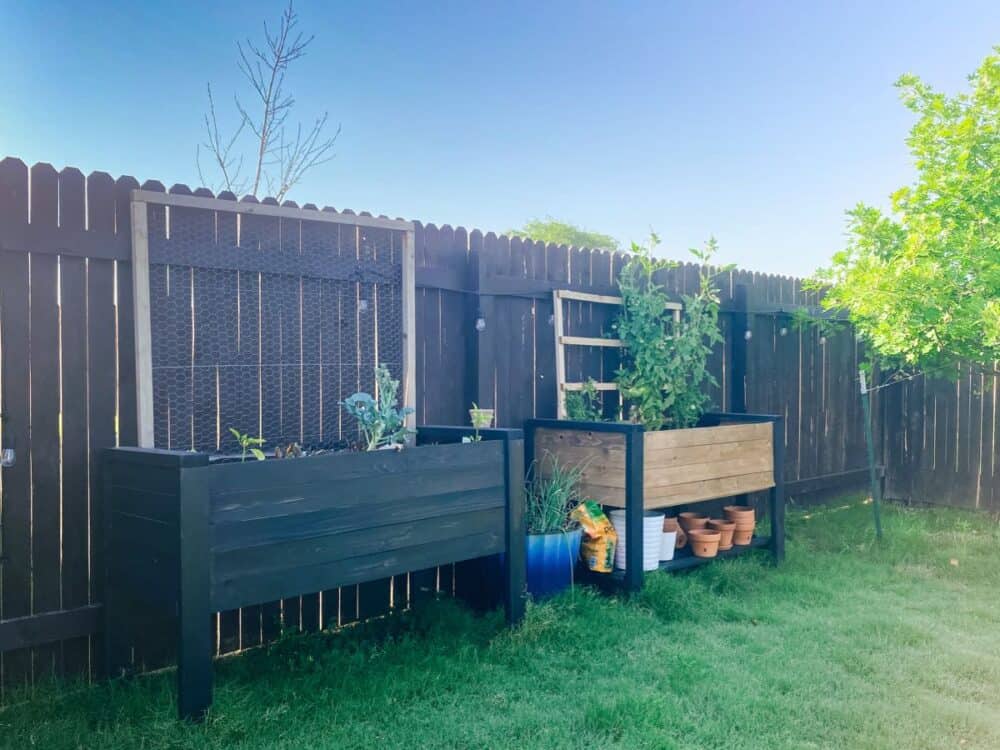 And the last thing we'll talk about (for this volume, at least) is these cute little garden beds we have in the backyard.
I built the all-black one last year, and the black and stained one this year and both are doing great! I originally didn't want to have a trellis on the newer one, but once the tomatoes started getting bigger I had to have something. I built a really simple trellis that was perfect in theory, but in practice since it isn't attached to the garden bed, it won't really stand up very well.
Looking back, the better option would be to have an attached trellis from the beginning if you're going to have anything that's going to get on the taller side.
Another thing I've learned is that while it's really fun to grow fruits and veggies, having two small beds doesn't really yield enough to make a huge difference. We get a couple of tomatoes every few weeks and we have had a few jalapeños this season, but that's about it.
I think in the future, I'll stick to mostly herbs and fun, pretty plants in these beds – with the occasional veggie, of course, because they're just so dang satisfying to harvest!
---
If you have anything else you'd love to hear about in the next round, let me know!