Looking for ideas for a fireplace makeover in your home? These DIY fireplace renovations are sure to give you some ideas for where to get started! And even if you're not planning one, you're still sure to find tons of inspiration in these gorgeous projects!
I love a good fireplace makeover.
In fact, I might even argue that a statement fireplace is one of the absolute best ways to completely transform your home. At least, it's one of my very favorite ways.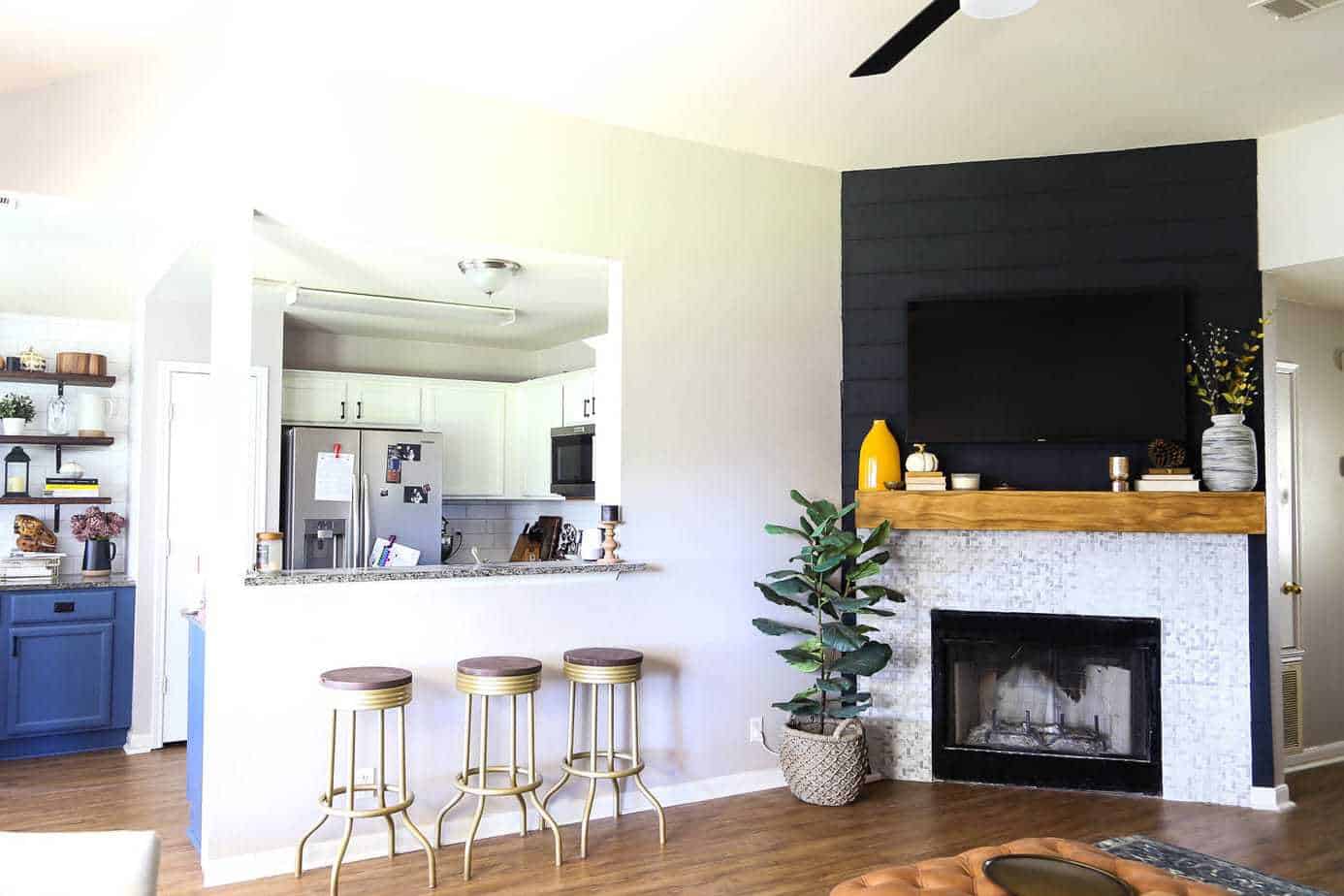 We tackled a major fireplace renovation in our house last year – it started off as a boring, drywalled fireplace that wasn't anything special to look at, and now it's a gorgeous black shiplap fireplace that makes my heart skip a beat every time I look at it.
And really, don't we all want our heart to skip a beat because we love our house so much?!
You may remember that we also did a pretty major fireplace renovation in our old house before we moved here – it also involved shiplap (what can I say, I'm a sucker for some shiplap!) but has a totally different vibe from the one in this house, and I loved it just as much.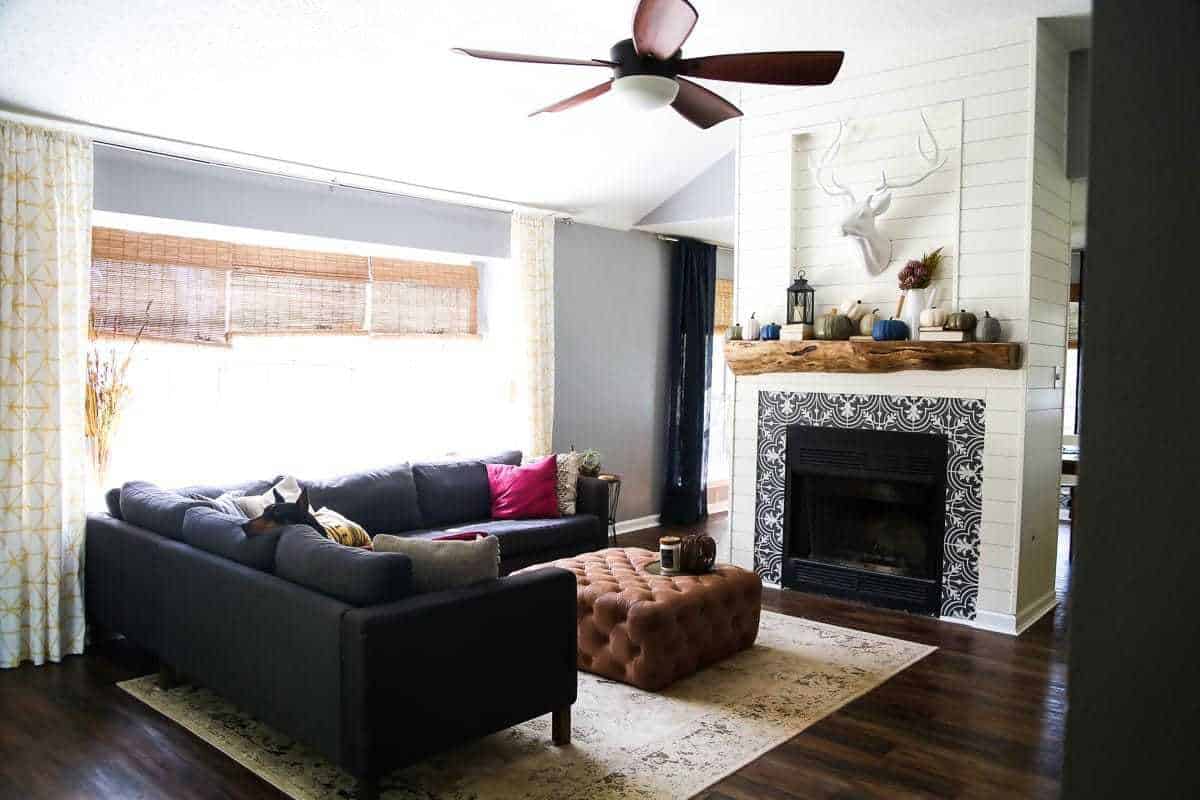 I feel like I can't get enough drooling over pretty fireplaces, so I thought it would be fun to share a few other beautiful fireplaces from around the internet.
All of the fireplaces I'm featuring below are DIY projects in one form or another. Some are just adding a mantel, some are painting existing fireplaces, and there's even a couple bloggers that added a fireplace where there wasn't one before!
I hope this inspires you a bit – if you've got a boring fireplace in your house, this should definitely give you some major inspiration for how you can make it amazing!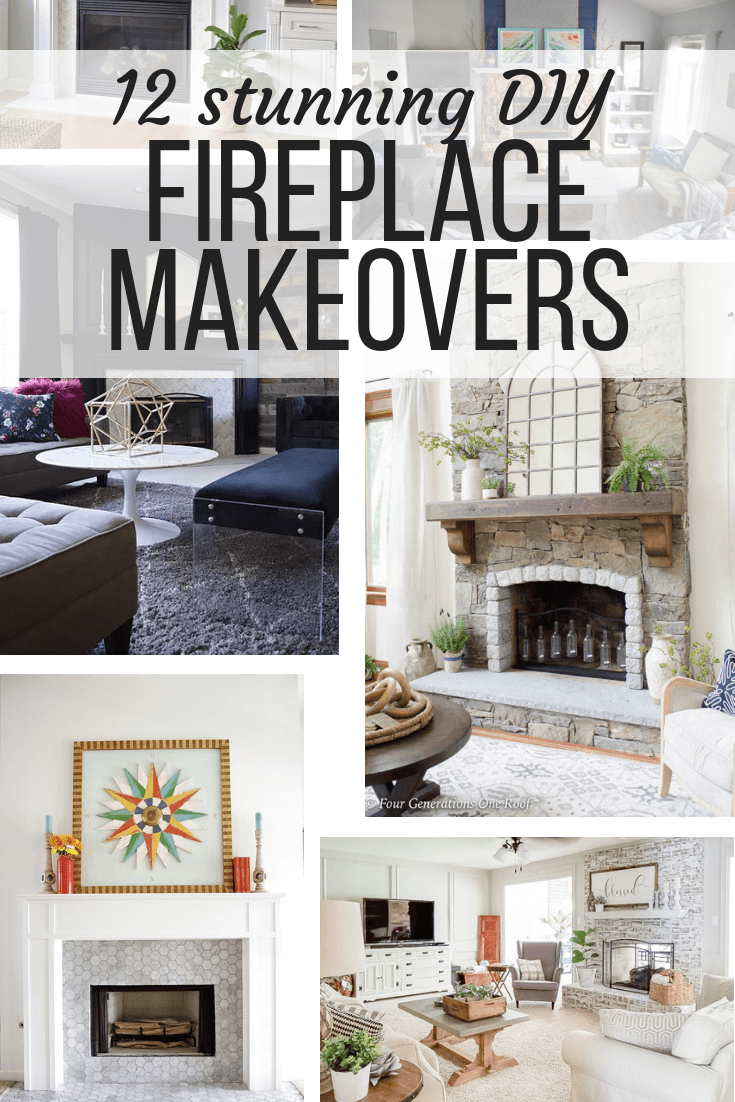 12 Gorgeous DIY Fireplace Makeovers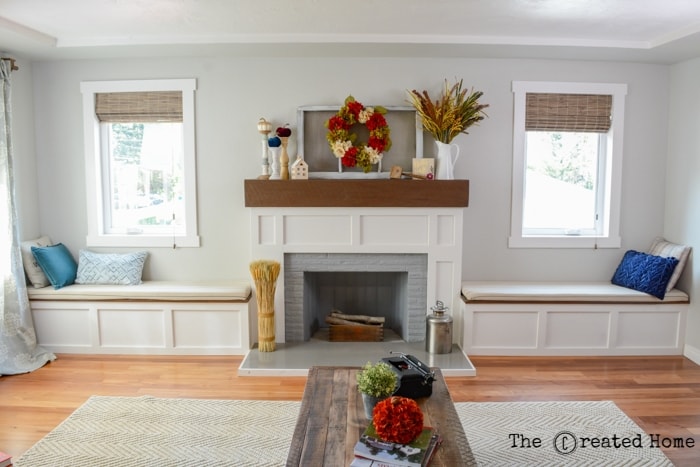 I adore the built in benches around this fireplace (you know I love a built-in!) , and this makeover is particularly incredible if you check out the "before"! This is such a great example of turning a boring fireplace into a major focal point, and adding some super functional seating along the way.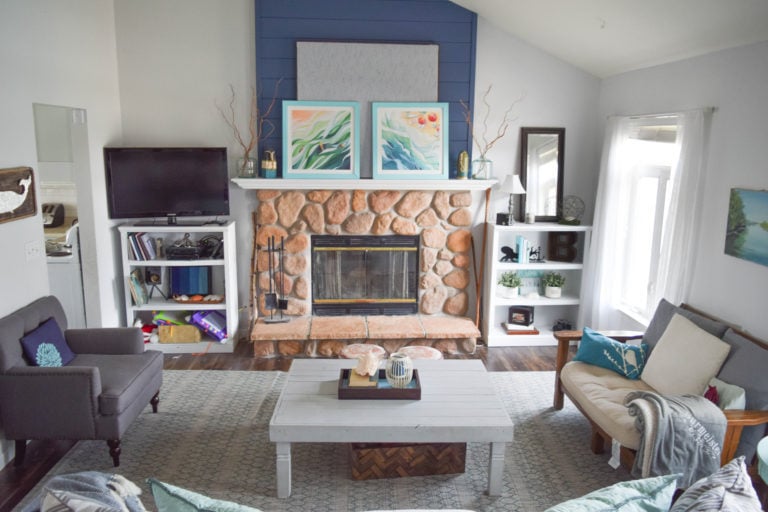 Emily's fireplace has been one of my very favorites for quite some time now. I just love the warm and cozy-looking stone, the blue shiplap, and how much of an impact this fireplace makes in the entire room. This fireplace started off with just the pretty stone look, and the shiplap was added later – it's such a simple and beautiful way to make the fireplace stand out a bit more, and I just love how it turned out.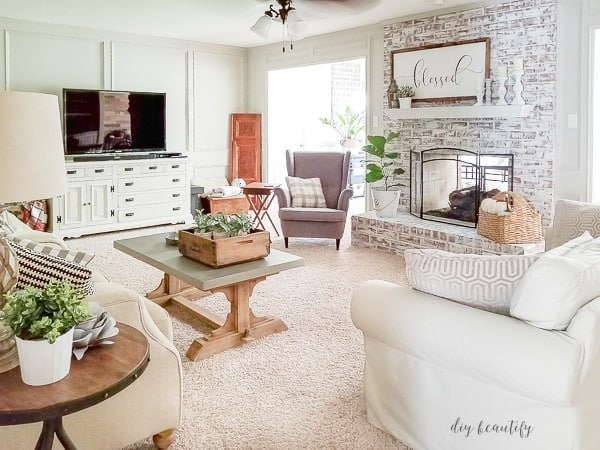 If you've got one of those 80's style brick fireplaces and want to spruce it up, this is the tutorial for you. I love the whitewashed look, and it actually makes the brick look so much more elegant and old. There wasn't much to change to this beautiful fireplace other than whitewashing the brick, and it's always kind of shocking how much a simple project like that can change an entire room!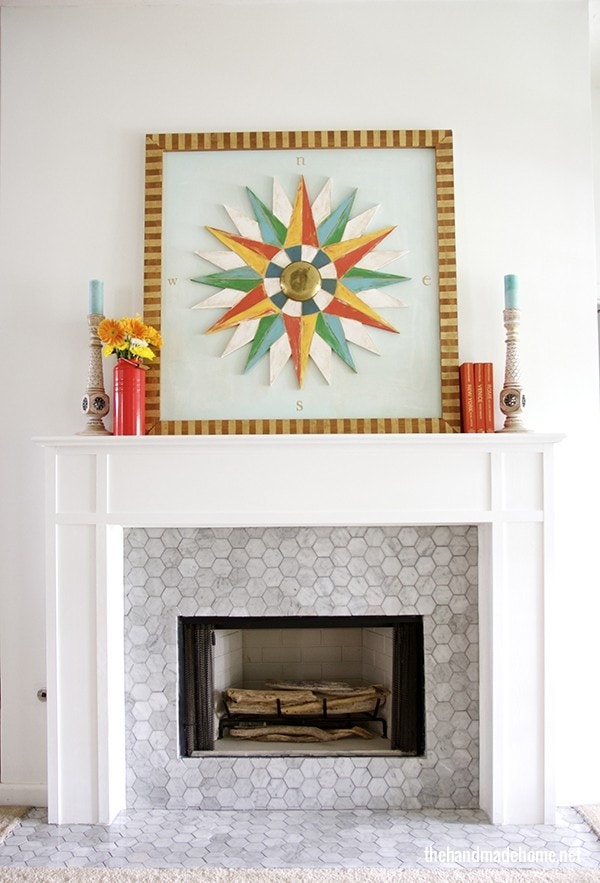 I love everything Ashley & Jamin do, so it's no surprise that I'm obsessed with this makeover. The before isn't terribly offensive – but it also isn't anything special. With just a little bit of work they created a beautiful new mantel and turned the fireplace into a focal point in the room. Also, they used the tile I wanted to use but wasn't brave enough to try (I'm still a tiling rookie!), so I may be a little biased. Please read this post if for no other reason than to enjoy Ashley's hilarious commentary.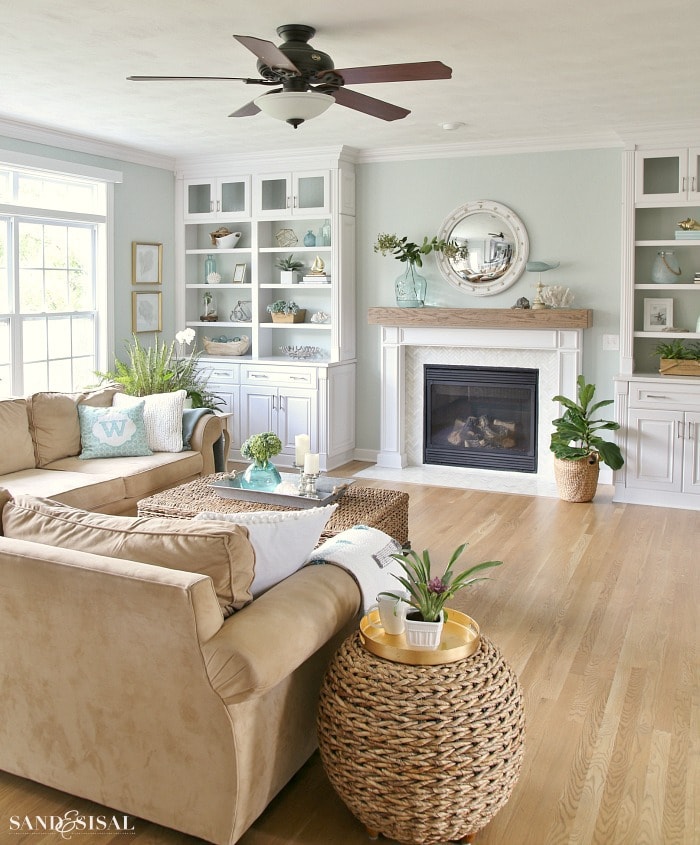 This simple fireplace makeover took a perfectly fine fireplace into a really beautiful one. I love the barn wood mantel, and I love the light and airy look the fireplace has. I'm also always a huge fan of the DIY white wood surround – we tossed around the idea of doing something really similar to this on our own fireplace! I think it's such a classic look and it will never go out of style.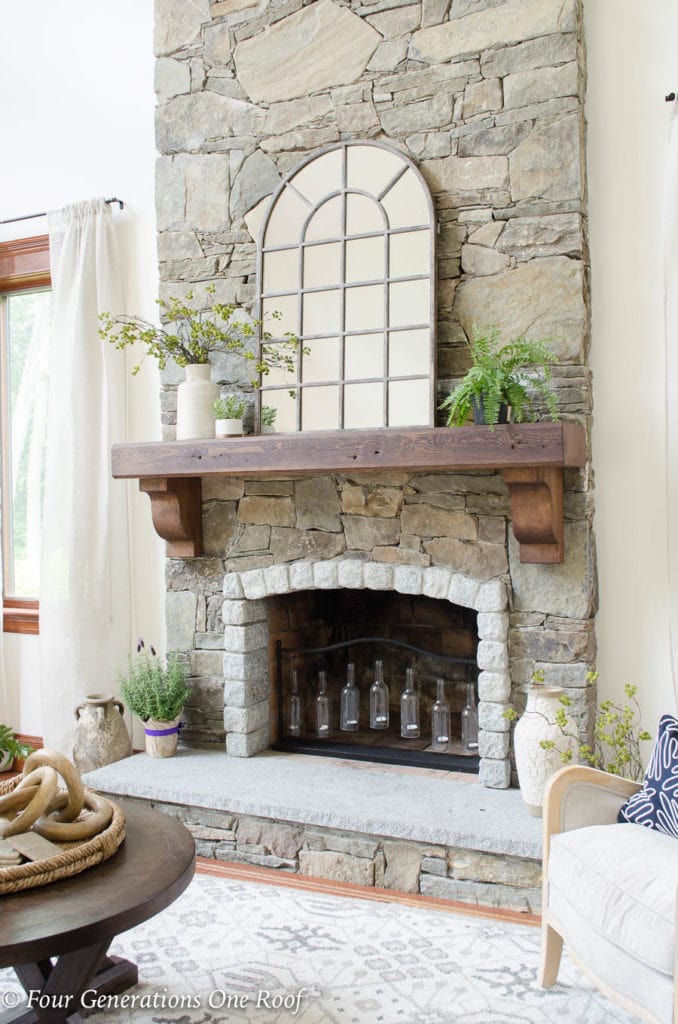 Stone fireplaces, when done right, are one of my very favorite things ever. This one is most definitely done right! For this project, they already had the beautiful stone fireplace but wanted to add a mantel to make it even better – so, this tutorial for how to add a mantel to a stone fireplace is perfect for you if you've got a stone (or even brick) fireplace that you want to spruce up a bit with a DIY mantel. Click here to see my tutorial for how to build your own wood mantel if you don't want to buy one!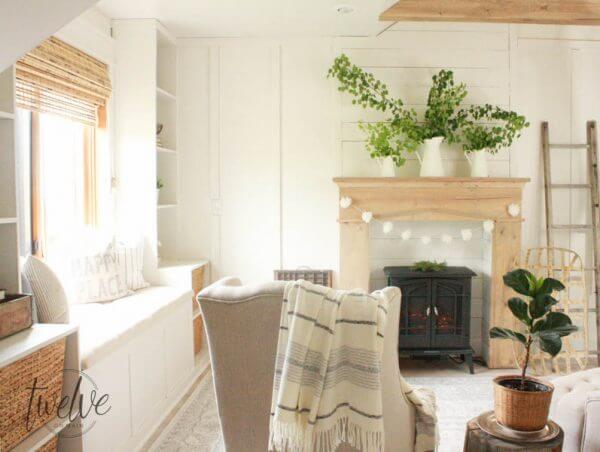 This is a fabulous tutorial for how to create a faux fireplace if you don't have one in your space! I love the charming little electric stove, and I love how much character this adds to the room. This is perfect for anyone with a large master bedroom who wants to add some visual interest – or with space in a dining room for a faux fireplace!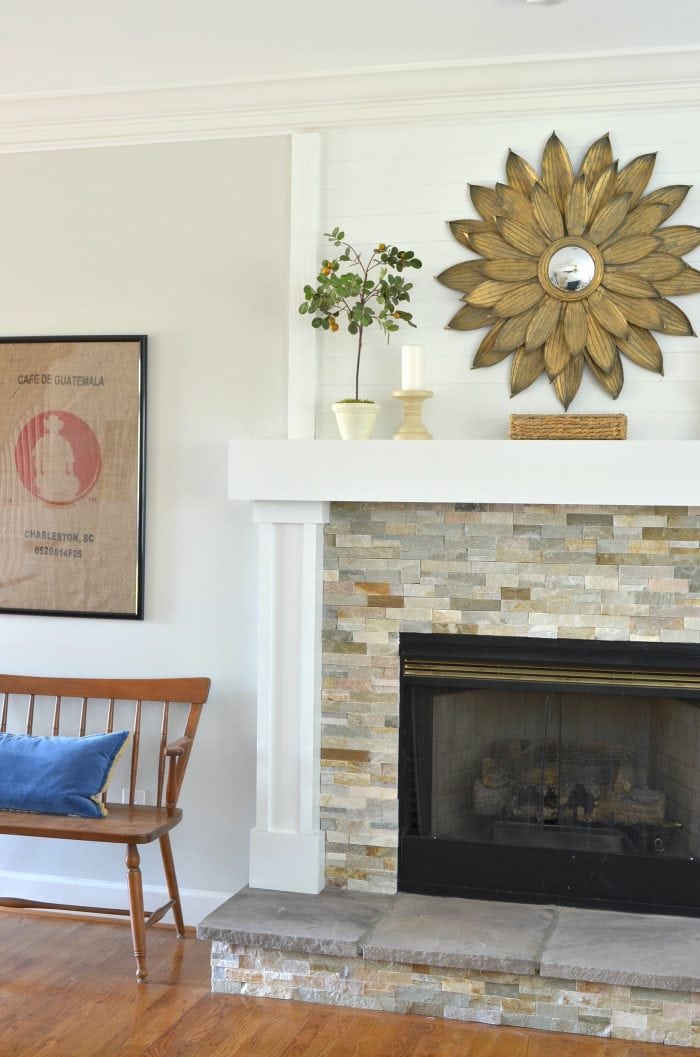 I love that this tutorial includes how to build a raised hearth! I've always really loved the look of raised hearths (they're just so cozy and welcoming) but haven't ever been brave enough to try to make my own. This makes it look so approachable, and I just love the end result.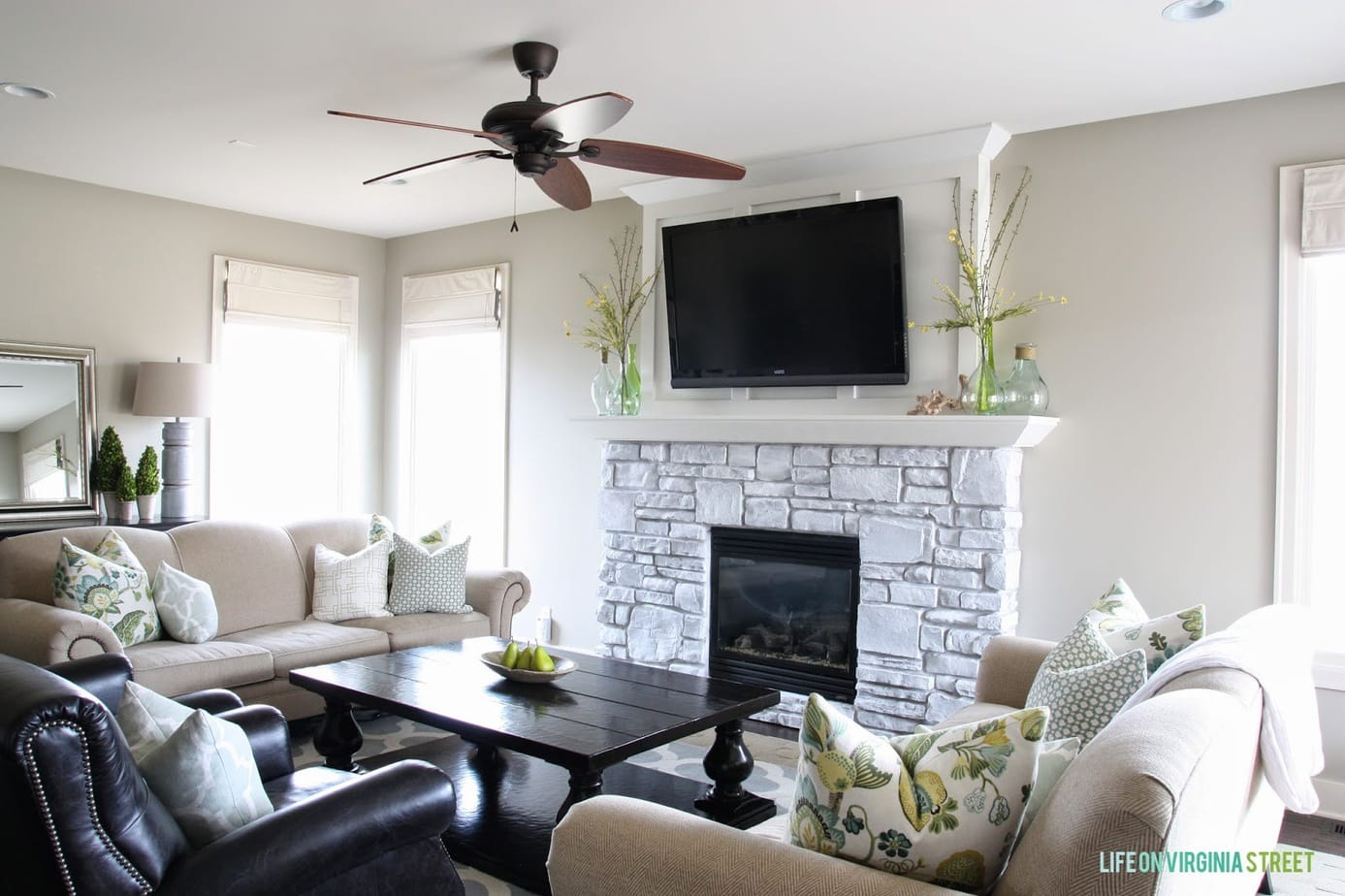 This is another great tutorial for how to white-wash a stone fireplace if you've got one that isn't quite your style. It doesn't really take a lot of time or money to upgrade an outdated fireplace. I love that this makeover is incredibly simple – it only involves paint, but the fireplace looks totally different from the before and the whole room feels brighter and airier.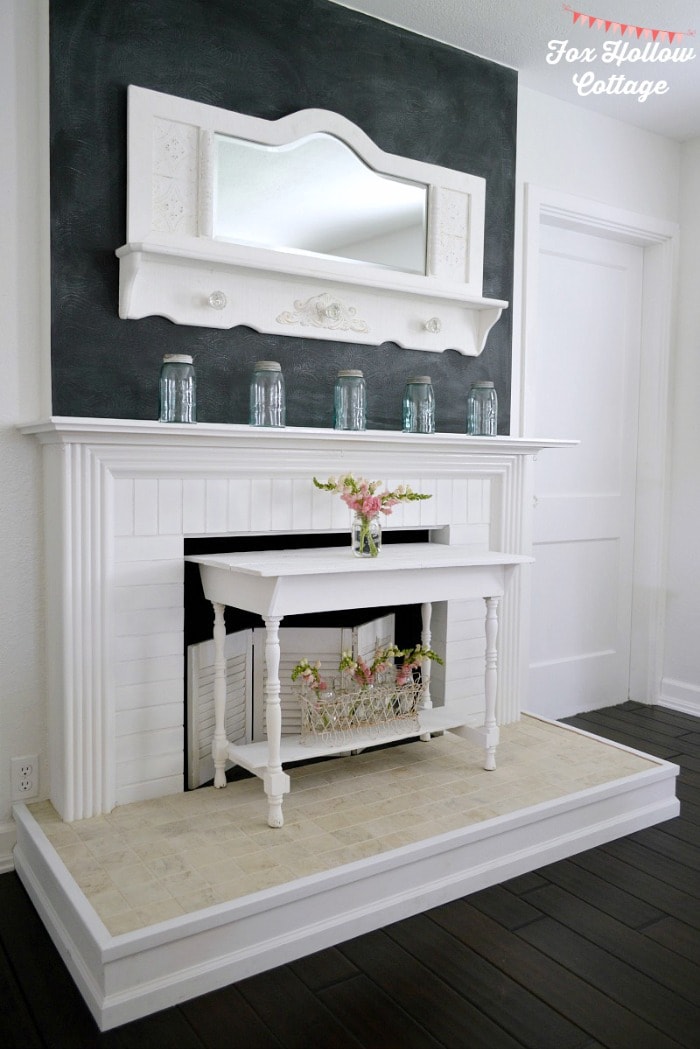 Please, oh please, go look at the "before" of this fireplace – you won't even believe how different it looks now! I think the chalkboard paint above the mantel is such a fun touch, and I love how this whole project turned out. I love that they preserved the silhouette of the original fireplace with the deep raised hearth, and the wood surround is absolutely beautiful.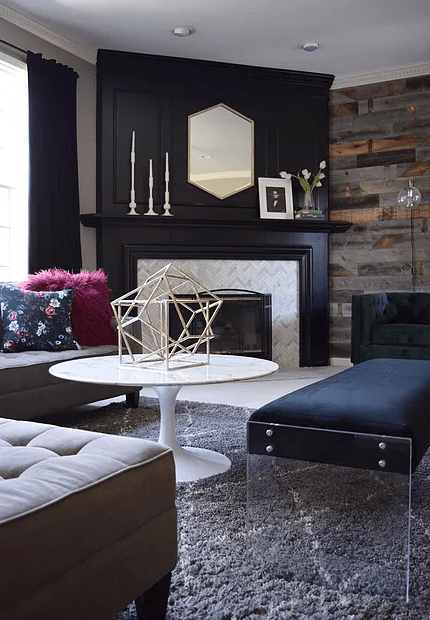 This is such a fun, moody transformation. I'm obviously a fan of dark colors around a fireplace, and I just love the dramatic look Haneen created here. The tile she used on the surround is another tile that Corey and I considered (but again, were too chicken to try because it requires so many precise cuts), and I just adore how it looks with the black trim. Also, that wood wall? Perfection!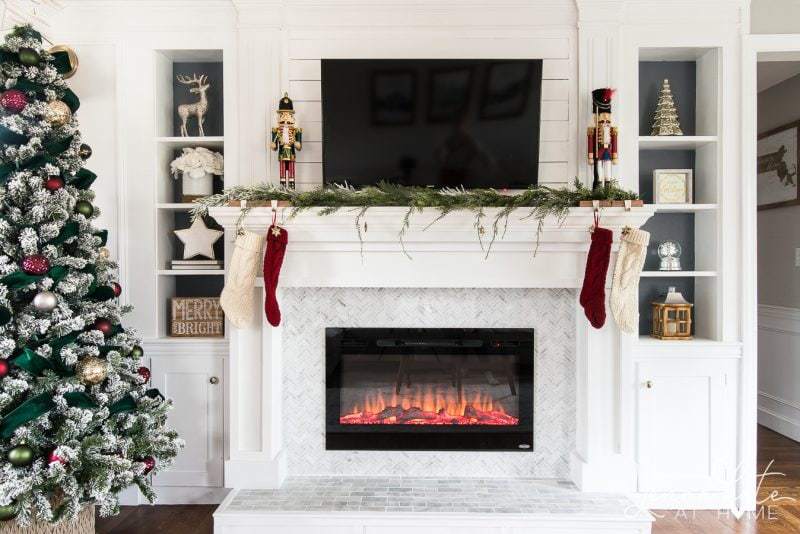 This fireplace started out as a brick fireplace, and my goodness has it ever come a long way! The electric fireplace insert was also added as part of this makeover – I think my favorite part about this entire renovation is that it truly does look like it's always been this way. Also, doesn't it look so gorgeous all dressed up for Christmas?!
Want more fireplace goodness?