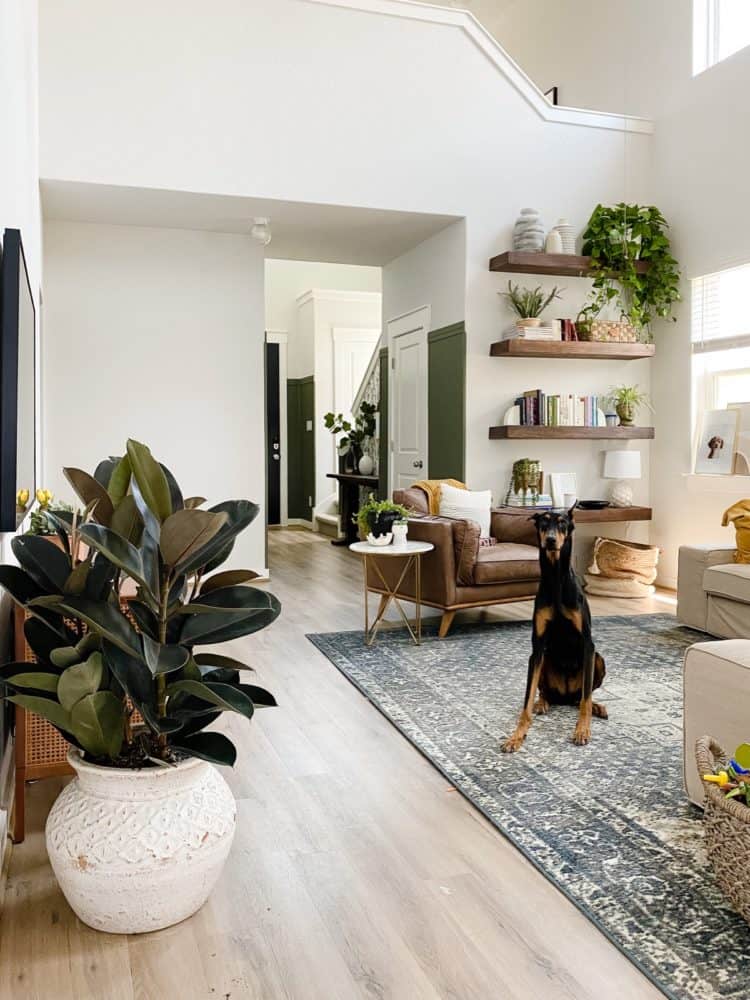 If you don't follow me over on Instagram, you might not know that over the last few months I've been quietly collecting a rather, um, large collection of indoor and outdoor plants.
I feel like in every house I've gone through a burst of plant collecting.
In our first house, it started with the ladder display, and then I added a few inside in a cute vertical display. When we moved to our second house, I brought all of the plants along with me, set them on the back patio, and forgot to bring them inside when it got cold out (we moved in November), so almost all of them died.
In our second house, I added tons of plants outside (both on our back fence and on the side of our house), but they all stayed with the house when we moved since it didn't really make sense to bring them.
And that brings us to now. I've been missing having some plant friends to take care of, so I've gone on a bit of a plant-obsessed spree. I thought it'd be fun to take a little tour and show them all off, so you can meet the whoooooole plant family.
Are you excited? I'm excited. Plants are exciting!
the exterior plants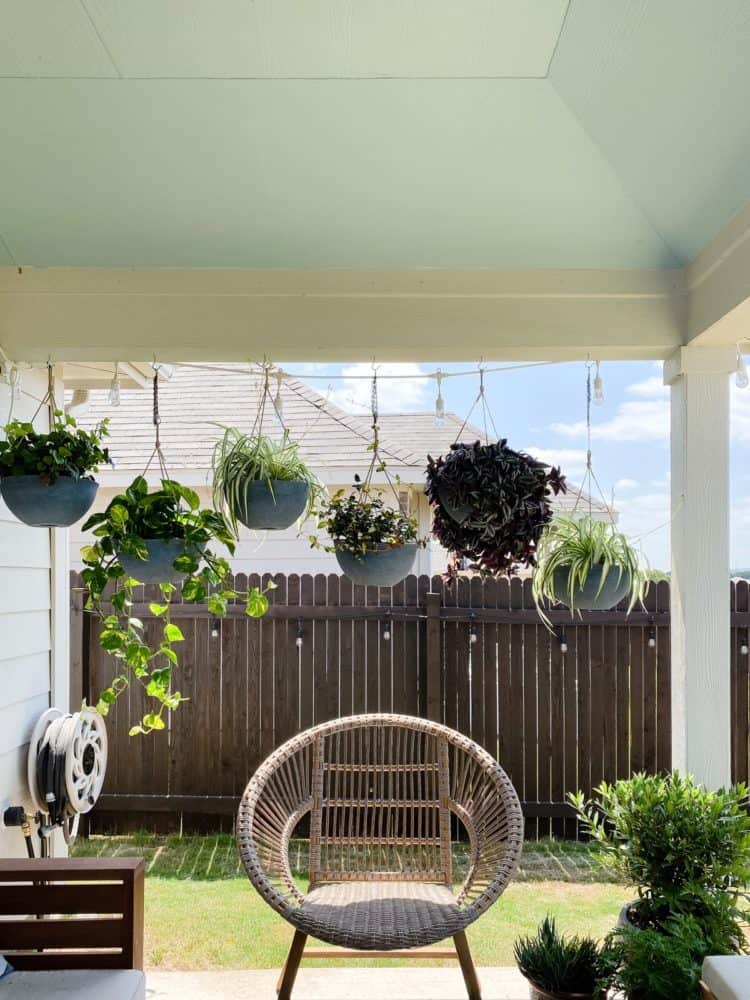 One of my very favorite things we've done in the entire time we've lived here so far is my row of hanging plants on the back patio. They add a little bit of privacy from our neighbors, give the patio so much texture and coziness, and make me smile literally every single day.
From left to right, we have:
English Ivy
Pothos
Spider plant (also called an airplane plant)
Asiatic Jasmine
Wandering Jew
And another Spider Plant.
This was honestly all inspired by a ginormous spider plant my parents have hanging on their front porch. I loved the look of it and knew I had to grab a couple when my mom told me that she had been inspired to get one because my grandmother used to always have them hanging at her house. I got two of them, then decided it would be even cuter if I had a whole row of plants. Soooo I added four more.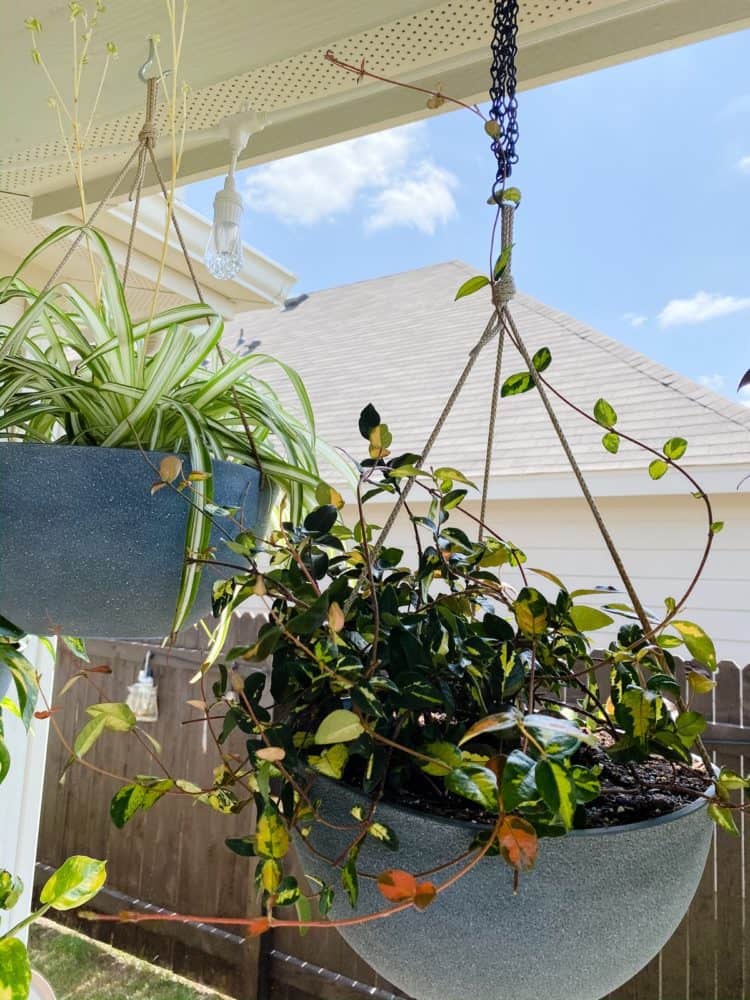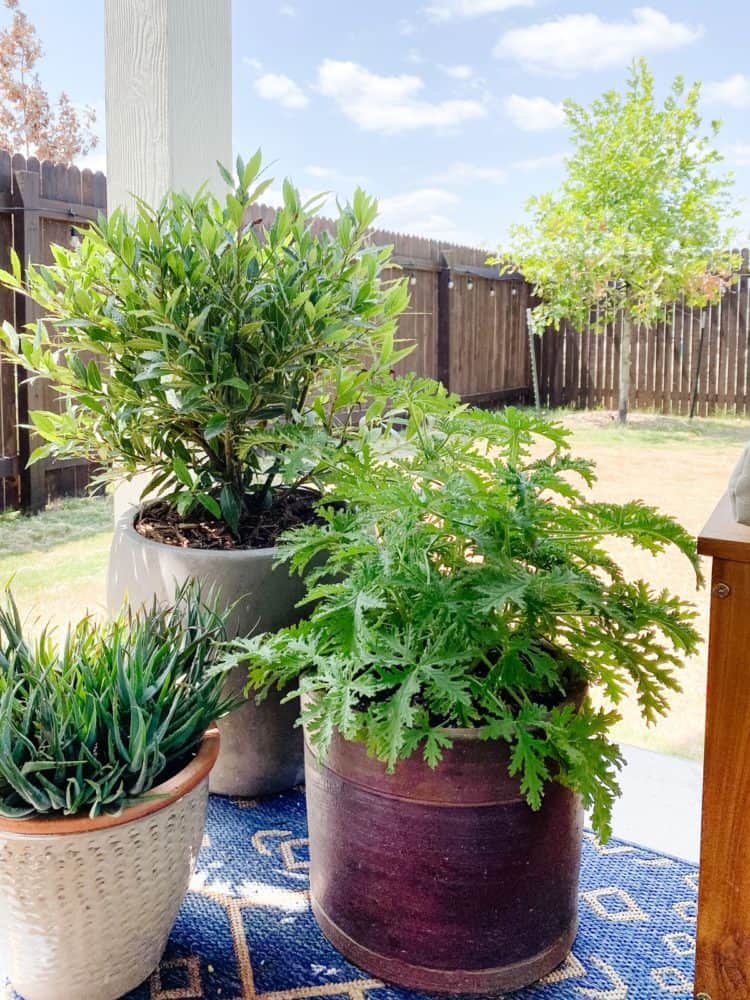 On the ground next to the hanging plants, we have a big bay leaf bush (smells great and is good for cooking!), along with a citronella plant and an Aloe plant. Bailey the Bay Leaf Tree (yes, I name my plants) makes me really happy because I just love a big, bushy plant. This is also what inspired me to add some other herbs to our back patio (which you'll see in a moment) because I love the idea of my plants doing double duty.
We also have a small cactus and an Elephant Bush over on this side of the patio as well. Succulents generally love Texas summer, and the sun sets in our backyard so they get enough afternoon light to keep them really happy.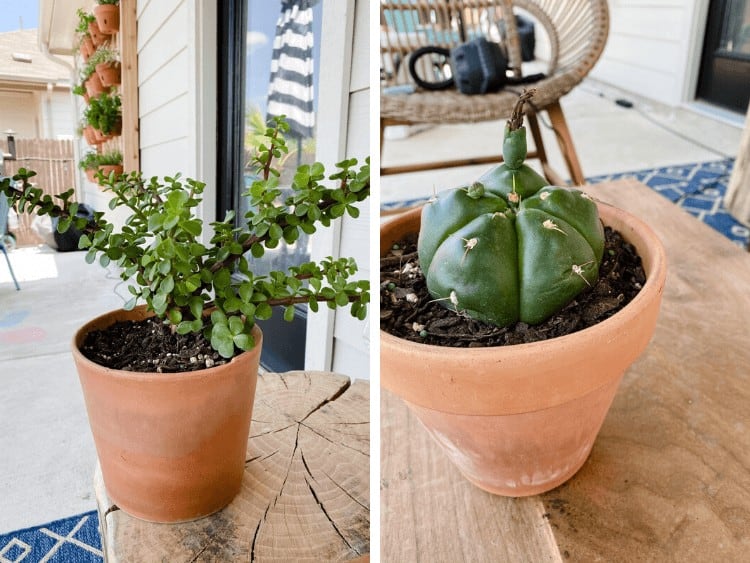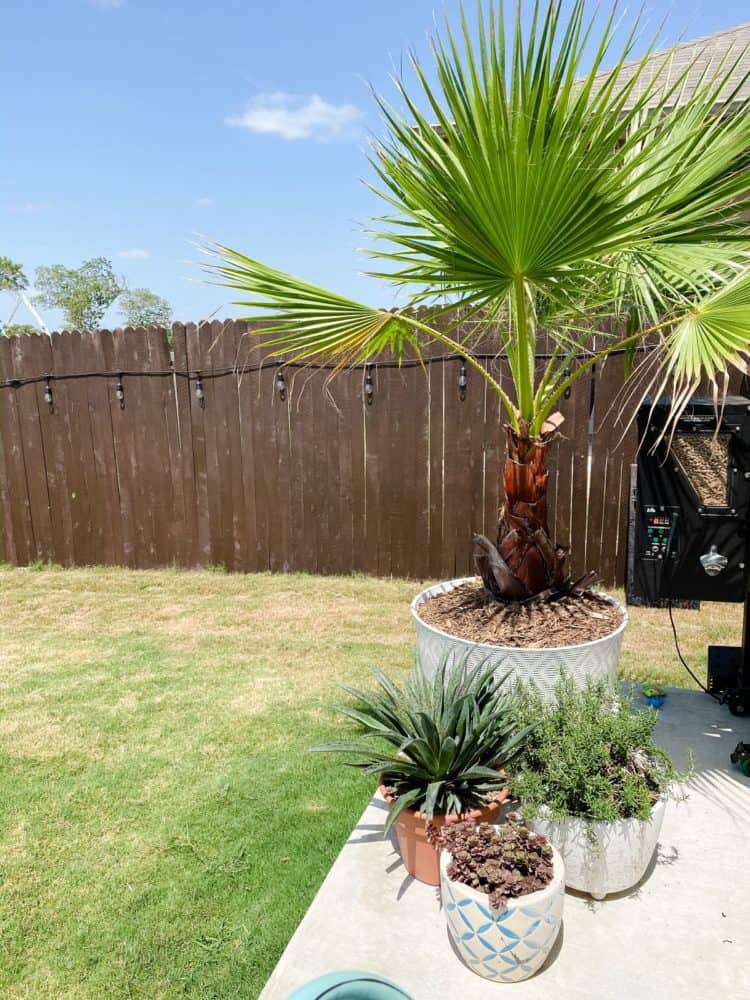 Over on the other side of the patio, we have a huge Mexican Fan Palm Tree. This was Corey's only plant request – he loves tropical plants, and my sister has a few huge fan palms at her house that he's always admired. This guy could eventually grow to be taller than the house if he's in a large enough container, so I'm excited to see how he does!
His name is Olaf, if you're wondering. Because the loves the sun/summer (but has to be watered 2-3 times a day because he can't really handle the heat).
Next to Olaf, we've got a rosemary plant, a Mangave plant (the spiky one), and a cute little Dragon's Blood plant that I had originally bought for my plant wall but moved to a container when I realized I didn't have room.
Speaking of the plant wall…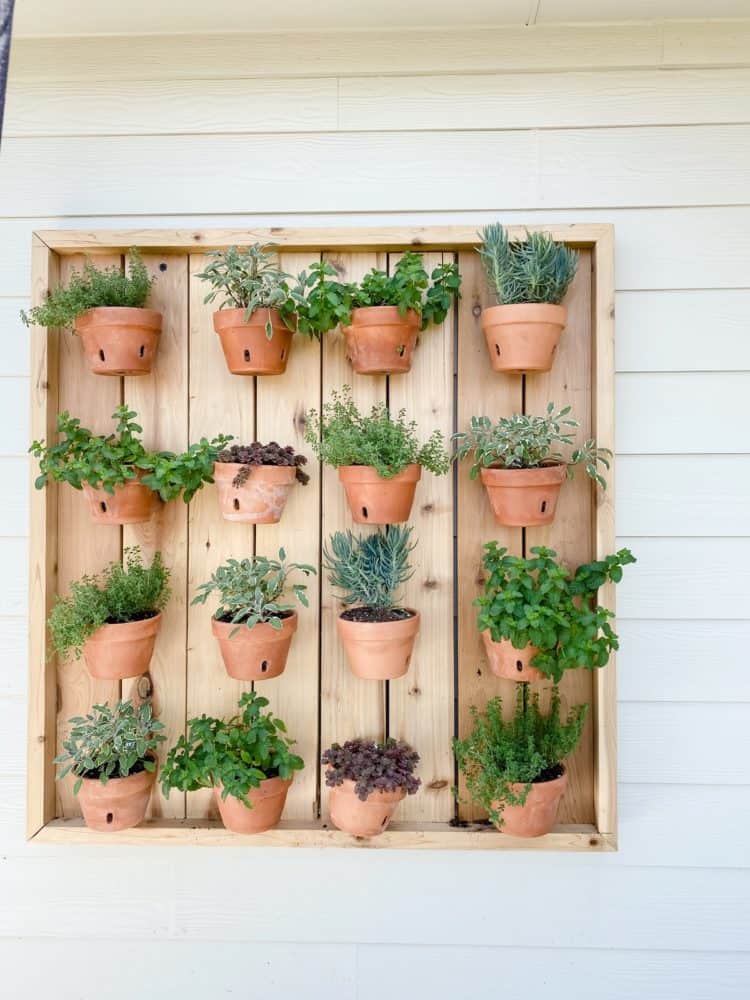 You've seen my little vertical herb garden already, but I didn't spend a ton of time talking about what plants are on it.
We decided to go with multiples of each plant so that if we use them we don't have to worry about any of the herbs looking sparse or sad. On the plant wall, we have:
4 Thyme plants
4 Sage plants
4 Mint plants
2 more Dragon's Blood Plants
and 2 Blue Chalkstick succulents
This has been so fun to have and has added so much life (literally!) to this side of the patio. I've already clipped off a ton of mint for a friend to propogate, and it's so nice to have all these fresh herbs on hand all the time!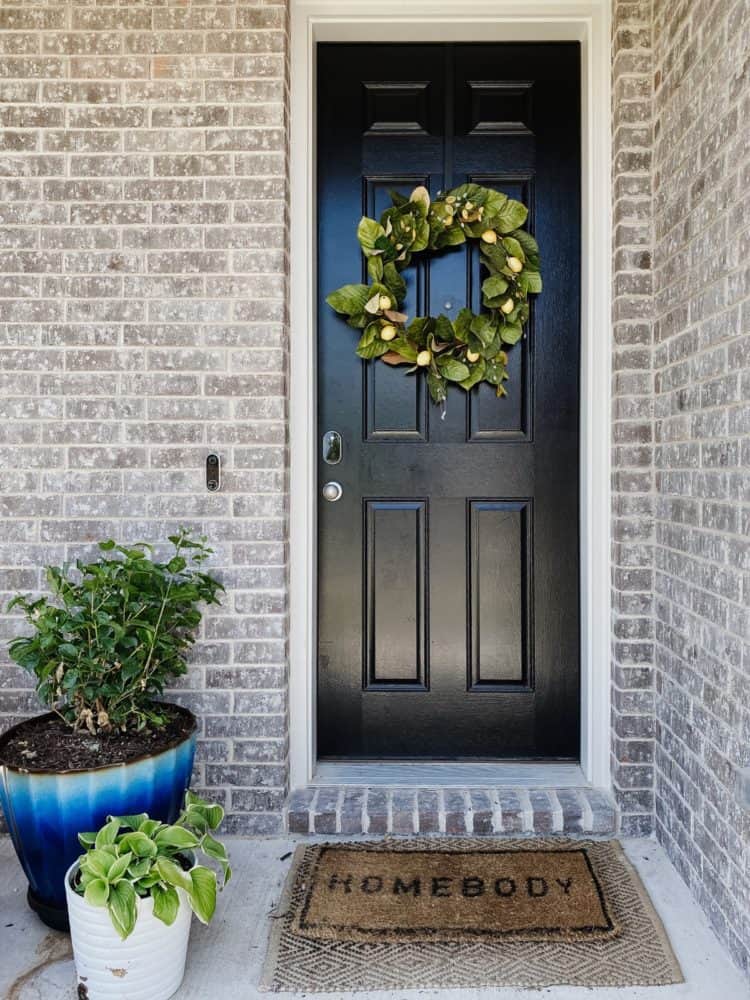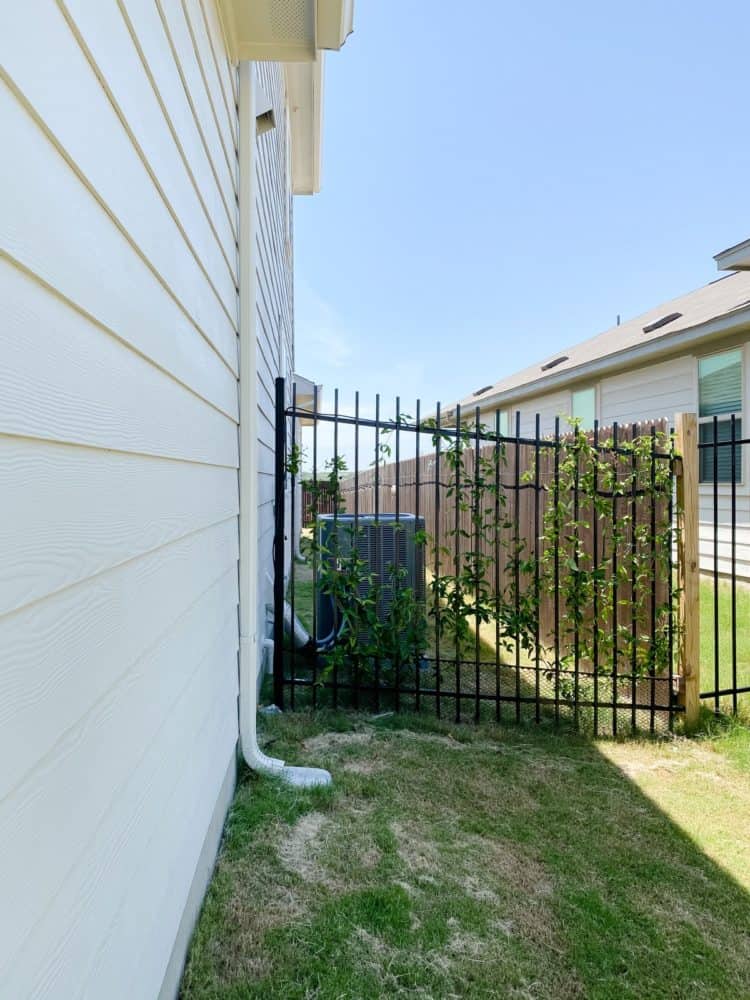 To round out the outdoor plants, we've got a few Tangerine Beauty vines over on the side fence (they've grown so much since I planted them – click here to see what they looked like less than four months ago)
And, on the front porch, I've got an Arabian Jasmine (it produces the prettiest white flowers when it gets enough sun!) and a little Hosta. I had to trim him back a lot because I originally had him in the back where he got way too much sun. He's a lot happier up here, but I've learned Hostas generally do better in the ground, so I may have to replace him at some point.
Now…let's head inside, shall we?
The houseplants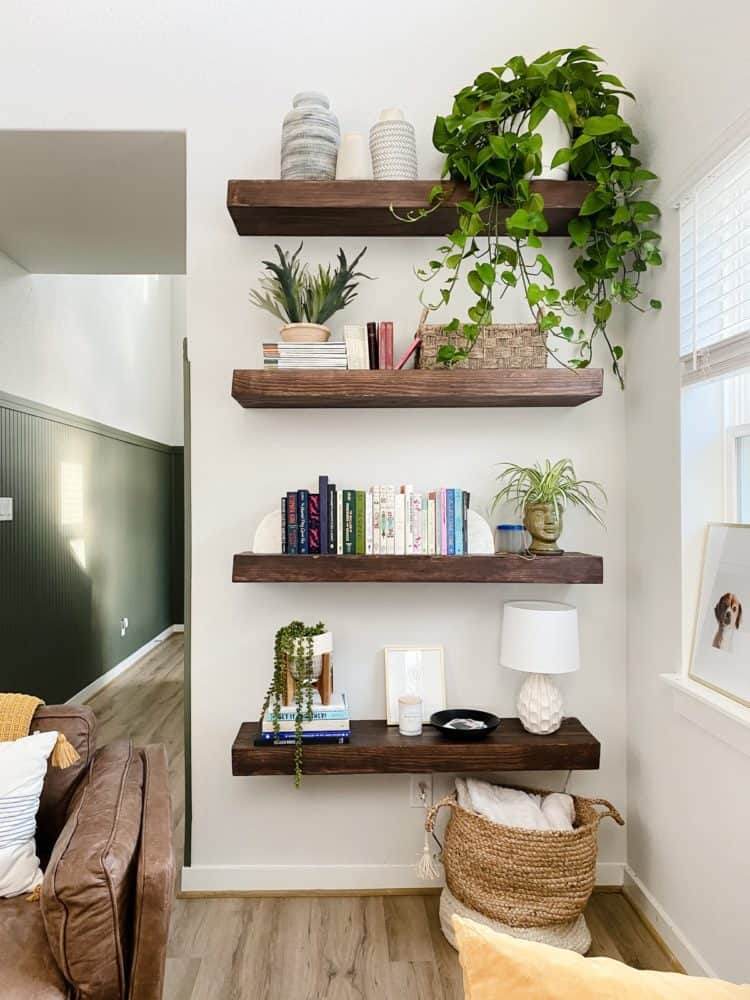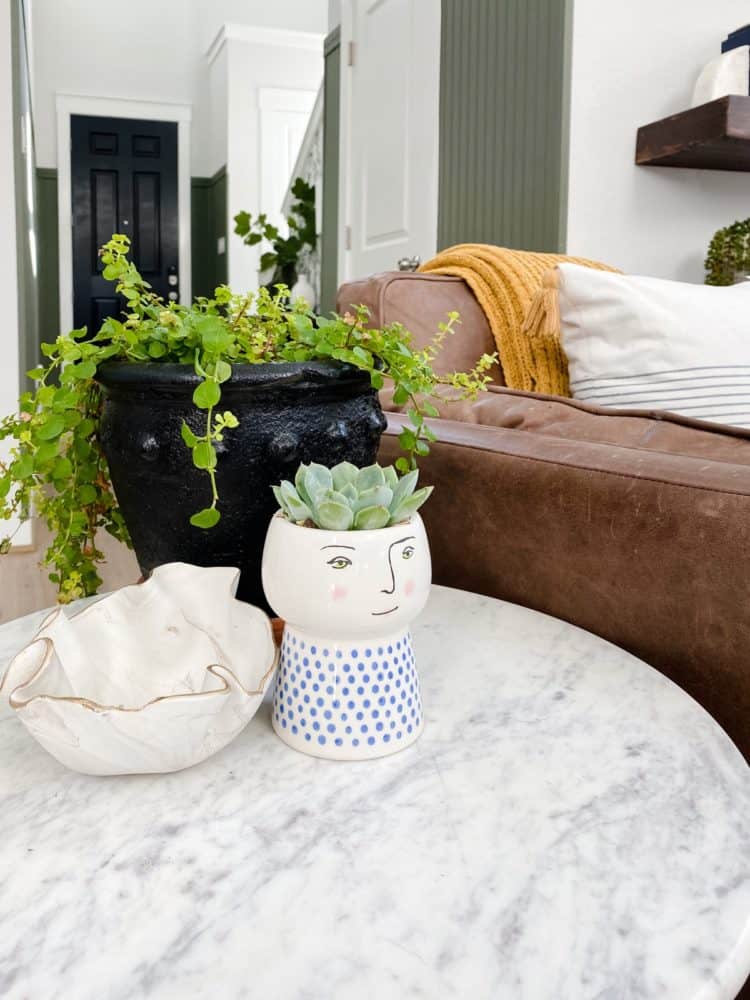 Let's start with the plants on our floating shelves in the living room.
Two of the plants you see here are fake – the staghead fern is from Target a few seasons back (but here's a similar option), and the string of pearls plant is a beautiful faux plant from World Market.
I have another spider plant in my little head planter (which is from our local plant nursery, so I don't have a source), and a huuuuge flowing pothos up on the top shelf. Adding these shelves and the plants with them has really brought so, so much to this space, and I can't emphasize enough how much more we love this room now that we've added all this!
In the living room, we also have a little Creeping Jenny and a small Mexican Snow Ball succulent on the table near my favorite leather chair, along with a big rubber plant next to the television.
The rubber plant is one I've wanted for years and years, and so far it's one of my happiest, easiest houseplants. It has sprouted two new leaves since I brought it home, and is working on a few more. I'm hoping some day it will be as big and luscious as the one that made me realize I needed a rubber plant in my life.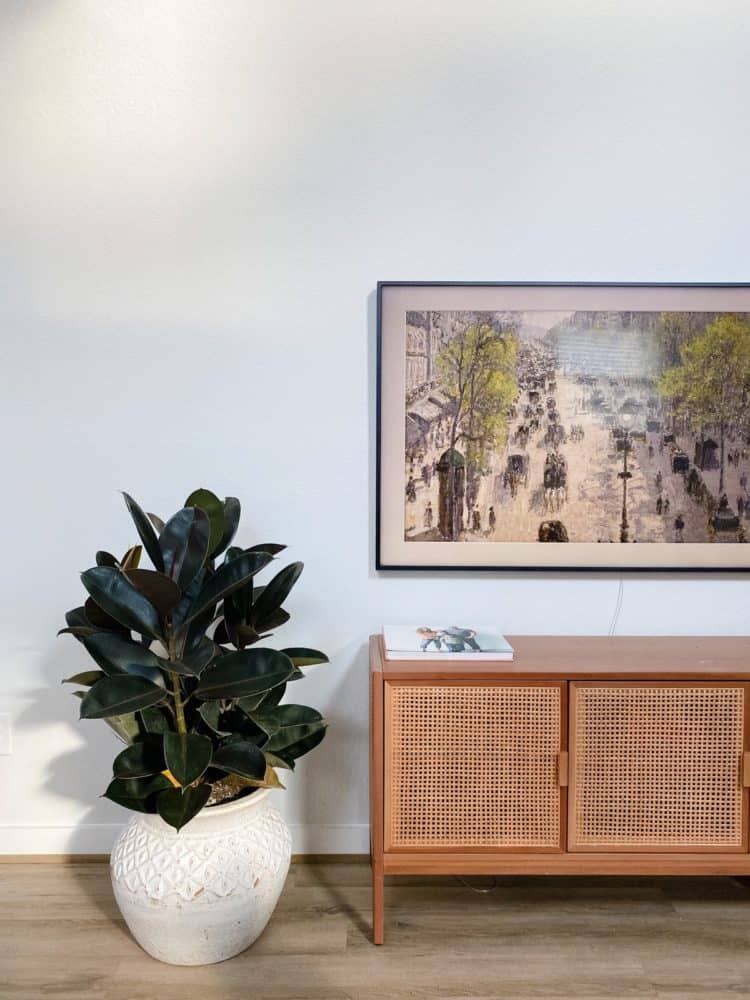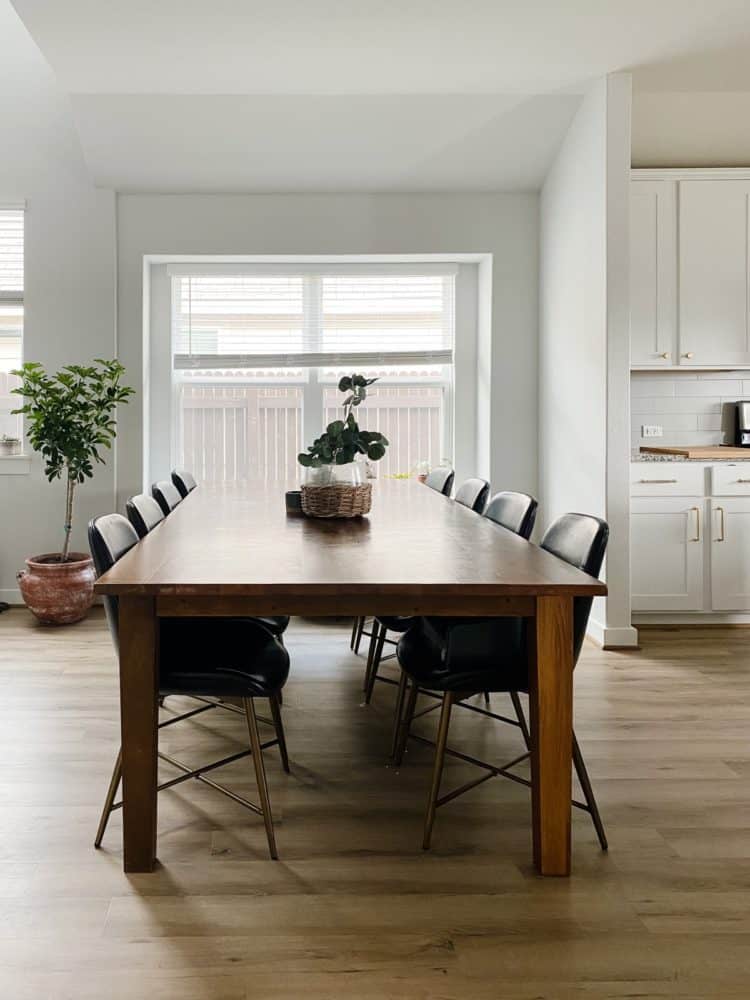 Over in the dining room, I recently added a Dwarf Umbrella Tree – it wasn't on my radar at all, but I was at my favorite nursery picking up something else and my friend and I spotted two of them for just $35 each – we knew we had to have twin trees. So it came home with me. We named them Darcey and Stacey – bonus points if you get the reference.
I've also got a few other random plants sprinkled throughout the kitchen and dining room. They're all on the struggle bus and I'm hoping to nurse them back to life. We've got a Lavender plant, another Creeping Jenny, and an Elephant Ear plant (who is actually doing good, I think he just needed more shade so he can grow a little fuller).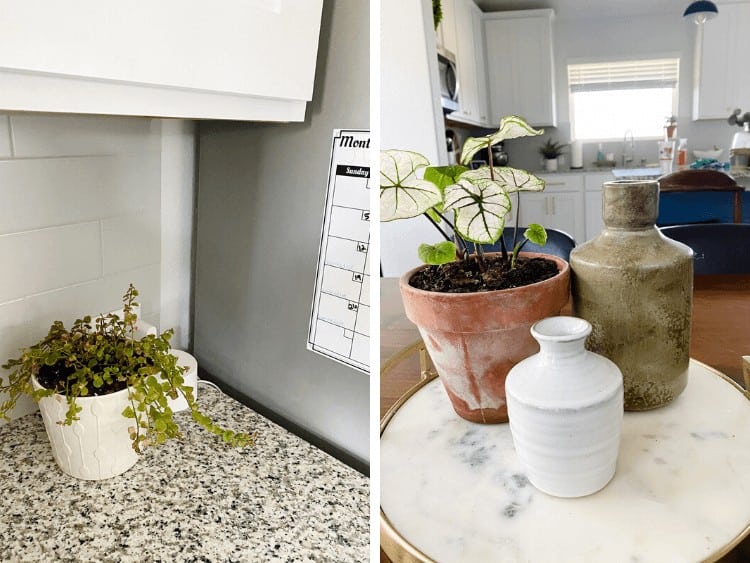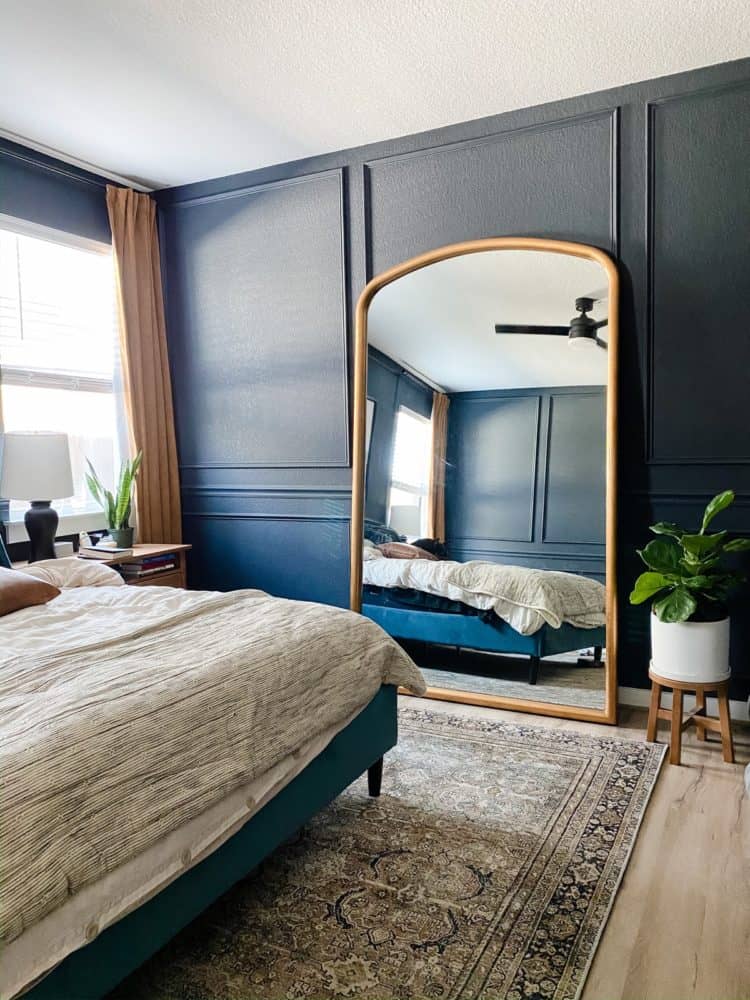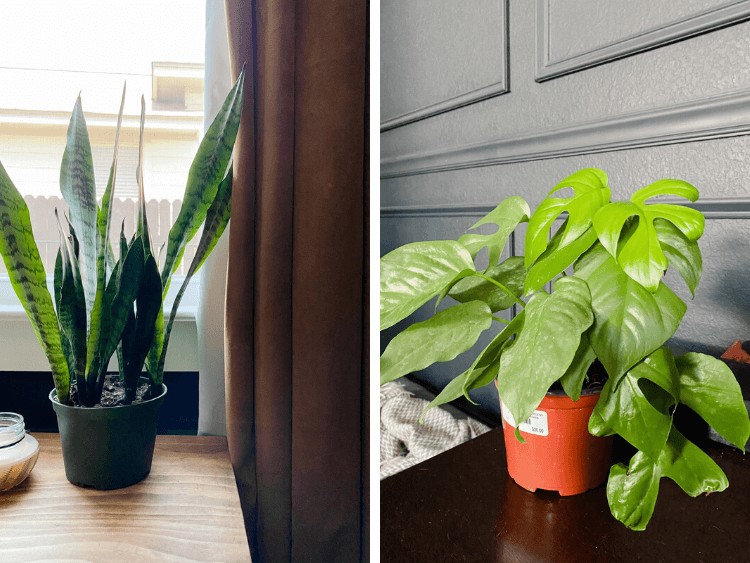 And finally, in our bedroom we have a Fiddle Leaf Fig (because what kind of blogger would I be if I didn't have one???), and I just recently added a Snake Plant and a small Monstera – they don't have planters yet but they're on the way.
It's been really nice to have plants sprinkled all throughout the house (rather than just concentrated in one spot like I've always had them in the past) and I seriously think I might be developing an addiction. I can't stop buying them.
Help?
But not really…because if buying all the plants is wrong, I don't wanna be right.
Psst: Need sources for anything you see? Click here to shop our home!