DIY Gardening + Planter Ideas
I'm on a mission this spring and summer.
I'm going to turn into a crazy plant lady.
It's happening. I will turn this black thumb green, and I will learn how to keep plants alive for more than two weeks at a time.
I can do this.
(Right?)
I've been working on gathering some inspiration to get me started on some outdoor planter and gardening ideas, and you know I love sharing my inspiration with you so today we're going to look at 10 of my favorite ideas.
Are you excited?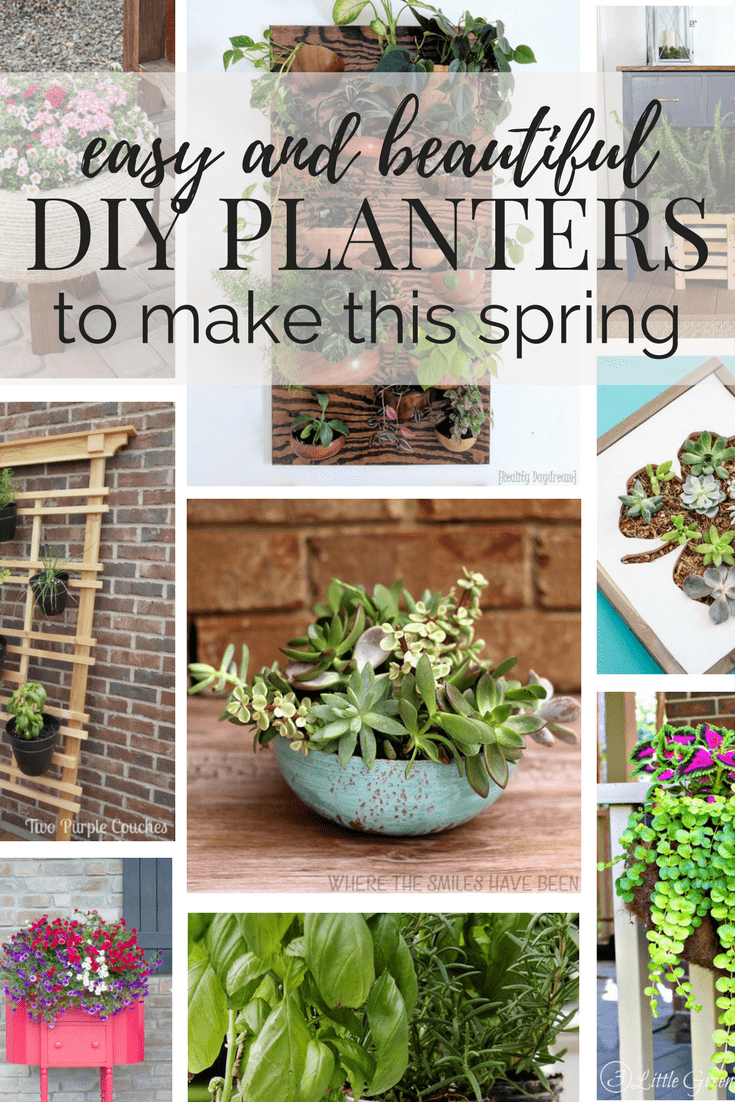 I don't know what it is about this time of year, but I absolutely cannot stop gathering ideas for planters, gardening, and other outdoor projects. I'm so pumped about getting our backyard done, and I want to make it a little oasis for our family. I keep finding so much amazing inspiration, and I can't narrow down what I actually want to do.
Because, let's be honest, I think we all know I can't handle more than 2 or 3 different outdoor plants right now. I'm already doing well to keep my houseplants alive (side note: they're still alive!), and getting any more than about 3 plants outdoors would just be plant murder.
And murder is wrong, y'all.
So, let's talk about this. Can you help me narrow down what I should do? Or, if you have an even better idea, link to it in the comments! Because, goodness knows I could always use more inspiration.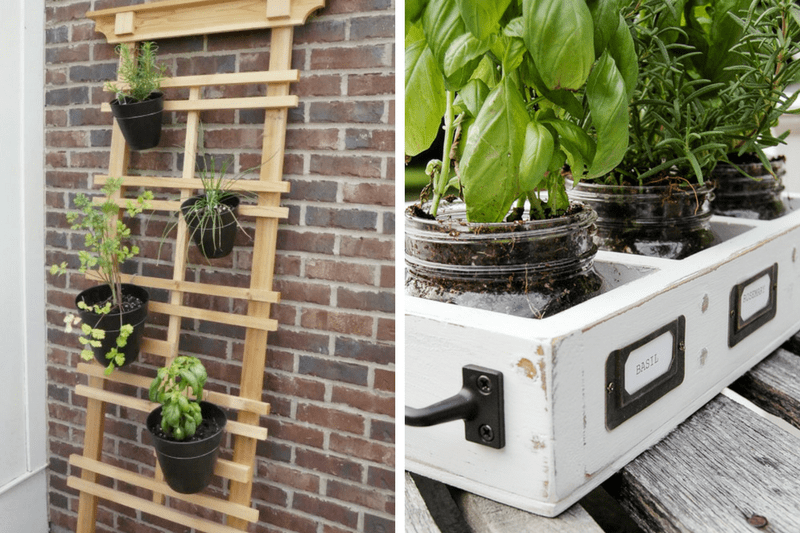 Two Purple Couches // Little House of Four
I'm such a sucker for these leaning vertical gardens – they're so gorgeous, and it's such a great way to squeeze a lot of plants into a small space! I desperately wish my front porch was large enough to do this because it's such a pretty look. I'm also loving that little container herb garden! I'm really hoping to start growing some herbs this summer, and I love how convenient this one is. Plus, wouldn't it make a gorgeous centerpiece for an outdoor table?!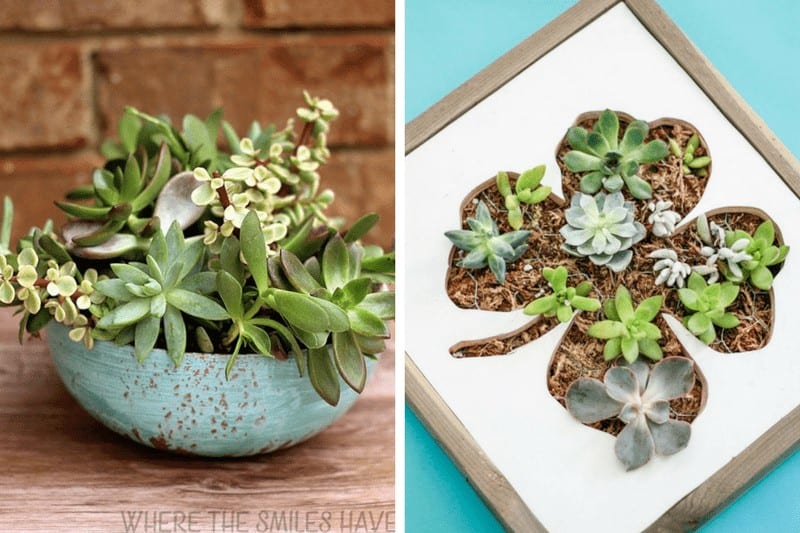 Where the Smiles Have Been // Amber Oliver
Would you believe that that gorgeous patinaed planter is actually a green plastic bowl from Target?! This is SUCH a cool DIY, and it seems like it's really simple. I would love to make this to give away to a friend, or just to have in about a zillion different places in my house. I'm definitely going to be trying this painting technique! Also, that shamrock planter? How fun is that?! I love that you could apply that same idea to basically any shape and create such a fun little succulent garden! I also adore how the succulents pop against that white frame. What a cool idea!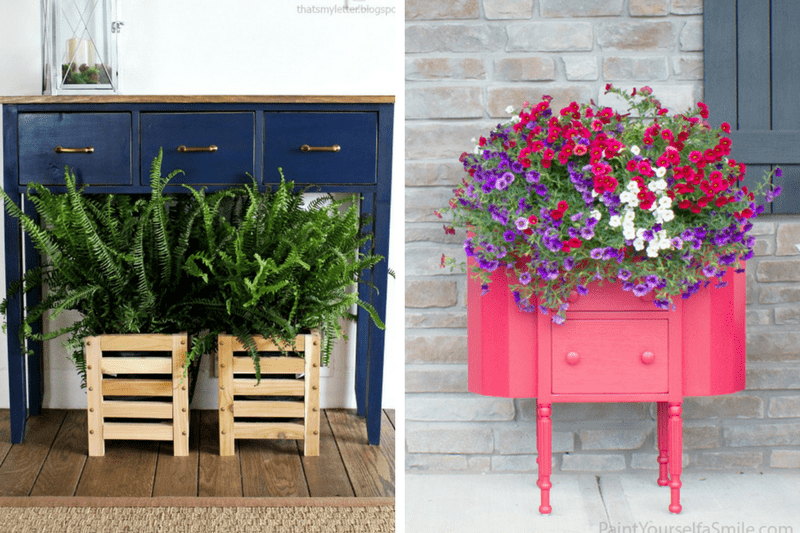 That's My Letter // Paint Yourself a Smile
I love the simplicity of these wooden planters, and the gorgeous detail of the little gold screws. These would work fabulously inside or outside, but I actually really love that Jamie put them inside because it's an unexpected choice and I can't even handle how pretty they look next to that navy table. And, um, that red planter used to be a sewing cabinet…what a great idea! I love that you can upcycle basically anything into a planter, and this totally gets my brain churning – what else could I turn into a pretty planter?!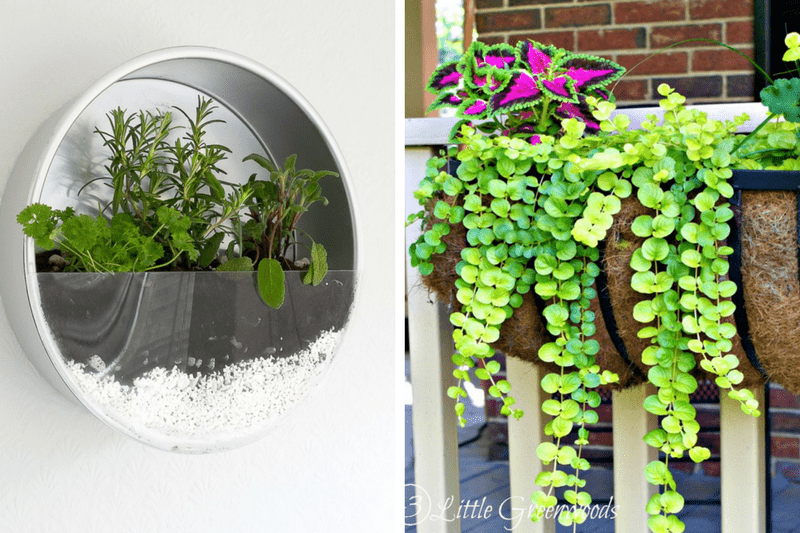 Grillo Designs // 3 Little Greenwoods
You guys! That little hanging herb garden is made out of an old cake pan! How GENIUS is that?! I can picture a little grouping of these in a kitchen or something and I'm totally swooning at the idea. It would look amazing, and I never would have guessed it was homemade! And, I really love the tips on that post from 3 Little Greenwoods – it's all about the best methods for planting in hanging baskets, and I SO need the tips because I've tried and failed at those things entirely too many times. How gorgeous are those flowers on her front porch?!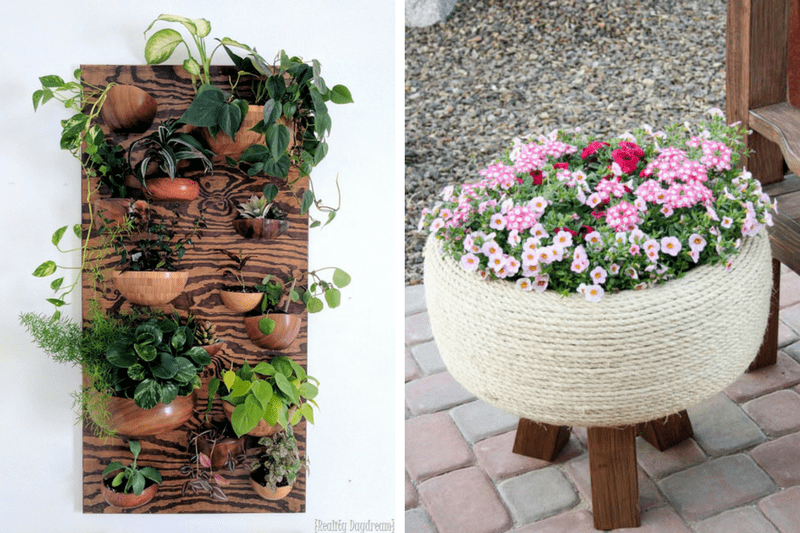 Reality Daydream // Addicted 2 DIY
I think I literally let out a sigh of happiness when I saw that wooden vertical planter. It's made from wooden bowls cut in half…and I think it's one of the smartest DIY planter ideas I've ever seen. It's so gorgeous, unique, and looks so high-end! And the way those plans are all hanging down? SO PRETTY! Where can I put this? I want one in every room. Oh, and that cute little rope-wrapped planter? It's A TIRE, Y'ALL. A freaking tire. It looks so amazing, and I love the little legs on it. I am definitely considering making one of these for our back patio – our dogs are less likely to mess with planters when they're a little elevated, and I love the way the texture of the rope looks with the flowers. Stunning!
Okay, are you ready to turn into a crazy plant lady with me?
Let's do this.
What project should I do first?!
If you want to see more DIY outdoor ideas, here's some more inspiration for you!