17 DIY Gardening + Planter Ideas
Spring has officially arrived and I don't know about you, but for me that means it's time to think about plants. Constantly. Non-stop. Without end. If I'm not thinking about new ones to add to my collection, I'm thinking about new ways to display them. I have an endless amount of planter ideas for my home and my backyard.
It's a problem, really. But if being obsessed with plants is wrong, I don't wanna be right.
Over the years, I've shared lots of fun DIY gardening and planter ideas, so I thought today we'd round up some posts from the archives to review. Also, I'm sharing a few thoughts about what I'd like to do next…because there can never be enough!
7 DIY Gardening and Planter Ideas From the Archives
Let's kick things off with 7 simple DIY outdoor planter and plant display ideas that I've shared here on the blog!
1. Upcycled Wooden Ladder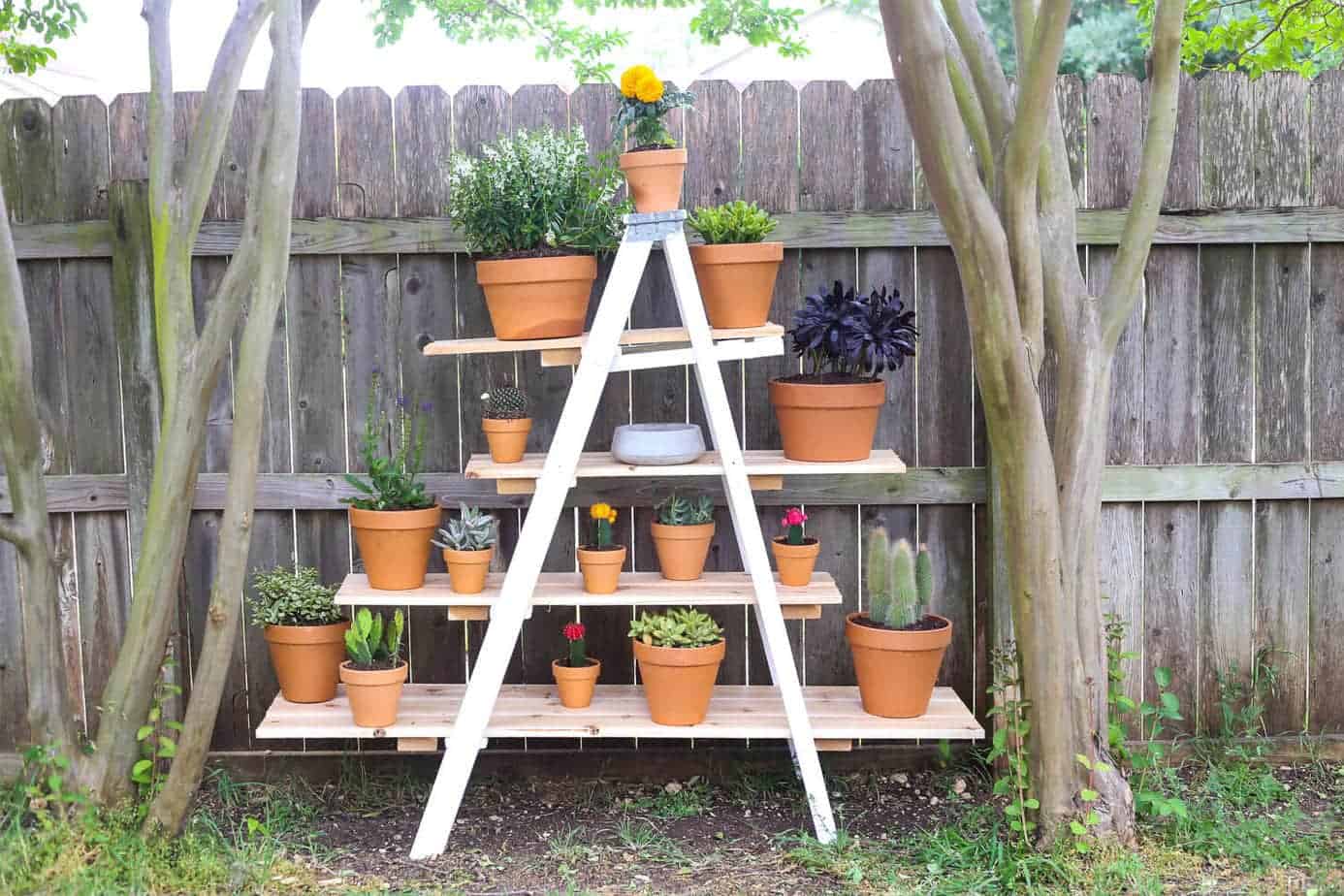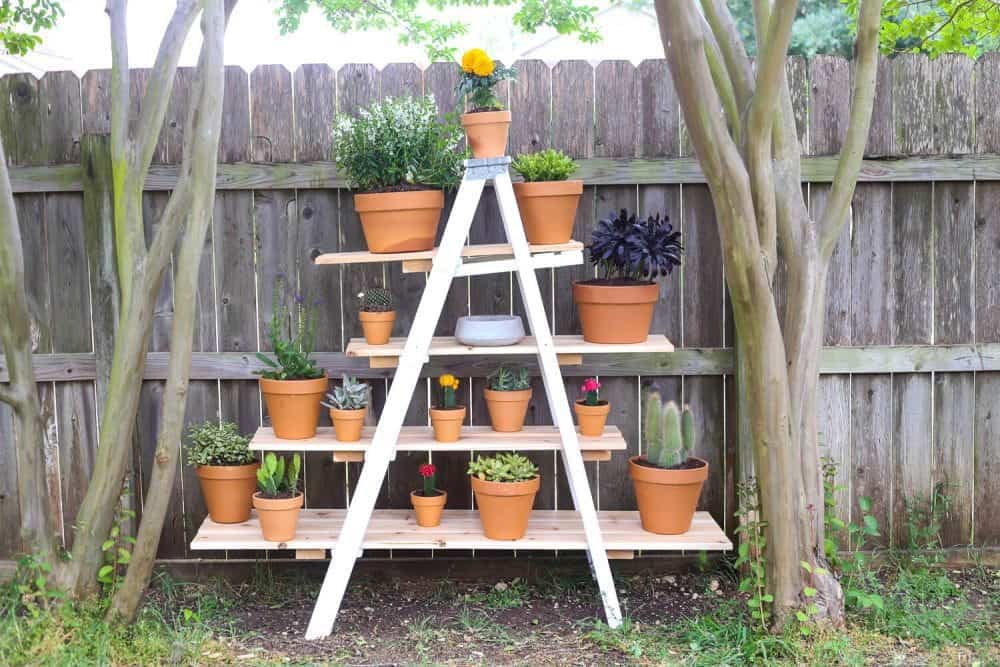 Honestly, if there was any planter idea that I wish I still had hanging around, it's this one! I found this old wooden ladder at a local flea market and bought it on a whim. It sat around in my garage for a while before I decided to turn it into a plant stand. This was the verrrrrry beginning of my plant obsession, and I still wasn't great at keeping most of them alive. But man, it made for a beautiful plant display!
Old wooden ladders are really easy to find in thrift stores or on Facebook marketplace, and this is such a simple and quick project. Maybe I'll have to hunt one down so I can re-create it! This is a really awesome solution for a container garden display – it would be perfect for herbs!
2. Outdoor Plant Wall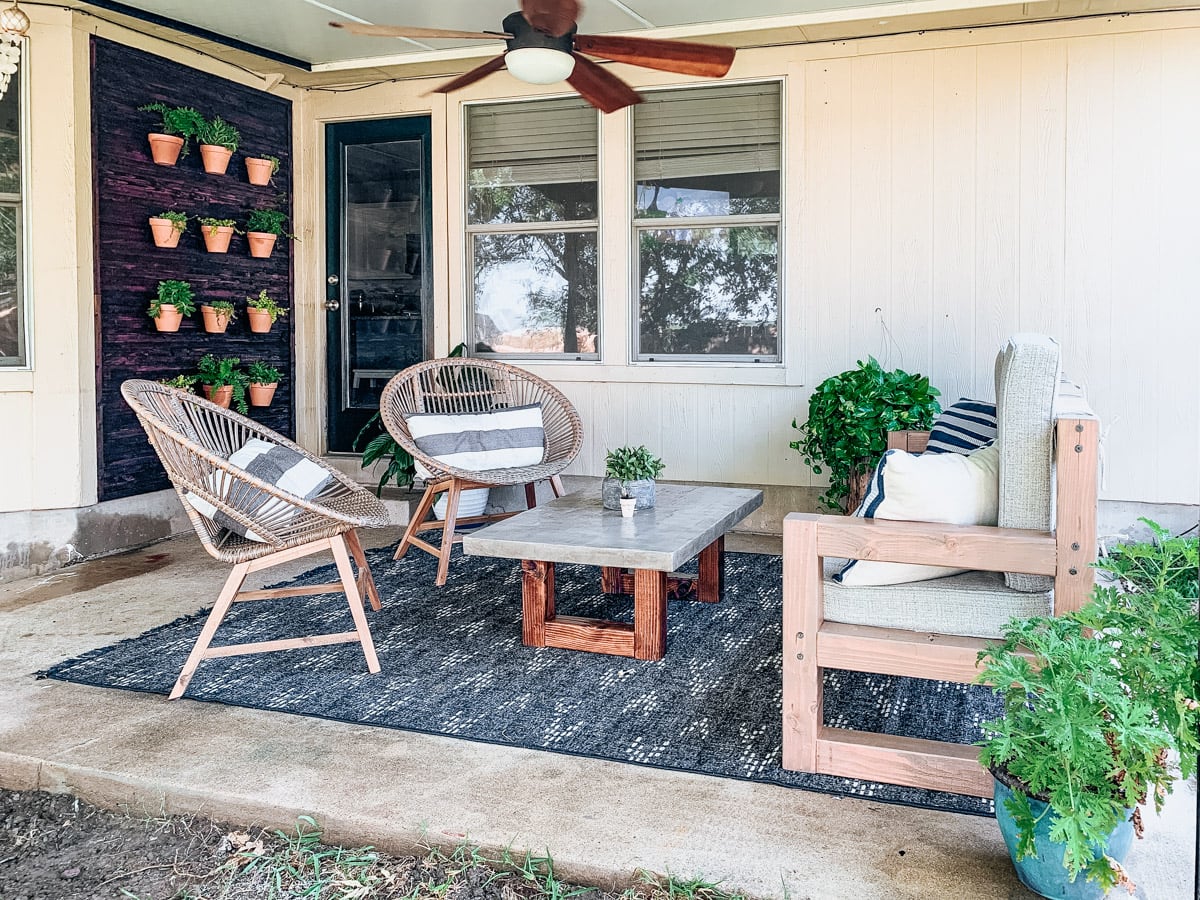 I installed this plant accent wall on the patio of our last house and it's one of the things I miss the most about that house! It was a really simple display of terracotta planters full of plants that love the shade. This was right next to our back door, but it would also be a really beautiful project right next to the front door, if you've got the wall for it! Wouldn't it be great if this was the first thing your guests saw?!
Something like this is such a great way to add some greenery to an empty wall, and it brought me so much joy. If you aren't sure you want to do something like this as a permanent display, I also made a smaller, more temporary version at this house. You can see it here!
3. Tomato Cage Plant Stands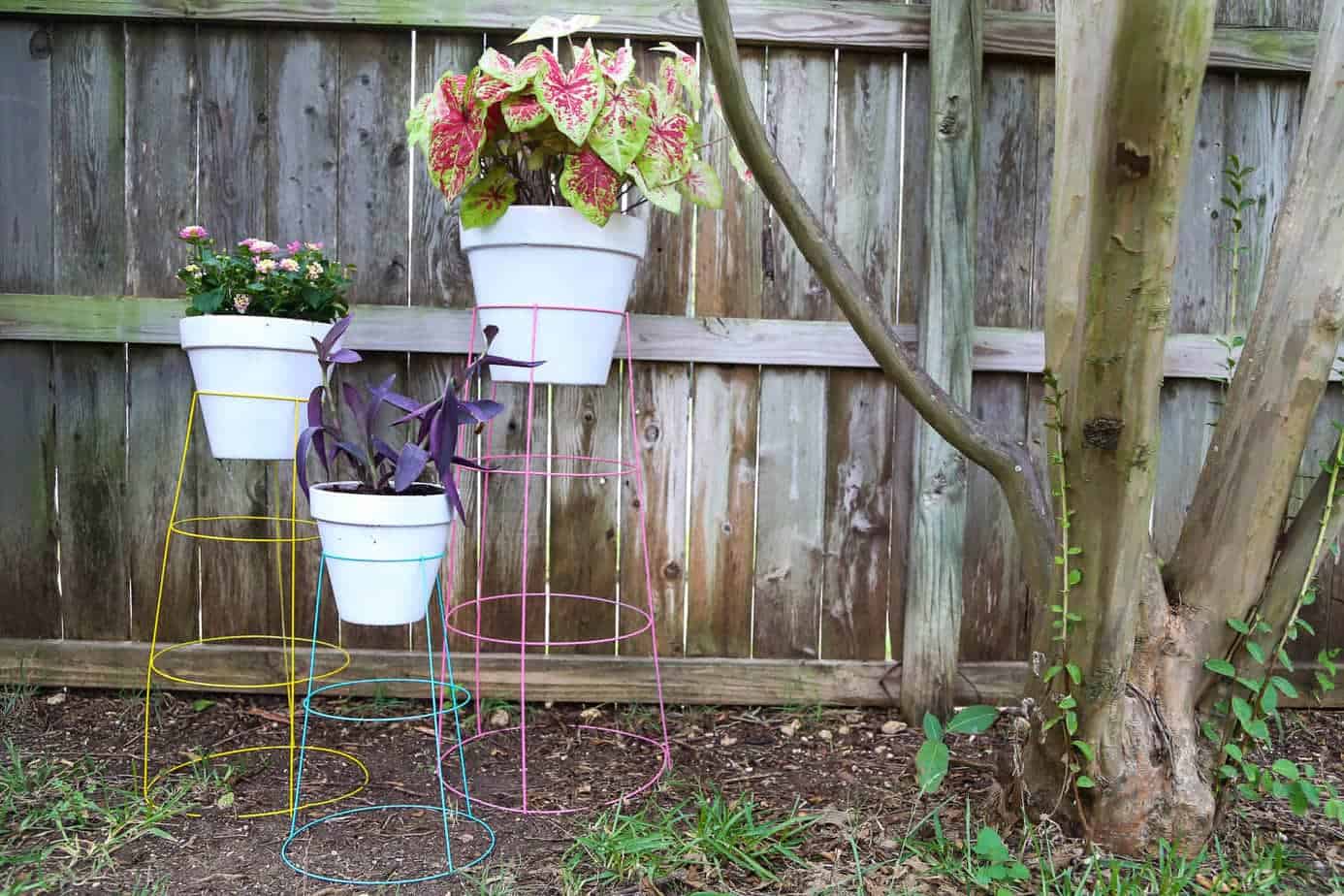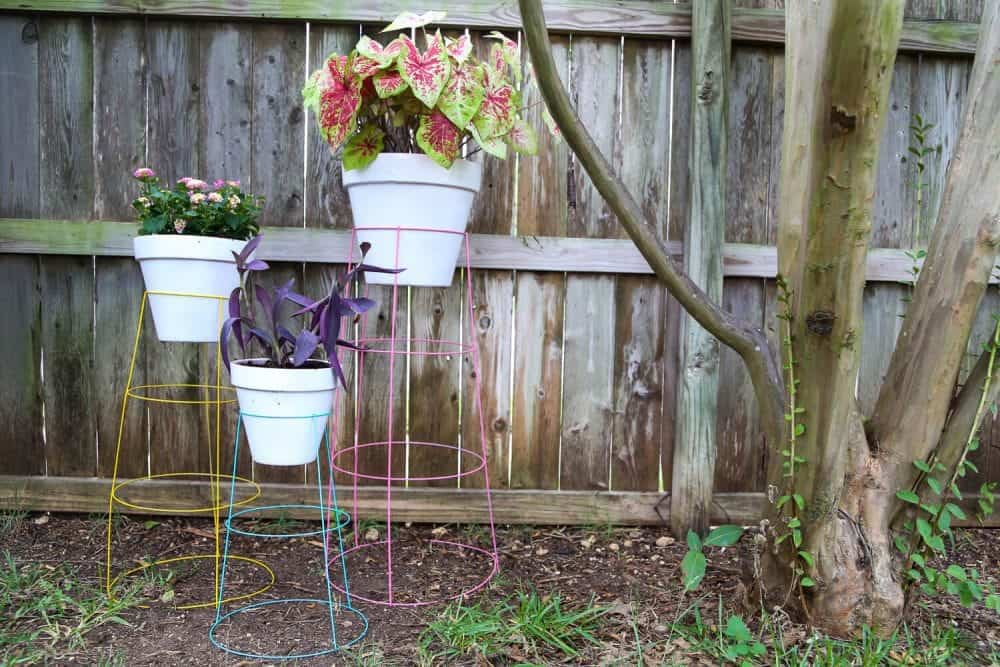 The simplest plant display idea ever. Grab some tomato cages, use spray paint to paint them in your favorite colors, and turn 'em upside down. Plop a planter in there and you have a really unique display! This is a fun solution for some colorful foliage – I loved using flower planters with some really colorful blooms in mine when I had these in our backyard!
One of my favorite plants to use for this kind of display was sweet potato vines, because I loved the way they draped. It's also a great spot for a pretty fern, coleus, or any colorful flowers!
4. Cedar Bench With Built-In Planters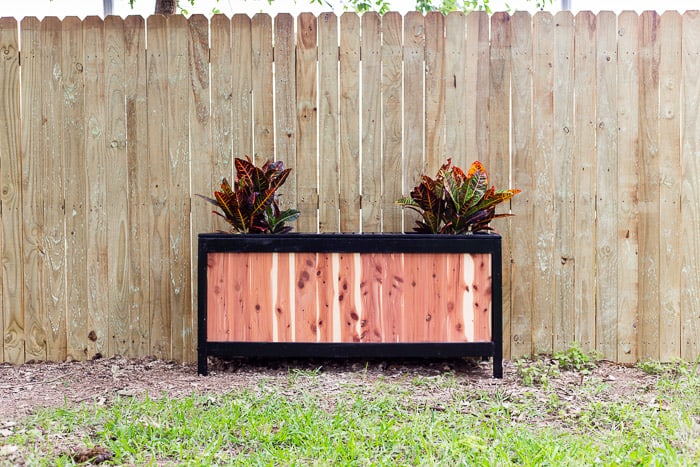 Oh hey, another project I'm so annoyed with myself for not keeping! This was one of the first big pieces I built all by myself, and I was so proud of it! We didn't bring it when we moved because we weren't sure that we'd use it in our backyard, but I'm really regretting that when I look back on these pictures!
I loved this simple DIY bench, and the built-in spot for plants was such a fun touch. I had mine set up so that I just placed some planters inside it, but you could create actual wooden planters on each side if you want to plant directly inside of it.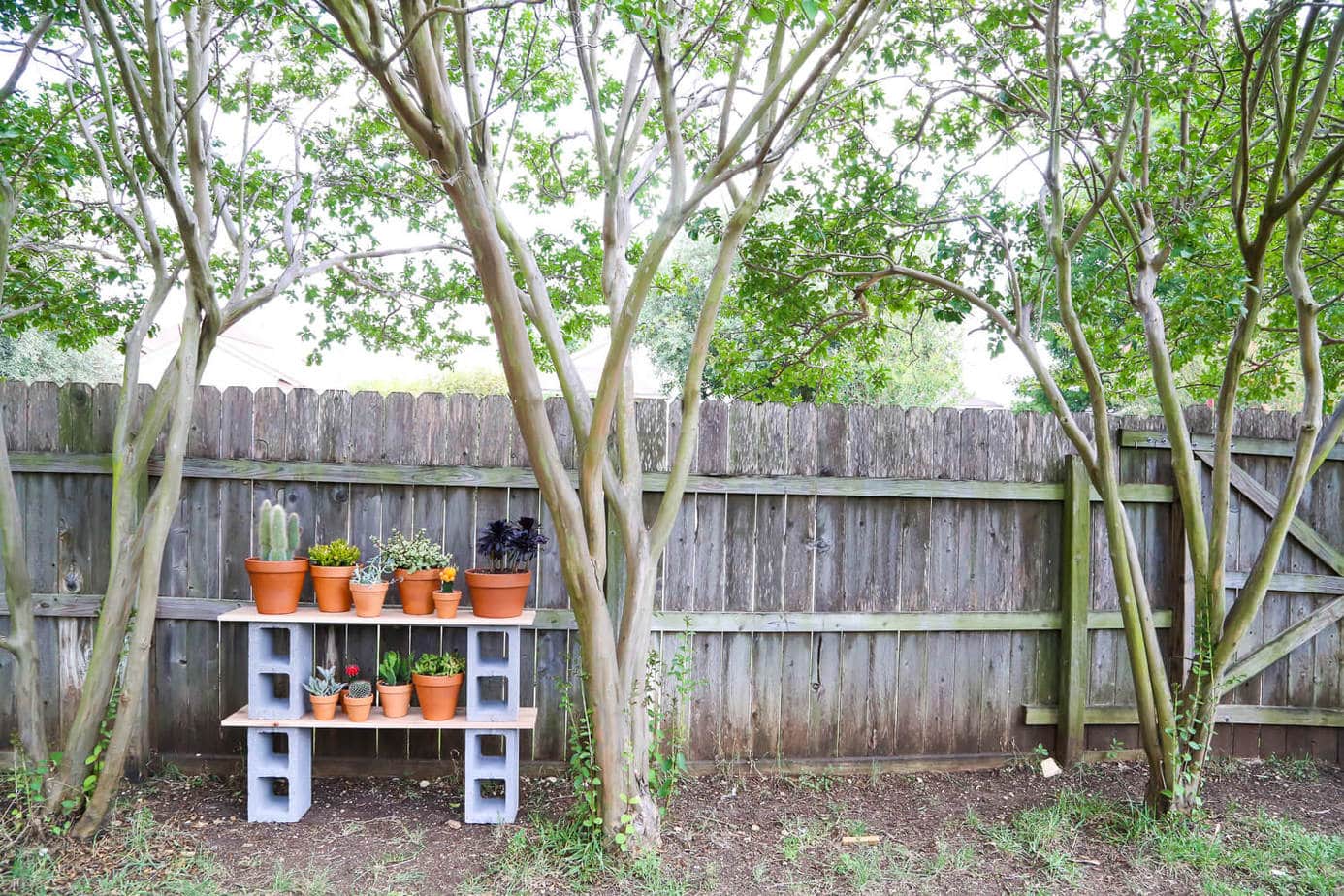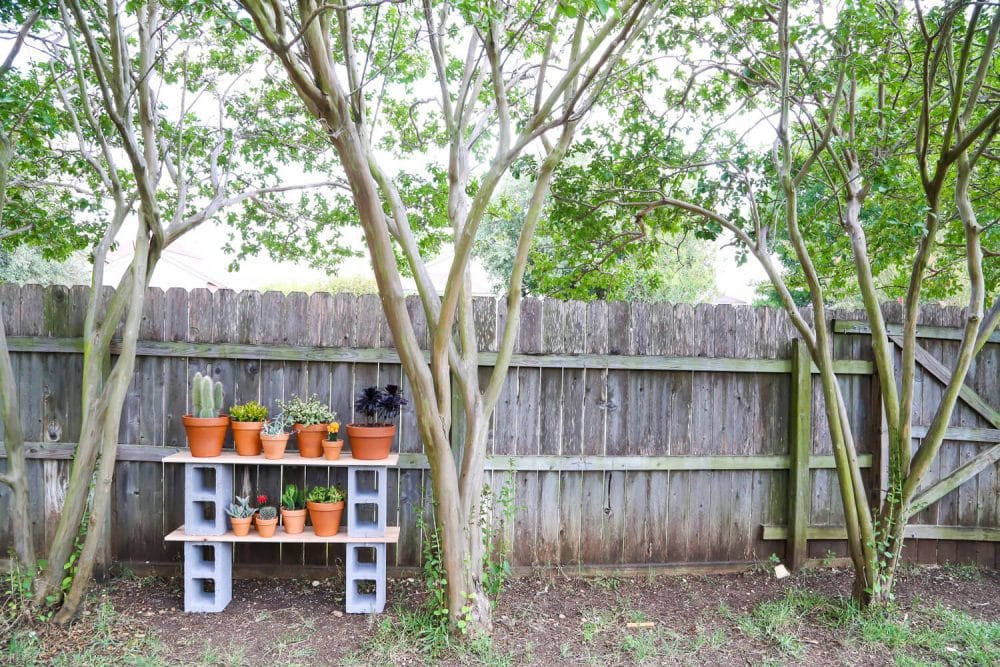 This is a super simple, super classic plant display idea that's incredibly affordable and so cute. If you want an additional pop of color you could always spray paint the cinderblocks, but I kind of loved the look as it was. We had these little shelves in our first house and they were such a great spot to display a few favorites. I used mostly succulents in mine, but they'd work great for any plants you want!
I think this would honestly be a really great look if you put a bunch together all along a fence.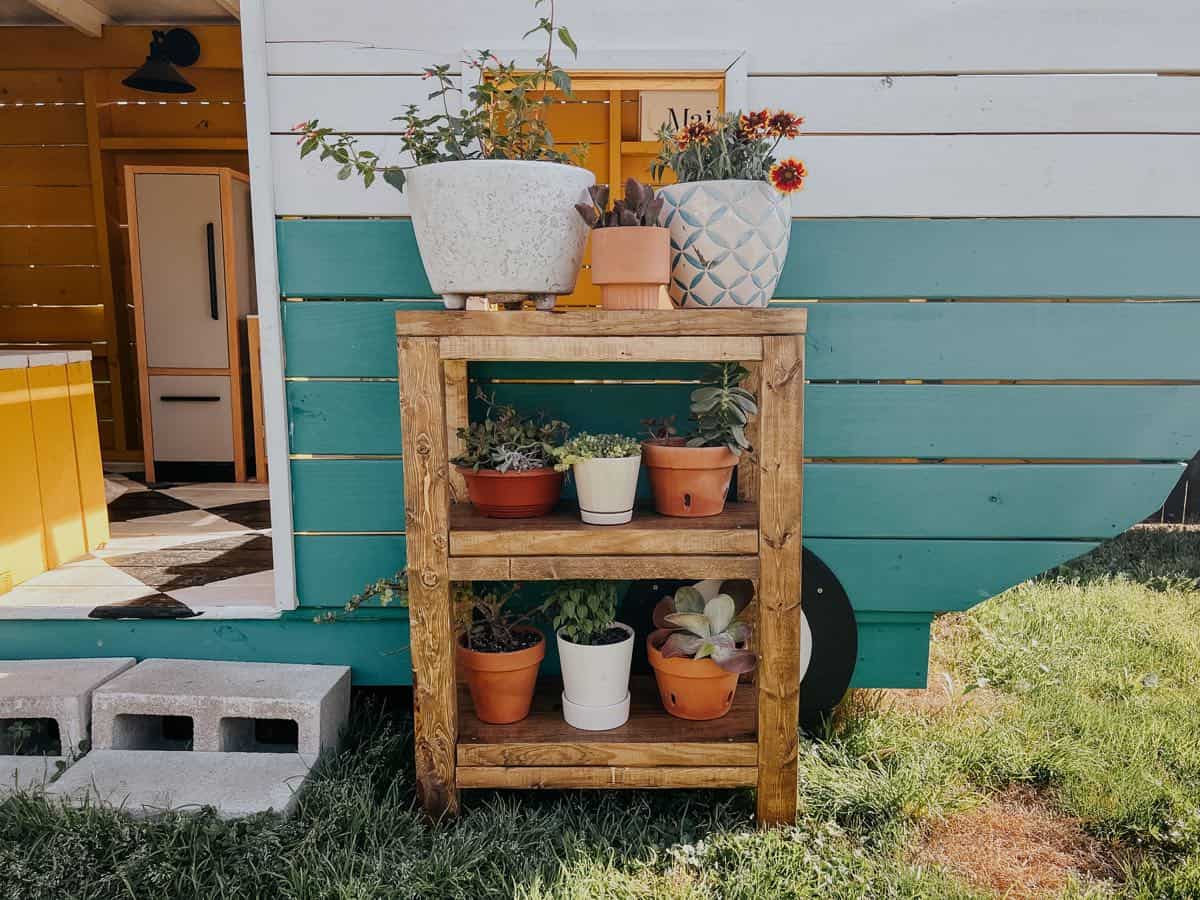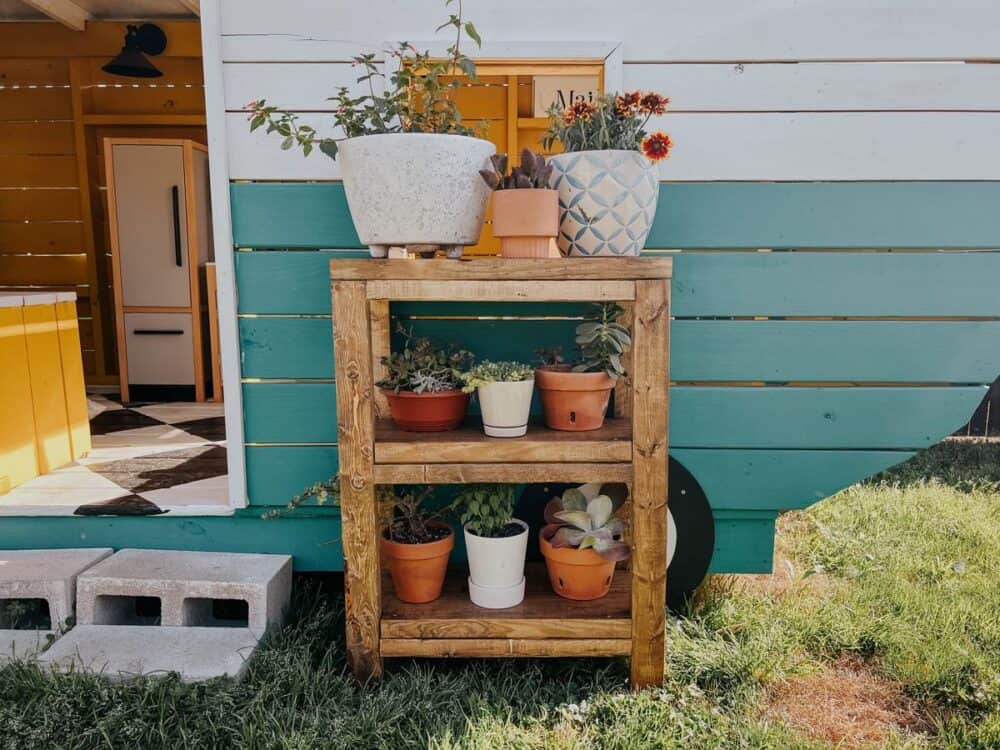 I built this simple little plant stand last year for the kids to have a little ownership of some of our backyard plants. I think we're going to have to mostly stick to annuals over perennials for their plant stand because most of them didn't survive the year. RIP, succulents.
This little project only took me about a day to put together, though, and they are so proud to have their own plant display area. I'm thinking we'll head to our local nursery in the next few weeks and pick out a few things that they can add to it for this year, because it was so fun to have around!
7. Raised Garden Bed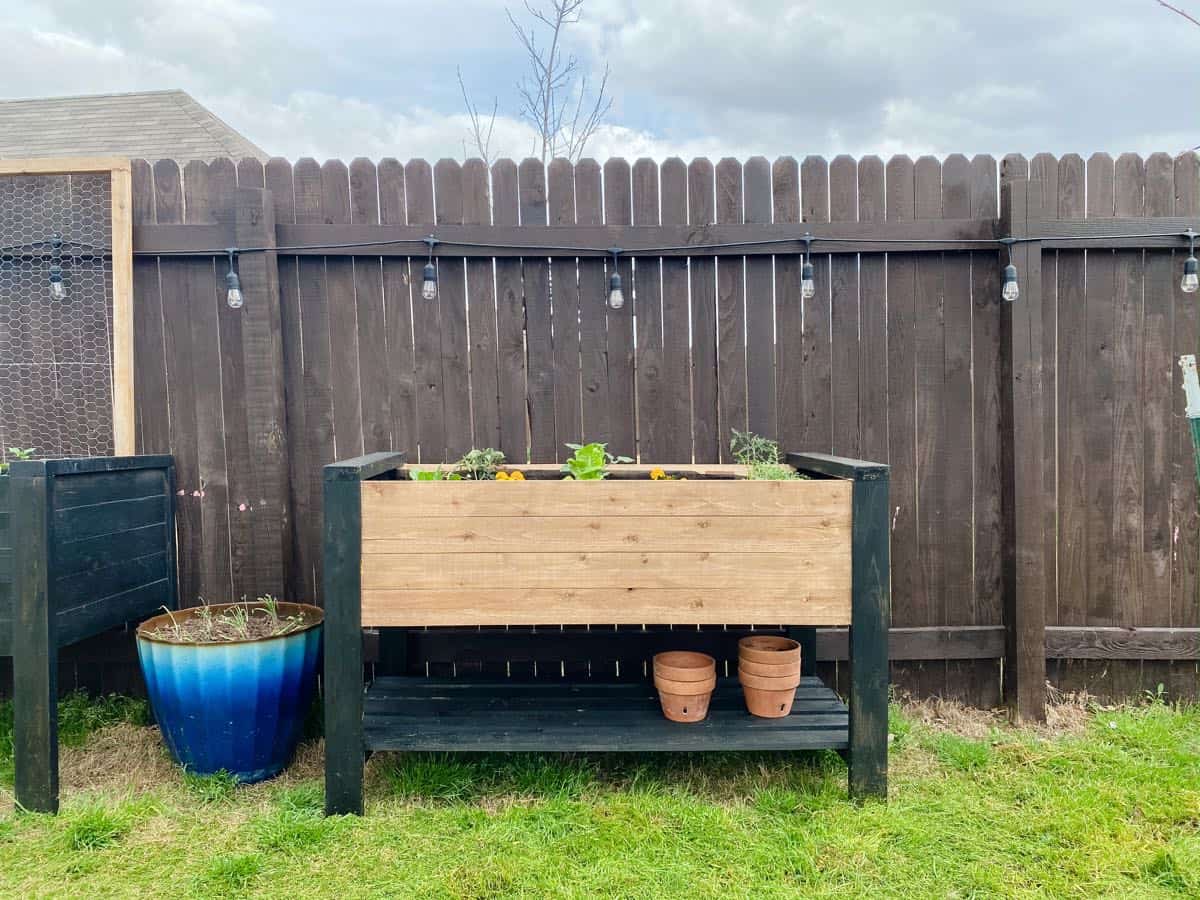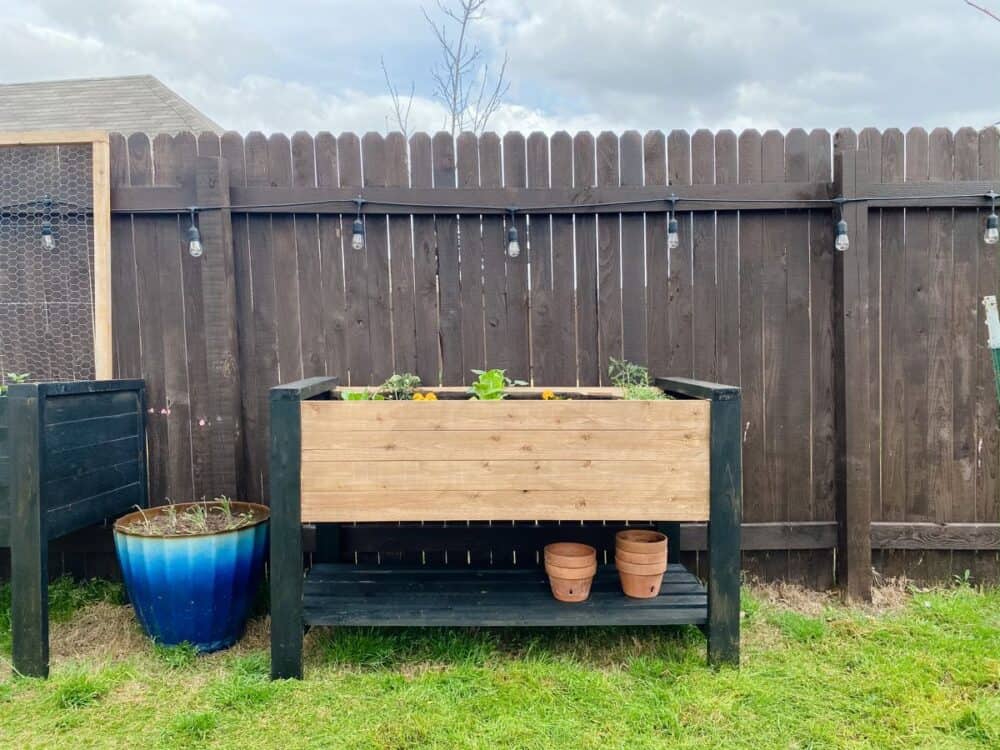 This is the perfect solution for a small outdoor garden! We had two of these at one point until we learned that we don't do great with actual gardening, so we ditched it in favor of more low-maintenance planting and pretty flowers. But, if you're the gardening type, a raised garden bed is a great place for vegetables like peppers, tomatoes, lettuces, and even herbs like rosemary or thyme.
You can treat this as a year-round garden if you switch it up with fall and winter-friendly plants, and it's a great way to get your kids gardening. Every year I think I need to try again and then I remind myself that we just won't keep up with it. But if I'm being honest, it probably won't stop me from trying again sometime.
Other Gardening + Planter Ideas
Now, let's take a look at some other inspiration. Like I mentioned, I'm always looking for great ideas to add a little interest to our yards! Here are a few more fun planter ideas from around the internet.
Easy DIY Painted Pots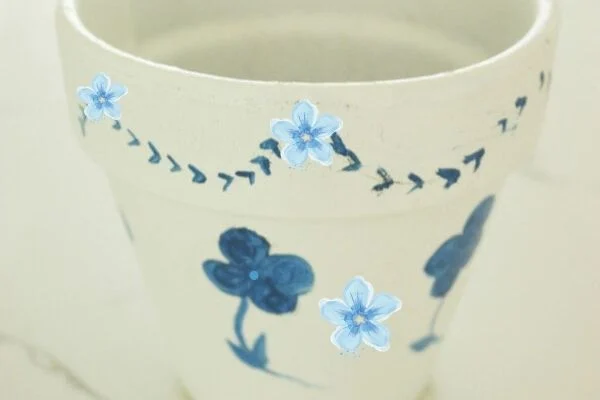 These simple flower pots painted with a chinoiserie pattern are so cute, and would be really fun to do with the kids. My boys are always dying to plant new things and they love painting pots. This might be a fun project for us to try this spring or summer.
Driftwood Succulent Planter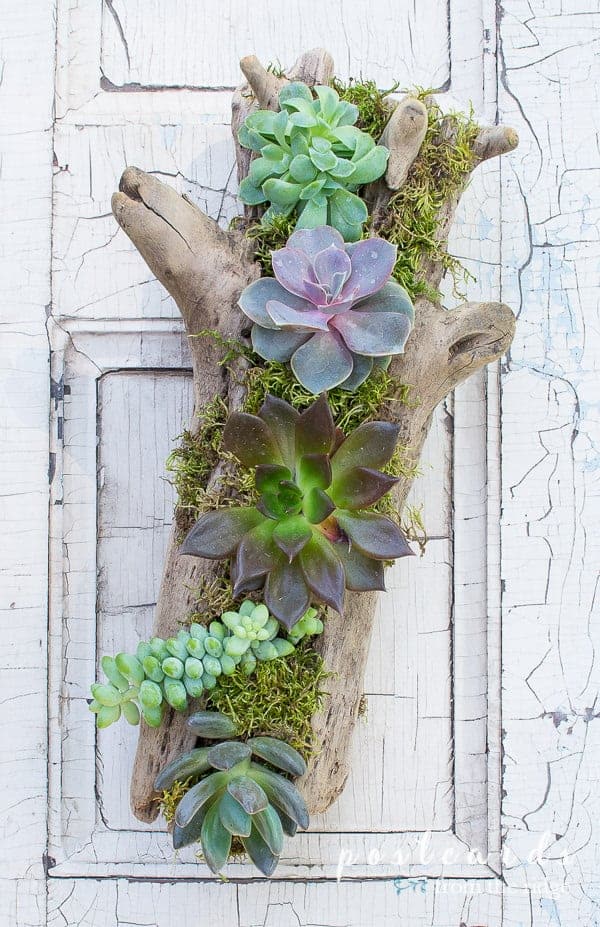 I really love the idea of creating a small DIY planter like this to display on your outdoor dining table or coffee table! It's such a unique display that is sure to be a conversation starter, and the succulents are guaranteed to be pretty low-maintenance.
Planter + Hose Holder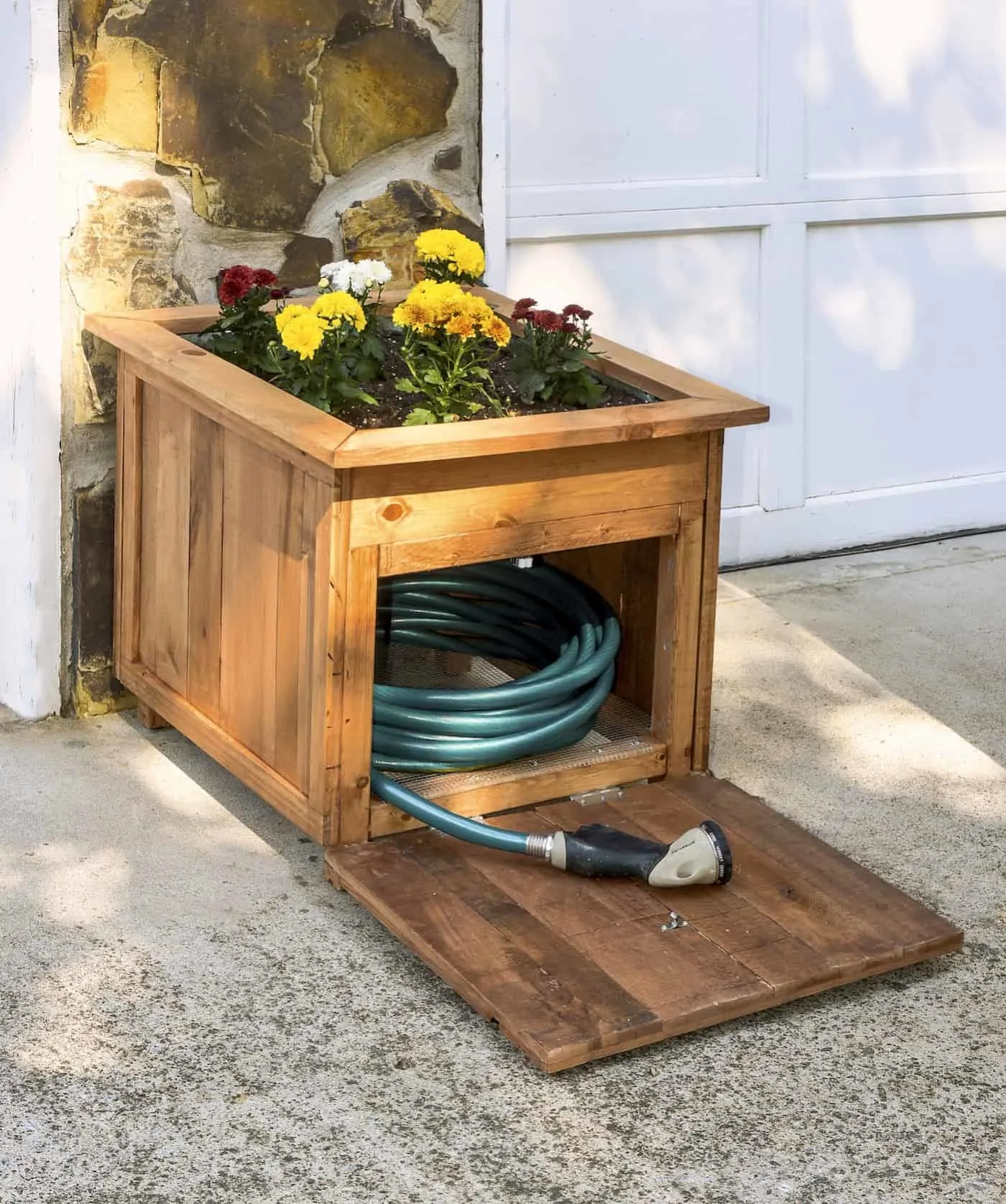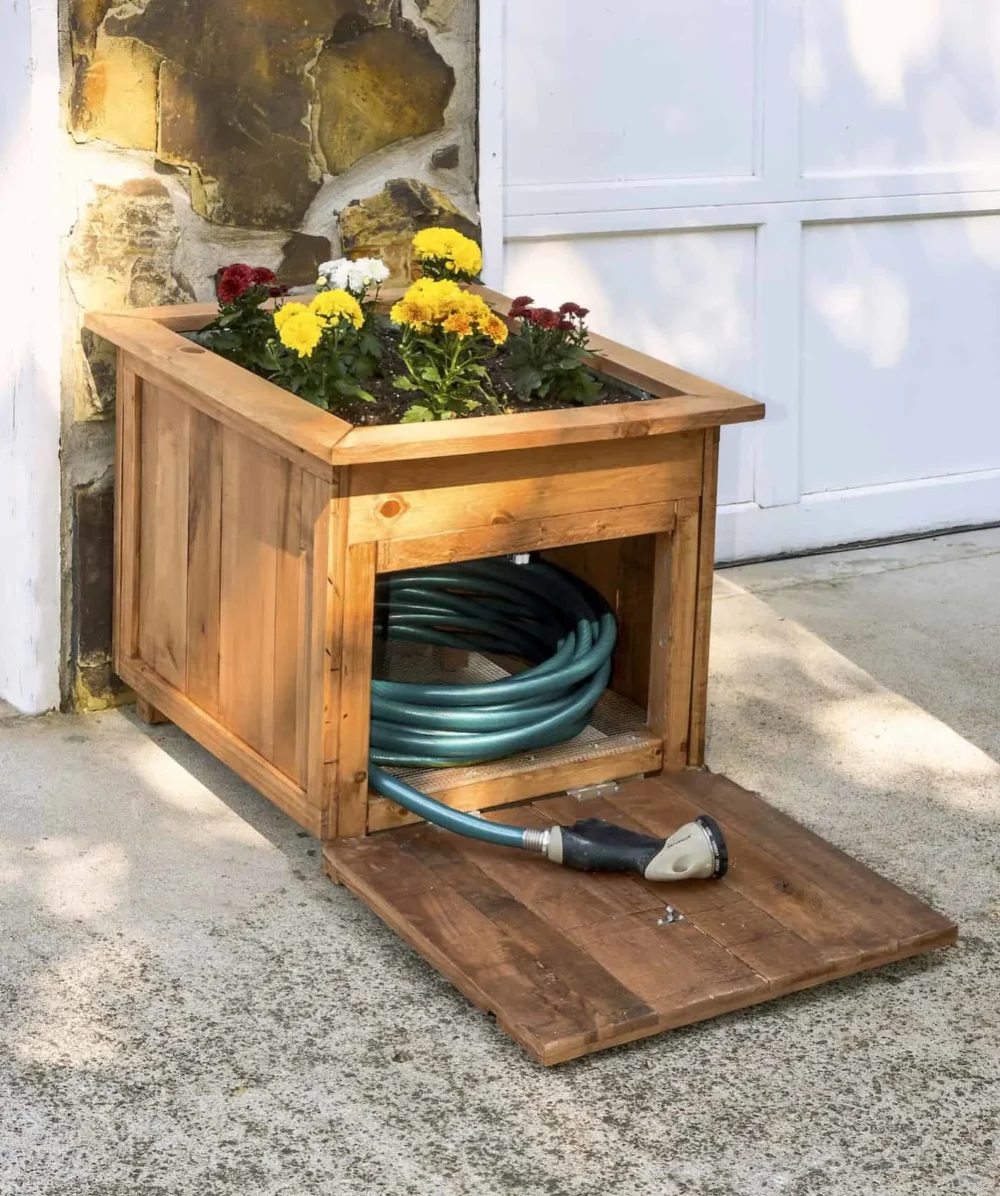 via DIY Candy
I've thought about building something like this for so long – we have a great hose holder so I really don't need it, but I just can't get over how genius it is! I love the idea of creating a really beautiful place to hold your gardening hose and also plant some gorgeous flowers. Because why not take every excuse you can to add a few more flowers to the landscape?!
DIY Flower Box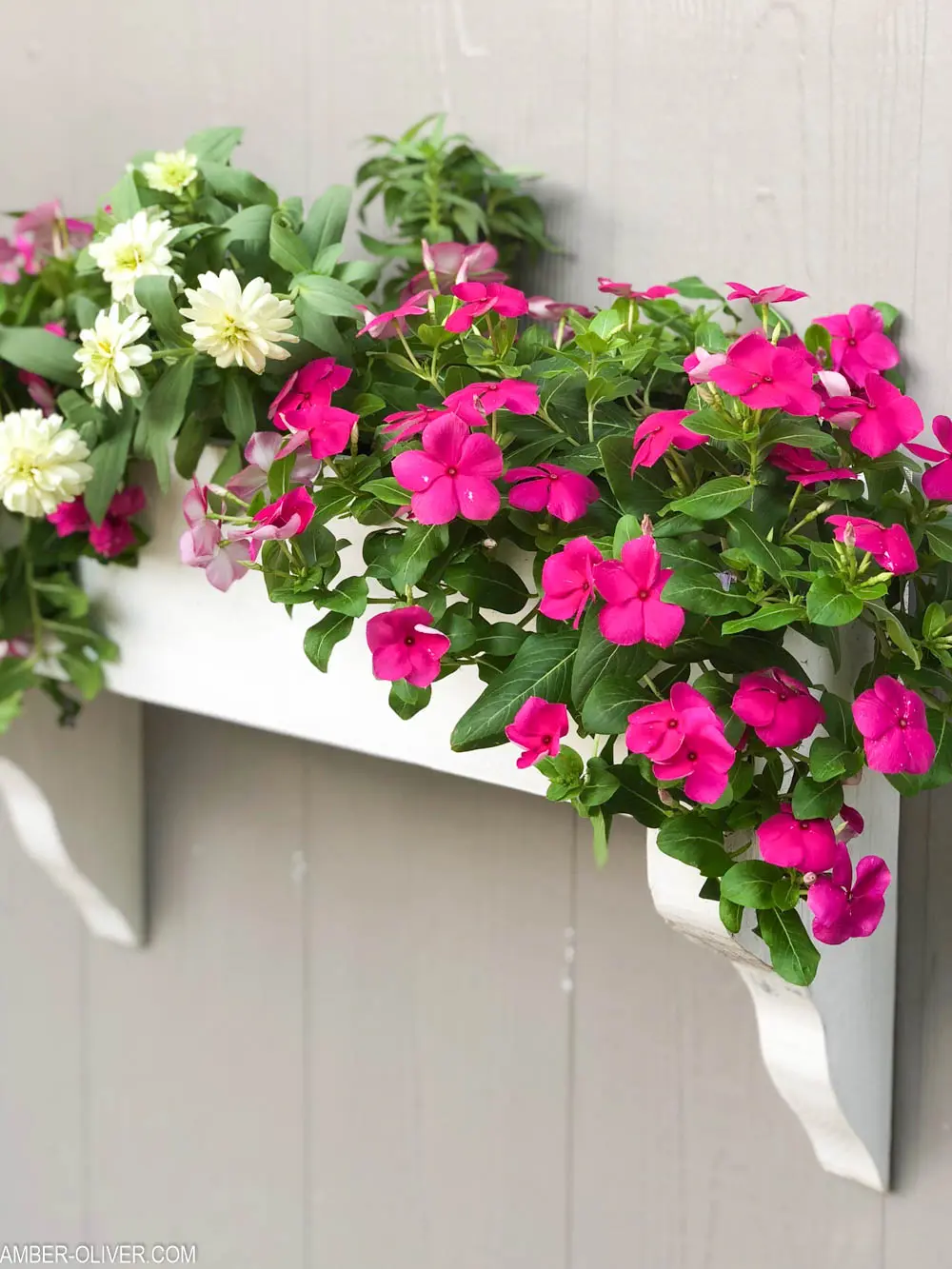 via Amber Oliver
One of my to-dos this spring is to add some flower boxes like this to the boys' play camper! I want to keep the plant display I linked above, but I think that adding some little window boxes like this to the small window would be so charming. Also, it would discourage my youngest from climbing through the window instead of using the door. Maybe.
DIY Wooden Planter Box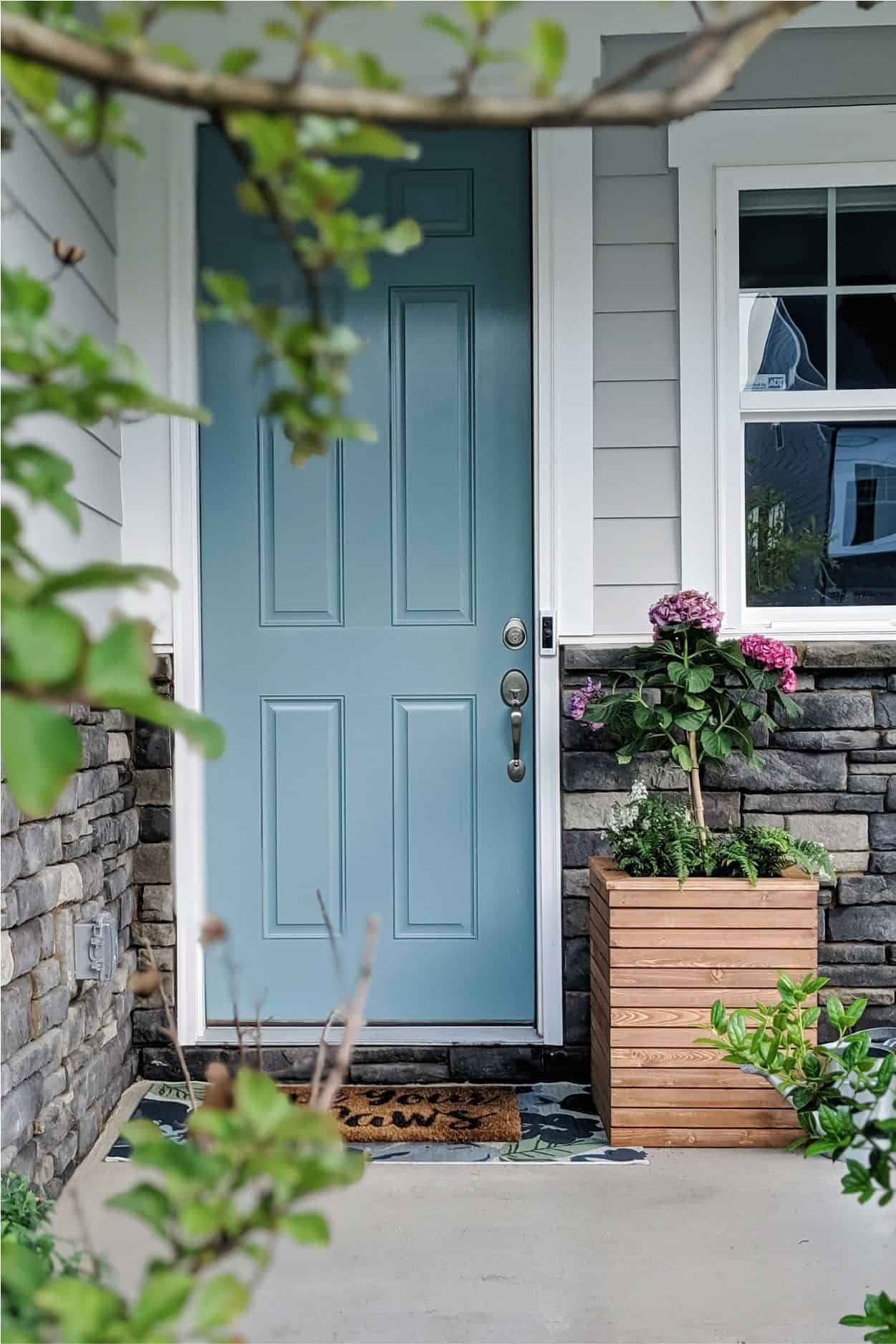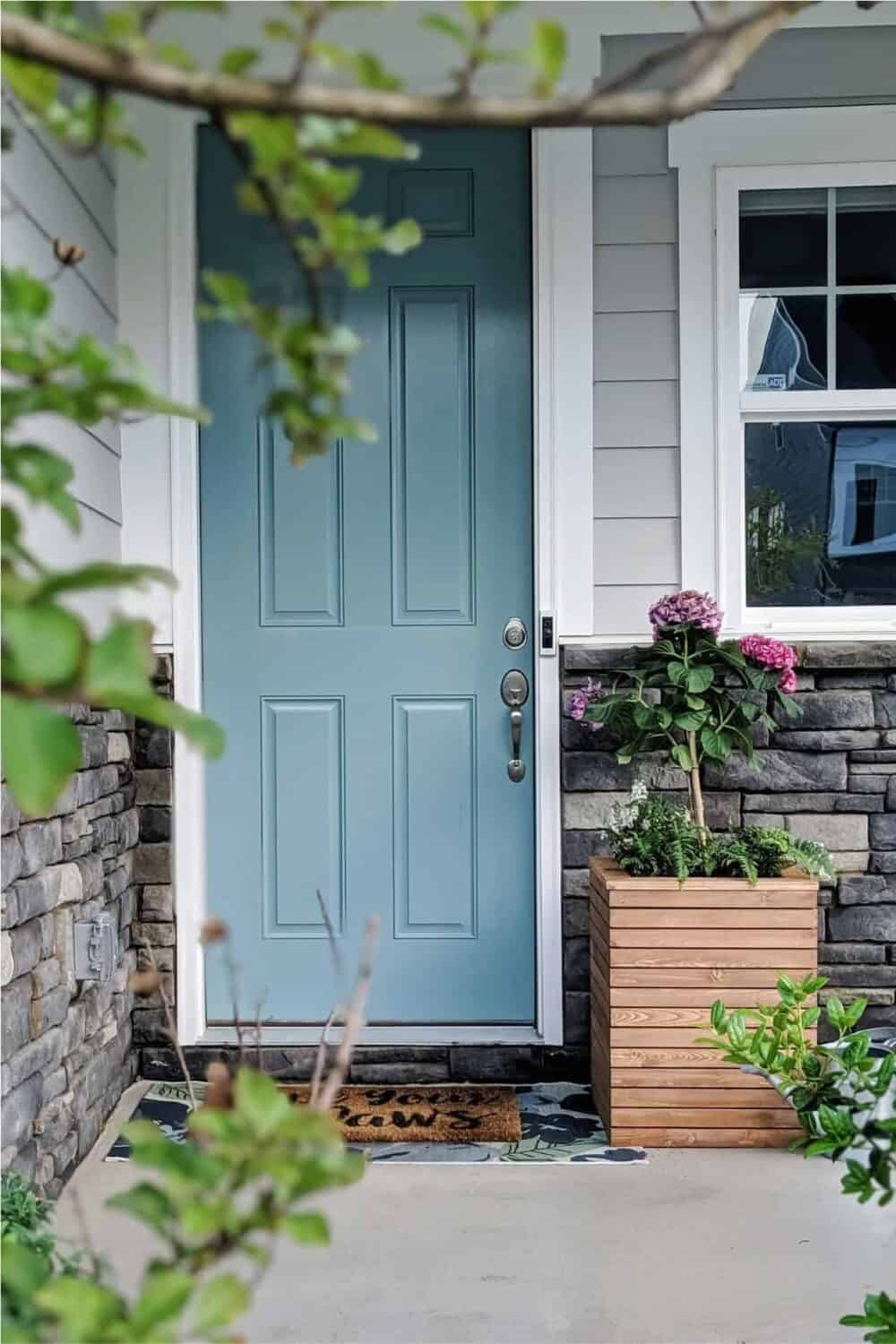 via Pine & Poplar
There are about a zillion different ways to build wood planters, but I particularly love this design! I'm currently working on planning a good wood planter for our back entrance, and this one is inspiring me so much. It would be gorgeous on a front porch or back porch, and something like this is exactly what I want for next to my back door!
Traditional Planter Box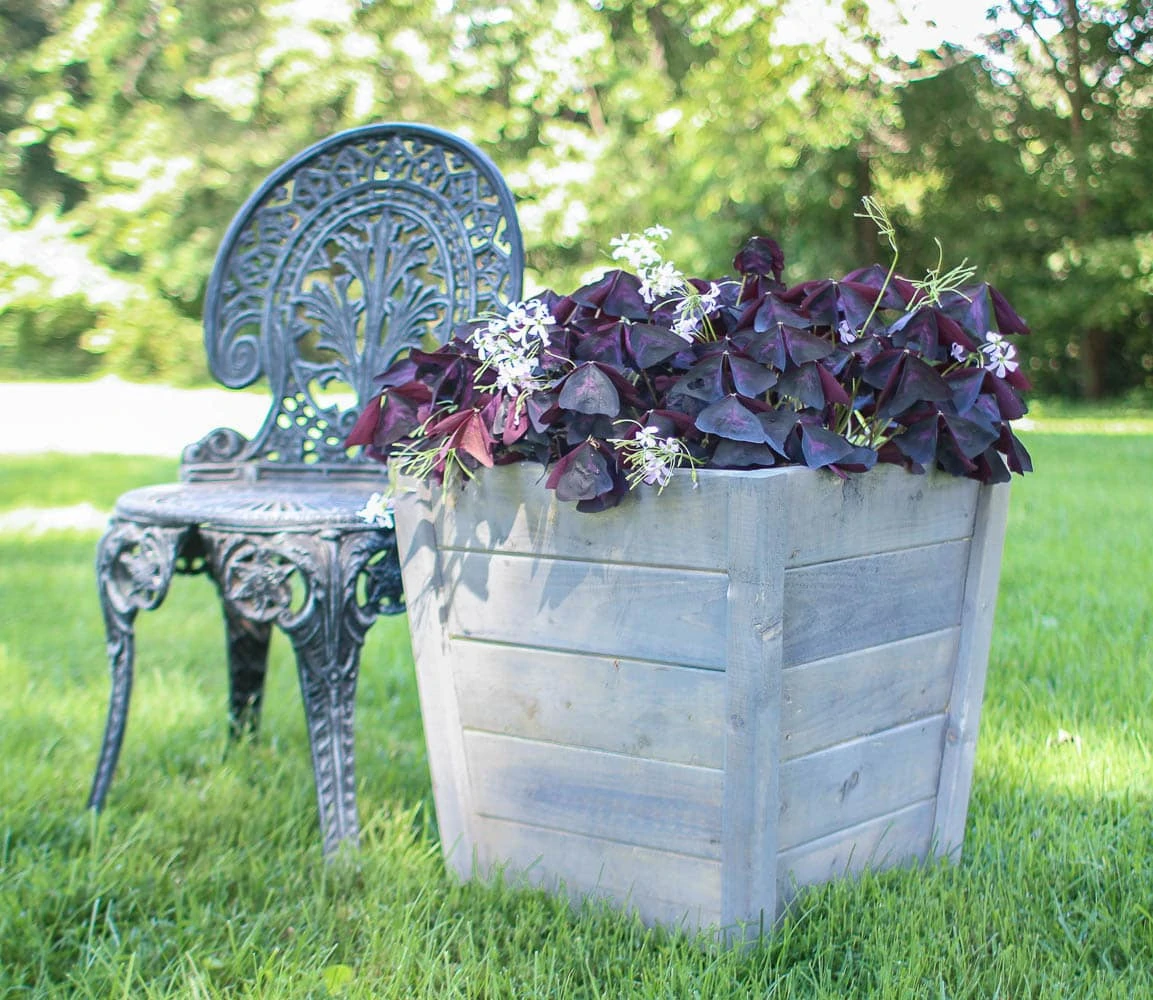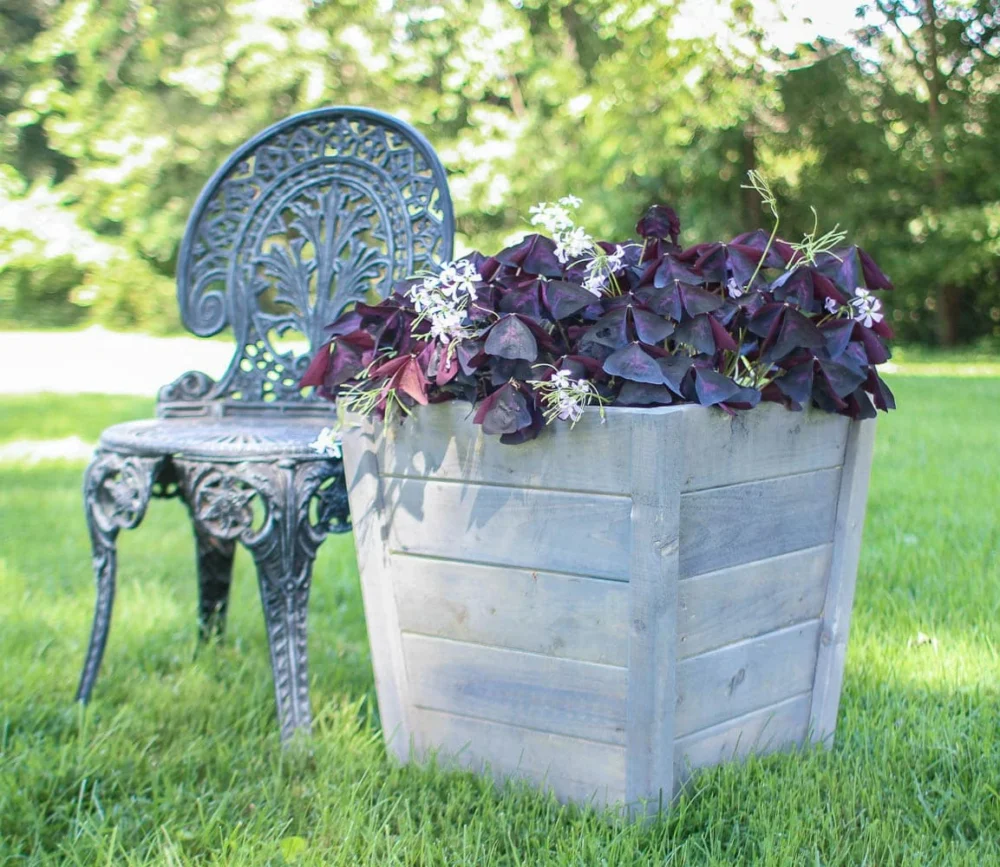 via Lovely Etc.
This is a more traditional alternative to the planter box! It's also a really gorgeous design and simple to build. Two of these would be beautiful on either side of the front door, and the wood for something like this shouldn't set you back more than about $20. Doesn't get much better than that!
Black + Natural Wood Planter Box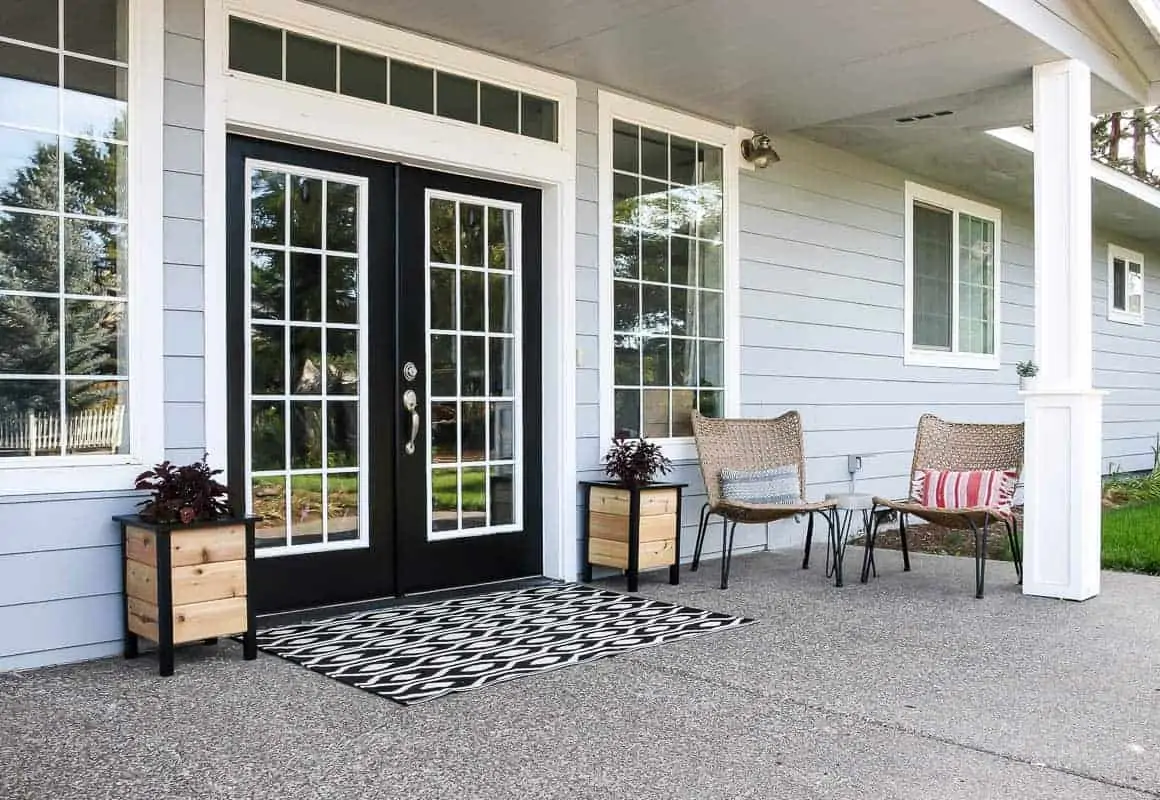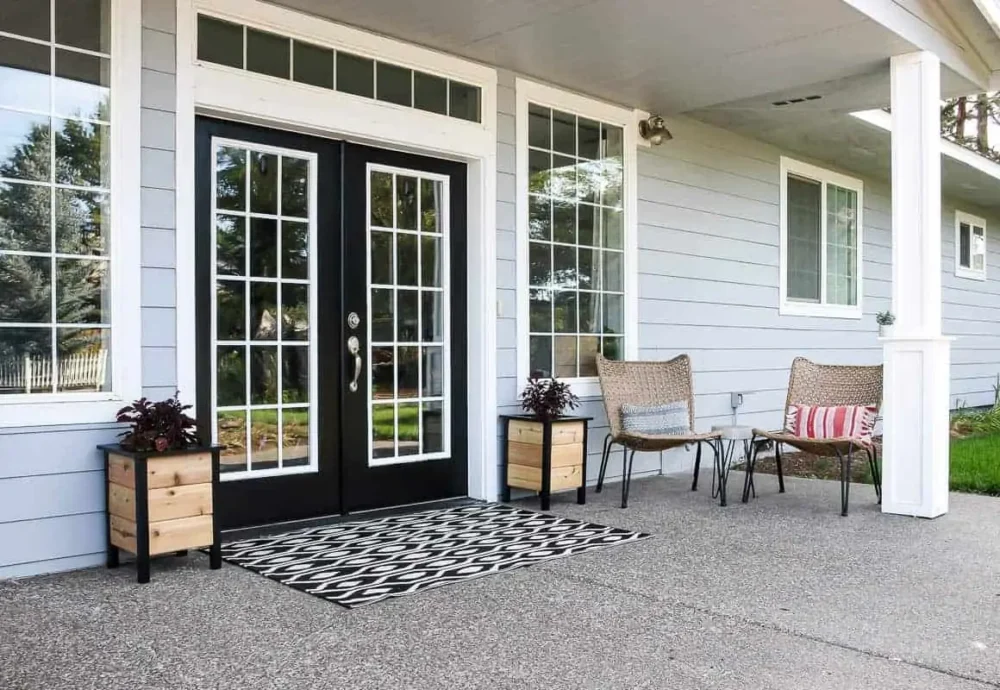 via Making Manzanita
Okay, one more wooden planter box idea. I told you there are a million ways to do it! I love that this one is yet another fully unique design, and it's still a super easy and affordable planter box! This one would look really great paired with with my bench planter I linked above…just saying!
Turn Soup Tureens Into Planters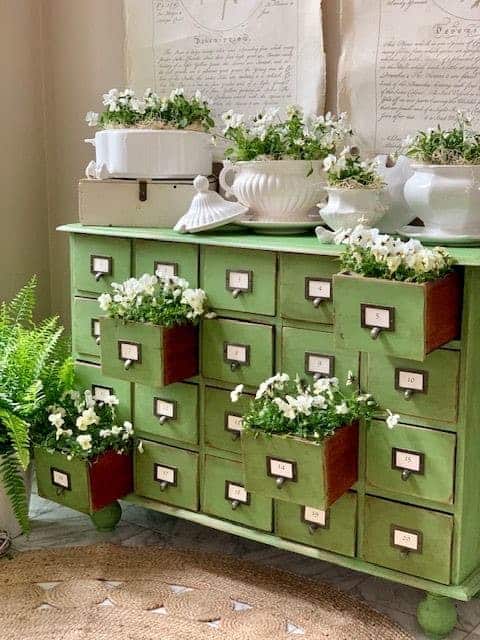 via Celebrated Nest
Okay, I'm in love. Using a vintage soup bowl as a planter? Genius! A few of these gathered on a patio table or the dining table on your back deck would make such a gorgeous display! Also, the plants in the drawers? Obsessed. If you want plants in the tureens long term, you'll need to add a drainage hole or choose plants that love wet soil!
Vertical Herb Garden Planter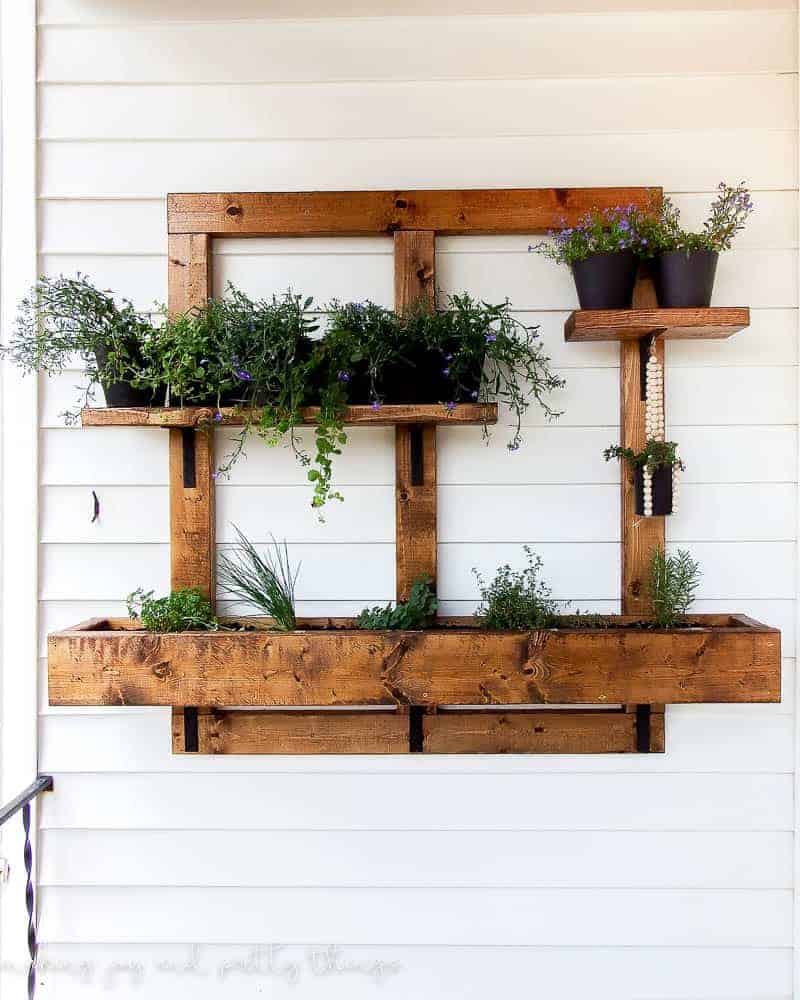 via Making Joy & Pretty Things
How adorable is this hanging plant display?! It's a great alternative if you don't have a good spot for hanging baskets, and you can plant so many things all in one spot! I love a really unique display like this, and it just uses some basic 2x4s so it's a really great beginner-friendly project.
DIY Tiered Planter Box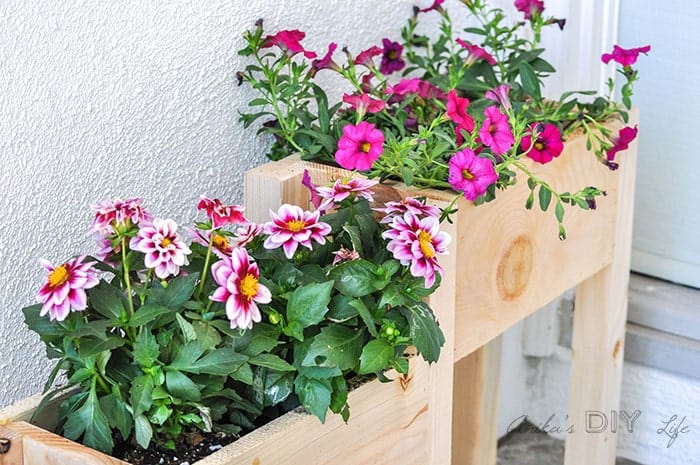 via Anika's DIY Life
And last but not least, this wooden tiered planter box is such a fun idea. It's a great way to display some beautiful flowers or even vegetables or herbs! I love that this is such an easy and accessible project (it's SO beginner-friendly) and it could really be customized in a lot of different ways to make it fit your home.
Choosing Plants for Your Displays
Now, let's have a few tips and tricks for choosing plants to display in your outdoor planters. I'm certainly no pro, but I know a thing or two!
An easy rule of thumb if you're trying to create a beautiful plant display is to have a thriller, a filler, and a spiller. What does that mean?
A thriller is the most visually interesting plant in your display. It might stand tall, have bright colors, or really interesting textures. It's the focal point of the display and is usually in the center. Examples include unique grasses, heucheras, lantana, and coleus – anything nice and tall or really vibrant!
A filler is a plant that will fill up some of the dead space and spread out a bit. They take a backseat to the thriller but still add some color and texture to the display and make it look full. Examples include petunias, herbs, coleus, moss, or pansies.
The spiller will be planted along the outside of the planter and will "spill" over the sides! They add some dimension and interest. Examples include creeping jenny, sweet potato vines, or calibrachoa.
Of course, you don't have to follow that formula. I rarely do, because I like a simpler display. But, if you want an easy way to get a dynamic and interesting variety of plants in a container garden in your outdoor space, that's a really easy way to achieve it!
The biggest thing to keep in mind when selecting plants for your outdoor space is what the conditions will be. Are they in full sun or full shade? Will you remember to water them regularly wherever they are? These are things that should be taken into consideration before you choose – make sure your plant fits the environment it's going to be in!
related posts
Other Planting Tips