Have an old dresser in need of repurposing? It's incredibly easy to turn a dresser into a DIY TV stand with just a few simple steps. 
One type of furniture I've always disliked, just as a rule, is the entertainment center. You know, that big, clunky piece of furniture that houses your television and all of the other components? The one that is almost never actually good-looking in any way, shape or form?
Yeah, they're not my favorite.
But alas, we have a television, and we have a ton of crap very important stuff that goes along with it, so we need somewhere to put it.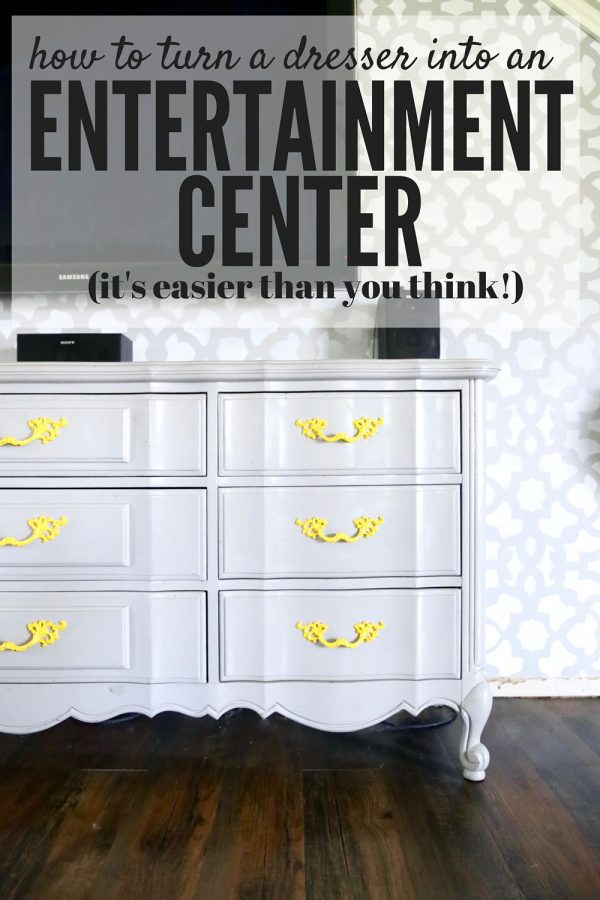 This post contains affiliate links. Click here to read my full disclosure policy. 
Thankfully, with some creativity and a little bit of effort, I can avoid adding a big, ugly piece of furniture to my living room and instead we turned a dresser into a DIY TV stand!
I'll admit, when we first started out with the planning of how to turn a dresser that we found on Craigslist into an entertainment system, we were a bit overwhelmed. It's a lot to think about!
We did our usual Googling, but this is one topic that we couldn't find any help on. Most of the how-tos we found were teaching how to turn a dresser into a media console by removing the drawers and adding shelves or cabinets – basically, turning what we find beautiful about the dresser into exactly what we're trying to avoid.
Let's be honest – I wanted to hide all of the components and never have to look at them again. The drawers needed to stay.
So, we did what we always do: Corey grabbed a saw and went to work.
Turning a Dresser Into a DIY TV Stand
Step 1: Make a Plan
The first issue that we needed to address is how we would get the components to actually work if they're hidden. Enter the IR repeater.
This little device acts like a messenger between your remotes and electronics. Basically, all that needs to be seen is a little black rectangle, which is the piece that you'll point the remote at when you're operating your television. All you have to do is attach the little circular pieces to the front of your electronics like so: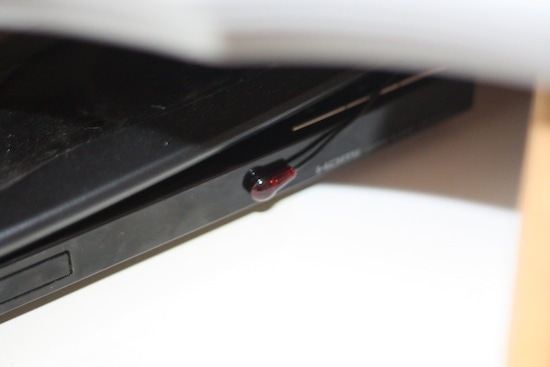 Then, just attach the receiver part anywhere you want. We choose to stick it to the front of our television since it is black and blends right in. It transmits the signal directly to the components, and can even go through walls (we have one set up that way in our bedroom). As long as you can run the wires, you can change the channel.
Step 2: Add Some Ventilation
So with that taken care of, the next concern Corey had was how we would let the components breathe. They tend to get pretty warm when they're running, and if they get too hot, it can cause some serious damage. So, Corey cut out a hole in the backing of the dresser where each drawer would go (he was making holes back there anyways for the wires and plugs, he just made the holes larger than necessary to allow for extra air flow).
Once the holes were cut in the back, he also cut a panel out of each of the drawers that would be housing all the goods.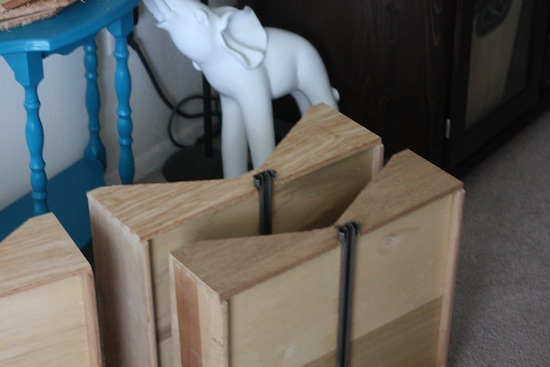 Now, here's where he gets a little paranoid – this wasn't enough for him.
He also decided to attach a fan that's made for computer cases.  It's a temperature-sensitive fan, so it only turns on when it's actually needed. You can't hear it at all, so it doesn't bother us in any way – it just keeps everything nice and cool back there. This step was probably completely unnecessary, but it never hurts to be extra cautious, right?
Once all was said and done, all we had left to do was put everything in the dresser and put it into place.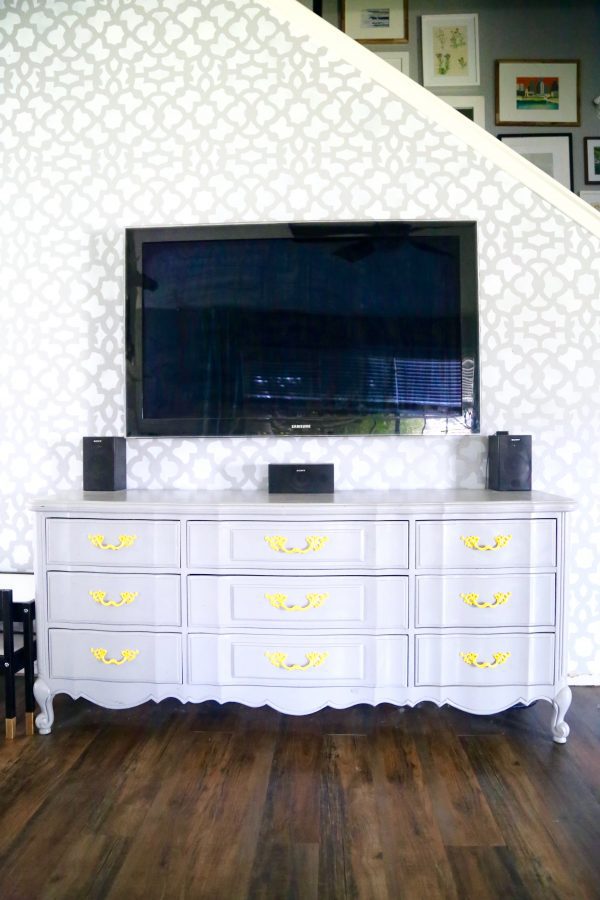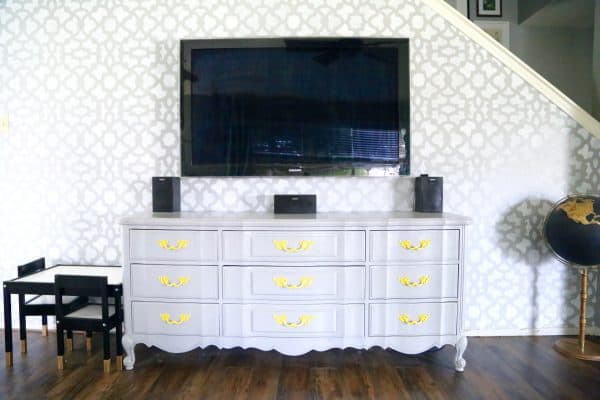 This whole project was incredibly simple, affordable, and the results are exactly what we wanted! We've since repeated the process one other time to create another dresser-turned-entertainment center in our garage, and we love it just as much as this one!
Let's be real – I'm just grateful I don't have to look at an ugly media console every time I want to watch television.
Here are a few other simple storage solutions you might enjoy:
Do you have an entertainment center that you love?