Baby #2 Nursery Plans + Mood Board
There are only a few months left before Baby Boy #2 joins our family, and the nursery plans are officially underway! In this post, we're chatting about our gender neutral nursery ideas and the mood board for the baby's room!
We've had a lot of questions over the last few months about our plans for Baby Boy's nursery and when the heck we plan on actually getting started. Between the dining room renovation and working on Jackson's room, we haven't had a spare second to begin working on the nursery yet, but now that I'm heading towards the third trimester at lightning speed, we figure it's probably about time we get started.
At this point in my pregnancy with Jackson, his nursery was basically, um, complete.
Second child problems, right?!
For a quick reality check, let me give you a peek at what Baby Boy's nursery is looking like right now…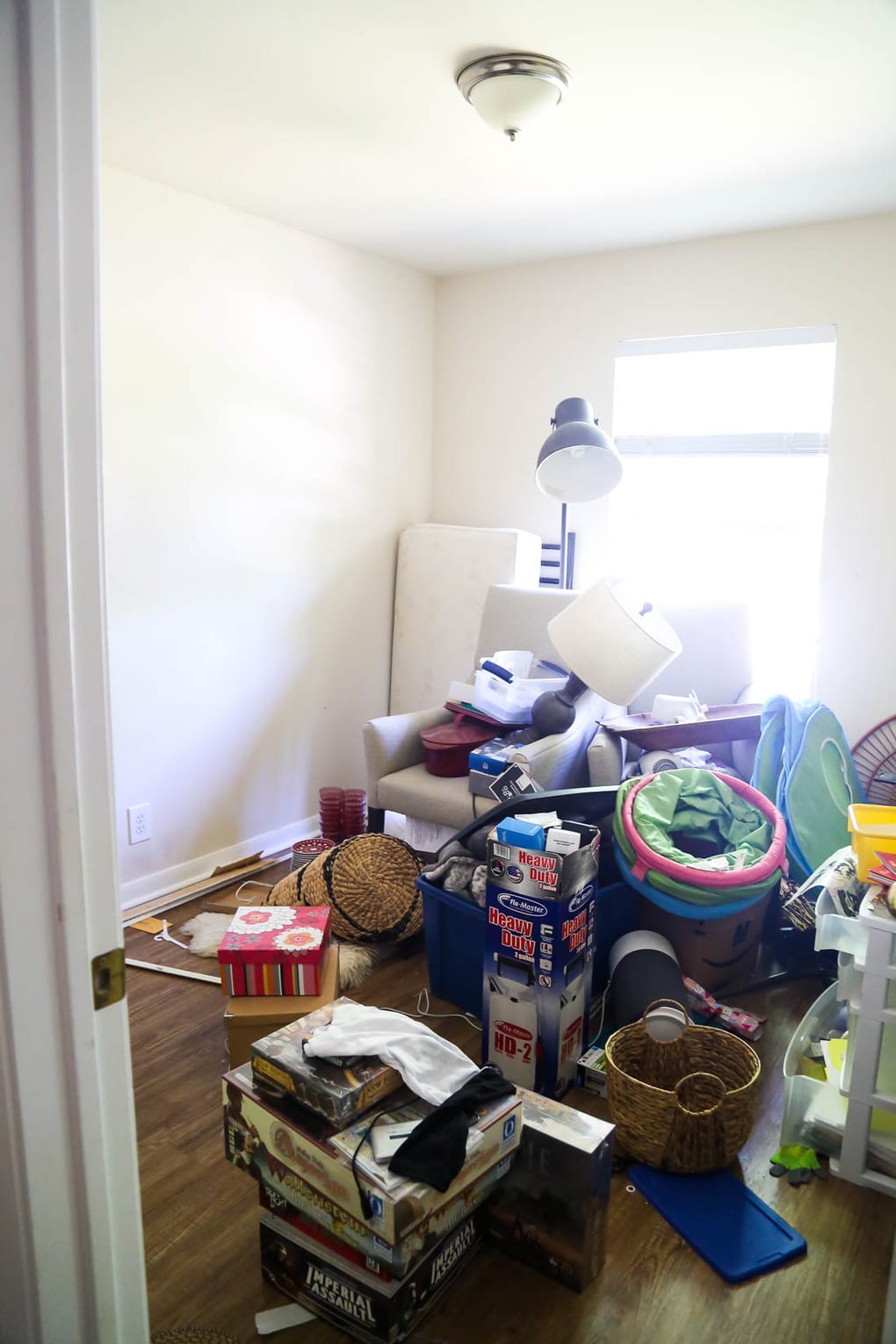 Oh, my.
This room has basically been our dumping ground for random things since we moved into this house last November. We never step foot in here (although, funny enough, I do use this room for my weekly pregnancy photos) and if we ever have something that we aren't sure where to put, we just shout "toss it in the nursery!" and then we (literally) toss it in there and go about our lives.
I guess we can't do that anymore, huh?
Despite what looks like a total lack of planning when it comes to this nursery, I really have begun to put some thought into what we want our baby boy's room to look like – I even put a mood board together! As soon as we found out we were having a boy, I began a secret Pinterest board where I started pinning all of the things I loved and wanted for this room. It's been slowly curated over the last few months, and now we're at a point where we know what we want and it's just a matter of getting it done.
Thankfully, we aren't doing any huge building projects like we did in Jackson's room, so it should be a relatively straightforward process. Are you ready to see the plans?!
Our Neutral Baby Boy Nursery Mood Board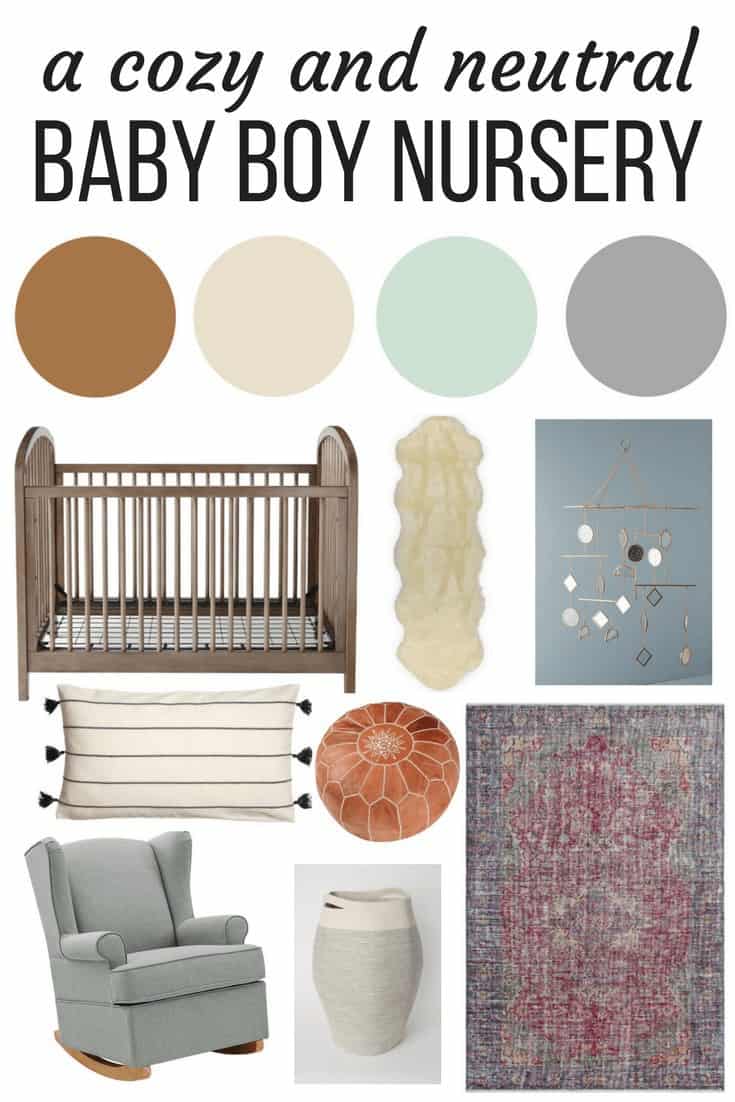 This post contains affiliate links. Click here to read my full disclosure policy.
SOURCES:
Crib | Sheepskin Rug | Mobile | Striped Pillow | Leather Pouf | Rocker | Laundry Basket | Vintage Rug
I have to admit – from a purely design standpoint, I was kind of hoping to get to put together a super girly nursery this time around, but I'm feeling really good about our plans for Baby Boy's room, and I think it's going to look amazing!
As you can see here (and from Jackson's nursery), Corey and I really lean towards cozy, neutral, and calming spaces for our nurseries. We don't like anything that screams "baby" and we prefer for the major basics in the room to be able to grow with the child as much as possible. Jackson still uses many of the decor elements from his nursery in his room today (including the rug), and we'd like to shoot for the same thing with this baby.
For example, the rocker that you see above comes with interchangeable legs so it can either be a rocker or a regular old armchair! We never had a rocker with Jackson, so I'm pretty excited about having one this time around, but I also don't want to spend a ton of money for something that we'll only use during the baby stage. Also, the crib converts to a daybed (like most do these days), so it should last us long past the baby stage.
Other than the rug (which we already have in-hand, since Unique Rug Store offered to send us a rug recently) and the crib (which is currently sitting in our entry still in the box), nothing in the mood board is 100% decided upon. We tend to make last minute switches as things evolve and change, but this is definitely the general feel for everything in the room. We're hoping to get the room painted within the next few weeks (you know, as soon as we clear out the room) and actually get started on putting things together.
We also have a whole host of DIY projects planned for this room (of course). Here's a quick rundown of what's on the list as of right now:
Gender Neutral Nursery Plan: The DIY Projects
Trim out windows like we did in the dining room (we'll probably do Jackson's room too while we're at it).
Upgrade an IKEA TARVA dresser for the changing table (we'll be painting it the mint green you see in the mood board above).
Create a feature wall behind the trim – likely some sort of molding or board + batten treatment.
Build simple shelves for books (kind of like the ones in this nursery).
Seriously organize the closet.
Of course, that list doesn't include the basics like swapping out the light fixture, adding window treatments, and painting the room.
I'm tired just thinking about it.
We've got just over 3 months to knock this room about before Baby Boy's arrival – I think we should definitely be able to get it all done in time!
But, cross your fingers for us just in case.