DIY Painted Rug – Quick Tips for How to Paint a Rug
Learn how to paint a rug quickly and easily. This adorable chevron-patterned DIY painted rug is easy to make and a great way to get a custom look.
Every once in a while I get the itch to do something a little…crazy.
Like, I don't know, painting a rug.
I know, it sounds ludicrous. But…I did it. And the results?
Kind of amazing.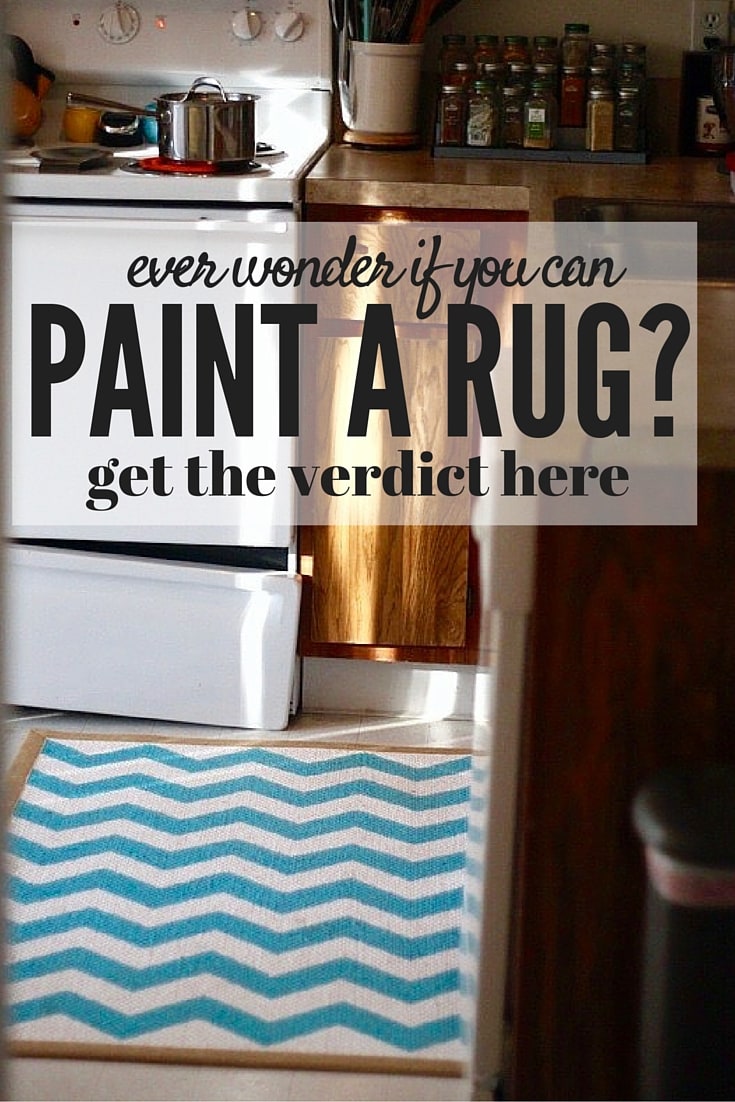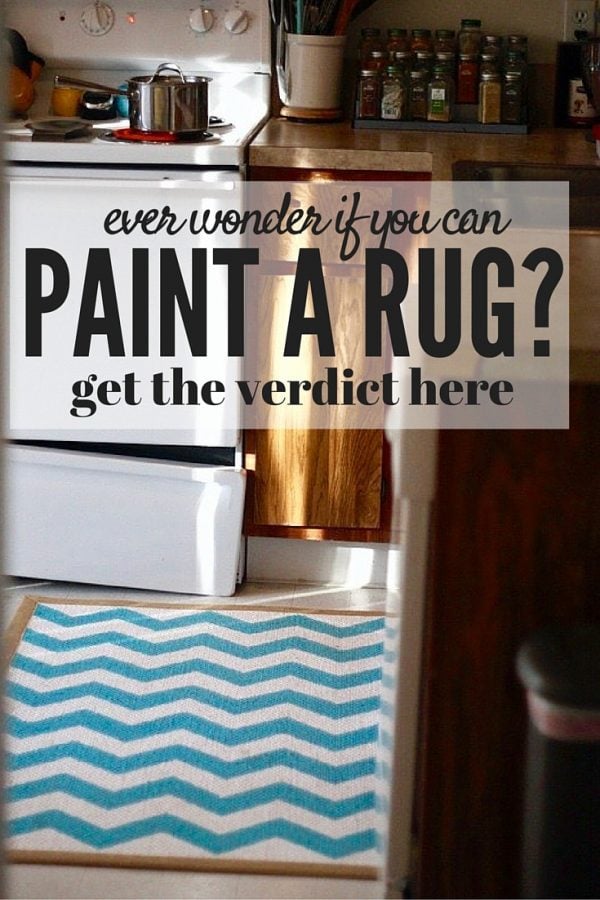 This post contains affiliate links. Click here to read my full disclosure policy.
I had been wanting to try this out for a few weeks, but I hadn't gathered up the courage to actually pull the trigger. Then, I found out that my sister was doing the very same project. Coincidence? No, I think it's actually because we share a brain sometimes. It's a bit freaky.
When my sister painted her rug (which looks amazing, by the way) she made a template for the chevrons that she agreed to let me borrow. So, it was decided! I was painting a rug too.
Easy DIY Painted Rug: How to Paint a Rug
Materials:
Frog tape (I highly recommend this over any other brand)
Paint
Fabric medium (optional, depending on the fabric of your rug)
Template for design
Paintbrush and/or roller
When Corey and I were at Home Goods a few weeks ago, I found a sisal rug on clearance that was the perfect size. I figured it was a sign and I snatched it up.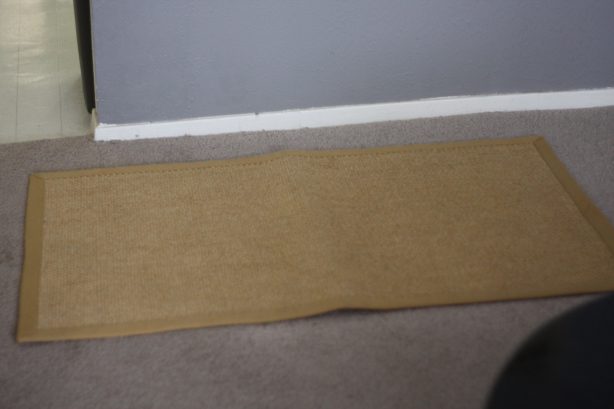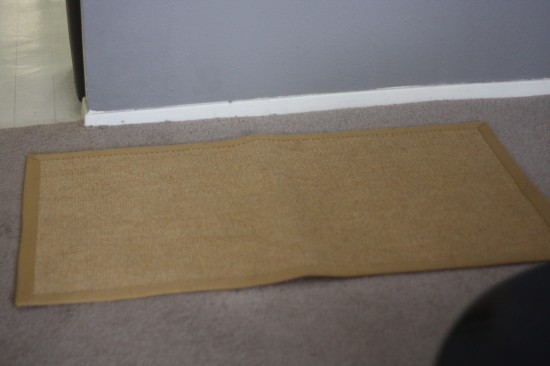 Not so cute right now, huh? Just wait – it's gonna get a lot better!
Step 1: Tape Off Edges and Paint Entire Rug
I headed to Home Depot and grabbed a small can of semi-gloss white paint, taped off the edges of the rug, and got to work.
And oh my goodness this project is not for those with weak arm muscles. After the first coat, I thought I was going to start crying, and I had two more coats to go. It was not easy, but it didn't take all that long, and the results were pretty impressive.
If I were doing it again, I'd probably try using a paint roller instead of a brush and I'd be sure to load it up nice and thick to help the paint get into the textured parts of the rug a little easier.
One coat in…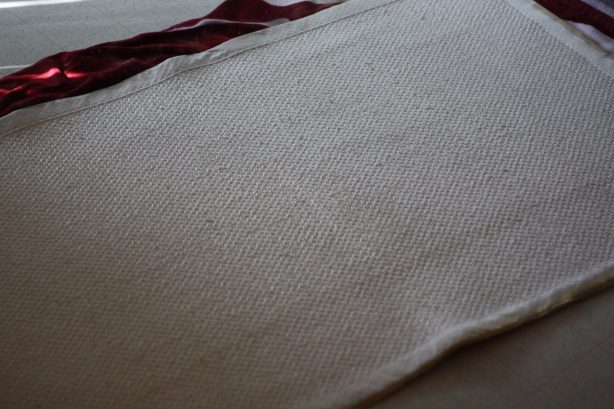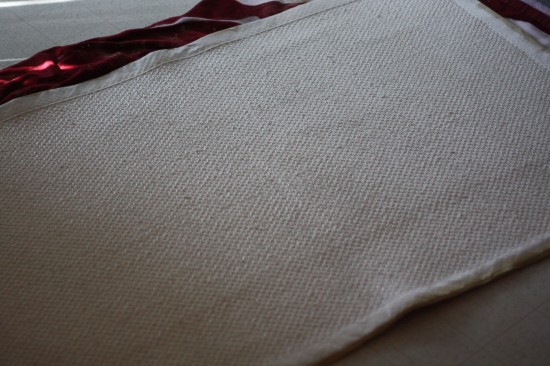 All done!
After I painted it white, I took a couple of weeks off before I tackled the next step. Partially because I was waiting on the templates from Jennifer and partially because my arms needed to rest for a while before I even thought about painting again.
Step 2: Tape Off Your Pattern
Once I had the templates, I quickly got to work taping the chevrons off. This was probably the most tedious part of the project, as the tape doesn't really want to stick to the rug, and I was being really paranoid to make sure I taped it off perfectly.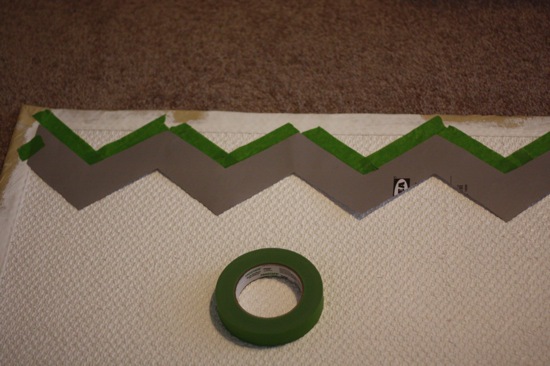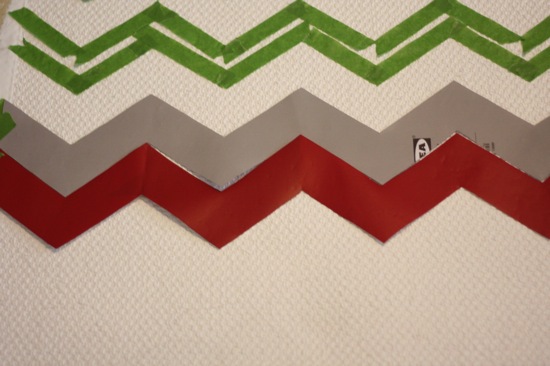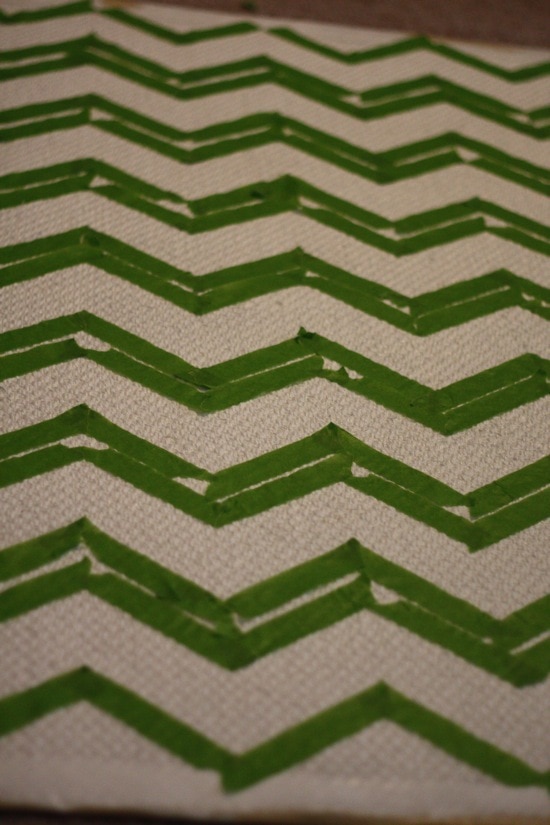 Step 3: Paint the Pattern
Soon enough, I had it all taped off and it was time to paint! I grabbed the can of blue paint I had bought at Home Depot and got to work.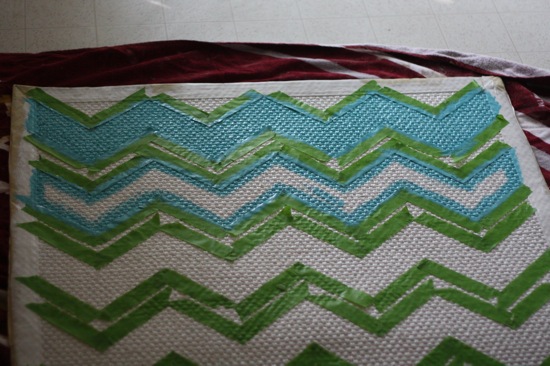 This part of the painting was much easier – no sore arms this time! I had to apply the paint mostly by dabbing the brush into the rug, not by actually brushing. The rug has so much texture that it's hard to get good coverage. Luckily, this part only required one coat, plus a quick once-over to add some paint to any of the parts that weren't fully covered.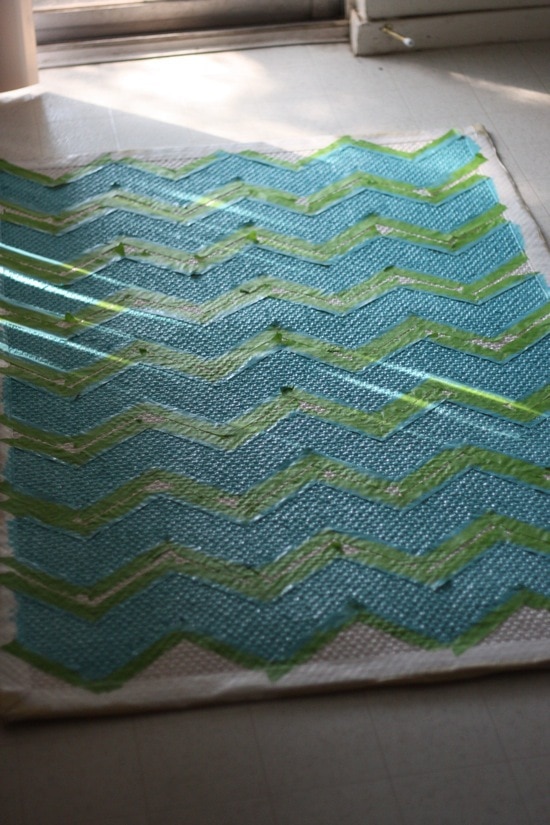 Step 4: Remove Tape
Once I had it all painted, I was pretty terrified to take off the tape. I was really worried that my taping hadn't been good enough and that my lines would be really messy and ugly.
But thank goodness, that wasn't the case. The tape came off to reveal perfectly clean, beautiful lines.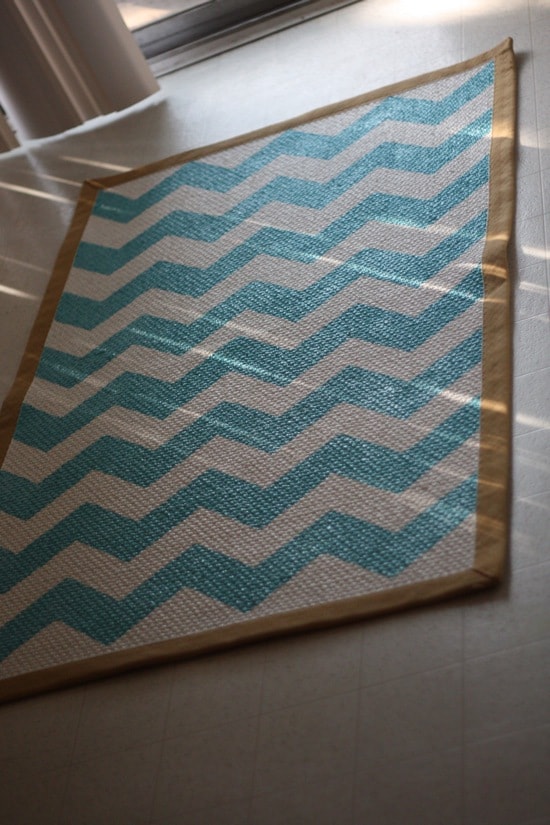 In its new spot, it looks pretty perfect. It adds a really nice pop of color to the kitchen, and it makes me smile like crazy every time I see it. I think I'm in love!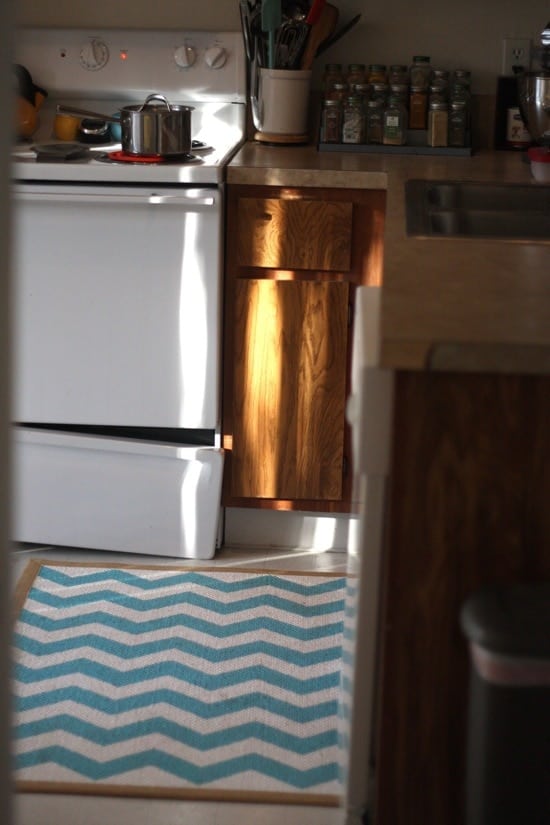 Sometimes, it's totally worth it to try a project that sounds a little bit crazy. You may end up with an awesome painted rug.
Have you ever heard of painting a rug? Would you do it?
Here are a few more easy DIY projects you might like: