If you're looking to learn how to open a paint can – and close a paint can – with no mess, you're in the right spot!
If you're new to DIY, sometimes even the most straightforward tasks can feel, well, really intimidating. New homeowners may find that they don't even know where to begin on tackling simple projects around the house.
And, if you're new to painting, you may find yourself feeling defeated before you even begin. Where is that fancy paint can opener tool again? And what do I do if I lost it? And why do I make such a huge mess every time I close my paint can?!
Well, did you know there's a simple way to open a paint can (and close it) with no mess, no fancy tools, and no stress?
It's easy, I promise.
There's no question too basic here, so today we're tackling how to open a paint can.
Once you've got the paint can open, you can click here to learn how to paint a room!
How to Open a paint can: Video tutorial
To quickly and easily open a paint can lid, all you really need is a flat head screwdriver.
No, you don't need that fancy paint opener that you're constantly losing. Just a screwdriver will do!
To open your paint can, all you need to do is wedge the end of your screwdriver into the lip of the can. Then, gently push down on the handle of the screwdriver. This helps begin to push the lid up and releases some of the pressure.
Remove the screwdriver and repeat that process 3-4 times around the entire lid of the can. After you gently lift in a few different places, the lid will pop right off!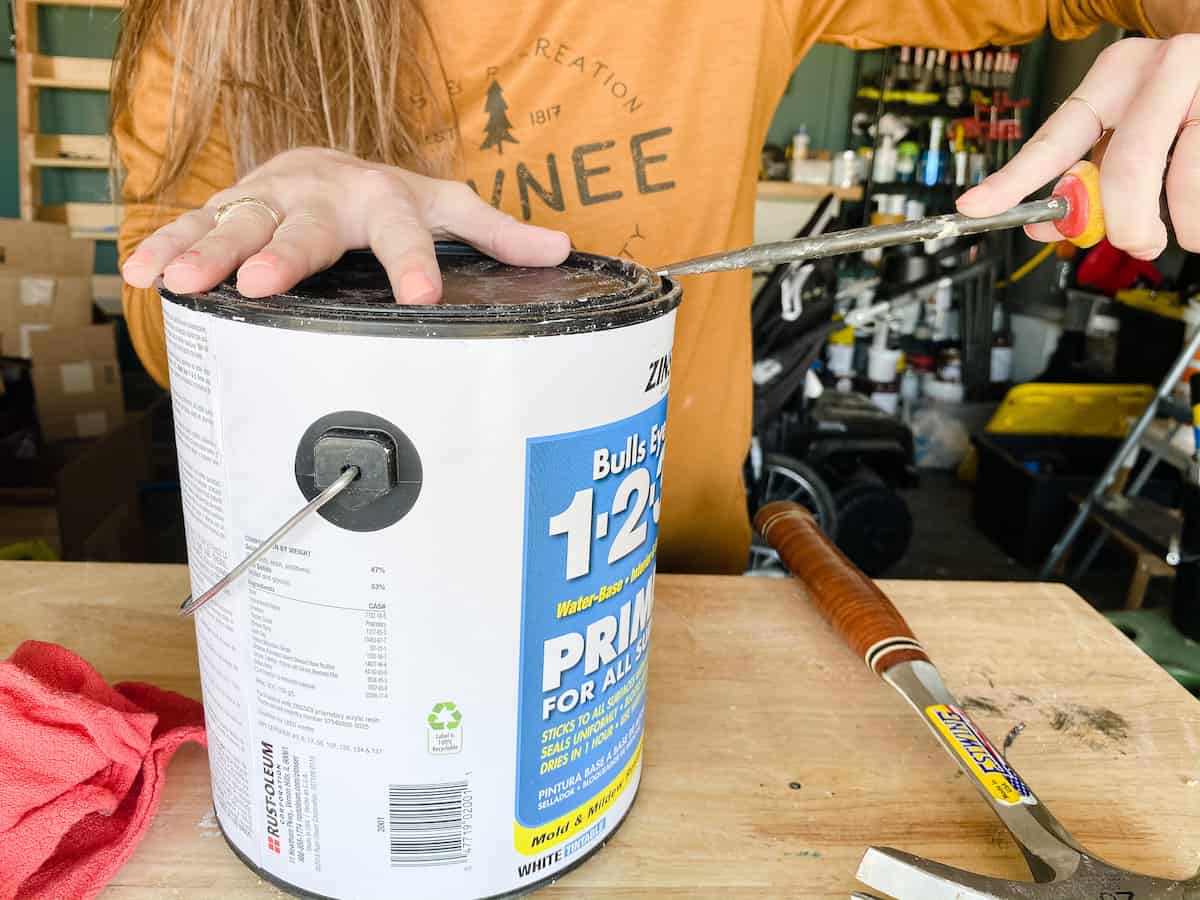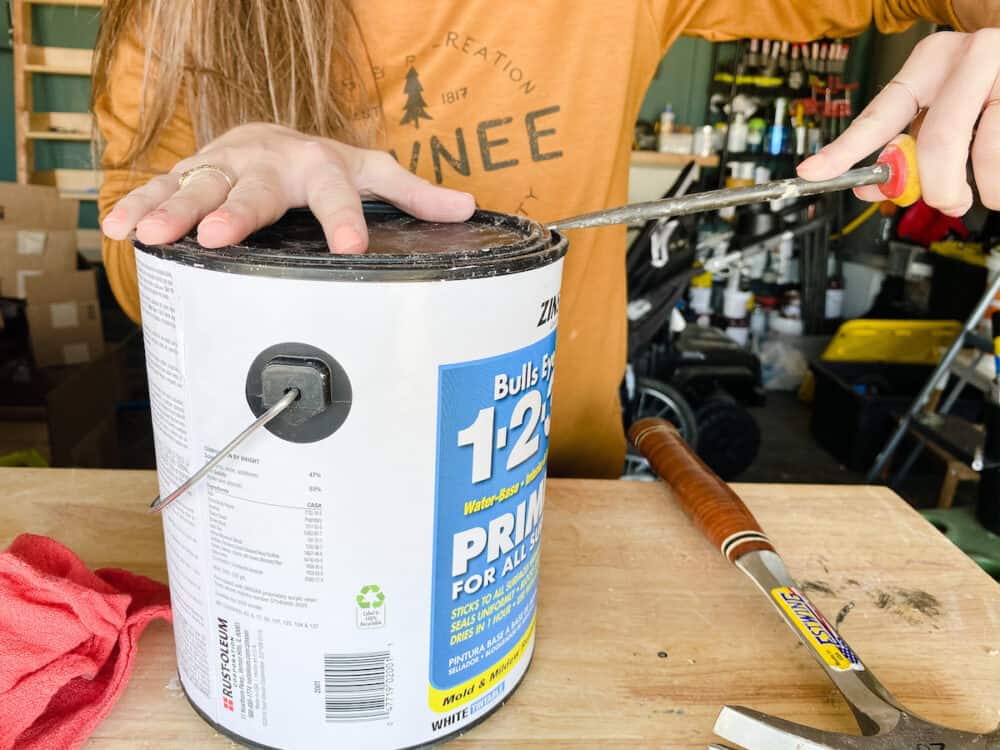 Will I get paint on my screwdriver?
No! The screwdriver won't be coming into contact with any wet paint. So, it should stay perfectly clean. If you're working with an older paint can that's a little dirty, there's a chance you'll get a bit of dried paint on the screwdriver. But it should be able to wipe right off with a paper towel or old rag.
The paint can lid might have a bit of paint on it, so be sure to quickly flip it upside down and place it on a safe area. This will help prevent any drips on your work surface.
I can't find my screwdriver! What else can I use to open my paint can?
If you're in a hurry and can't track down your flat head screwdriver, you have plenty of other options. Here are a few other things I've used to open paint cans over the years:
And, if you're really in a pinch, you can use a plain old bread knife!
No matter what tool you're using, the process is exactly the same. Just wedge the flat part of your tool between the lid and the can and gently press against it until you release the pressure and open up the can! You just need something that can give you a little leverage!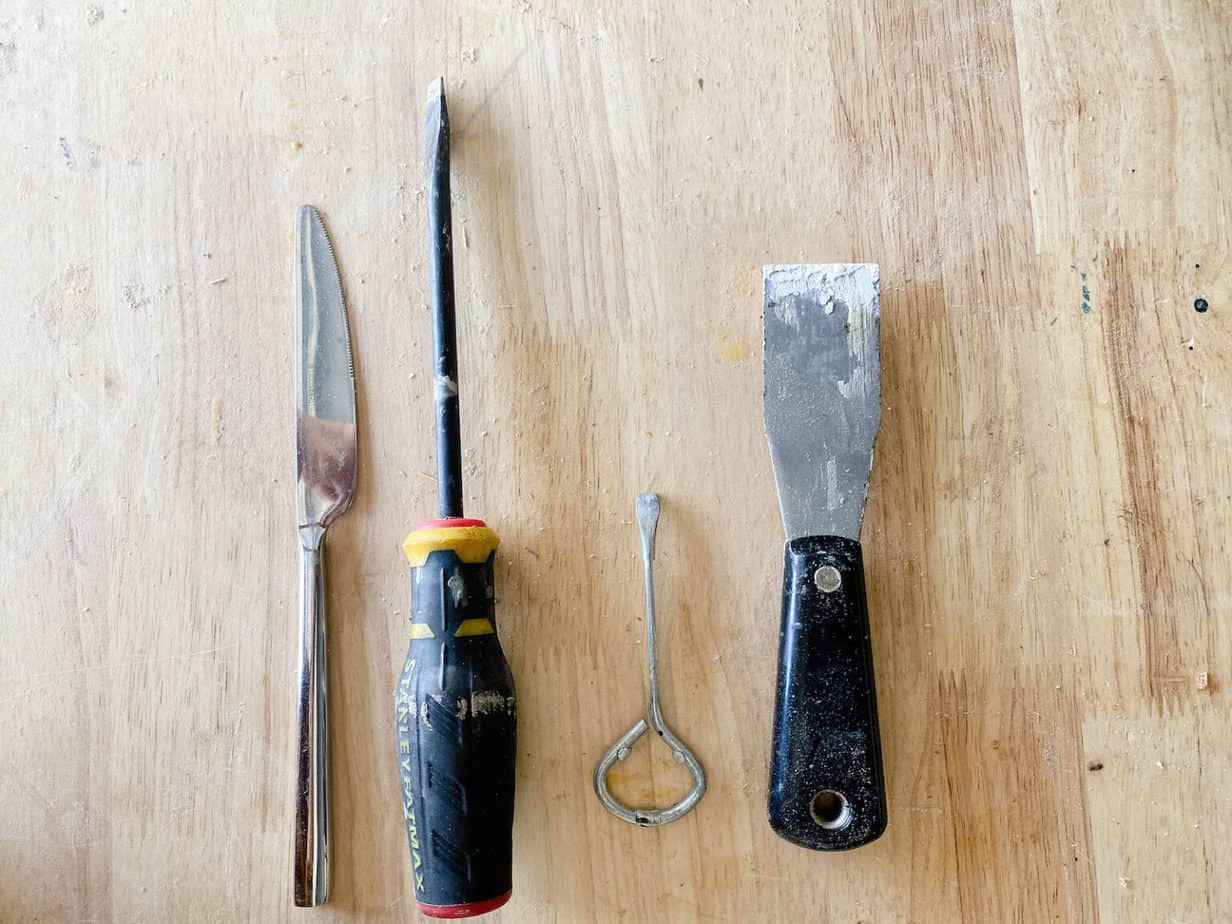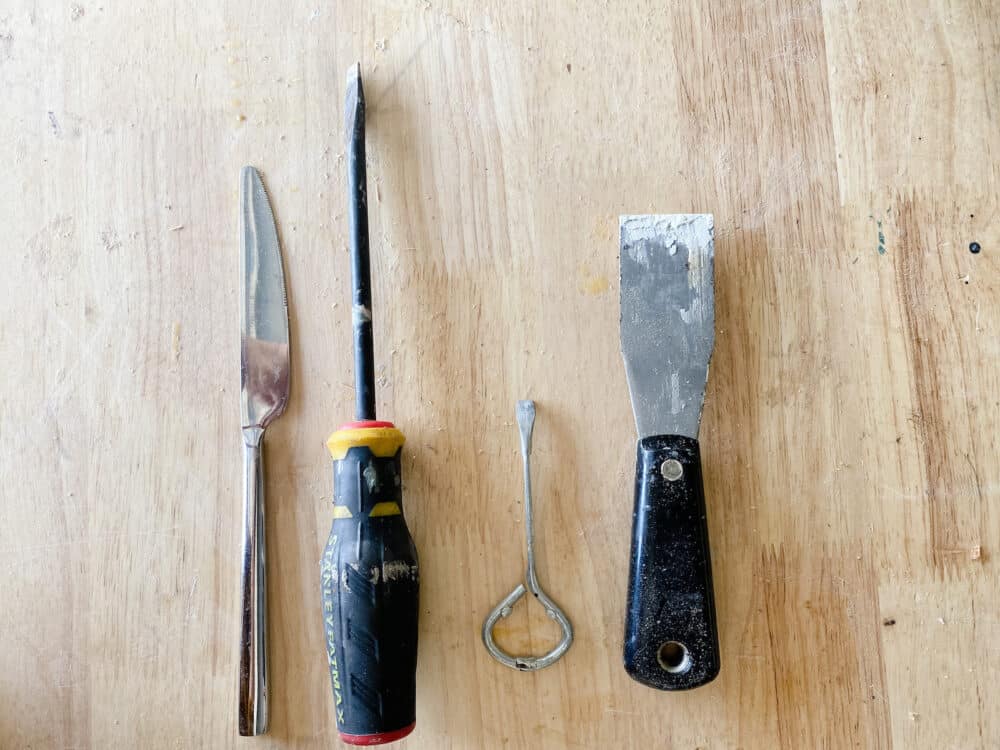 How do I open those fancy behr paint can lids?
My favorite paint brand, Behr, has recently released a new line of paint can lids that can be a little, um, confusing if you haven't worked with them before!
But, no stress because these are even easier to open and use than a traditional paint can!
The Behr paint can lids have little twist-top holes on one side of them that allow for really easy pouring. To open a Behr paint can lid, just twist off that top. You'll be left with a hole in the lid of your can. Now, grab the spout that they'll give you with your paint. You can twist that onto the hole and now you have a really easy-to-use spout ready for no-mess pouring!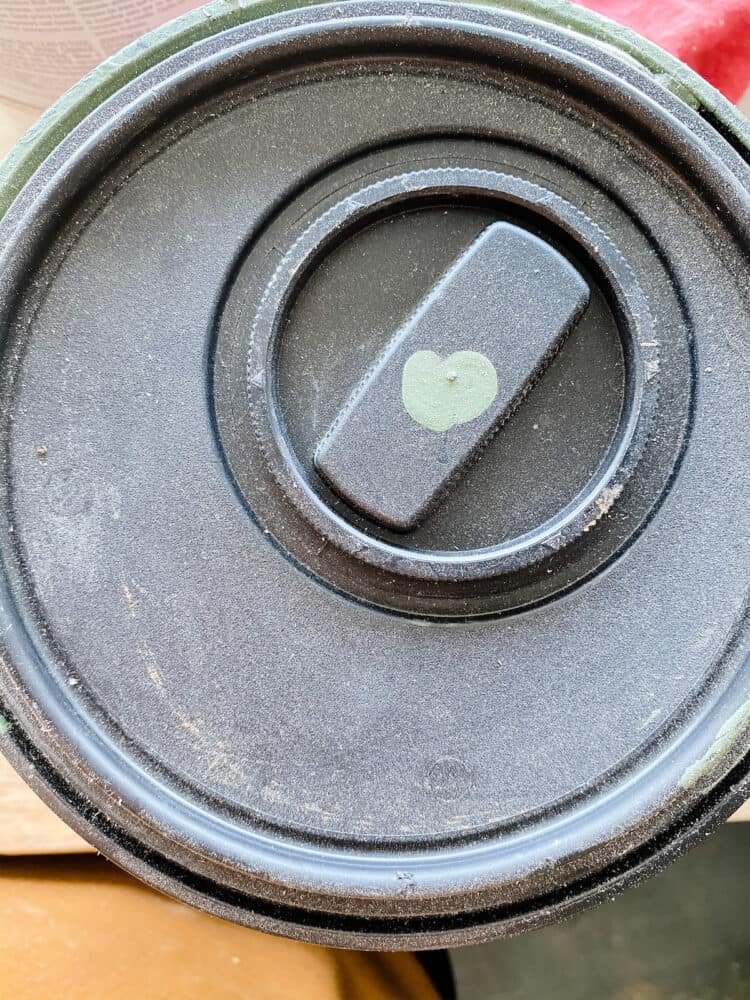 Of course, if you don't want to use the no-mess spout, you don't have to! You can still open the paint can lid the traditional way (with a screwdriver, putty knife, or a paint key), and it will function exactly the same. These lids are plastic instead of metal, so I find they're generally even easier to get off!
Help! How do I remove the metal clips from my paint can?
Some paint cans will come with metal clips around the top – this is really common when you've ordered paint or stain online!
These little metal clips are a little annoying, I'll admit. But, thankfully, they're very easy to remove with the same tool you're already using – a flat head screwdriver!
All you need to do is press the end of the flat head screwdriver into any gap you can see between the clips and the can. Then, gently move the screwdriver handle up and down until they pop off!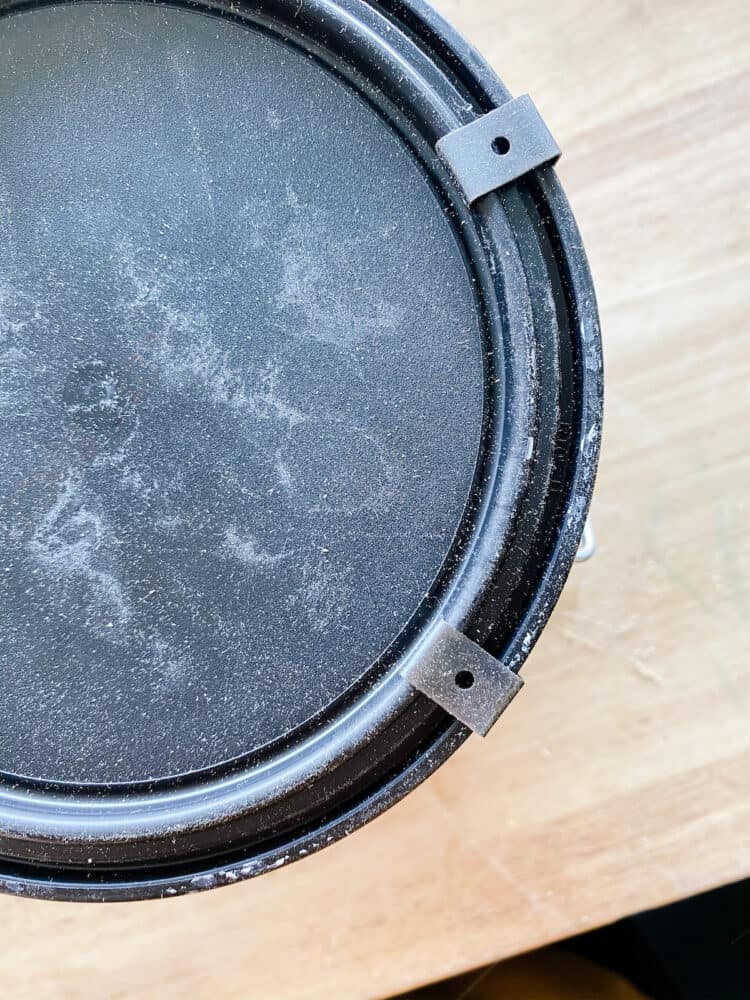 The only thing to look out for here is that sometimes these things can fly off if you aren't careful. So, be prepared for flying metal clips. As long as you move slowly and steadily, however, they do just pop off and you can open the paint can as normal!
how do you close a paint can?
Now this is the million dollar question. How in the world do you close a paint can lid without splattering yourself – and everything in a 10-foot radius – in paint?!
All you need is an old towel or rag and a hammer or a rubber mallet.
I like to keep a stash of old towels and rags in my garage at all times for jobs just like this. But if you don't have any old towels that can be relegated to the garage, you can purchase some shop towels – I promise you'll find yourself using them all the time!
Before you put the lid back on the paint, I recommend running your paintbrush (or, if you're feeling lazy and don't mind washing your hands, just use your finger!) around the rim of the can to help remove excess paint and get it back into the can.
Once the excess paint has been cleared out, grab whatever towel or rag you want to use. Put the lid back on the top of the paint can. Then, drape the rag over the paint can and lid. Then, use the hammer to tap around the edges of the paint can lid to re-seal it!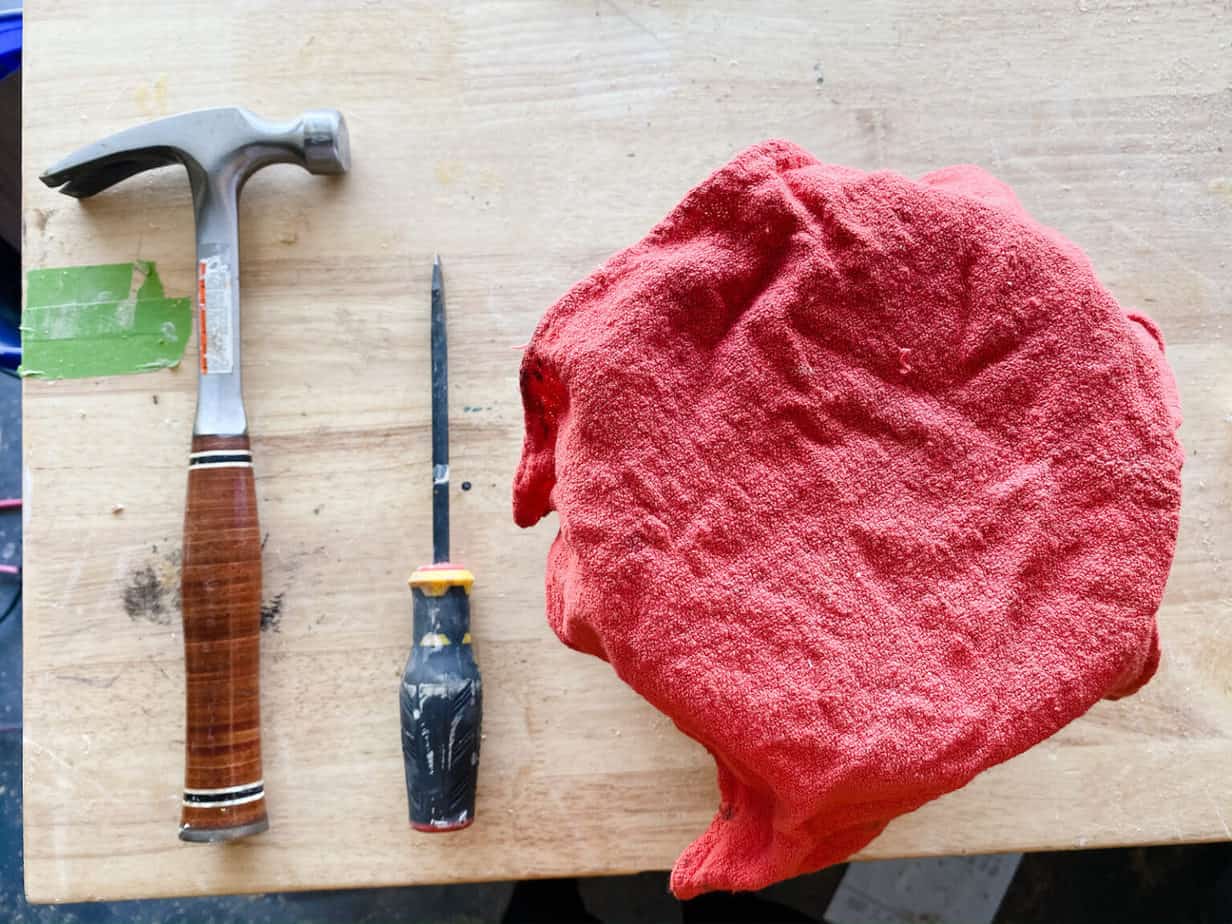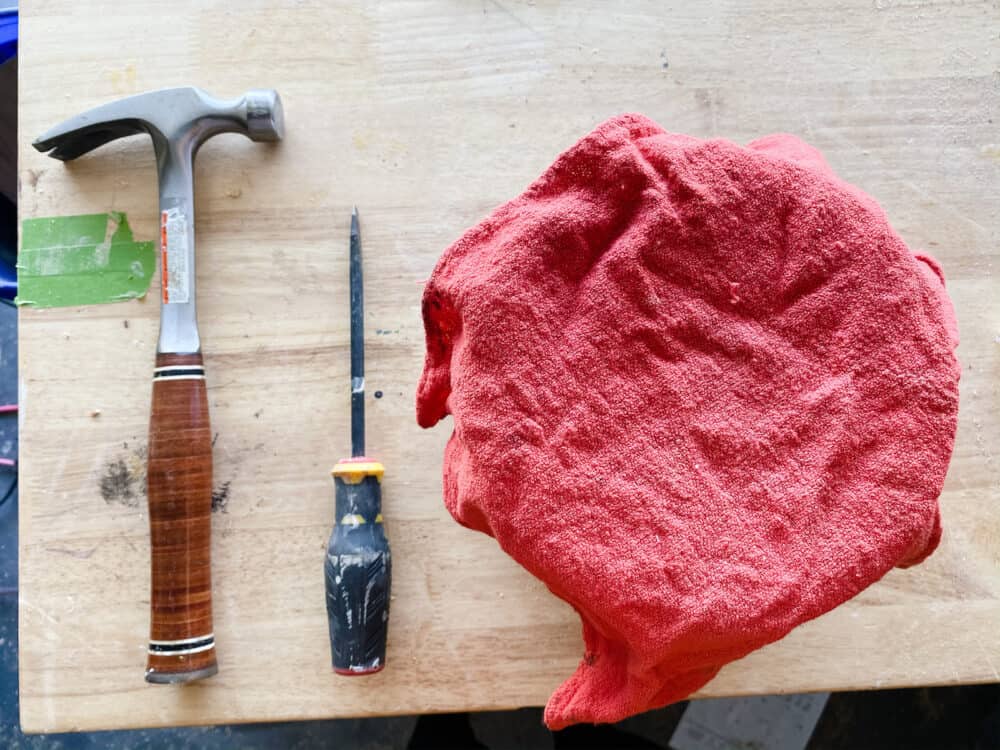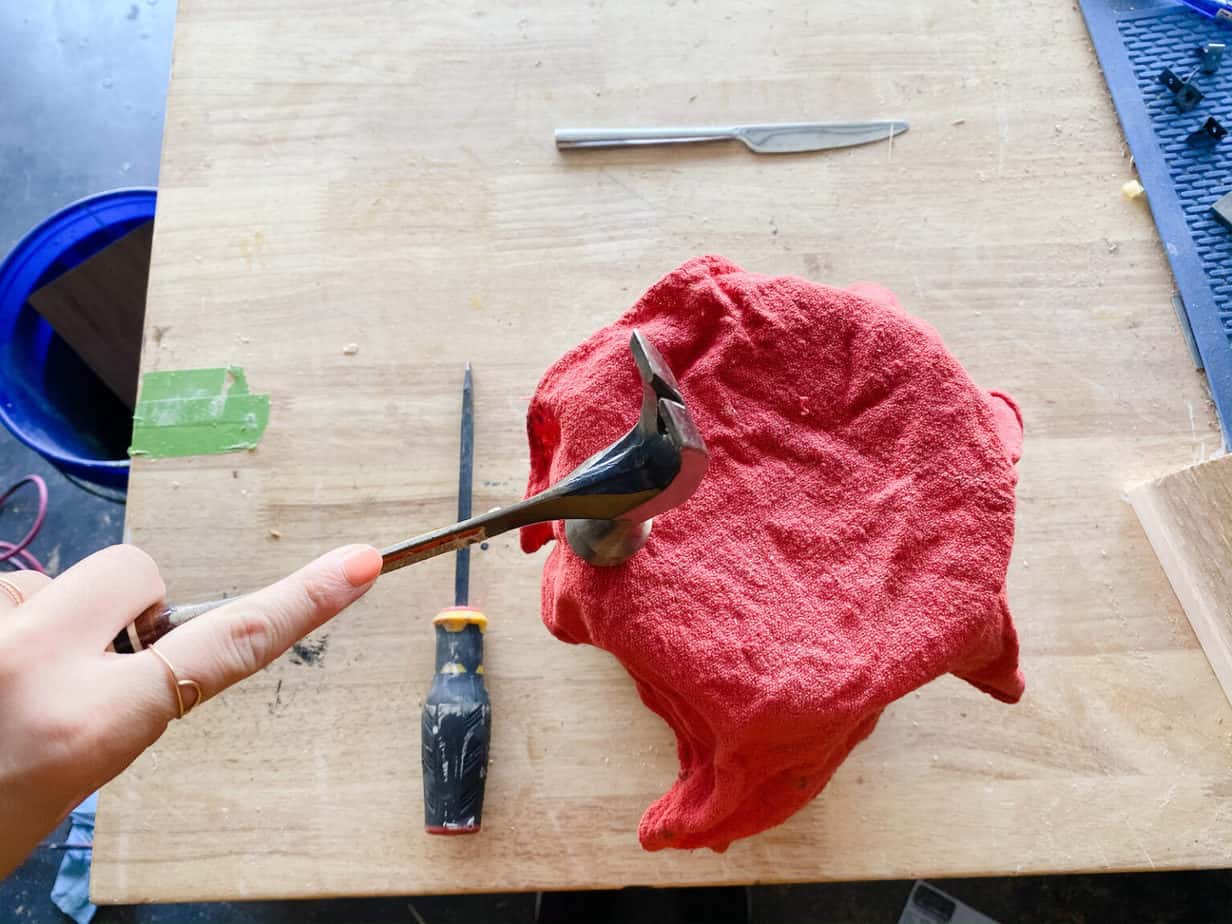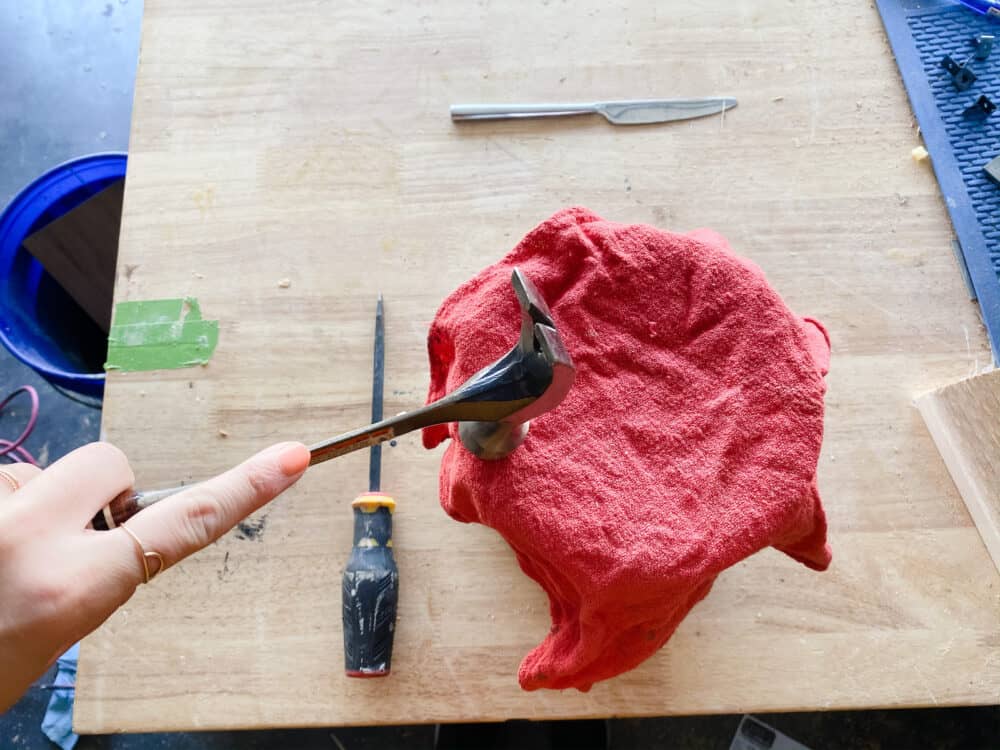 The rag helps prevent all of those flying paint splatters and helps keep the mess contained. Be sure to use one that you don't mind getting dirty (because it will get paint on it), and be sure to remove it right away so it doesn't dry and get stuck to the paint can!
It's very important to properly close your paint cans because if you don't the paint can dry out and be ruined. If you want to make sure you always have fresh paint when you need it, getting an air-tight seal on the paint can is imperative.
wait…I can't find my hammer!
No worries – if you can't find a hammer to close your paint can lid, you can use literally anything that's heavy and hard.
I've used the handle end of my screwdriver, a power tool battery, another paint can, and even a (non-breakable) cup! You just need something that won't break when you hit it against the paint can lid and can essentially function as a hammer!
And that, my friends, is everything you need to know about how to open a paint can! Have another basic DIY question you'd love to see me tackle? Drop it in the comments below!
MOre painting tips
Basic DIY guides