Do you have a kitchen in need of a new backsplash? This post will walk you step-by-step through how to install a subway tile backsplash – even if you've never tiled before! These tiling tips for beginners will give you the confidence you need to tackle tiling your own kitchen backsplash.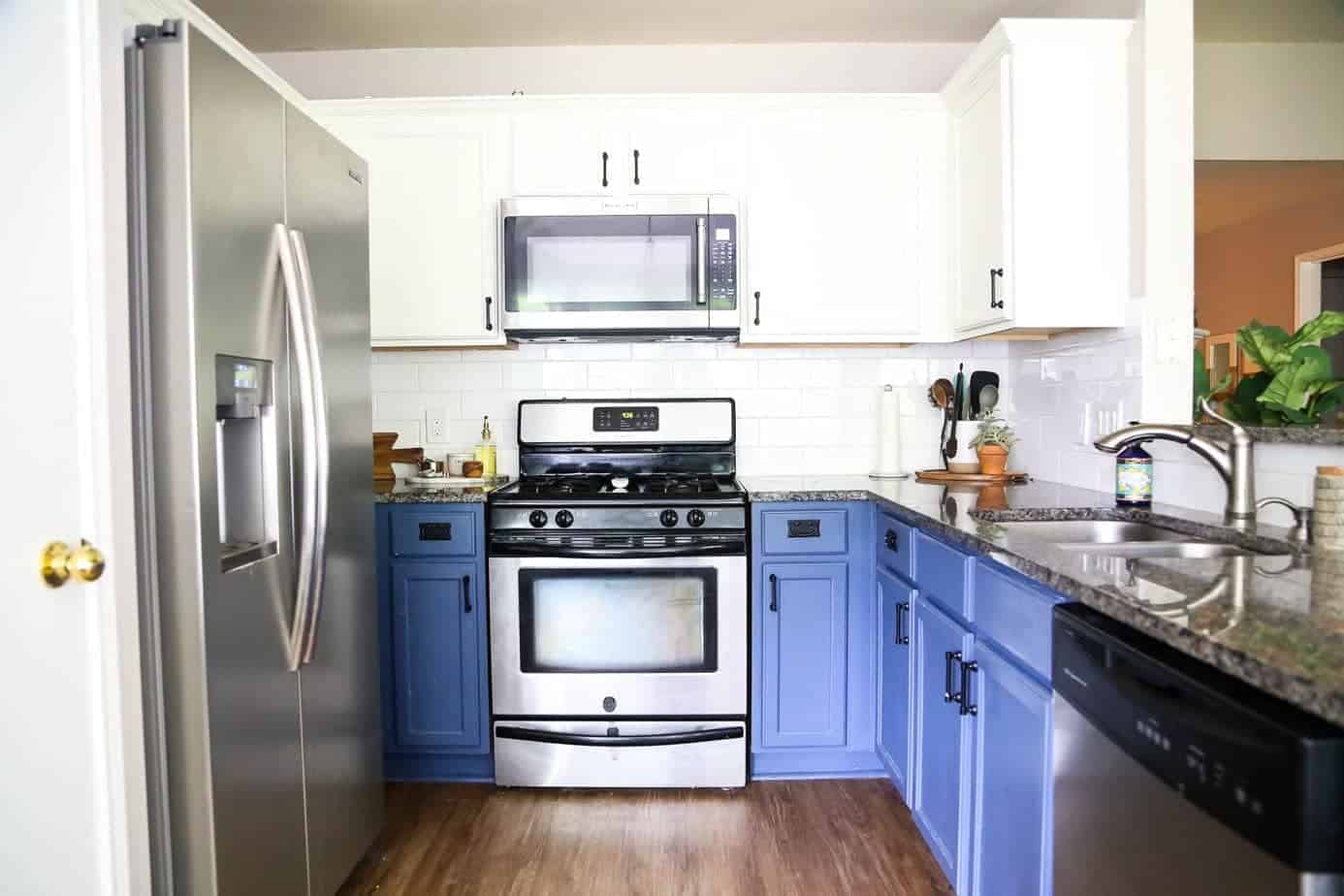 Ahhhh!
I did it!
It's done!
I replaced the backsplash in our kitchen! All by myself! Five months pregnant!
Sorry for all of the exclamation points, I'm just feeling really good about this situation right now.
If you've been following our One Room Challenge dining room renovation (see the latest post here), you'll know that as part of the makeover we've decided to spruce up our kitchen a bit too, since the two rooms are connected. We painted the cabinets a while ago, but the backsplash was seriously clashing with the rest of the look and was in desperate need of an overhaul. Since we were already working with Jeffrey Court for the tile in the bar area, we went ahead and asked them to send us the tile for the kitchen backsplash too.
I was a little nervous about squeezing this (giant) project in when we're supposed to be working on our dining nook, but I am so glad we did.
I mean, come on.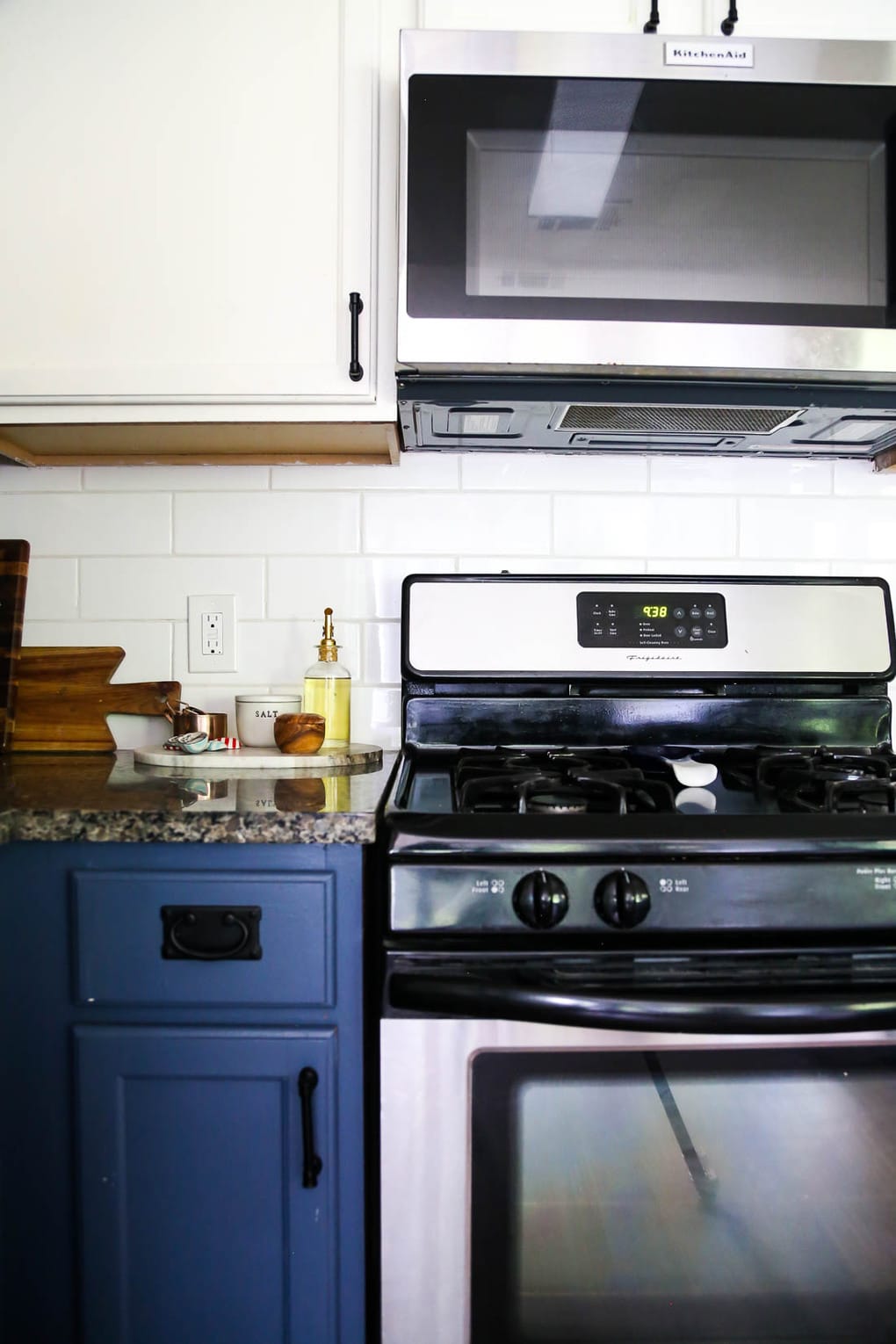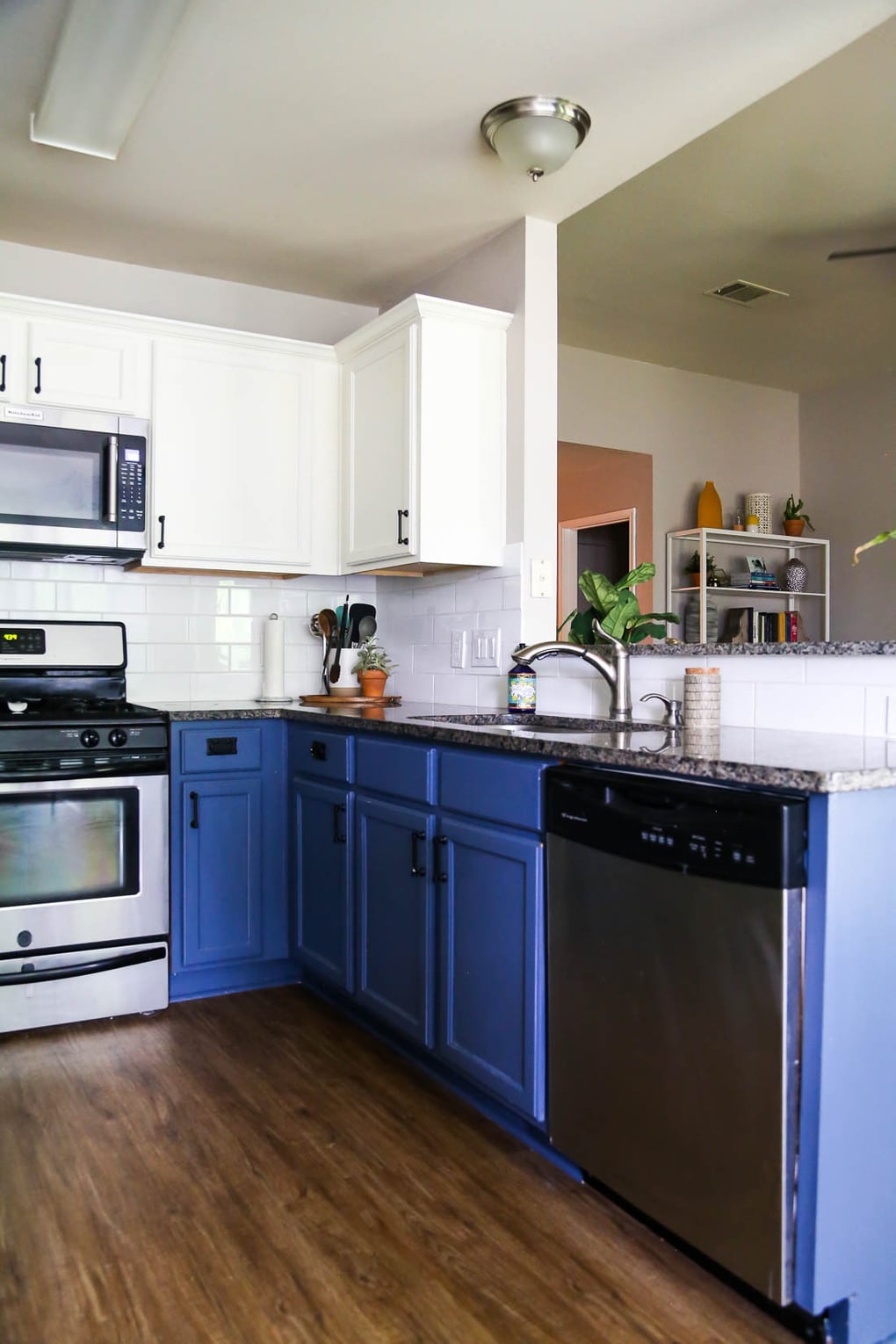 This post contains affiliate links. Click here to read my full disclosure policy. 
That looks so much better, right?!
As I've shared snippets on Instagram, I've had a lot of questions about how to tile a kitchen backsplash and many requests to share my process – so, today is the big, bulky, beefy post all about how to install a subway tile backsplash in your kitchen. Don't have a kitchen renovation on the agenda at the moment? Then be sure to pin this post for later to help you find it when you're ready!
Let's do this.
How to Install a Subway Tile Backsplash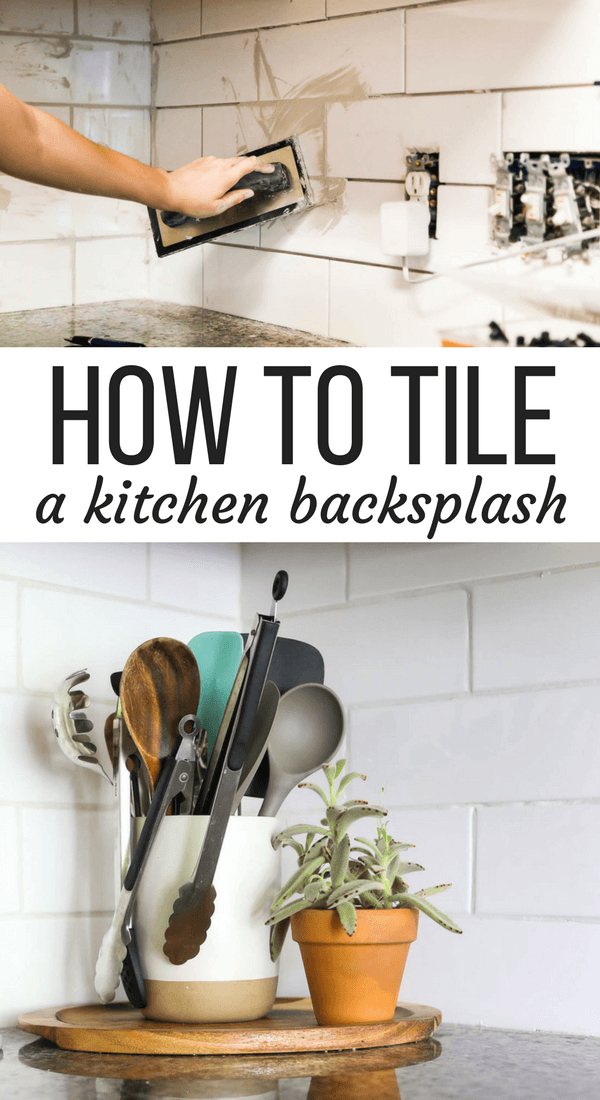 MATERIALS:
If you're demolishing old tile, you'll also need:
Hammer
Pry bar
Gloves (vital to prevent blisters!)
Eye protection
Fresh drywall
Step 1: Remove the Old Tile
Obviously, the first step is to remove your old tile and prep your drywall for fresh tile. Before I even chat about it, I'll give the disclaimer that I am not a pro when it comes to this (or, let's be real, any project I do), so I always end up replacing the drywall when I'm removing old tile.
If you're careful and good at what you do, you can preserve the old drywall. However, it's almost impossible to remove old tile without needing to do some sort of repair to your drywall – in the end, I find it's easier (and more effective) to just remove the old drywall rather than try to repair it.
Here's my method:
Use a hammer to break up the old tile. Basically, just go to town on the tile until it starts falling off the wall. If you know ahead of time that you're removing the drywall as well, you don't need to be too careful about messing it up. I found that the best strategy for me was to hit a tile until all of the pieces started to loosen up, then I used the back of my hammer (or my pry bar) to peel the tile off.
This is exhausting and no fun and it will suck. That's really just the bottom line. Sorry.
After some backbreaking work, your backsplash will look like a tornado went through it.
Now it's time to fix it.
Step 2: Repair (or Replace) the Drywall
Like I mentioned before, I like to just replace my drywall rather than repair it. I mean, can you imagine trying to repair that hot mess and actually getting a level surface when all is said and done? Not worth the effort, if you ask me. I used this multi-tool to cut all around the damaged drywall and pull it off the wall. Soon, my kitchen looked like this: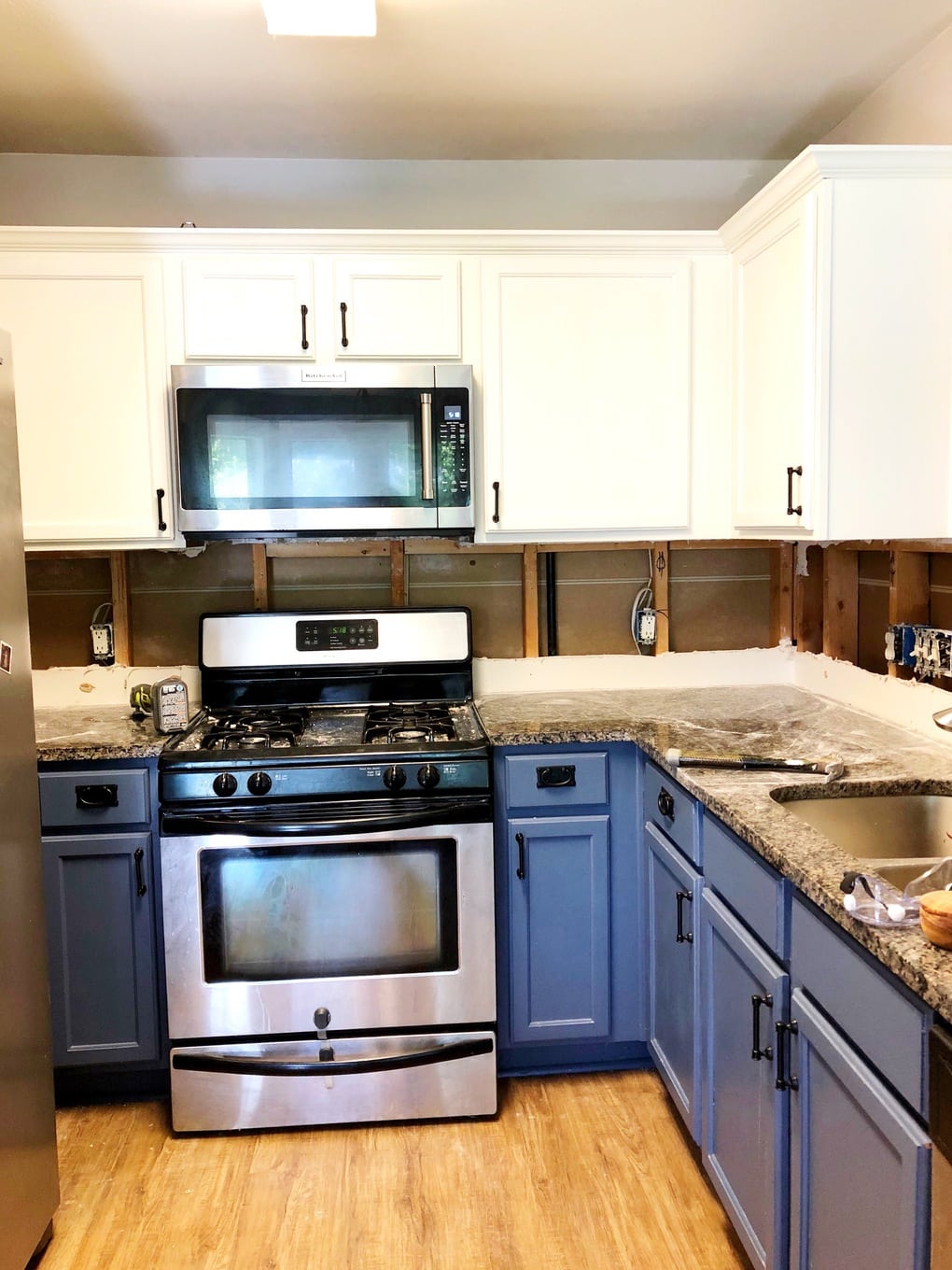 Cute, no?
Thankfully, putting up fresh drywall is very easy. Simply measure your area and cut a piece of drywall (I use a utility knife to score the drywall, then just break it off), then screw the piece into the studs. Once your area is full of drywall, apply drywall tape on all of the seams, and then mud the seams and screw holes with drywall compound.
Typically, you need to allow the drywall compound to dry for 24 hours before applying a second coat. Apply two coats, then sand it down with a sanding block so it's nice and smooth, and you're good to go.
Easy peasy – I promise.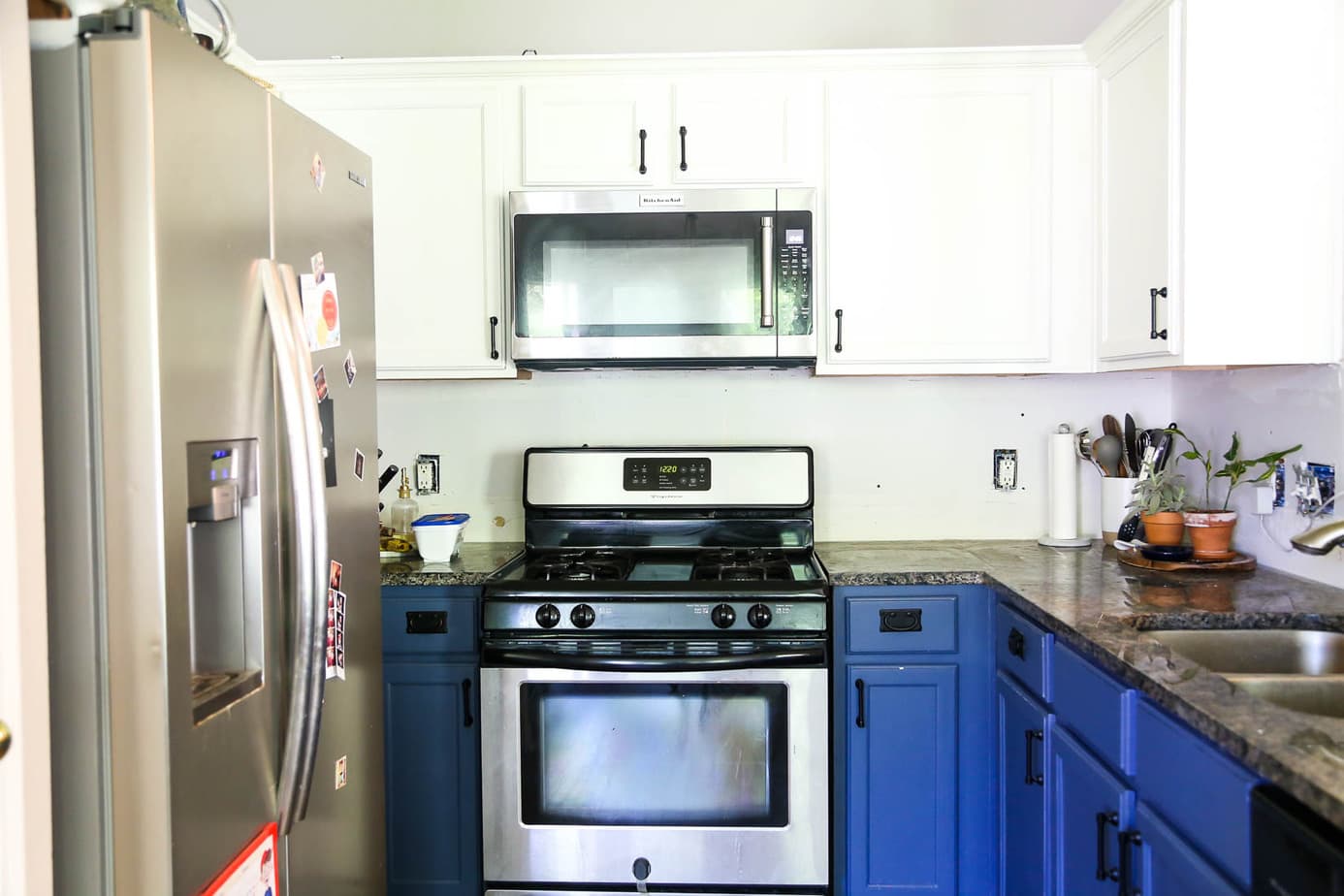 Honestly, at this point, I felt like my kitchen was already vastly improved from the before. I mean, if you don't look closely, you can't even tell that's just plain old drywall, right?!
Step 3: Apply Thinset
Once your drywall is ready to go, it's time to start laying the tile! The entire process is best done in small chunks, which you'll kind of see in the photos. Basically, I did steps 3-5 for a three-ish foot chunk of my backsplash, then I went back to the beginning and started with step 3 again for a new section. If you work faster than I do, you can apply thinset to a larger section at a time, but I'm a slowpoke and it's okay.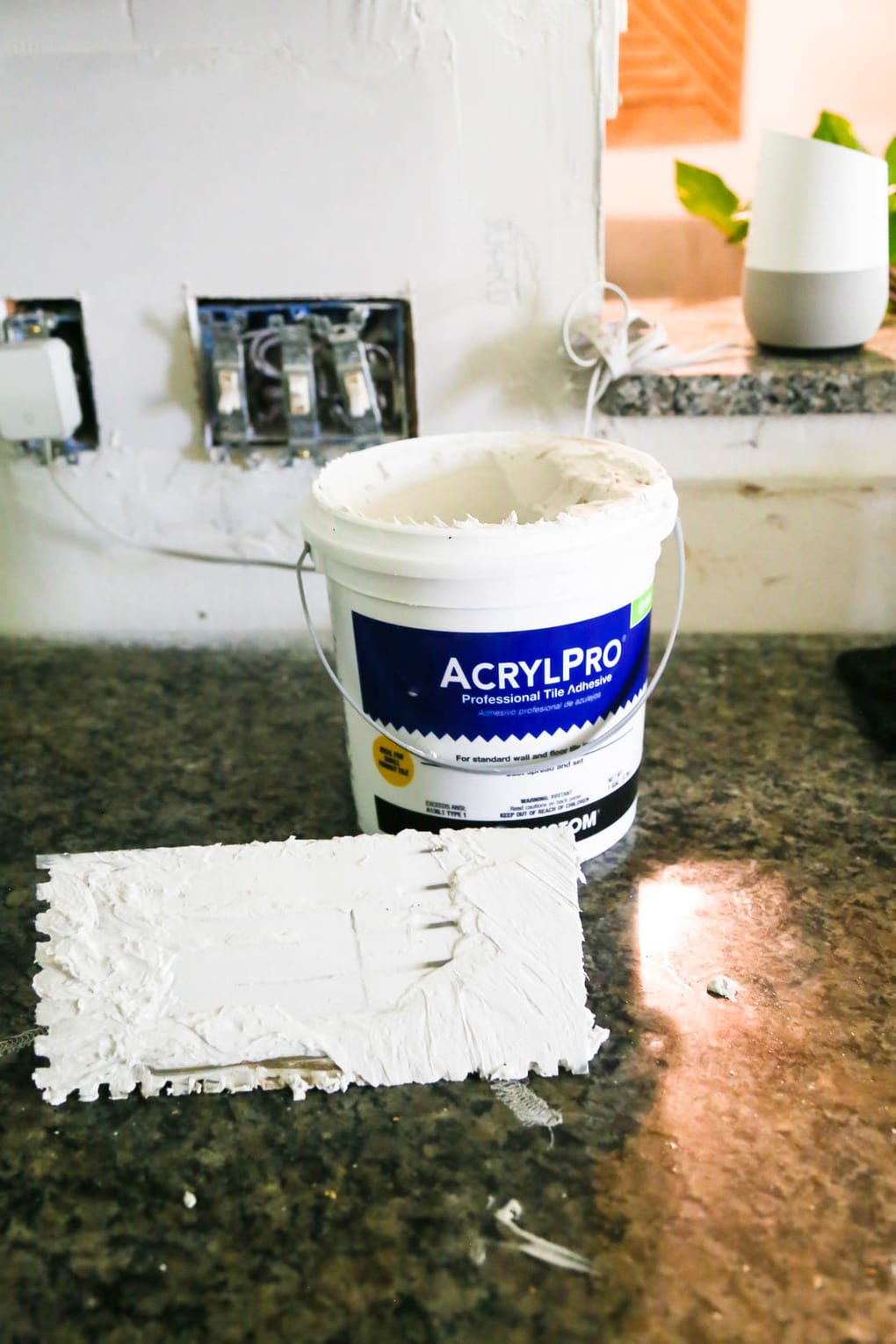 I like to work with pre-mixed thinset – it's definitely more expensive, but in my mind, it's worth the cost to not have to deal with mixing it to the perfect consistency. Trust me. Mixing thinset is not fun.
Decide on the area you're going to start on, then use your trowel to scoop up some thinset. Apply it directly to the wall with the smooth edge of the trowel at a 45-ish degree angle. Don't be shy about it – you want a nice, thick layer.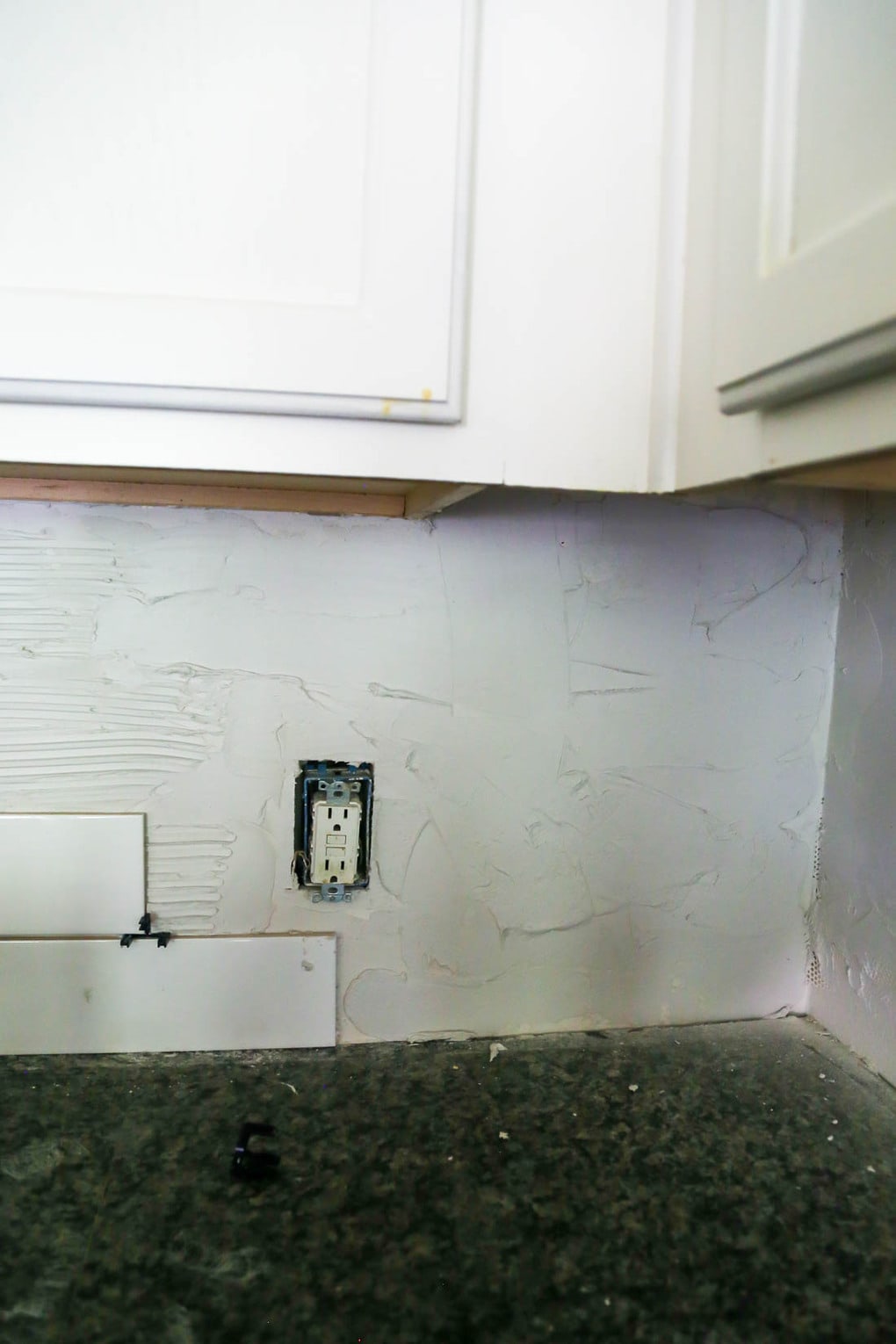 Once you've applied the thinset to the entire section you're working on, flip it around to the notched side and run that horizontally through the thinset (again, at a 45-degree angle) to create ridges in the thinset. It'll look a little something like this: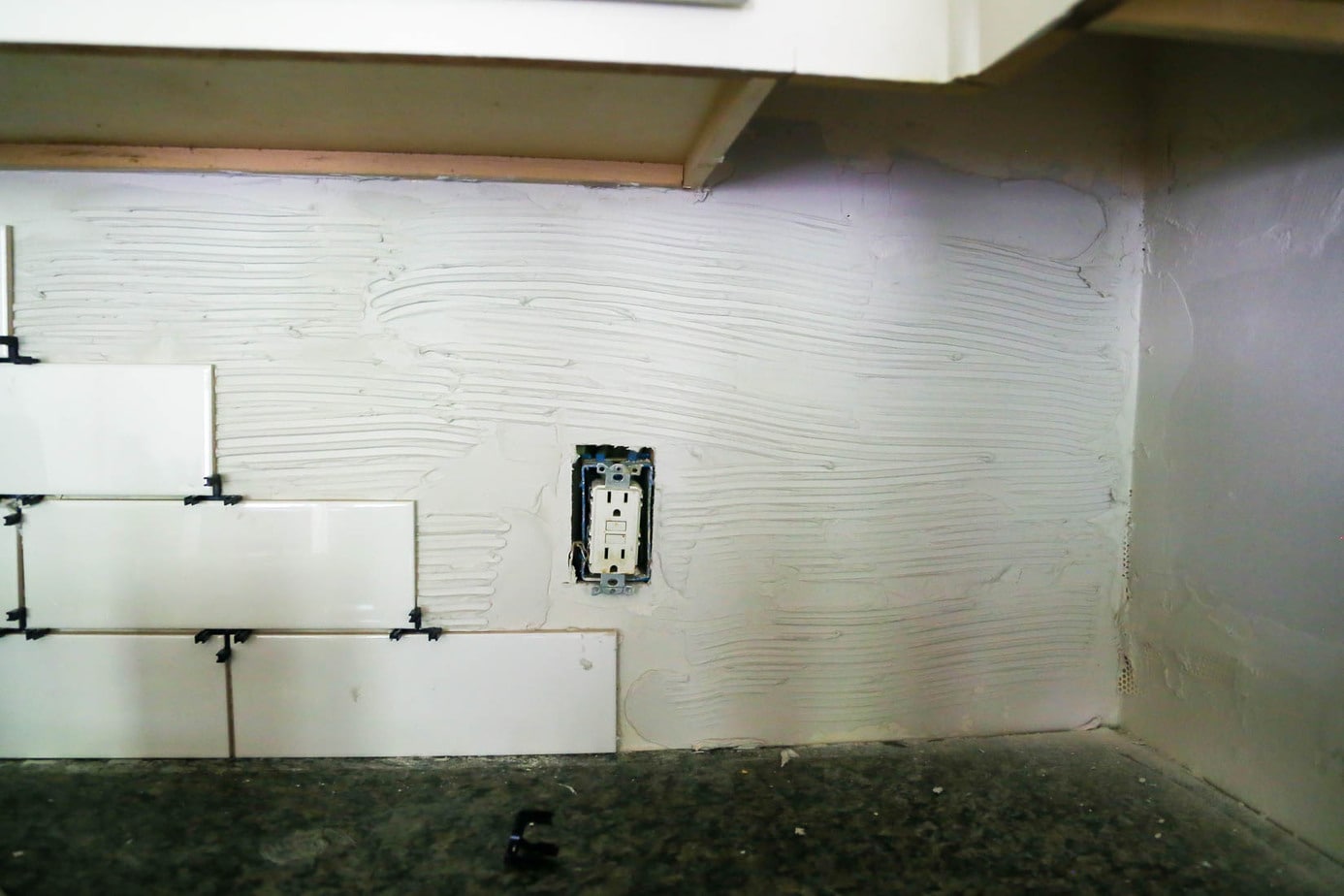 Step 4: Place Your Tiles in a Subway Pattern
Once your thinset is applied to your section, you can begin laying tile! Grab your first one and line it up with the beginning of your section. To begin, I started on one side of my kitchen (the side by the refrigerator because it's the least visible – in case I had a bit of a learning curve!), and put some painter's tape along the edge of where I wanted my tile to be, just to keep me on track (and save me from cleaning up rogue thinset later).
To apply your tile in a subway pattern, just start with a full piece of tile on your first row, then cut a piece of tile in half to start your second row. Continue that pattern and you'll end up with the coveted and classic subway pattern.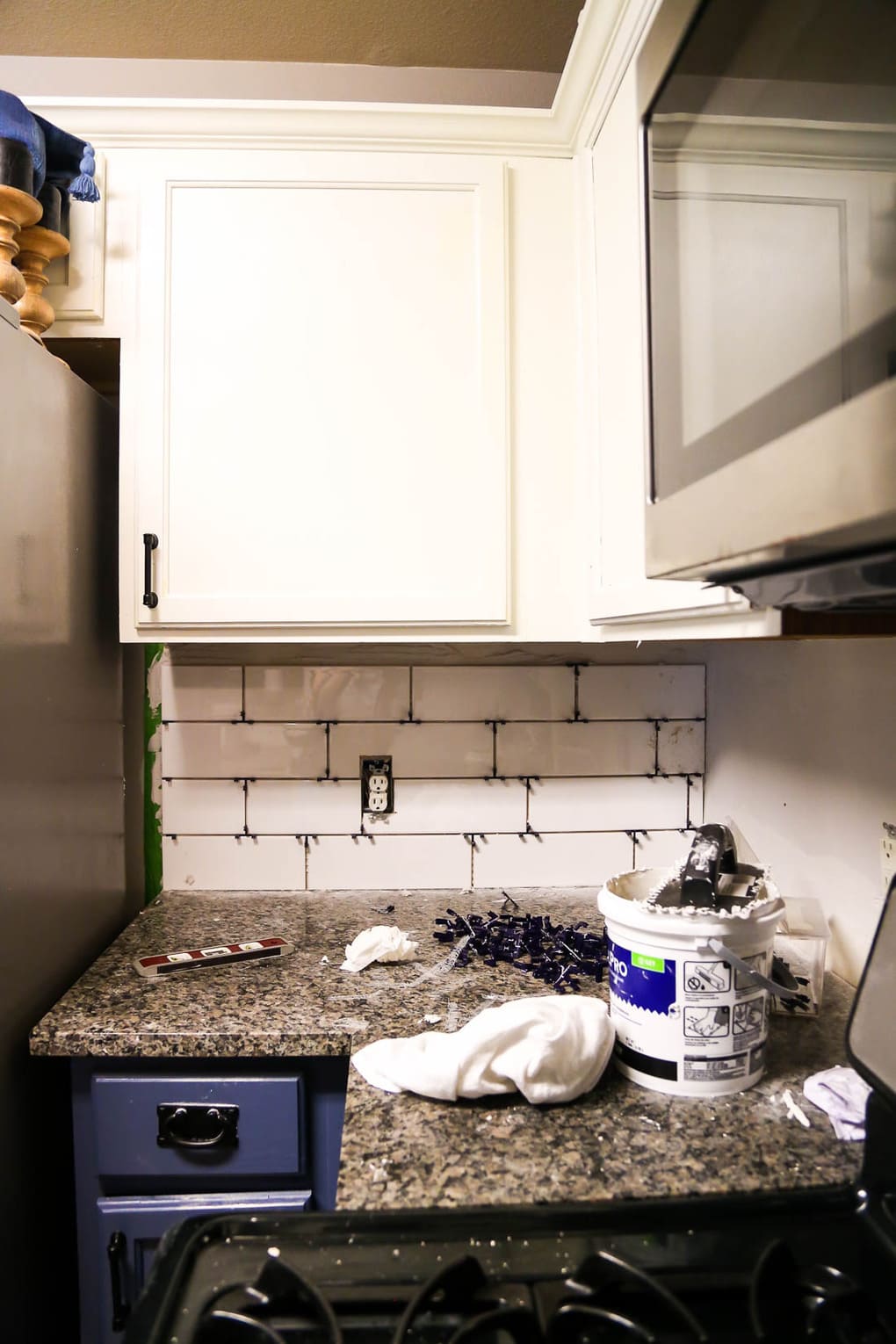 Some people who are much more proficient tilers than I am can get away with laying tile without using spacers, but I'm still a newbie and I love how easy they make it to keep my tiles level and evenly spaced. I used these spacers for this project and they were great – you can snap pieces off to get the exact configuration you need and they helped keep everything nice and level.
Just continue going in your section until you run out of thinset (again, I worked in about a 3-foot long section, and laid from the counter all the way up to the cabinet). Then, it's time to make some cuts!
Step 5: Cut & Install Any Edge Pieces (or Around Outlets)
Here's where the intimidating part comes into play. But, I can assure you, a wet saw is nothing to be afraid of. Maybe next time I do a tiling project I'll put together a quick Power Tools for Beginners video for it?! Here's the rundown: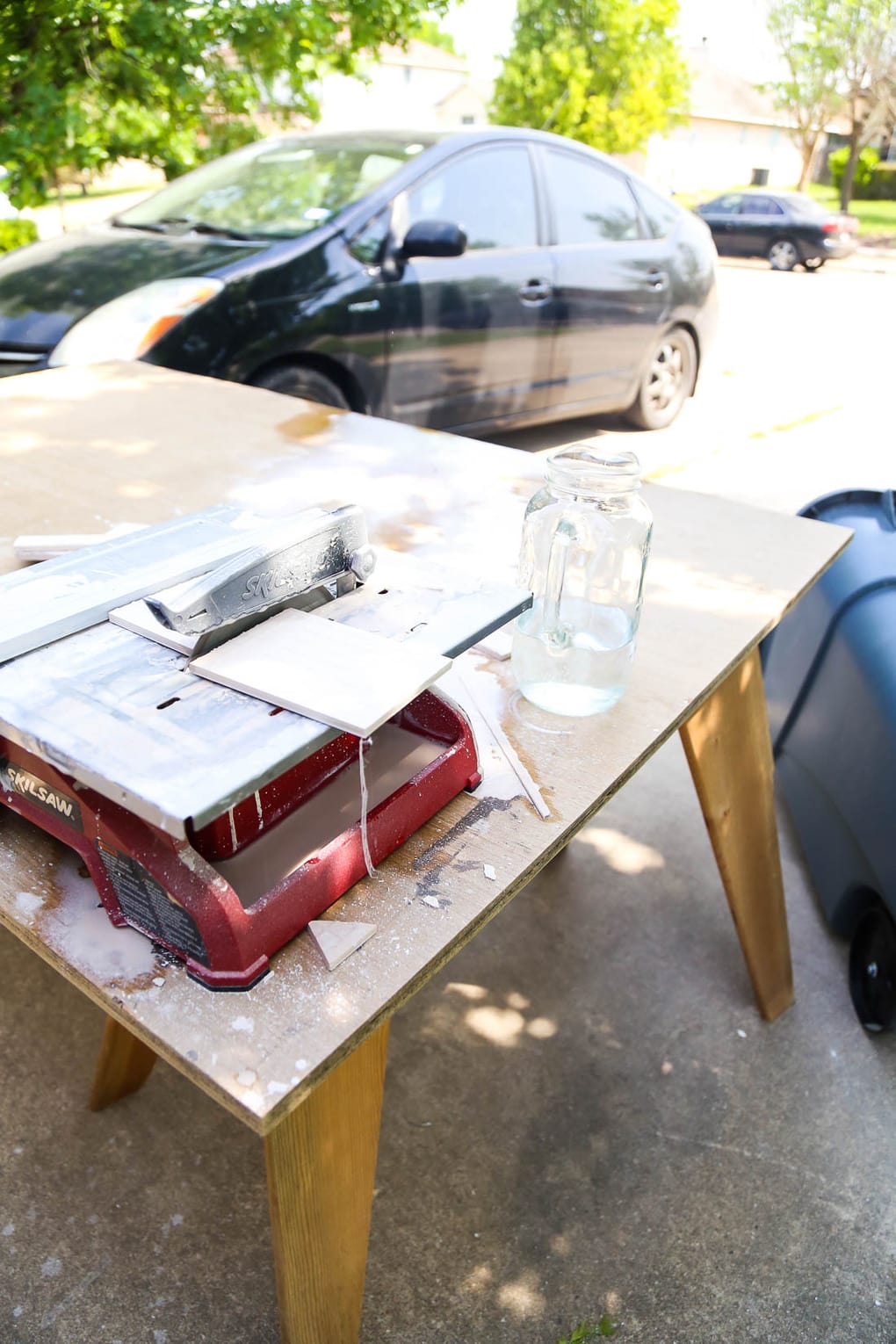 Wet saws generally have an area on the side that you need to fill with water. There will be a max fill line – don't go above that or you'll just make a big mess. As you work, be sure to check on the water level frequently to ensure it doesn't get too low.
Simply measure the size that you need for the tile (taking into account the size of your spaces for your grout line) and mark it on the back of your tile. Adjust the guide on your wet saw to the appropriate size (I just hold the tile up to where my line is and then move the guide so that it touches the edge of my tile), and let 'er rip. Be sure to move slowly and steadily.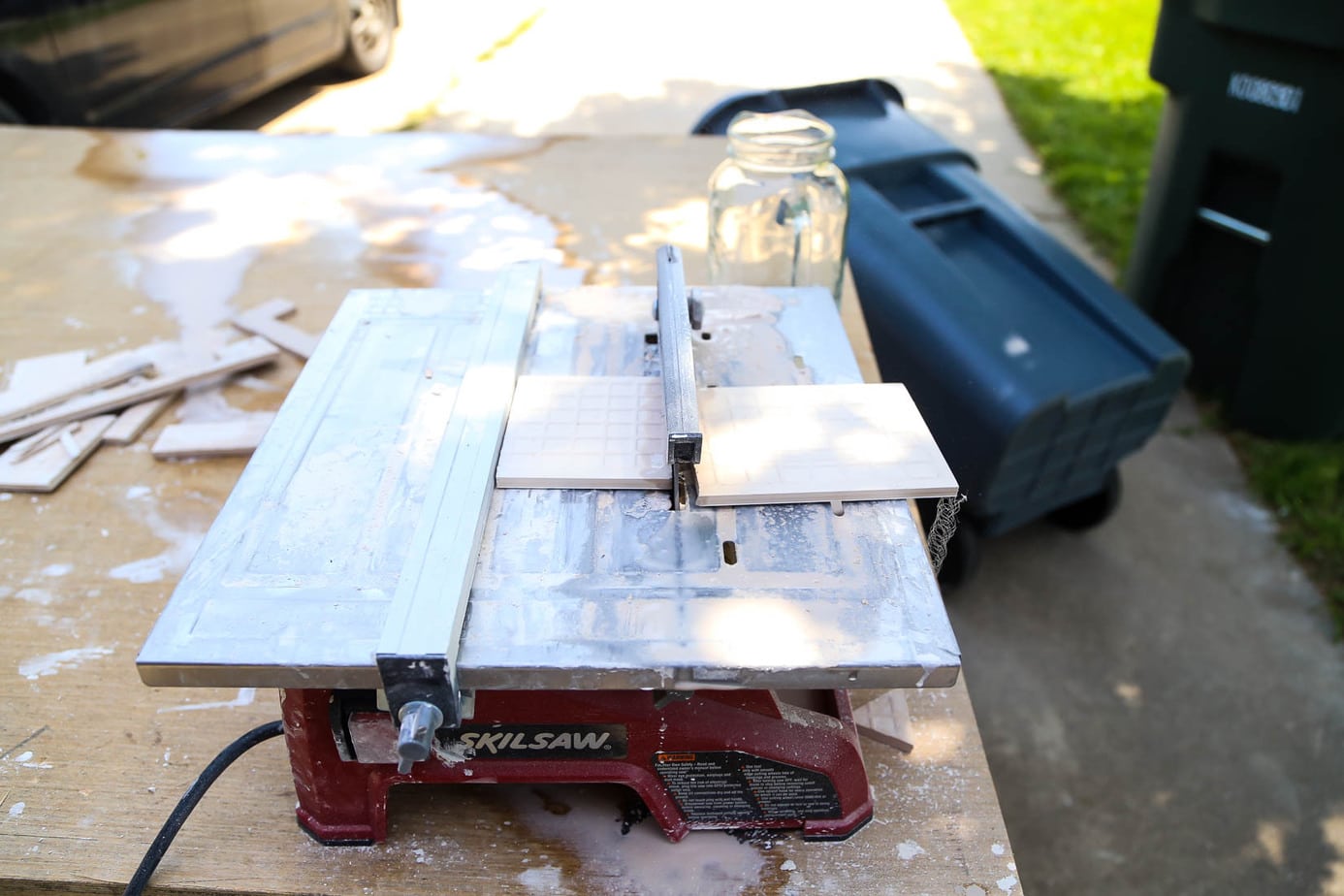 Once you've got your tile cut, bring it inside and test it to make sure it fits before you place it. If you're working in a corner or near the top of the wall where you didn't put a good amount of thinset, you can just apply it directly to the back of the tile using the same method you used before.
Cuts around obstacles like outlets or light switches are a little harder, and I'll be the first to say I probably didn't do it the "right" way. I used my wet saw and basically just cut on either side of where the notch needed to be, then made a ton of tiny cuts until the entire notch for the outlet was removed (you can use tile clippers to speed this process up), but I'm sure there are more efficient methods.
It isn't pretty if you look at it without the outlet cover, but thankfully it'll be covered up so no one has to know.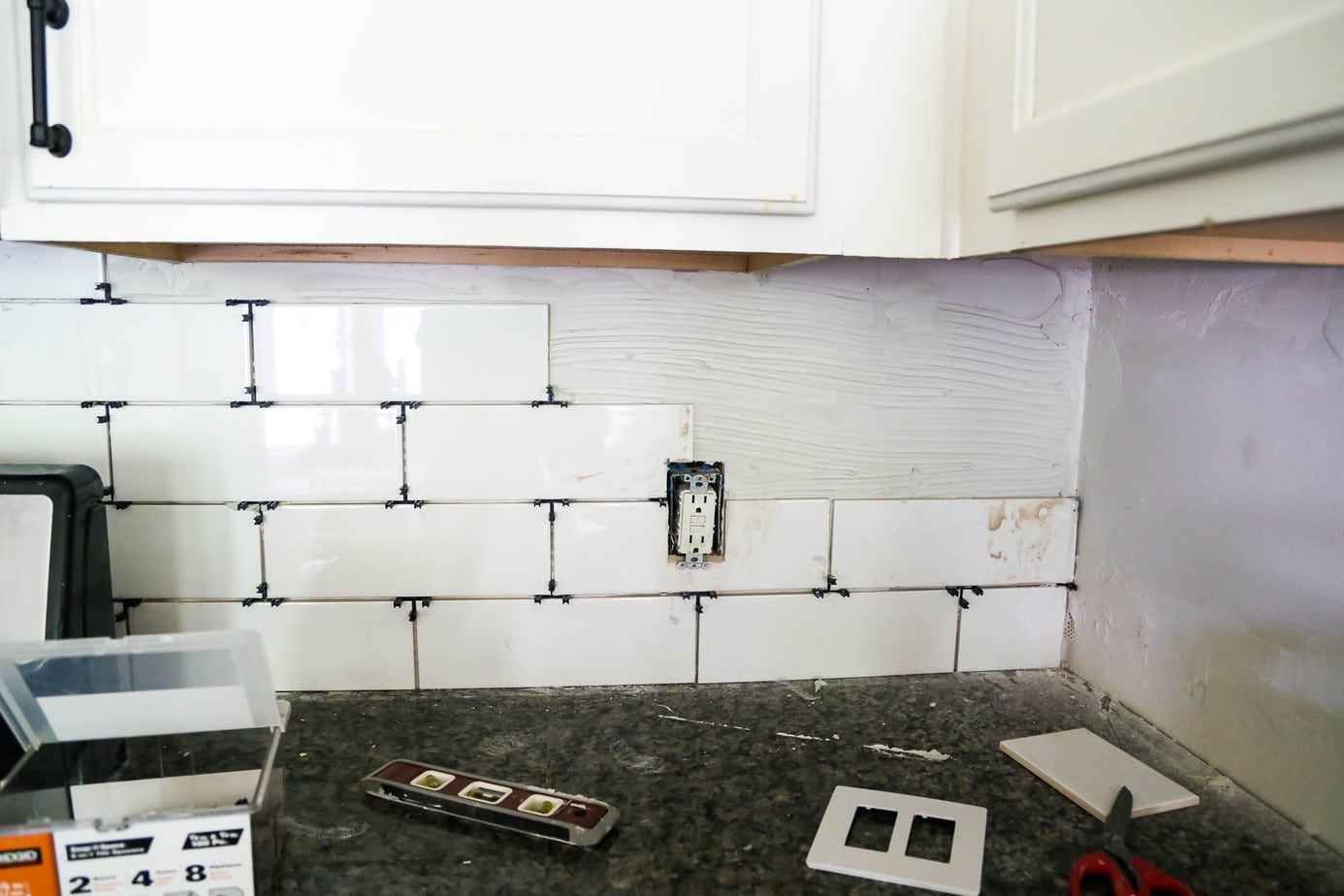 For the pieces like the one on top of the outlet above, you can just make two cuts in the tile with your wet saw – it's much quicker and easier than the ones that need to be notched out.
Repeat steps 3-5 until your entire backsplash is tiled.
Step 6: Remove Your Spacers & Clean Up the Tile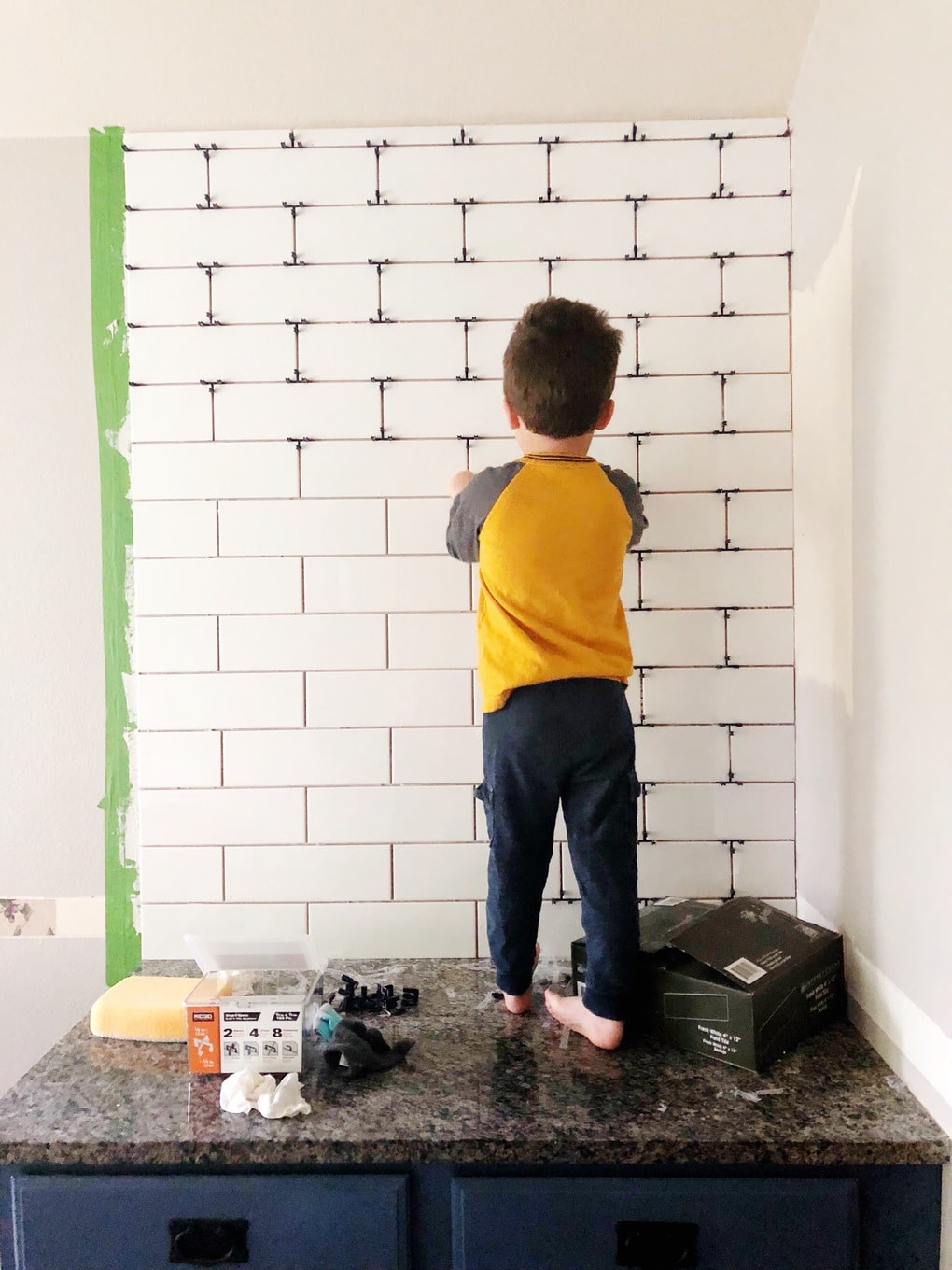 This doesn't need to be its own step really (it's kind of self-explanatory), but I'll use whatever excuse I can get to insert this adorable photo of Jackson helping me take the spacers out of our tile.
Basically, be sure to pull out your spacers and clean up any excess thinset before it dries fully – I tried to clean my tiles up as much as possible shortly after I finished tiling, then we removed the spacers and cleaned more thoroughly the next morning.
Step 7: Grout
Once you've allowed the thinset to dry for a minimum of 24 hours (I went for closer to 48, just to be safe), you're ready to grout.
I went with unmixed grout (meaning, I mixed it myself) for the first time on this project, simply because I couldn't find unsanded, pre-mixed grout at my hardware store. You don't want to work with sanded grout on vertical surfaces – it's really meant for flooring and areas with larger grout lines – so be sure to look for grout that's specifically labeled as unsanded. In this case, it meant I had to mix it up myself, but it was just a matter of adding some water and stirring until I felt like my arm was going to fall off.
No big deal.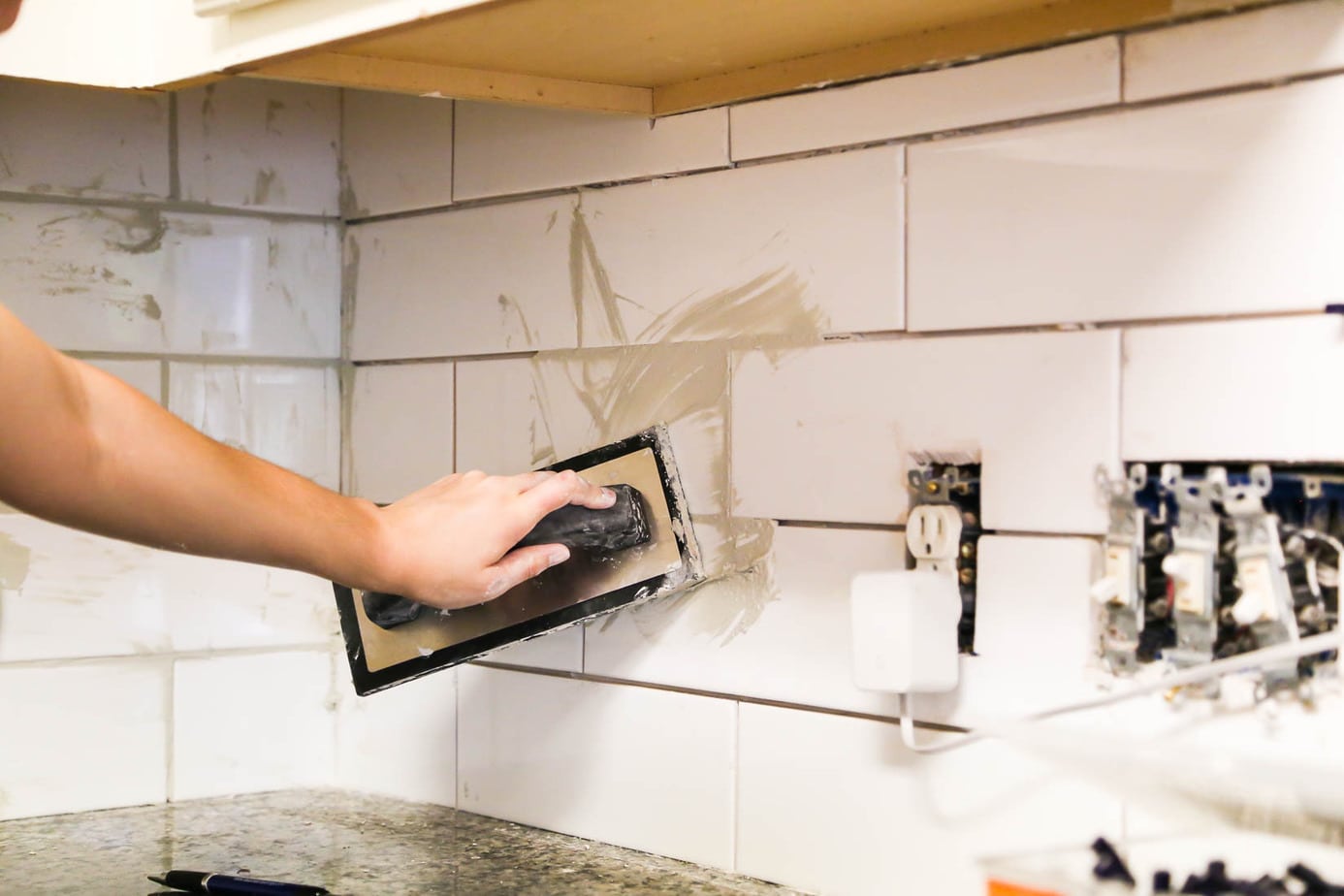 To apply your grout, just grab your grout float and scoop some up, then apply it to the tile (focusing on the spaces between the tile, obviously) using a 45-degree angle and a good amount of pressure. You want to push the grout into the holes without getting a ton extra on the tile. Once you've completed a small section, go back with the float at a 90-degree angle and scrape each tile to remove any excess thinset – this will make cleanup much easier!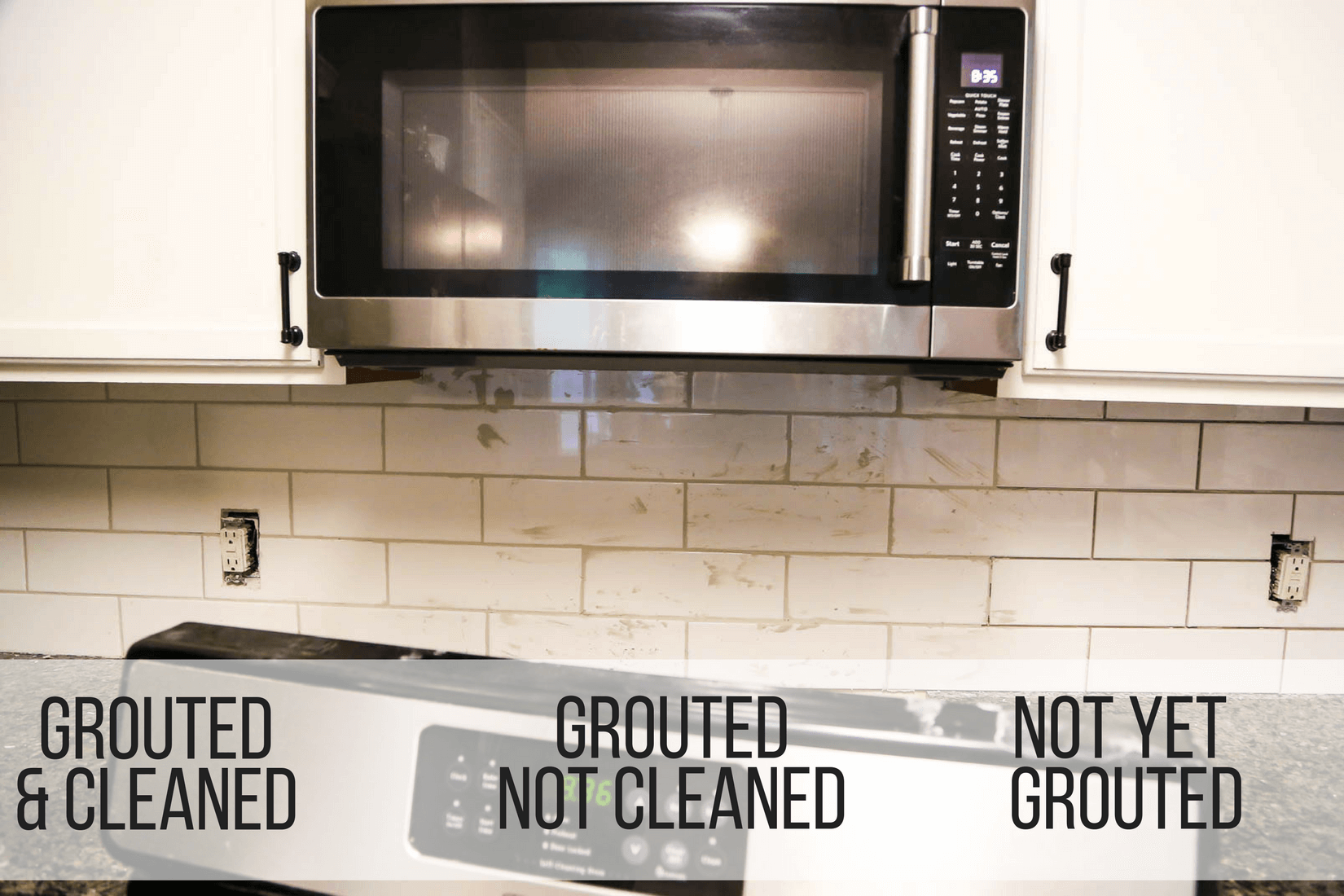 After you've allowed the grout in one section to set for about 10 minutes, go back with a damp sponge (you want it to be wet enough to clean the tile but not so wet that it's dripping) and wipe down the tiles to remove any grout from them. This will also clean up your grout lines quite a bit. I found that when I had a grout line that was looking a little splotchy or weird, if I just ran my finger along the line it smoothed out nicely and suddenly looked way better. I didn't do this for all of the lines, just the ones that looked like they needed a little extra help.
My method for this part of the project was similar to laying the tile – I picked a 3-ish foot section of tile, grouted it, and then moved onto the next section. By the time I got the second section finished, the first was ready to be cleaned. So I cleaned it, then moved onto the third section – once it was done, I went back and cleaned the second. Continue in that manner until the whole area is grouted and cleaned.
Step 8: Remove the Haze
Don't go thinking you're done quite yet! After your subway tile has dried for about 2 hours, you'll notice the tile is looking a bit hazy and weird. Grab a cheesecloth (they're next to the dropcloths in your local hardware store) and rub down the tile to remove the haze. This is a dusty process, so be prepared to clean your entire room – and yourself – afterward.
Step 9: Caulk
Finally, you're ready for the finishing touch – caulk. Anywhere that a horizontal surface meets a vertical one, you're going to want to caulk the seams using grout caulk. I also did it in the corners simply because I found it extremely difficult to get grout into those deep corners any other way.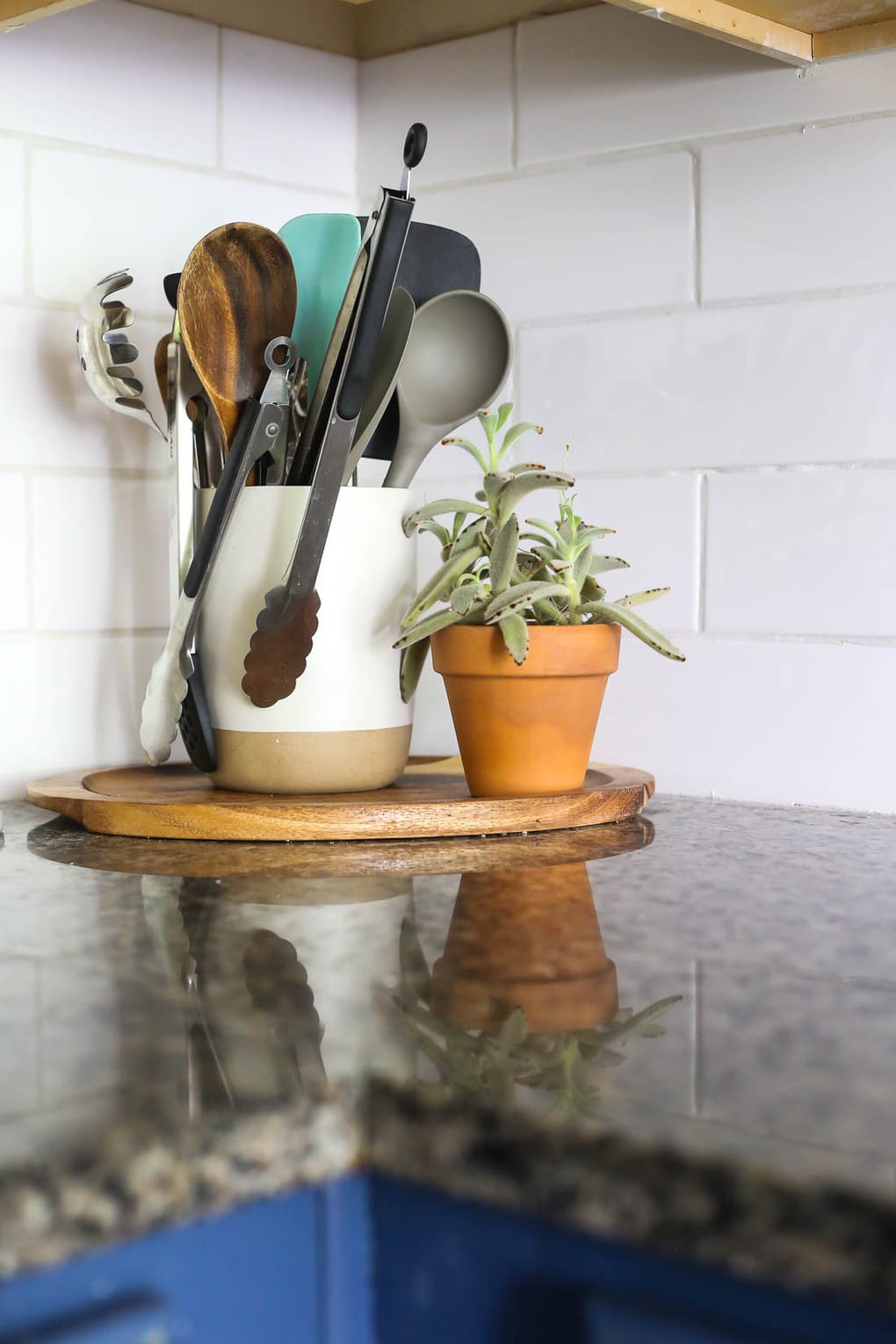 Be sure to tape off the lines you're working on so you don't make a mess everywhere, and pull the tape up before the caulk is completely dry.
And then? You're ready to bask in the glory of a kitchen with a beautiful new subway tile backsplash.
I'm so excited about how this turned out, and I love the finished result. Our kitchen looks so much brighter and cleaner, and it's no longer all clash-y and weird. Just for kicks, let's do a before and after, shall we?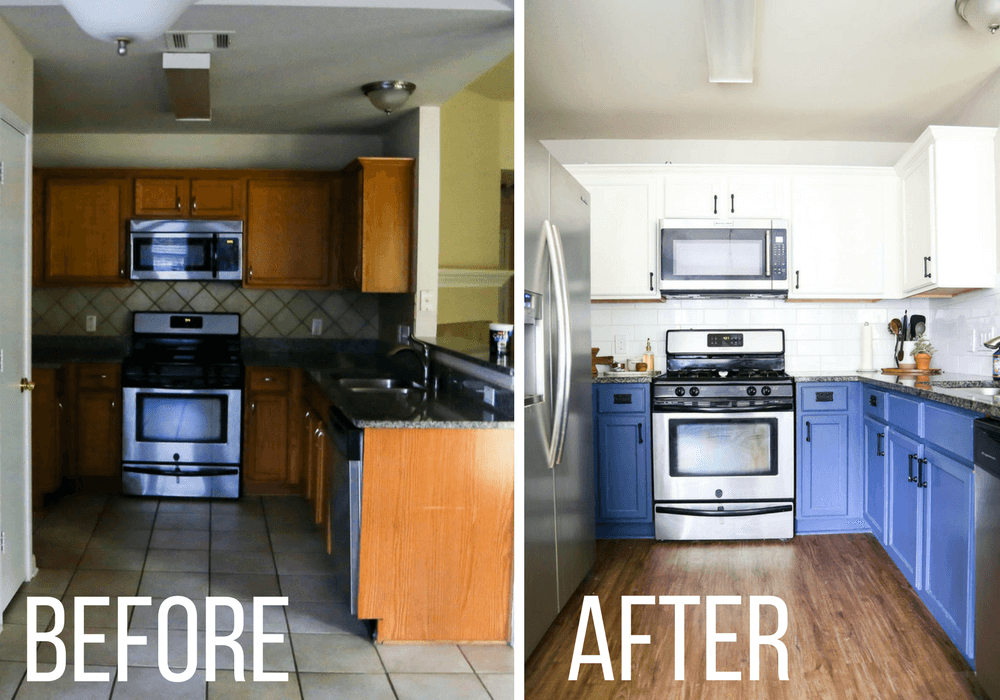 Swoon! We've clearly still got a few things on the to-do list, like replacing all of the lighting, adding under-cabinet lighting, and deciding what to do above the cabinets (continue the tile or add some open shelving?) but man, I feel good about this change!
Be sure to check back in on Wednesday – I'll have the next big update on our dining room renovation. And, if all goes according to plan, it'll be the big reveal of our finished banquette!