It's been a while since we chatted about our master bathroom – a few weeks back, I painted the tile floor with Rust-Oleum's new Rock Solid Home paint, and I'm sharing all of the details on how to paint tile floors right here!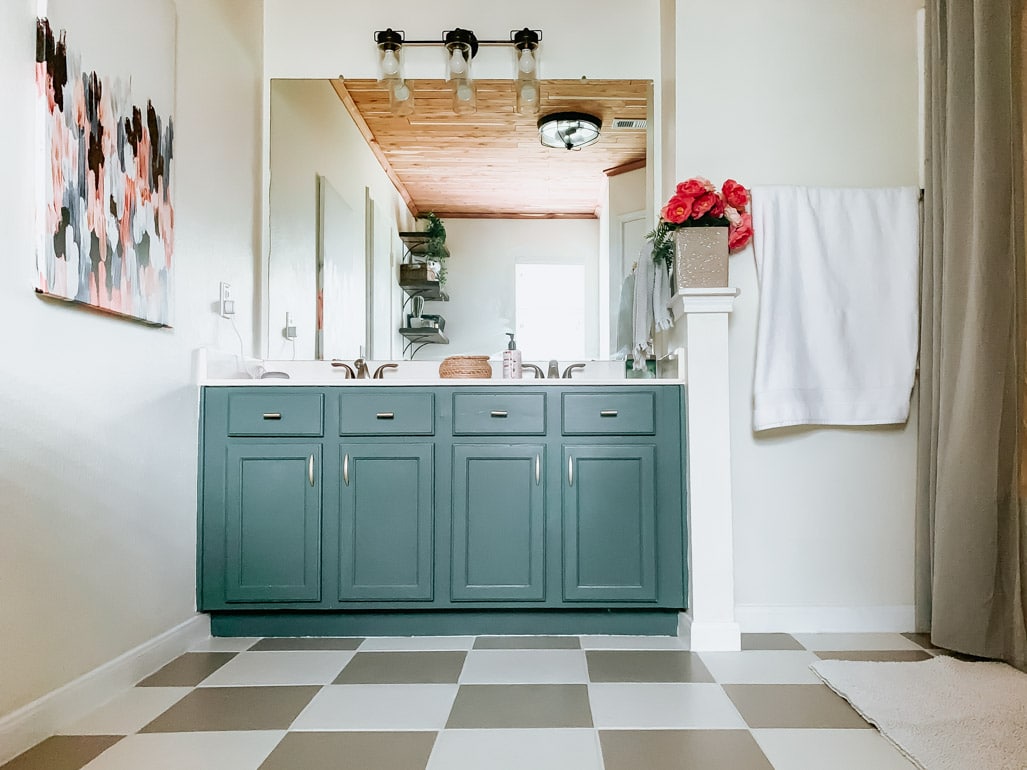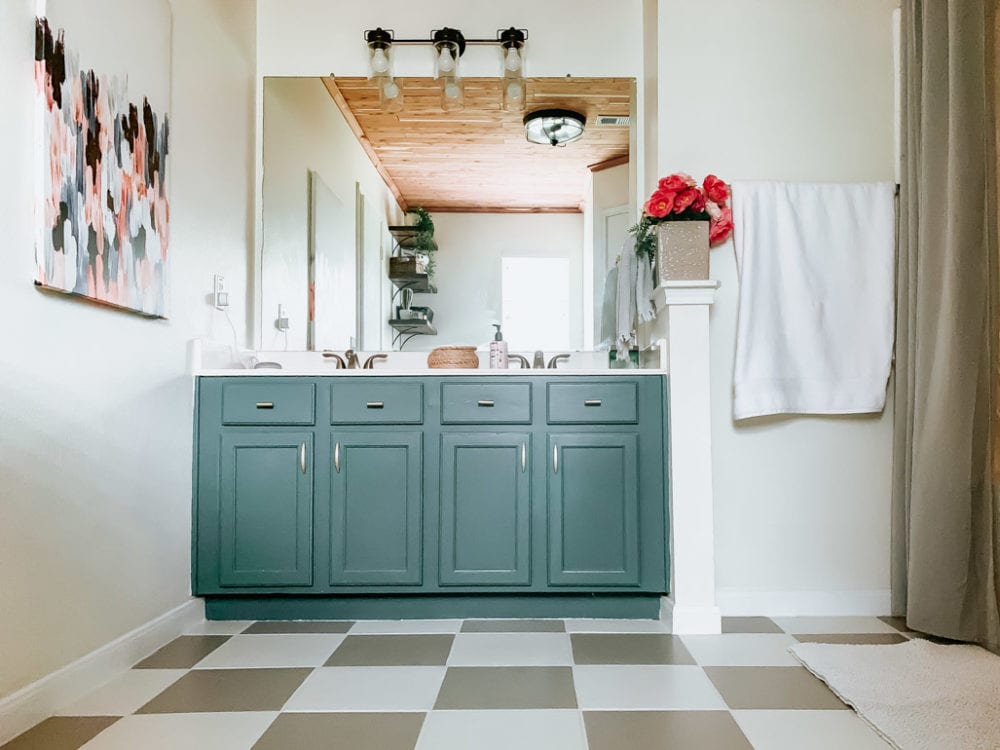 The last few weeks in our house have been a tornado of cleaning, DIY, and prepping to get our house ready to put on the market, and I'm finally catching up on sharing the projects with you here. One of the most exciting projects we tackled was painting our bathroom floor. We've never been fans of the green tile that was in this space when we moved in, and I've been itching to do something about it for two years now – so it feels good to see this project through before we leave this house!
We used a brand new product from my friends at Rust-Oleum called Rustoleum HOME Interior Floor paint. It's from the same line of paint as the epoxy we used on our garage flooring in the old house, and we loved that, so we knew we could trust it. This paint is specially formulated for painting flooring, and I'm so, so excited about it. It just hit stores this week, so if this is a project you've ever considered, read on!
I've had so many questions from so many of you who are eager to try this for yourself, so I'm hoping this post will be helpful and informative. Before we dive in, let's take a look at what this bathroom looked like before we got started.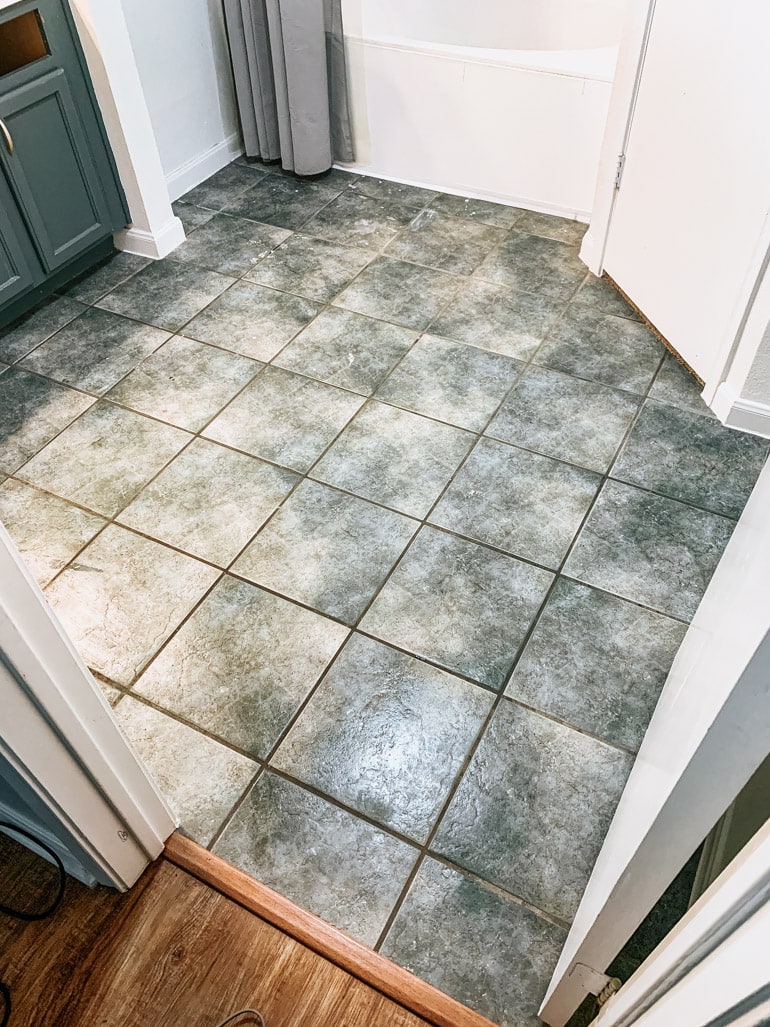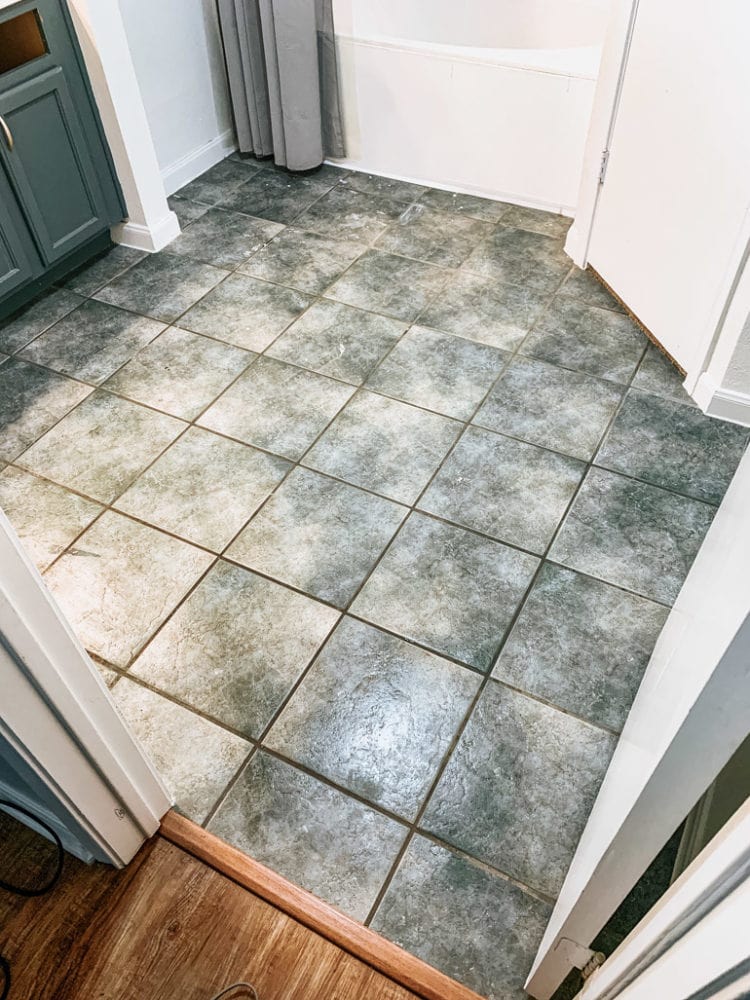 This post is sponsored by Rust-Oleum and contains affiliate links.
Ohhh that floor. It was so dark, and it made the entire room feel smaller and more closed in. I knew a fresh color would make a world of difference, and I still can't get over how much brighter, cleaner, and more open the room feels now.
It's pretty cute too, if you ask me.
I know you're dying to hear all of the details, so let's dive in!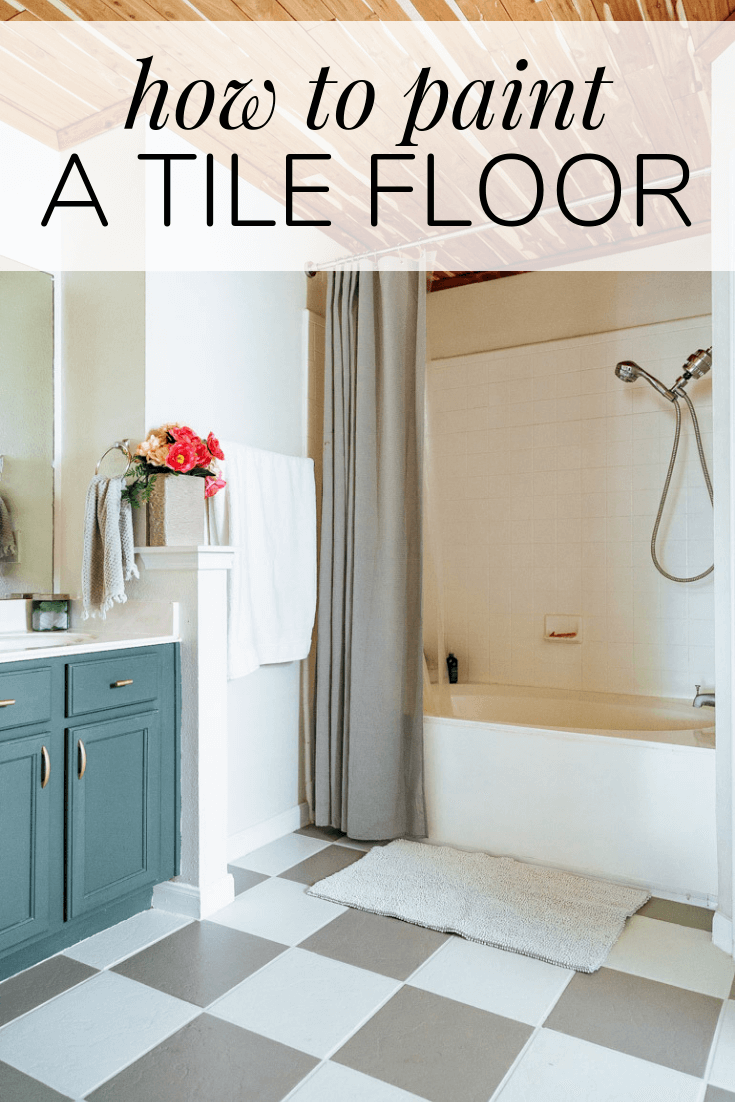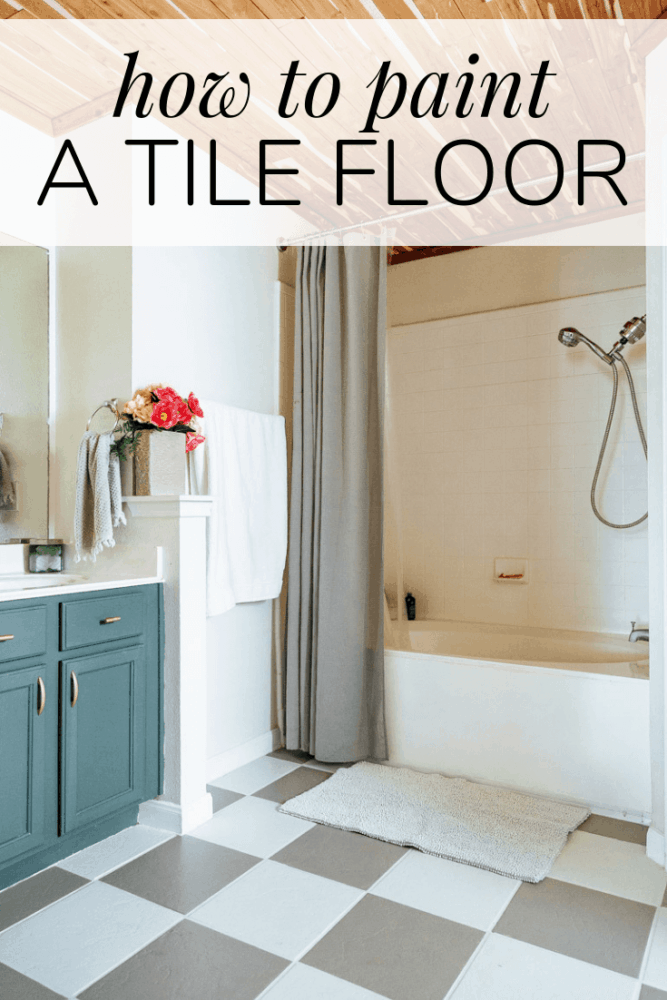 How to paint tile flooring
tools & Materials
High-quality bristle brush
Paint roller with 3/8 and 1/4 " nap rollers
Click here to see the base color options in the quart size
UPDATE: Since the original publishing of this post, Rust-Oleum has greatly expanded their color options of the Rust-Oleum HOME Floor Coating! They now offer deep tint bases with lots of dark color options, they offer all of their colors in both quart and gallon sizes, and they are available in all 50 states! See all the color options here.
Clean the flooring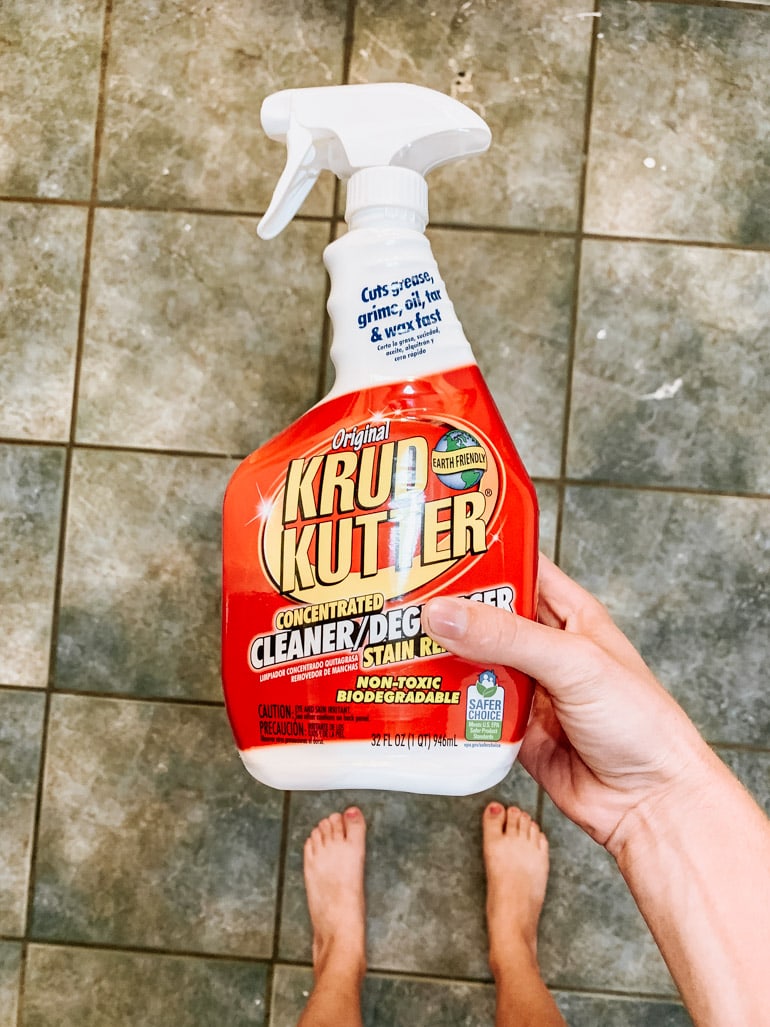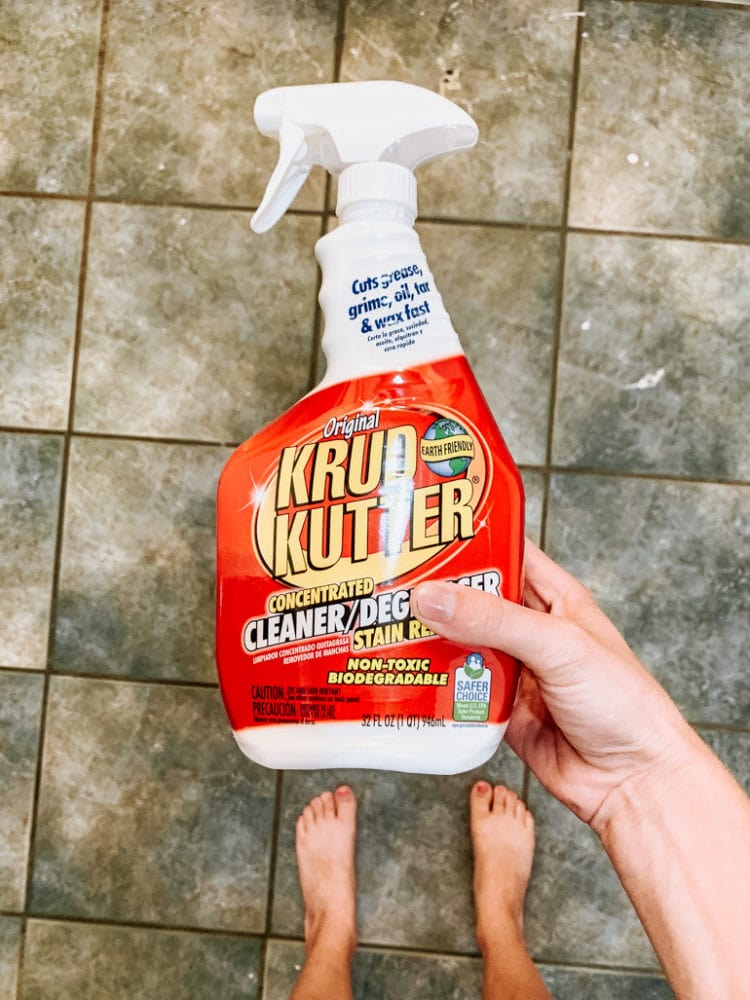 The first (and most important) step of the process is to thoroughly (!!) clean your flooring. I can't emphasize to you enough how vital this step is – if you don't have clean floors, the paint can't adhere properly and won't last as long, so please don't skimp on this part!
I started by sweeping, vacuuming, and mopping just like I normally would, then I went back in with the Krud Kutter spray and a rag and I scrubbed every inch of the floor. Be sure to pay special attention to the space along the baseboards and in the corners where dirt and hair can accumulate!
Note: It's also recommended to remove caulk from around the tub and toilet before painting, as the paint will not stick to caulk. I didn't do this, but I was extra careful in those areas and made sure to re-apply fresh caulk when the paint had dried.
Cut in around the edges
Once the floor is completely clean, you're ready to get painting. You should start by cutting in with a high-quality, angled brush. I liked to work in sections (so, I'd cut in one part and then roll that same area), but you can also do the entire room before grabbing the roller.
Just be sure to move slowly and steadily – and if you don't feel like you have a steady enough hand to avoid getting paint on the baseboards, you can always tape them off before you paint!
I started with Steam Gray, and painted the entire floor that color before doing the alternating squares.
Roll the rest of the floor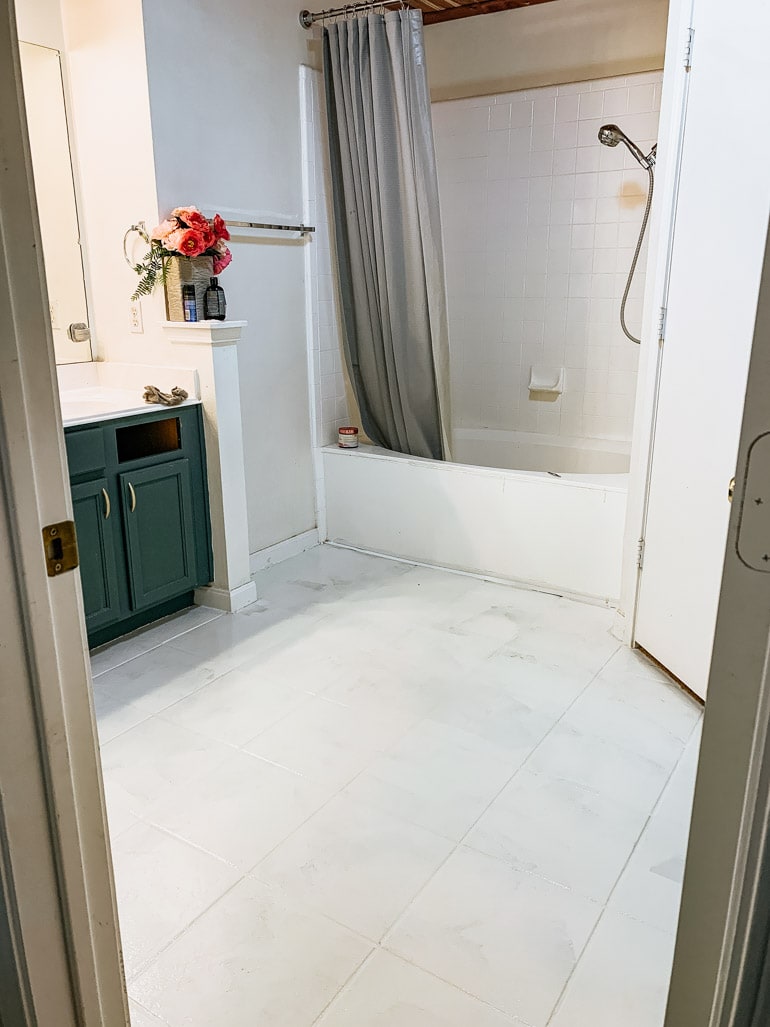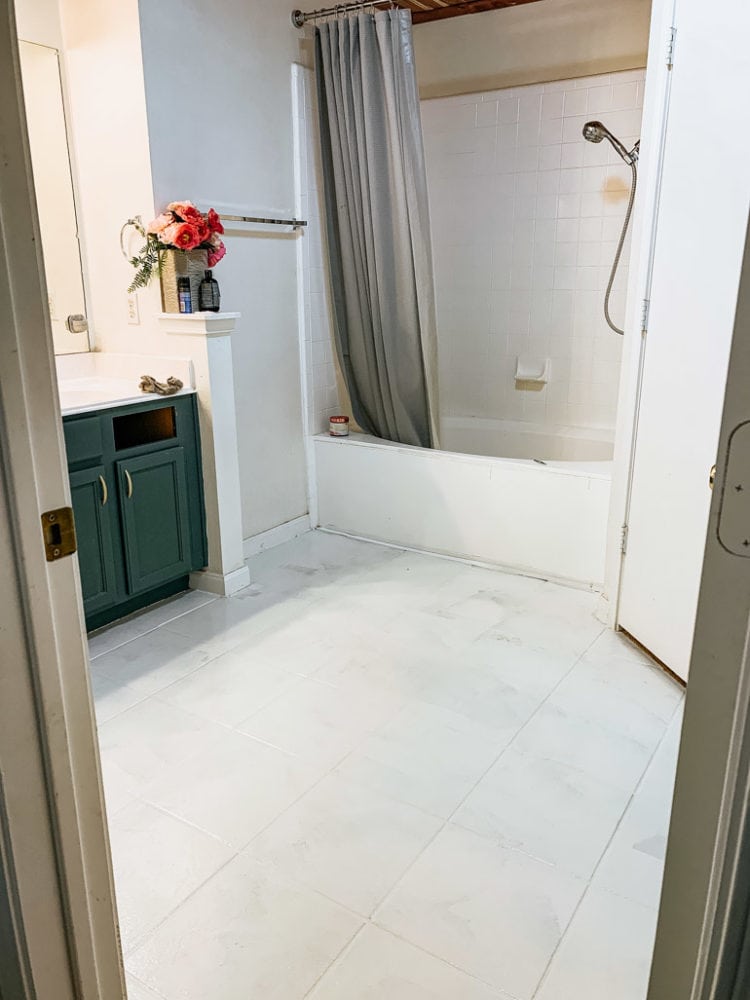 Once you've cut in, grab a 3/8″ nap roller and roll the rest of the floor. Be careful not to allow any drips to sit or paint to pool, or else it might create a texture in your finished product (ask me how I know).
You might want to use an extension pole to make this part easier if you're working in a large space, but my bathroom was small enough that I just scooted around on the floor and painted with roller at the regular, short length.
Determine if you need a second coat
This paint does not require two coats – you may only need one! However, our floors were so dark and we were painting them so light, that I really needed to do a second coat after the first was dry.
After you've painted the first coat, you need to wait a minimum of six hours before doing a second coat (or before sealing it, if you're just doing one).
After you do the second coat, you only need to wait 1-2 hours before adding the squares (or sealing it, if you're just doing one color all over).
Tape off your squares and paint an alternating color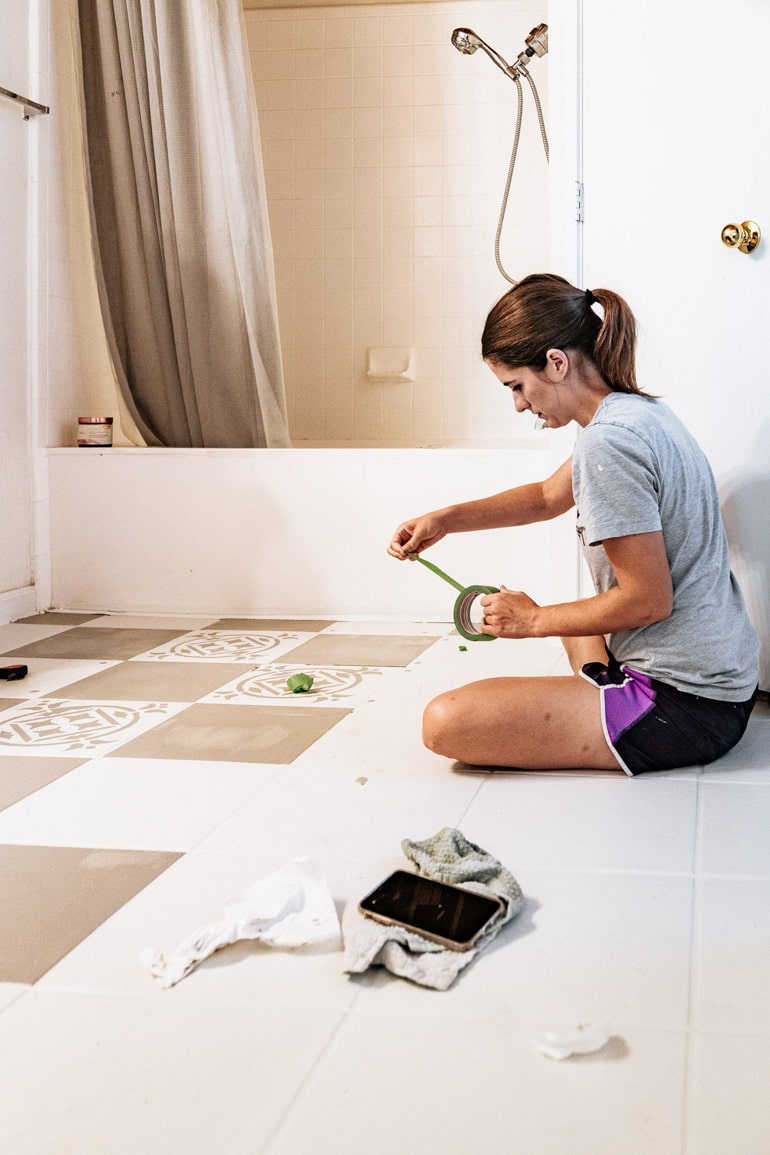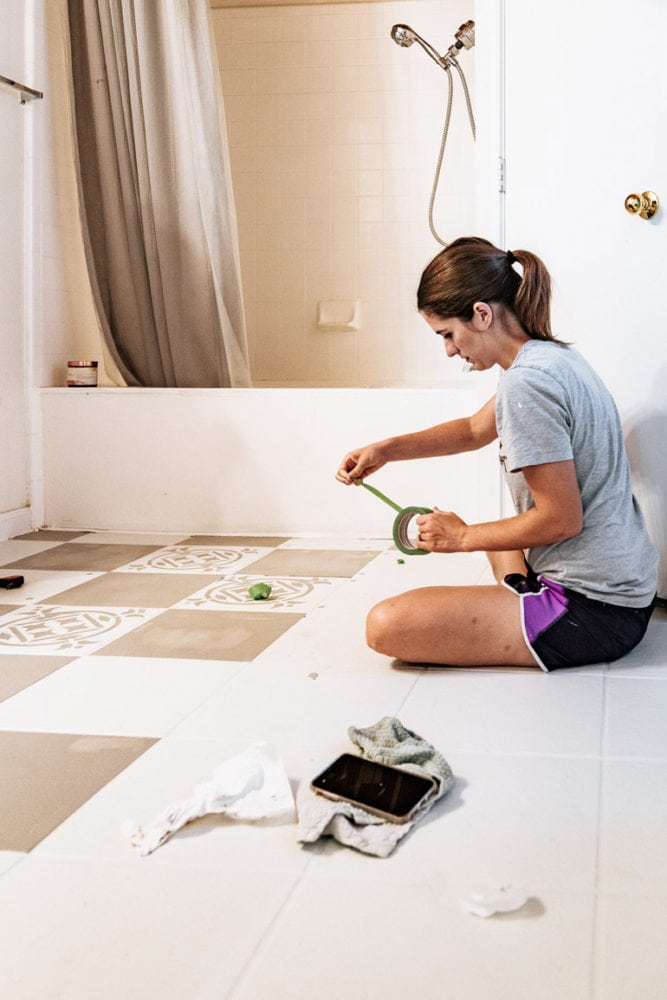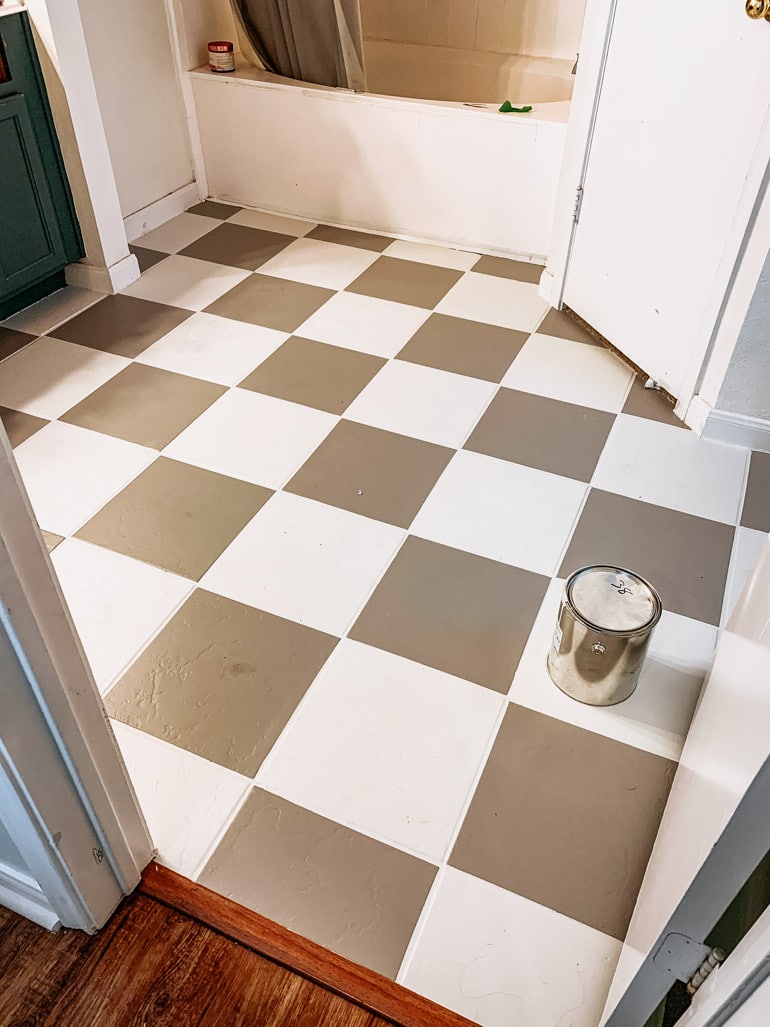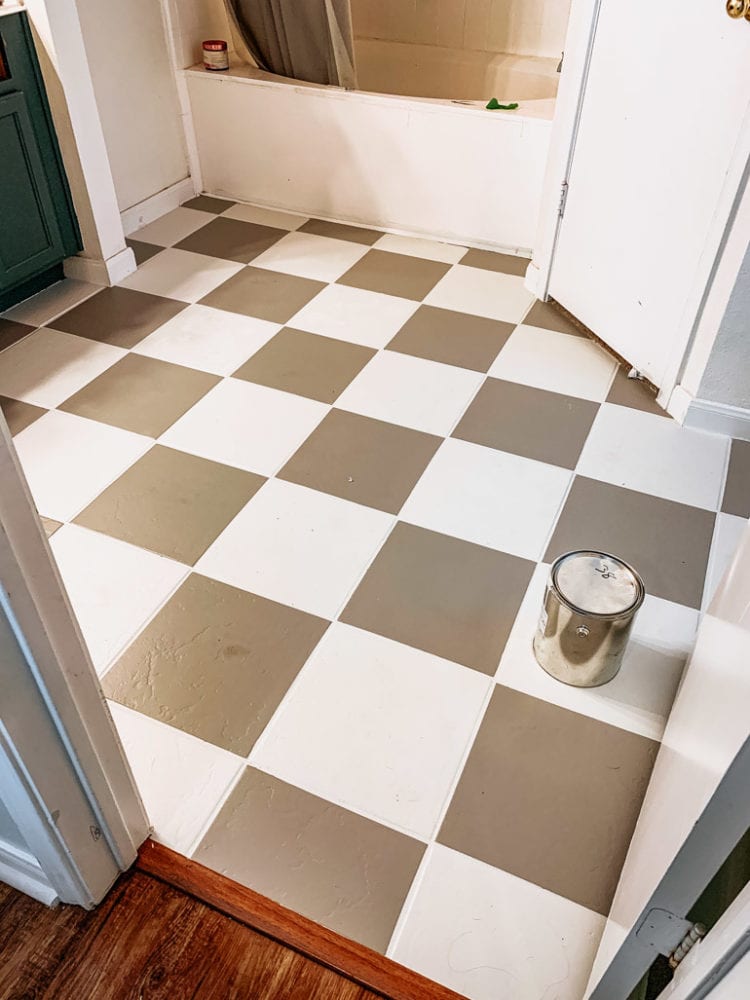 I decided to do a checkerboard pattern on my floor. I was going to do a stencil but if you follow my Instagram stories you'll know how that turned out. This was much faster and easier, and I adore the finished result!
All I did was tape off alternating squares (I left the grout the lighter color) and painted them Windsor Gray. Be sure to use delicate surfaces tape – I didn't, and some of the paint got pulled off the grout since it wasn't fully cured or sealed! It was easy to touch up, but I think delicate surfaces paint probably wouldn't cause that issue.
Be sure to remove the tape immediately after you finish painting the squares – if it dries with the tape still on, you could pull up the paint when you remove it.
do Touch-ups, if needed
I had a few areas where the paint bled through the tape a bit, or where I had pulled paint off the grout with the tape. I went back in and quickly touched those up before sealing the paint.
Add the sealer
Finally, you're ready to add your sealer. The top coat is similar to a polyurethane, so it's much thinner than regular paint. Simply do the same combo of brushing and rolling to apply it all over the floor, only this time you should use a 1/4″ nap to apply. Once you're done, allow it to dry for 24 hours before you use the space!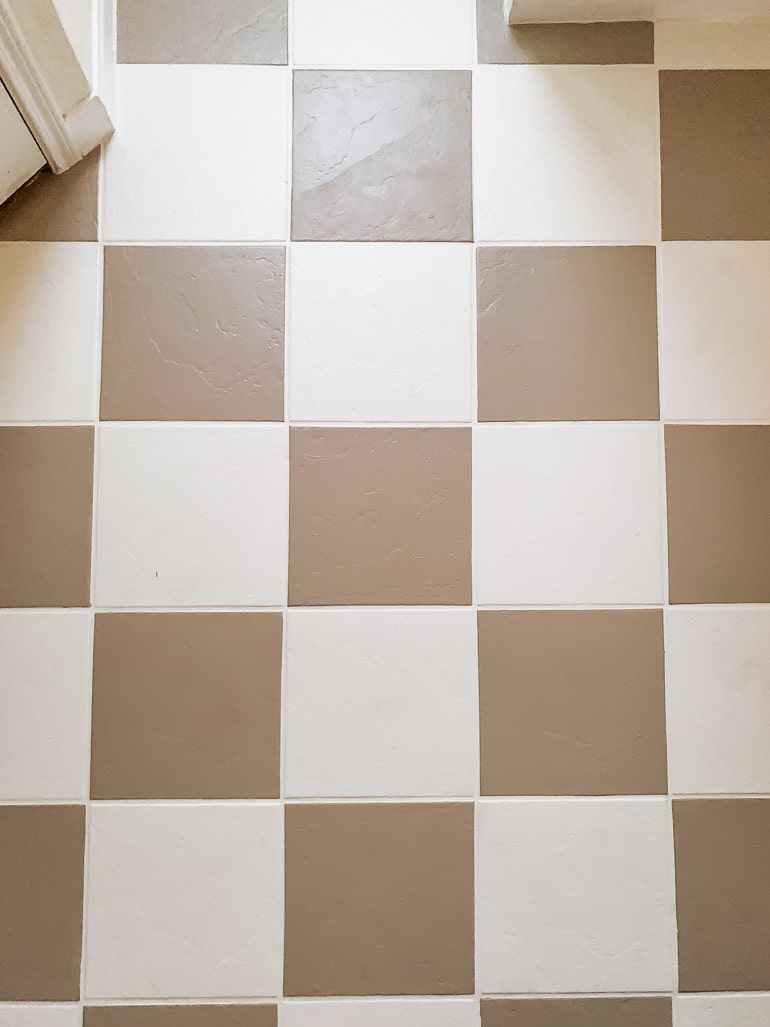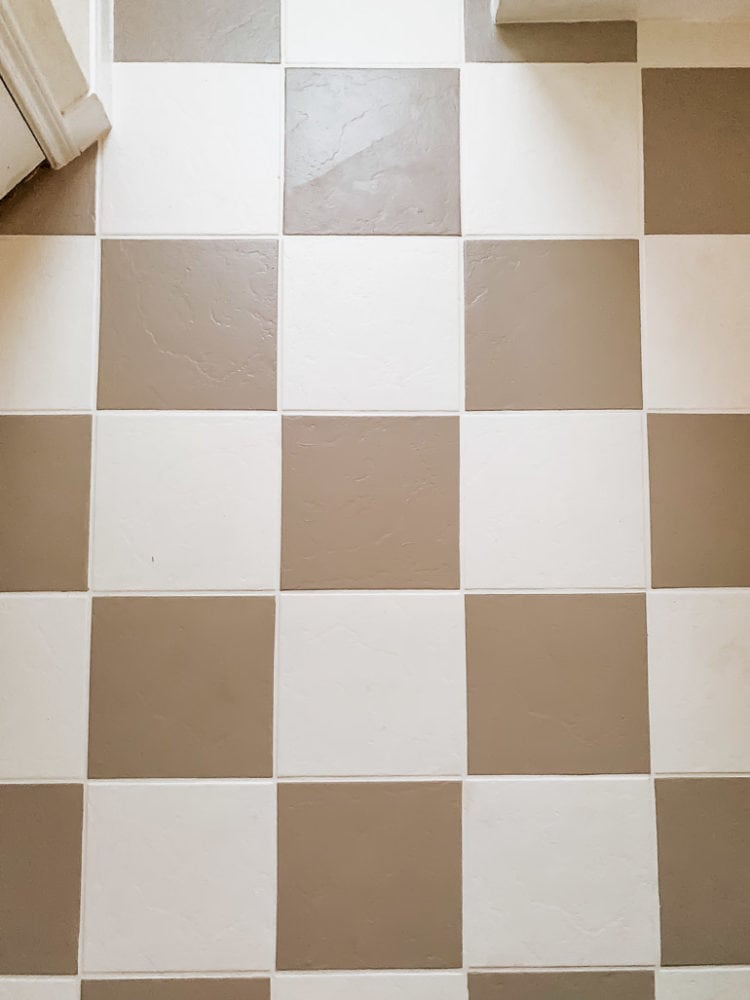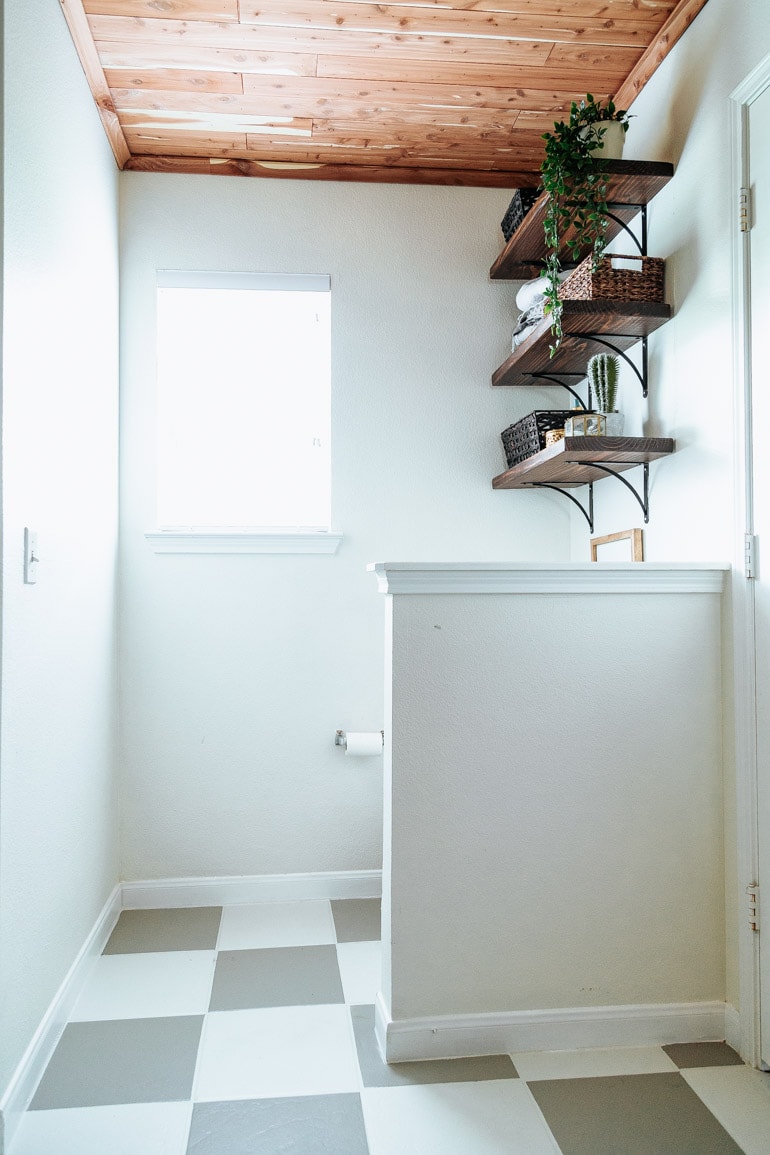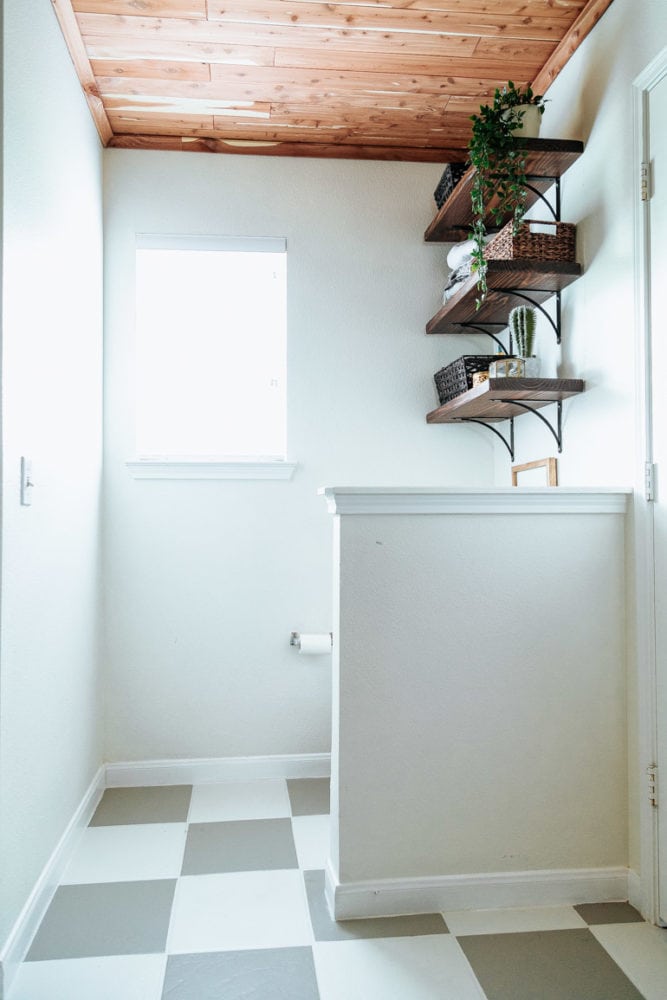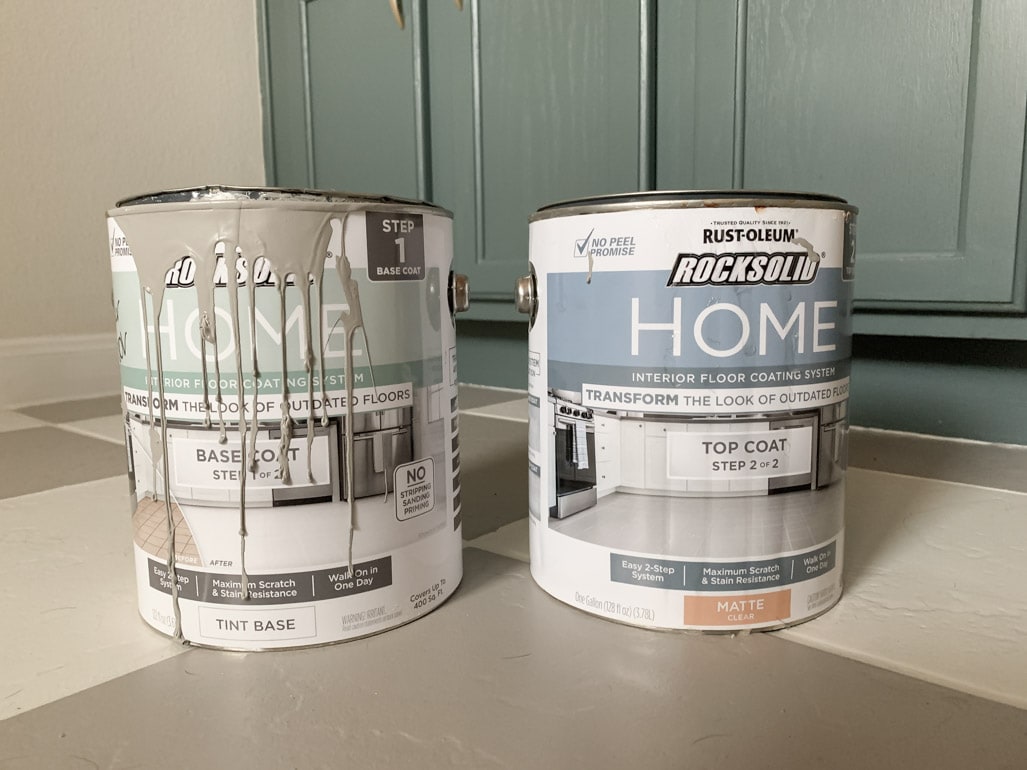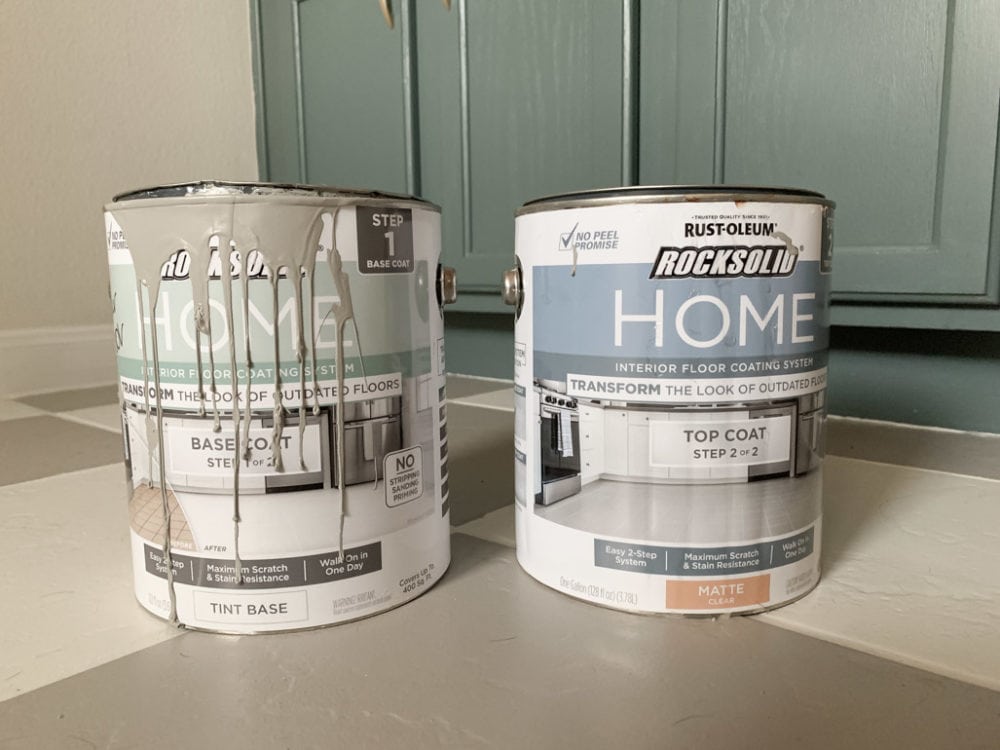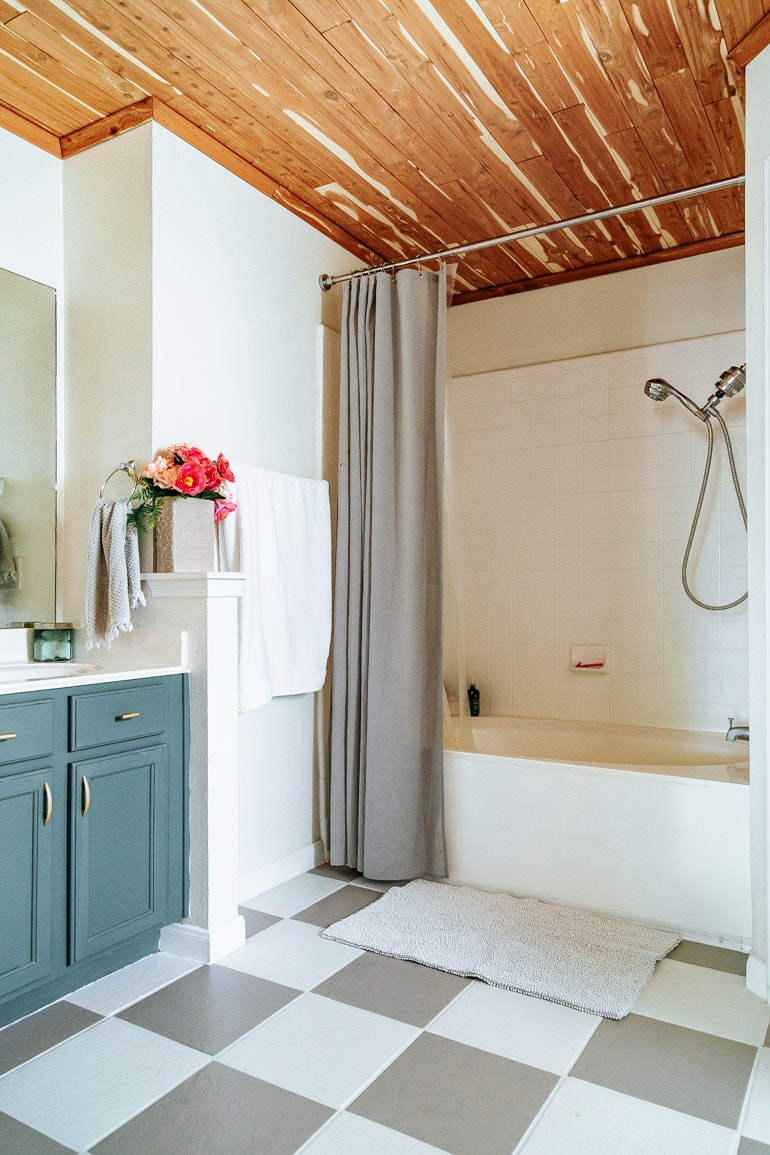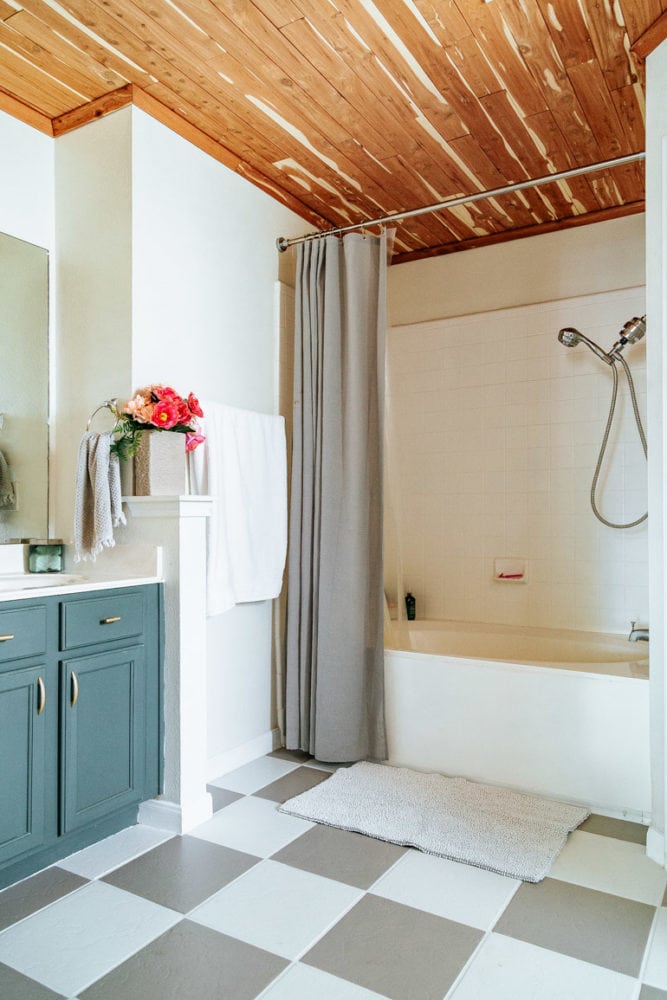 I'm so, so, so excited about how this turned out, and I can't get over how much better the room looks now!
As far as cleaning, you should avoid using any harsh chemicals or abrasive cleaners – regular old soap and water is fine, though, and I use my steam mop on it with no issues!
This project wraps up the master bathroom refresh we've been working on for months, and next week I'll be back to share a detailed wrap-up of every project we did in here so you can see how we turned this into an entirely new space with almost nothing but paint! It was a super fun project and I can't believe how different the bathroom looks now. Be sure to come back because you don't want to miss it!
If you want to learn more about Rust-Oleum's Rock Solid Home floor paint, click here to see all of the color options! It's so much more affordable than replacing tile, and it's a high-quality product so you know it'll last for years and years to come!