It's time for Jackson's nursery reveal! Decorating a nursery has been one of the most fun projects I've ever taken on. It's completely different than any other room I've ever done, and there's just something so special about turning a room into something amazing for your kid! When we started off with this room, it wasn't totally empty – it was being used as a reading room.
I've already shared a lot about the nursery so far as Corey and I have been slowly putting it together over the last several months. If you need to catch up, here's everything you've missed so far:
Nursery Reveal: What You've Missed
This is the first room in our house that we're genuinely able to say we've accomplished pretty much everything we want to, and there's nothing left on my list of things to do in here. It feels a bit silly because our little guy couldn't care less whether or not his room is "finished" but it makes me happy to know that I can put him in a room that is complete, calm, and relaxing for all of us to be in. Corey and I were just discussing the other day that we're really happy we got this room done before Jackson was born, because we spend a lot of time in there, and it's such an enjoyable room to be in now.
You've already seen most of what's been done in this room, but there are a few more updates that I haven't shared, and I want to have one post with all the details and sources…so here it is! Get ready for a photo overload.
Our Gender Neutral Nursery Reveal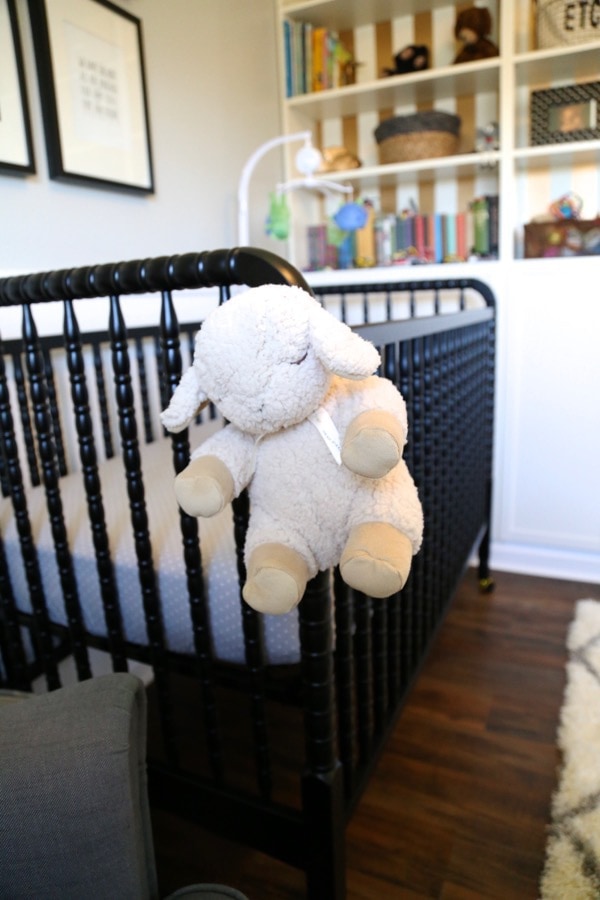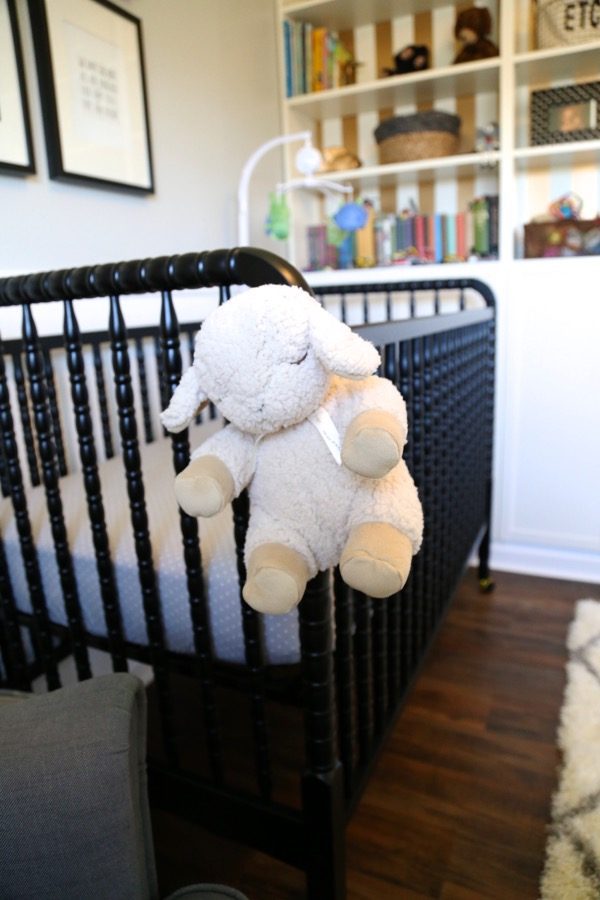 This post contains affiliate links. Click here to read my full disclosure policy. 
When we first started this room, I don't think I ever would have imagined it would end up here. It has ended up being a little more tranquil and neutral than we originally planned, but I kind of love that there is lots of room for more fun and color in the future as he gets older and the room turns more into a fun place to play and not just a place to sleep.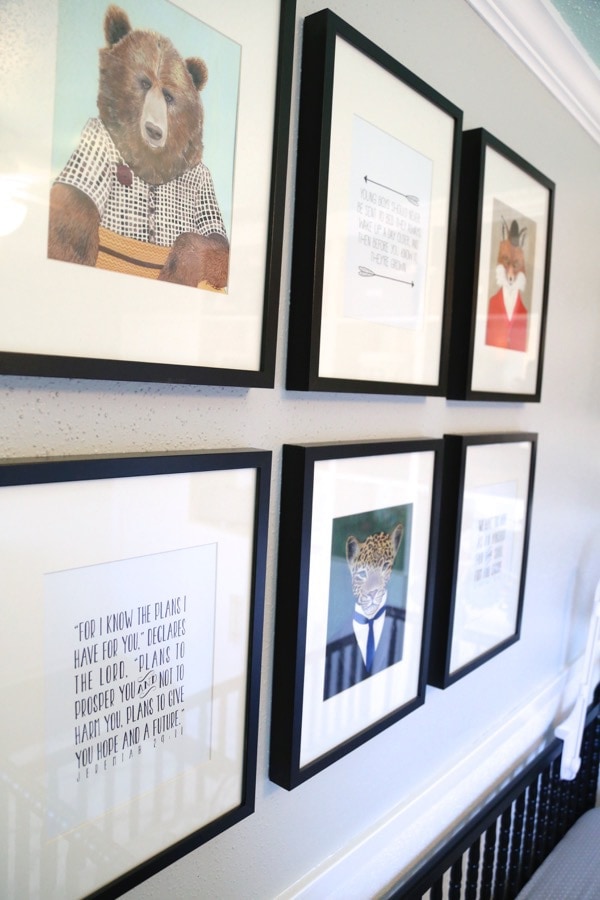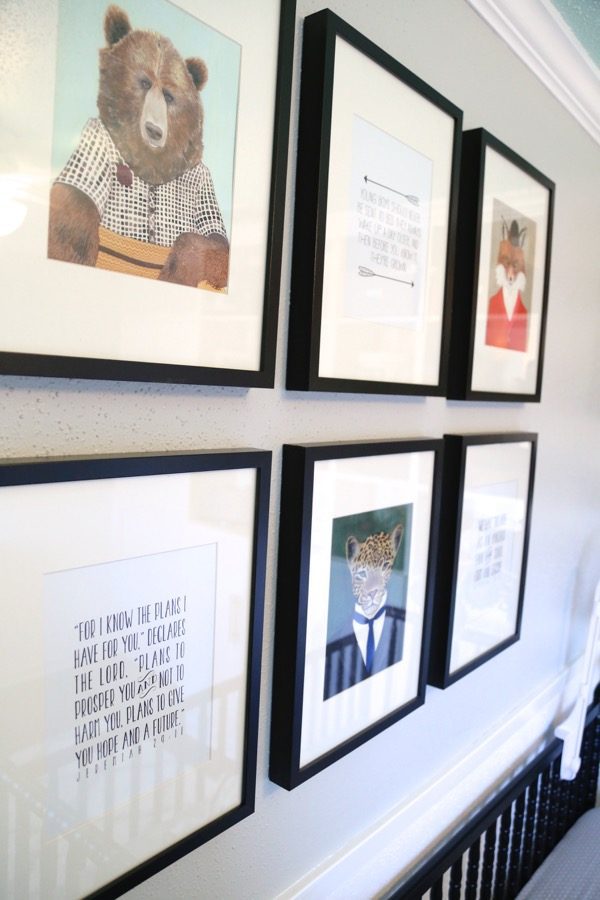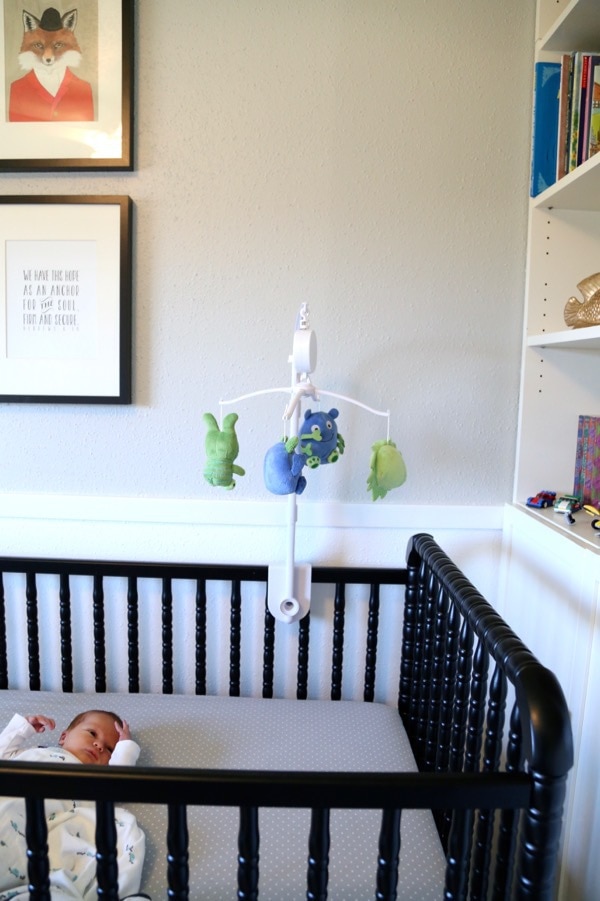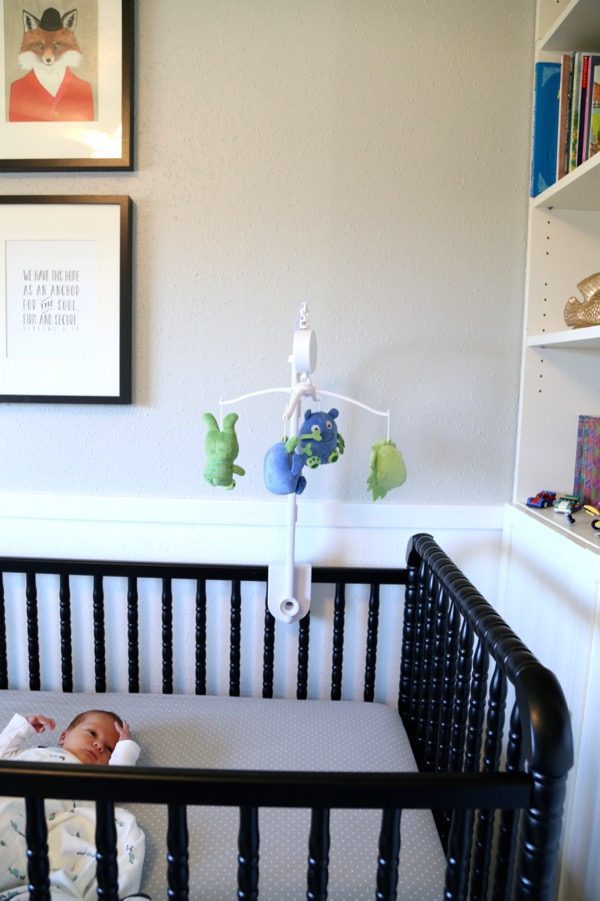 My sister showed the animal prints hanging above the crib to me months ago and I fell head over heels in love (they're by MissBojambo on Etsy) so she gave me a few prints for my shower. I'm completely obsessed with them. They have the perfect amount of quirk and color for the room, and I can't stop staring at them. I paired them with some prints from PrintableWisdom on Etsy, and I love how it turned out.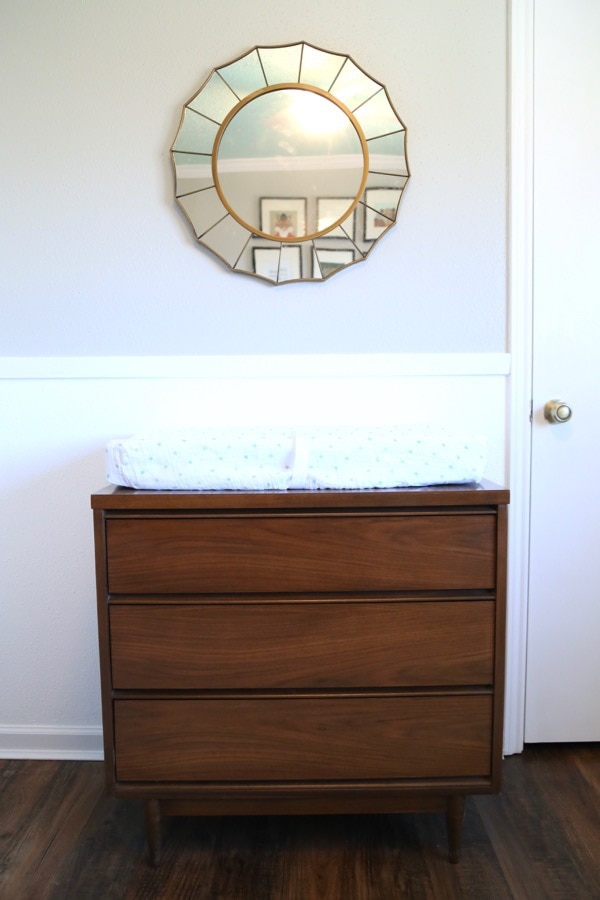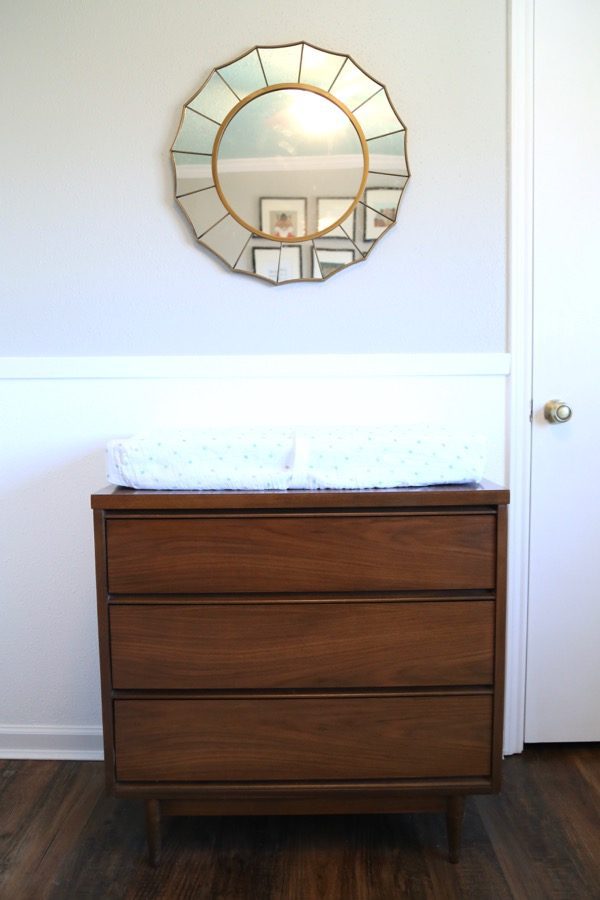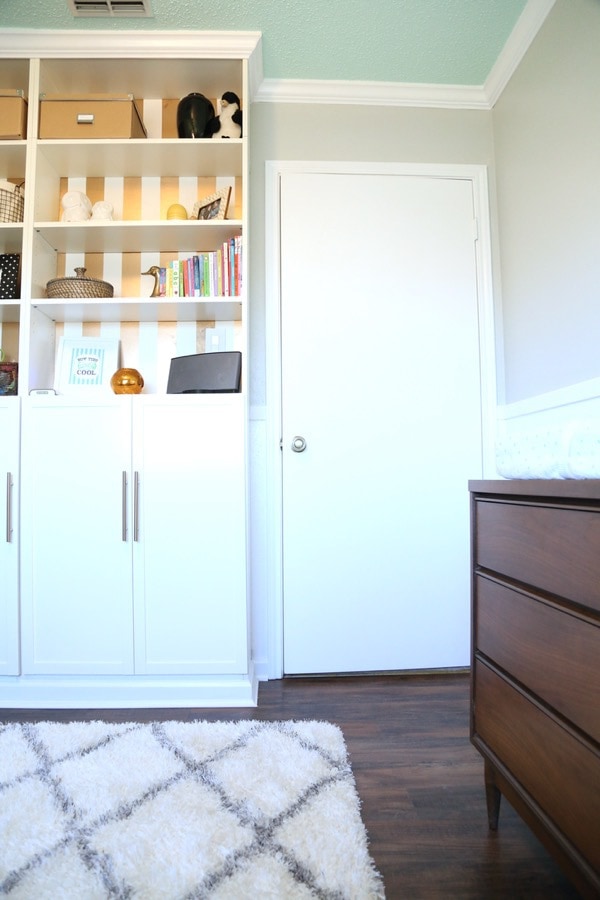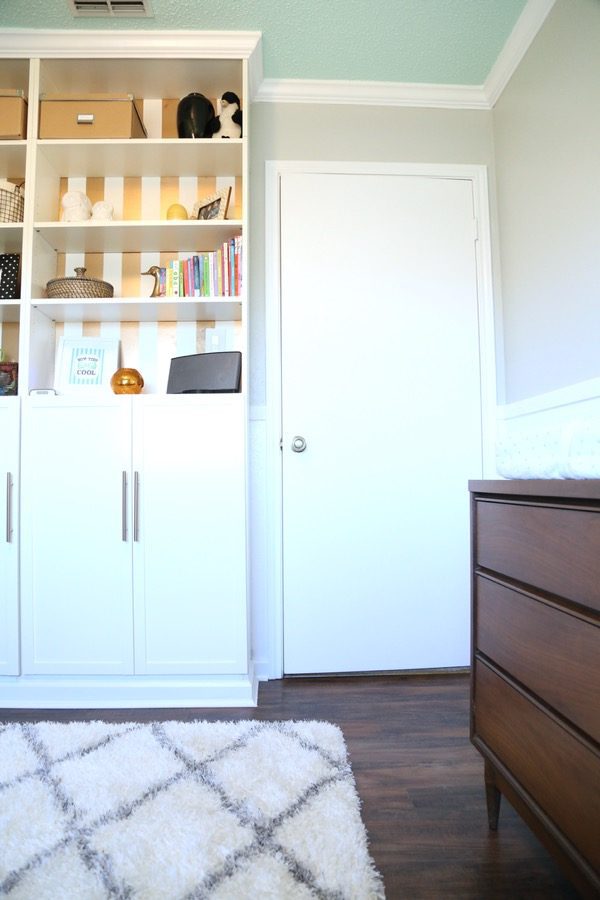 I'm still not 100% sold on the styling of the bookcases, but I don't think I ever will be. I don't feel like I can ever make bookcases look as nice as I want them to, so I am sure this will be an ever-evolving display as we change it out for new toys, books, and other things for our little guy. We also added some hardware to the doors, because we thought they needed a little extra something. I adore the gold detail (it breaks up the sea of white a bit!) and I'm glad we decided to go for it.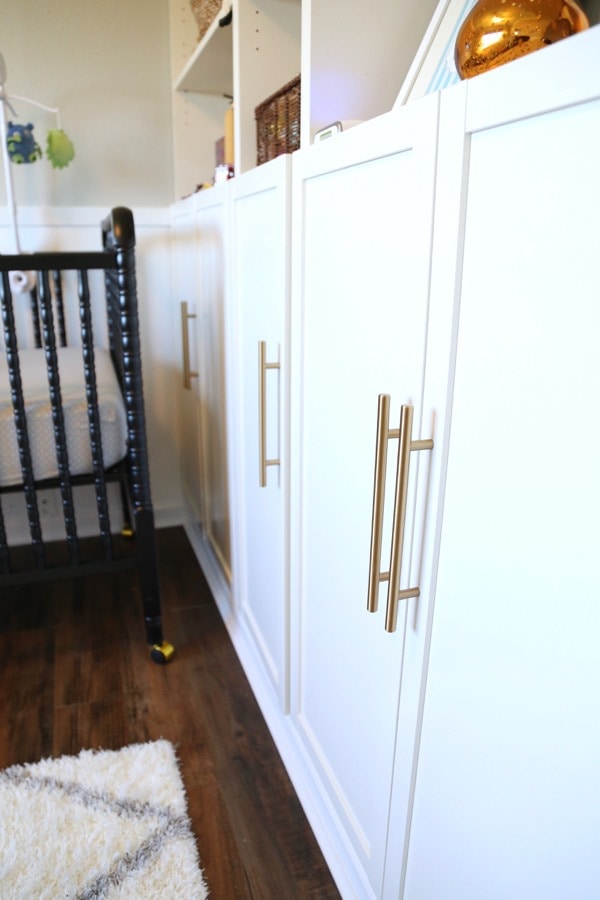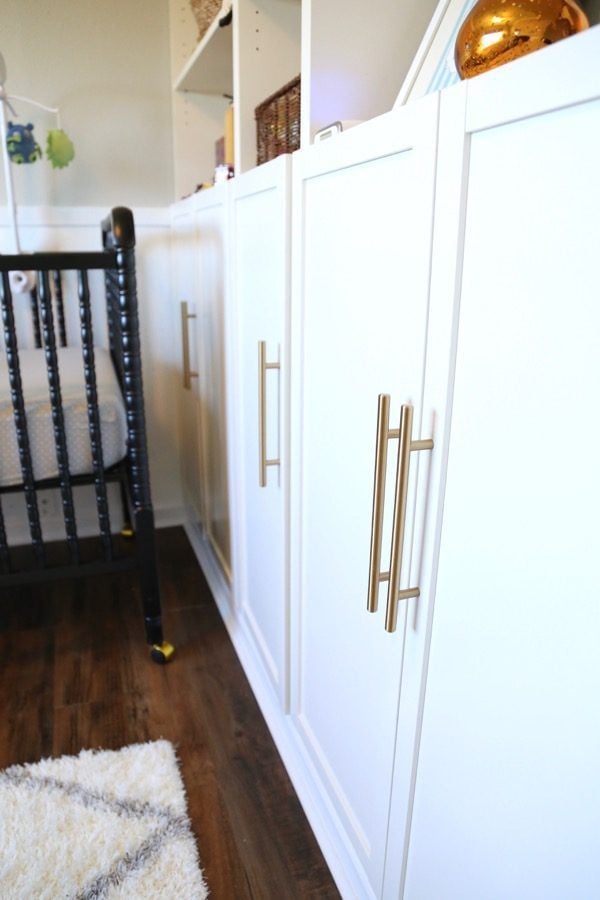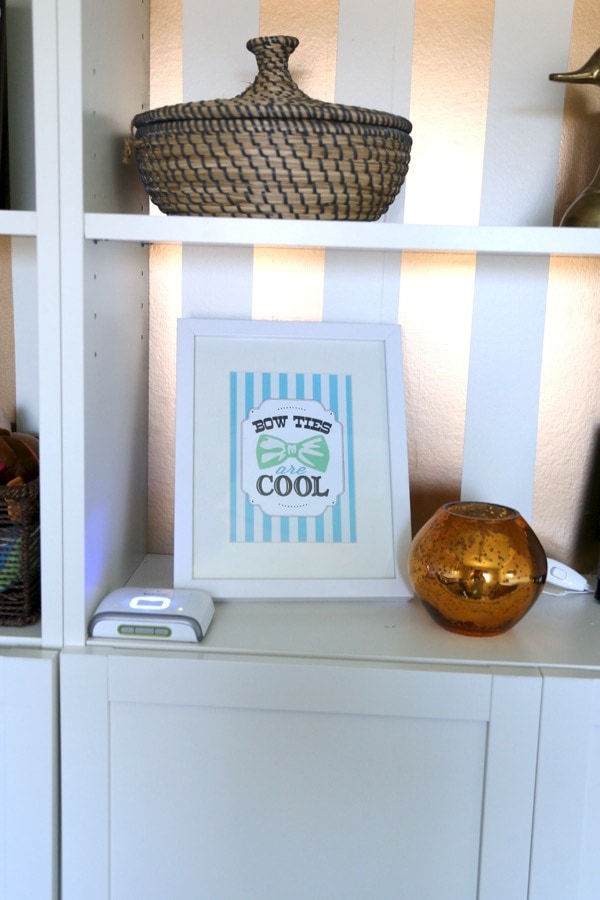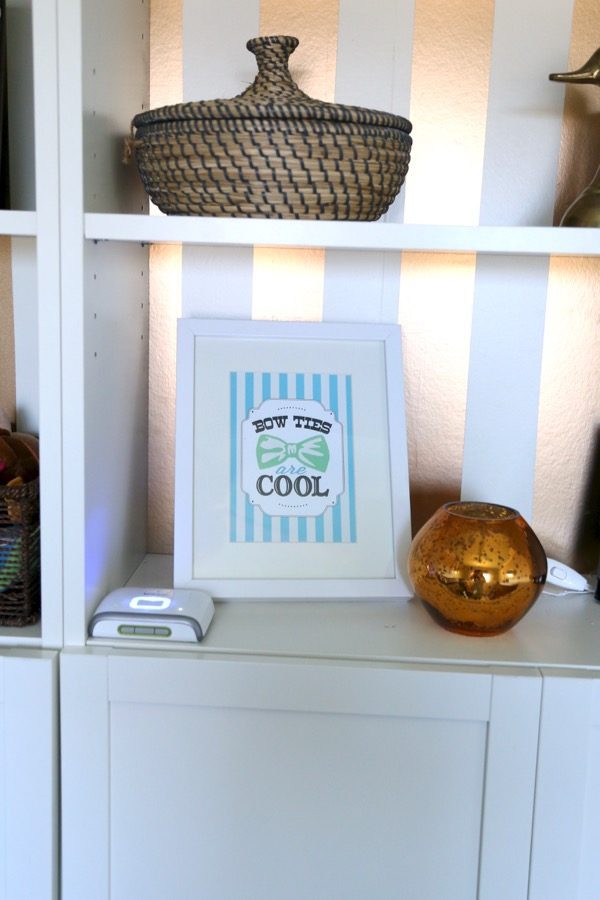 Overall I can safely say I'm incredibly proud of how this room turned out, and I could just sit in here for hours and stare at it, and sometimes I do. But, of course, that could also just be me falling asleep with my eyes open…because I have a newborn.
Regardless, I'm excited to see how it changes over the years as J gets a little older and his needs change – I think we've got a nice solid base for a lot of fun possibilities!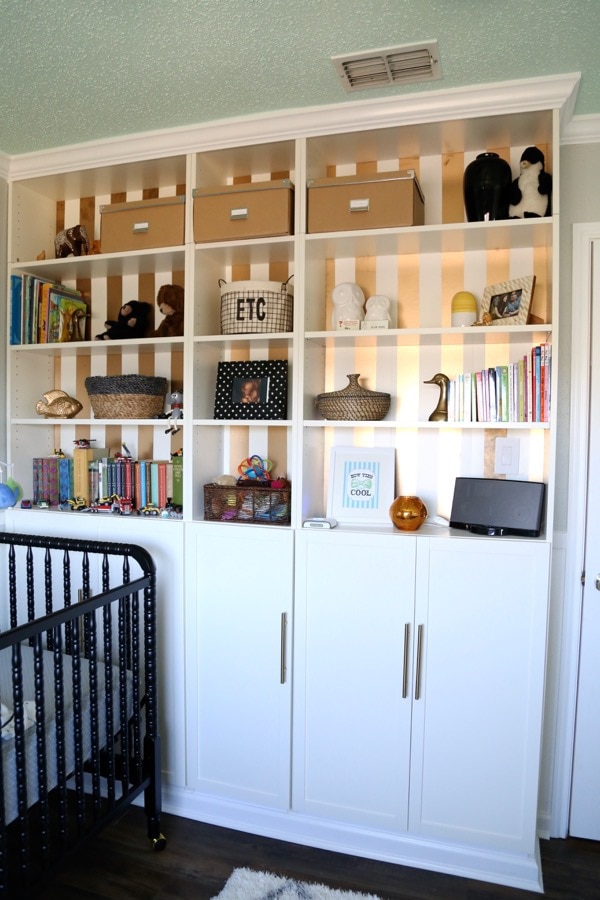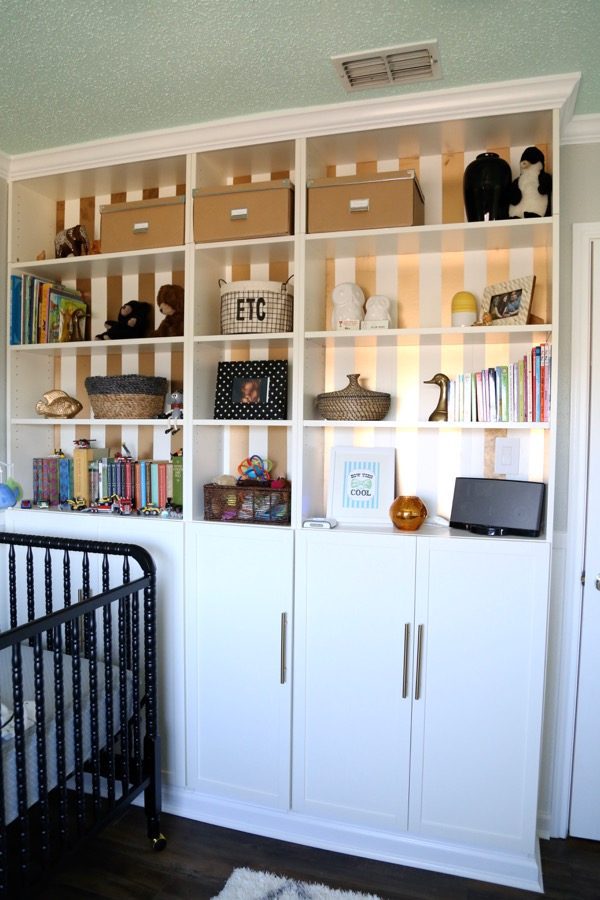 And now for the sources – please let me know if I've left anything off!
Jackson's Nursery Reveal: The Sources
– Crib: Jenny Lind
– Crib sheet: Target
– Rug: RugsUSA
– Mobile: WalMart (similar here)
– Sleep Sheep: Pottery Barn
– Bookcases: Ikea
– Hardware on bookcases: Cool Knobs and Pulls
– Chair: Ikea
– Pouf: Target (similar here)
– Curtains: Nate Berkus for Target
– Bamboo shade: Lowe's
– Blackout shade: Lowe's
– Dresser/changing table: Craigslist
– Changing pad: Summer Infant
– Changing pad cover: Aden by Aden + Anais
– Fan: Lowe's (can't find online, but it's Harbor Breeze brand)
– Mirror: Target (found at Goodwill!)
– Art above crib: MissBojambo and PrintableWisdom, via Etsy
– Frames on bookcase: Nate Berkus for Target (no longer available, can find similar here)
– Closet organizer: Target (not sold online)
– Trash can: Target (not sold online, was Threshold brand)
– Paint colors
– Top half of wall: Notre Dame by Valspar
– Bottom half of wall: White base paint, by Valspar
– Ceiling: Bay, by Pantone
– Closet: Deep Green, by Pantone
If you want even more nursery goodness, click here to see all of the posts about our second kiddo's room!