I've been wanting to add a plant wall somewhere in my house for ages, and I finally did one in my bathroom! I tried a new-to-me product so today I'm sharing my (completely unsolicited) WallyGrow planter review to show a super easy way to create a living wall in your own home!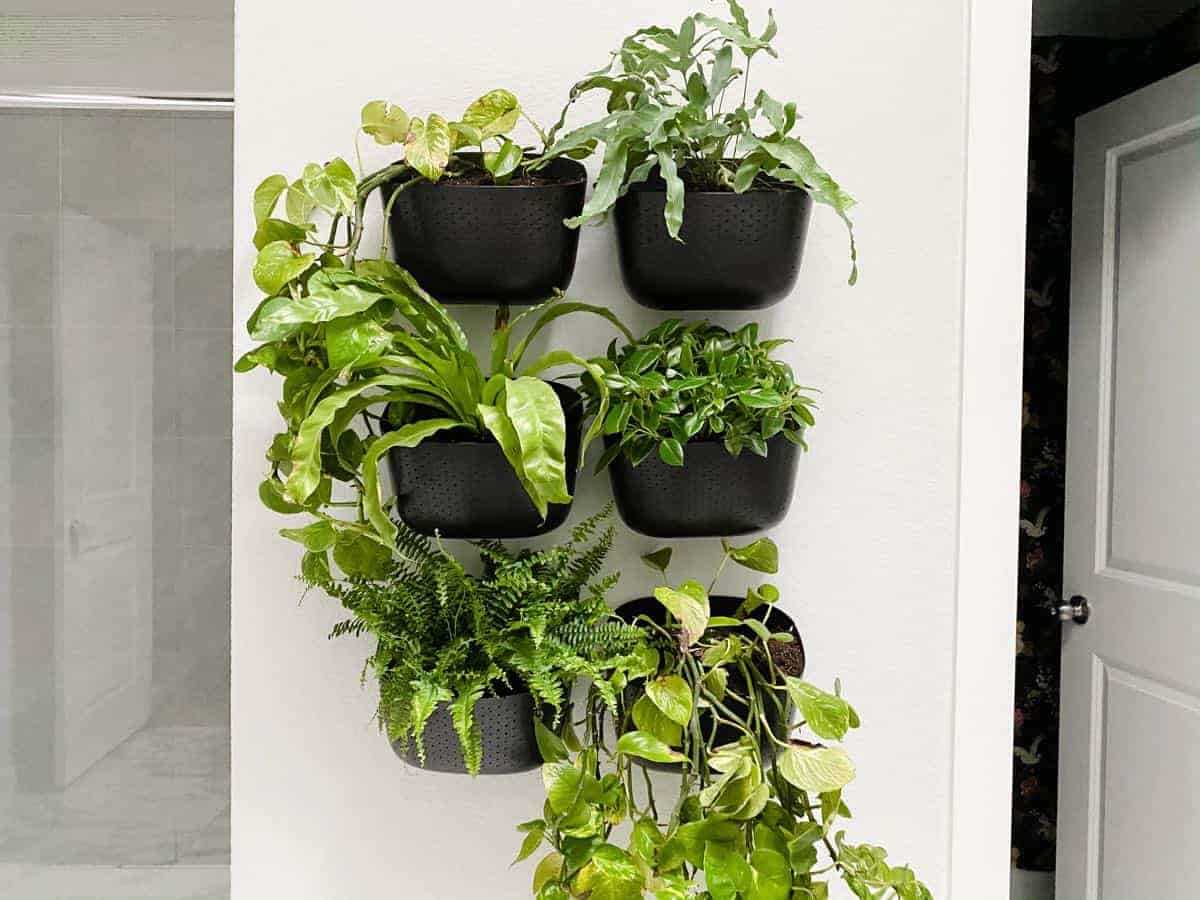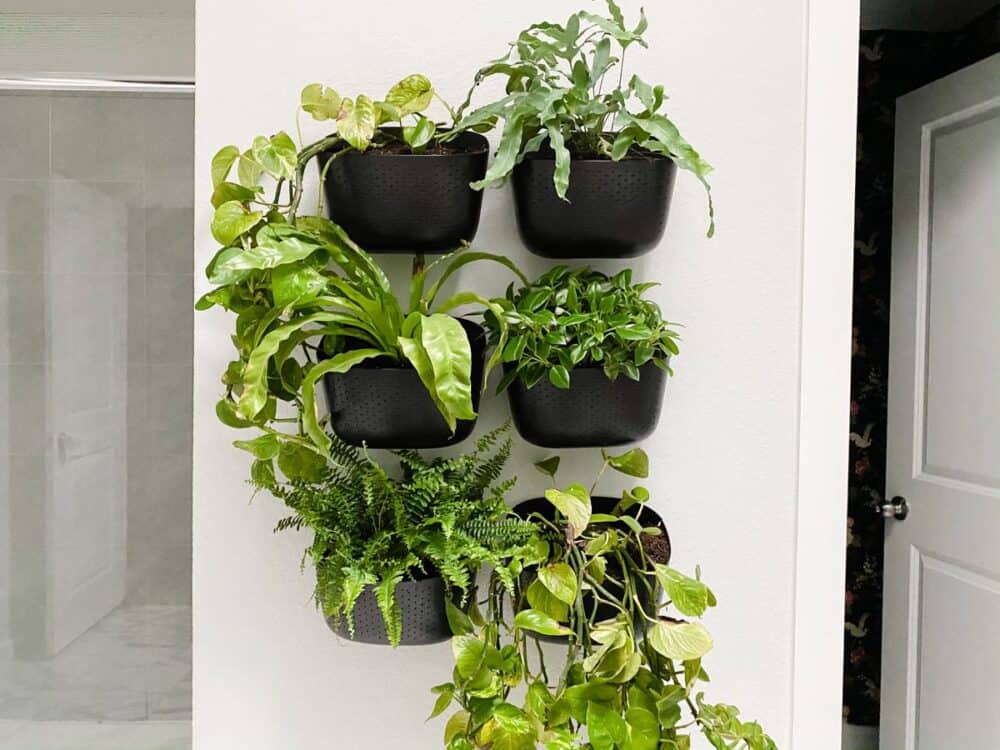 If you've been on this bathroom makeover journey with me from the beginning over on Instagram, then you'll know that I originally planned to put a beautiful linen cabinet against this empty wall in our bathroom. I didn't need the extra storage, but it sure sounded nice, and I wanted a place to display some plants too.
However, once I got the linen cabinet in place I quickly realized it wasn't going to work. It was beautiful, but it felt too big in the space. It blocked some of the gorgeous light from our brand new skylight and made the whole room feel smaller.
So, back to the store it went.
Thankfully, I already had a contingency plan in place – I've been eyeing these WallyGrow Eco Planters for months now and I knew this would be the perfect place to create a little DIY plant wall!
I wanted to share a detailed look at the planters and a quick review because I'm really impressed with them so far. Let's start with a quick little video I made to show how they're installed and give a closer look at how they work.
WallyGrow Eco Planter review
So, why did I choose the WallyGrowplanters over all the other options out there?
I first found WallyGrowthrough their Pro Pockets – I've seen a few other people use them and was really intrigued by the idea. But, they generally recommend a full drip irrigation system for indoor use with these, so I decided instead to check out their Eco Planters. They're made from 100% recycled milk jugs (which is always a win!), and you can tell they put a lot of thought into the design.
They have a divider in the back of them that creates a watering channel – the water is absorbed by the soil before reaching the front, and it won't leak at all. There isn't any additional drainage and, so far, that's my only concern about the planters – but I've seen a ton of self-watering planters over the last few years that operate in a similar way, so I'm interested to see how it works out!
There are also small holes all along the top in the front that allow air to circulate through the roots, which is really healthy for the plants.
They were super easy to install – only took me about 30 minutes from start to finish, and they look so good!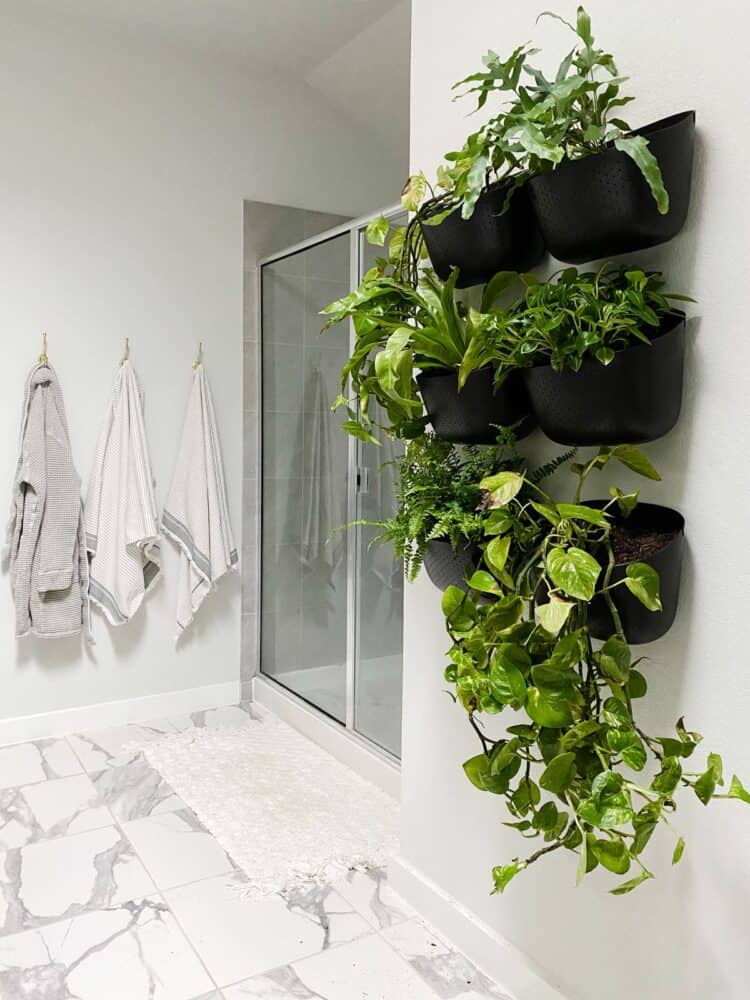 I love how easy it is to take them on and off the wall (so you can bring them to the sink for watering, if you prefer), and I love the wide range of color choices they have. I went with Espresso for mine, and they've even color matched every color of their planters to both Pantone and a couple of Behr paint colors so you can easily match your planter to the wall if you want to.
Other thoughtful details that I was impressed with include a detailed spacing guide on their site that helps you get the exact look you want, and some helpful videos showing how to install them and how to water your plants!
Here's a quick rundown of what I planted in my plant wall (I'm listing them from left to right, top to bottom):
Pothos
Blue Star Fern
Bird's Nest Fern
Baby Rubberplant
Boston Fern
Pothos
I specifically chose plants that will thrive in a more humid environment and won't be too picky about their watering schedule. The ferns all like to stay pretty moist, so that eases my mind a bit about the lack of drainage in the planters, and the Pothos and Rubberplant are both pretty hearty and hard to kill, so they should do great as well!
I'm excited to see how this fills in over time – it has already added so much texture and life to this space, and I'm so obsessed with it.
You know I'll keep you updated on how this holds up over time and what we think about the planters after a bit more use. I'd recommend you follow along on Instagram for the most regular updates!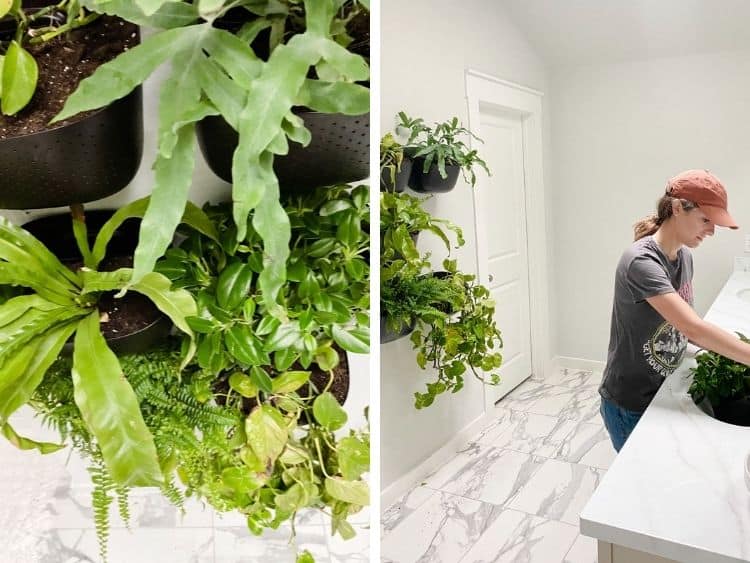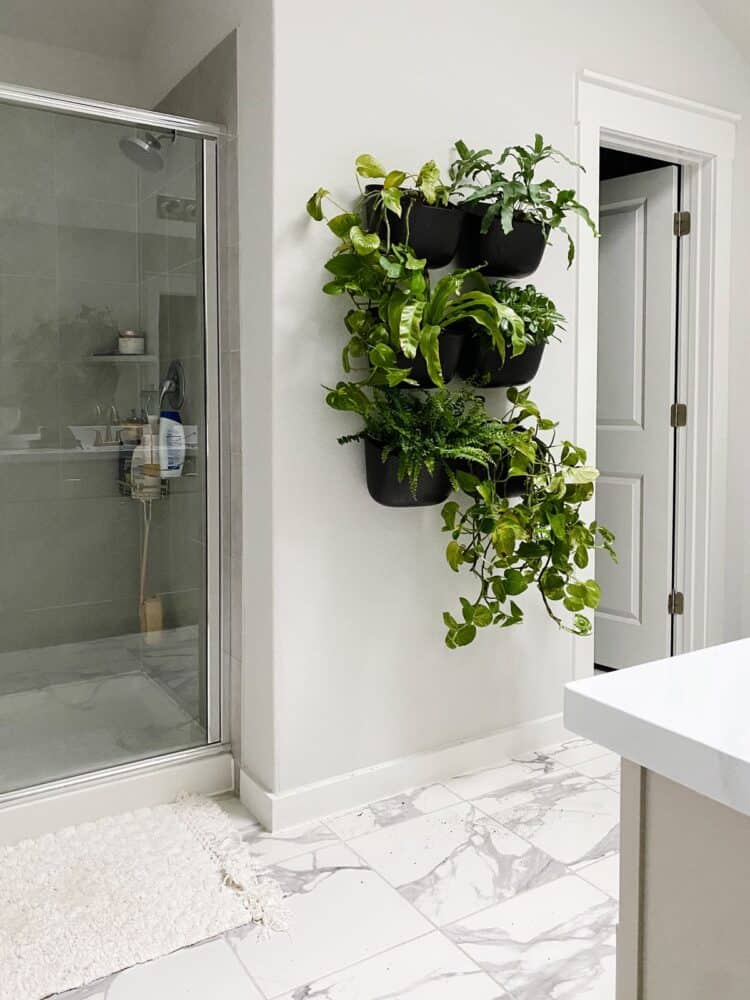 I've only got a few finishing touches left in this bathroom before I can call the phase one makeover complete! Remember, with this makeover we're focusing mostly on easy, cosmetic upgrades. Things like replacing the shower tile (which will happen someday) won't happen until down the line. Here's a reminder of everything we've accomplished so far in here:
Stay tuned for the last few projects – I think it's safe to say I'll be able to share the big reveal before the end of the month!