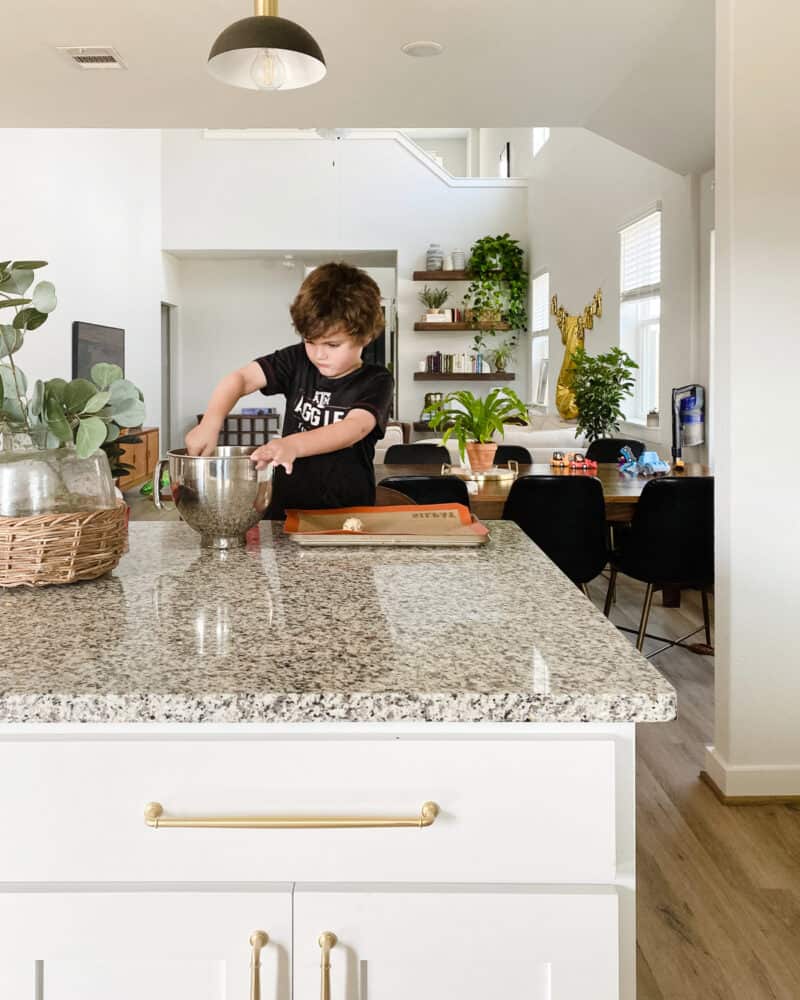 Happy Friday, friends!
How are you? Corey's birthday is on Sunday (yay!), and we're planning on our first restaurant date since this whole pandemic started in March to celebrate. I'm half nervous half beside myself with excitement, and I think it'll be good for us! I'm also picking up a giant cookie cake for him this afternoon so it's looking like it's gonna be a delicious weekend.
Last week, we did a fun little Q&A on Instagram and I didn't have time to get to even half of the questions that rolled in, so I thought today I'd take a minute and tackle a few more of them for a fun Friday post.
Is e-learning easier for you and your family since you're trained as a teacher? Any tips?
I honestly don't know how much my training as a teacher helps, since I'm not planning or implementing actual lessons, just facilitating Zoom calls and online assignments, haha. Where I do think my background can come in handy is with behavior management – I have extensive experience with classroom management and working with, ahem, challenging behaviors so when Jackson struggles to keep a good attitude (daily), I have a toolkit to help me navigate that.
But, all that being said, you can have all the behavior training in the world but when it's your own kid it's somehow different. Much of my knowledge kind of flies out the window when my child is throwing a fit about a difficult assignment.
So, the short answer? I think I'm in the weeds just as much as anyone else, here!
What were your pregnancies like?
I didn't love being pregnant. We got pregnant very quickly with both boys, which was an incredible blessing, but I had constant heartburn (had to take medicine daily the entire time, both times), Braxton Hicks contractions every day starting around 16 weeks, and really struggled with feeling like my body wasn't my own.
Of course, again, we are beyond grateful that I was healthy, my boys were healthy, and overall my pregnancies were both relatively easy. But I'm not one of those women who thoroughly enjoyed the experience.
Birth and the first few days of having a tiny newborn, though? I could do that a million times over. Every minute of pain was worth the magic of holding that sweet baby for the first time!
If you're in the mood, you can read Jackson's birth story here, and Grant's birth story here.
Which is your favorite houseplant?
Ohhhh that's a tough one!
I love the Monstera in my bedroom because it's a fast grower and it's so satisfying to watch those little leaves unfurl. But, I'd say my favorite has to be a tie between the Louie the Rubber Plant and the big, flowing Pothos on my floating shelves!
Click here to see alllllll of our houseplants (including, obviously, the ones mentioned above).
Favorite first thing in the morning drink?
Just plain ol' water! I've been using this water bottle to help encourage me to be better about getting my water intake up, and it definitely helps!
I'm not a breakfast person, and I usually don't have anything other than water until we eat lunch around 11:00. Unless it's Saturday, when I usually talk Corey into getting breakfast tacos for us. Yummmmm.
What part of Hamilton was your favorite? Character and song.
You know I had to include the Hamilton question, right?!
My favorite character is obviously Lafayette and I think he needs an entire play to himself. My favorite song shifts depending on my mood, but I love to rap Guns & Ships, and Satisfied always gets me belting!
ICYMI: This week on the blog
I finally revealed the secret project I've been working on for weeks and weeks – Grant's nursery makeover! I'm in love with how it turned out, and I'll be sharing another project from that space next week!
I also shared the DIY Adirondack chairs you saw me working on last week if you follow my Instagram stories. The color gives me all the swoon-y heart eyes.
Elsewhere on the internet
Have a great weekend!