Spring has sprung – that means it's time to start thinking about your spring cleaning list! Not to worry – I've got you covered with these easy spring cleaning tips to get you started! 
Do you officially spring clean your house every year?
I'll admit, I don't necessarily set aside a specific time to deep clean my home – maybe I should? I tend to be the type that just takes care of those annoying deep cleaning tasks on a somewhat random schedule throughout the year, but I always love the idea of dedicating a whole weekend to just cleaning my house inside and out.
The five minutes it stays clean would just be absolutely blissful!
If you're new in these parts, you might not know that the first Friday of every month this year I'll be sharing some quick and easy life hacks to help you get your life on track. And today's topic? Well, it's obviously all about quick and easy spring cleaning tips!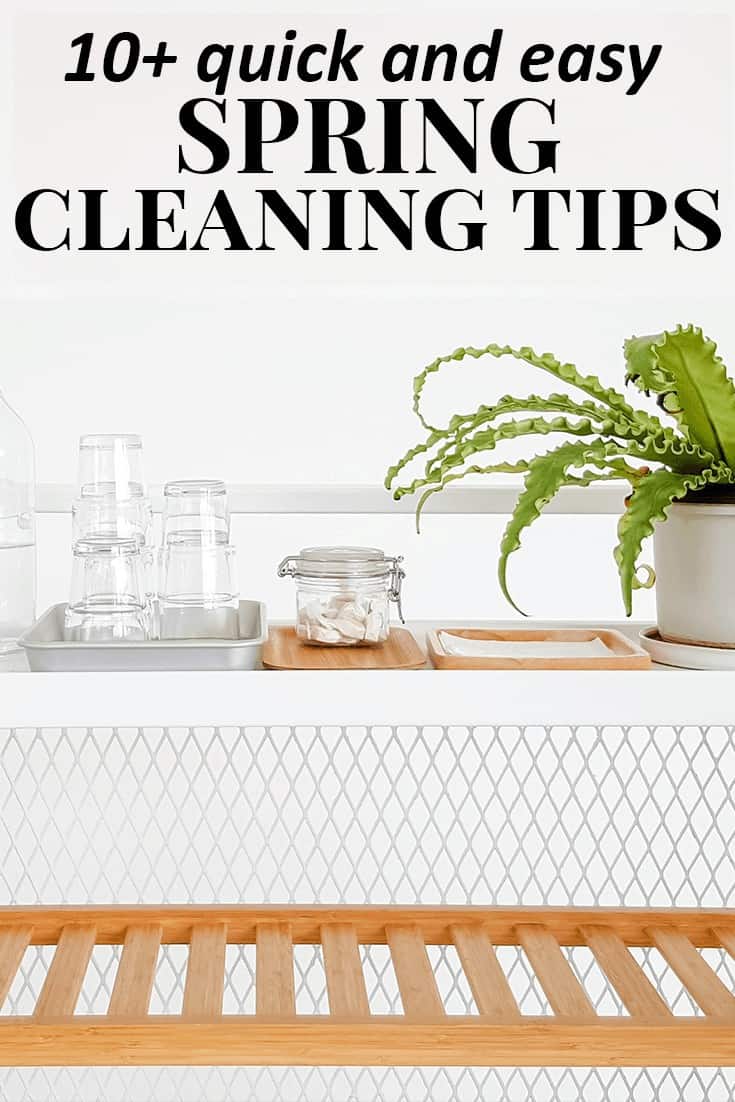 Here are my top 3 tips for simple (but effective) spring cleaning – after the tips, I'll be sure to have plenty of other posts for you to check out all about spring cleaning, organizing, and general cleaning hacks to make the job easier!
3 Quick Spring Cleaning Tips
Make a list! Maybe this one is a little obvious, but I think it's vital. If you just to tackle your deep cleaning by just walking around the house and taking care of the things you notice, you'll never get it all done. Instead, you should start a list at least 1-2 weeks before you plan on cleaning – slowly add to it as you notice things around the house that need to be taken care of (like the microwave, the gutters, and that pesky spot behind the toilet that makes you cringe every time you notice it), and once you get to the big cleaning day you'll know exactly what you need to tackle. Bonus points if you organize the list by room to make it even easier for yourself! 
Get the whole family involved. I know sometimes it's easier to just do it yourself. I mean, if you have the ability to kick your spouse and kids out of the house for a day or two while you tackle it on your own (and blast some old school NSYNC as loud as you want since no one is there to complain), then go for it. But, if it's not realistic to get rid of your family for a few days, try to make it a family affair. Plan on ordering pizza to feed everyone, play some music everyone loves, and give each person a list of things to do. It's more fun if you're all working together, and you can have some planned breaks throughout the day to make it a little less painful. Pro tip: when you're taking breaks, try to take them outside of the house to avoid messing up your hard work. Take a walk around the neighborhood, hit up the local park, or take a quick drive for some ice cream! 
Focus on the bigger tasks. I don't know about you, but sometimes when I'm trying to get some deep spring cleaning done I get distracted by the little things that are actually more maintenance than spring cleaning. For example, after I finish deep-cleaning the dishwasher (definitely a spring cleaning task), I might notice that the stovetop is looking a little dirty and decide to tackle that too (not a spring cleaning task since I do it all the time!). If you have an unlimited schedule and aren't in a rush to get things done, it's fine to let yourself get distracted – but if you're like most families I know, the goal of spring cleaning is to take care of those more annoying things that don't get cleaned on a regular basis. So my advice is to make sure your list focuses mainly on those bigger, less-frequent tasks and not on the things you're probably already cleaning every week anyways! If you get those bigger tasks done, your house will feel significantly cleaner than if you just do the things you'd probably be doing even without a dedicated day to clean.
Are you feeling pumped to tackle your spring cleaning yet? If you need some more motivation or more ideas, here are a few more posts that might help you out.
Even More Spring Cleaning Tips
I'm actually feeling really motivated to actually do some dedicated spring cleaning myself this year! Maybe once all of the renovation insanity dies down I'll set aside a weekend to get some stuff done.
Who I am kidding? The renovation insanity never dies down around here!
Guess I'm destined to have a messy house forever?
Want to catch up on the rest of our Life Hacks Series? 
Here are all of the other posts we've published so far this year in this fun little series – go forth and conquer your life!