Oh heeeeeey, there. 2022! We've arrived!
I generally try not to focus too much on the whole "new year" thing, because it feels so cliche, but I can't help but feel really inspired and excited at the beginning of each year.
Last year, I declared that we were taking things nice and easy heading into the new year – because goodness, 2020 was a disaster. I didn't want a repeat. But then, somehow, 2021 was even harder for me. So this year, I'm honestly just hoping for okay.
Mediocre, even.
Boring? I'll take boring.
I'm feeling especially motivated this year to get myself organized and focus on my goals. I spent a lot of time in 2021 in survival mode, and I'd really like to not do that this year. So, I spent a long, long time thinking about the goals I'd set for myself with our house this year, and I decided to keep it simple and manageable.
Nice and easy and boring.
That's all I'm hoping for in 2022, y'all.
My first post of the new year is always all about what you can expect for the year, what my goals are, and a few projects I'm hoping to tackle. This year is maybe a little vaguer and more uncertain than in years past, because if last year taught me anything it's that you never know what kind of curveballs are going to be thrown your way. But I'm a big believer in setting goals and having something to work towards, so on we march!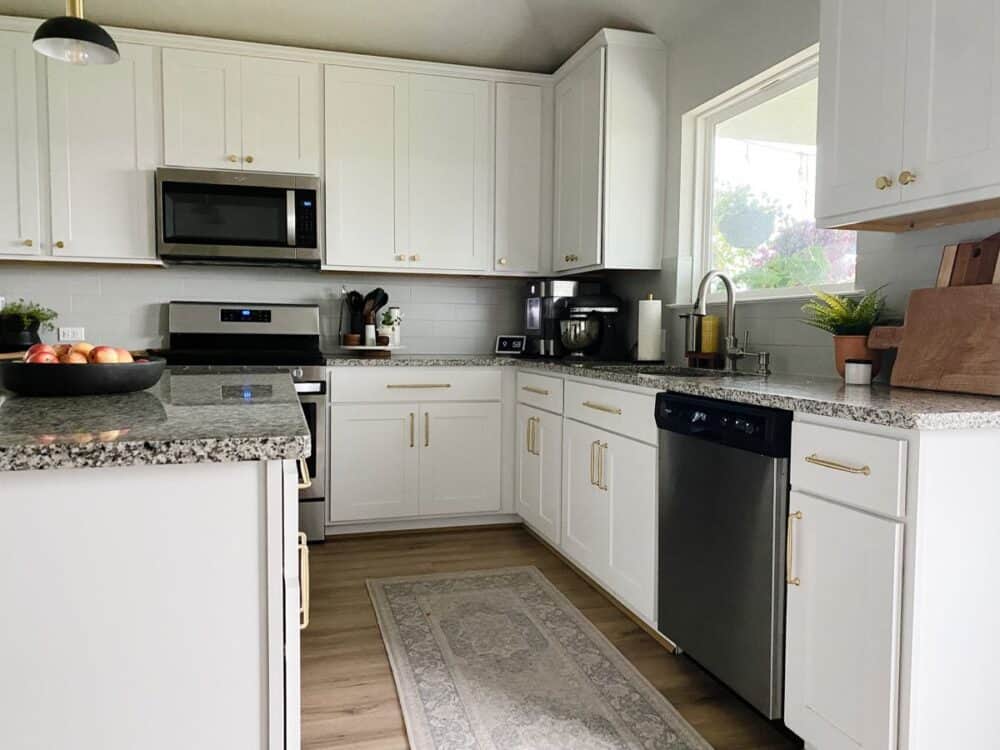 2022 Home goals
Focus on small, intentional projects. The last few years have been big. Since we moved into this house just over two years ago, we've installed an 18′ tall fireplace, built a play camper, completely transformed our bedroom and the game room, along with a ton of other things. It's been fun, but it's been a LOT!
This year, I'd really love to spend some time this year being really intentional about some smaller projects. Things like getting the kitchen and closets fully organized, painting a few walls we haven't painted, and adding art to a few blank walls. There are a lot of tiny spaces around our home that need some major help in the organization department – and this is the year.
In general, I'd really just love to sloooooow down this year and remind myself how much of an impact a little project can have! I've got a running list of smaller projects that I'd like to tackle, and I'm hoping to cross at least one or two off every month!
Tackle our closet. This is the one large-scale project that I desperately want to take on in 2022. The closet in our bedroom is an absolute disaster and it's time to take care of it. We've done a ton of renovations in every house we've lived in, but we haven't ever done a full-scale closet renovation before. I've been dreaming up ideas for months now, and I'm eager to start making some concrete plans.
Actually replace the builder-grade lighting. This was a goal on our list in 2021 and I managed to replace exactly one light. Whoops! I really do think that fresh lighting can make the biggest difference, and I'm determined to work on this in our home this year. We have several really bland lights in our entry and upstairs hallways, and I'd love to pick one really beautiful option that I can replace them all with.
I also would really love to work on some more ambient lighting around our house too. We almost never use the overhead lighting in the main areas of our house, and it would be really nice to have a few more lamps or sconces scattered around to give off a bit more light in the evenings. I'm also definitely adding a lamp to the kitchen this year!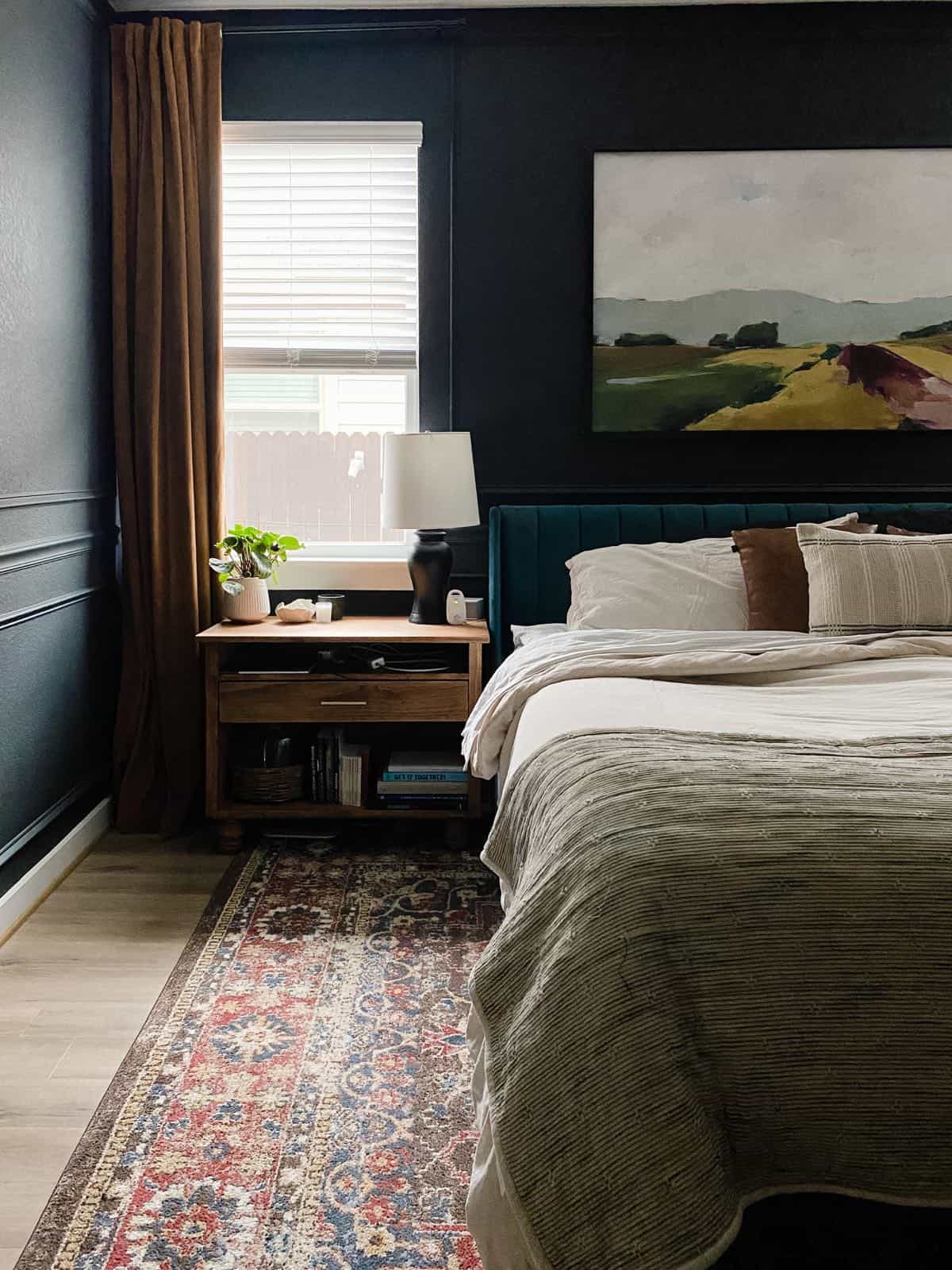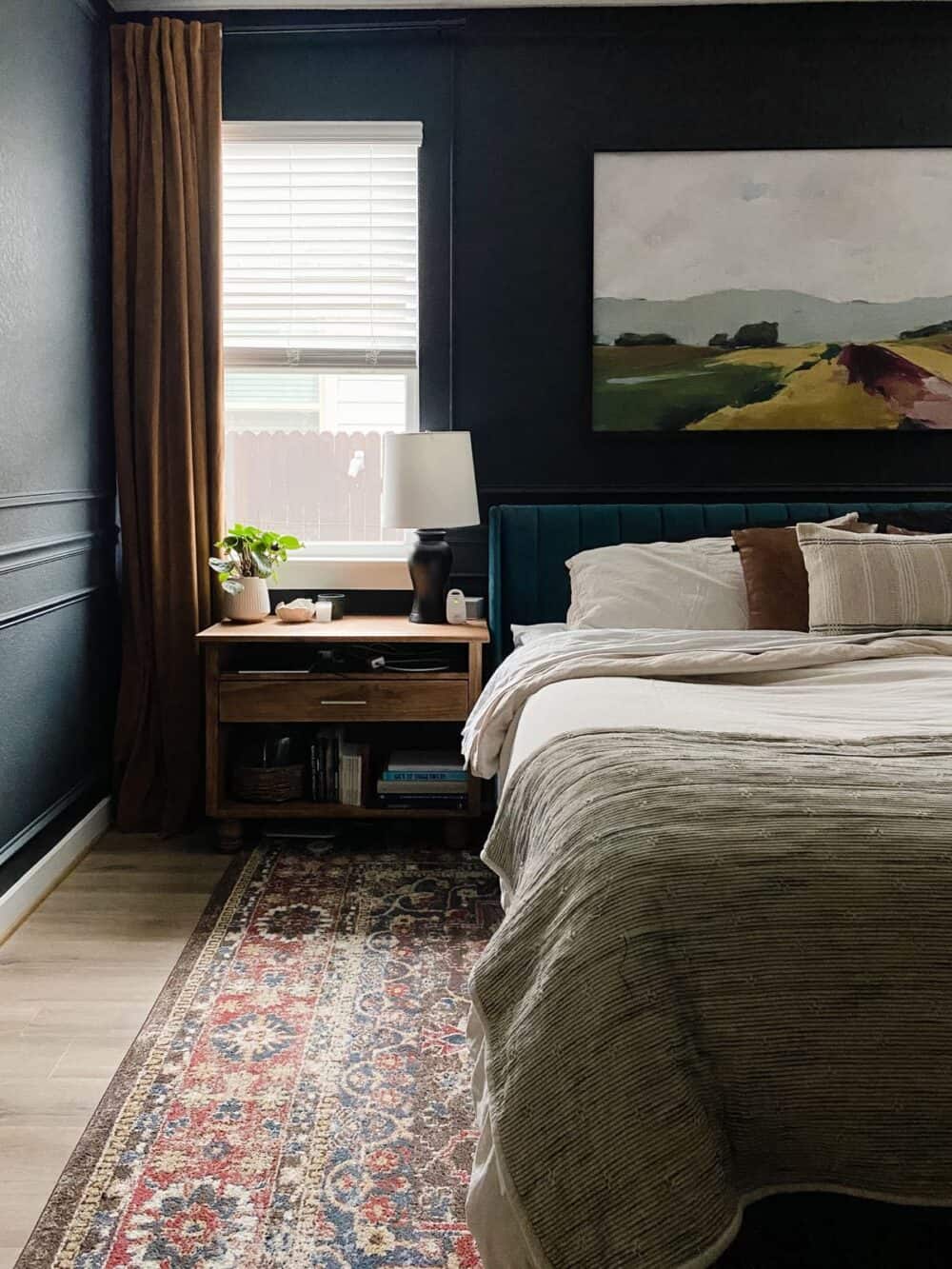 Refresh a few spaces we've already done. A few of the rooms we've already finished could use some touching up. I mentioned in our 2-year home tour that I want to replace the wallpaper in the entry, the family photos going up the stairs need to be updated, and I'm ready for a few (small!) changes in our bedroom, too. I'd love to just go back over all of the rooms we've already done, evaluate what's working and what isn't, and make some adjustments!
I think this is a step that is so important and should be taken on intentionally – and it's not something I've ever been great at. I'll admit that I tend to finish up a project or room and kind of forget about it, but rooms should be evolving consistently over time so they continue to meet your needs! Several of our spaces need just a feeeeeew small tweaks and I'm excited to give them all a new life this year!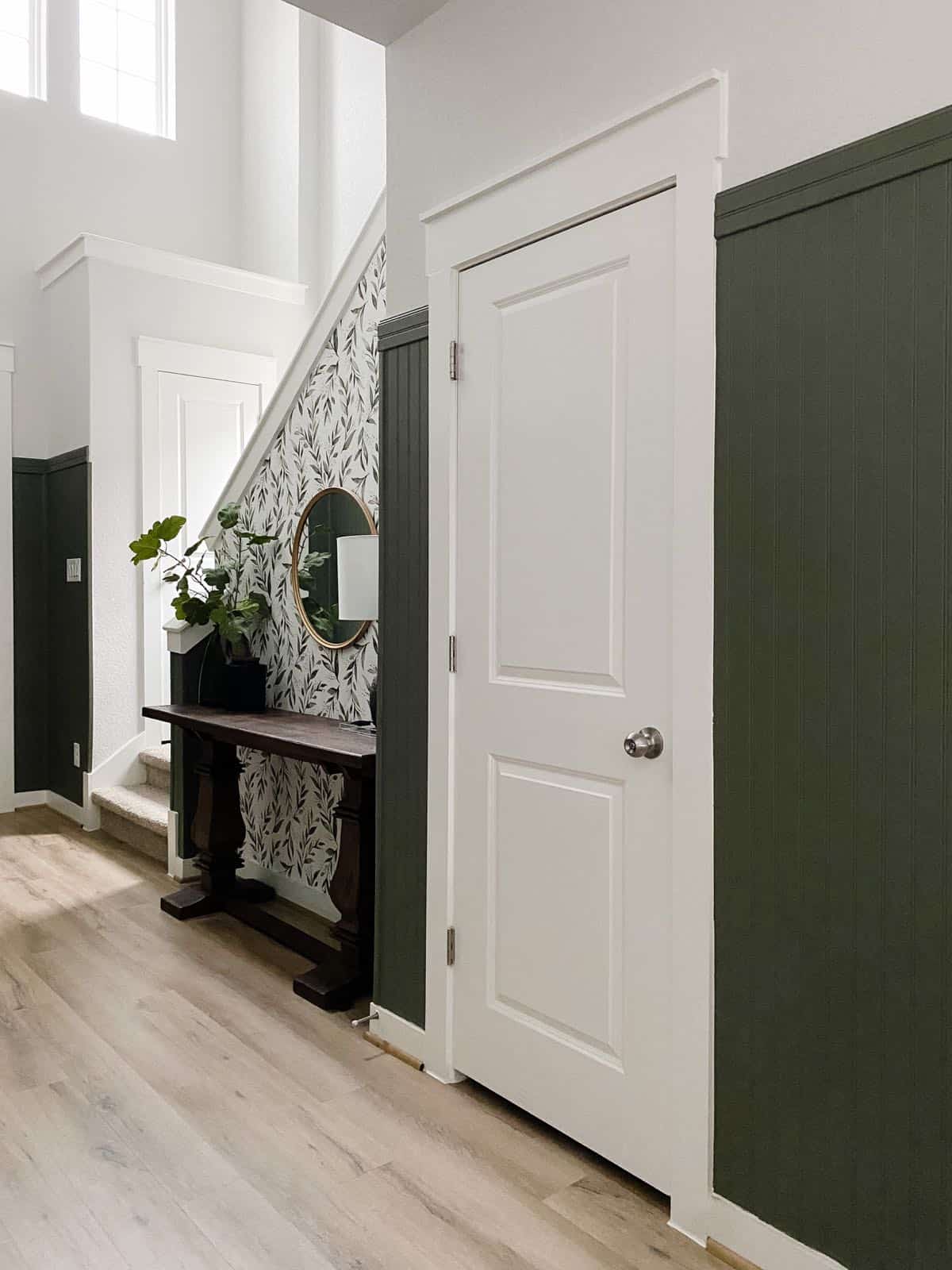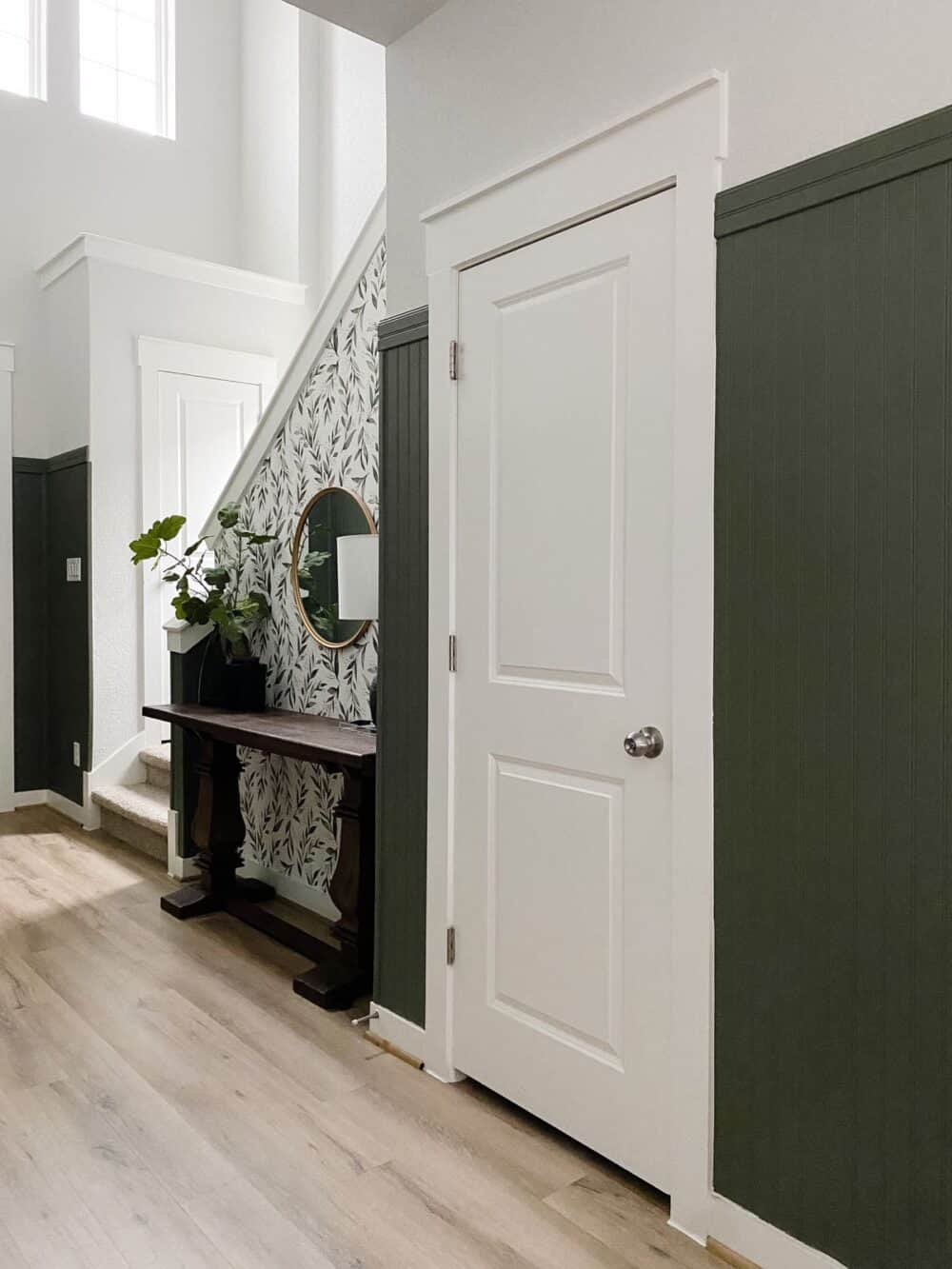 Finally take on that powder room?! When I shared our home tour in November, many of you were shocked to learn we have a powder room off our living room that has literally neverrrrrrr been touched or changed at all since we moved in. Part of it is that I can't decide what the heck I want to do, but I think a bigger part is that it's the last remaining room in our house that we haven't touched at all and a piece of me has been holding onto having that one last room! I've felt a bit paralyzed with indecision, but I'm ready to remind myself that changes don't have to be permanent and we can always swap it up again down the line if we want to! I think 2022 will be the year that bathroom sees a few changes.
There are, of course, plenty of other projects on my to do list for the year, including some exterior updates and landscaping, Grant's big boy room update, and a few others. But, these are the highlights and my main priorities, and I'm hopeful that this year I'll be able to cross them all off the list!
Wanna know what's in store this month? You can expect to see…
An few more updates in Jackson & Grant's bathroom
Some serrrrrious organization
A bedding refresh in our room
And, hopefully, a really fun room makeover that ISN'T at our house!
So, you know, nice and slow and quiet?!
You know I'm not good at sitting still.
Can't wait to share all of the fun with you this year. Here's hoping it's easier, quieter, and calmer than last year was.