It's week 3 of the Jeffrey Court Renovation challenge, and we're chugging right along! Today we're looking at the progress we've made so far and I'm sharing some bathroom tiling tips.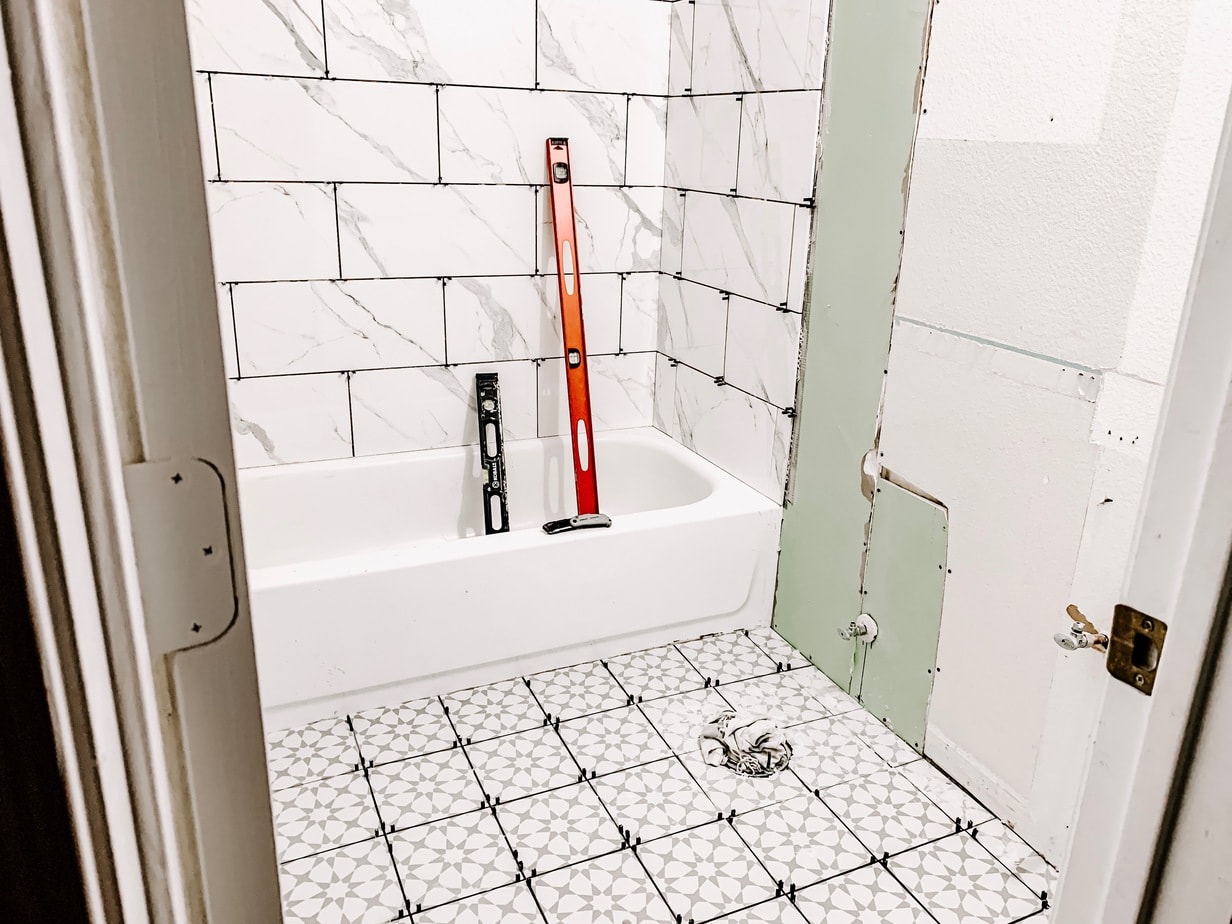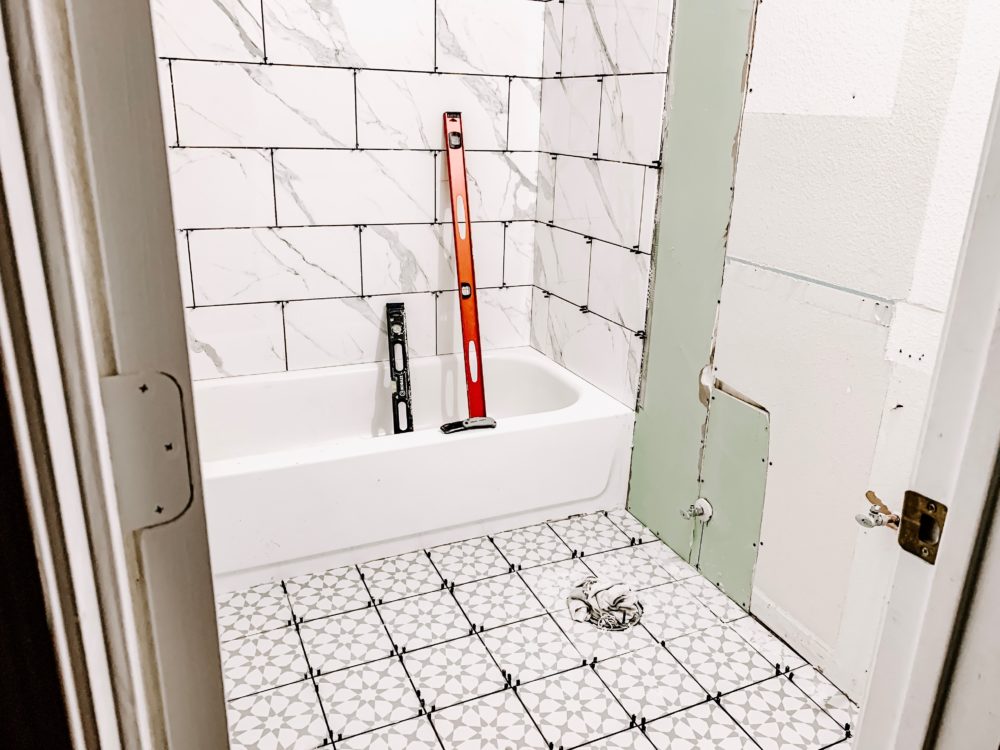 Well, I'm officially exhausted.
Doing a major bathroom renovation in six weeks is no joke, and this week I am feeling it.
But, oh boy, do we ever have some progress!
If you're new here, let me catch you up. We're participating in the Jeffrey Court Renovation challenge, which is a competition-style challenge where 15 different bloggers are all renovating rooms in their home in just 6 weeks. One person will win $5,000 at the end, and we're seriously hoping it's us – you can VOTE FOR US beginning today by clicking right here! We're renovating our kids' bathroom, and I'm so, so excited to get it done.
UPDATE: Wanna skip ahead and see the rest?
This week was all about the tile. As a reminder, we're using Jeffrey Court's 6X18 Carrera Ink Jet Tile for the shower and the 7X7 Castelletto for the floor. You can see this week's renovation log below, or you can click here to watch the video on YouTube!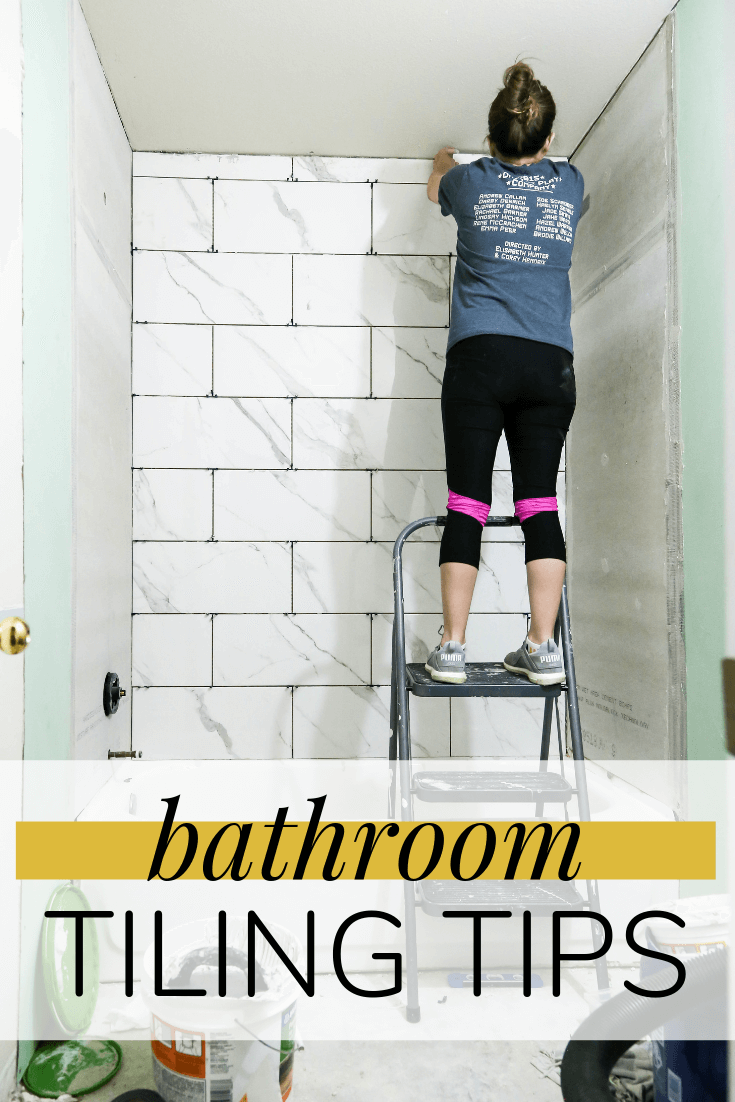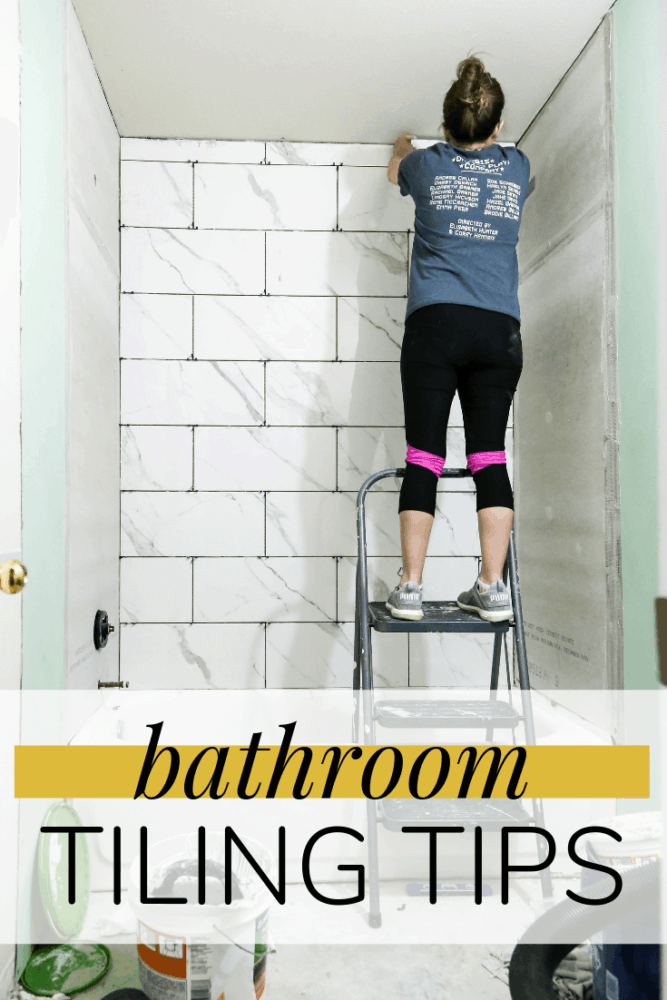 This post contains affiliate links. Click here to read my full disclosure policy.
I've already done a full tutorial on how to tile, so I'm going to skip that here. Instead, I'm going to share a few tips and tricks specific to tiling in the bathroom, and just show you some pretty pictures of how things are looking so far.
After demo was complete and everything was cleaned (including replacing some insulation and plastic moisture barrier), we re-installed backer board. We've learned through renovating a couple of bathrooms that a lot of homes just have drywall behind the shower tile. This isn't ideal! This one actually had two layers of drywall under the tile, which you can tell if you look back at the before photos and note how far the tile sticks out from the wall. It was strange, and the look always bothered me! We installed cement backer-board, which is meant for areas that are exposed to a lot of water, and it should be much longer-lasting.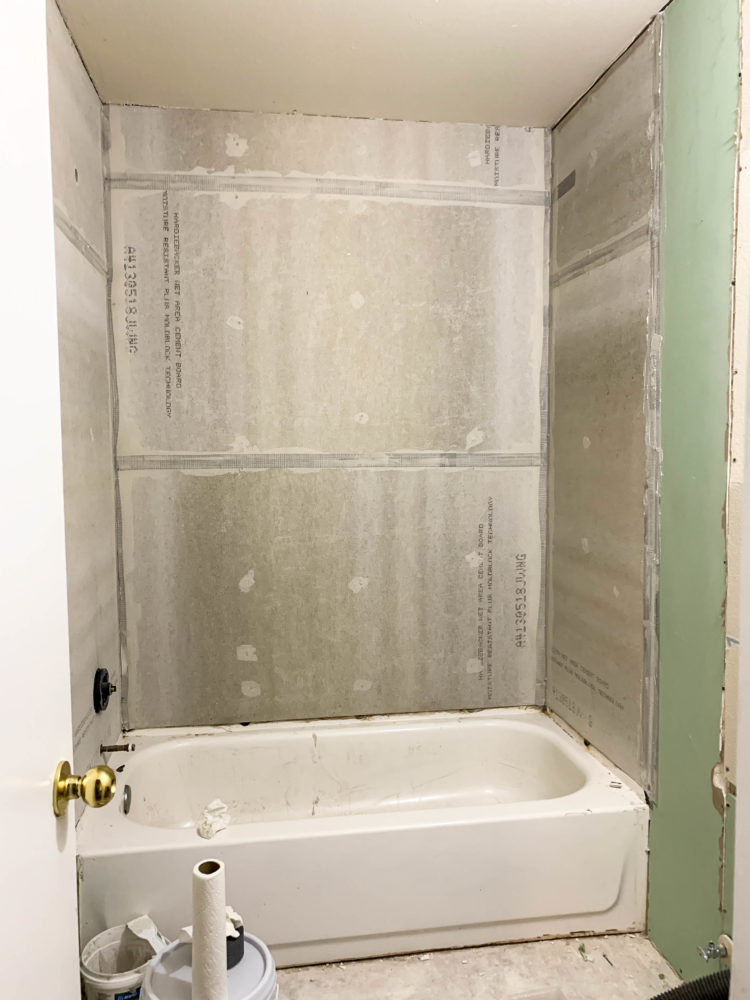 You can see here that we also had a bit of regular drywall to replace in the room. We put up the drywall but haven't done any taping or patching yet. The walls will need a bit of work before I paint, including taping the drywall, removing some wallpaper that we discovered under the trim, and adding some texture on the new drywall to match the old walls. I'm a bit nervous about making it all look good, but that's a problem for future Amanda.
Current Amanda is just glad the tiling is done!
Once all of the concrete backer board was taped and sealed, it was (finally!) time to tile! Here are a few quick tips and thoughts about tiling in a bathroom that will hopefully help you out:
Tips for tiling in a bathroom