Our Budget Bathroom Makeover
For the last month, I've been working on giving our primary bathroom a refresh. I'm calling it a "phase one" makeover, because we didn't touch the shower and I'd eventually like to rip the entire thing out and start fresh…but we made some serious progress and I'm so excited to show you how it all came together!
Here's how it looked before: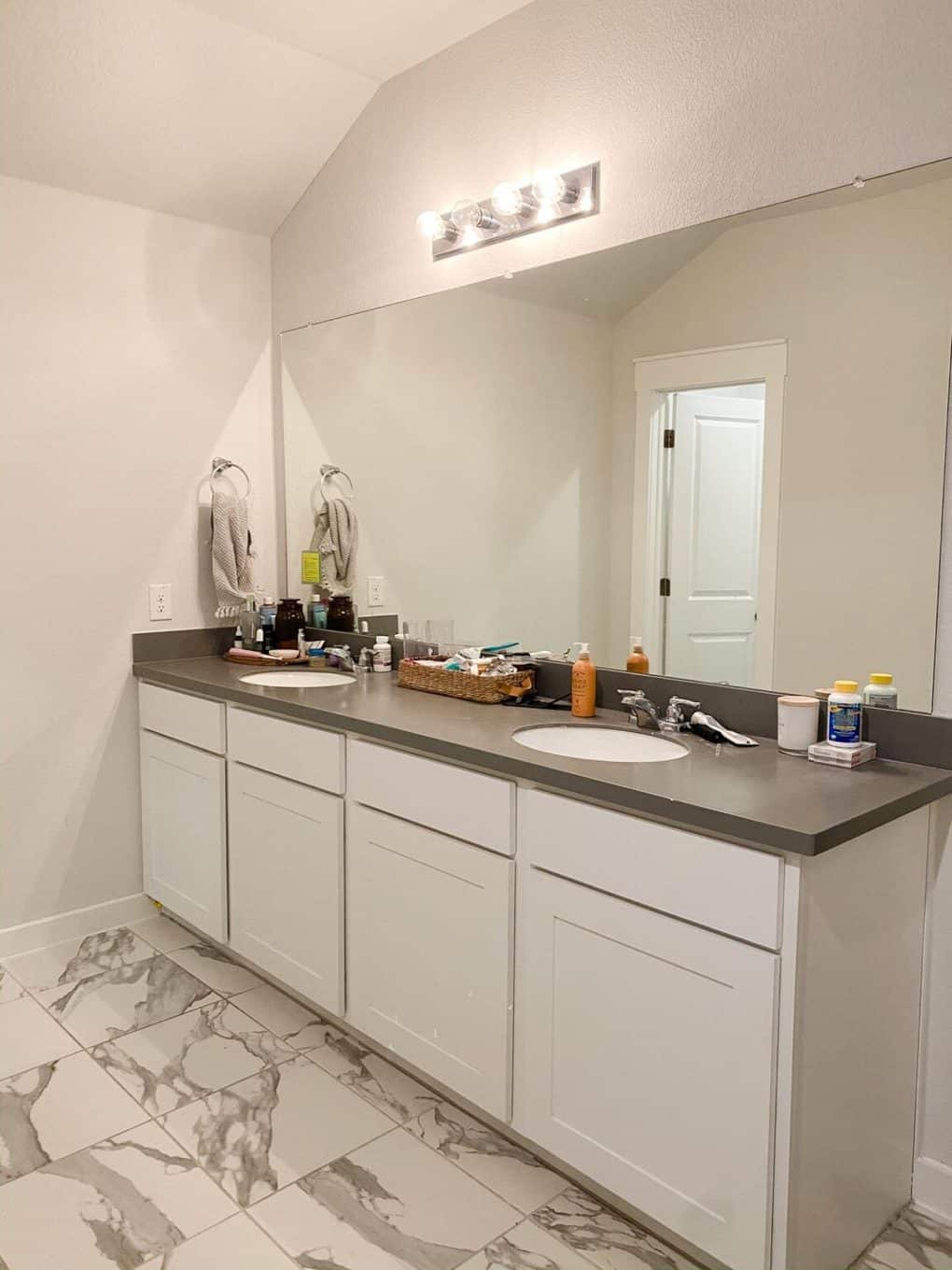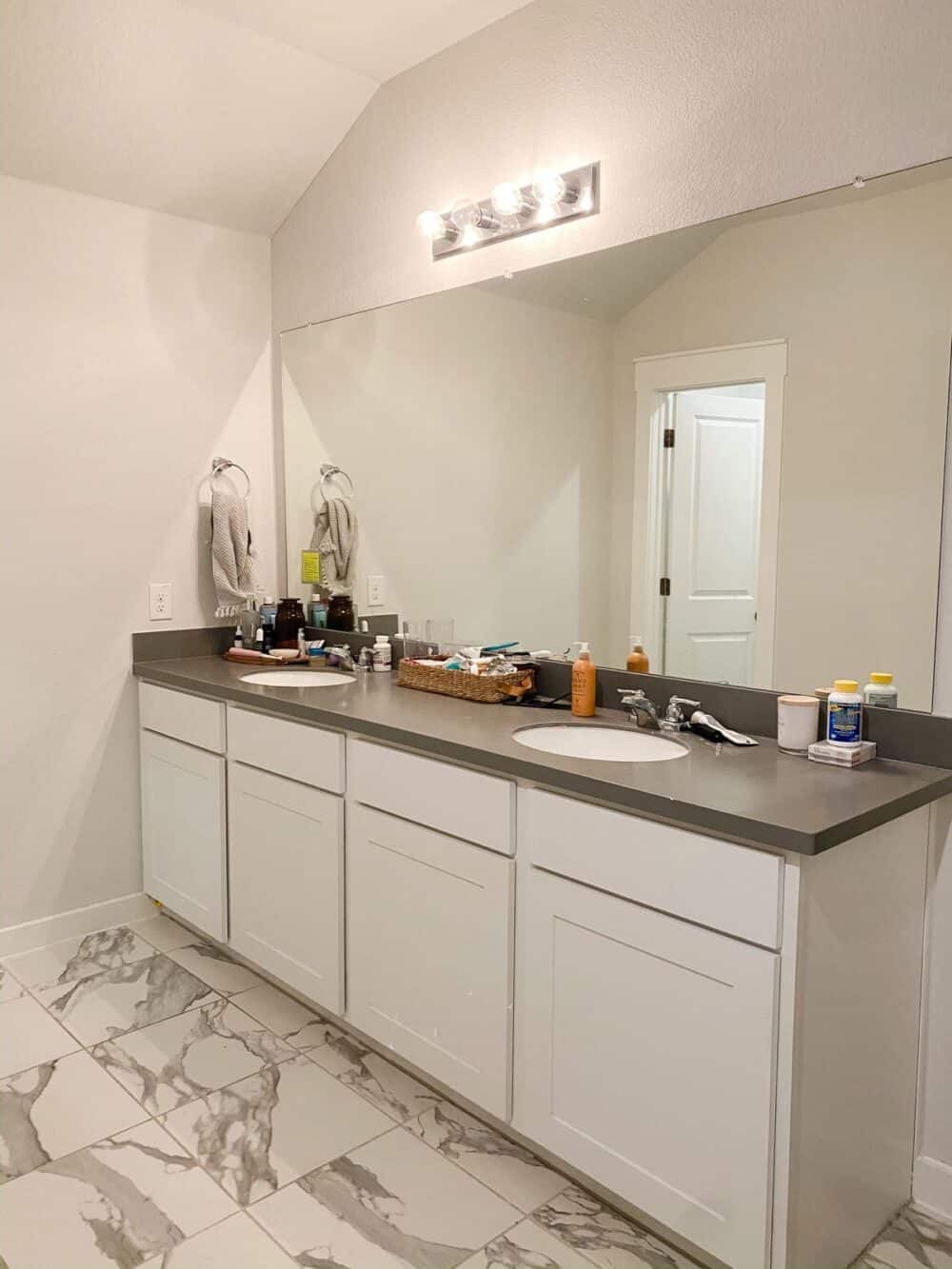 And here it is today!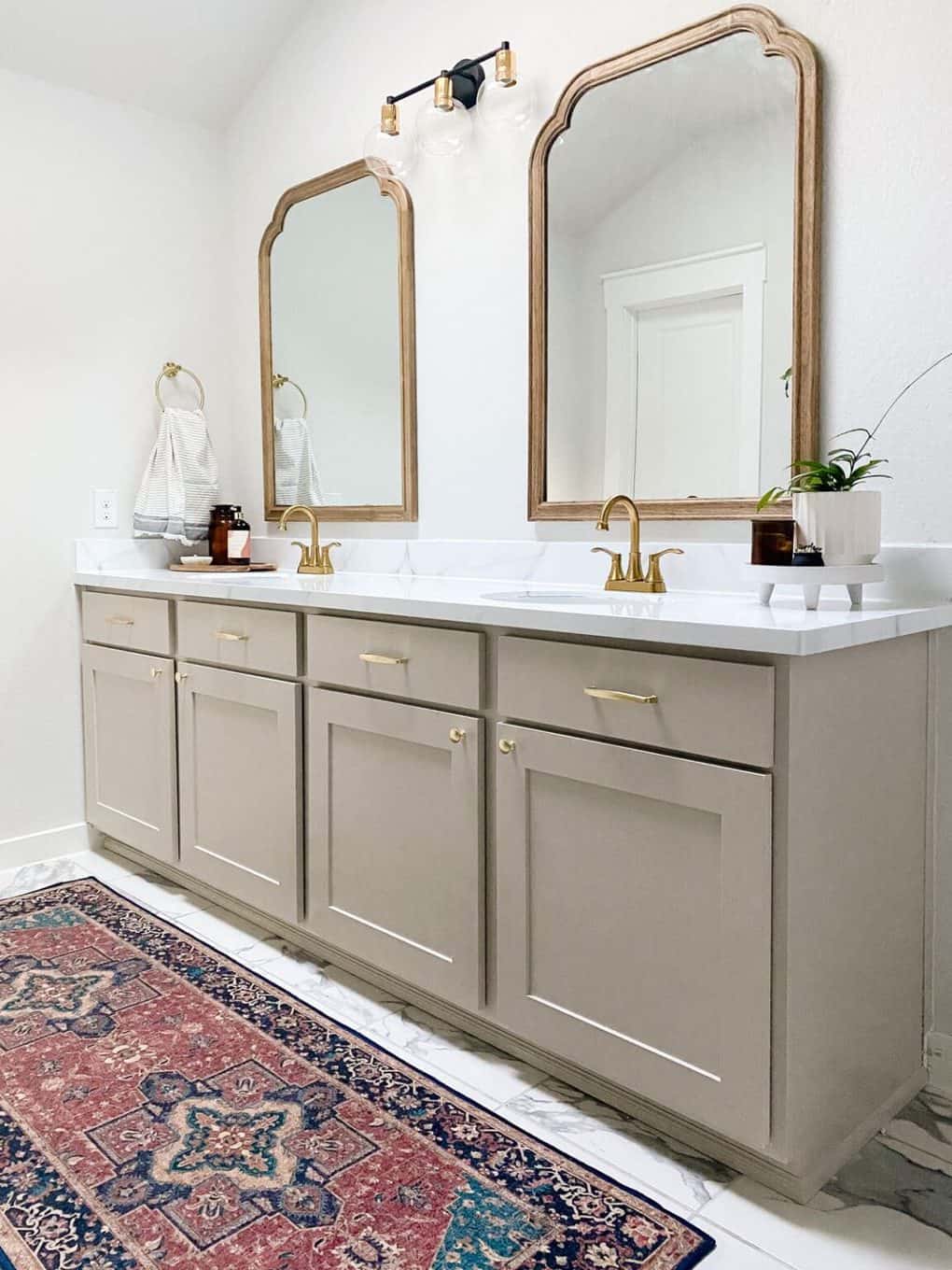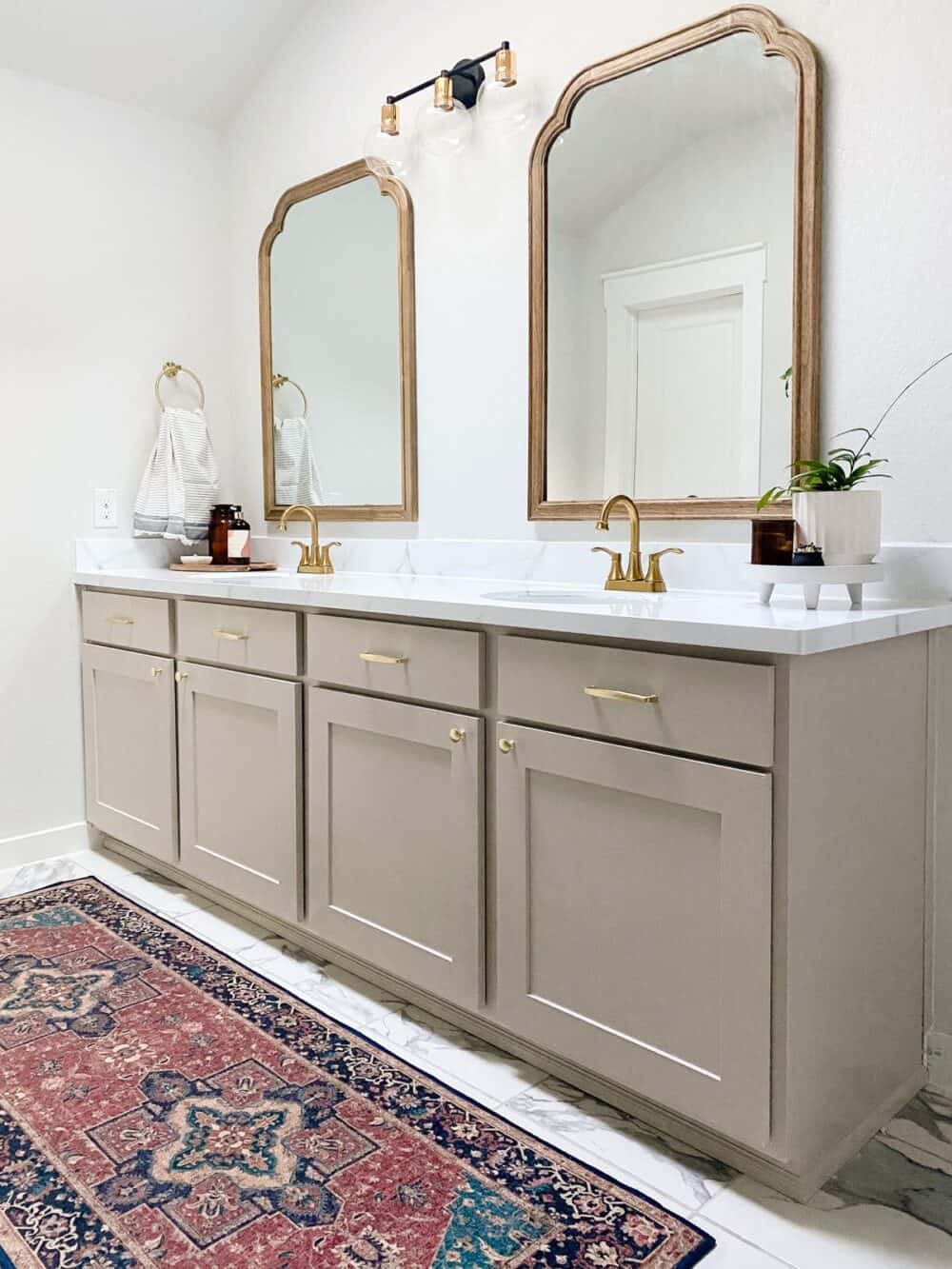 I'm blown away by how different it looks, and the warmer colors, brighter look, and fresh accessories have made the biggest difference.
If you want to watch it aaaall come together in video form, I put together a little reveal video for you! Or, you can just keep reading for all the photos too.
Budget Bathroom makeover video reveal
Budget bathroom makeover: the details
The most impactful change for me was having a skylight installed in the center of the room. This room used to feel like an absolute cave since it had zero natural light, but now the sun streams in all day long and it has changed the entire feel of the room.
Of course, the other huge change is the vanity area. I have always loved the size of our vanity (all that counter space is so nice!), but the entire look was so builder-basic and boring. The gray counters were probably my least favorite feature of our entire house because they're impossible to keep clean and I didn't love the look.
I painted the cabinets a beautiful, soft taupe color (Sculptor's Clay by Behr), and I gave the counters a makeover with a DIY epoxy countertop painting kit. I'm still blown away every day by how great they look and how much of a difference it has made in the space. It feels so much more us now.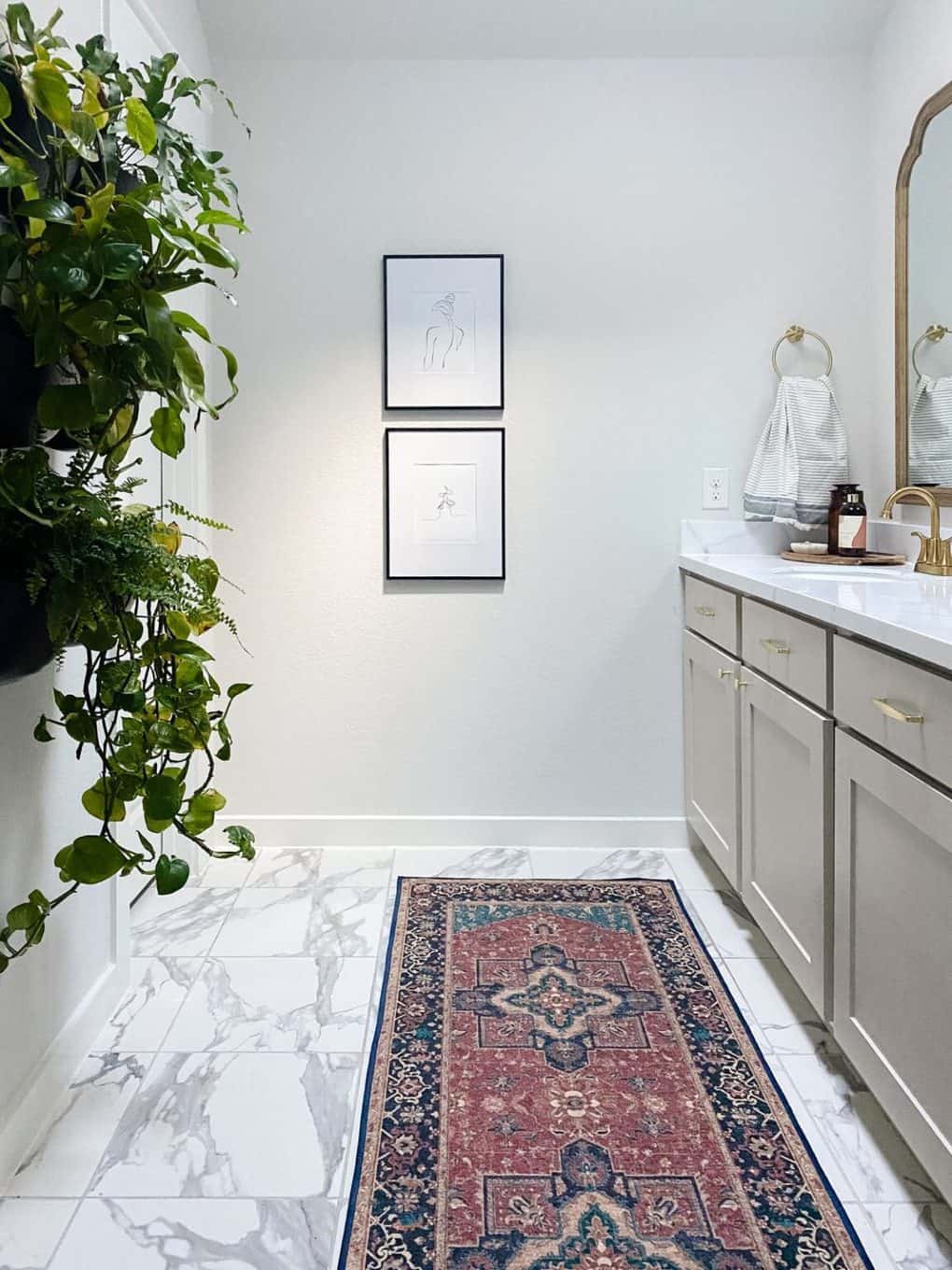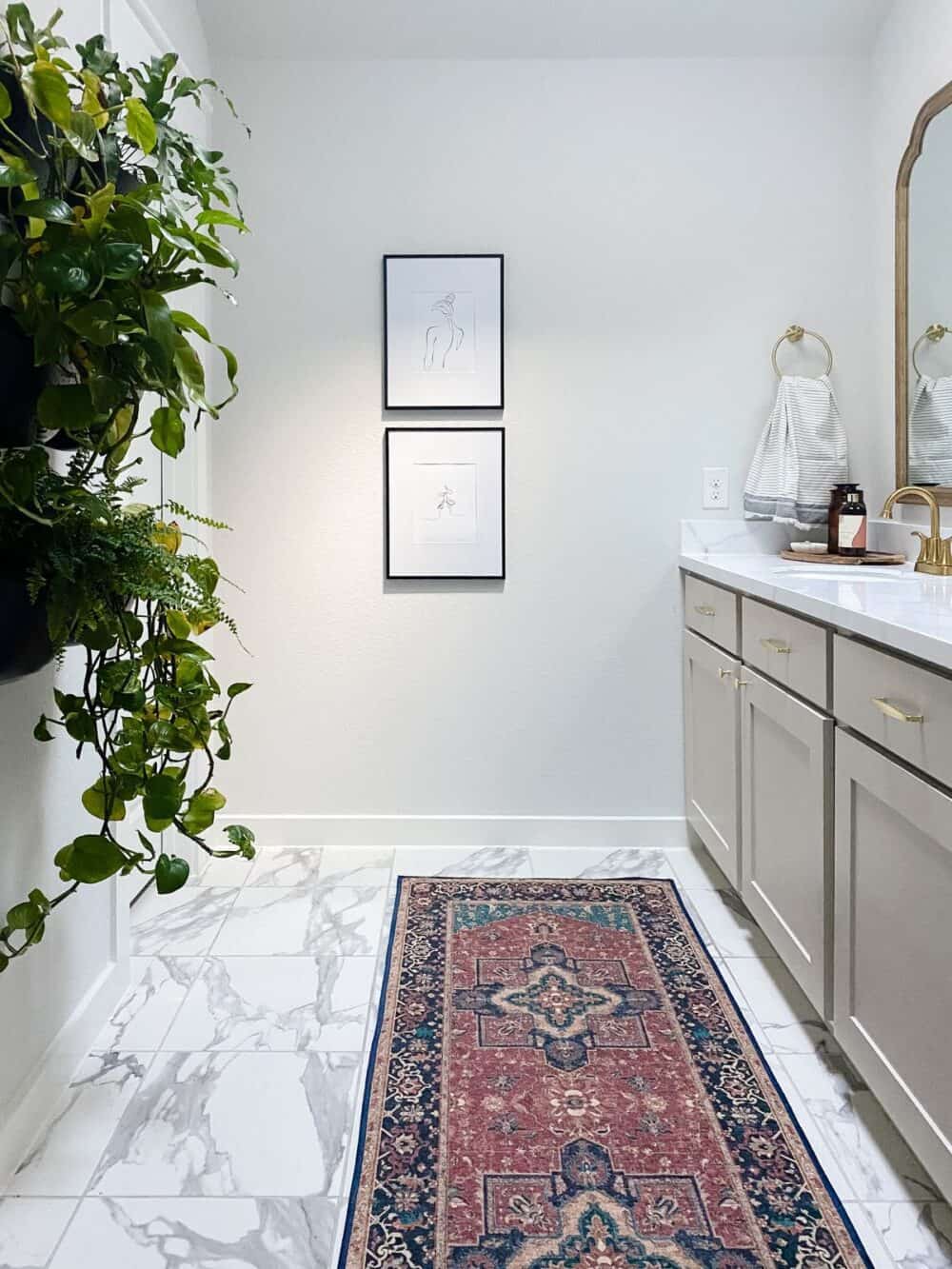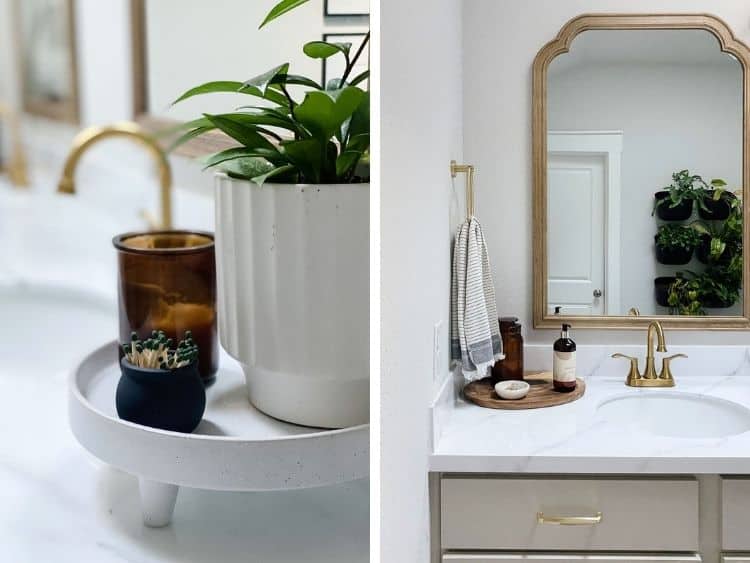 I also pulled down the builder grade mirror and added two wood-framed mirrors from Target. Funny story about those: I have had one of them since we lived in our last house and have been holding onto it, waiting for the perfect place to use it. It sat in my laundry room for well over a year before I decided to use it in here, but by the time I finally decided to put it in here the mirror was out of stock in every store around me.
I found the mirror at a Target couple of hours away from us and was fully prepared to drive for it, but then I discovered that someone had just returned one to the Target near my house! I raced to the store and snatched it up before it even made it out of the customer service area.
Clearly, it was meant to be.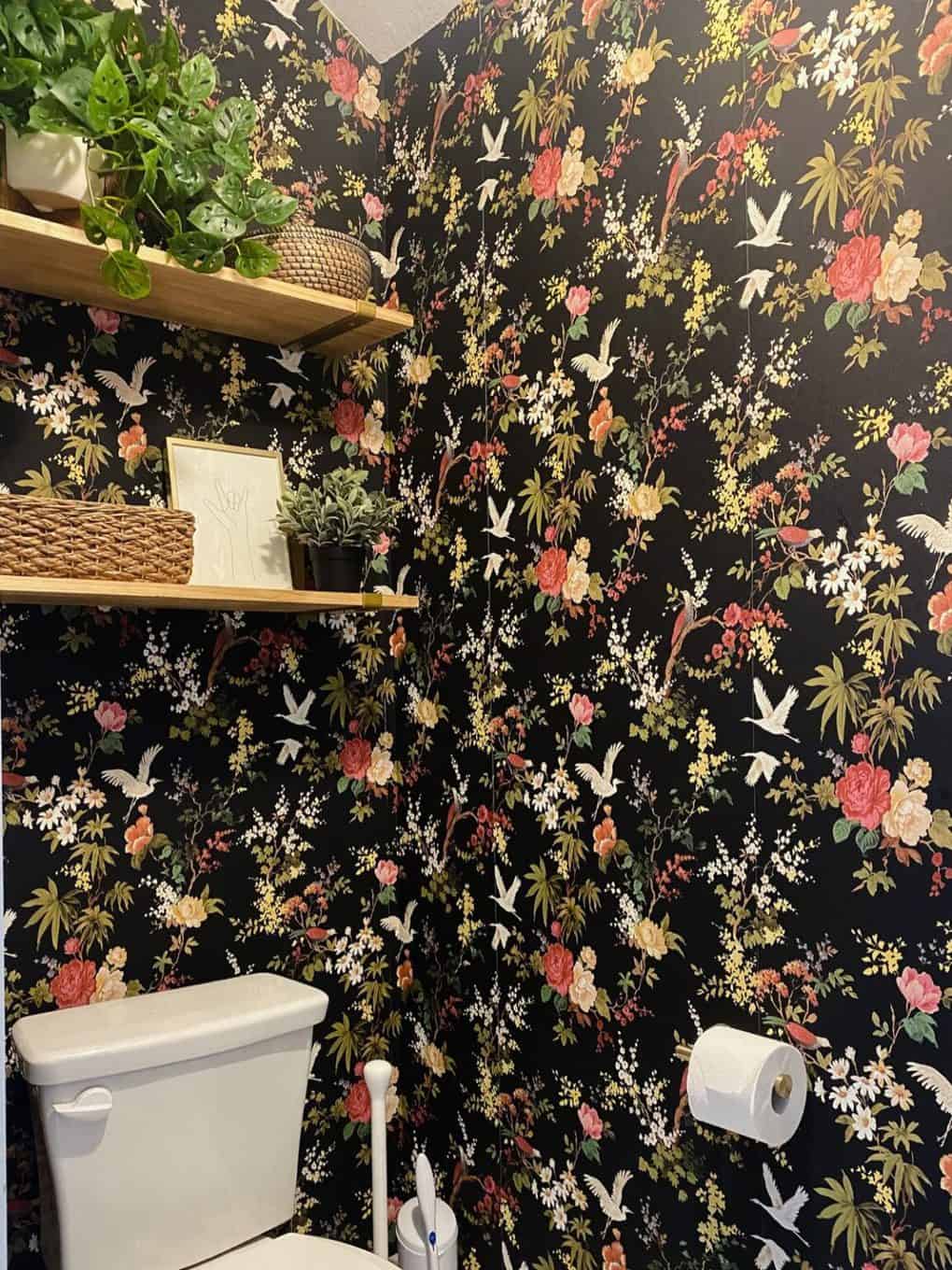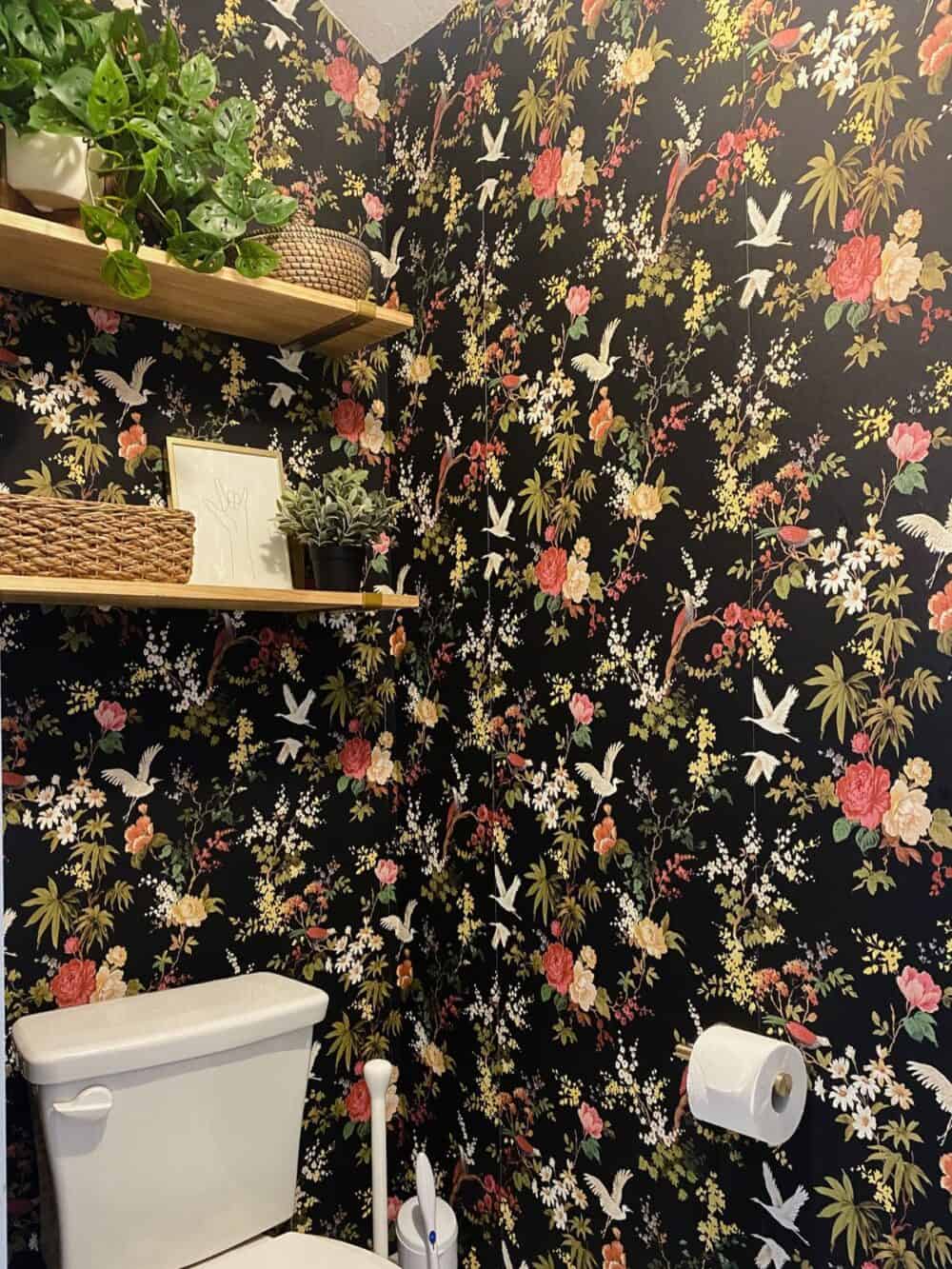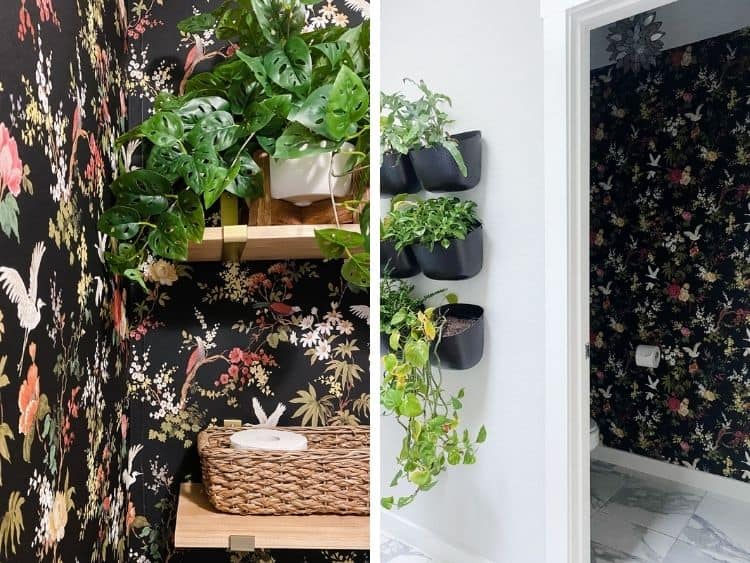 On the other side of the room, you've got our little water closet. Since the day we moved in, I've pictured a black floral wallpaper in this space and I'm so glad I went with my gut on this one. It's bold and impactful and the perfect pop of fun in this bathroom.
I also added some shelving above the toilet for some extra storage and display, and this tiny little nook ended up being one of my favorite features of the entire space!
Many of you on Instagram have (repeatedly) suggested that I also paint the ceiling in the water closet black to blend better with the wallpaper. I completely agree that it would look great, and I'll probably go back and do that at some point. But, the white ceiling doesn't bother me at all in here and, to be honest, it's hard to get motivated to do a project I truly don't enjoy (painting ceilings) in a space that Corey and I are the only ones to use.
Sooo, we'll see if it ever gets done.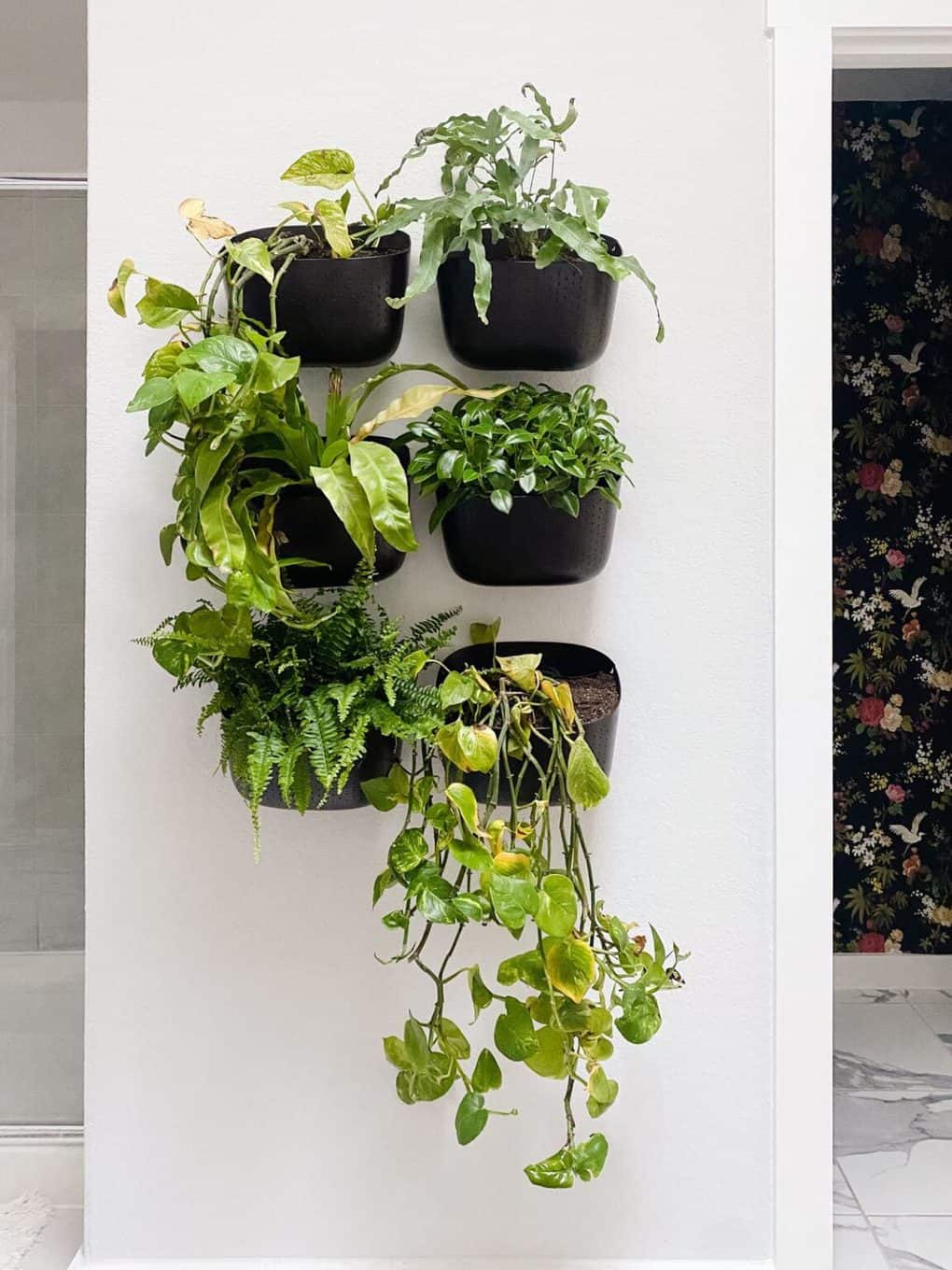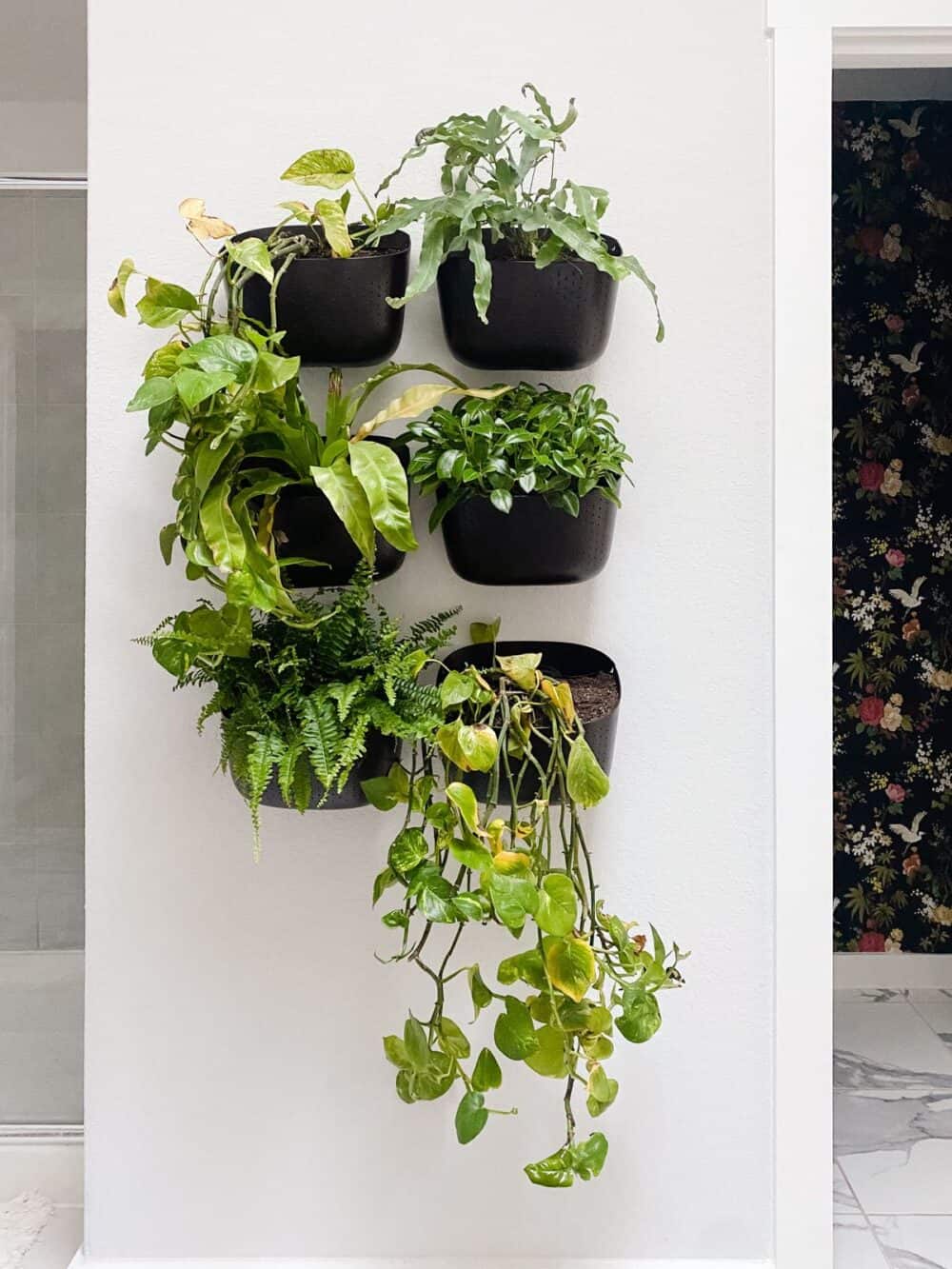 Of course, another favorite feature in here is the plant wall. This space was originally meant for a linen cabinet – I have always pictured having something there for a little extra storage, and I even went as far as purchasing one and assembling it. It lived in the bathroom for a few days and it looked absolutely beautiful, but in the end it just felt like it took up too much space. I like how light and open our bathroom feels, and I decided that I didn't want to add anything that would mess with it.
And let's be real – I'm not mad about how things played out. This plant wall makes me so happy, and I love that I was able to bring in a bunch of plants to this room that previously didn't even have a window!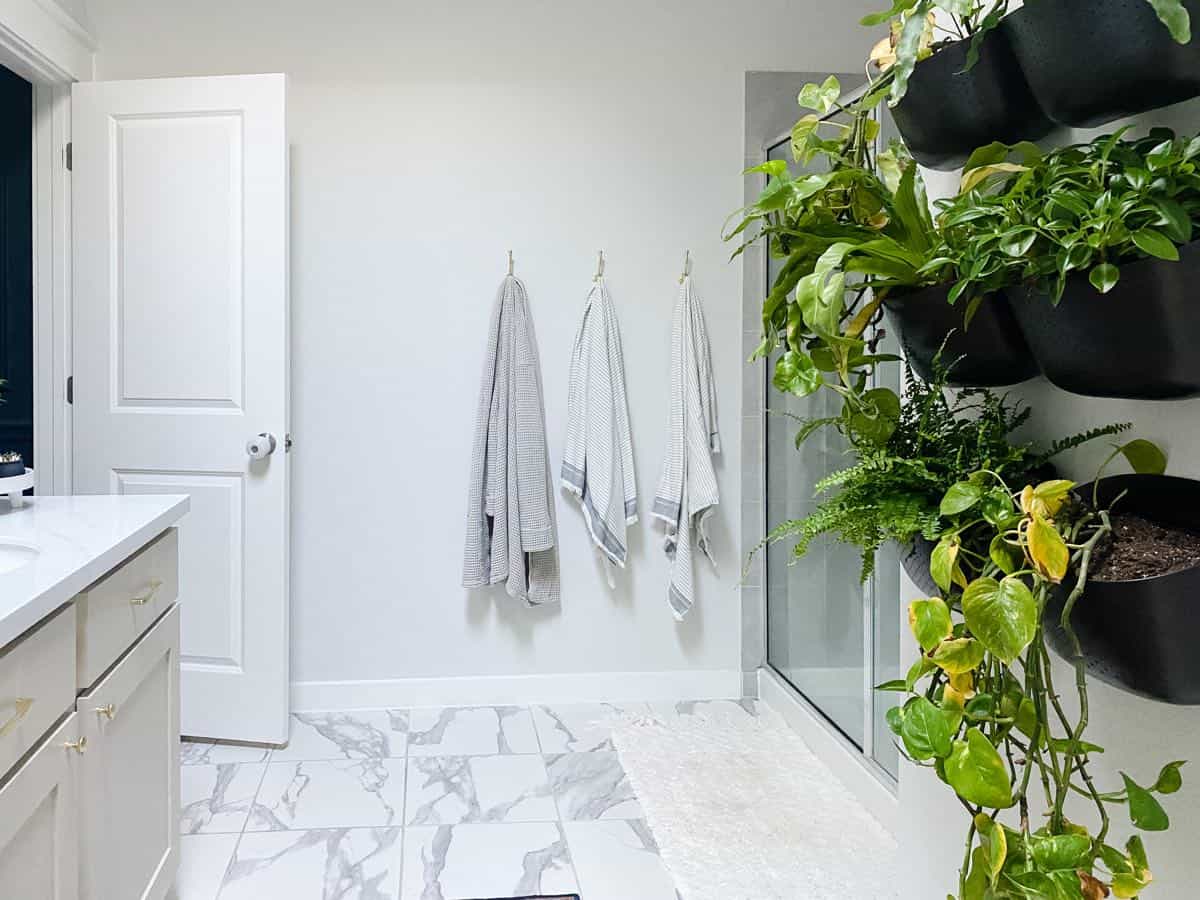 This was a true labor of love and I'm so glad I was able to give this bathroom a refresh without ripping anything out or doing any major renovations (aside from the skylight, of course). Bathrooms in particular can often feel like you can't really do anything until you're ready to completely renovate them, so it's always so satisfying to see how a few small changes can add up to a major difference!
Shall we do one more before and after for the road?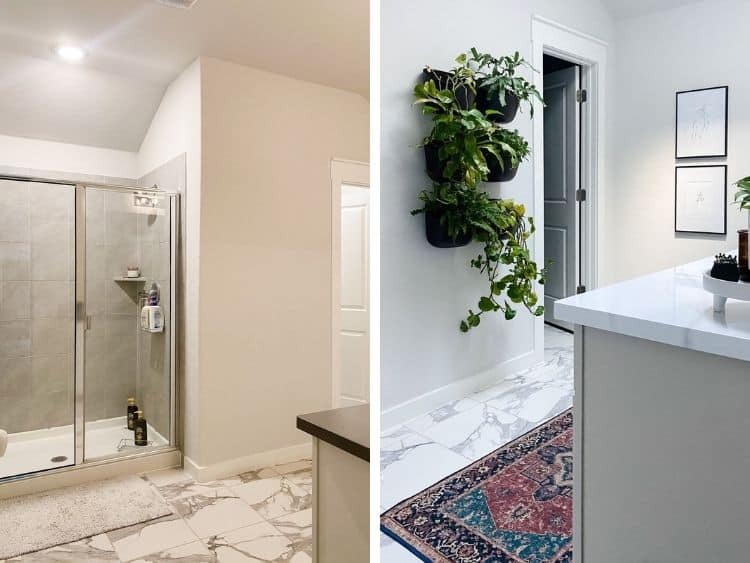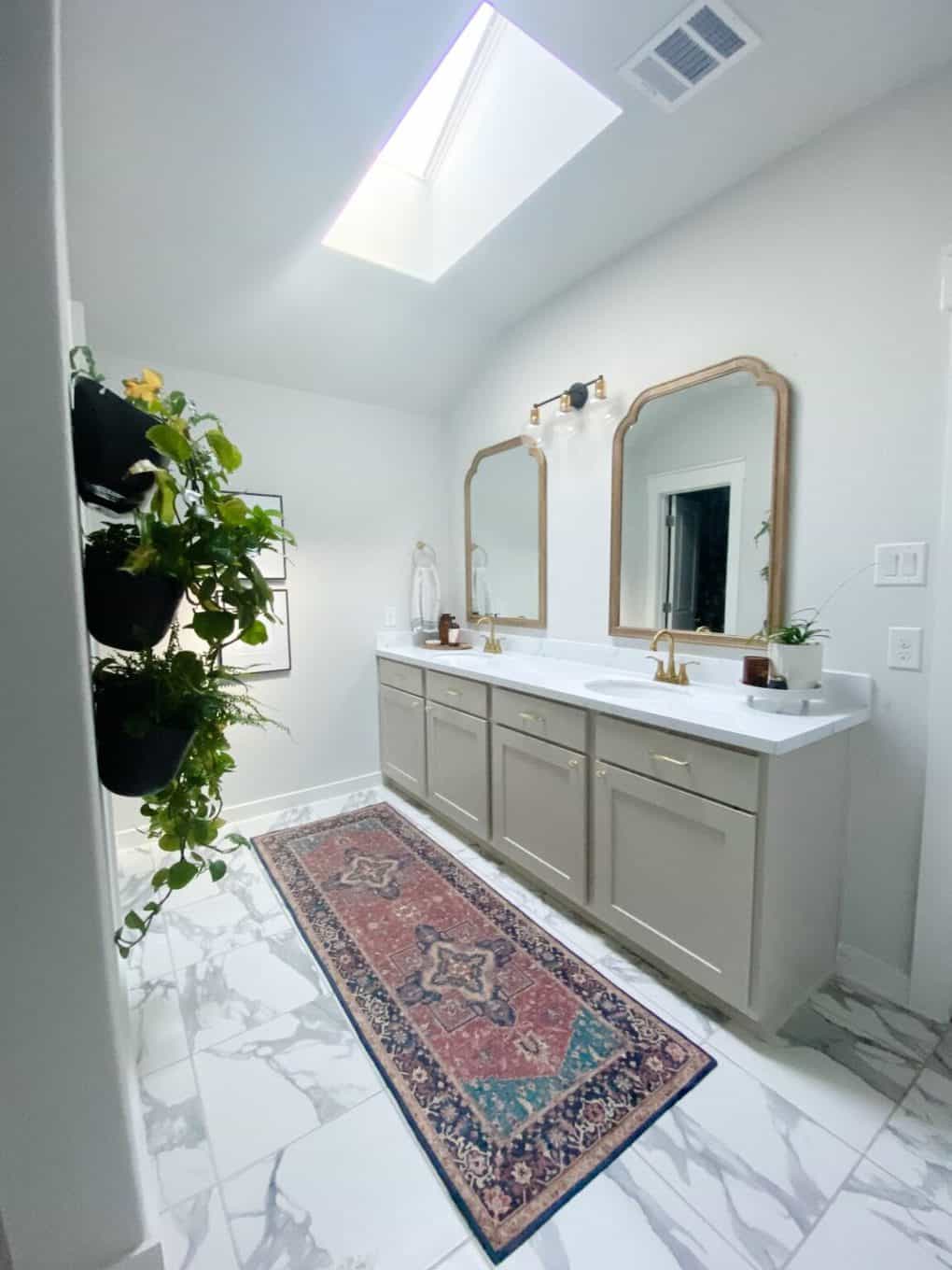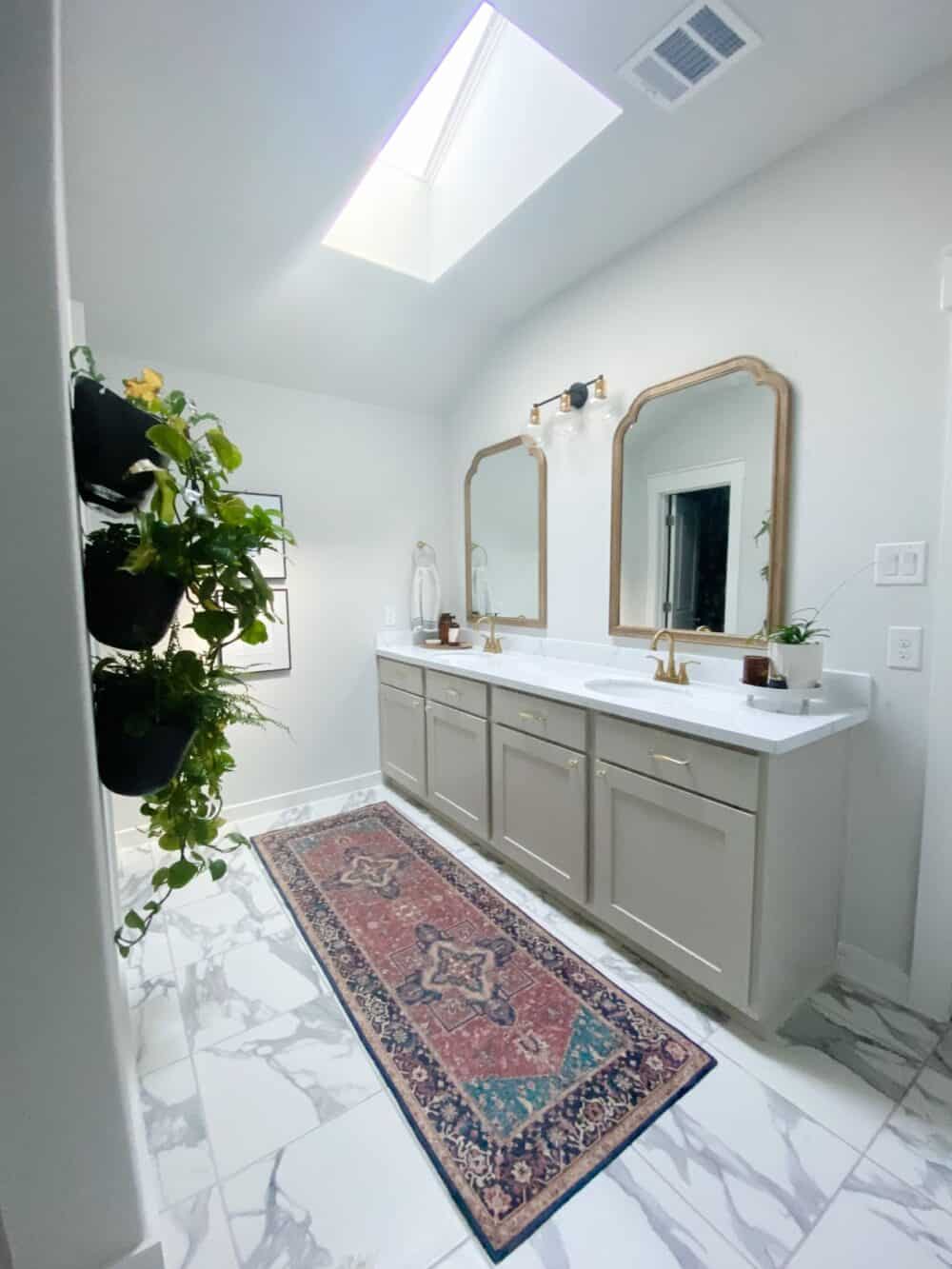 So! Good!
Thanks for being a part of this budget bathroom renovation and cheering me on. This project was truly a group effort, because our Instagram community voted on almost every single decision that was made in here! It was so fun to see how excited and invested you all were in this project, and I loved doing this with you. Let's do it again sometime, okay?
In case you missed anything, here's every last post I wrote about this bathroom makeover:
bathroom sources
Vanity Area
Water Closet
Other